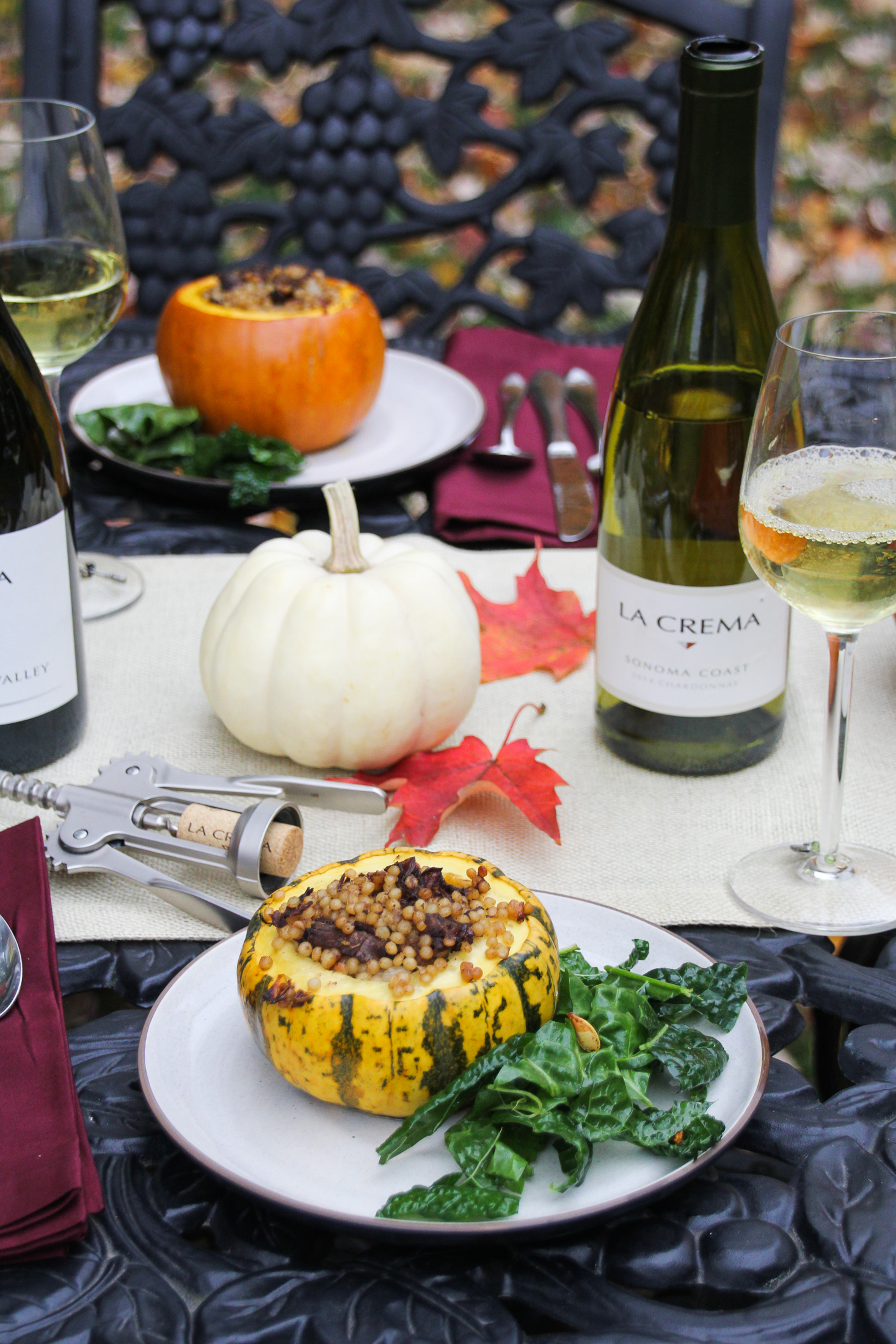 A few weeks back, on a chilly Saturday afternoon, I packed up big bags of food, table settings, and wine, and brought everything to my parents' house for a little harvest dinner party. The theme of the dinner was Pumpkin + Chardonnay, and I worked with the people over at La Crema Wines to pick out the best chardonnay pairings for each of the three recipes we created. There was no particular reason for hosting this dinner other than a desire to create something lovely to look at, an excuse to drink too much wine, and a way to use up the squash from the garden that have been lingering on our windowsill.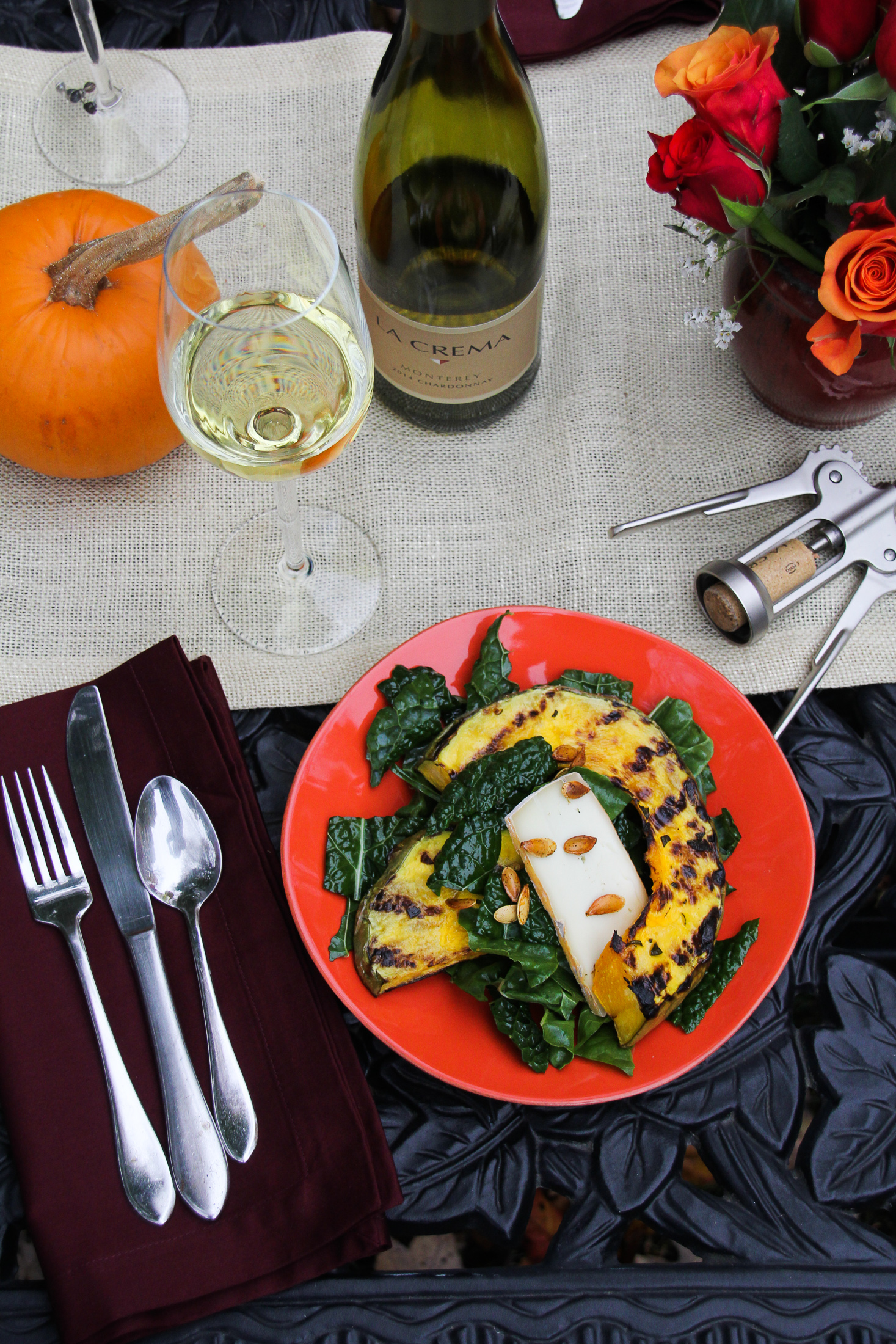 The first course was a simple Grilled Pumpkin and Raw Kale Salad, dressed with lemon and olive oil and served with a big slice of creamy camembert. To pair with the salad, we served the La Crema Monterey Chardonnay, which is rich and buttery and played beautifully with the funkiness of the cheese and the bitterness of the greens. While grilled squash and chardonnay might sound like a summery pairing, everything about this course was pungent, savory, and rich, setting just the right tone for kicking off our harvest dinner.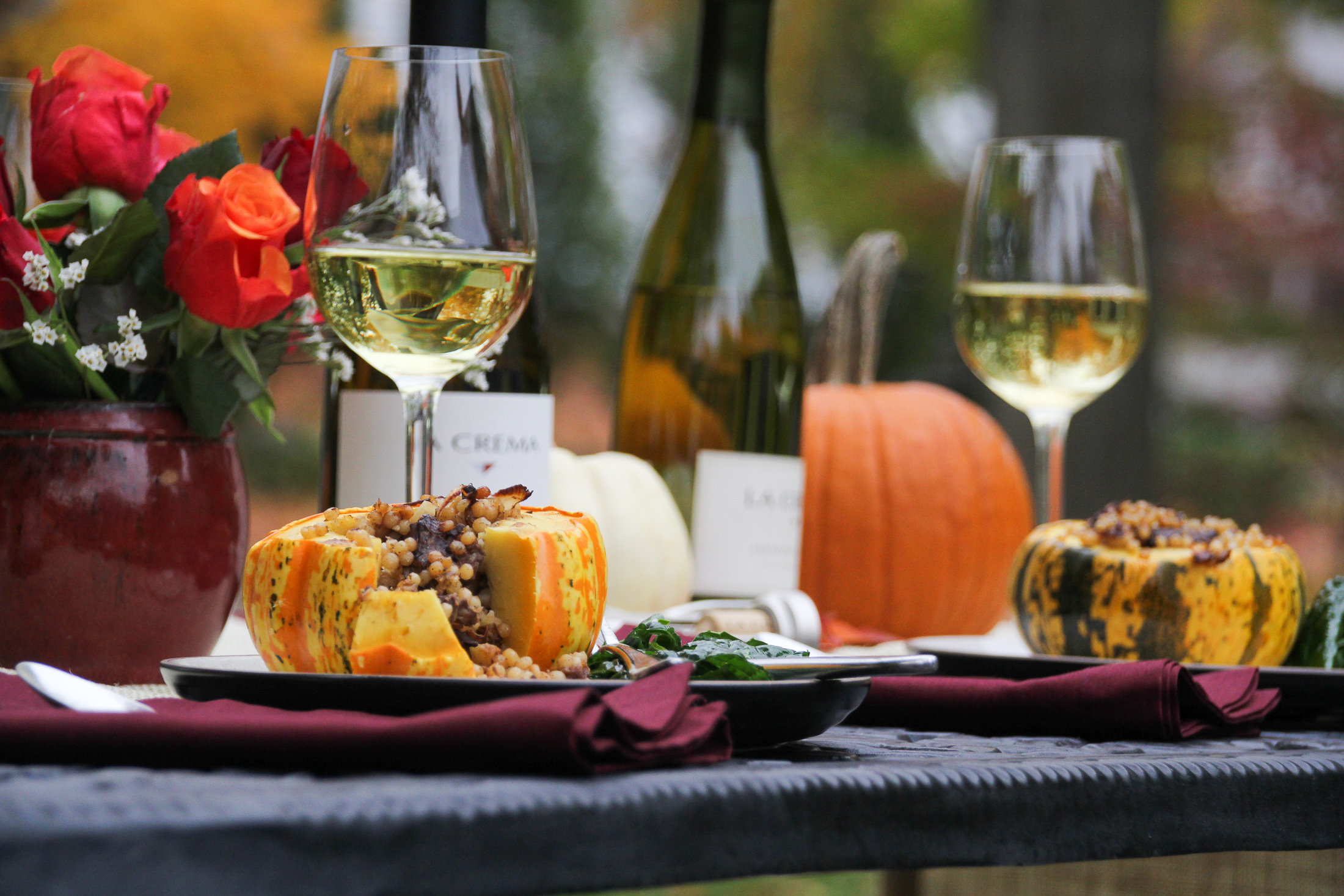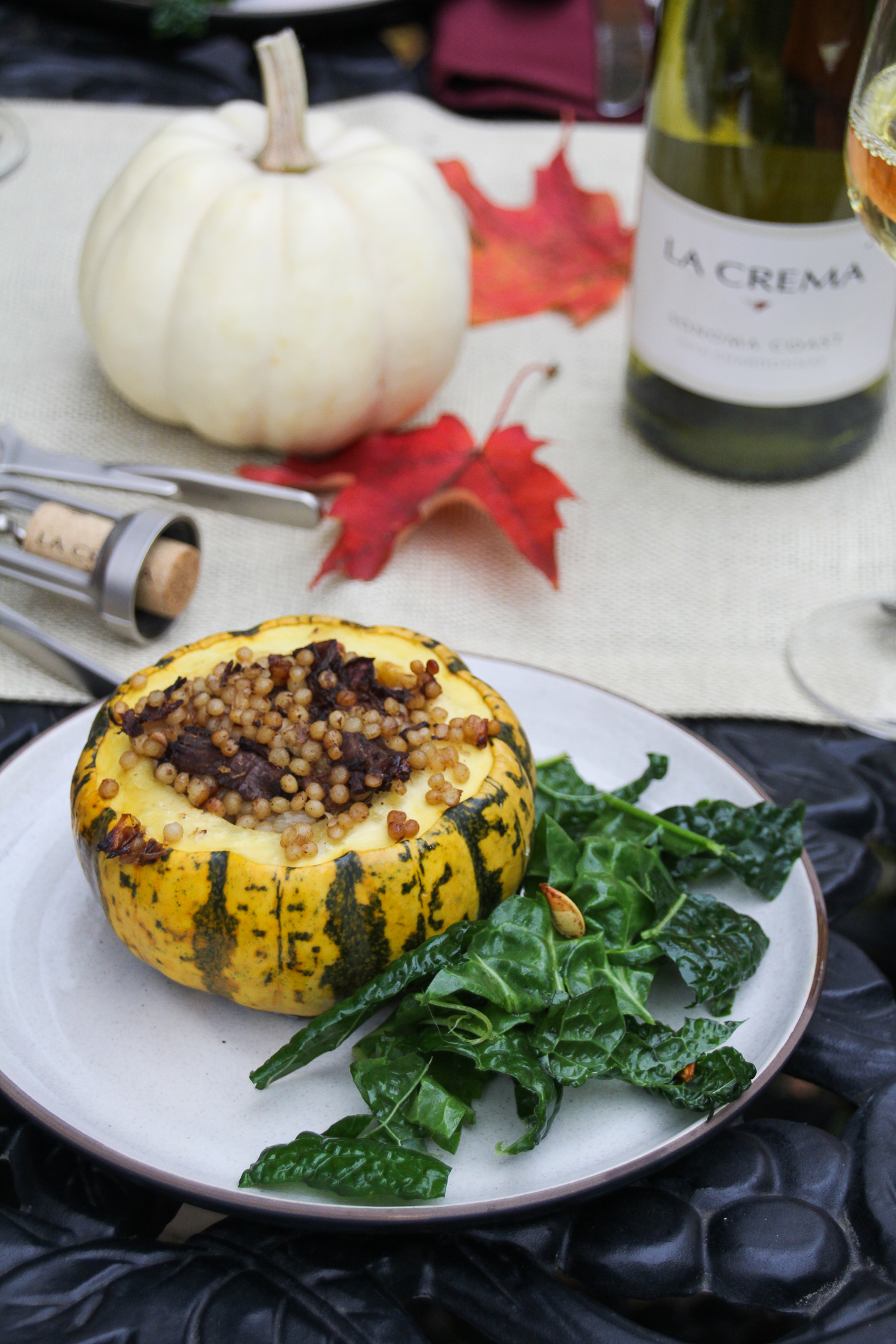 Next, we moved on to the main course – Mini-Stuffed Pumpkins with Middle-Eastern Spiced Beef and Israeli Couscous, paired with La Crema's Sonoma Coast Chardonnay, which is a bit brighter and fruitier than the Monterey. Rather than the more traditional cheese/sausage/bread filling used in many stuffed pumpkin recipes, I opted for stuffing them with a tagine-like mixture of sweetly spiced, stewed beef, dried fruit, nuts, and Israeli couscous. The beef itself is hands down the best beef I've ever made. After numerous almost-but-not-quite-delicious preparations of short ribs and other fatty cuts and roasts, I finally had the fall-apart-tender, deeply savory, saucy, non-greasy beef of my dreams. And now I want to make it over and over again, in different flavors and served over different starches until I'm tired of it.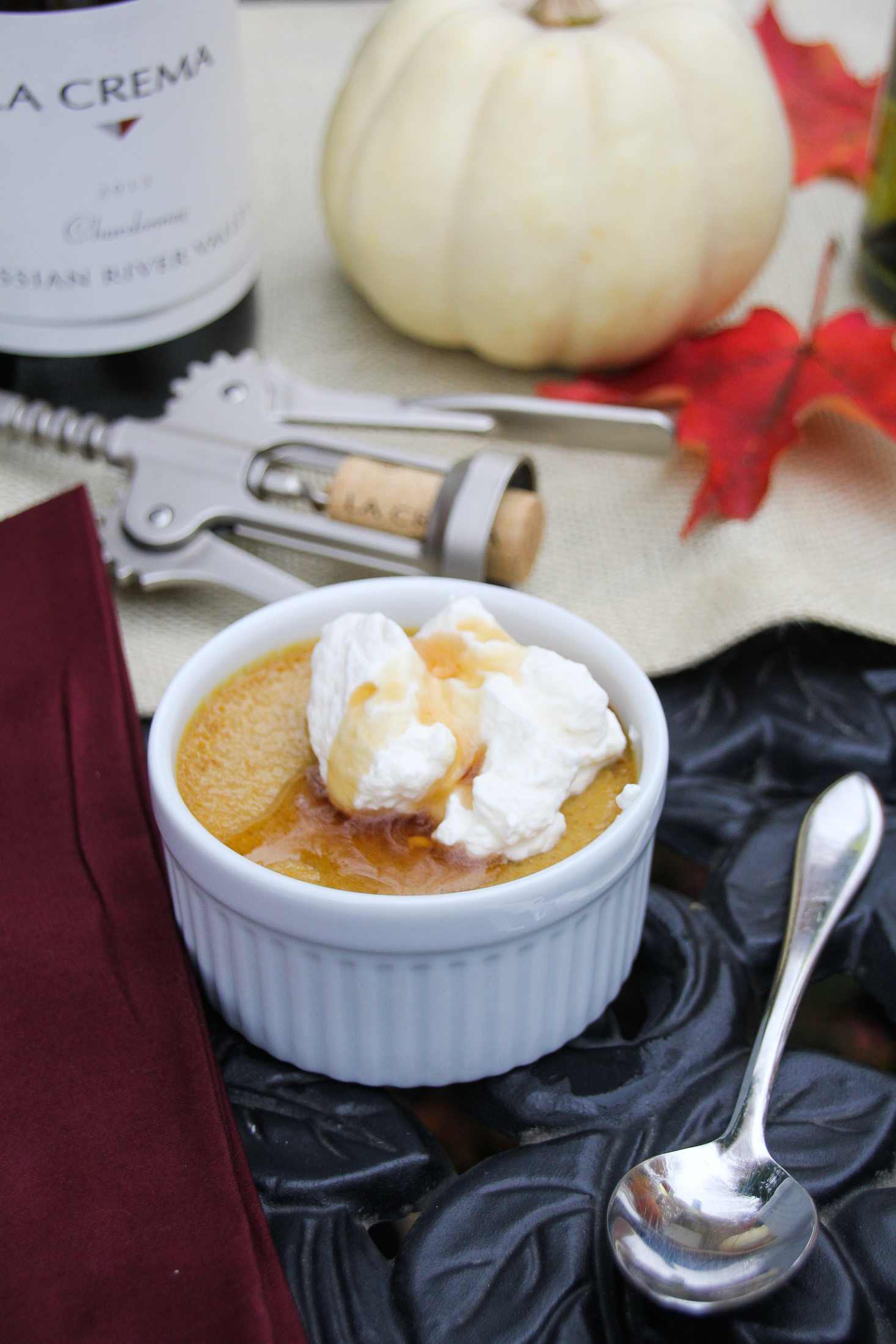 We wrapped things up with individual servings of Pumpkin-Vanilla Pot de Creme, creamy, gently spiced little puddings served with a generous dollop of maple whipped cream. The last bottle to be opened was the La Crema Russian River Valley, a honeyed chardonnay with slight echos of the baking spices used in the pot de cremes. At this point we were all full and happy and a little bit tipsy, lingering over the last creamy spoonfuls of pudding and sips of wine.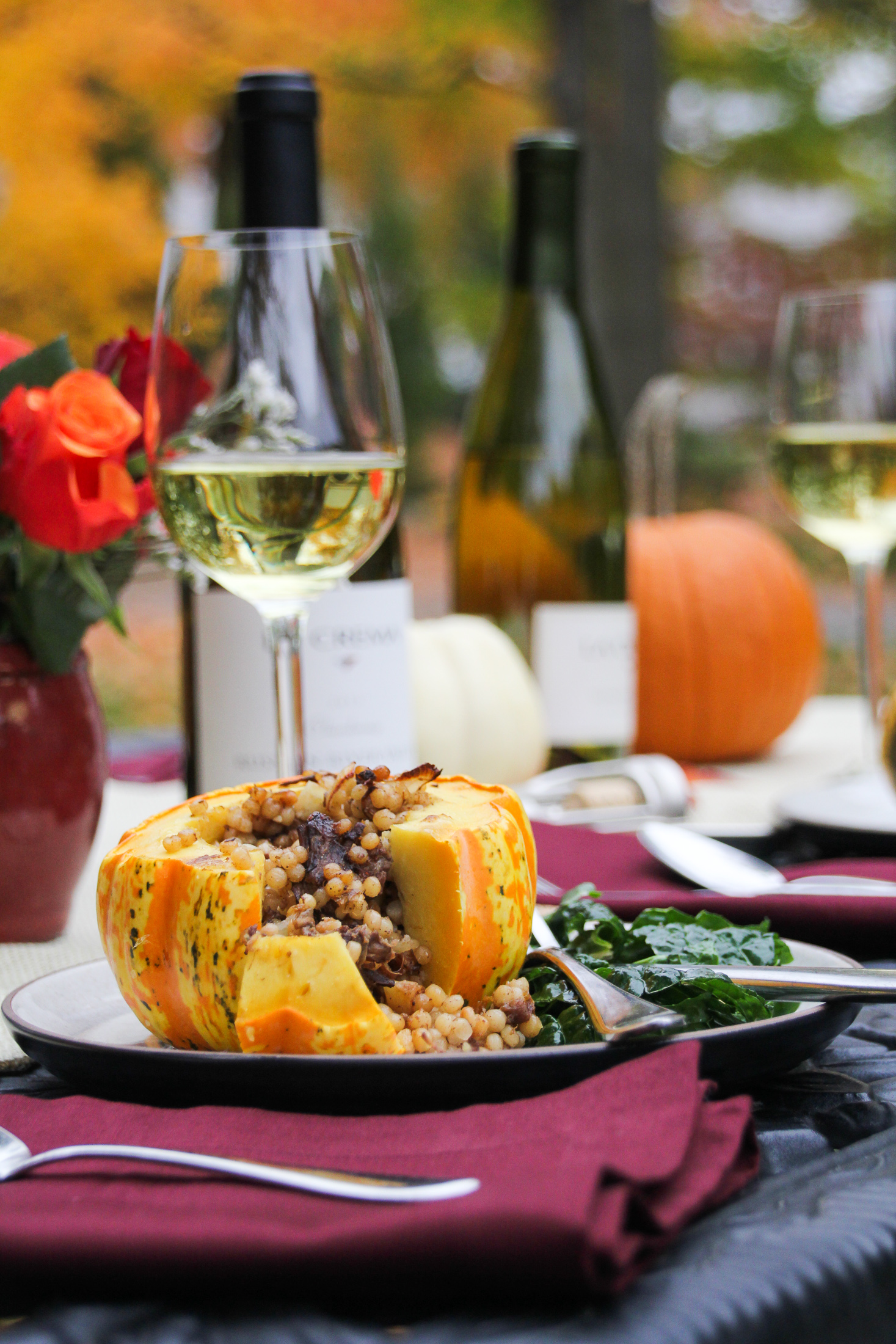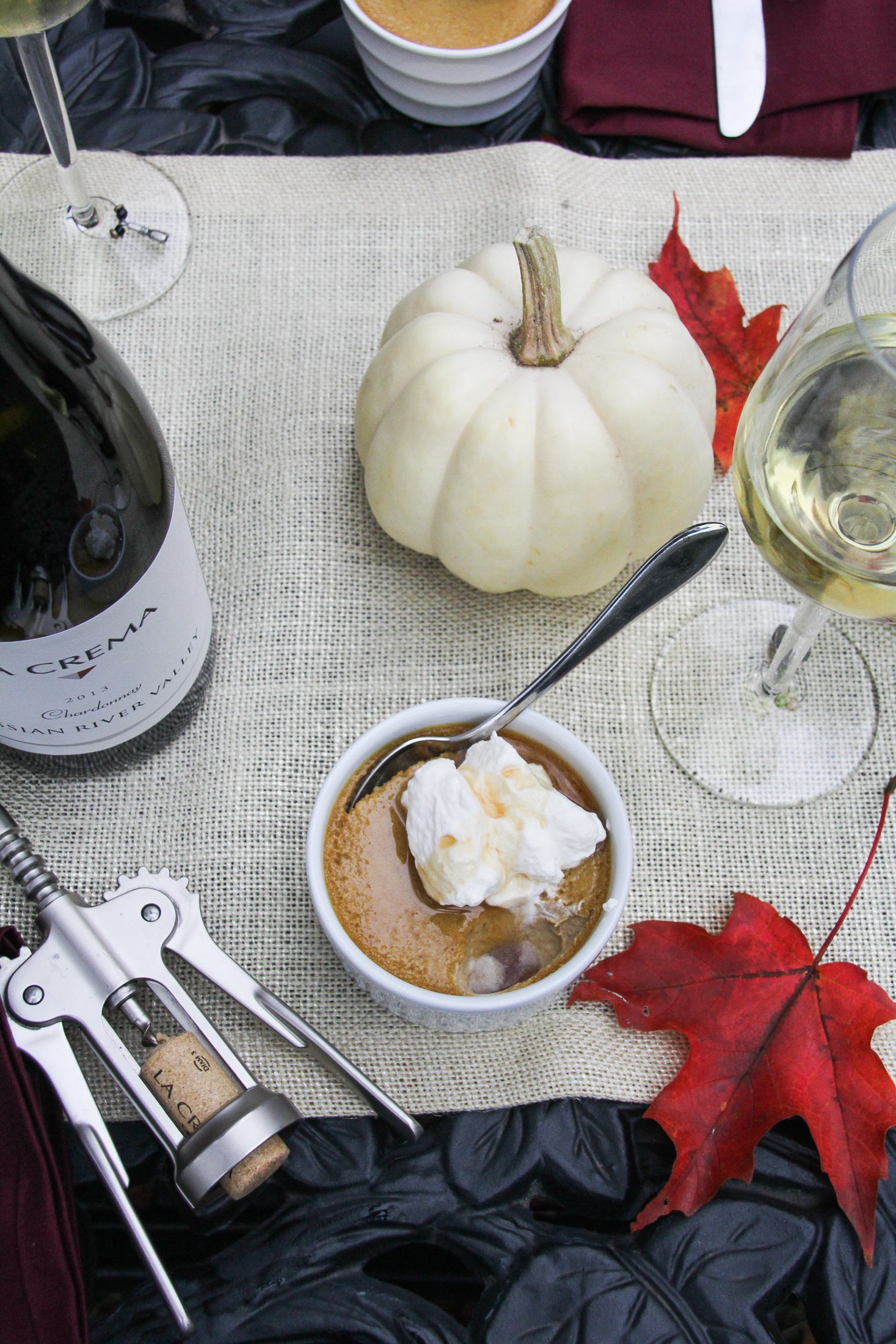 I perhaps went overboard in styling the table, but it was so much fun to shoot. There's inspiration to be found in making something beautiful just for the sake of beauty. I wanted to capture the lovely colors of the last burst of foliage as the backdrop, enhancing them with oranges and reds and creamy colors on the table. Truth be told, it was a little cold for sitting outside for long, so we quickly moved the set-up inside by the fire, but the atmosphere was just as lovely indoors. In New England the foliage is mostly past, now, but I hope to make this sort of outdoor harvest dinner a tradition to look forward to at the peak of each fall season.
To see more pictures and notes from this dinner, check out the three companion posts and recipes over on the La Crema Blog!
Course #1: Grilled Pumpkin and Raw Kale Salad
Course #2: Mini-Stuffed Pumpkins with Middle-Eastern Spiced Beef and Israeli Couscous
Course #3: Pumpkin-Vanilla Pot de Cremes
This is a sponsored conversation written by me on behalf of La Crema. The opinions and text are all mine.
1