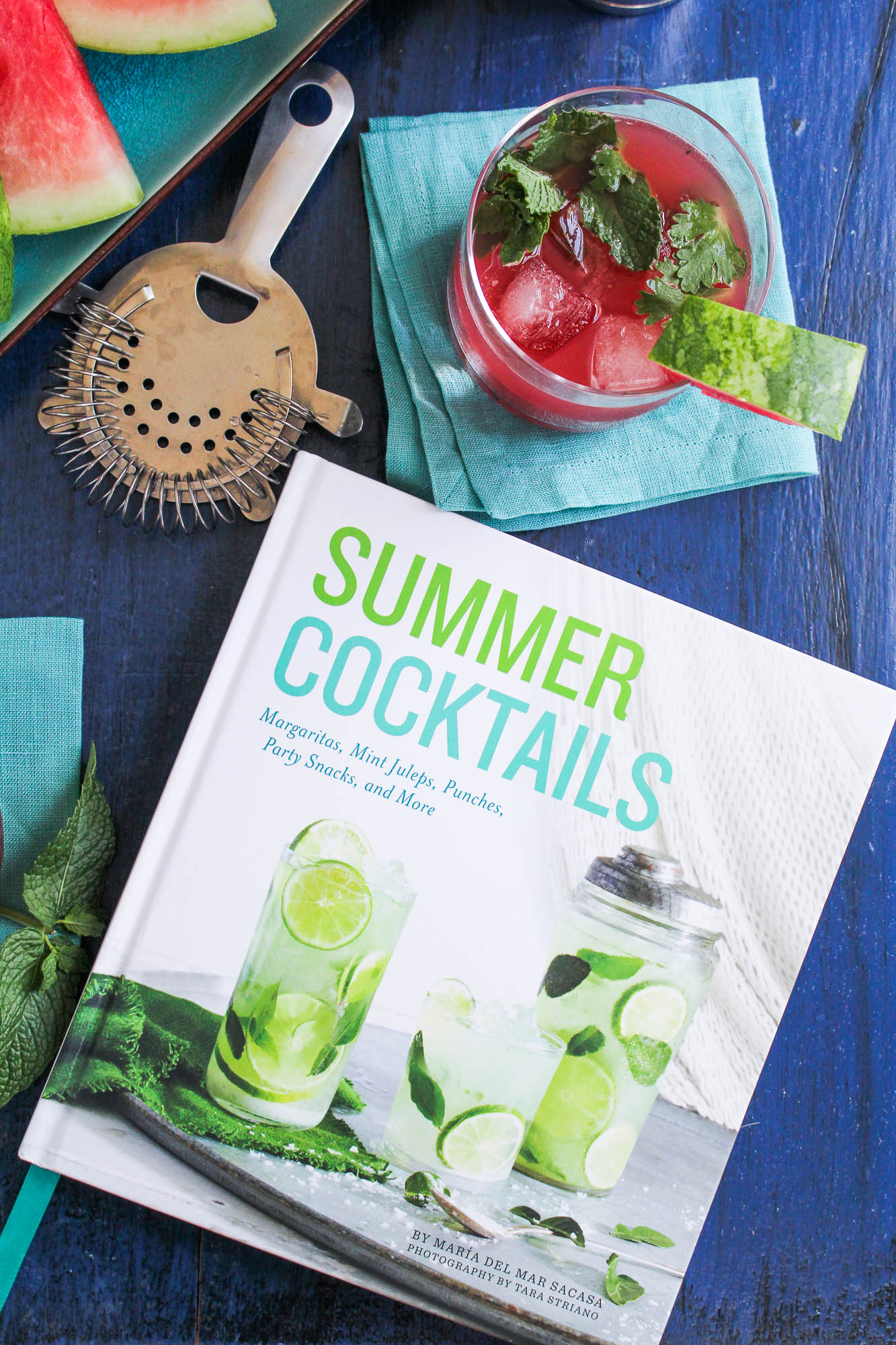 The Book: A few years ago, Quirk Books reached out to me about reviewing a book called Winter Cocktails that had just been published. They sent over a copy and it quickly became one of my most used and best loved cookbooks. I've shared a number of recipes from it here, including Nutella Melt with Frangelico, Burnt Sugar Hot Buttered Rum, and Chocolate Stout Affogato. Now, the same talented ladies have teamed up to write a second book – Summer Cocktails, but of course. I love making and shooting cocktails: they're quick to make, instantly rewarding, and they provide endless opportunities for creativity. Plus, at the end you have a cocktail to drink. So I was really excited to dive into this book, and I was not disappointed.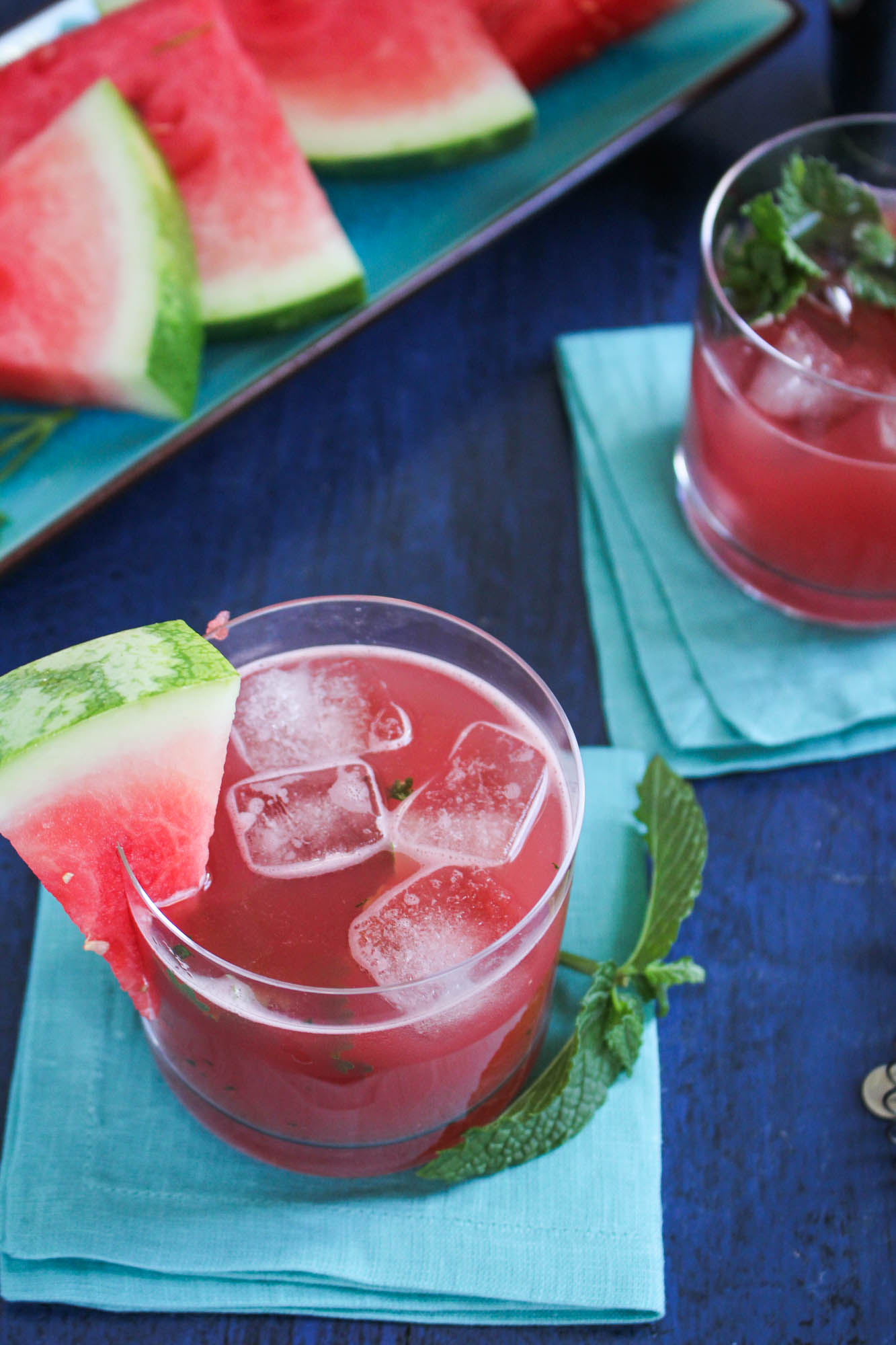 The first section of the book contains classics, always with the option for a clever, modern twist. Mint Juleps go further South with cilantro and ginger-infused rum, and Shirley Temple grows up with a splash of Bourbon and Campari. Next we move on to summer punches, large format drinks and pitchers to set out during backyard soirees, like a frizzante and herb-laced Italian sangria, basil and rhubarb vodka spiked lemonade, and peachy bourbon punch. The "Frosty Drinks" section includes all things blended, ice cream based, or best served with an umbrella. Frozen pineapple gets lots of opportunity to shine in fancy ginger-lemongrass piña coladas and blended with tequila and cointreau, while boozy pops made with everything from avocado and tequila to mango and sake will keep you cool (and really relaxed). The last section of the book is reserved for antidotes, "hair-of-the-dog" daytime mimosas, shandys, and micheladas to help you recover from the night before, if that's your sort of thing. There are also a few, choice, non-liquid recipes included – think sliders, breakfast tacos, and other things you might start to crave once you're a few drinks in. In short, this book is full of good stuff: tons of creative ideas, gorgeous photos, and enough inspiration for every summer party you'll throw.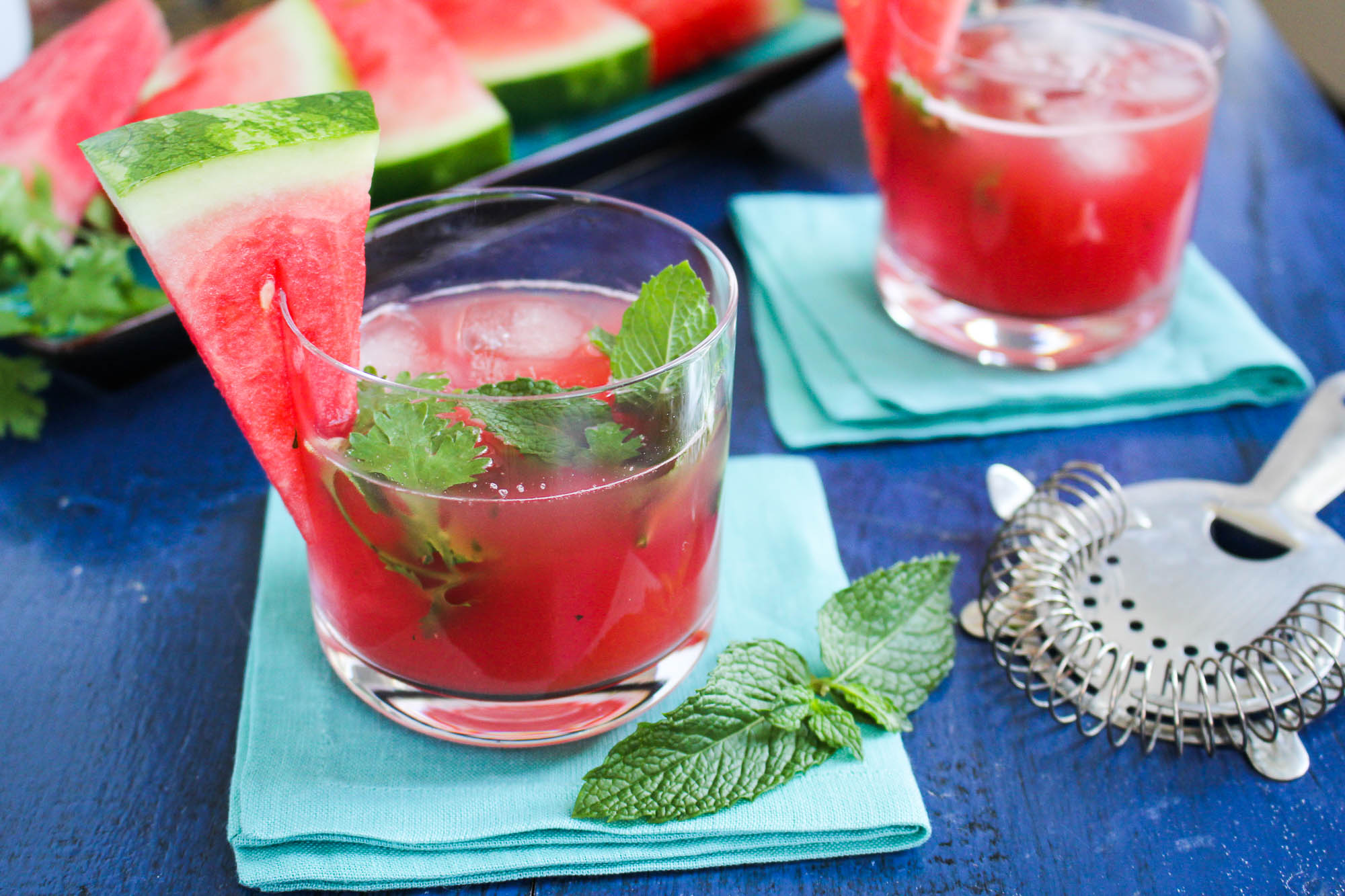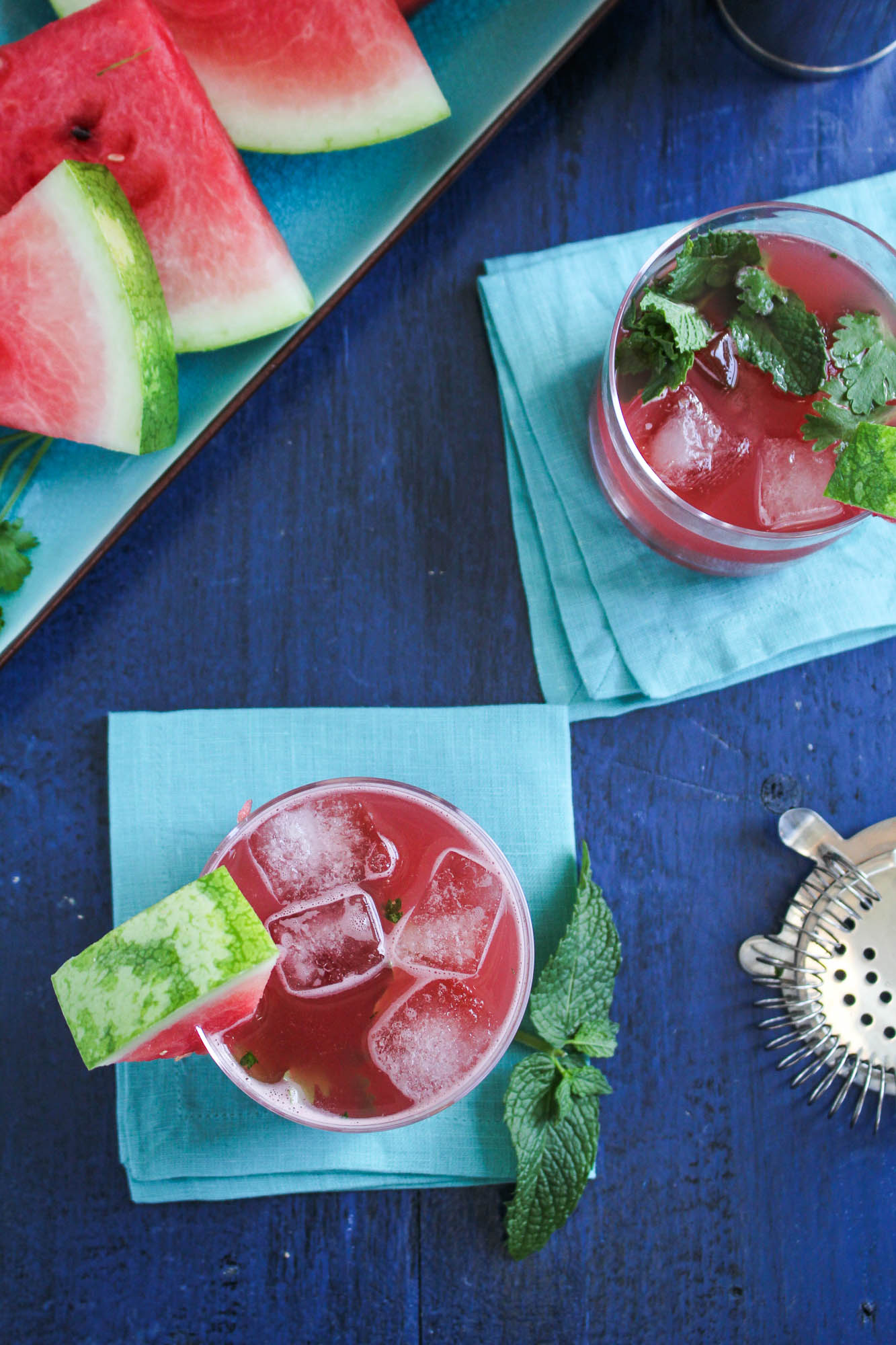 The Drinks: As we get into the sticky-hot heat of August, refreshing, thirst quenching drinks are just about the best thing in the world. While I was tempted by the boozy milkshakes and sweet punches, I knew that they might feel a little too heavy. But a Watermelon and Pisco Refresher? I was 100% sold on that. I've been drinking a lot of pisco in Chile, and I just bought a bottle to experiment with at home, so that was an added temptation. This drink is delightfully fresh from the watermelon, cilantro, and mint, and surprisingly spicy from the little bit of jalapeno that's added. I may or may not have had one, gone for a run, and then come back and had another one… that counts as hydrating, right?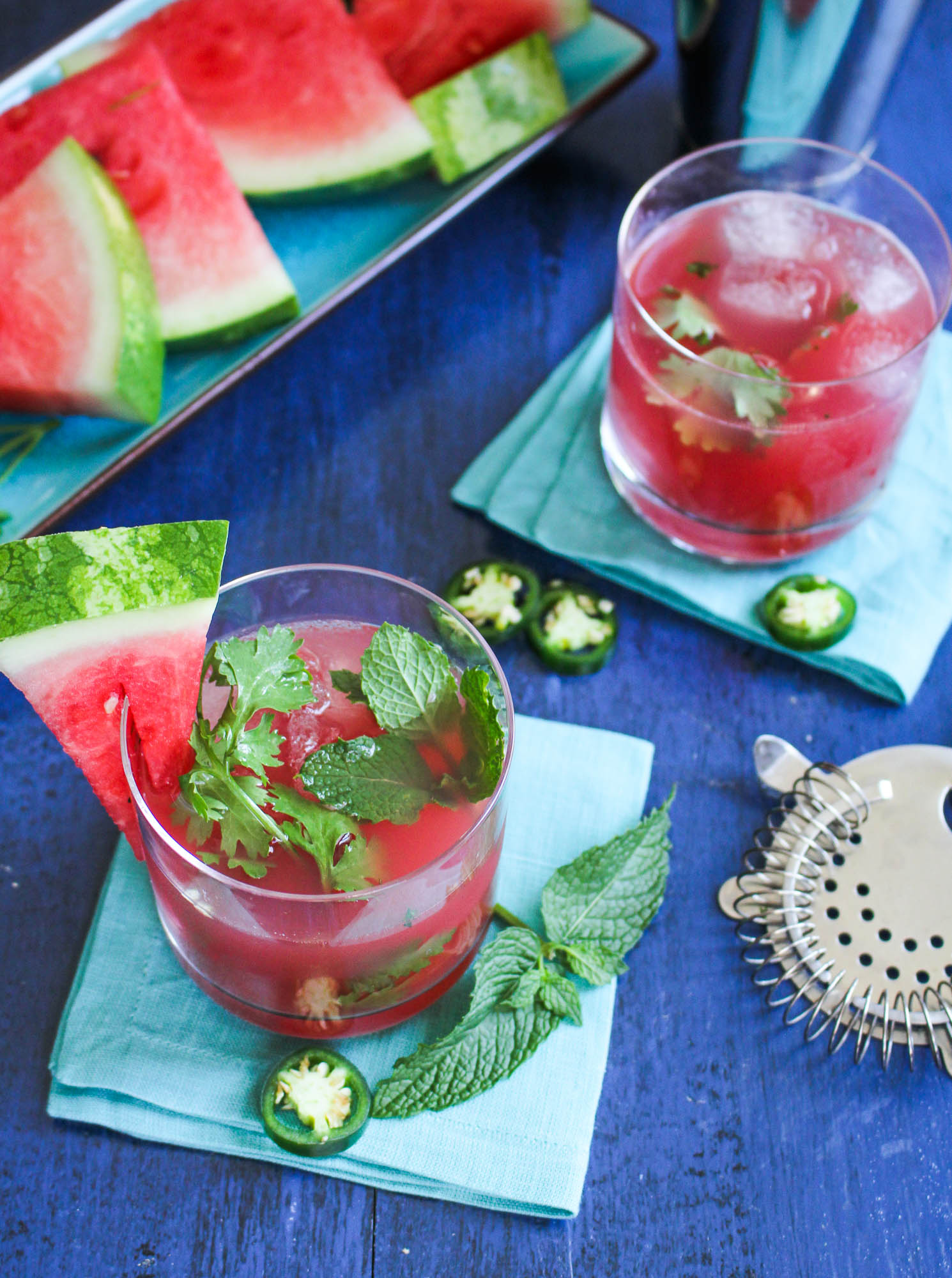 Recipe Shortlist: Kentucky Mule (with Bourbon and Ginger Beer); Fresco de Arroz con Piña; Bollywood Margarita (with Curry Leaves, Tomatillo, and Coriander Tequila); Moroccan Mint Iced Tea; Pink Ladies Lemonade (with Rhubarb and Strawberry Vodka); Peachy Keen Bourbon Punch; The Luxe Cherry Milkshake
Like what you just read? Subscribe to Katie at the Kitchen Door in the box on the right, on Feedly or Bloglovin', or follow along on Facebook, Twitter, Pinterest, Instagram, or Google+. Thanks for reading!
Disclosure: I received a review copy of Summer Cocktails from Quirk Books, but I was not otherwise compensated and all thought and opinions are my own.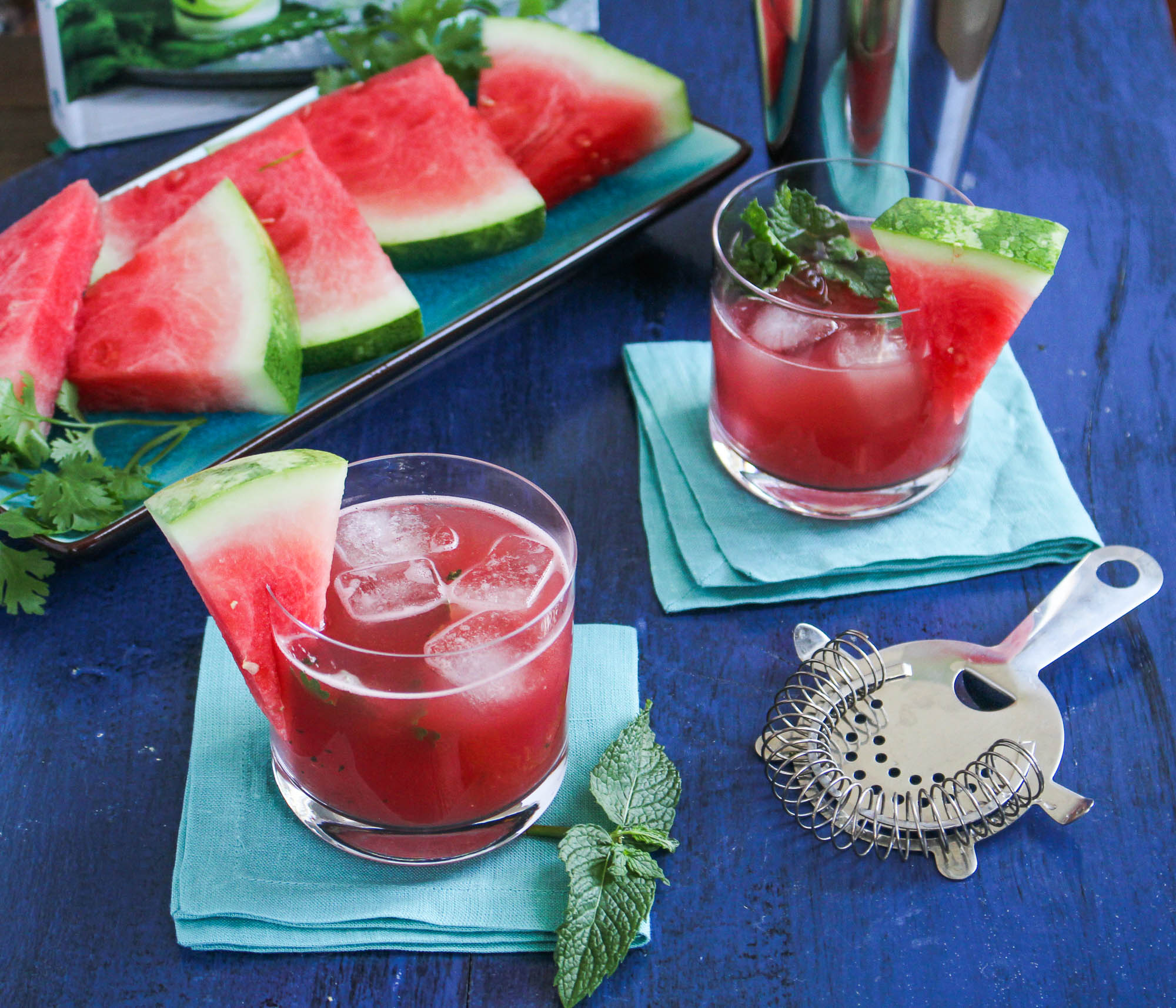 Watermelon Pisco Refresher
Recipe adapted slightly from Summer Cocktails. Serves 2.
3 c. cubed, chilled watermelon
3 oz. Pisco
1/4 c. packed fresh cilantro leaves
1/4 c. packed fresh mint leaves
1/2 jalapeno, seeds removed, sliced thinly
1/4 c. sugar
pinch of salt
ice
Muddle the cilantro, mint, jalapeno, sugar, and salt in a cocktail shaker until fragrant. Add several ice cubes to the shaker.
Add the watermelon and the Pisco to a blender and blend until smooth. Let settle for a few minutes, then scoop the foam off the top and discard. Strain liquid through cheesecloth or fine mesh strainer into the cocktail shaker. Shake vigorously for 30 seconds. Strain into ice-filled glasses and garnish with additional watermelon slices, cilantro, and mint. Serve immediately.
2