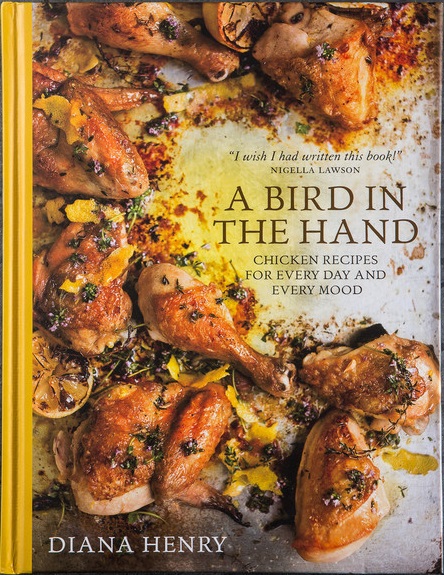 The Book: Although I know that for a lot of Americans, chicken is the mainstay of the family dinner table, I actually don't cook it very often. My parents might find this ironic, as the only form of protein I consumed up to age 14 was basically chicken fingers. (And I suppose the occasional hot dog.) Perhaps the reason it doesn't make it into my cart all that often is childhood overexposure, but more likely, it's because I find chicken a little ho-hum. Diana Henry's new book, A Bird in the Hand, is written for precisely that reason – to remind you of all the exciting, flavorful ways you can use that package of chicken sitting in the fridge. You know, that one you picked up because it was on sale and it seemed like a practical thing to buy.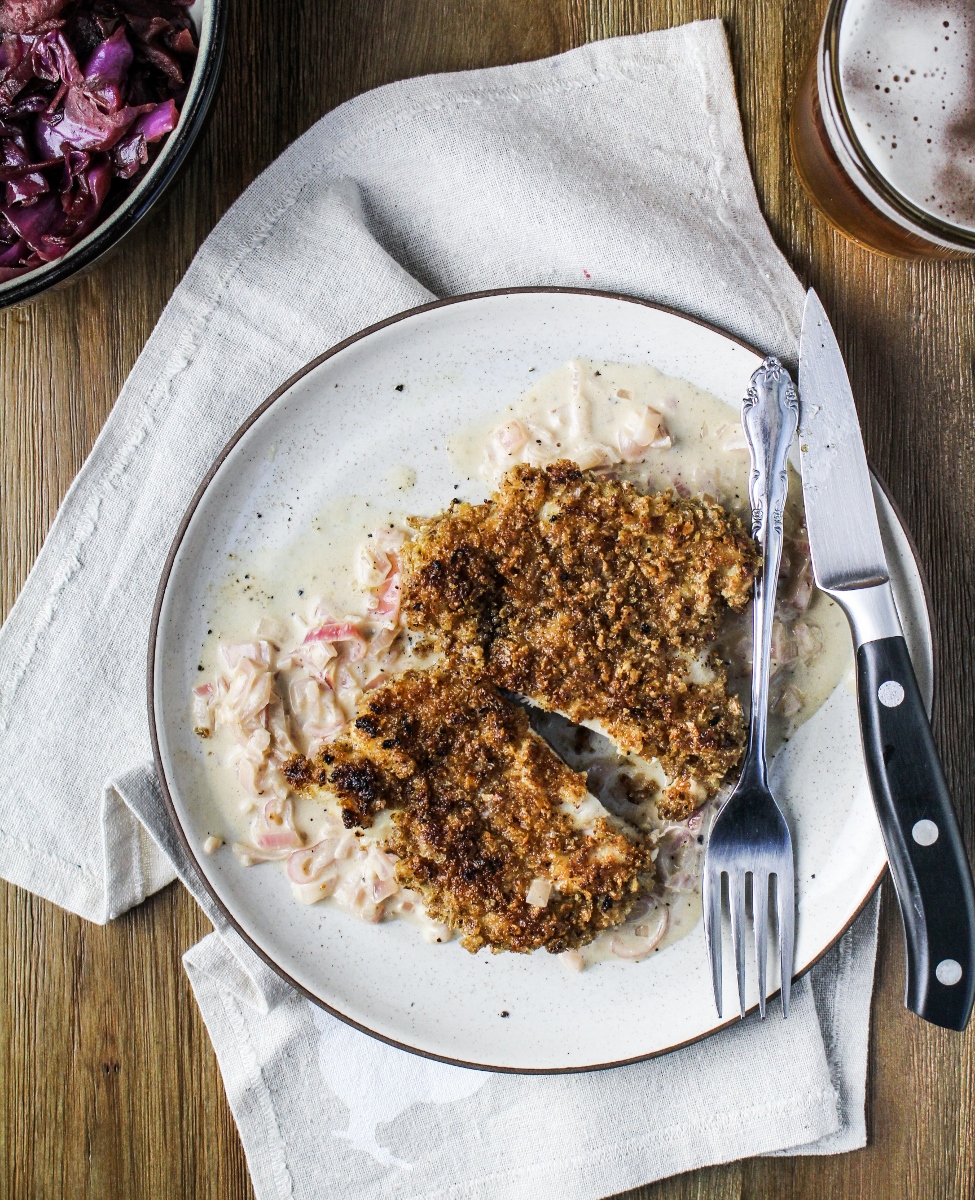 I'm a huge fan of Diana Henry's work. A Change of Appetite, one of her more recent books, is the book I'm cooking from the most these days, and Roast Figs Sugar Snow was one of the first cookbooks I purchased for myself. So despite my lack of enthusiasm for chicken in general, I was excited to see what magic Diana could work with the ubiquitous bird – I was not disappointed. She brings a great deal of variety – in flavor and technique – to the humble chicken. Recipes are divided into sections based loosely on how much effort they will need from you, ranging from simple suppers prepared in 15 minutes after a long day at work, to feast dishes meant to be the crowning glory of a celebratory table. There's lots of international spin here, with inspiration coming from every corner of the globe. It's evident just by looking at the "recipe shortlist" I've included below… almost every recipe on there has a distinct and easily identifiable global origin. Every part of the bird, too, is represented, although I will say that boneless, skinless thighs seem to be the favorite. And of course, the book is graced by the bright, inviting food photography and clean design I've come to expect from all of Diana's books. Of all the books I've reviewed recently, this one is probably the safest bet for your average cook – the one that loves to eat and doesn't mind dedicating a short amount of time to a great home-cooked dinner, but who doesn't go in for complicated techniques or impossible to find ingredients.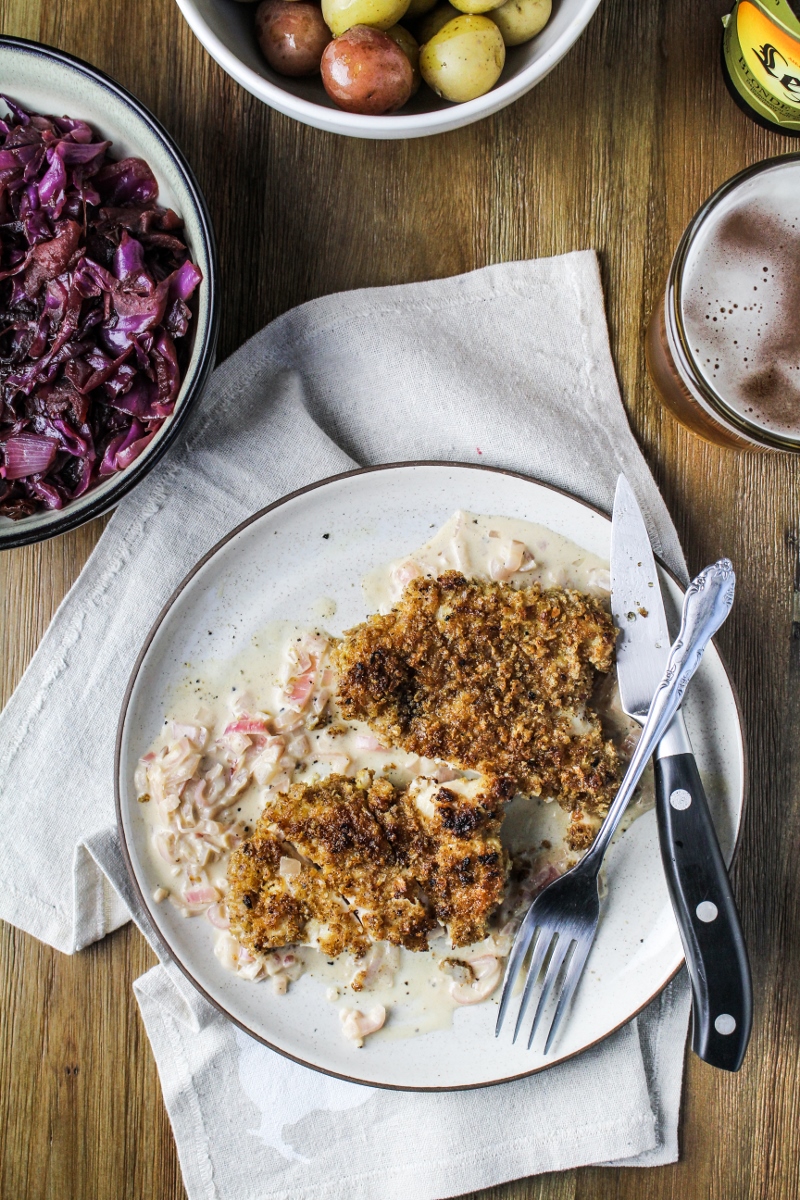 The Food: I had a short but concentrated Eastern European food kick last weekend. Friday night I dragged Trevor out for beer and brats and pretzels dipped in super-spicy mustard at Bronwyn. Then, flipping through this book trying to decide what to make for lunch on Saturday, I went straight for the rye chicken schnitzel. The chicken recipe itself was fairly standard – pound the chicken thin; dip in flour, egg, and rye breadcrumbs; shallow fry and serve immediately – but turned out beautifully. The slightly decadent mustard cream sauce served with it was the perfect mix of rich and tangy. And Diana's recommendations for side dishes of tiny boiled new potatoes and braised cabbage were essential elements for the final plate. With a frosty glass of Belgian beer it made for a very satisfying Saturday lunch… and an even more satisfying post-bar-hopping midnight snack that evening.
Recipe Shortlist:  Cumin and Turmeric Roast Chicken with Smashed Avocado and Corn Cakes; Thai Chicken Burgers with Asian Slaw; Puerto Rican Chicken and Rice; Chicken Forestiere; Jamaican Chicken Curry with Sweet Love Apples and Rum; Indonesian Roast Spiced Chicken with Mango and Tomato Salad; West African Chicken and Peanut Stew; Chicken Legs in Pinot Noir with Sour Cherries and Parsnip Puree; Chicken, Aspragus, Fava Bean, and Radish Salad with Dill and Mint Dressing; Chicken, Leek, and Hard Cider Pie with Sharp Cheddar and Hazelnut Crisp
Like what you just read? Subscribe to Katie at the Kitchen Door in the box on the right, on Feedly or Bloglovin', or follow along on Facebook, Twitter, Pinterest, Instagram, or Google+. Thanks for reading!
Disclaimer: I received a review copy of A Bird in the Hand from Mitchell Beazley, but I was not otherwise compensated and all thought and opinions are my own.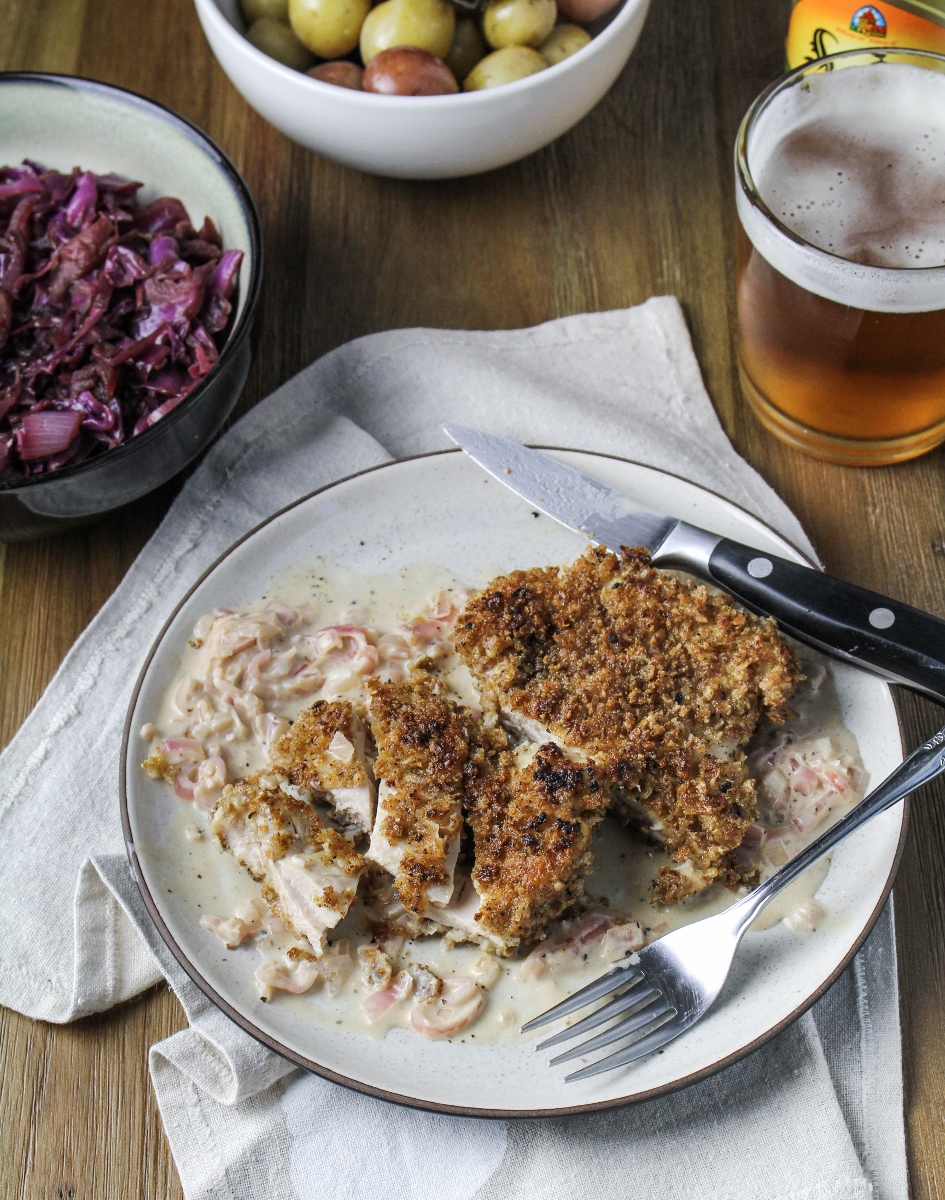 Rye Chicken Schnitzel with Mustard Sauce
Recipe from A Bird in the Hand. Serves 4.
8 skinless, boneless chicken thights
flour
sea salt and pepper
3 eggs, lightly beaten
1 3/4 c. rye bread crumbs
2 TBS peanut or canola oil
1/2 lemon
1 TBS butter
4 shallots, peeled and minced
3 1/2 TBS white wine vinegar
2/3 c. dry white wine
3/4 c. heavy cream
2 TBS Dijon mustard
Put the chicken thighs between 2 sheets of parchment paper or saran wrap and use a rolling pin or meat mallet to pound them until they have an even thickness of about 1/2 inch. Place some flour in a large shallow bowl and season liberally with salt and pepper. Place the beaten eggs in a second bowl, and the bread crumbs in a third bowl. Dredge the chicken first in the flour, then in the egg, then into the rye crumbs. Set them on a nonstick cookie sheet as they are ready.
Heat the peanut or canola oil in a large frying pan over medium heat. Let the oil heat up for at least 1 minute before adding the chicken. Add the chicken to the pan and cook for 4 minutes on each side, until the coating is golden brown and the chicken is fully cooked through (juices run clear when sliced in the center). Immediately upon removing from the heat, season with salt and pepper and a squeeze of lemon.
While you are frying the chicken, make the mustard sauce. In a medium pan, melt the butter over medium heat. Add the shallots and saute until soft, about 2-3 minutes. Add the vinegar, turn up the heat, and reduce the liquid to about 1 TBS. Add the white wine and simmer to reduce by half, then add the cream, mustard, and salt and pepper and heat through. Remove from the heat.
Serve the chicken immediately with the sauce on the side. Good accompaniments are braised red cabbage, pickles, and boiled new potatoes.
0