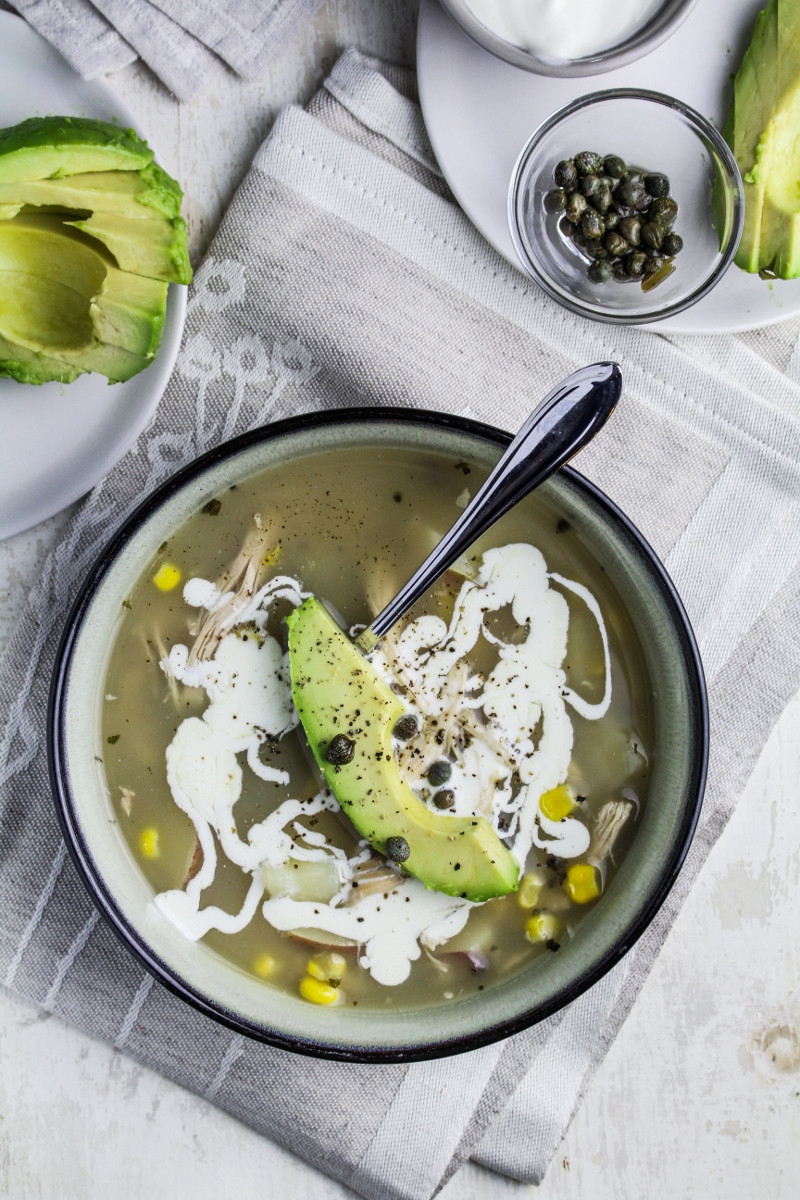 I've been spending a good amount of time in Bogotá this year, and will continue to visit for work throughout the spring and summer. Unfortunately, my plans to take an extra day to explore the city on my last visit were thwarted by a combination of more snow (surprise!) and my plane catching on fire (don't ask, but everything was fine), so I still haven't seen too much beyond the area near my office. My initial impressions of the city are very positive – it's fun and vibrant and I love the sunshine, the views of the mountains, and the vaguely German bungalow style architecture in the financial district. I also love the food, which is rich and hearty and full of avocados, plantains, beef, and potatoes. In particular, I've sort of fallen in love with ajiaco, a classic Bogotano chicken and potato soup that hits the spot every time.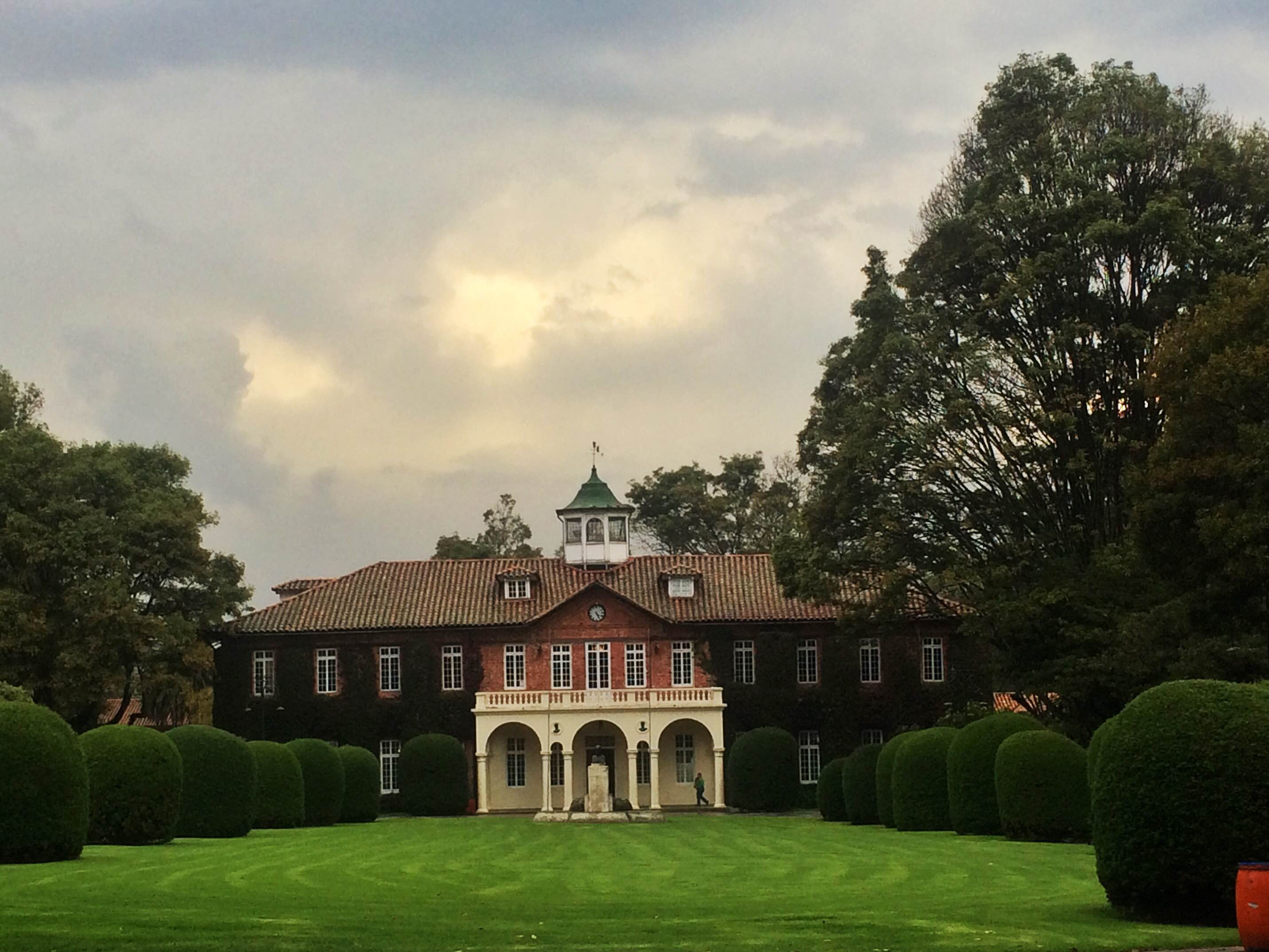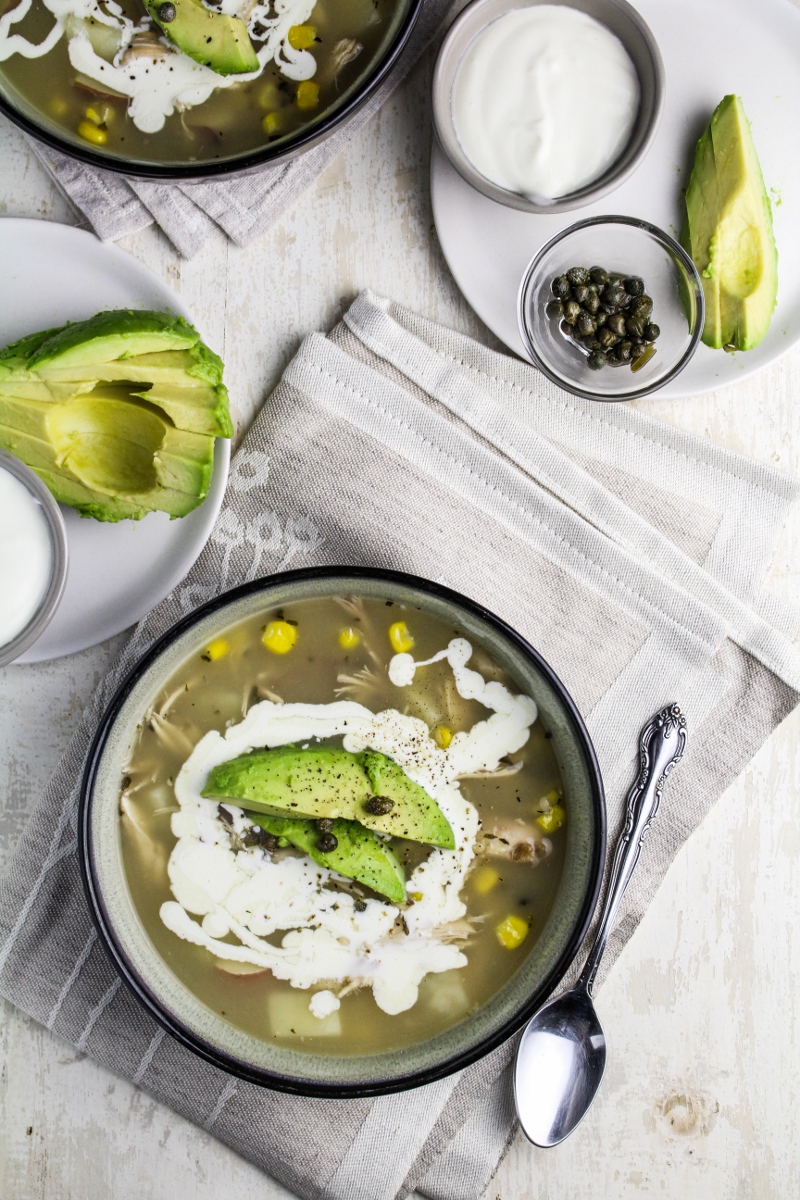 I'm headed down to Latin America again this week, this time with a few days in Chile in addition to Colombia, but before I left I wanted to make some ajiaco at home for Trevor to try. The soup broth is fairly thick, like a stew, but still somewhat translucent, and flecked with the herb guascas, which apparently gives the soup its distinctive flavor. Chicken, potatoes, and corn on the cob are served in the soup, and capers, avocado, rice, and cream are served on the side for you to top as you go. It's this last aspect – spooning bits of perfectly ripe avocado and plump capers on top of the hot bowl of soup – that really makes the meal special for me. Each time you bite into a caper it's such an unexpected pop of salty tang against the creamy and hearty background flavors, I just love it.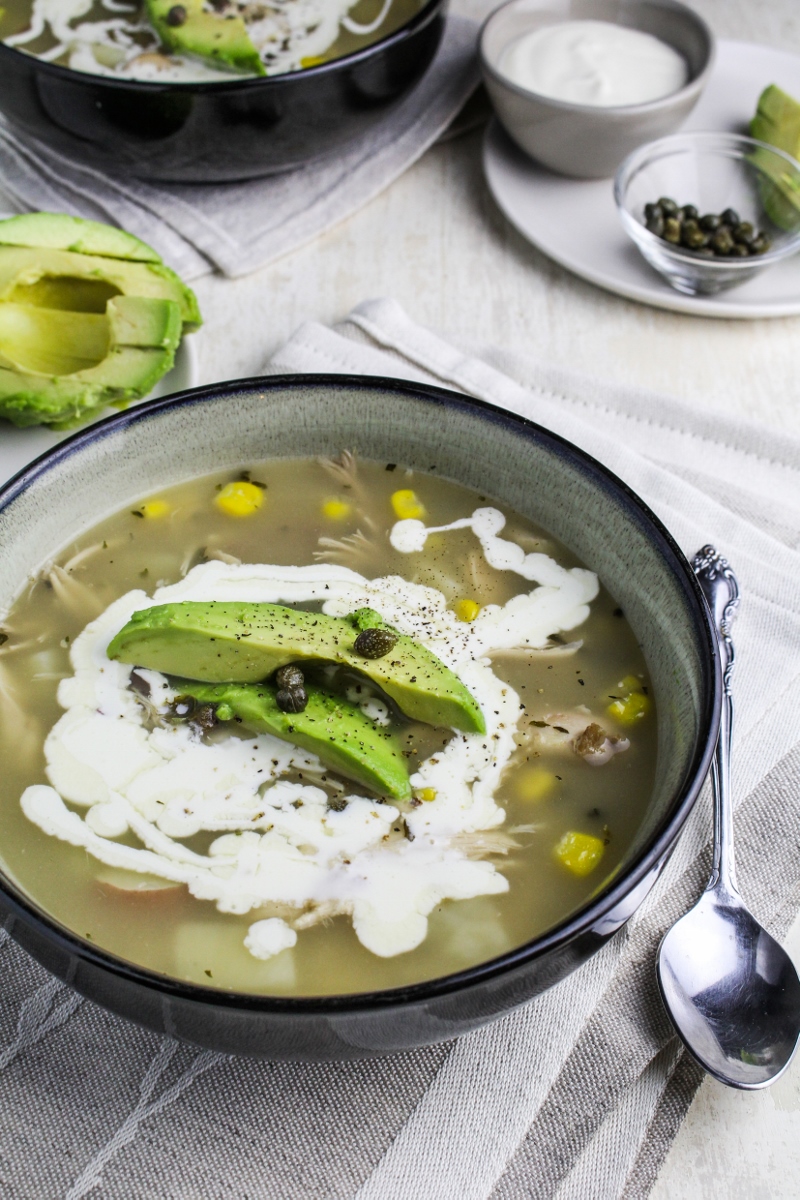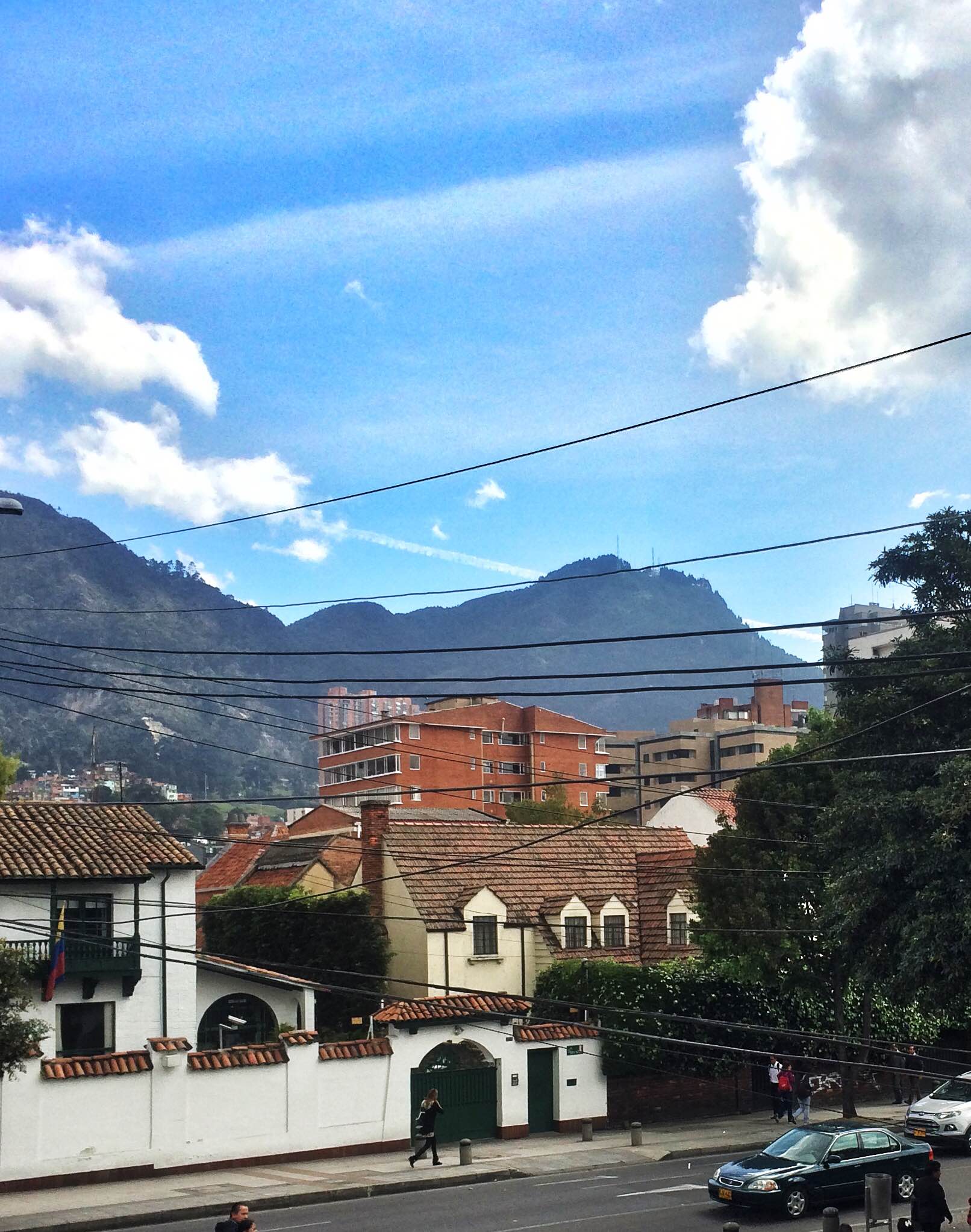 Even a small amount of internet research will quickly reveal that making an authentic pot of ajiaco is basically a science, and one that doesn't leave much room for experimentation. The thickness of the broth is typically created by the addition of papas criollas, a small Andean potato that dissolves into the broth. Since they're hard to come by outside of Latin America, I used grated russets instead, and that worked well, although the soup wasn't quite as thick as other versions I've had. From everything I read, using guascas is essential to the flavor of the soup, so I ordered some from Amazon in advance. For everything else I pretty much stuck to the traditional method, although I do prefer using frozen corn to serving the whole cob in the soup (I've had it both ways in Bogotá, so I think it's fair to still call it traditional). It's a bit time consuming to make the stock, but otherwise a very easy recipe, and the result was pretty close to, although not quite as good as, the Colombian version. I have a feeling this may be a new staple in our kitchen.
Like what you just read? Subscribe to Katie at the Kitchen Door in the box on the right, on Feedly or Bloglovin', or follow along on Facebook, Twitter, Pinterest, Instagram, or Google+. Thanks for reading!
Print
Ajiaco Bogotano – Chicken, Potato, and Corn Soup with Avocado and Capers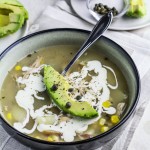 A classic Colombian chicken and potato soup. Thick and creamy, it's served with capers, avocado, and crema on the side so you can add toppings as you eat. One of my favorite Colombian recipes!
Adapted from these sources:The Kitchn, My Colombian Recipes, and Serious Eats. 
1

rotisserie chicken

2

carrots

1

onion

5

cloves garlic

20

–

30

parsley stems

1 tsp

salt

1/2 tsp

black pepper

2

medium russet potatoes, peeled and coarsely grated

3

medium red bliss potatoes, cut into

1/4

inch cubes

2

TBS dried guascas

3/4

c. frozen corn kernels

1/4

c. Mexican crema, for serving

2

avocados, pitted and sliced, for serving

1/4

c. capers, rinsed, for serving
Instructions
Use a fork to pull the meat from the chicken, setting aside in a large bowl. Place the chicken carcass, bones, and skin in a large stockpot. Cut the carrots and onions into rough chunks and add to the stockpot. Peel the garlic and cut in half, then add to the stockpot along with the parsley stems, salt, and black pepper. Cover the stock ingredients with water, using 3-4 quarts of cold water. Bring to a simmer over medium heat, then simmer until stock is rich and golden, about 3-4 hours.
Ladle 8 cups of the stock through a fine-mesh strainer into a different stockpot, discarding the solids left behind and saving any extra stock for a different use. Add the grated potatoes, diced red potatoes, and guascas to the stock and bring to a simmer over medium heat. Simmer until the russets have completely dissolved and the soup has thickened, about 20-30 minutes. Add the reserved chicken meat, chopped into bite-sized pieces if necessary, to the soup and simmer for another 15 minutes. Add the corn and cook until warmed through, about 5 minutes. Season the soup to taste with salt and pepper, and serve immediately with the crema, avocados, and capers on the side.
1