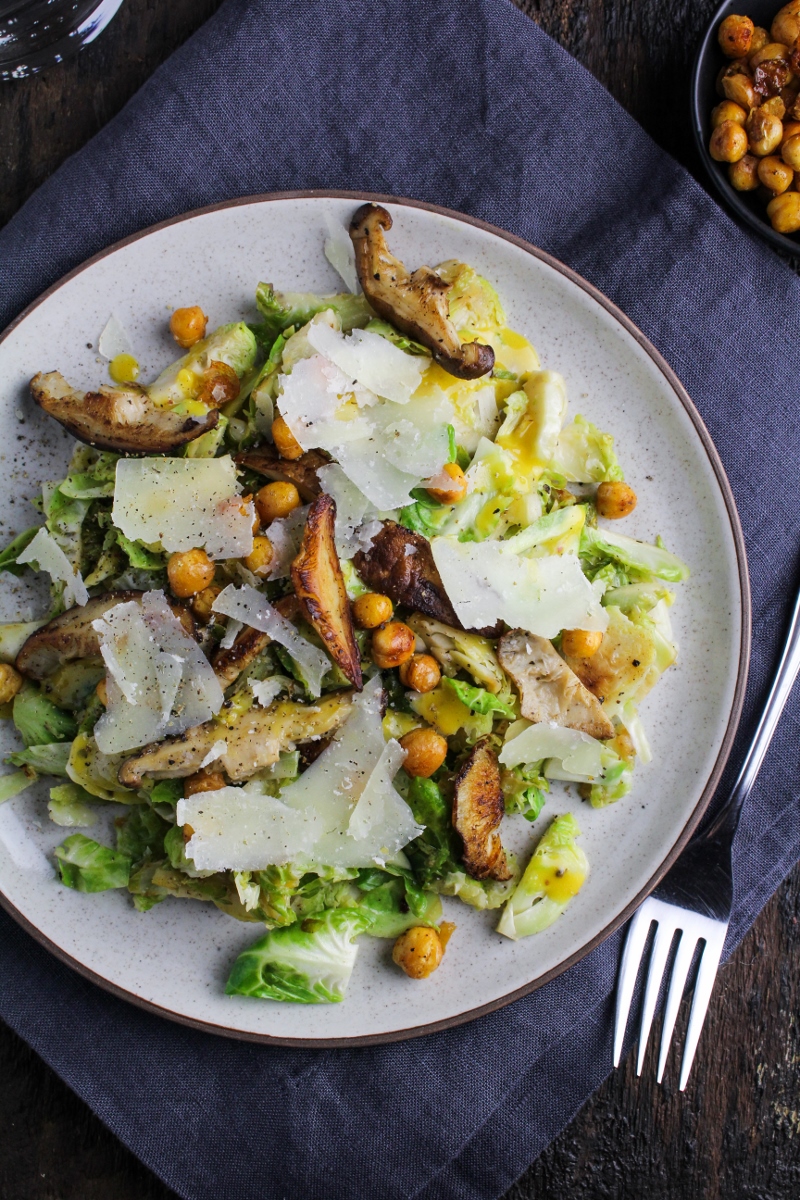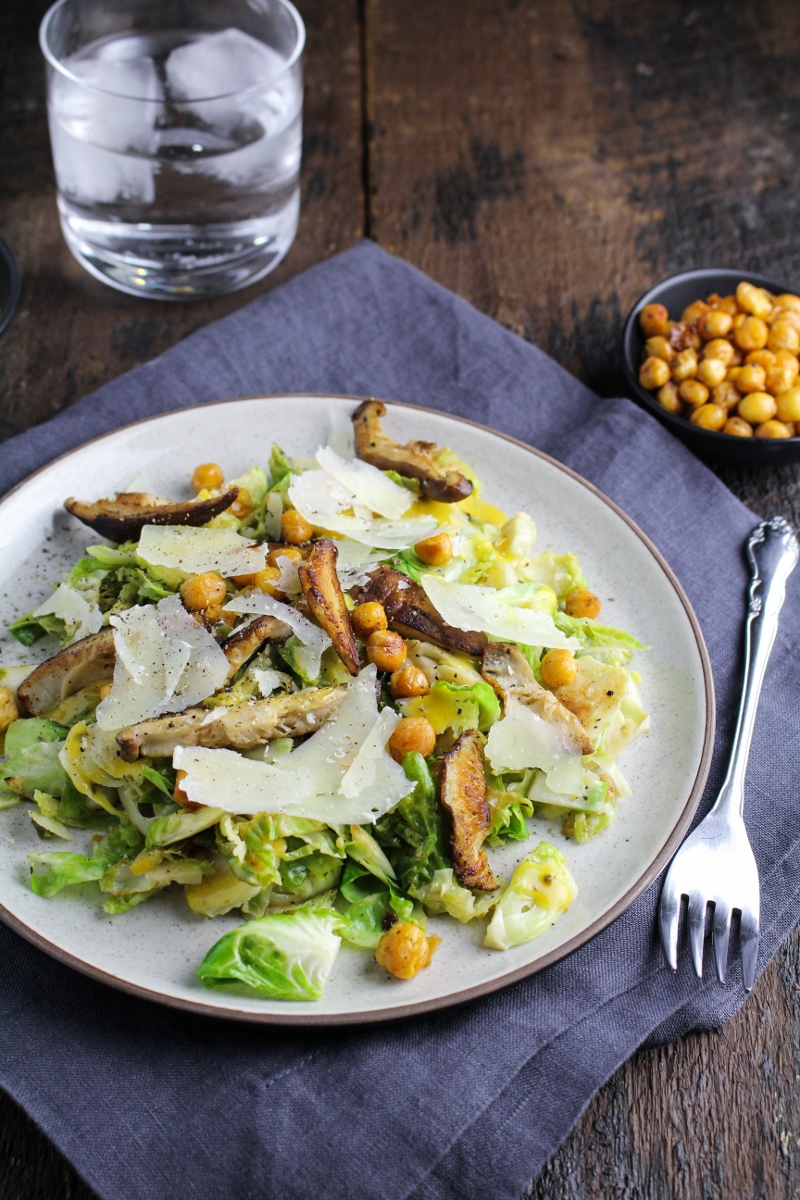 My department has recently moved to work-from-home Fridays. I'm still figuring out how to be as productive from my apartment, which isn't really set up as a workspace (no desk, no chairs with backs, no computer monitor), as I am at work, but in general it's a nice perk. My lunch break  in particular is a whole new experience – I can get out for a quick run, shower, and make myself a homemade lunch all in the space of an hour or so. It completely re-energizes my day. Although it can be tempting to dig into leftover rigatoni bolognese or penne alla vodka at my lunch break, I've been trying to come up with creative salads instead. I've been experimenting with this Brussels Sprout Caesar Salad over the past few Friday lunch breaks, and I think I've finally figured out how I like it best.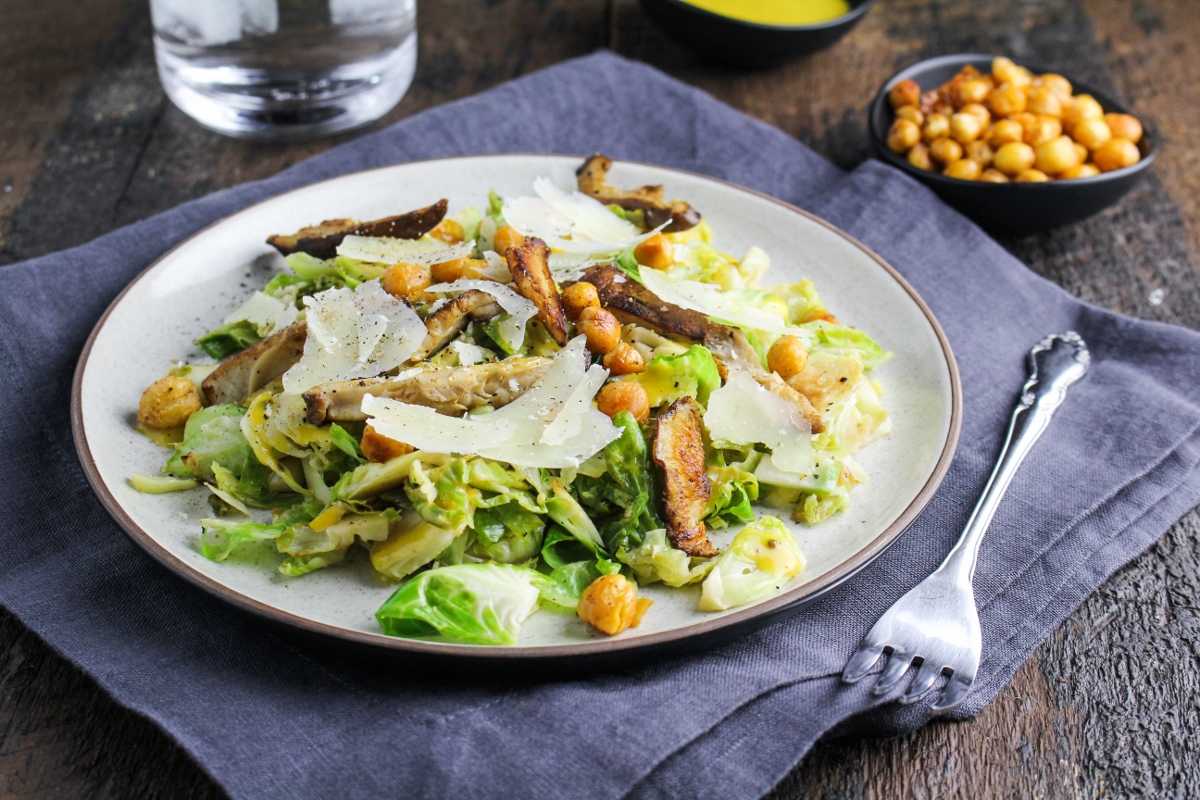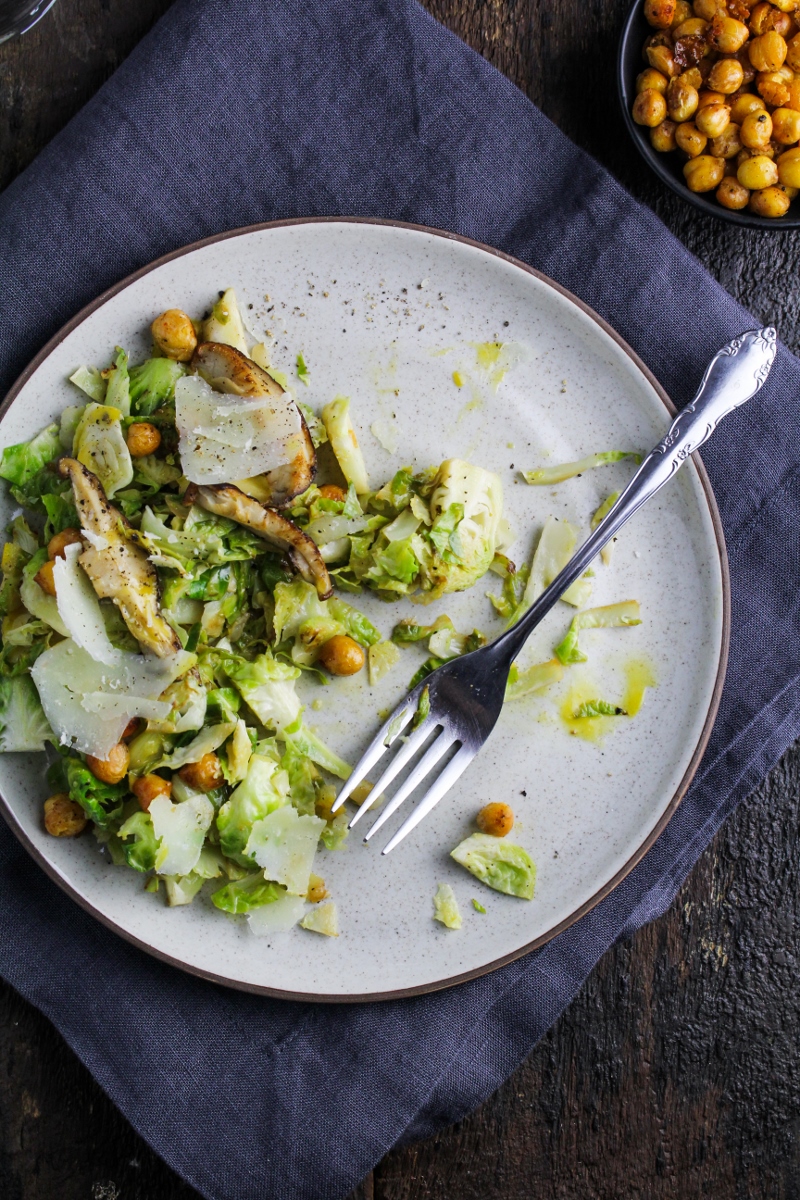 The first trick to this salad is that the brussels sprouts should be cooked over high heat so that they're charred in places but still retain some color and crunch, and not be cooked down to a point of total limpness. A little bit of preserved lemon chopped up and stirred into the sprouts as they cook does wonders to brighten up the overall flavor. For heartiness, I've tried both chicken and sauteed shiitake mushrooms, and the mushrooms are the much better choice – especially thickly sliced and sauteed until golden brown in butter. Roasted chickpeas coated in smoked paprika add crunch and a bit of depth, a protein-rich alternative to croutons. Then of course you have the dressing, which should be homemade and extra tangy – unless of course you're forgoing dressing in favor of an olive-oil fried egg, yolk broken and stirred into the warm salad. The final touch is a few shards of pecorino cheese. These days it's my perfect salad, and I imagine I'll continue enjoying it until spring is really upon us and I can move onto lighter, brighter foods. Until then, it makes eating my vegetables a pleasure.
Like what you just read? Subscribe to Katie at the Kitchen Door in the box on the right, on Feedly or Bloglovin', or follow along on Facebook, Twitter, Pinterest, Instagram, or Google+. Thanks for reading!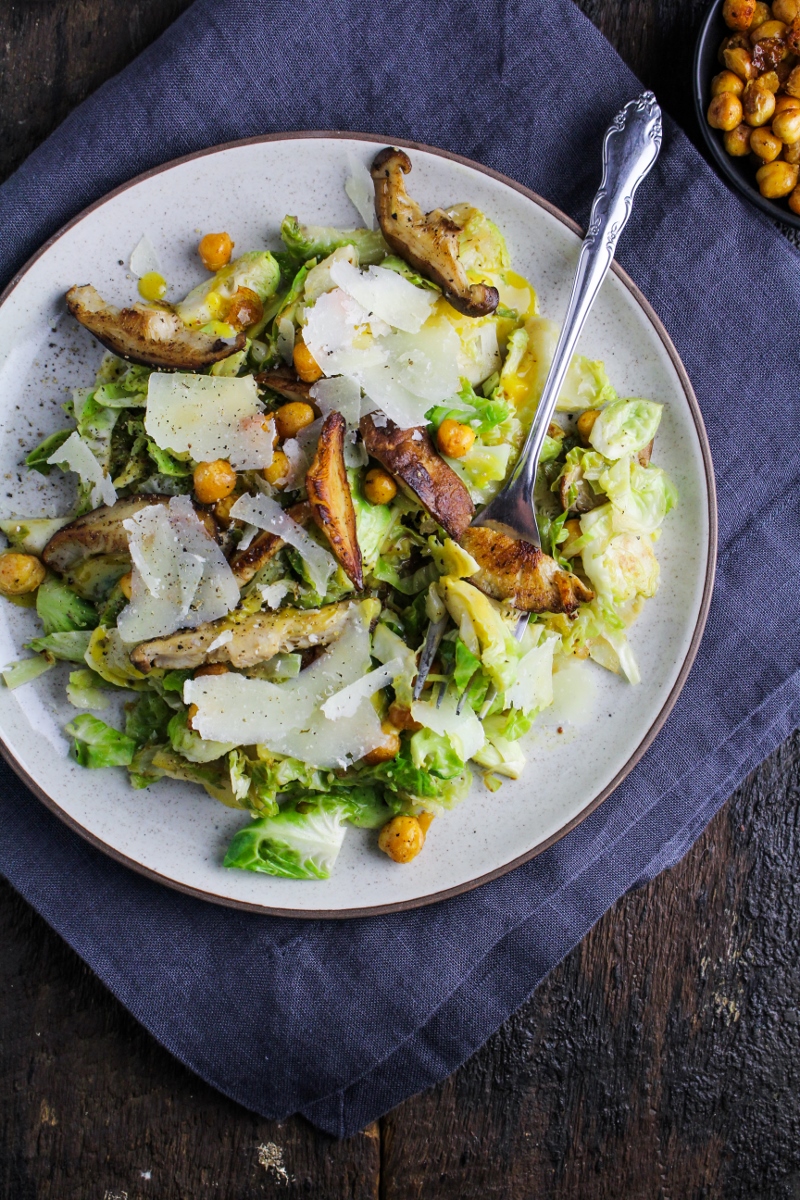 Brussels Sprout Caesar Salad
Serves 2.
1 1/2 c. cooked chickpeas
4 TBS olive oil, divided
1/4 tsp smoked paprika
sea salt
pepper
20 – 30 brussels sprouts
1 wedge of preserved meyer lemon, finely chopped
1/2 TBS butter
10-15 large shiitake mushrooms, stems removed, thickly sliced
pecorino cheese
homemade Caesar dressing
Preheat oven to 375°F. Toss the chickpeas with 2 TBS of the olive oil, the smoked paprika, and sea salt and pepper. Spread on a baking sheet and roast, stirring once or twice, until crispy, about 20 minutes. Set aside
Trim the ends and the outer leaves from the brussels sprouts and discard. Thinly slice the brussels sprouts. Heat the remaining 2 TBS of olive oil over medium-high heat in a large frying pan, then add the brussels sprouts and stir to coat with the oil. Add the preserved lemon to the pan, and season the sprouts with salt and pepper. Saute the brussels sprouts, stirring frequently, until bright green and charred in places, but still slightly crunchy, about 6-8 minutes. Remove from the pan into a large bowl.
Melt the butter in the same frying pan you used to cook the brussels sprouts, over medium heat. Add the sliced shiitake mushrooms and saute, stirring occasionally, until golden brown on both sides, about 8-10 minutes. Add to the bowl with the brussels sprouts and toss to mix.
Serve the salad warm, tossed with shaved pecorino cheese, the roasted chickpeas, and homemade Caesar dressing.
5