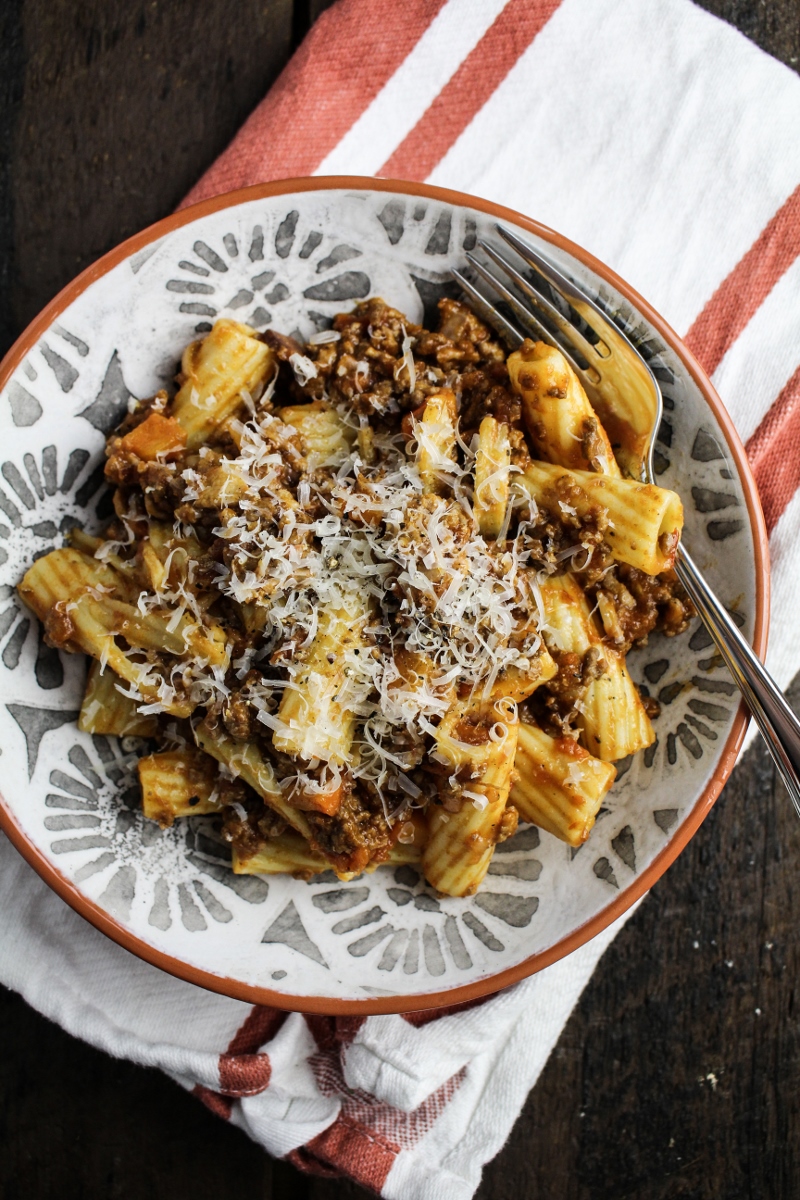 I'm on the road again this week, back in Bogotá for work. While I won't deny that I'm really enjoying the sunshine, flowers, and complete absence of snow, I would be lying if I said that there isn't a part of me that is always missing Trevor when I'm away. I tend to stock up the fridge and cook a bunch of big meals right before I leave – I think feeding him is my way of loving him even when I'm not there to do it in person. This week however I didn't have the chance to do my usual stock-up. I did leave a batch of freshly baked chocolate chip cookies, but other than that the fridge situation was a little bleak. However, as I reminded him on the phone tonight, there is a generous amount of this bolognese sauce sitting in the freezer, and it's about as comforting as comfort food can get.
This recipe is based on one I found in Franny's: Simple Seasonal Italian. Franny's is a book that came my way last summer, but was published almost two years ago (which somehow seems like forever in today's cookbook-laden world). A publicist over at Artisan sent me a copy as a sort of bonus book when I was planning coverage of a current title, noting that although it wasn't current, she thought I would like it and wanted to share a copy. I do try to keep my cookbook coverage focused on recently published books, so I didn't plan to do much with Franny's, but it slowly worked it's way into my kitchen. First it was the meatballs, which were the most perfect meatballs I'd ever eaten. Then I tried a few hearty soups and pastas with equal success, and soon it had become my first point of research for any classic Italian cooking. So a few weeks back, in the middle of another snowstorm when nothing but a slow-simmering pot of meaty bolognese sauce would do, Franny's was my first point of reference. I made a few significant changes to meet my tastes – doubling the amount of tomatoes and using a mixture of beef and pork – but the base recipe was just what I needed to make my own perfect pot of bolognese. And now it's waiting at home to keep Trevor warm and well-fed when I can't do it myself.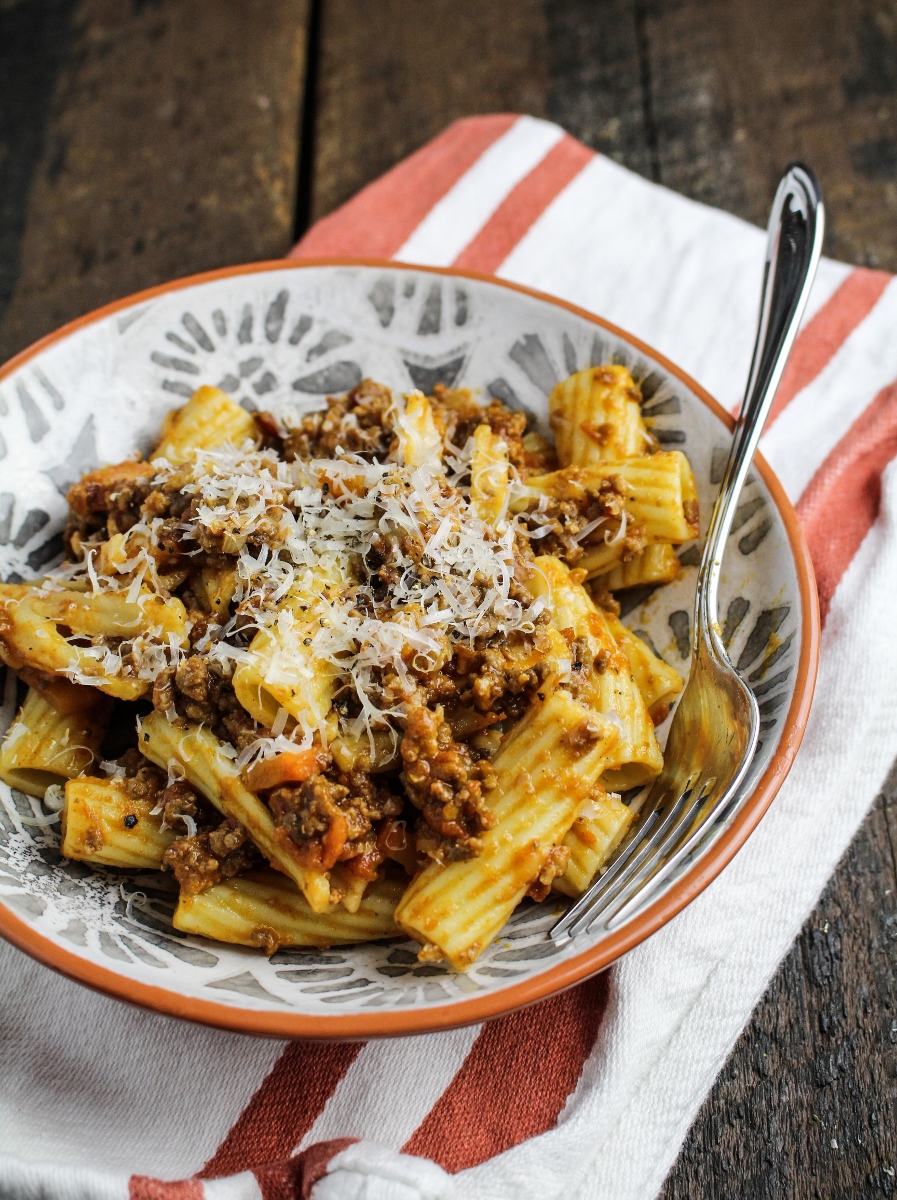 Print
Rigatoni Bolognese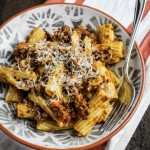 2

TBS butter

2

TBS olive oil

1

lb. ground pork

1

lb. ground beef

1/2 tsp

chili flakes

1/4

lb. bacon, sliced into

1

inch pieces

6

large garlic cloves, minced

1

large onion, peeled and finely diced

3

carrots, peeled and finely diced

2

TBS tomato paste

2/3

c. dry red wine
One

28 oz

. can of crushed tomatoes

2

c. water
salt and pepper to taste

2

lbs. rigatoni, cooked according to package directions
Instructions
In a heavy stockpot, heat the butter and olive oil over medium heat. Add the ground beef and pork, season with salt and chili flakes, and cook until browned all the way through. Use a slotted spoon to remove the meat to a bowl and set aside. Add the sliced bacon and cook until crispy. Remove the cooked bacon to the bowl with the cooked beef and pork. Drain the fat from the pot, returning 3 TBS of the fat to the pot and discarding the rest.
Lower heat to medium-low. Add the minced garlic, onion, and carrot to the pot and cook, stirring frequently, until onion is translucent and carrot is tender, about 10-15 minutes. Stir in the tomato paste and cook for 2 minutes, then add the red wine and bring to a simmer.
Add the meat and bacon back to the pot, along with the tomatoes, water, and salt and pepper. Bring to a simmer then cover the pot with a lid and simmer for 40 minutes to 1 hour. Remove the lid and continue to simmer until ragu has reached desired consistency. Serve immediately on prepared rigatoni.
5