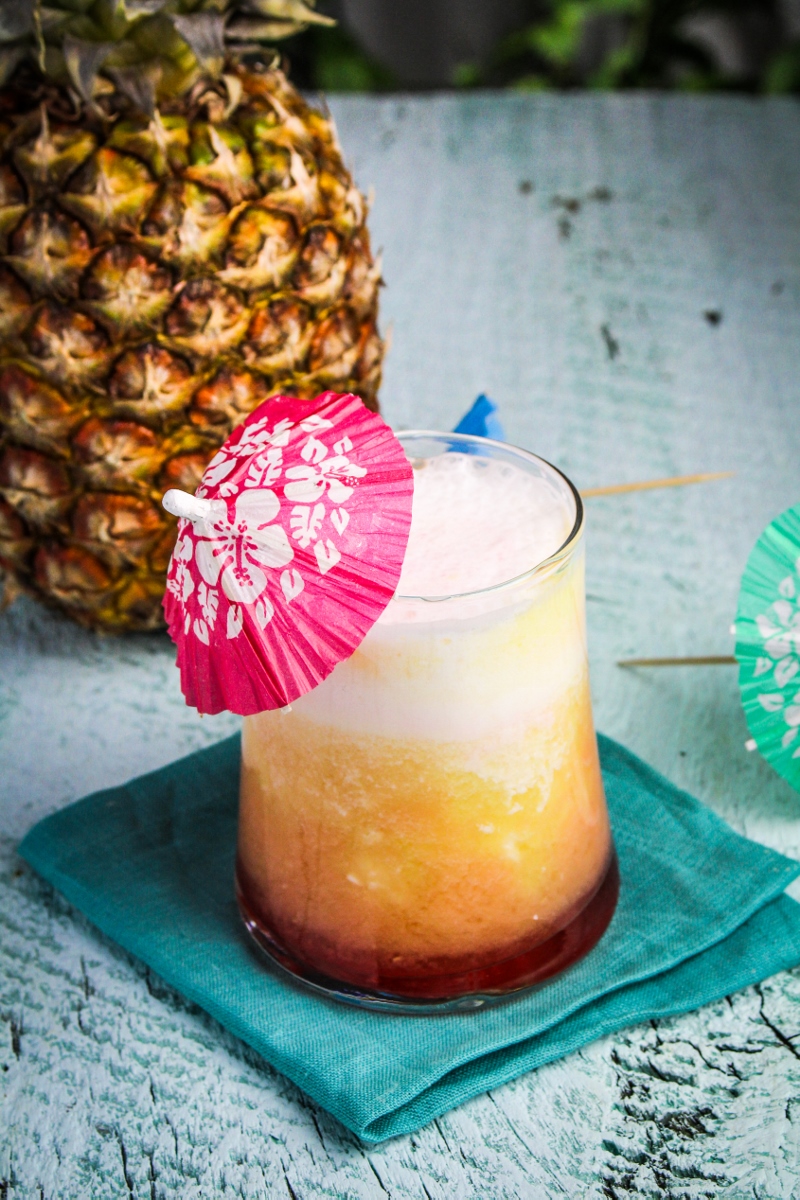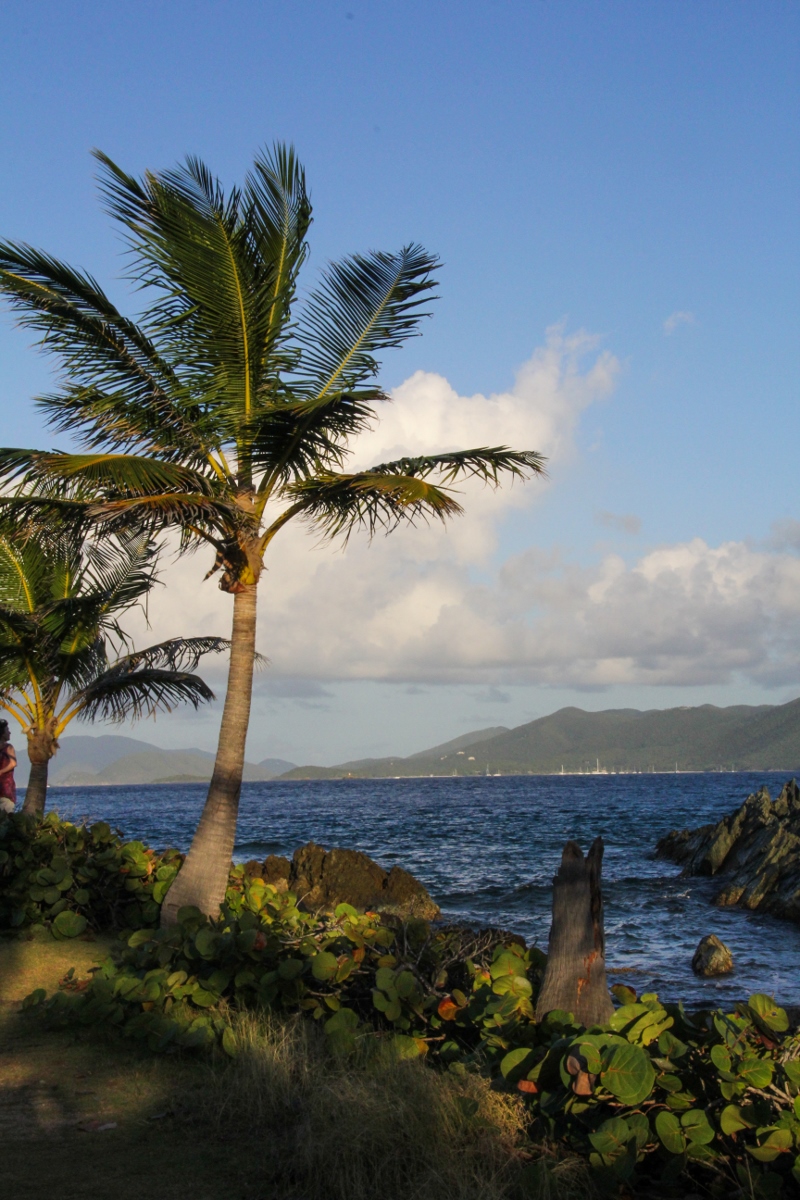 Two weeks ago, Trevor and I got back from a gorgeous week spent in the US Virgin Islands. Since then, it has done nothing but snow in Boston. Snow on snow on snow. Record-breaking snow. Headed into the 5th snow day of the past two weeks tomorrow, I thought perhaps we all could take a moment and indulge in some pictures of white sandy beaches and aquamarine water. And when we're done hating New England/February/cold/precipitation, let's make an over-the-top tropical cocktail and pretend we're all on an island together.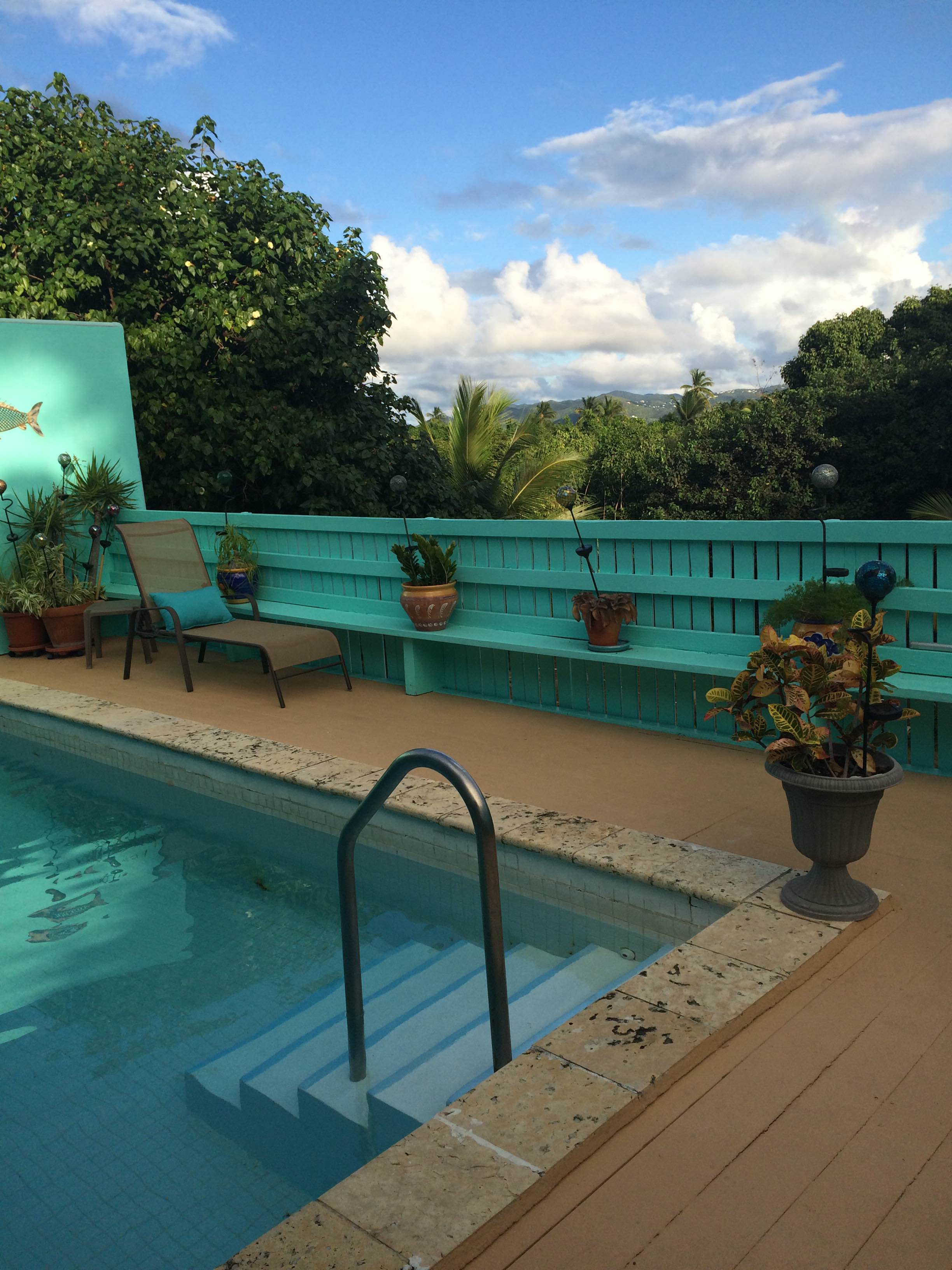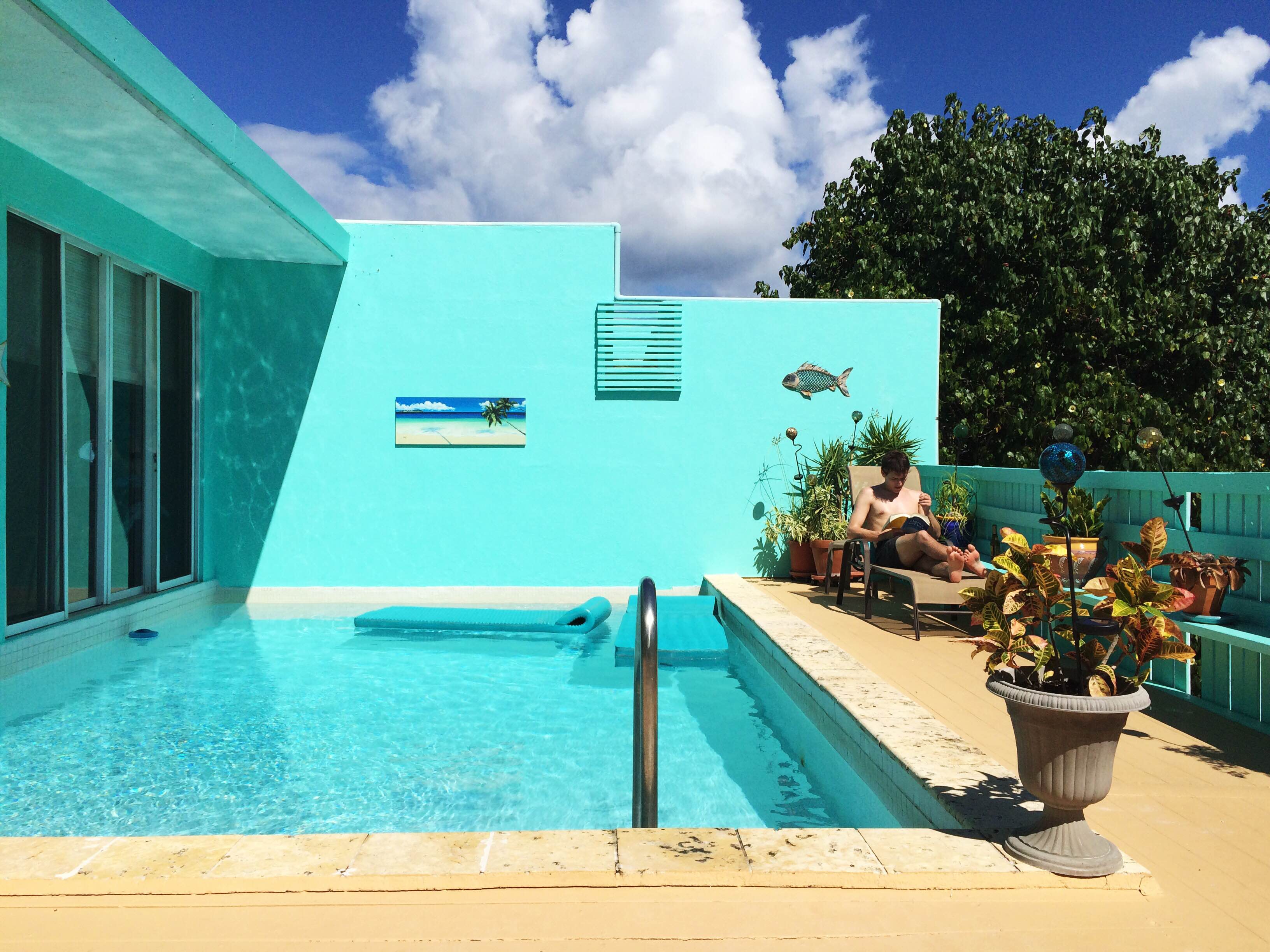 Where We Stayed
I booked this trip on a whim back in August, when I happened to see a great deal on flights to St. Thomas. It was originally booked as a Thursday night to Monday morning sort of trip, so we decided that the easiest thing to do would be to stay on St. Thomas and wander over to St. John for the day if we wanted. Of course, between numerous airline schedule changes and the blizzard, we actually ended up being away for a full week – not exactly the weekend getaway I planned, but I can't say I mind the extra downtime too much. We booked a villa at Pavilions and Pools through AirBnB (the listing is here, if you're interested – we would recommend it and it's certainly a better deal than most hotels!). It was a great spot – a private plunge pool, a big private deck, a comfortable and bright bedroom and sitting room, an outdoor-ish shower, and a small kitchen. The privacy and extra space were great, as was spending each afternoon lying on the pool floaties with a glass of cold chardonnay and a book. We were able to walk to both Sapphire and Lindquist beaches, and the team at Pavilions provided us with snorkel gear and beach towels. The roads in St. Thomas are windy and hilly with no sidewalk or shoulder, so even the 1/2 mile walk into Red Hook was out of the question, but we could easily flag down the $1 open-air safari taxis at the entrance to the villa complex for a 3 minute ride into town. We chose not to rent a car and are glad – we didn't want to spend all our time driving and the adventure of driving on those crazy roads (and on the left!) was not high on our list – but if we had wanted to explore more of the island we would have spent a fortune on taxis (taxis charge per person and rates are not really standard). As it was, we were happy with our two beaches, the dining options in Red Hook, and the easy ferry to St. John.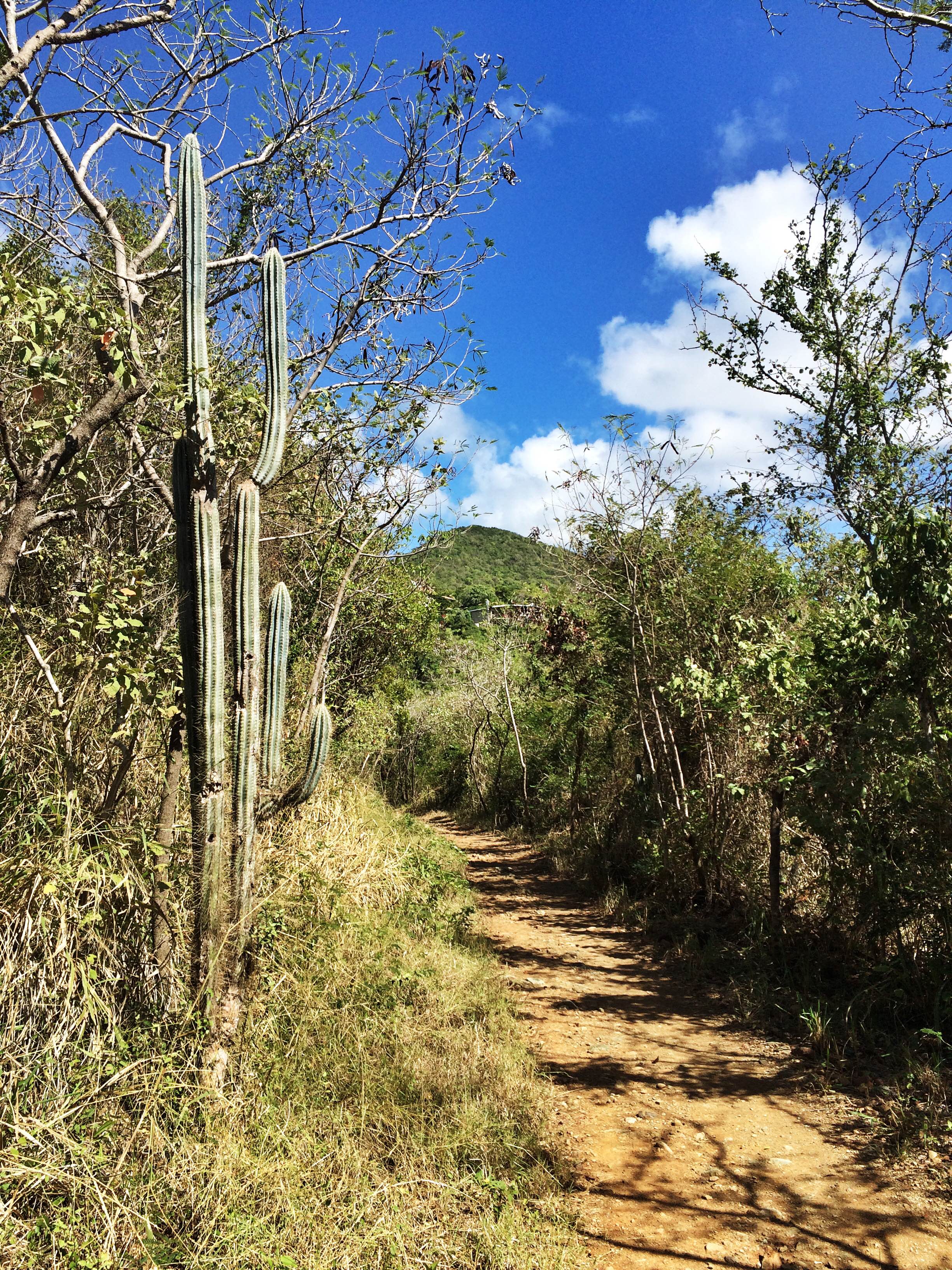 What We Did
This trip was booked with the explicit purpose of not doing much, so I had to continually remind myself that it was OK to do just that. Trevor had a miserable sinus infection for most of the trip, but he let me drag him around a little bit anyways. Sapphire Beach was the easiest option – just a short walk down a dirt road from Pavilions and Pools. It is gorgeous, but a bit crowded with cruise traffic. Lindquist was a semi-treacherous 5 minute walk down the busy road, and charged a $2 per person fee, but was much quieter and longer, and the lack of amenities gave it more of that remote, desert-island feel (this may have been enhanced by the commercial they were shooting of white horses running along the beach). We snorkeled at both beaches and it was really awesome – I don't think I've been snorkeling since I was 8 or 9 and it really is so cool. We must have seen over 30 different types of fish, and the reef at Lindquist was intact with purple fans and brain coral and many other formations. I probably spent 10 minutes floating and watching a huge school of "Dorie fish" (I mostly only know about tropical fish because of Finding Nemo, sorry) nibble at the coral.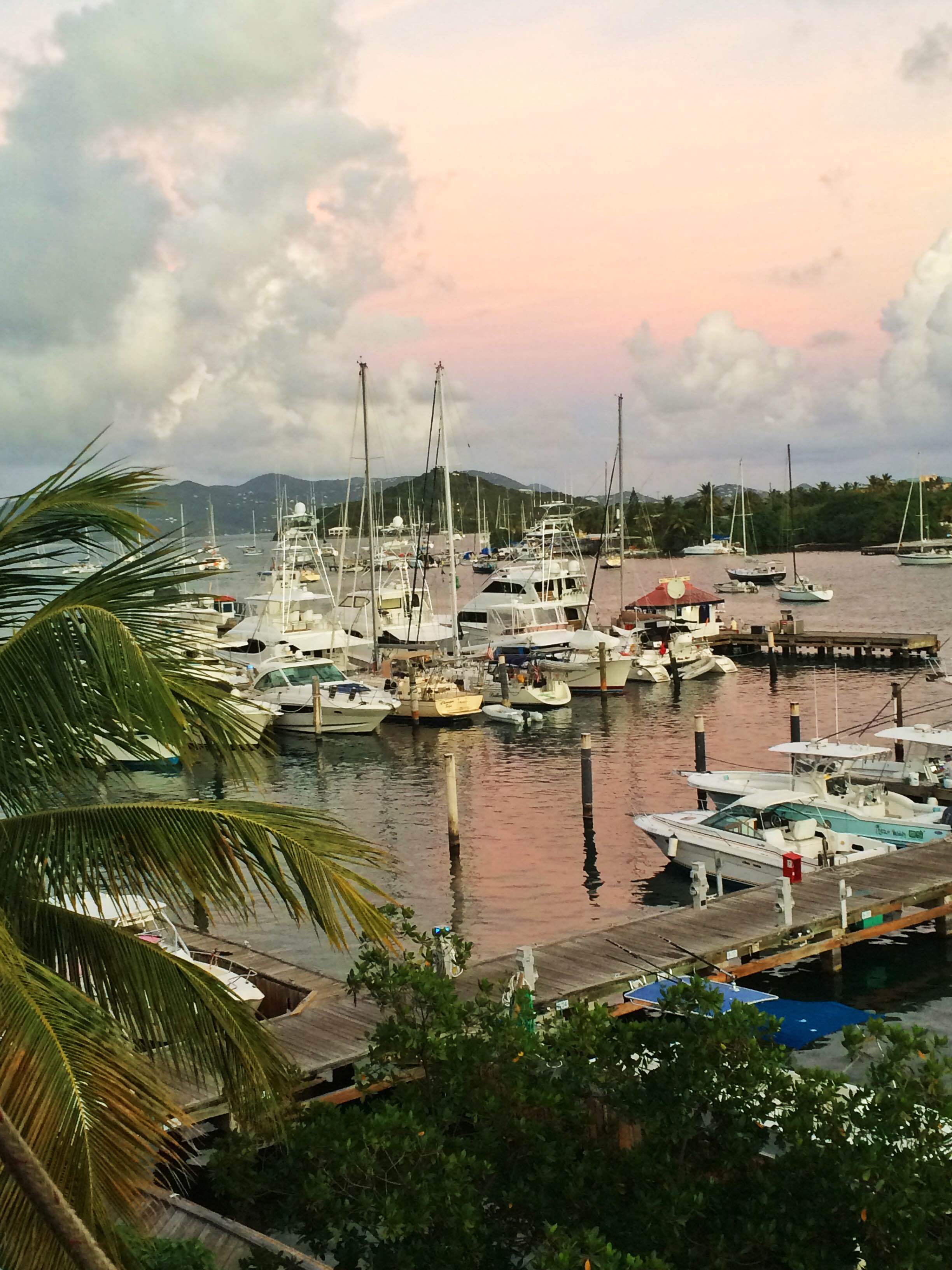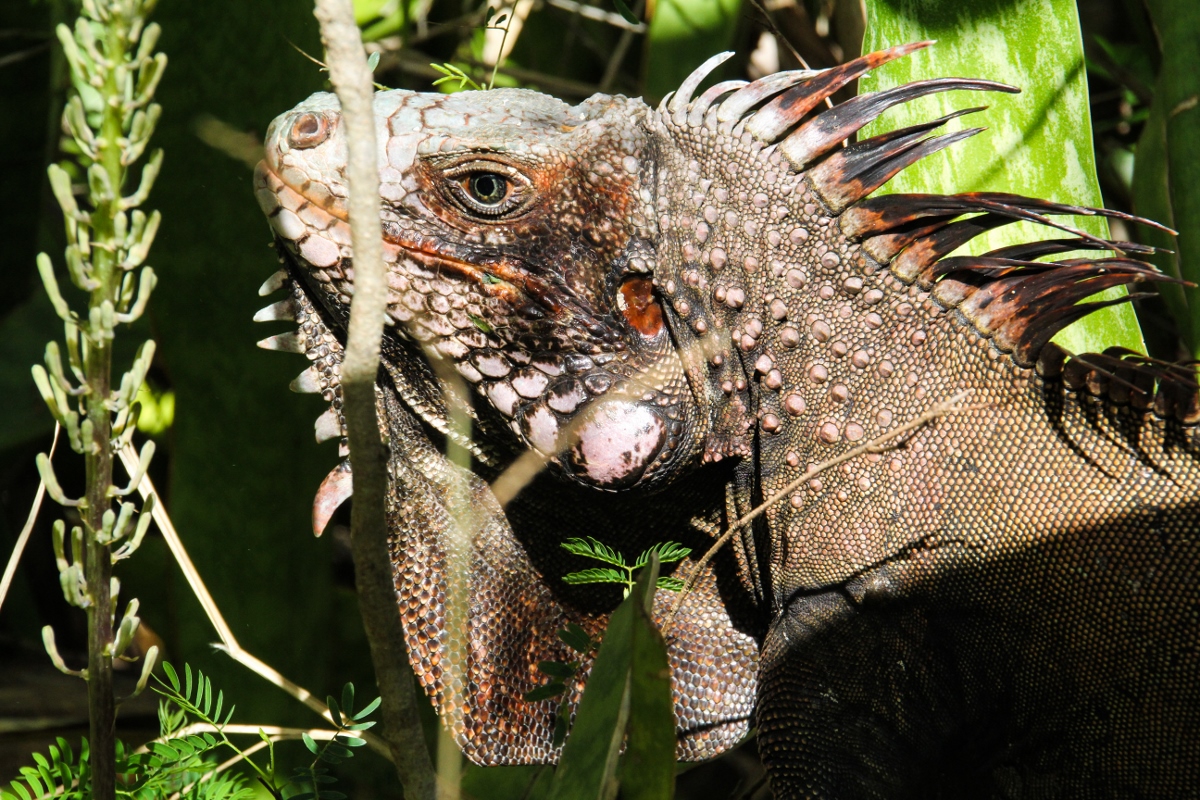 On our second day we took the ferry from Red Hook over to St. John, about a 20 minute ride. Cruz Bay seemed like a much cuter town than Red Hook, although we didn't walk around and explore at all. Instead, we hit the trails of the USVI National Park – starting right behind the visitor center in Cruz Bay, we took the Lind Trail down to Honeymoon Beach and then connected back to the Caneel Hill Trail, which took us up and over two major hills and down to Caneel Bay Resort. I had thought there was a separate beach at Caneel Bay, but the public beach access signs led us probably another mile back to Honeymoon Beach, so we ended up just hiking back to Cruz Bay instead of taking a taxi from Caneel Bay as planned. If I did it again, I would do a loop, starting on Caneel Hill to begin with and then taking Lind Trail back from the beach on the way back. Caneel Hill is not the most popular trail in the park, but it was convenient that we did not have to take a cab to a trailhead and back again, and it was a challenging and well-maintained trail with great views of the islands from the top of Caneel Hill. On our last afternoon we took a safari into Charlotte Amalie, the major town on St. Thomas – since it was Sunday, I knew that some places would be closed, but literally, everything in the whole town was closed! All the shops, restaurants, bars… it didn't seem like a town that I would love spending time in (just a bit touristy and shopping-oriented), but if you do go, definitely don't go on Sunday.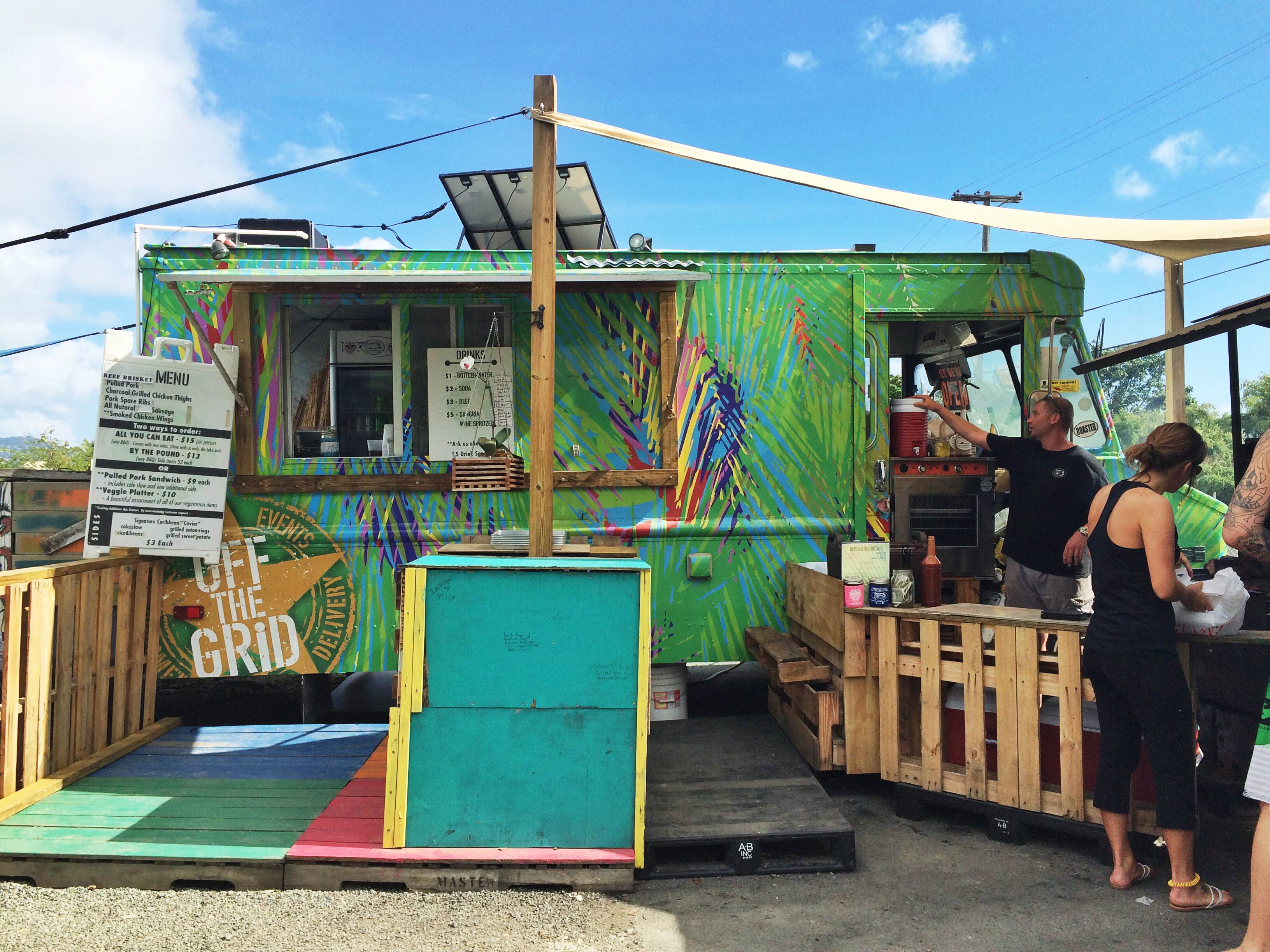 What We Ate
The USVI are not really reknowned for their culinary offerings, and overall we found the food on the island a bit boring and overpriced. Of course, we're spoiled by the wealth of interesting and affordable restaurants all over Cambridge and Boston, so we have high standards. That said, a few places we ate at are worth mentioning here. Off The Grid, a BBQ food truck located at the top of the hill down to Sapphire Beach was a great stop – they had delicious ribs, pulled pork, wings, sausages, and brisket all sizzling away on a big outdoor grill, plus a sweet and tangy "painkiller" BBQ sauce made with rum and pineapple juice, and good veggie sides like grilled sweet potatoes and rice and beans. They served beer and sangria and we enjoyed our meal at their picnic tables, looking out over the islands.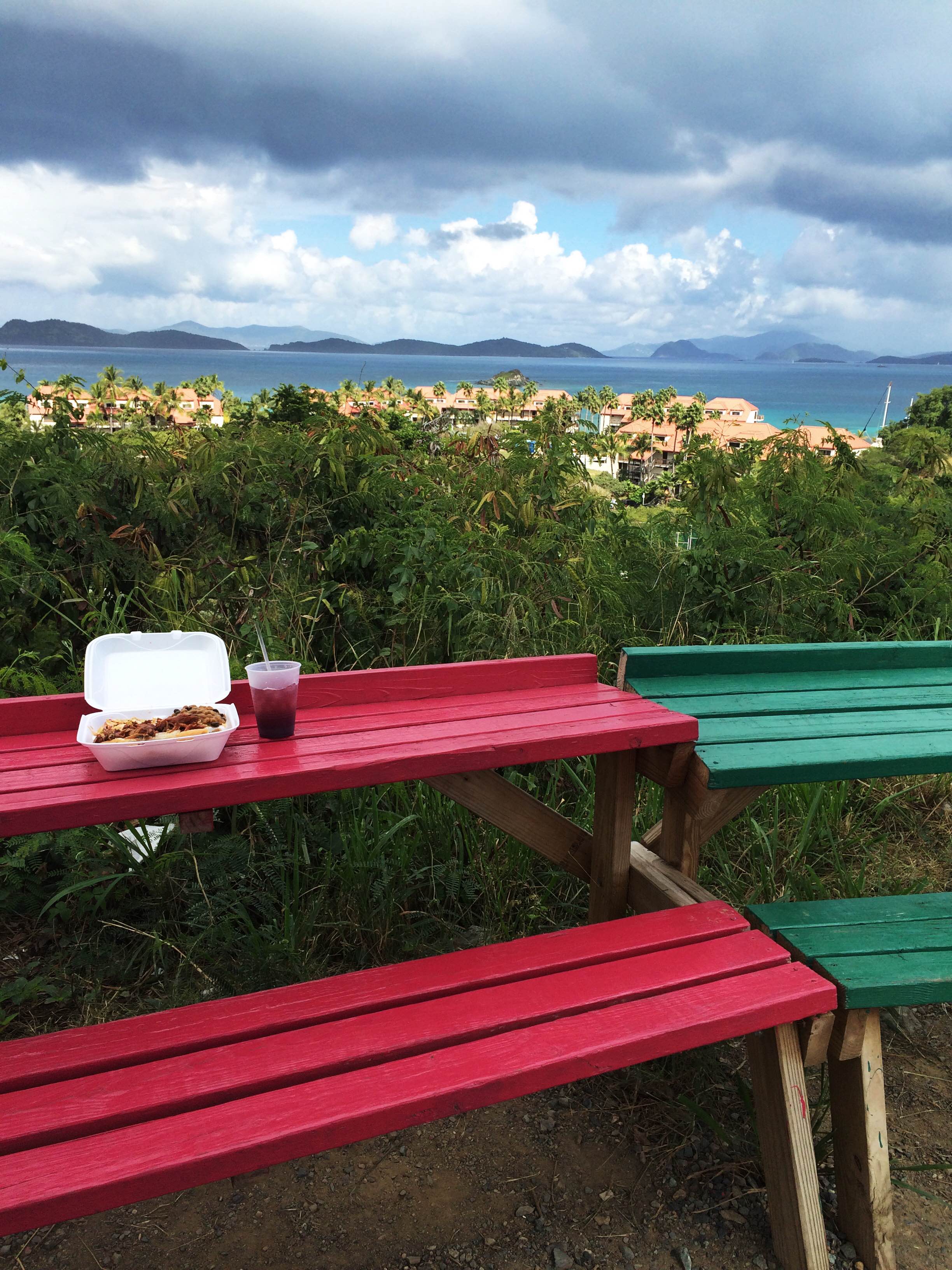 Our one fancy dinner was at Caribbean Fish Market, one of the few restaurants on the islands that is open on Sundays. The ambiance was nice – it's part of a resort complex but right on the beach, and we ate outside with live piano music. My chicken was actually quite good, somewhat surprising at a fish restaurant – it was stuffed with bacon and spinach and served with a mango chutney and sweet plantains – but Trevor's tuna was very bland, certainly not worth $38. I'm not sure where I'd come down on the restaurant in the end – although it seemed overpriced, it was on par with every other nice restaurant on the island, and I think the same is probably true for the food quality. In Red Hook itself we only really partook in liquid dining, but we did have quite a fun time at Melt killing time before dinner. The bar has a younger vibe, and we loved that they have games available – a table behind us was playing Connect 4, there was skee ball and some sort-of skinny air hockey, and Trevor and I spent a solid hour playing Texas Hold 'Em. The sandwiches there looked good – we were tempted to call off our nice dinner and stick with grilled cheese and tater tots, but we didn't in the end. Next time. It's worth mentioning that we were there in the late afternoon so it was a quiet crowd – I'm not sure what it would be like later at night, but likely a lot livelier and less conducive to board games.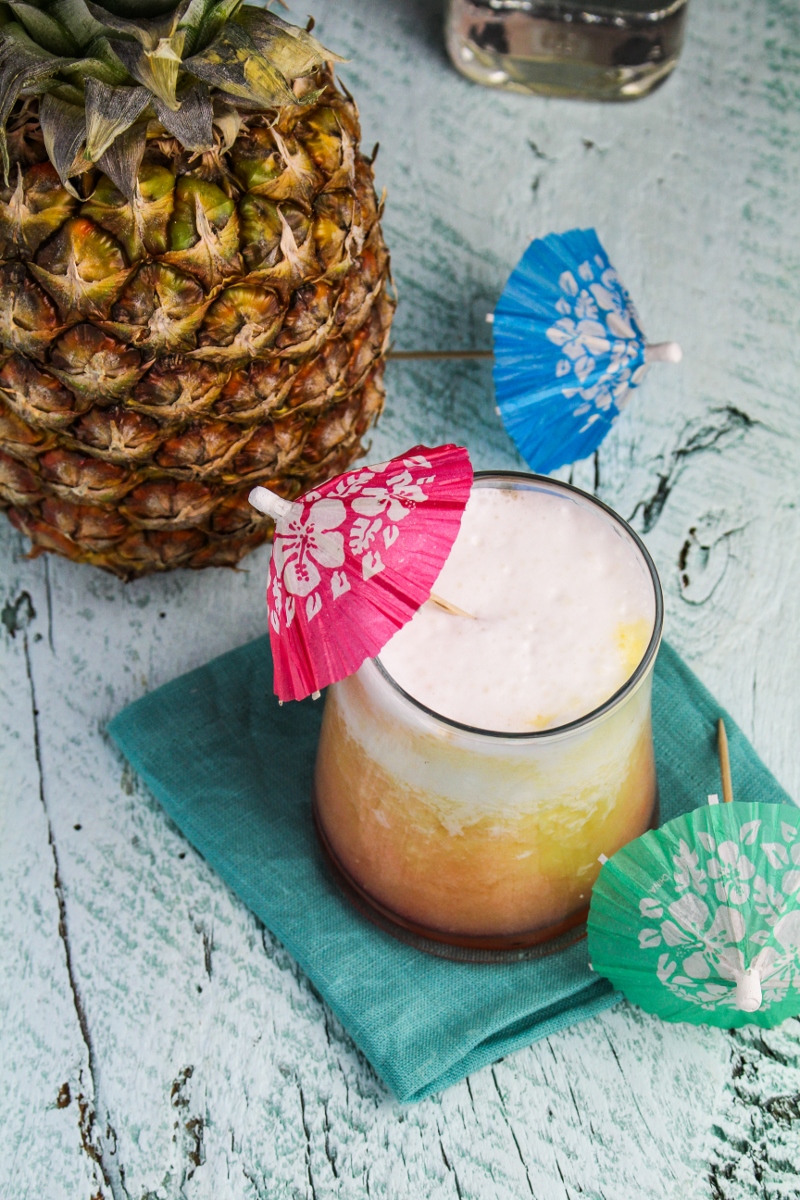 This Cocktail
Neither Trevor nor I actually had any froofy tropical drinks while we were away – we mostly drank $4 rum and cokes served in plastic cups, and I don't recall there being any drink umbrellas (something to improve upon during our next vacation, surely). But rum and coke in a plastic cup doesn't exactly have that "transport me out of the snow and onto the beach" effect, so I've come up with something a lot more exciting. I'm calling it Piña Sunrise, as it's somewhere between a piña colada and a tequila sunrise. It has three layers – a grenadine and pineapple layer, a pineapple and pineapple layer, and a coconut sorbet layer. Each layer is laced with rum and coconut rum, and it's all frothy and cold and sweet and exactly the sort of thing you should drink on the beach. I special-ordered drink umbrellas to top it off, just to complete the vibe. So drink up! Winter will be over soon.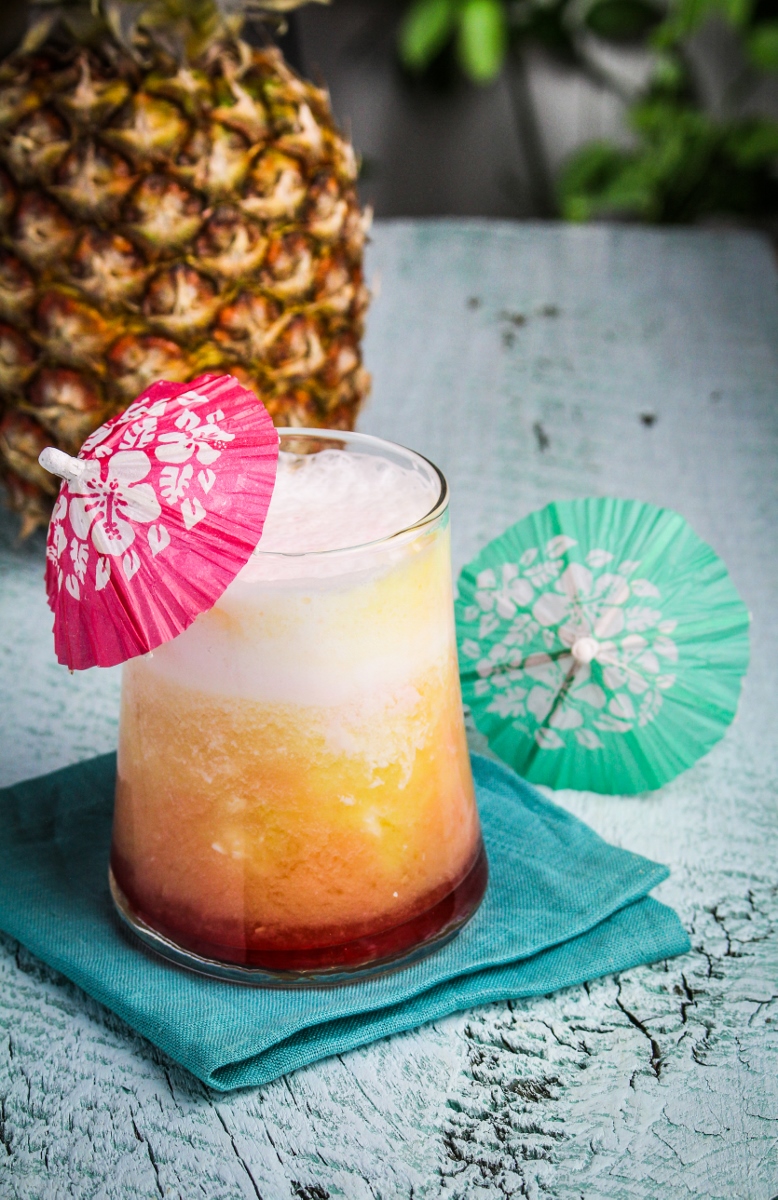 Piña Sunrise Cocktail
Serves 2.
1 scoop coconut sorbet
1/4 c. whole milk
3 ice cubes
3 oz. coconut rum, divided
1.5 oz. white rum
3/4 c. frozen pineapple cubes
3/4 c. pineapple juice
1/2 tsp grenadine plus a dash for glasses
Add the coconut sorbet, milk, ice cubes, and 1.5 oz (one shot) of the coconut rum to a blender, and blend until smooth. Pour into a container and set aside.
Add the remaining 1.5 oz of coconut rum and 1.5 oz of white rum to the blender along with the pineapple cubes and pineapple juice. Blend on high until smooth. Pour half the mixture into a container and set aside. Add the grenadine to the mixture still in the blender and pulse a few times to mix.
Place a dash of grenadine in the bottom of two glasses. Divide the pink pineapple-grenadine mixture between the two glasses. Carefully pour the yellow pineapple mixture on top of the pink layer, then carefully pour the coconut sorbet mixture on top of the yellow layer. The layers may mix slightly, but you should see a gradient going from pink at the bottom to white at the top. Serve immediately (with a cocktail umbrella!)
13