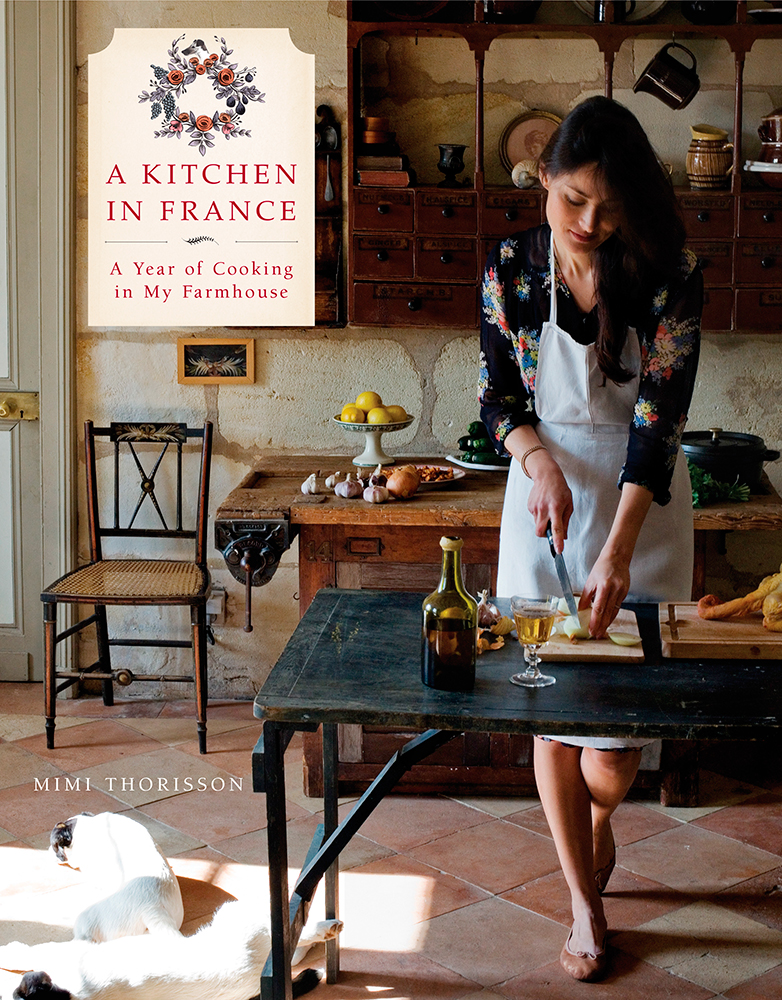 The Book: In some ways, blogger Mimi Thorisson's life is incredibly frustrating to observe from afar – a country house in France, seven beautiful children, days spent foraging for mushrooms in the woods or shopping at open air markets and then cooking veritable feasts in a giant old kitchen. Add to that a chateau to be renovated as an inn and restaurant, a TV show, a lovely new cookbook, and you would think that more people would envy her to the point of hatred – but I think it must be impossible to hate Mimi, whose writing and stories clearly show that she is a smart, loving woman who has worked quite hard to be where she is. All this is a long-winded way of saying that when I opened her new book, A Kitchen in France, it was not with jealousy but with joy at her success and excitement at discovering more lovely little glimpses into her countryside life.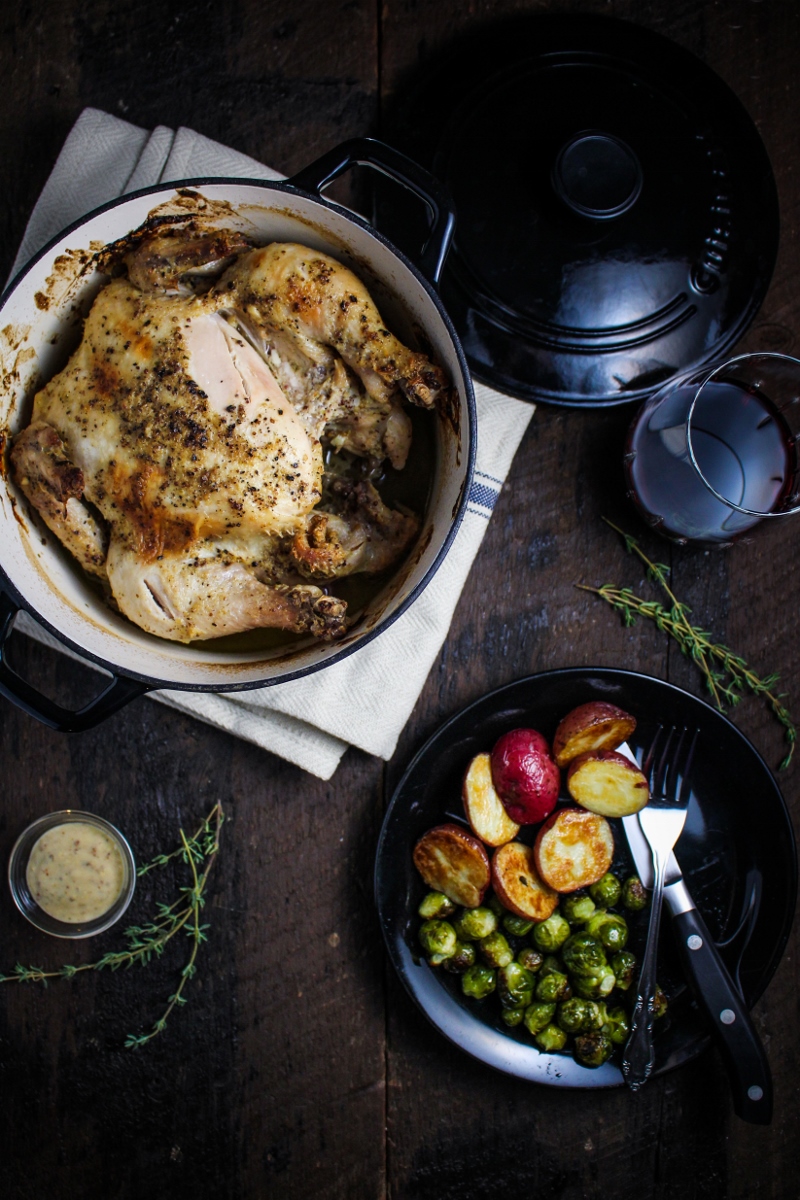 The book is very much an extension of the blog, with the same look and feel and type of food (although I do wish that more of Mimi's thoughtful long-form prose would have made it into the book). All her recipes and stories have a bit of a fairytale aura about them: long treks through the woods, basket on her arm, searching for cepes and late nights around old wooden tables with winemakers discussing the day's harvest. You will find some recipe repeats from her blog, but the newly included dishes are more than enough reason to pick up a copy. I would love to have Mimi cook for me one day – she cooks big, unapologetic meals that celebrate flavor and richness and decadence. They are not meals for a single person or a quick workday lunch eaten at your desk, they are meals that are meant to be shared with family, friends, and strangers, meals that are meant to be cooked slowly and lingered over at the table. Even her "summer" dishes have a wonderfully cozy, homey feel to them – dishes like duck breasts grilled over grape vines and the mustard-roasted poussins featured here. It makes me think that Médoc must be a little bit like Maine, where a warm and hearty dinner at the end of a long day spent outdoors feels appropriate no matter what the season. It's a particularly good book to have on hand as we head into the holiday season, when the focus on eating and sharing good food is strongest. And I very much agree with Mimi's representation of "good" food. Her recipes are refreshingly free of modern food and health classifications – no gluten-free, vegan, or low-fat designations to be found. And yet, every recipe feels wholesome and nourishing, simply because it is made from ingredients found just down the road, or in the woods, and cooked lovingly at home. Mimi's food – and this book – is all about flavor, nourishment, and gathering around the table, as it should be.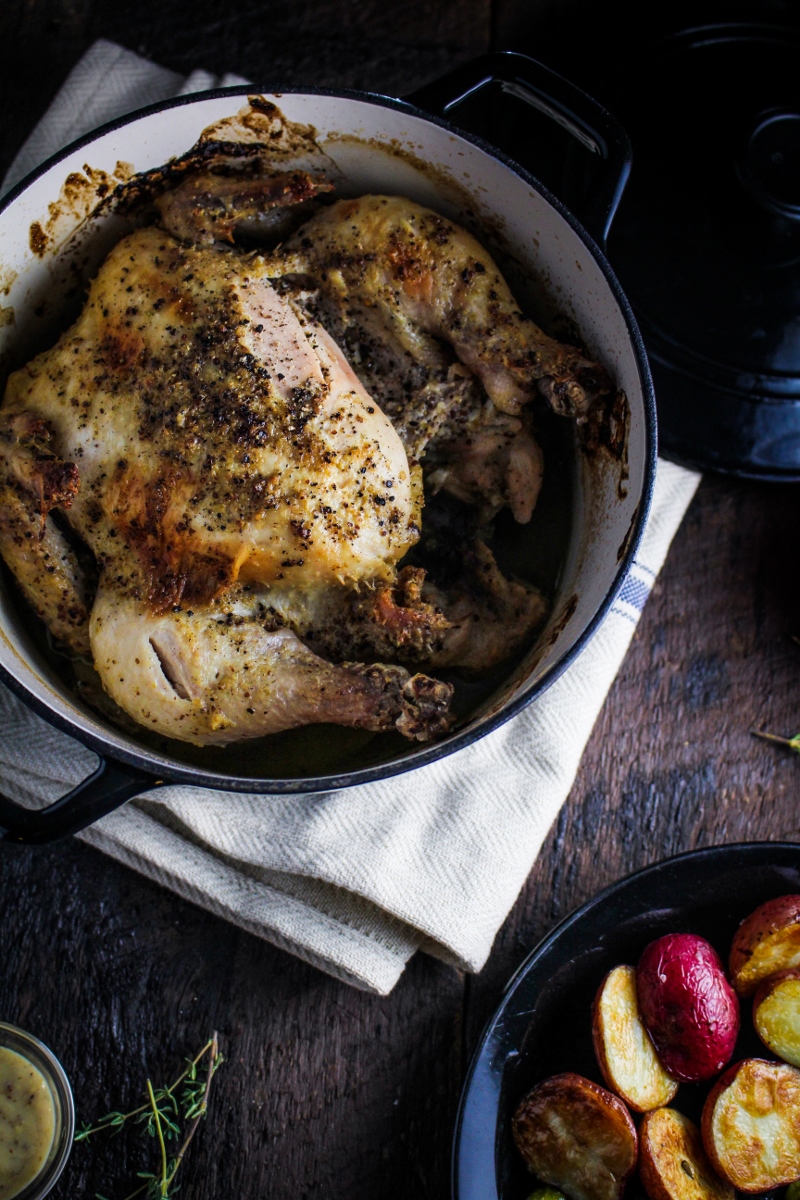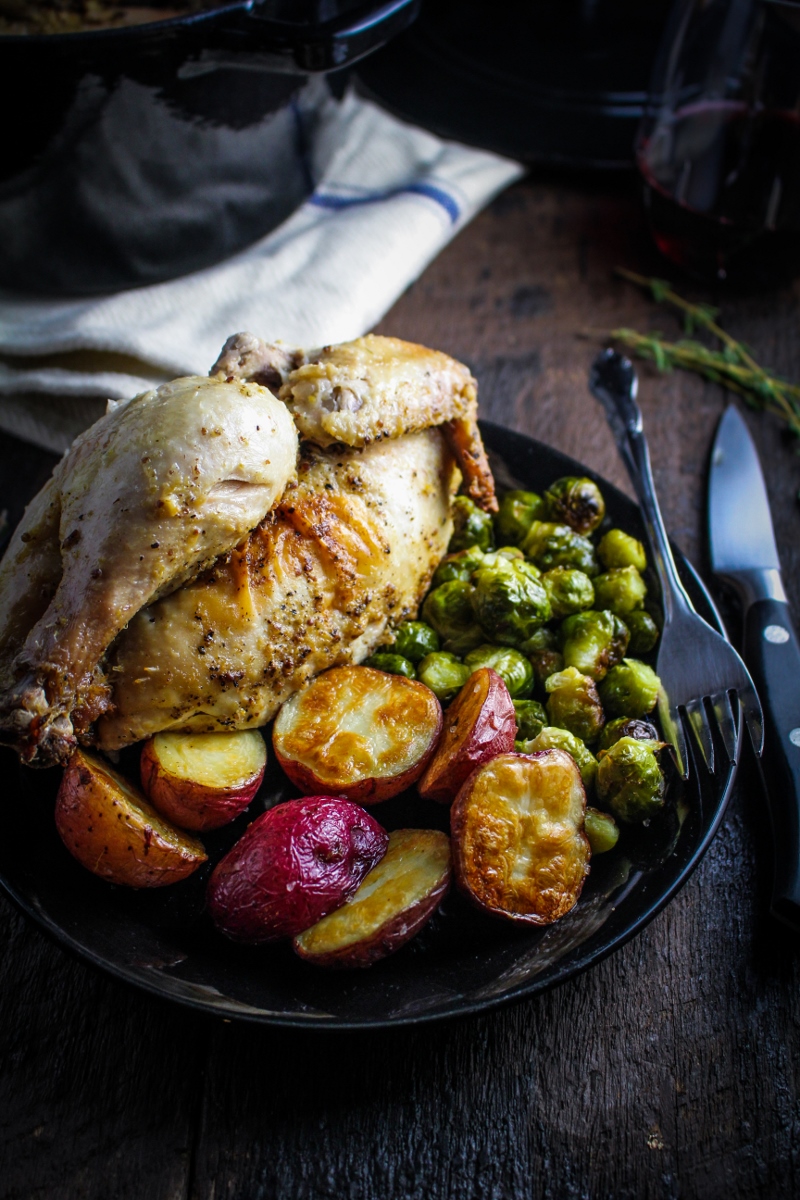 The Food: Something about the luxurious presentation of Mimi's food had me imagining that it would be fairly complicated to prepare. But as I flipped through the recipes trying to choose one for this post, I realized that most of the recipes are actually quite simple – I could cook many of them without even making a trip to the grocery store. This recipe for mustard-roasted poussins is no exception, as the only additions I made to my list were creme fraiche and the chicken itself.
I have a confession to make at this point: this was the first time I've ever roasted a chicken. I know. Five years as a food blogger, making things like rabbit pie and homemade parathas and venison ragu, but I've never done a simple roast chicken. We did roast a duck last year as part of the Captain Morgan challenge, but I think Trevor did most of the duck handling while I focused on the stuffing. To be honest, I still get a little squeamish working with big pieces of meat. I don't know if it comes from my long past vegetarian childhood or just being out of my comfort zone. With a bit of guidance from Mimi, however, I turned out a succulent chicken, flavored with a generous amount of mustard and creme fraiche, a handful of baby potatoes tucked neatly underneath to catch the goodness of the drippings. Although it only took 15 minutes of effort to prepare, lifting the lid to reveal the chicken to Trevor was quite satisfying, in a very domestic way. The reward to effort ratio on this recipe is high, making it an easy decision to add it to our dinner rotation.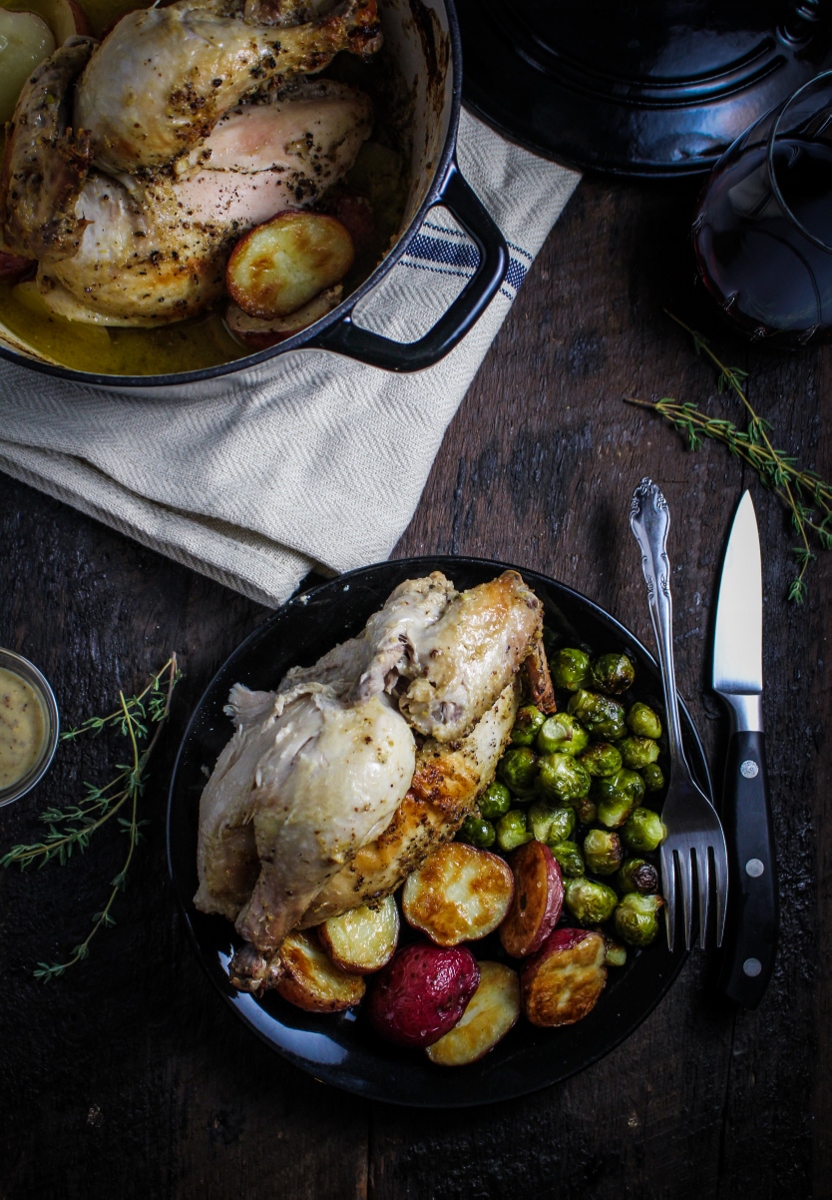 Recipe Shortlist: Fava Bean Soup with Pancetta and Croutons; Langoustines with Armagnac; Pistachio Sabayon with Strawberries and Meringues; Squab Pie with Foie Gras and Armagnac; Pork Cheek Ravioli with Cepes; Calvados and Creme Fraiche Apple Tart; Roquefort and Walnut Gougeres; Roasted Sausages with Red Wine and Fennel; Butternut Squash Gratin; Oxtail-Macaroni Gratin
Like what you just read? Subscribe to Katie at the Kitchen Door on Feedly or Bloglovin', or follow along on Facebook, Twitter, Pinterest, Instagram, or Google+. Thanks for reading!
Disclaimer: I received a review copy of A Kitchen in France from Clarkson Potter, but I was not otherwise compensated and all thought and opinions are my own.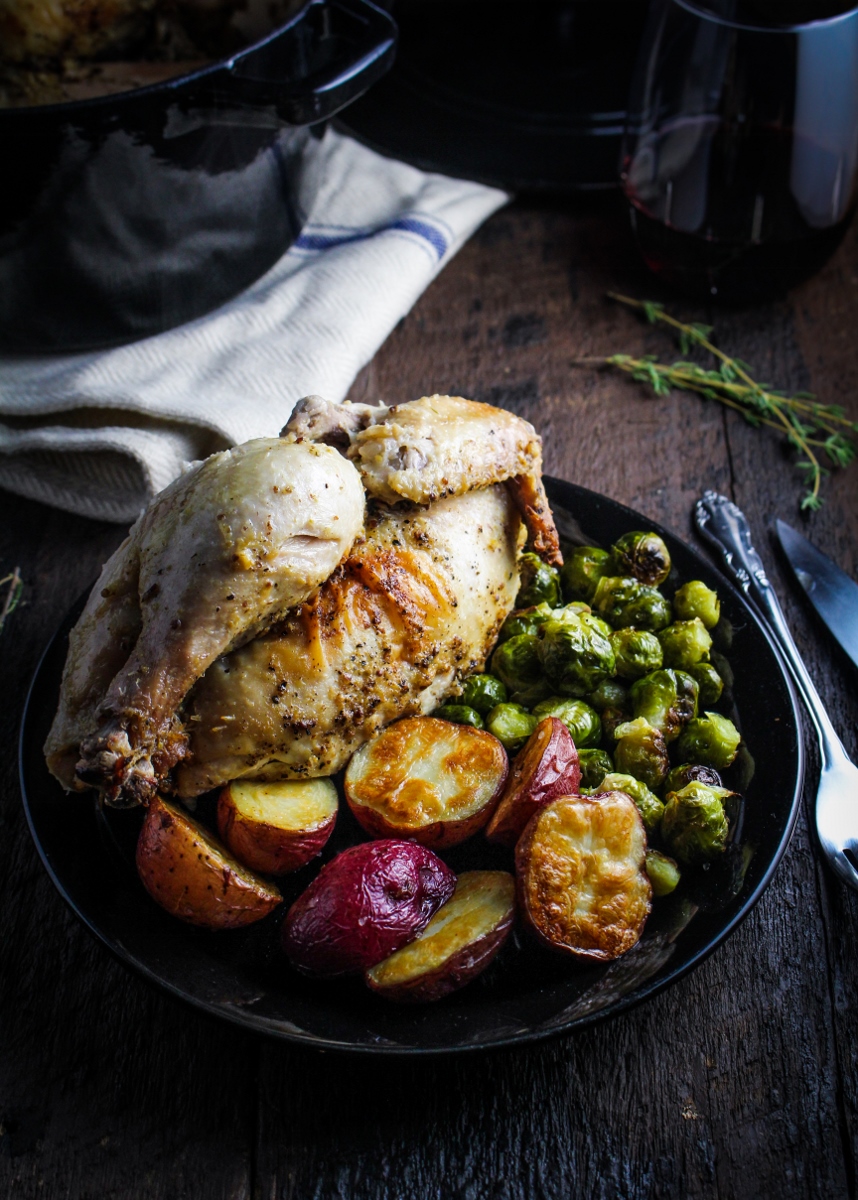 Mustard Roasted Poussins
Recipe from A Kitchen in France. Serves 4.
Note: Poussins as small as 1 1/2 pounds can be tricky to find in the US. We used a young, Kosher chicken that was 3 pounds with great results. A 3-pound chicken provided a generous meal for 2 of us.
1/2 cup Dijon mustard
1/4 c. creme fraiche
4 TBS unsalted butter, at room temperature
juice of 1/2 lemon
2 garlic cloves, minced
1/4 tsp ground nutmeg
Four 1 1/2 pound poussins or guinea hens
Fine sea salt and freshly ground black pepper
Olive oil for drizzling
2 lbs. small new potatoes, scrubbed and halved
In a medium bowl, combine the mustard, creme fraiche, butter, lemon, garlic, and nutmeg and mix until thoroughly combined. Wash the poussins (chickens) inside and out and pat dry. Rub the mustard mixture on the chickens inside and out, then season generously with salt and pepper. Place in a dish or bowl and let marinate for at least 2 hours or overnight.
When you are ready to cook the chicken, preheat the oven to 350°F. Put the halved new potatoes in a saucepan, cover with cold water, season generously with salt, and bring to a boil over medium heat. Reduce the heat and simmer for 10 minutes, until potatoes are partially tender but still hold their shape firmly. Drain the potatoes.
Put the poussins in individual baking dishes or one large roasting pan. Scatter the potatoes around the poussins, then drizzle everything with olive oil. Roast until the poussins are golden and cooked through (the juices should run clear, not pink, when pricked with a knife, and the internal temperature of the thickest part of the thigh and breast should be greater than 165°F). If the birds are getting too dark, cover with foil.
Serve 1 poussin per chicken with a side of potatoes.
1