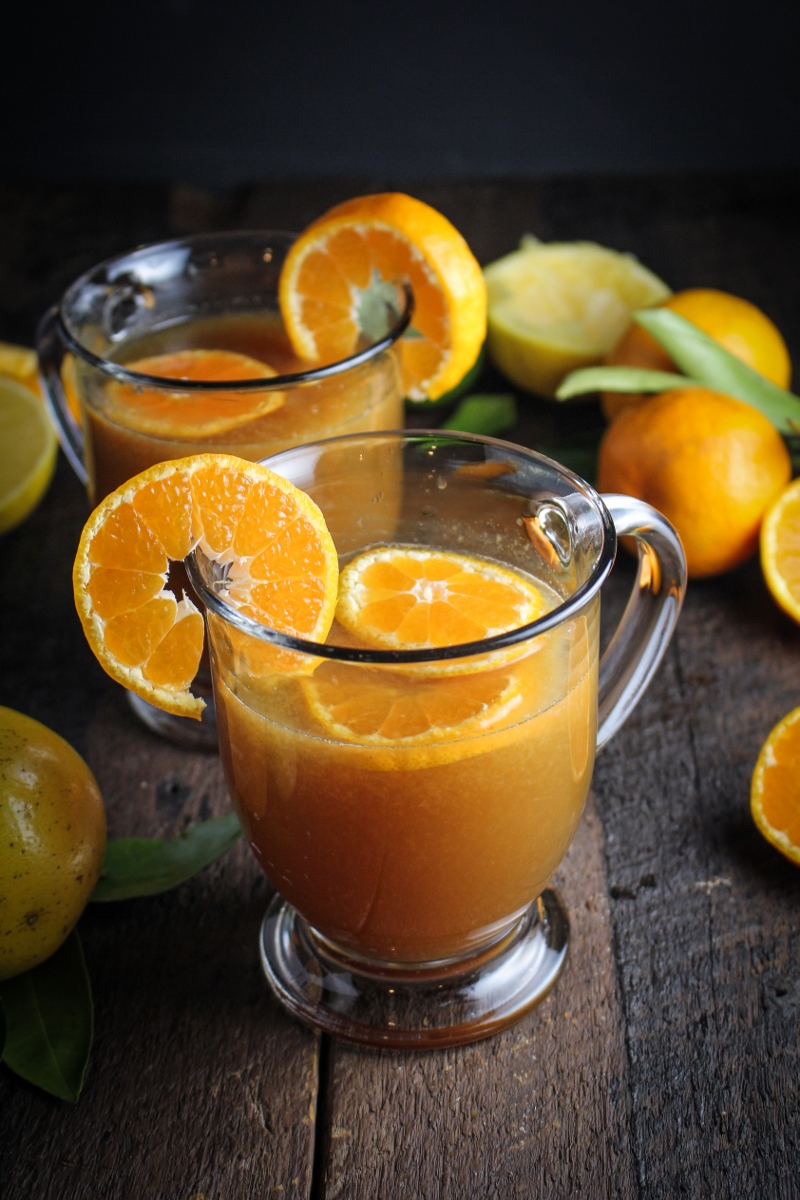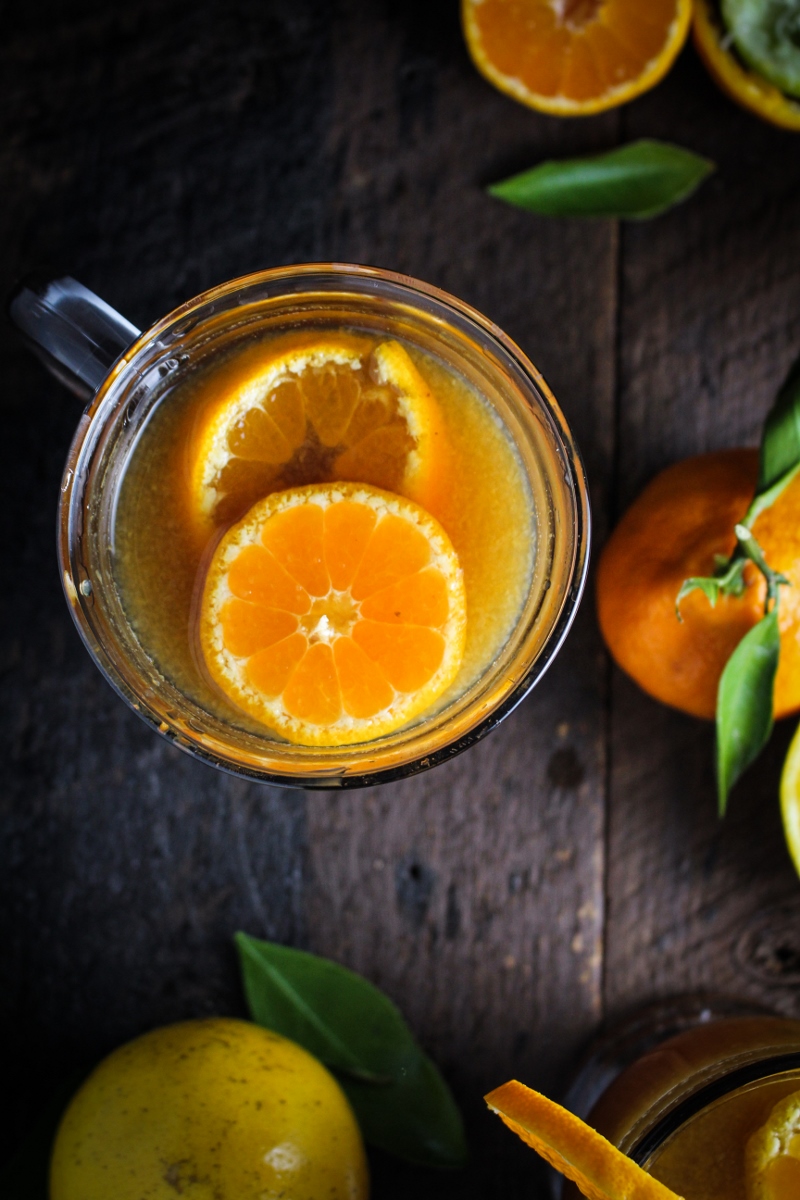 Here in Boston, we've reached that point in the year where the warm, crisp fall days have given way to truly frosty, windy mornings when even the brightest sun can't entice you to stay outside. I'm sure we still have a few nice days left, but we've already had snow flurries twice, the winter coats are out on our coat rack, and I'm guessing that this is the last week for those leaves still clinging to the trees. I'm not exactly thrilled at the prospect of hunkering down for the next four months, but one thing I do love about cold weather is the chance to invent and enjoy warm cocktails. On a cold day, there's little that I find more enticing than the thought of a steaming mug of sweet, boozy cider or a honey-sweetened hot toddy.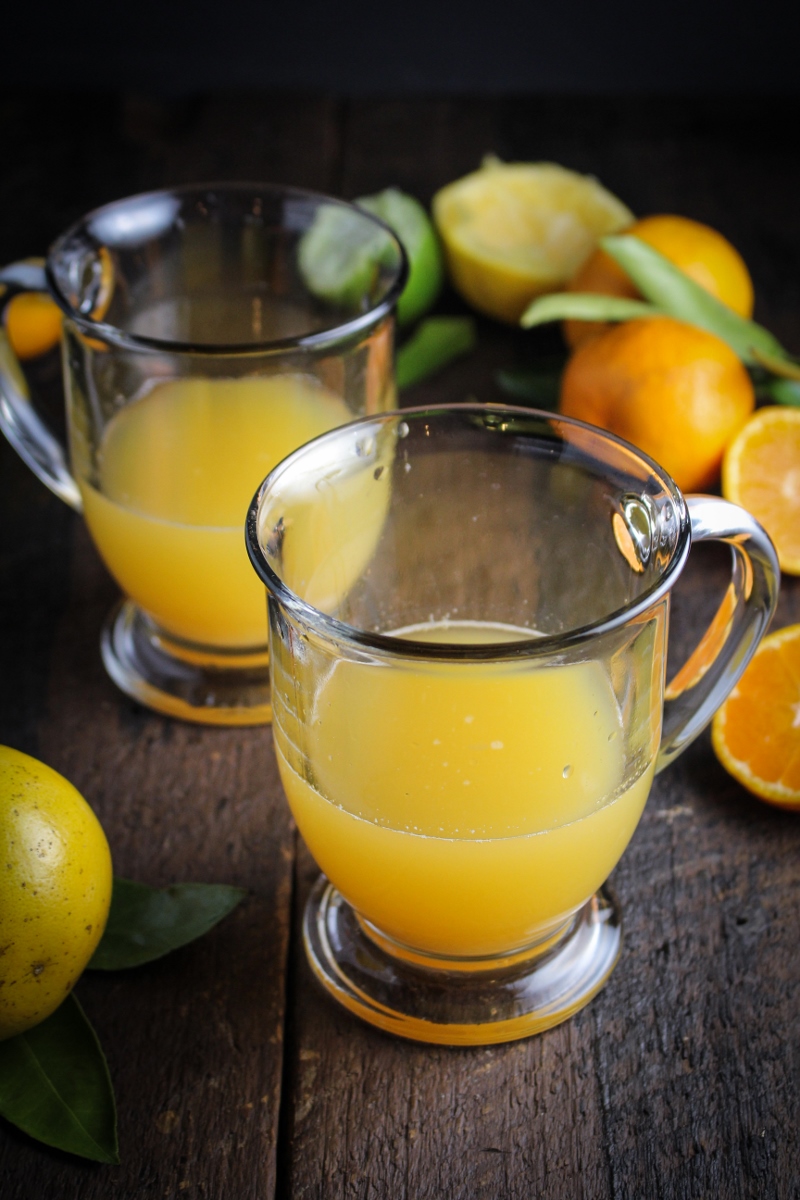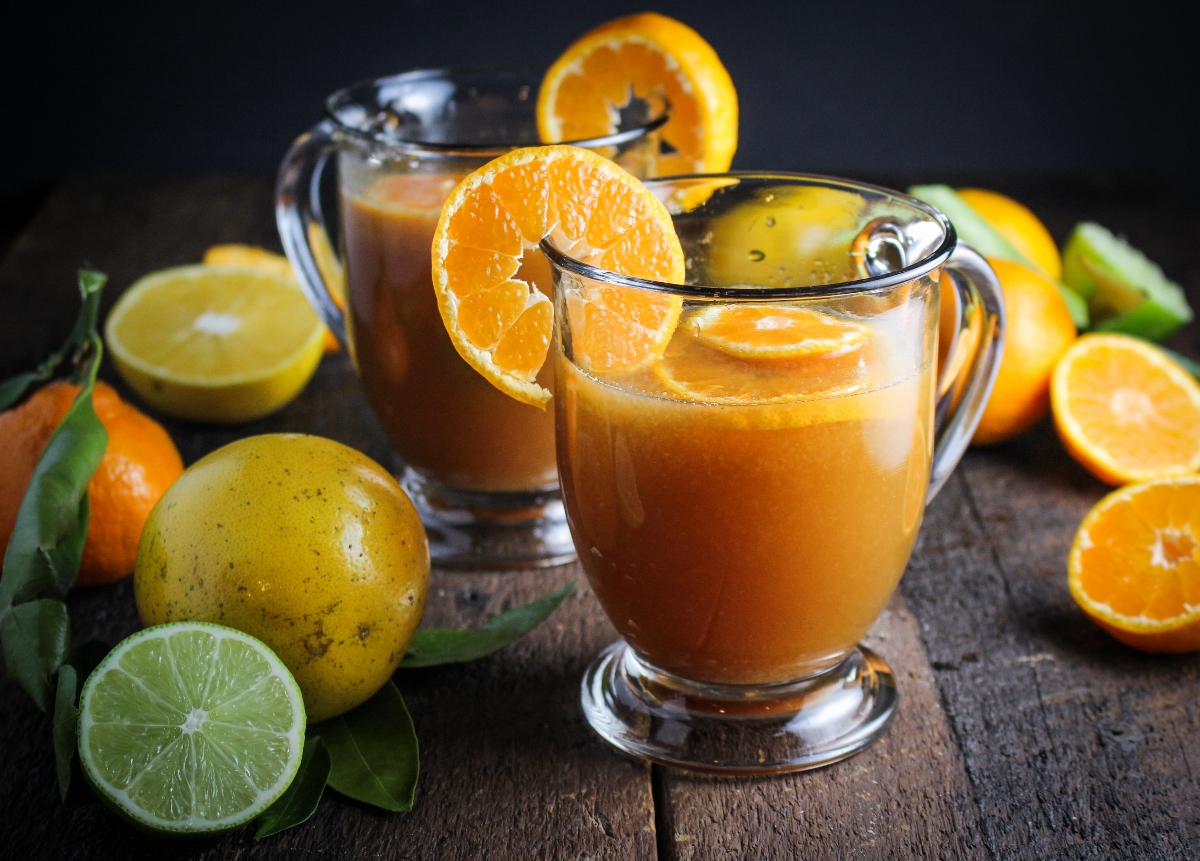 I think my love for warm drinks (at least for the alcoholic sort) must have been born during the four months I lived in Prague – I have a very vivid memory of sipping from a glass of piping hot mead at the top of a snow-covered mountain, the steam from the hot drinks and food condensing on the windows of the small wooden cabin. It was a completely blissful experience, at least in my memory. Since then, I've been collecting drink recipes from all the cold countries I've been to, and I've been waiting to share a new one with you since our trip to Ecuador in March. I was first served canelazo, a mixture of cinnamon, naranjilla juice, and aguardiente, when we arrived at our hacienda near Cotopaxi. The altitude in Cotopaxi means that it's appropriate to serve hot drinks at pretty much any time of day/year. I loved the sweet-and-sour mixture (and perhaps the quick effect it had at altitude), and finished not only my own glass but the extra one on the tray. When I returned to Quito later in the year for work, a co-worker took us up to El Panecillo, a hilltop with a giant statue of a winged angel and a beautiful view of the city. At several of the stands near the statue, they were selling cups of canelazo, and at a price of $0.50, I couldn't resist ordering one before dinner.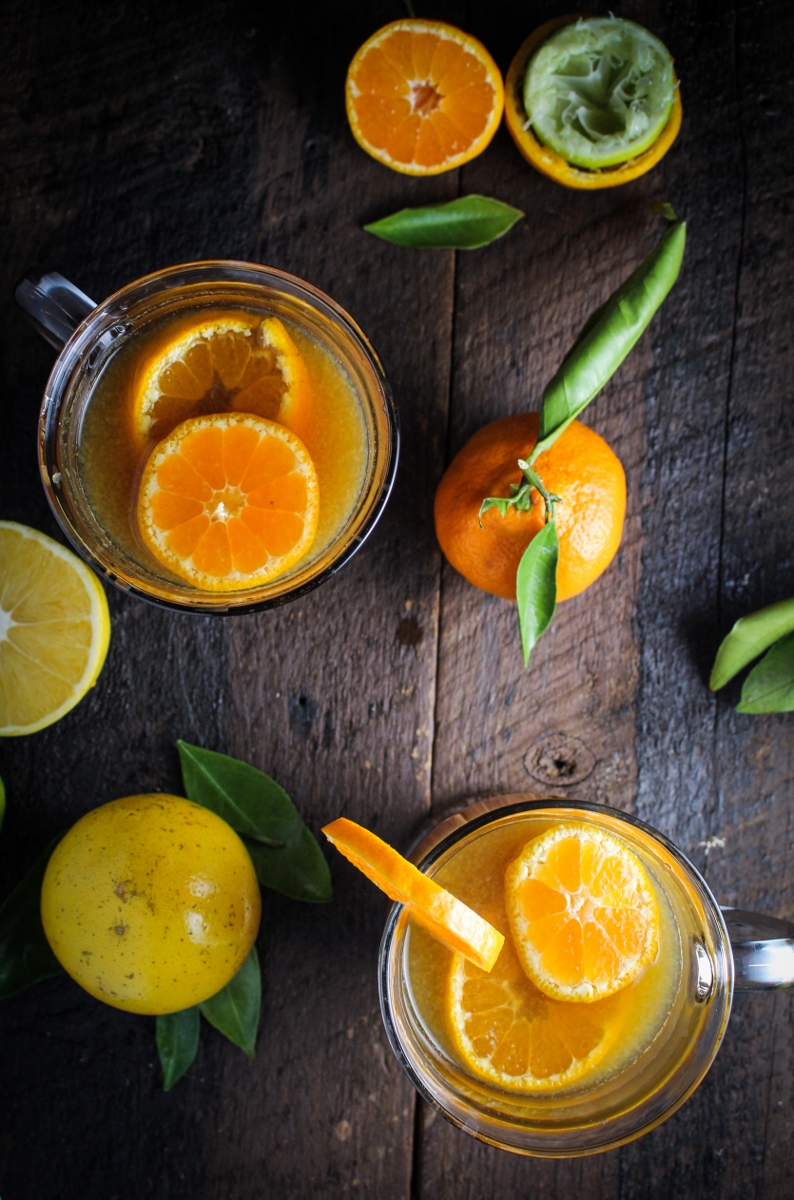 The ingredients for canelazo are a bit tricky to find in New England. Naranjilla, which I mistakenly described as a clementine in my first mention of it, and as a sour orange in my second mention of it, is actually a herbaceous nightshade shrub – not a citrus at all. It does have a sweet-sour citrusy flavor and a bright orange exterior, hence the name "little orange." Although I read that you can find its pulp in the frozen section of many Latin groceries, and I'm sure I could scrounge some up somewhere in Somerville, I wasn't in the mood for a grocery store scavenger hunt today, so I used a mix of freshly squeezed orange, tangerine, and lime juice instead. I know that using those fruits may not make for a very authentic representation of the drink, and I've also used a much higher ratio of juice to cinnamon water than seems to be typical, but it's still a bright, warming combination that's worth giving a try. I did find the traditional aguardiente, a spirit distilled from sugar-cane and sometimes flavored with anise. If you can't find it near you, either rum or cachaça would be a fine substitute. Now that I have the ingredients, plus a healthy supply of cinnamon sticks, I'm all set to make these babies throughout the winter.
Like what you just read? Subscribe to Katie at the Kitchen Door on Feedly or Bloglovin', or follow along on Facebook, Twitter, Pinterest, Instagram, or Google+. Thanks for reading!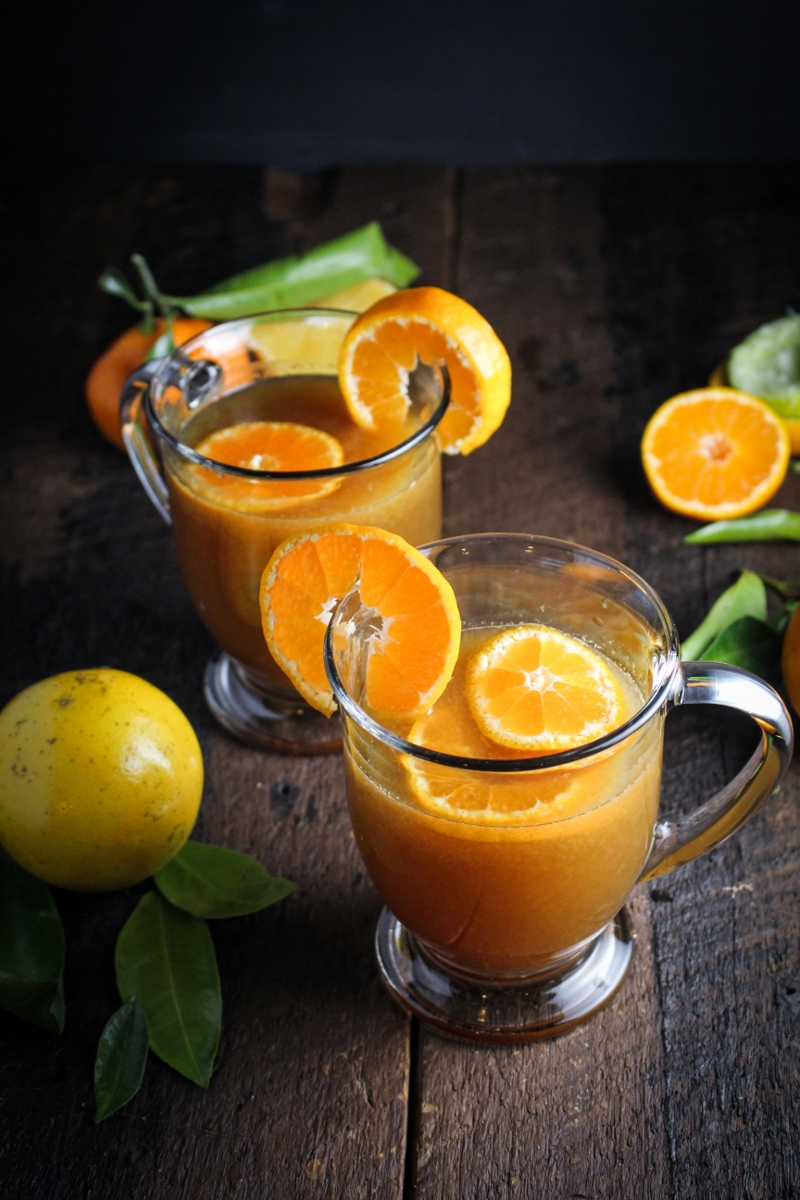 Ecuadorian Canelazo
Adapted from Laylita and Food.com. Serves 4.
3 c. water
3/4 c. brown sugar
5 cinnamon sticks
2 c. freshly squeezed orange juice, divided
1 c. freshly squeezed tangerine juice
2 limes
4 to 8 oz. aguardiente or white rum
tangerine slices for garnish
Place the water, brown sugar, cinnamon sticks, and 1 cup of the orange juice in a large saucepan. Bring to a boil over medium heat, then lower the heat slightly and simmer the syrup for 30 minutes. The syrup should be heavily perfumed with cinnamon and a dark brown color. Add the remaining orange and tangerine juice to the pot and heat just until steaming, then remove from heat. Ladle the cinnamon-orange mixture into four heat-proof glasses. Pour 1 or 2 oz. of aguardiente into each glass depending on taste. Squeeze juice from half a lime into each glass, then briefly stir. Garnish with tangerine slices if desired, and serve immediately.
8