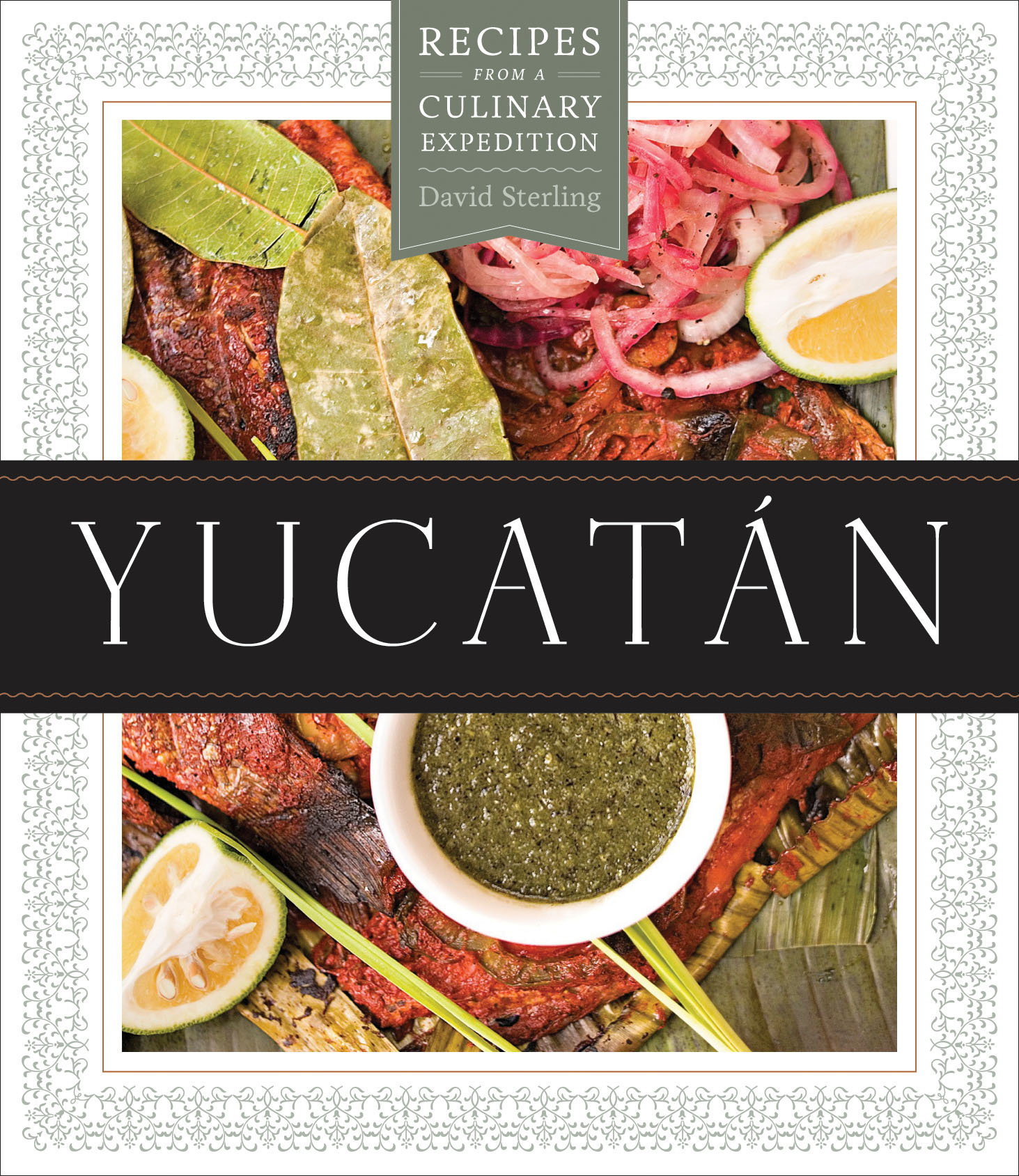 The Book: It seems that at least once a year, a cookbook that is more aptly described as an encyclopedia of a particular culture and cuisine is released. Gran Cocina Latina is a good example, as is The New Book of Middle Eastern Food, and to a certain extent even Dorie Greenspan's Around My French Table. These books are much more than just exciting cookbooks, they're reference books for chefs and travelers and budding anthropologists that contain hundreds of classic recipes along with a thorough communication of the culinary culture and history of a particular region of the world. Often these books become instant classics, essential books for any cook seriously interested in learning about other cuisines. This season I have two books of this type in my review pile, and the first is about a very specific place – the Yucatan peninsula in Mexico. Yucatan: Recipes from a Culinary Expedition, written by David Sterling, is the product of his decades of culinary experience living in the Yucatan while running a cooking school there.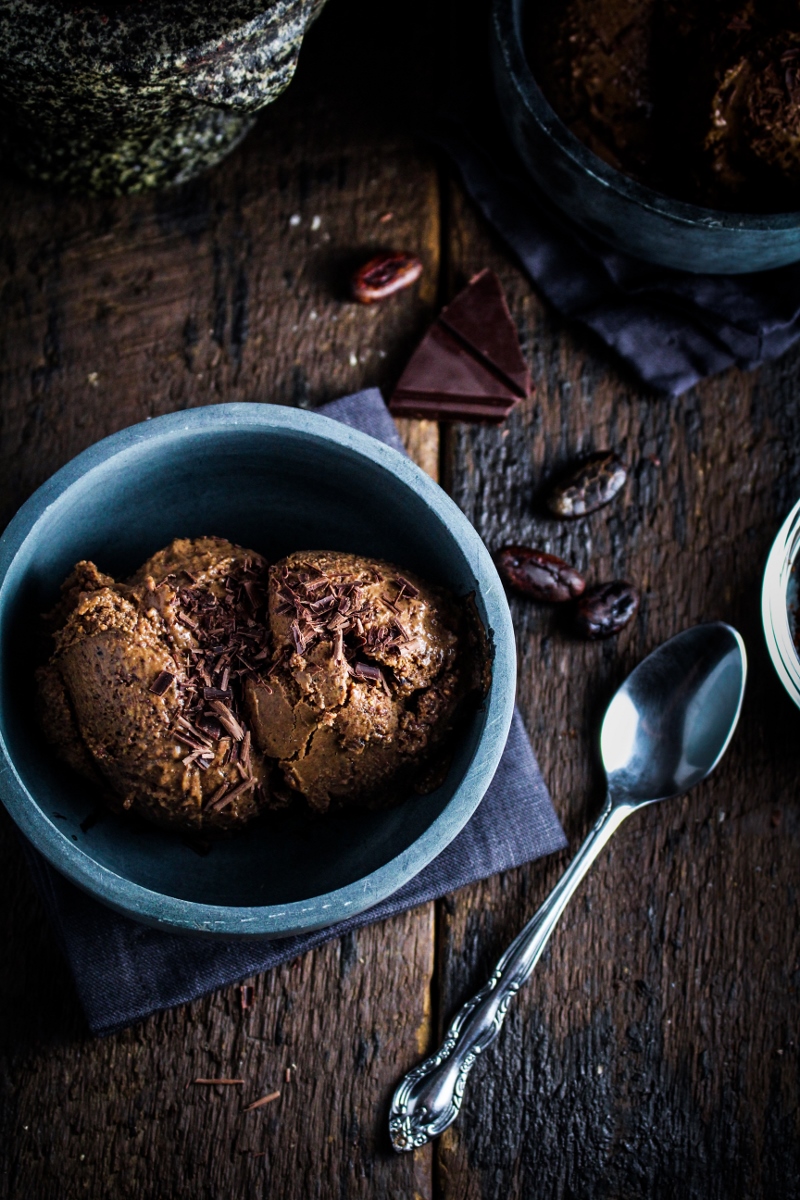 Starting the book knowing nothing about the Yucatan, except that it looks like a nice place to go on vacation, I quickly realized I was in the hands of an expert. I was easily drawn into the narrative of this ideologically isolated peninsula, even when that narrative had nothing whatsoever to do with food. History, geography, biology – you'll get a little bit of everything with this book. Of course, eventually it all ties back to food and cooking, and I don't know if there was a single recipe in this book that I wasn't interested in trying. The recipes are mostly traditional, yet still presented in a creative and intriguing way – combinations like Roasted Quail with a Puree of Squash Seeds, Chaya, and Habanero and Zucchini and Squash Blossom Stew with Tiny Corn Pancakes are representative of what people have eaten traditionally, but totally new to me. I should note that as much as the 60-page ingredient primer will help orient you to traditional ingredients, many will still be hard to find for American cooks. Beyond that, many of the recipes will be time-consuming for those not accustomed to cooking with the major base ingredients of the cuisine, as sourcing or preparing the spice mixes, flours, and fats that are traditionally used will add to the total preparation time. However, once you have a few of the key pantry items built into your repertoire, I imagine the recipes become less daunting – there's just a bit of a learning curve.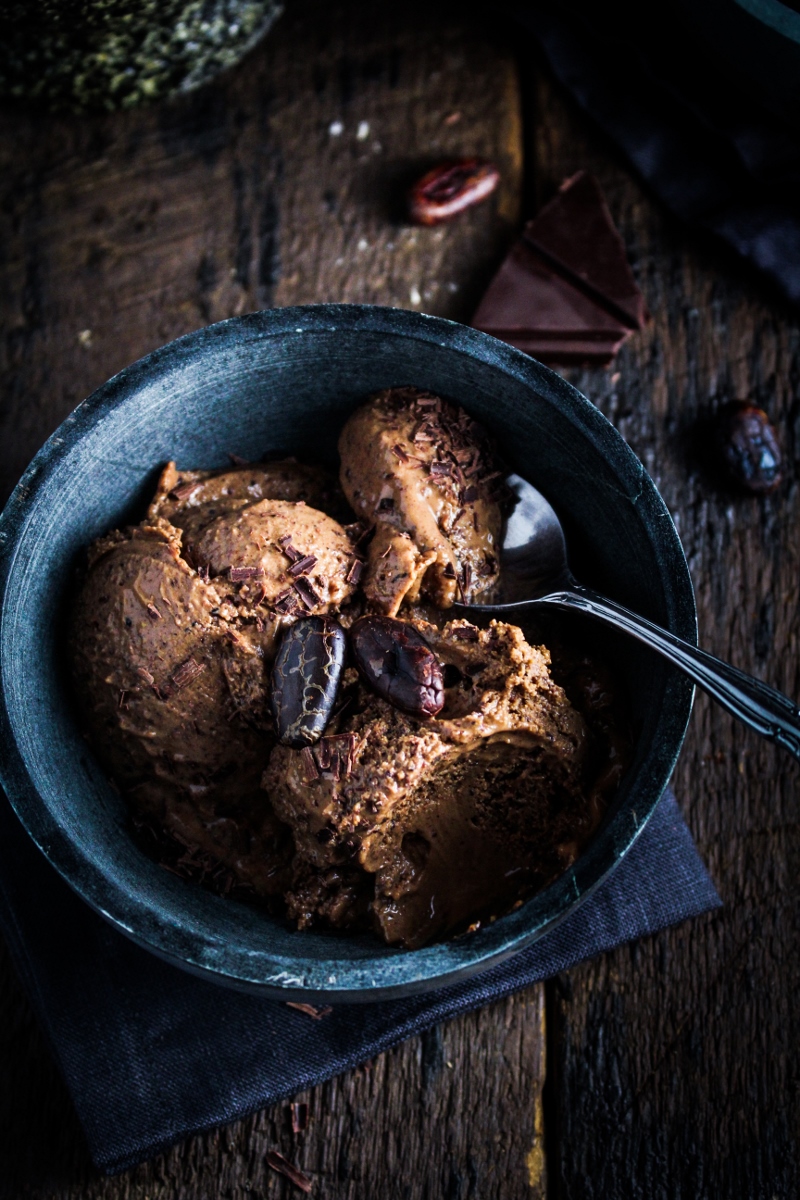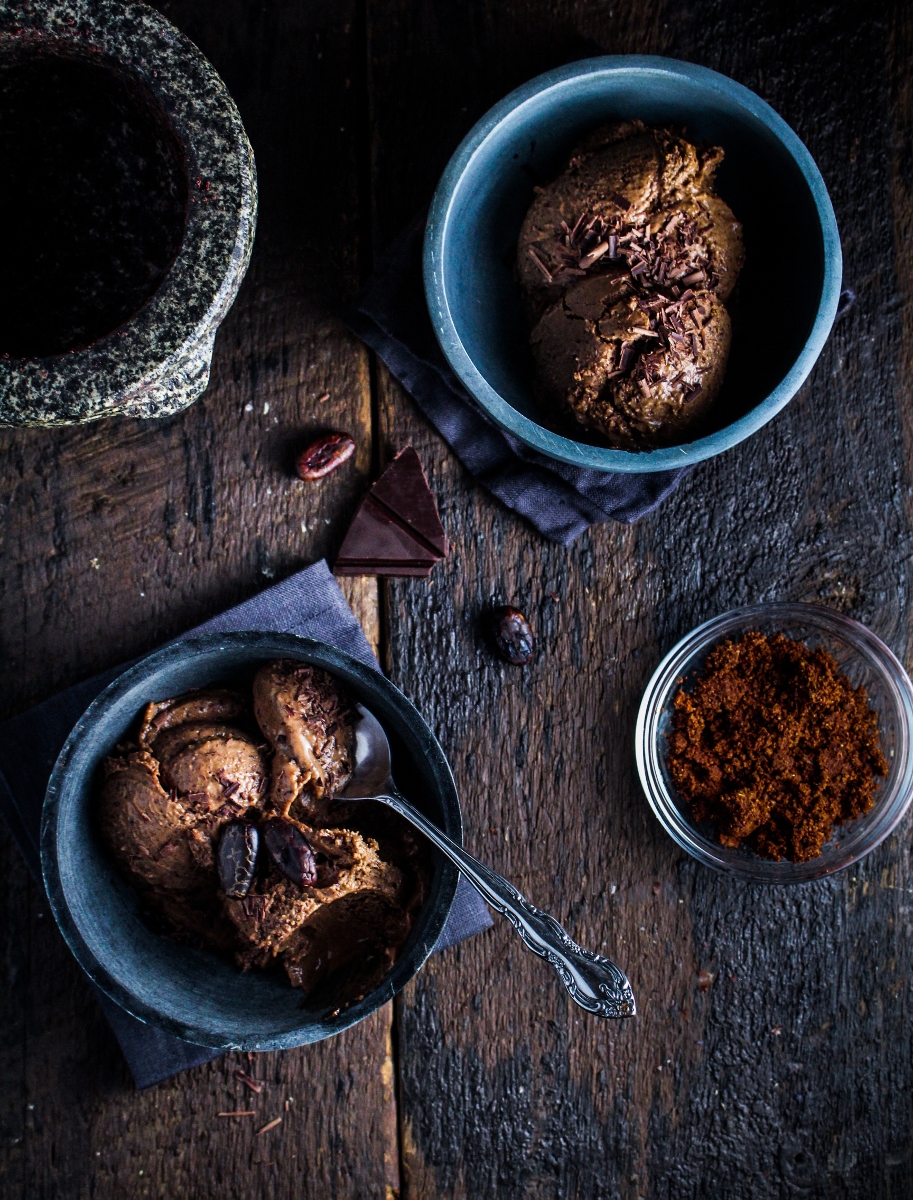 The Food: One of the goodies we brought back with us from Ecuador was a bag full of fermented cacao beans. As part of our trip we learned about the entire chocolate making process, even roasting and grinding our own beans before making the freshest hot chocolate ever. We picked up a half pound bag of the beans for $2.50 in a little souvenir shop later in our trip, and now I'm wishing we had brought more home with us, as whole beans go for $20 a pound on Amazon. When I saw the dessert recipes calling for freshly ground cacao paste in this book, I knew we'd found a way to put our beans to good use. This Mayan Chocolate Frozen Custard is one of the most intense ice creams I've ever tasted. Using a whole host of traditional ingredients – Mexican crema, freshly ground cacao, cayenne pepper, and a hand-ground spice mixture called recado rojo that includes achiote, garlic, and vinegar – it has a ton of different flavors, and a somewhat gritty texture from the ground cacao beans. And preparing all the components really gave our mortar and pestle a good workout. I realize that this description might not make it sound all that appealing, but it's a really exciting recipe that's definitely worth stepping outside of your comfort zone for. If you can find whole cacao beans, use them – the smell of freshly roasted cacao being mashed to a paste is otherwordly – but otherwise, you can use cacao nibs or bittersweet chocolate.
Recipe Shortlist: Venison in Red Squash-Seed Sauce; Maya Succotash of New Corn and Black-Eyed Peas; Mashed Plaintain Croquettes with Pork Cracklings and Goat Cheese; Lobster Tails in Charred Chili Sauce; Guava, Marschino Cherry, and Sherry Frozen  Custard; Chicken and Potatoes Stewed in Oregano-Black Pepper Sauce; Honey-Drenched Yuca Fritters
Like what you just read? Subscribe to Katie at the Kitchen Door on Feedly or Bloglovin', or follow along on Facebook, Twitter, Pinterest, and Instagram. Thanks for reading!
Disclaimer: I received a review copy of Yucatan: Recipes from a Culinary Expedition from University of Texas Press, but I was not otherwise compensated and all thought and opinions are my own.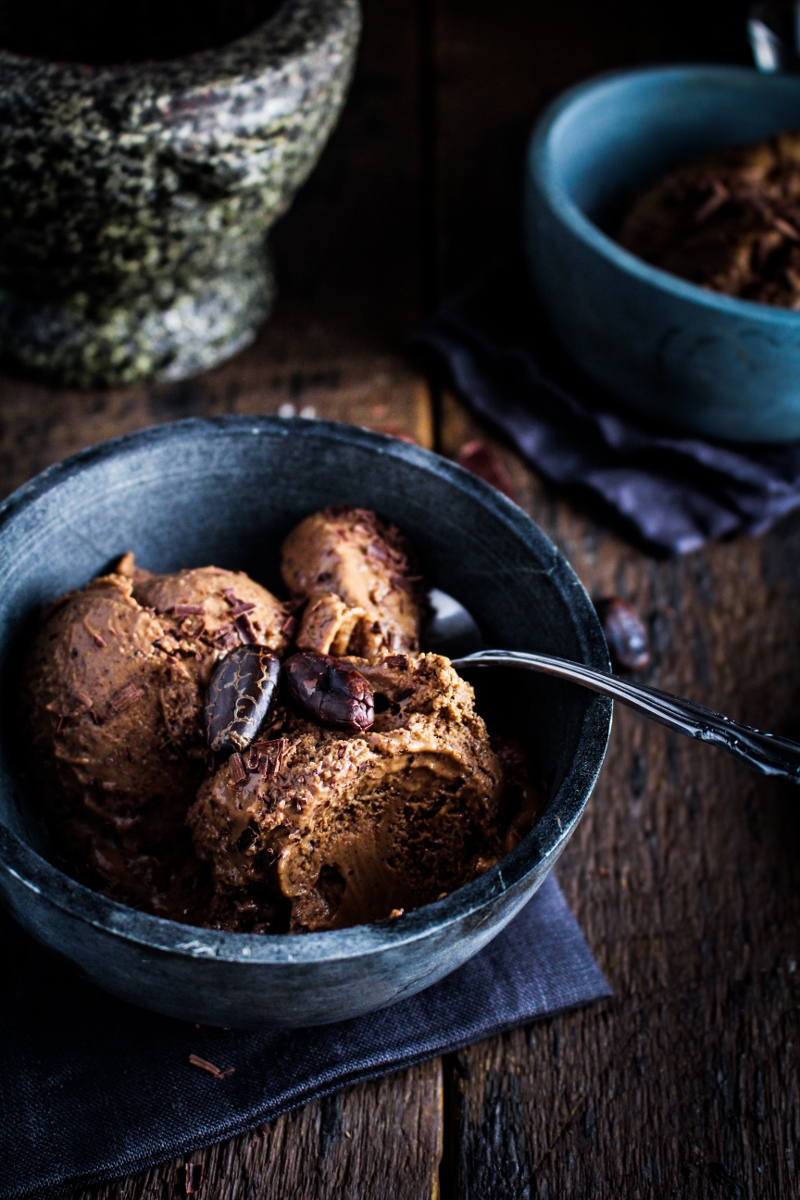 Mayan Chocolate Frozen Custard
Recipe from Yucatan: Recipes from a Culinary Expedition. Makes about 1 1/2 quarts.
2 c. whole milk

2 TBS recado rojo (bought in a Latin grocery, or homemade)
2 c. creme fraiche (or heavy cream)
1 c. sugar
1/4 c. honey
3/8 tsp ground allspice
1/8 tsp cayenne powder
5 large egg yolks
8 oz. fresh chocolate paste, recipe below (or bittersweet chocolate, chopped)
1 TBS vanilla
Place the milk and the recado rojo in a blender and blend for 30 seconds. Strain the milk through a fine-mesh sieve into a heavy saucepan, discarding the solids that get caught in the strainer. Add the creme fraiche, sugar, honey, allspice, and cayenne to the milk. Heat over medium heat, stirring frequently, until the sugar dissolves and the mixture has just reached a simmer, then remove from the heat.
In a medium bowl, whisk the egg yolks until they are pale yellow and frothy. While whisking the eggs, slowly pour 1 cup of the hot milk into the eggs in a thin stream, whisking vigorously to temper the eggs. Repeat with another cup of hot milk, then pour the egg mixture back into the hot milk mixture, whisking the milk as you do so. Still whisking, return the custard to low heat and cook just until the mixture thickens enough to coat the back of a spoon. It will still be fluid – about the consistency of a creme anglaise.
Once the mixture has thickened, strain through a fine mesh sieve into a bowl, discarding any solids. Stir in the chocolate paste or bittersweet chocolate until mixture is thick and chocolate is melted. Let cool, then stir in the vanilla. Cover and refrigerate for at least 6 hours, or overnight. Once thoroughly chilled, process according to your ice cream maker's directions.
Fresh Chocolate Paste
Makes about 8 oz.
1/2 lb. of whole fermented cacao beans
Place the beans in a dry skillet over medium heat. Roast, stirring occasionally, until fragrant and skins are cracking, about 8-10 minutes. Remove from heat. As soon as beans are cool enough to handle, peel the skins away from the beans and discard the skins. Return any peeled beans that are still brown as opposed to a deep blackish brown to the pan for a minute or two, cooking until they are all deeply browned.
Place peeled, roasted beans in a blender and blend until evenly ground. Transfer to a mortar and pestle in grind to a fine paste in batches.
4