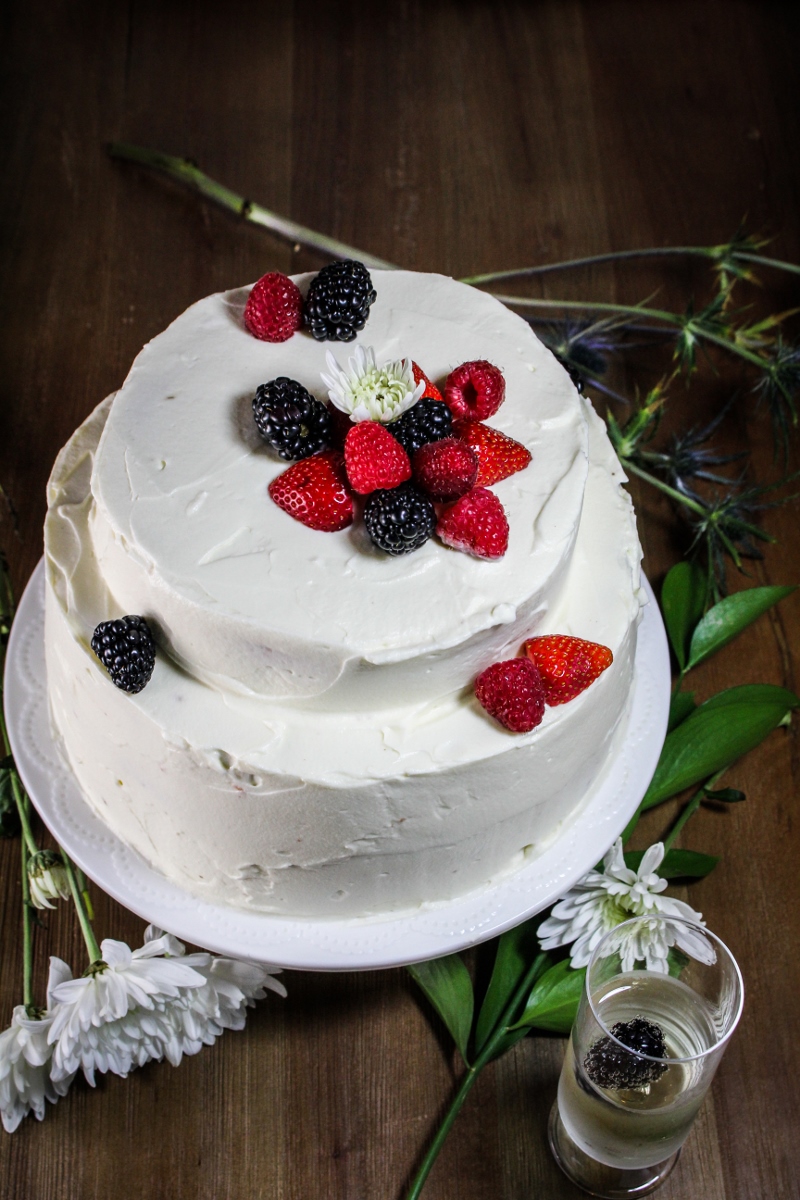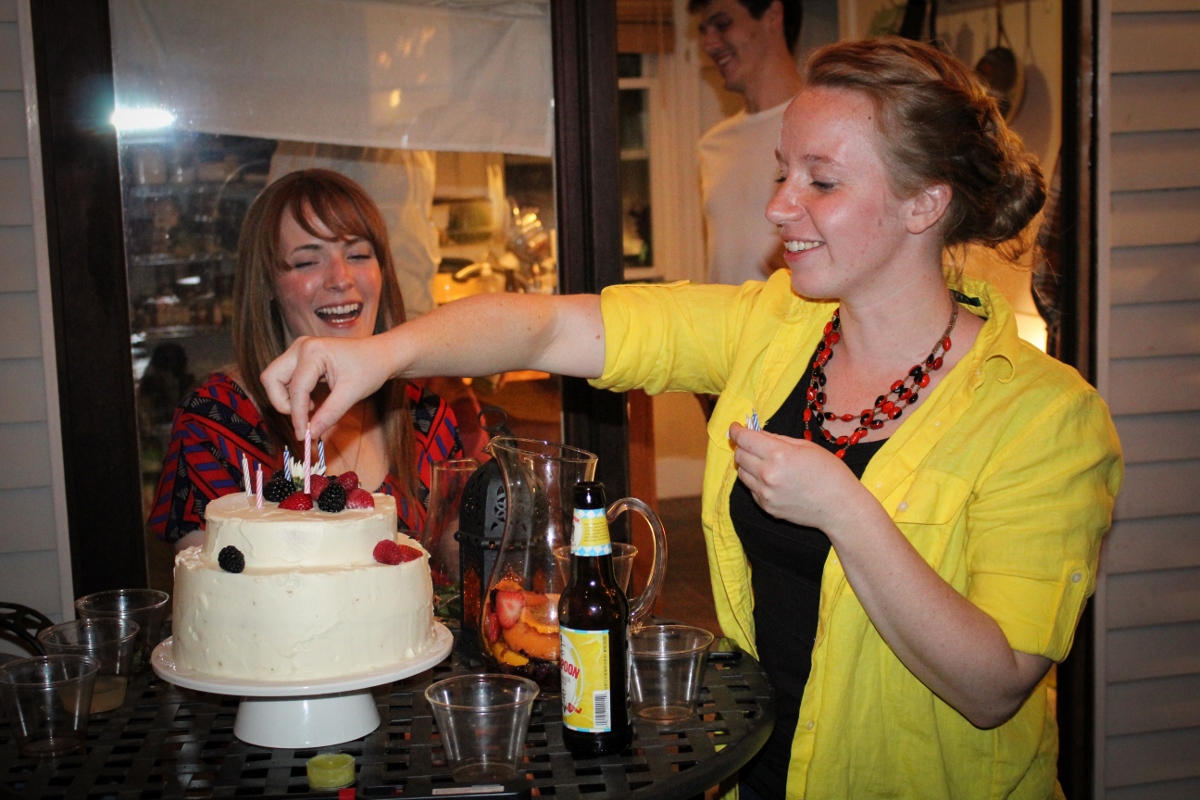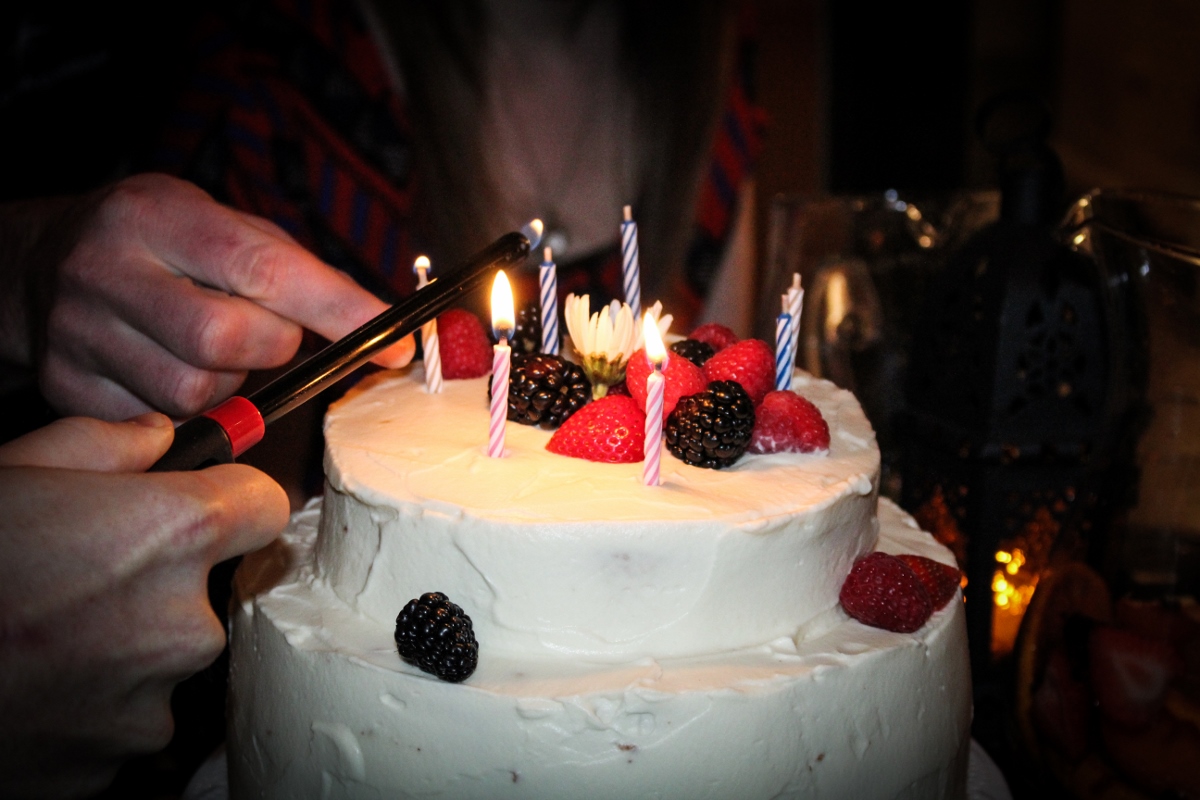 Although my 25th birthday was two and a half weeks ago, I've only just finished celebrating it, as per usual. This weekend we hosted a joint celebration at our house – the culmination of my birthday festivities and the kick-off of Trevor's (one week from today!). It was a casual thing – grilled pizzas made-to-order and eaten on the porch, hot arancini dipped in tomato sauce to tide us over between pizzas, pitchers of mojitos, blackberry sangria, and a wealth of good beer. We managed to rally a crew to go out dancing afterwards, and it was a really fun night. I already like being 25; no quarter-century crises for me so far (I think I had mine when I was 21, anyway).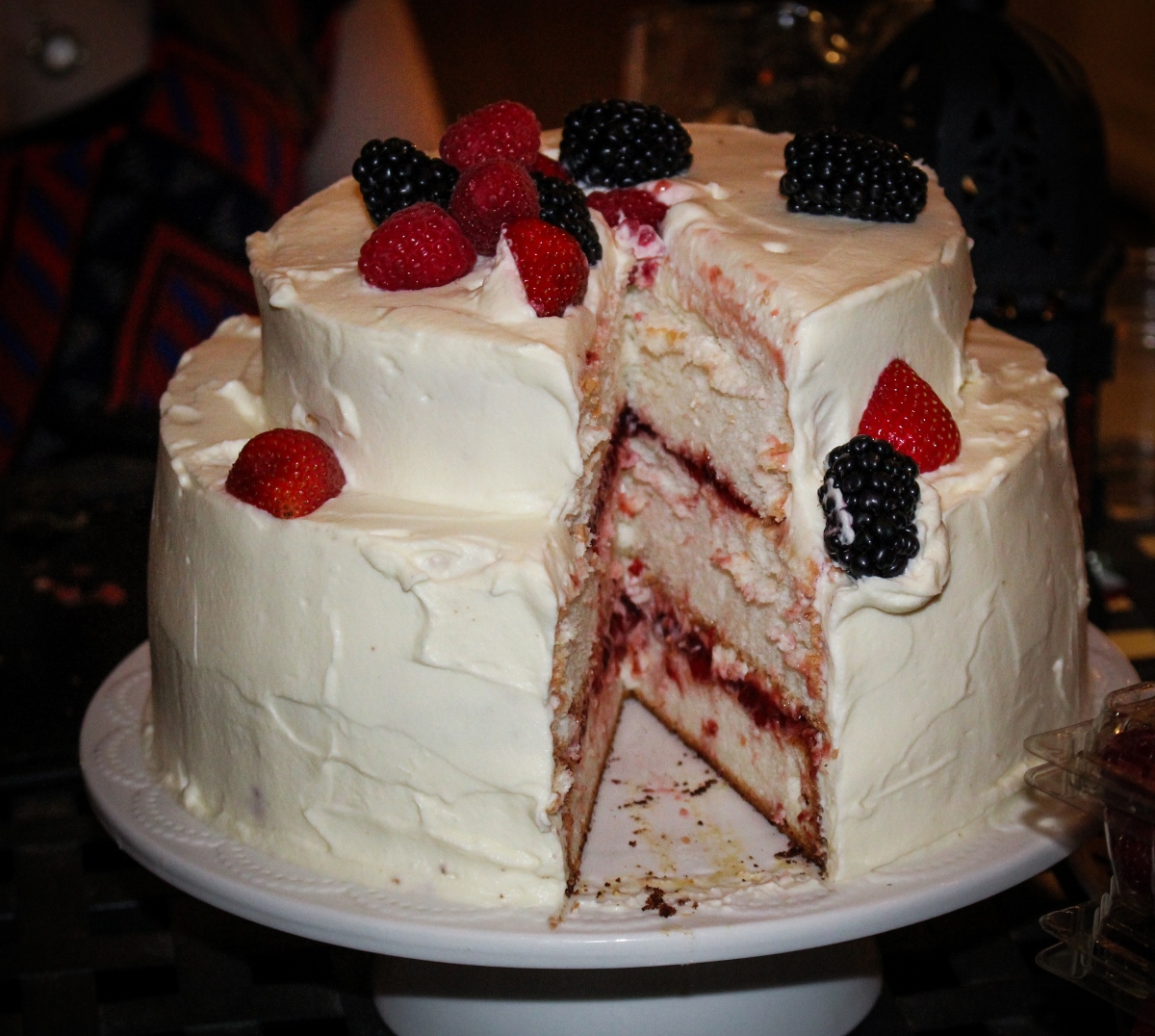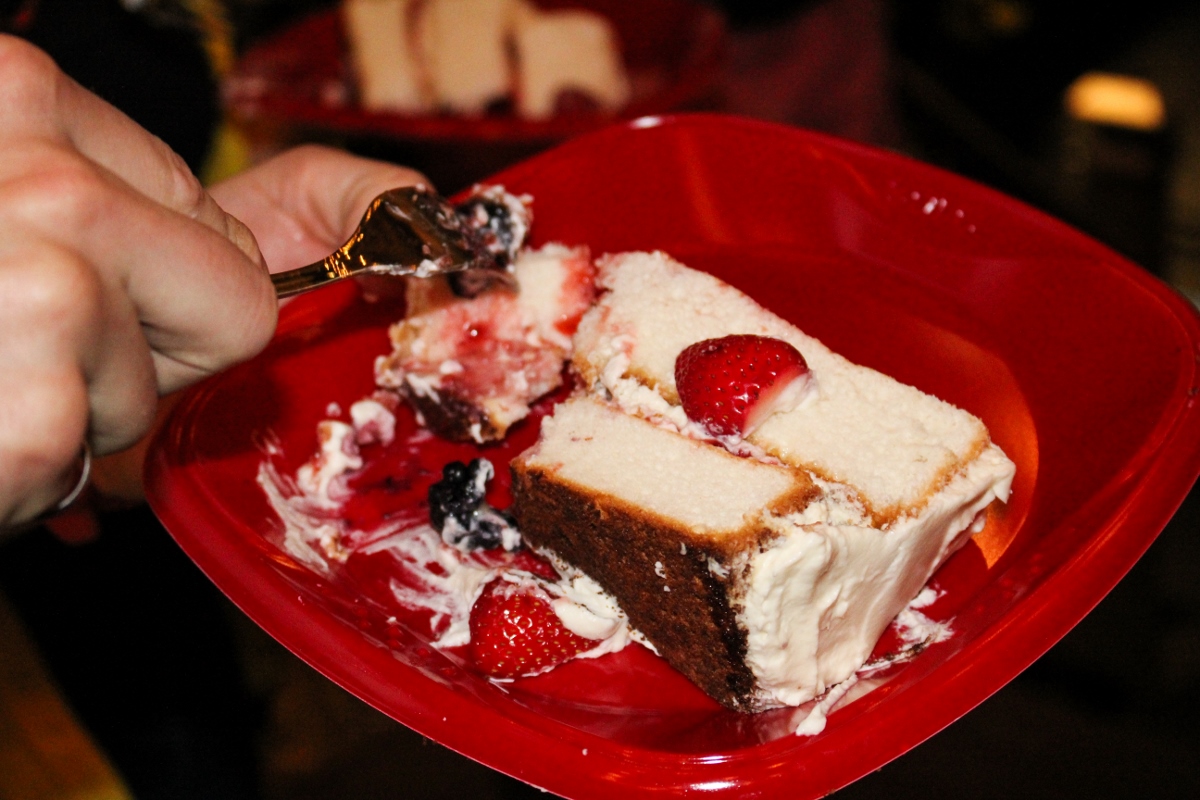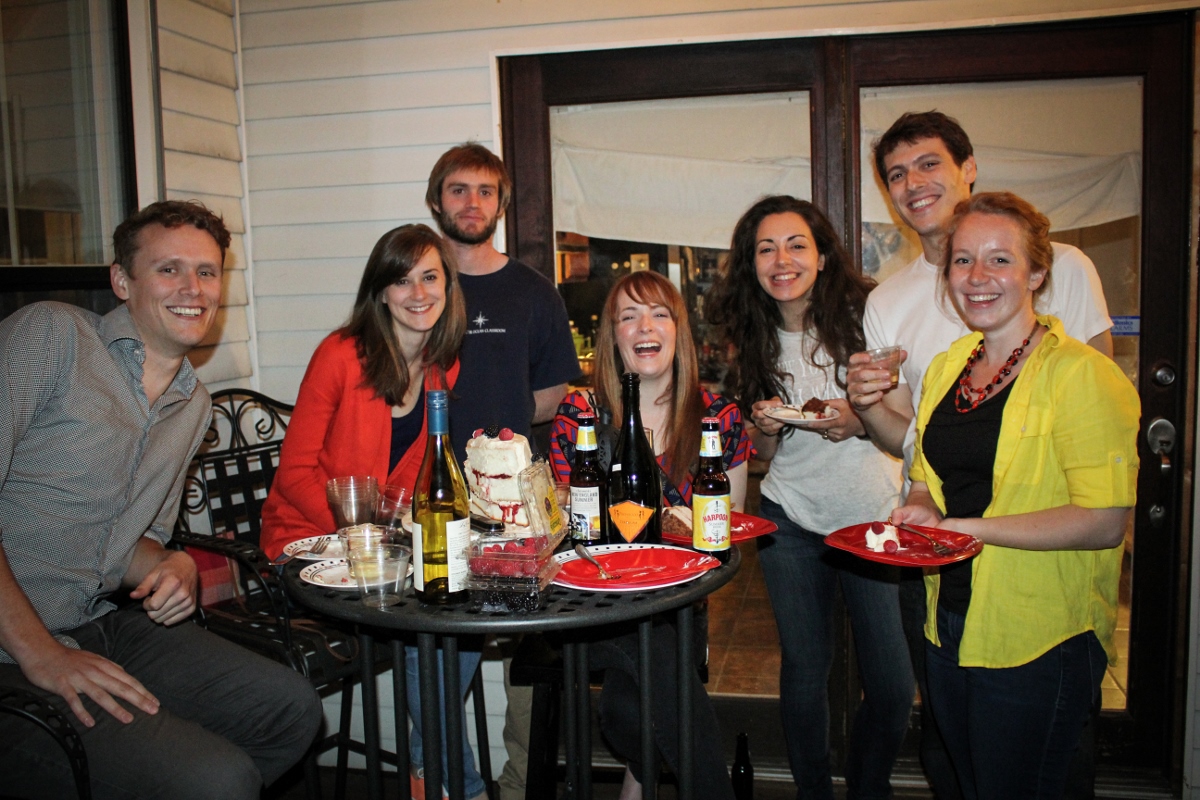 Everything was delicious, but the culinary highlight of the evening was undoubtedly this gorgeous cake that Trevor made – three layers of homemade angel food cake, spread with strawberry jam, an airy whipped cream cheese frosting, and mounds of fresh berries (best when swiped through the frosting on the top of the cake). It was stunning to look at and dreamy to eat, sweet and light and perfect. And it only took 20 egg whites to make. Now I just have to come up with something that tops it for next week.
Past Birthday Posts:
2013: Triple Lemon-Cake with Lemon-Mascarpone-Cream Cheese Frosting
2013: Sparkling Strawberry Sangria
2012: Mom's Birthday Waffles with Strawberry Sauce
Angel-Food Layer Cake with Whipped Cream Cheese Frosting
Recipe based on The Fundamental Techniques of Classic Pastry Arts. Serves 12.
For the angel food cake:
290 grams cake flour
200 grams confectioners' sugar
400 grams granulated sugar
2 tsp cream of tartar
800 grams large egg whites (roughly a score of eggs [editorial note: that means 20])
Pinch of salt
1 tsp vanilla extract
For the frosting:
8 oz box cream cheese
2 ½ cups of heavy cream
¼ tsp cream of tartar
½ tsp vanilla extract
1/3 c. sugar
For the assembly:
¾ cup jam of choice (I used strawberry)
1 pint strawberries
½ pint blackberries
½ pint raspberries
Instructions for cake:
Sift together cake flour and confectioners' sugar. In a separate smaller bowl, mix together salt and cream of tartar.
Preheat oven to 325°F.
Separate egg whites (really make sure you don't get any yolk in there), and add salt to them in the bowl of a stand mixer.  Whip using a stand mixer (or an immersion blender with a whisk attachment.) Beat on low until foaming, gradually raising the speed of the beaters while adding the granulated sugar in batches. Beat until stiff, foamy peaks are achieved.
Add vanilla and gently fold in. Fold in the flour and sugar mixture in in several additions, being careful not to mix too vigorously, as the batter will deflate.
Pour batter into two 9-inch springform cake pans and two 6-inch springform cake pans and bake for about 35 minutes, or until the top is light golden brown and firm to the touch. Do not grease the pans – the pans need to be ungreased so that the cake can climb up the sides and get that nice airy texture.
Invert the cake pans on a wire rack. Run a knife around the edge when the cakes are cool and carefully unmold. Run a knife between the bottom plate and the cake before attempting to remove the bottom plate.
Instructions for frosting:
Mix cream of tartar, sugar and vanilla into cream cheese. Gradually add heavy cream and whip until it is the consistency of dense whipped cream. Chill until
To assemble:
Place the first large cake on a plate, and spread jam on the top of the cake. Spread frosting on top of the jam. Put each additional layer on with jam and frosting on top, leaving the last layer jamless.
Frost the rest of the cake, and artfully arrange berries on top. And add a flower. Put additional berries on slices. Can't have too many berries.
2