On the road from Baños to the final destination of our trip, Cotopaxi, we made a quick but memorable stop in the market town of Salasaca. Otavalo is the most famous market town in Ecuador, known for it's enormous Saturday market, but it's a good two hour drive north of Quito, and since our route kept us South of Quito, we jumped at the opportunity to make a quick stop in Salasaca when our guide suggested it. The small town square has perhaps a dozen or so vendors, but the goods (and the prices) were amazing, and we promptly spent all of our remaining cash on thick alpaca blankets ($20 a piece), colorful woven hammocks ($26 for the biggest size), hats, and alpaca sweaters. The quality of everything we purchased is high, the colors beautiful, and the women selling us the blankets were lovely and appreciative of our purchases. After reading more about the Otavalo market after our trip, I'm glad we passed through Salasaca instead – whereas Otavalo seems to have become a tourist destination with all the accompanying tourist junk for sale, Salasaca provides a more authentic and more intimate market experience.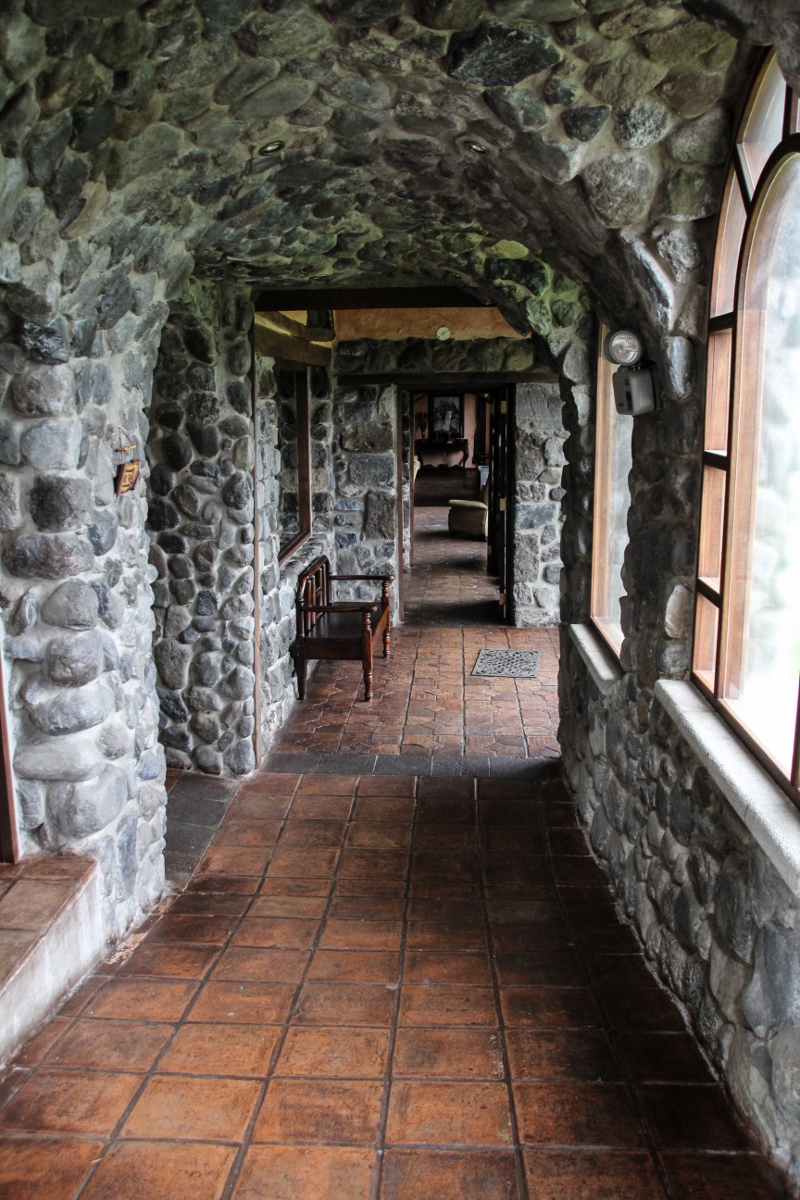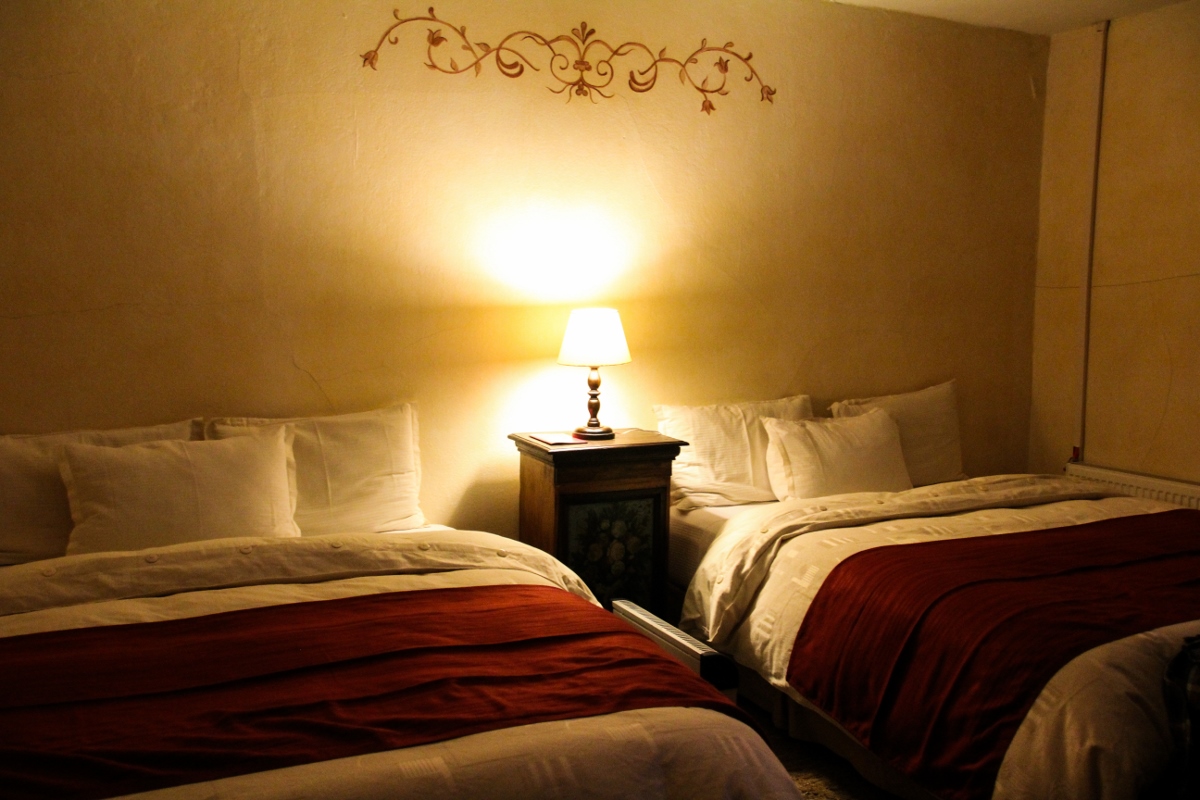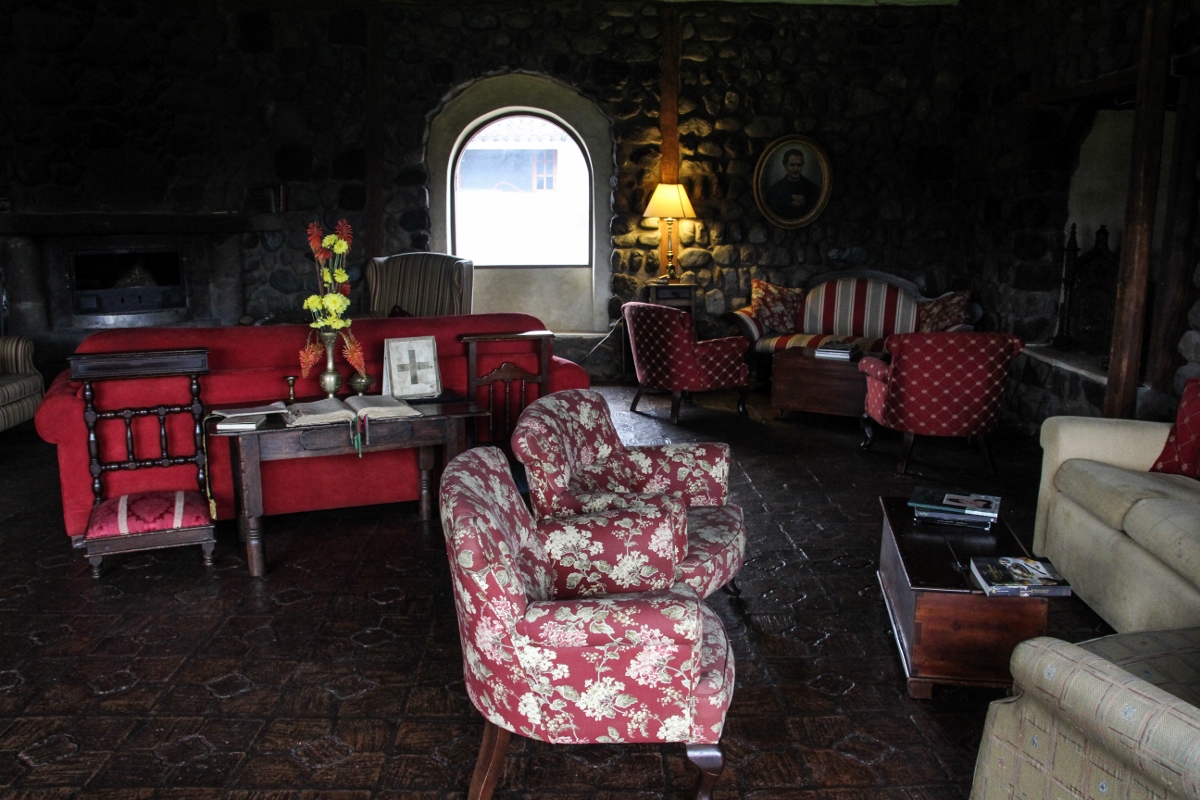 Hacienda Santa Ana
An extra suitcase worth of blankets in tow, we finished our drive from Baños, through the town of Machachi, and up a very long and very bumpy road to Hacienda Santa Ana, a beautifully restored hacienda-turned-inn right on the edge of Cotopaxi National Park. Santa Ana was our highest-end accommodation for the whole trip, and we luxuriated in the thick down comforters, the large couches by the stone fireplace, and the general atmosphere of elegant coziness. It's a small inn on a huge property that once belonged to the Jesuits, and the decor still reflects its rich religious history. Shortly after we arrived (well, actually, shortly after our horseback riding adventure which happened immediately after we arrived), we were greeted with a canelazo, a warm clementine, cinnamon, and aguardiente cocktail that will almost certainly be making an appearance on this blog the next time it's cold and gray. This and other little touches – hot water bottles to take to bed with us, gorgeous period furniture, a plentiful supply of hot tea, and walking through the grounds to say hi to the llamas – made our stay at Hacienda Santa Ana very pleasant. My only caution about staying at Santa Ana: it's a long drive back to town, so be prepared to eat all your meals at the inn. Dinners were satisfying and tasty but not particularly inspiring, sort of overpriced but not exorbitantly so considering the fact that it's the only option. It wasn't a problem and wasn't a highlight for us. All things considered, I'd highly recommend staying at Hacienda Santa Ana.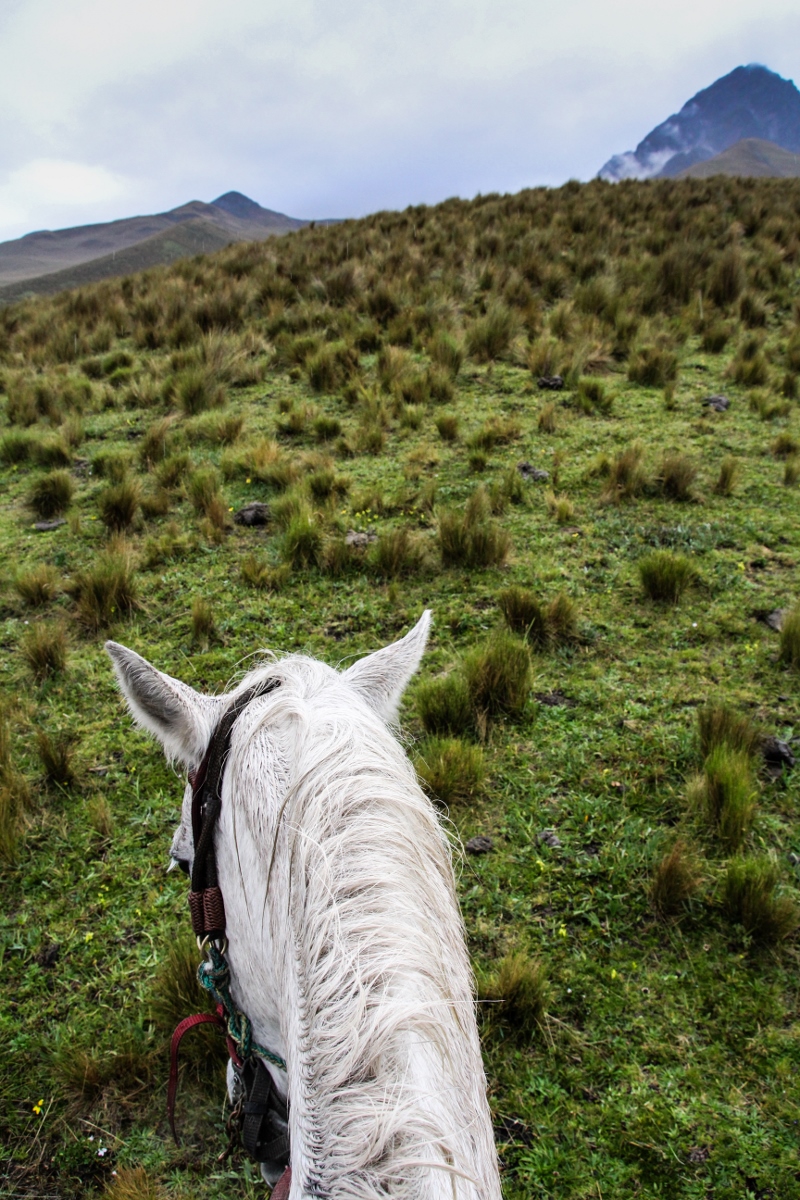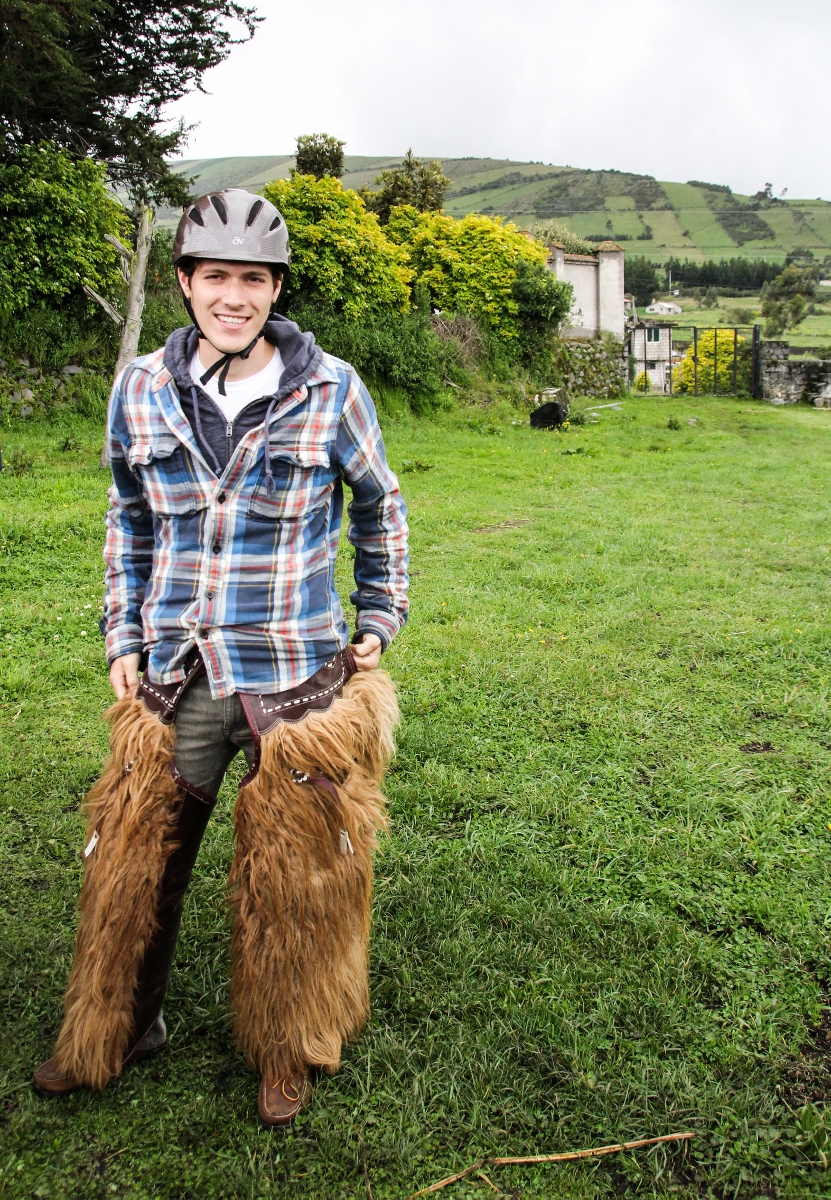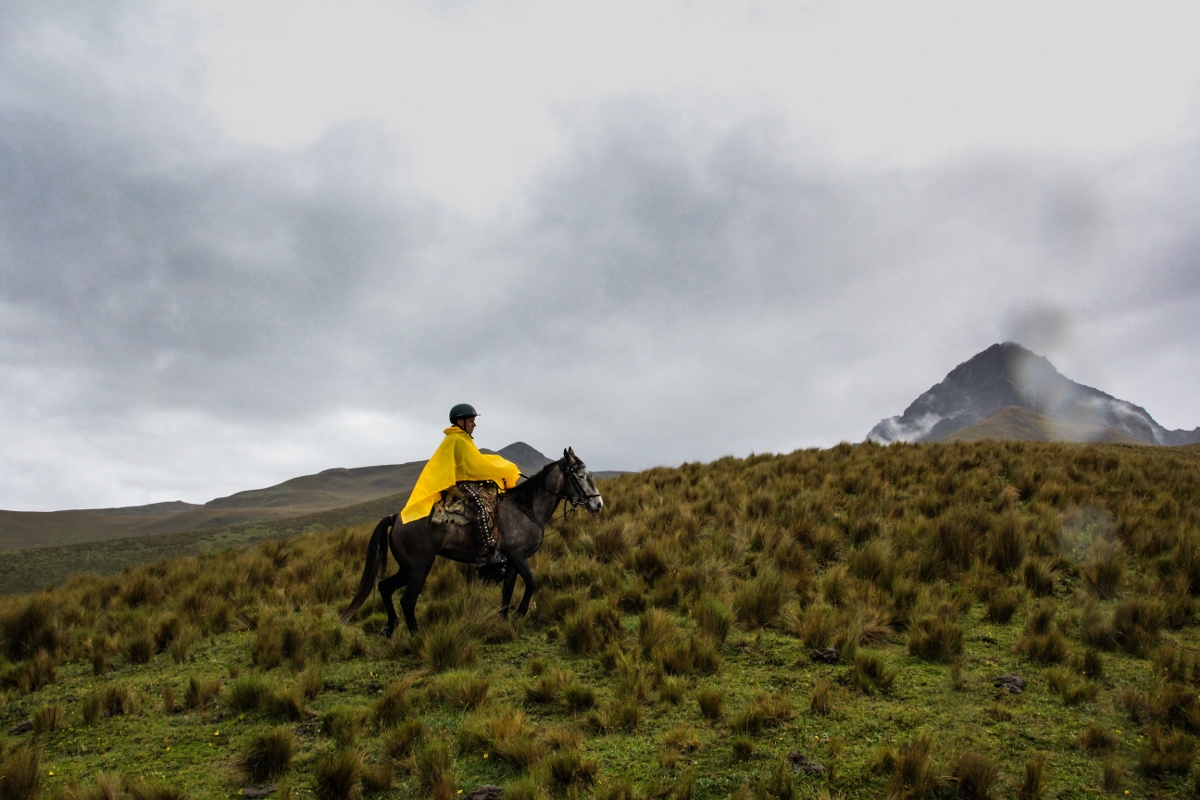 Horseback Riding at Santa Ana
When my mom was planning this trip (thanks mom!), the one activity I was adamant that she include was horseback riding. I rode for a long time as a kid, but these days my opportunities to ride are very infrequent. We booked our ride for the afternoon we arrived at Santa Ana, but delays in the mornings and threatening weather had our guide worried about our choice. But I insisted. So as soon as we got out of the car at Santa Ana, Patricio, one of the chagras working at Santa Ana, handed us our chaps and ponchos, and we mounted up. It was raining lightly as we headed down the road, but I was still on cloud nine, chatting with Patricio using only my practically non-existent Spanish skills, and clopping down the cobblestone road. Trevor and my family were really just being good sports by coming along, but I was glad we were all there. At the end of the road, Patricio let us through a gate into the fields, and we rode through one of the coolest landscapes I've ever seen, giant tufts of dry grass clumped around our horses' feet and the ragged edges of Ruminahui volcano in the background. I loved it. Things got a little hairy on our way back down – Trevor's horse slipped down a muddy hill and rolled on top of his leg. Amazingly, he was fine, but it thoroughly freaked out my brother who decided that he would be walking the rest of the way home. Quite the adventure. But I'd do it again in a heartbeat.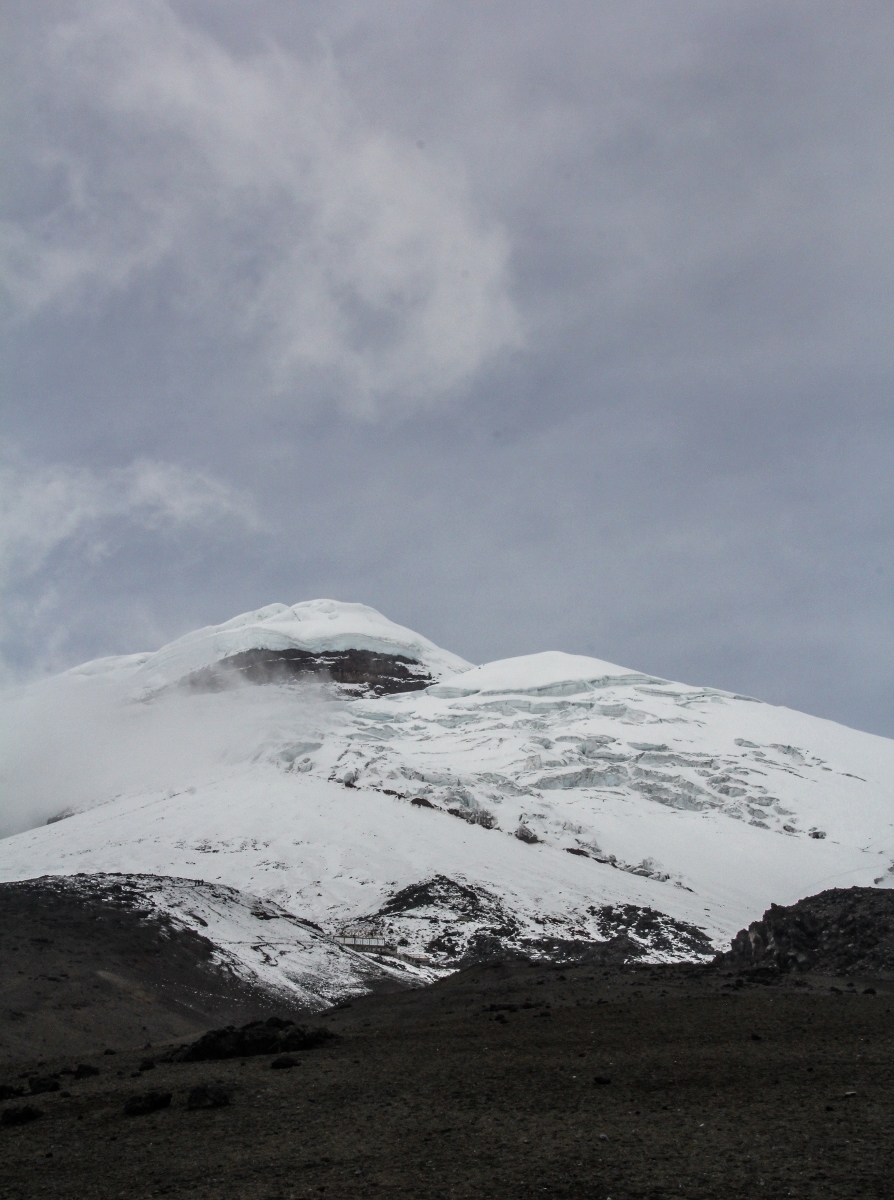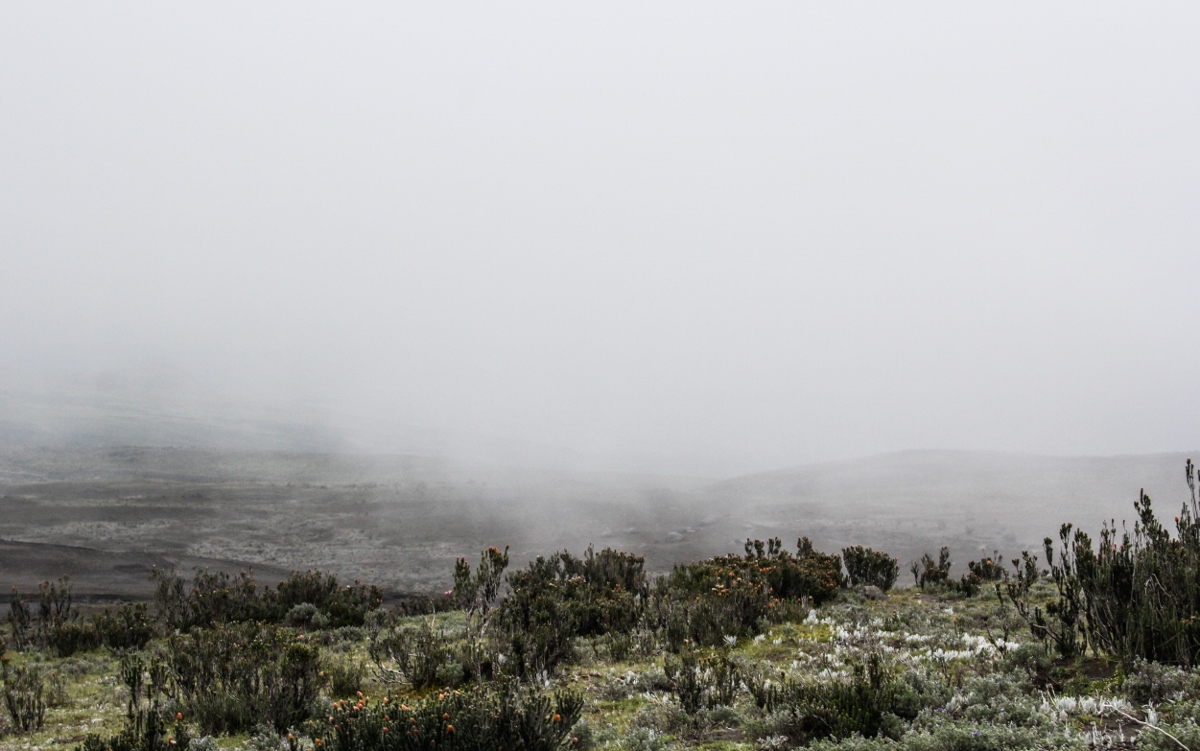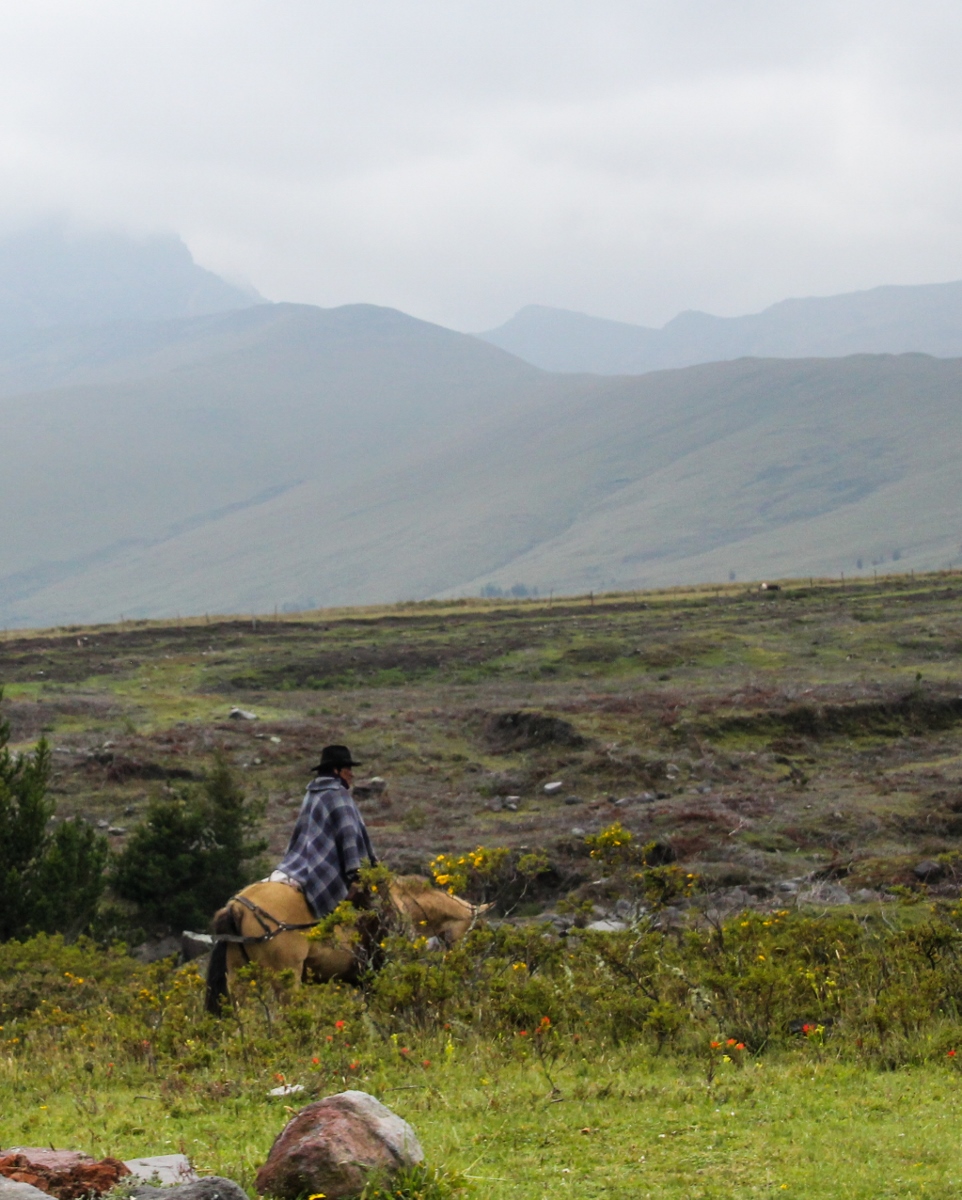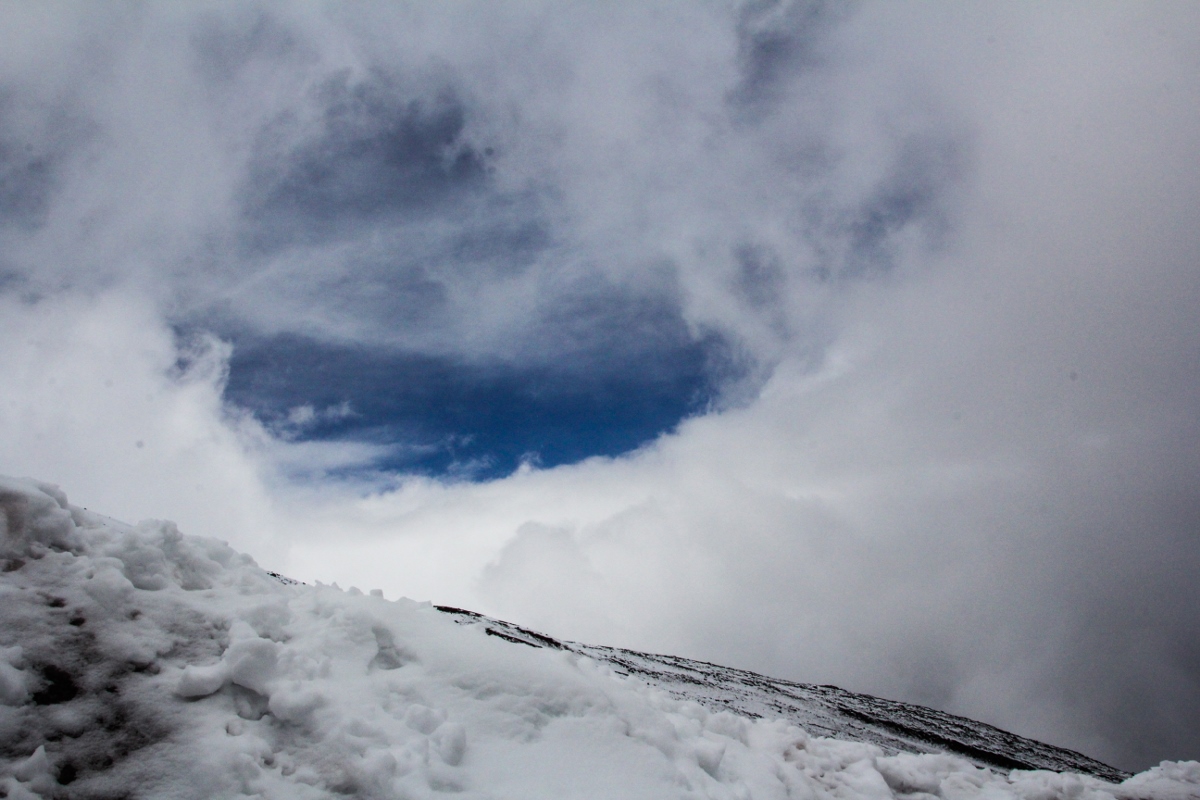 Cotopaxi Glacier
The main event of our time in Cotopaxi was, unsurprisingly, climbing Cotopaxi, the 19,000 foot tall active volcano that would dominate the landscape were it not usually shrouded in clouds. I'm exaggerating a little – we didn't summit the mountain –  but we did climb past the base camp and up to the edge of the glacier at 16,400 feet. Even after a week at elevations of 9,000+ feet, being at an altitude that high is really hard, and I've never felt my body turn so sluggish with such tiny movements. It's overwhelming. It was also bitterly cold as we climbed through the clouds that were spitting hail and rain at us, but we moved slowly, drank lots of water, rested frequently, and pushed through. As we neared the glacier, the sun peaked out from behind the clouds once or twice, illuminating the fascinating landscape and the colors of the plains below, and even though my mind was foggy, the experience was amazing. After touching the glacier (or building a snowman on it if you were Trevor), we hurried back down, and after a quick lunch at Tambopaxi refuge, we all collapsed back at the hotel, much more drained than we had expected to be. I've always dreamed about serious mountaineering – climbing Kilimanjaro, McKinley, etc. – but this brief encounter with true altitude made me question if I'd really enjoy it.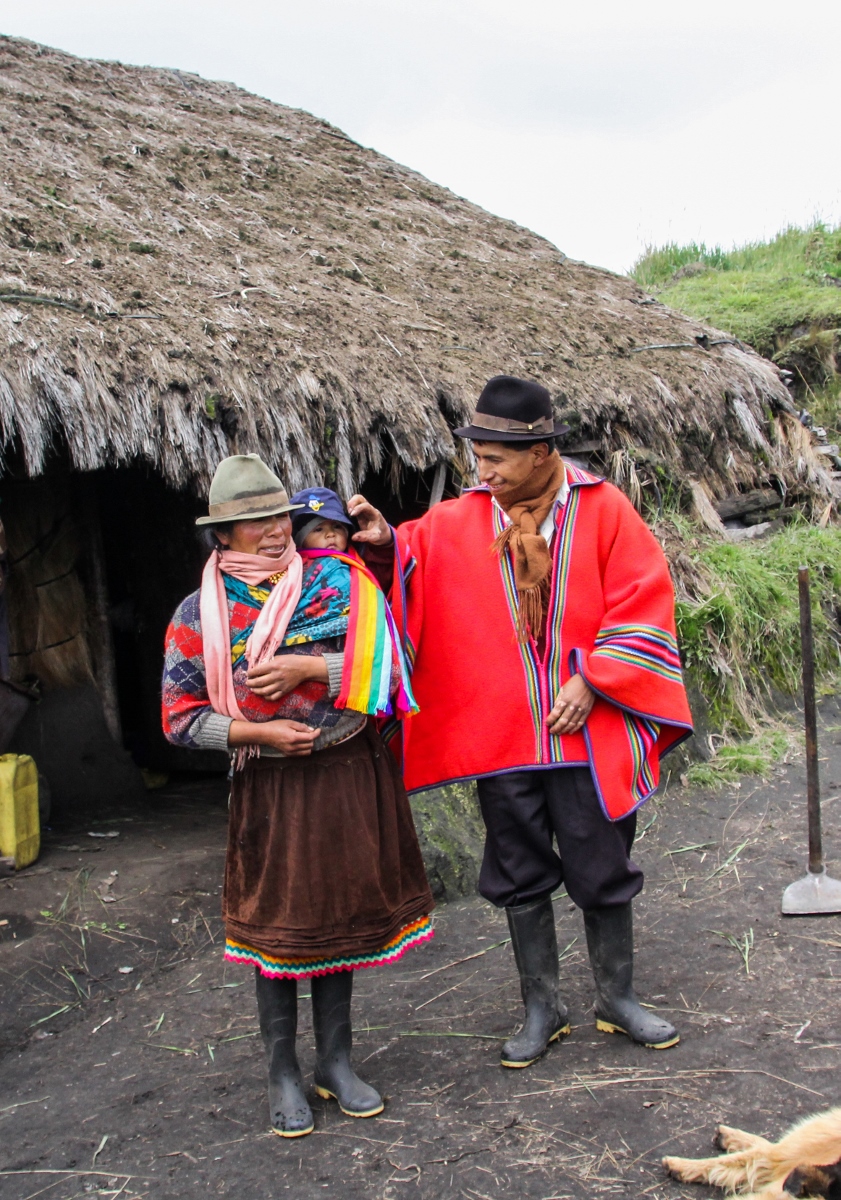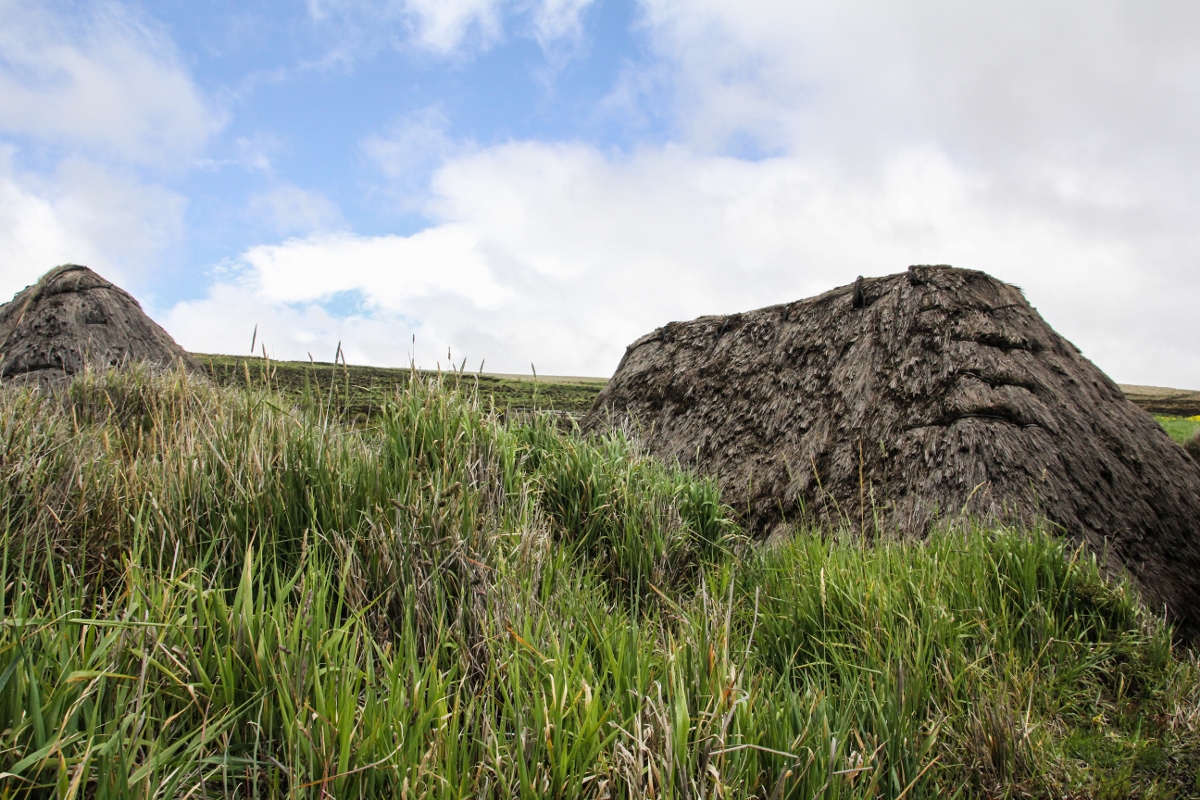 Quechua Farmers
On our last "tour" day we left Hacienda Santa Ana and made the long drive west to Quilotoa lagoon. On our way, we stopped at the house of two local Quechua farmers, to see their traditional lifestyle. The houses are really dugouts, covered with long sloped roofs of dried grass, and the Quechua raise guinea pigs and vegetables for local markets to make their living. Their farm, spread out over the sloping mountainside, gave Trevor and me serious farm envy, especially their huge onion bulbs and dark loamy soil. The family was very welcoming during our short visit, and the experience didn't feel pretentious or awkward like others geared towards indigenous culture can. It was a brief stop, but very memorable.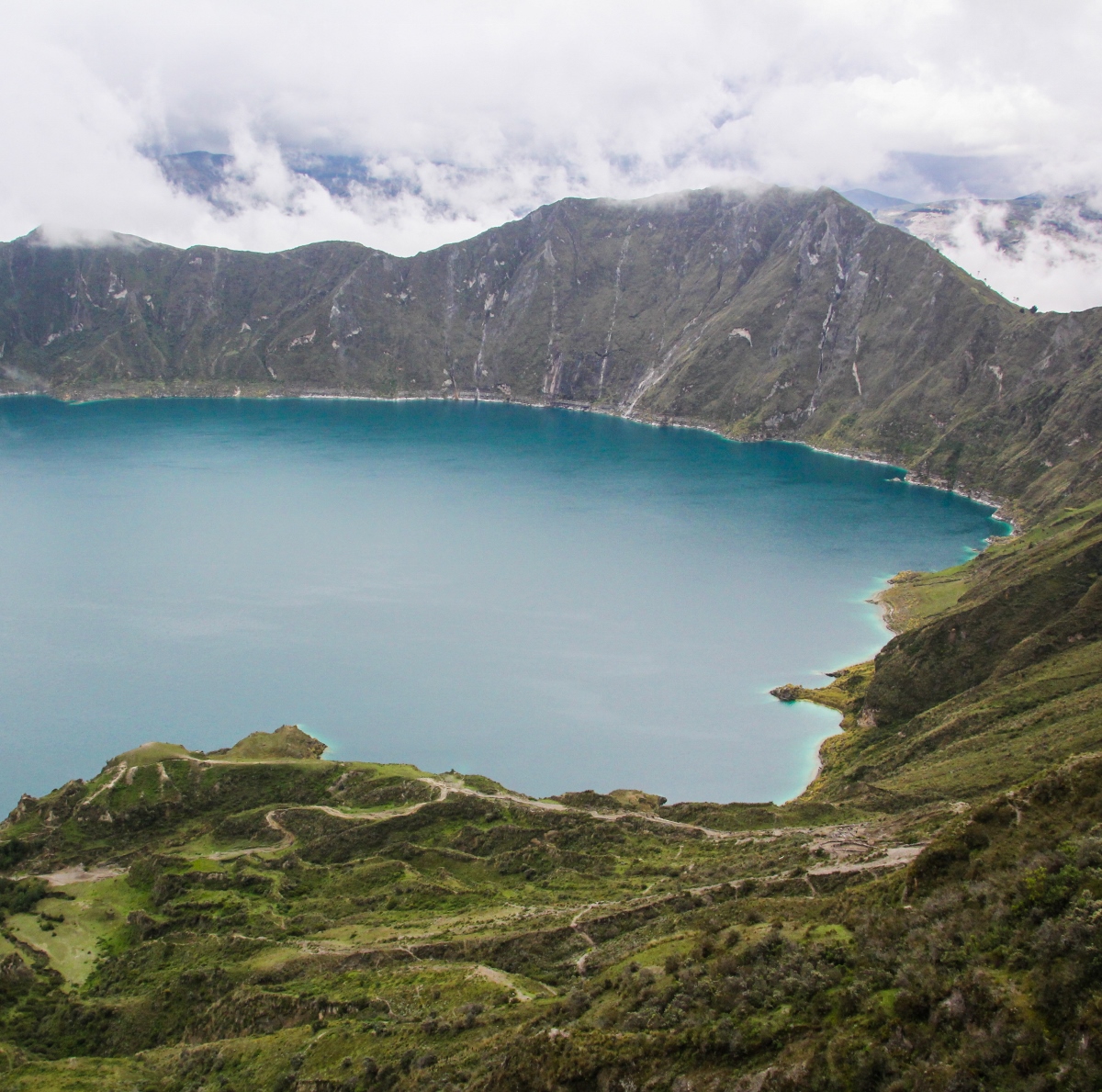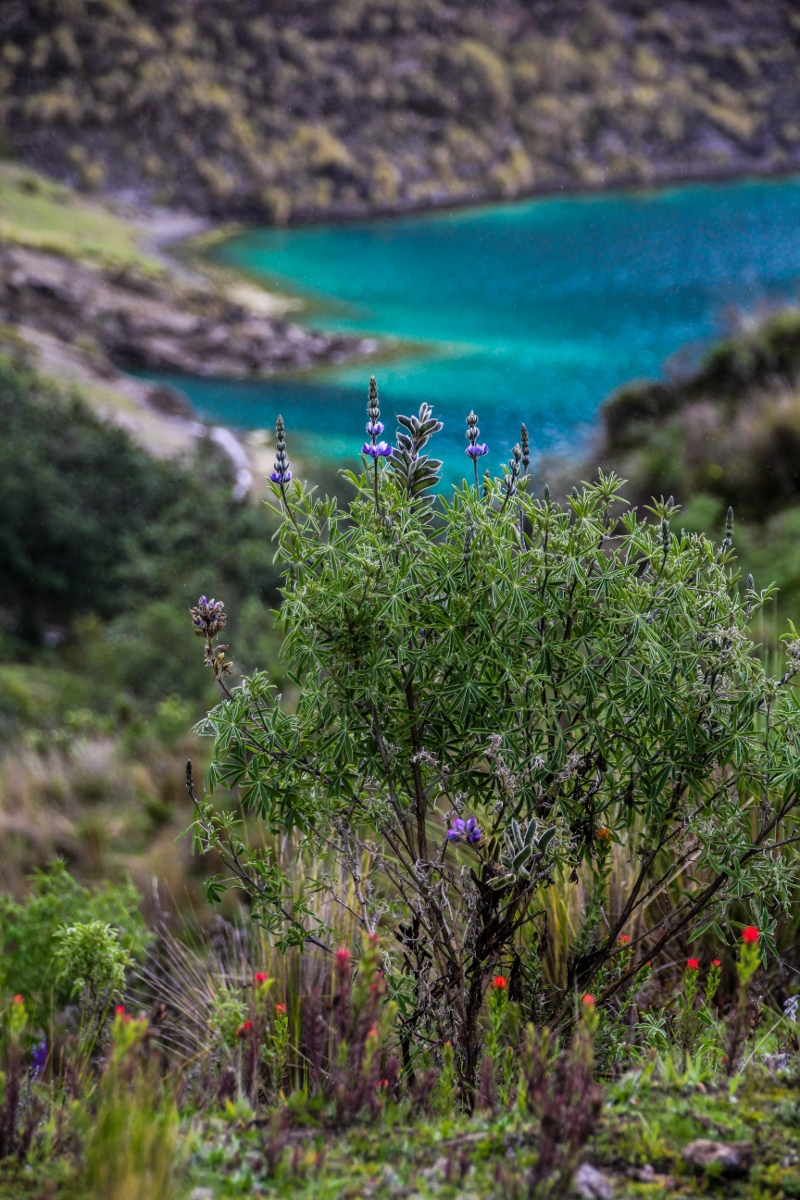 Quilotoa Lagoon
Quilotoa lagoon is a water-filled caldera about 2 1/2 hours southwest of Machachi. If you see it in a brief moment of sun, the water is a brilliant emerald green, but our encounters with sun in Ecuador were few and far between. The lagoon is stunning, and when you arrive, you can hike down the dirt road to the edge of the lagoon, where you can rent a kayak if you still have the energy. My family is pretty active, so we refused the offer to reserve mules for the trip back up (at $8 per mule, and you have to decide before you hike down), but oh man, climbing back up out of that crater might have been the hardest thing I've ever done. Walking up the sliding sandy path, I was huffing and crying and counting my steps in sets of 50 just to get myself to keep moving. I don't know if it was the altitude, or soreness from the previous day's hike, or the fits of rain, or all three, but I felt pathetic, and the mules literally cantering past me every 20 minutes or so where like salt in the wound. It was a beautiful landscape, but my memories of the day are not overwhelmingly positive. On the other hand, Trevor and my brother and my mom were all totally fine climbing back up, so if you want to attempt it, go for it. Just trust your guide when he says that it's not as easy as it looks from the top. After a quick lunch at one of the small hostels in town, we were back in the car for the long drive to Quito. If you're planning a trip to Quilotoa, I'd recommend trying to fit it in on your way somewhere – we basically did an out and back, and it was a lot of time in the car. It looks like it's about an hour off the main highway from Baños to Machachi/Quito, so if you're headed along that path anyways, that would be the time to do it.
More from our Ecuador adventures…
Ecuador Travelogue: Quito
Ecuador Travelogue: The Amazon & Itamandi Lodge
Ecuador Travelogue: Baños
0