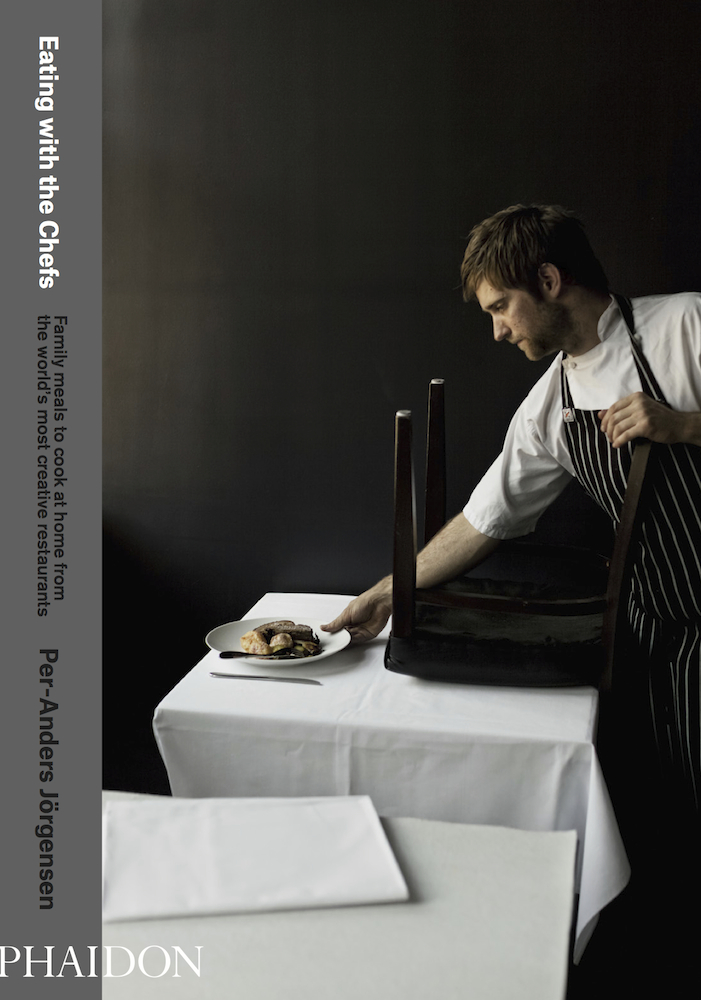 The Book: The newest cookbook on my shelf is Eating with the Chefs, a photography-driven book that documents the family meals served at the world's greatest restaurants. The goal of the book: to take you behind the scenes, into the kitchens and after-hours, to experience the "family life" of the people who make these restaurants run, and the "honest, simple food" they make for each other outside of the dining room. From the pillars of America's modern dining scene (The French Laundry, Chez Panisse, Blue Hill at Stone Barns), to the international innovators that have been making global headlines for the past few years (Noma, Attica, Mugaritz), you will get a little taste of the experience and flavors of each restaurant, without needing to hop on a plane and fly to Denmark/Australia/Spain (as nice as that would be if you could). Like all of Phaidon's books, Eating with the Chefs is gorgeously designed, an art book as much as a cookbook, if not more. The pages are thick and matte, the text sparse, and the stories are told primarily through the gorgeous and subtle photographs of Per-Anders Jorgensen, the book's creator. The restaurant stories and recipes are found interspersed between the pictures in text "inserts," further emphasizing the focus on the photography. It's a book you'll want to leave out on the coffee table. As for the recipes themselves, between the seemingly universal unwritten rule that family meals should be straightforward and comforting and the immense talent and creativity of the chefs cooking them, the 50 recipes included in this book fall right in the sweet spot of how I love to cook.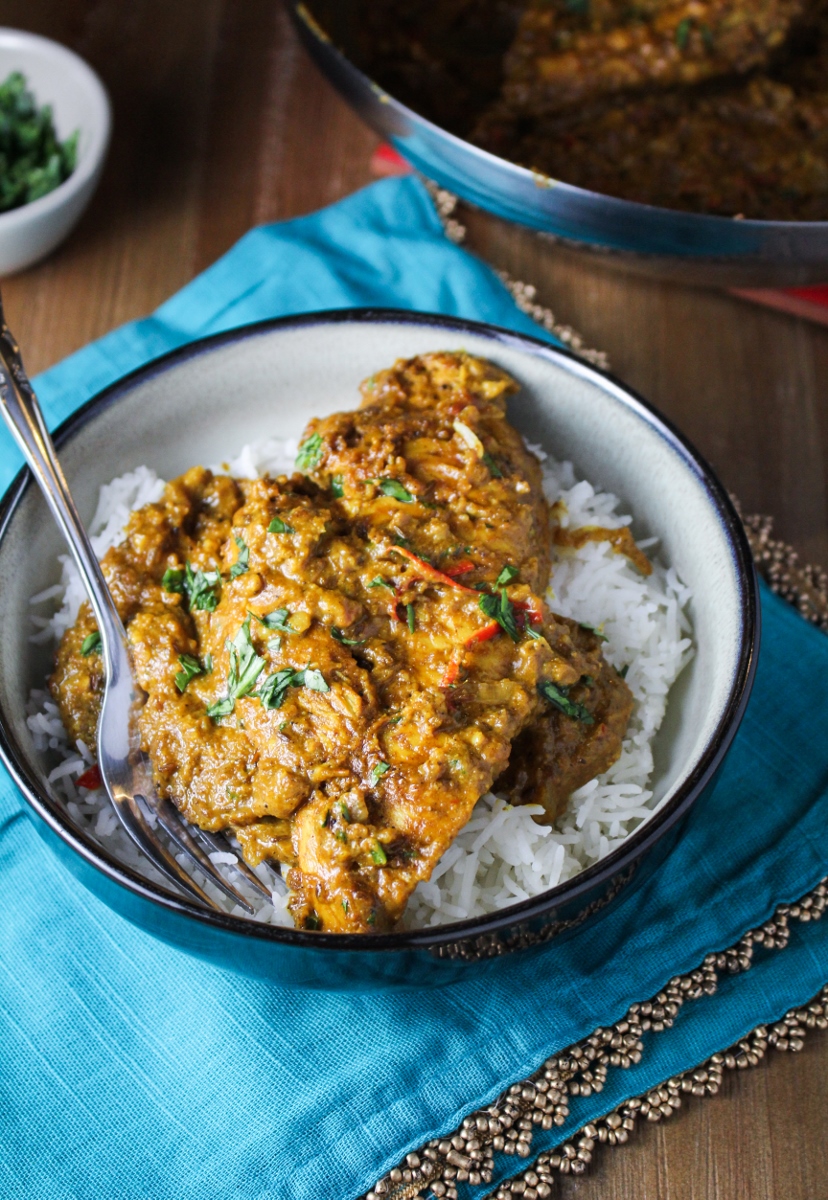 The Food: As soon as I saw the recipe for Indian Butter Chicken in Eating with the Chefs, I knew it had to be the first recipe I tried. I'm forever on the hunt for recipes that accurately approximate my favorite Indian takeout dishes, but making good Indian food requires such a thorough study of cooking techniques and knowledge of Indian pantry ingredients that it can be a real challenge. I've had good success with recipes like these Pea and Potato Parathas and this Pakistani Chickpea Pulao, but none of them have been "takeout-y," by which I mean over-the-top rich and spicy and addictive. As you might expect from one of Australia's pre-eminent chefs, this recipe hit all the right notes of great Indian food – creamy, spicy, salty, savory – and was perfectly balanced. I'm really excited to have added this one to my repertoire, and if the other recipes in the book are as dead-on as this one was, I'm going to have a lot more dinners in my rotation.
Recipe Shortlist: Basque-Style Garlic Soup; Emmer Wheat Foccaccia; Quark Pillows with Corn and Grilled Peaches; Holiday Cannelloni; Squab Torte; Roast Chicken with Apple and Onion Confit and Pommes Mousseline; Lentil Stew with Pork Ribs; Quay's Green Chicken Curry; Chocolate Ripple Cake
Like what you just read? Subscribe to Katie at the Kitchen Door on Feedly or Bloglovin', or follow along on Facebook, Twitter, Pinterest, and Instagram. Thanks for reading!
Disclaimer: I received a review copy of Eating with the Chefs from Phaidon, but I was not otherwise compensated and all thought and opinions are my own.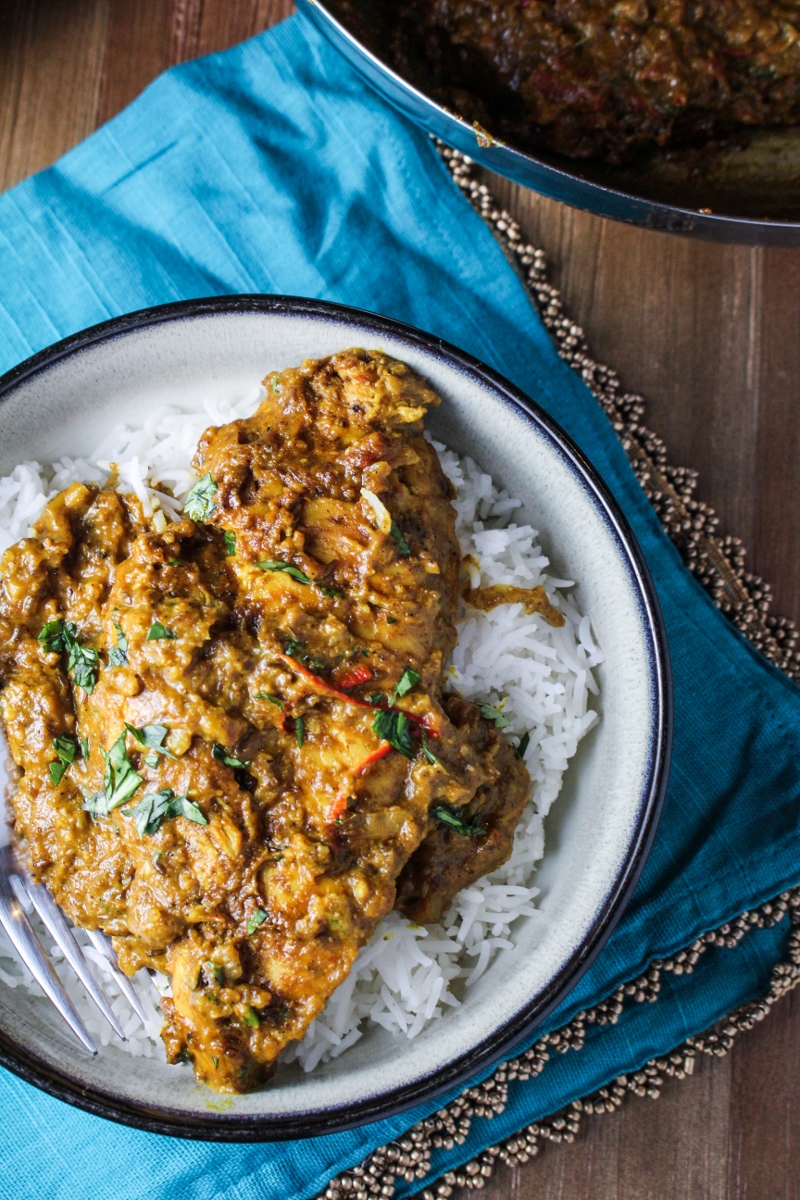 Indian Butter Chicken
Recipe from Eating with the Chefs. Serves 2.
1/2 c. plain Greek yogurt

2 tsp lemon juice
1 1/2 tsp ground turmeric
1 1/2 tsp garam masala
1 1/2 tsp ground cumin
1 lb. 2 oz. skinless chicken breasts or thighs
3 TBS butter
1 tsp vegetable oil
1 small onion, peeled and finely chopped
3 cloves garlic, peeled and finely chopped
1 TBS grated fresh ginger
1 TBS whole cumin seeds
1 small cinnamon stick
1/3 c. canned diced tomatoes
1 fresh red chile, seeded and sliced
1/4 c. chicken stock
1/2 c. heavy cream
1/2 tsp tomato paste
1 TBS ground almonds
3 sprigs fresh cilantro, to garnish
salt to taste
Combine the yogurt, lemon juice, turmeric, salt (to taste, approximately 1/2 tsp), garam masala, and ground cumin in a small bowl and stir to combine. Pour over the chicken, making sure chicken is fully coated, cover, and refrigerate for 24 hours.
When ready to cook, melt the butter and oil in a large pan over medium heat. Add the onions and cook for about 10 minutes or until translucent, stirring occasionally. Stir in the garlic, ginger, and cumin seeds, and cook for 3 minutes, until spices are fragrant and onions are lightly browned.
Add the cinnamon stick, diced tomatoes, and sliced chile to the pan and season with salt, then cook over medium heat for 10 minutes. Add the chicken and it's marinade to the pan and stir to combine, then cook for another 5 minutes.
Add the chicken broth to the pan and bring to a boil. Reduce heat to medium-low and simmer for 30 minutes. Stir in the cream and tomato paste, and cook for another 10-15 minutes, or until the chicken is fully cooked through. Stir in the ground almonds and cook for a final 5 minutes. Serve with rice, garnished with fresh cilantro.
7