The Book: Although we're smack in the middle of winter, Summerland: Recipes for Celebrating with Southern Hospitality, is helping me daydream my way back to a place where winter means a short break from sundresses – Georgia. This book, written by the owner of Summerland Farm and chef-owner of a number of prominent Southern restaurants, is organized into themed menus by month, starting with September, "From Pasture to Plate: A Celebration of the Pig," and moving right on through the holidays, the spring, and ending in August with "The Dog Days of Summer: A Fig Feed." Because it's written from a farm, it falls very naturally into the farm-to-table ethos, without seeming like it's trying to be something it's not – each menu is seasonal, in a Southern way (i.e. there's no winter) and based around the rhythms of farm life. I'm a sucker for themes, and for full explorations of a single ingredient, so I like that everything goes together in each chapter. The "Fig Feed" in particular sounds amazing – if only our fig tree would produce enough figs for something like that! The menus and recipes manage to be both elaborate and "back-to-basics" at the same time, making it a book that I'll turn to for special occasions, but not so much for everyday dinner recipes. And as for the look and feel of the book, it's a large format cookbook with high quality paper and design, and a beautiful, atmospheric photography style that I really love. The photographs manage to bring each season to life – the winter photos are dark and moody, while in spring and summer they're bright and outdoorsy. It's a beautiful book.
The Food: Our test recipe for this book was this Italian Wedding Soup, made with homemade noodles, spicy mustard greens, and big lamb meatballs. We actually made this back in December, in the middle of feasting season, so the simplicity and homeyness of this soup is what appealed to us. Most of the recipes from the December section of the book were designed for entertaining, as they're all part of the "Holiday Retreat" menu, so we skipped ahead to March ("The Rites of Spring: A Lamb Fete") to find this one. It was just what we needed at the time. Although I'll happily gobble down homemade noodles and meatballs in any form, I think my favorite part of this soup was the spiciness of the mustard greens – it was the perfect counterpoint to the rich and gamey flavor of the meatballs. Next time, I think we'd make the extra effort and use homemade stock, as the broth is a prominent feature of this particular soup.
Recipe Shortlist:  Meyer Lemon Gelato; Warm Pumpkin Pudding with Hard Sauce; Broccoli Soup with Sabayon and Shaved Perigord Truffle; Breakfast Sausage; My Bloody Valentine Cocktail (Blood Orange Nectar, St. Germain, Prosecco); Squab with Beets and Beet Green Pesto; Lamb Pot au Feu; Charred Pomegranate Popsicles; Slow-Roasted Porchetta; Korean Beef Jerky; Sweet Tea Cocktail; Peach Semifreddo; Gazpacho Salad; Branzino Steamed in Fig Leaves with Fig Butter and Pecans; Yogurt Parfait with Fig Gelee and Peanut Brittle
Like what you just read? Subscribe to Katie at the Kitchen Door on Feedly or Bloglovin', or follow along on Facebook, Twitter, Pinterest, and Instagram. Thanks for reading!
Disclaimer: I received a review copy of Summerland free of charge from Rizzoli, but I was not otherwise compensated and all thought and opinions are my own.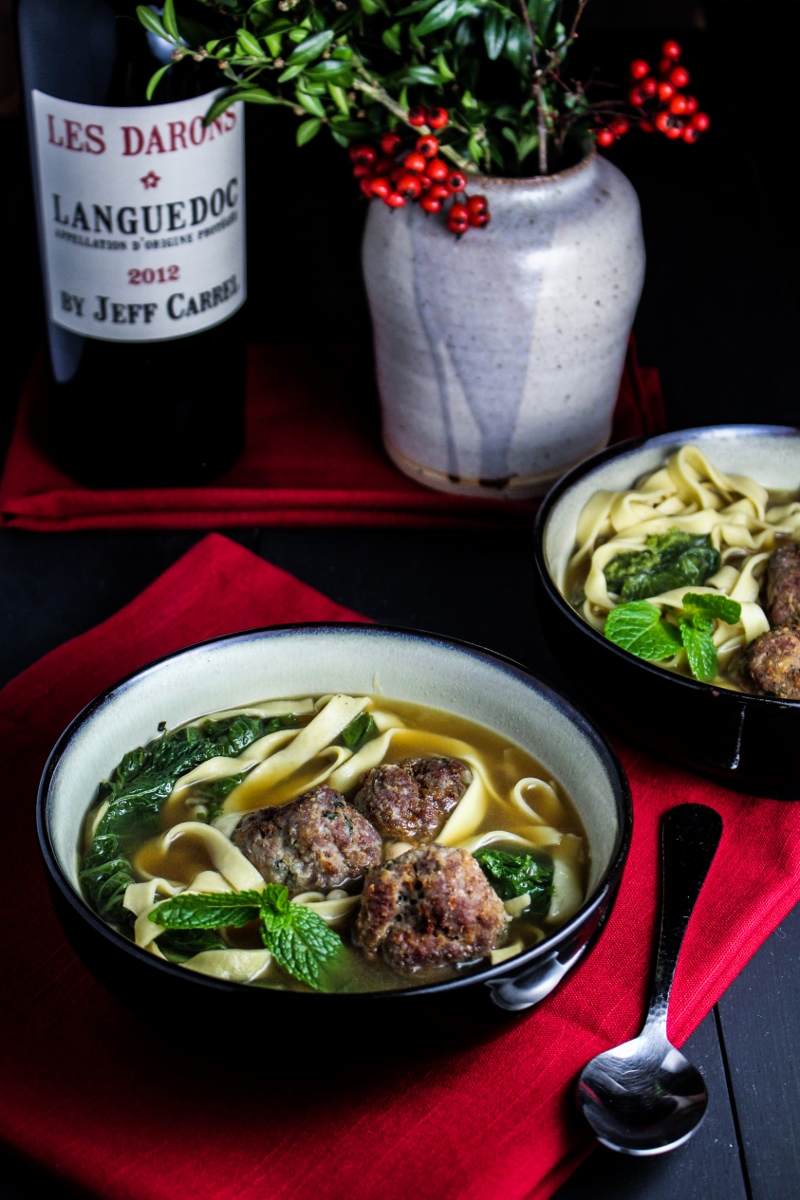 Italian Wedding Soup with Lamb Meatballs
Recipe from Summerland: Recipes for Celebrating with Southern Hospitality. Serves 4-6.
1 lb. lean ground lamb
1 large egg, beaten
1/4 c. unseasoned bread crumbs
2 TBS chopped fresh mint
zest from 1 Meyer lemon, finely grated
kosher salt
freshly ground black pepper
3/4 c. flour
1 c. vegetable oil, for shallow frying
1 TBS olive oil
1 sweet onion, peeled and coarsely chopped
3 garlic cloves, peeled and thinly sliced
1 sprig fresh thyme
pinch of crushed red pepper flakes
1 c. fresh or frozen field peas or pink-eyed peas (we substituted cannelini beans)
1 bunch mustard greens, torn
4 c. lamb stock or chicken stock
3/4 lb. fresh pasta dough, rolled out and cut into wide noodles (or substitute 3/4 lb. of egg noodles, pre-cooked to al dente).
leaves from 3 sprigs fresh flat leaf parsley, chopped, for garnish
For the meatballs: combine lamb, egg, bread crumbs, mint, and lemon zest in a large bowl. Season with salt and pepper, then mix well by hand. Form into balls about the size of golf balls (you should have around 18, 1-oz. balls). Place the flour in a shallow bowl, and roll the meatballs in it, tapping off any excess. Heat the vegetable oil in a large frying pan over medium heat. Fry the meatballs in batches until golden brown on all sides, about 7-9 minutes total. To test to see if they are done, stick a metal knife into the center of a meatball – if the blade comes out hot, they are done (but don't burn yourself  checking!). Drain the meatballs on a paper-towel covered plate and set aside.
For the soup: Heat the olive oil in a medium saucepan over medium heat. Add the onion and garlic and saute until translucent, about 4-5 minutes, stirring to prevent them from burning. Reduce the heat to low and add the thyme and red pepper flakes. Add the peas or beans and cook over low heat for 10 minutes, stirring occasionally. Add the mustard greens and stock and bring to a simmer. Add the fresh pasta and cook over low heat until tender, 2 to 3 minutes (if using pre-cooked noodles, cook just long enough to heat through). Place the meatballs in the saucepan and cook until heated through, another 1-2 minutes. Adjust the seasoning with salt, and serve, garnished with the parsley leaves.
10