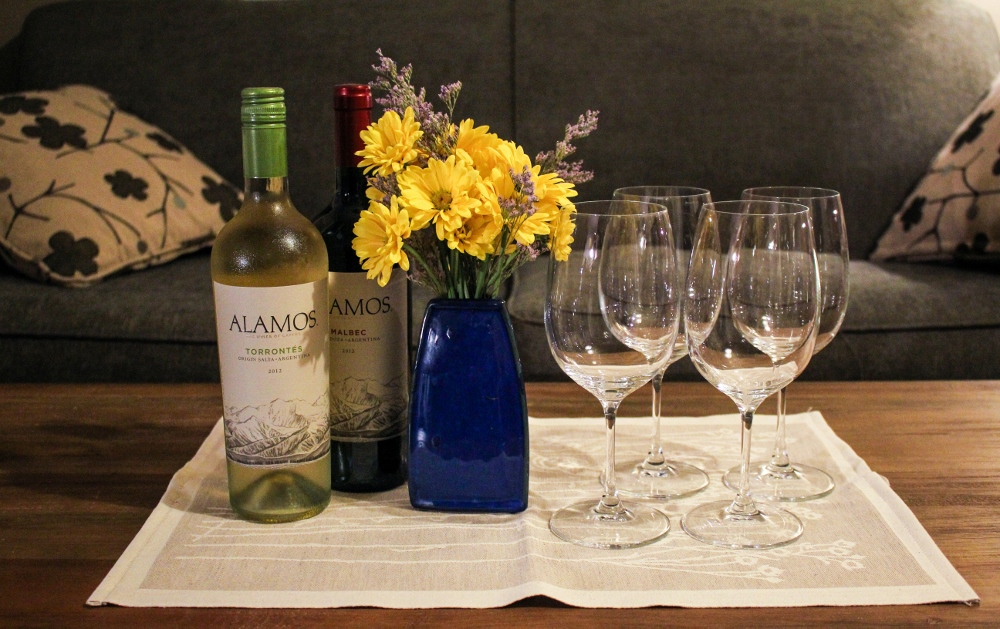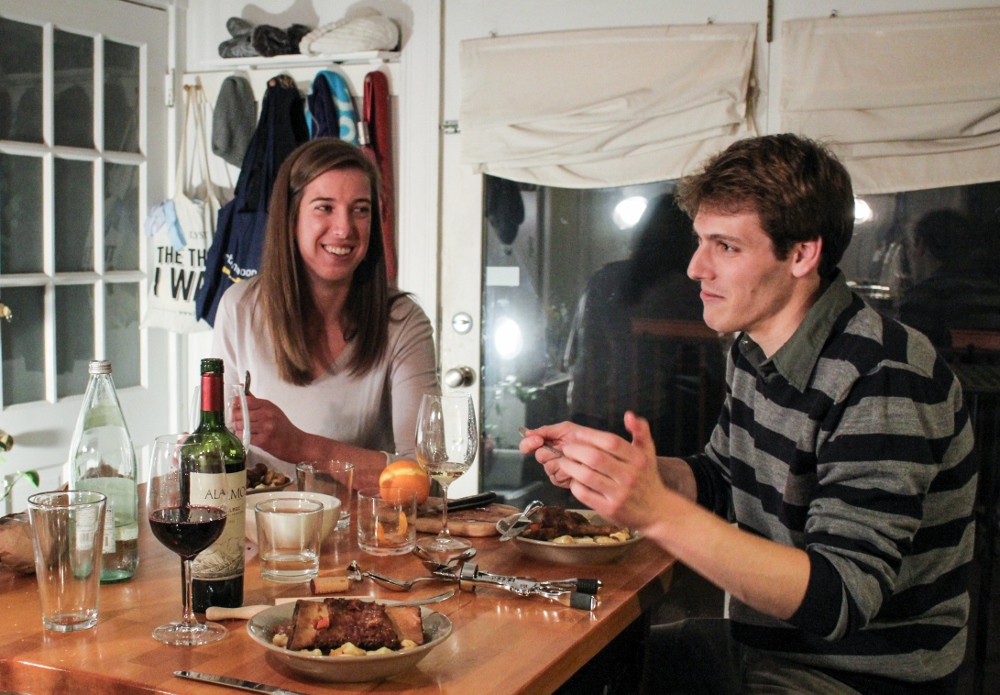 Last year, I decided that I wanted to be into wine. I knew that I liked drinking wine in general, and I liked drinking wine with food, but beyond that, my knowledge was pretty limited. If I had to choose a glass of wine at a restaurant, the only thing I knew I liked was Merlot, and I started feeling boring pretty quickly always ordering the same thing. So I started learning. The wine world can be pretty daunting at first, especially because it has something of a reputation for snobbery. But the best way to get past that is just to dive in and start tasting, so that's what I did. I began trying new wines, writing down whether or not I liked them, and trying to determine why I liked them, using whatever words came to me and not worrying about whether they were real "wine" words or if they were accurate (I use Vivino to keep track of what I've tried and how I felt about it). I started going to the tastings at Bacco's after work and asking whoever was running the tasting a lot of basic questions about each bottle. At IFBC I signed up for all the wine events possible – tasting sessions and winery tours – and paid close attention to the details of each presentation (well, I paid attention at least through the third glass). I discovered that tasting 4 or 5 wines in a row really helped me pinpoint the differences between them, and that if you're paying attention to it, food can make a huge difference in the way a wine tastes.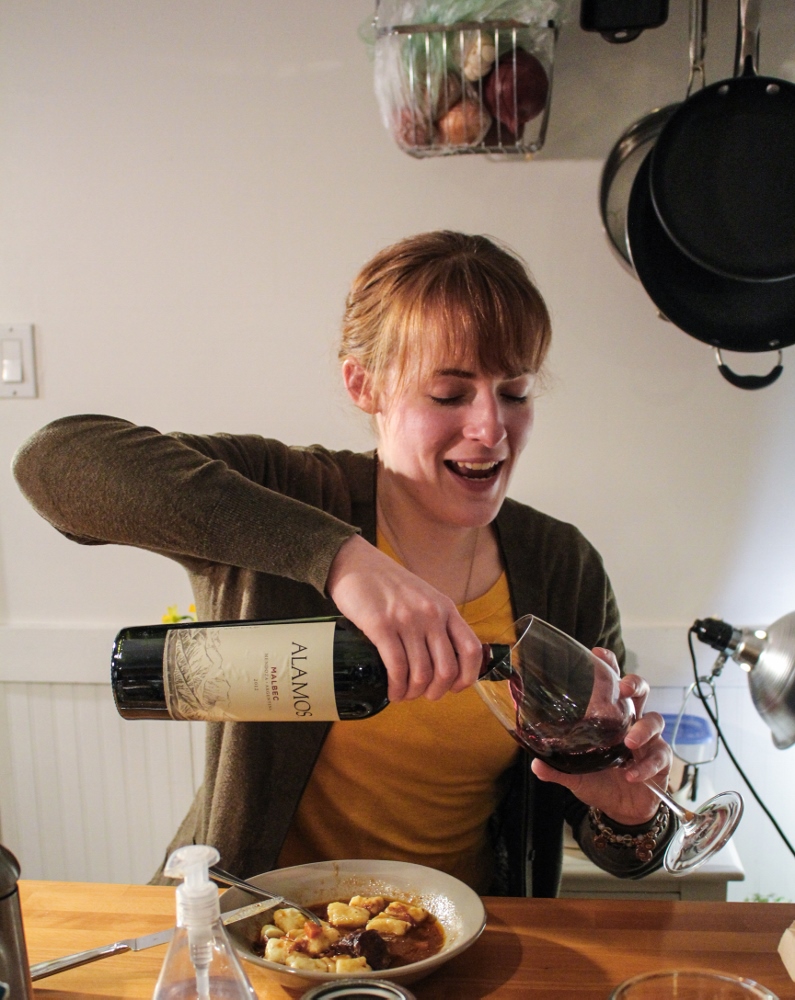 And after all this learning? I know that I like Merlot and Chardonnay. But also a really yummy, smoky Pinot Noir from Chile, and a New Zealand Sauvignon Blanc that's loaded with grapefruit flavor. And that there are some wines I really don't like. I feel like I'm just beginning to scratch the surface, but it's less daunting now, and mostly just fun. And I want to share that fun with you, so I'm starting a "Wine Dinner" series here, where every once in a while I work with a winery or regional wine board to put together a little dinner party focused on the wine they promote, and recipes to pair with them. I kicked things off last weekend with Alamos Wines, an Argentinean winery that I connected with at IFBC. They sent me two bottles of wine and I invited my roommates from last year, Allison and Jane, over for a little dinner – they seemed like safe first guests since they already know that I'm weird and take a lot of pictures of my food. It was so fun to see them, and to come up with the recipes, and to evaluate the wine – but it turns out I need to practice my dinner party photography! Don't judge me too harshly, I'm still learning.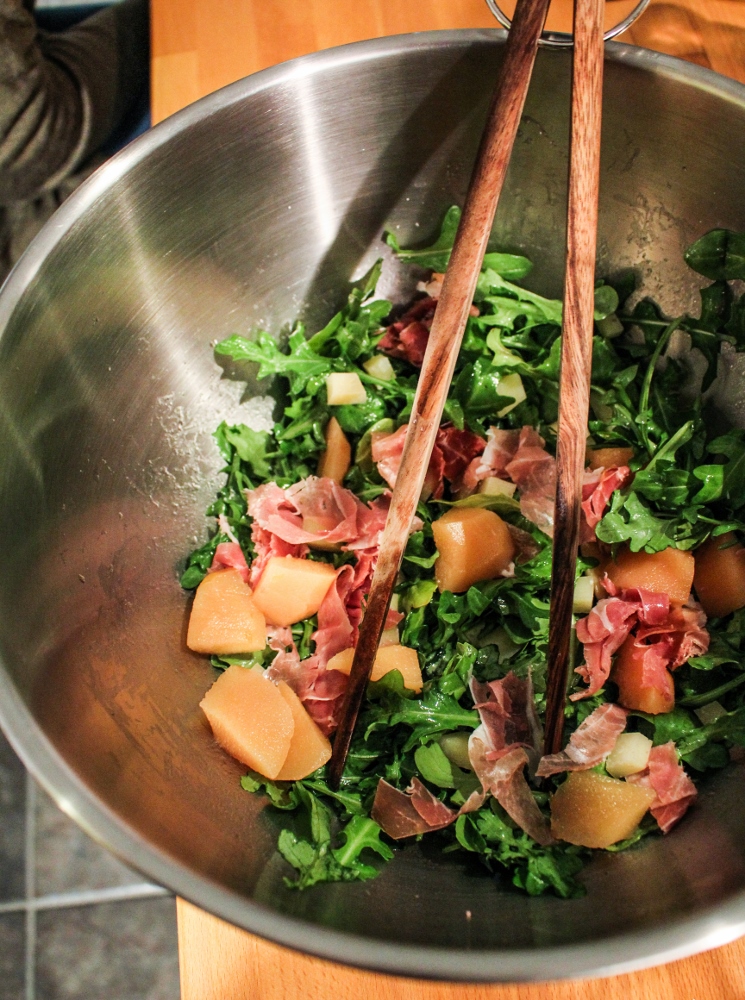 Wine #1: Torrontés – For the first course, Alamos sent me a bottle of their 2012 Torrontés. I'd never tried Torrontés before, but I read that it's a fairly sweet white wine, sometimes compared to Gewürtztraminer and Riesling. Pairing suggestions included sweet fruits, rich meats such as salmon and foie gras, and spicy food. I went the sweet/rich route and prepared an arugula salad, lightly dressed with a Meyer lemon and maple dressing, then tossed with poached quince, manchego, and prosciutto. Most of the quinces available in the U.S. come from Argentina, so it seemed like an appropriate ingredient. I was really into this salad – sweet, salty, bitter, and rich, it hit all my flavor high points. The Torrontés was indeed a bit sweet, but with a crisp, dry finish. The Alamos wines are on the lower end of the price scale, with the Torrontés coming in at under $10 a bottle, so I wasn't expecting very much complexity, and didn't find it, but for a $10 bottle of wine it was full-flavored and very drinkable. No complaints here.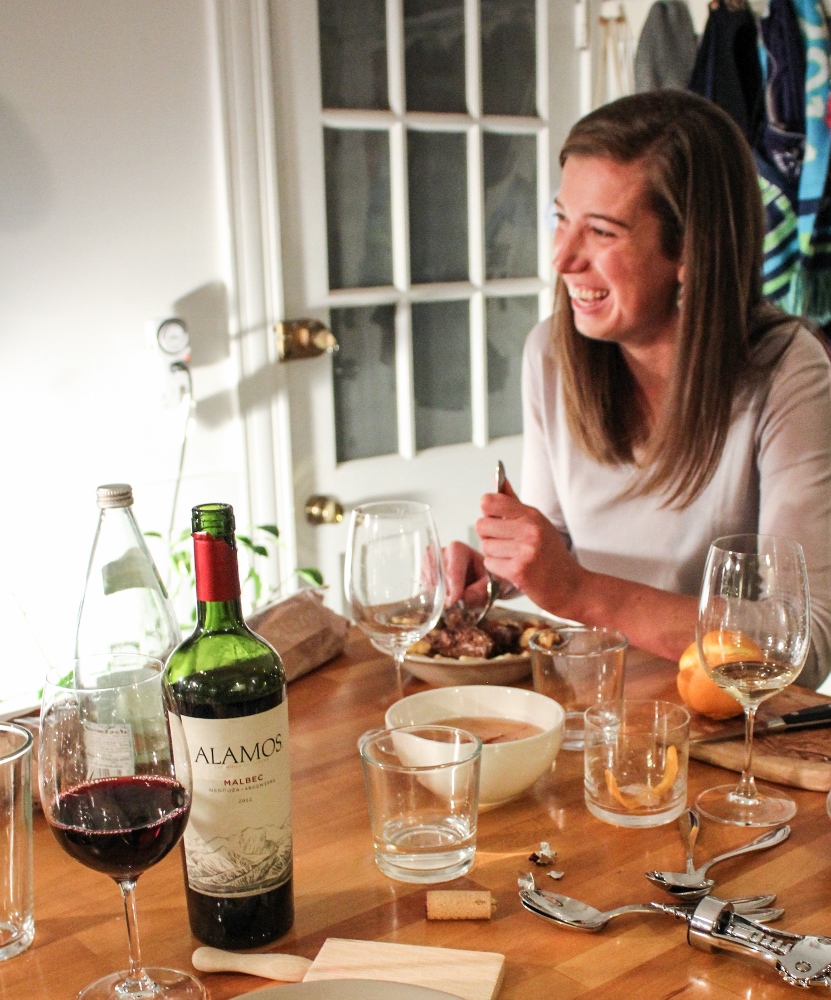 Wine #2: Malbec – Malbec was the varietal of choice for the second course. Another wine that I don't have a ton of experience with, Malbec is frequently characterized as an intensely fruity wine with berry and plum flavors, and a good budget alternative to Cabernet Sauvignon and Syrah. I liked this particular bottle – my first thought was "mmm, tastes like Merlot" (I was relieved to see other writers compare it to Merlot, as well). Another good value, this medium-bodied wine would make a good everyday red. Since Malbec pairs well with rich flavors, red meat, and aromatic herbs, we served this with a beef short rib braise and potato gnocchi. Argentina's cuisine has a lot of Italian influence, so the gnocchi aren't at all out of place in this dish, and the pillowy dumplings soak up the beefy red wine sauce really well.
Like what you just read? Subscribe to Katie at the Kitchen Door on Feedly or Bloglovin', or follow along on Facebook, Twitter, Pinterest, and Instagram. Thanks for reading!
Disclaimer: Alamos provided me with two bottles of wine to use in this post, but I was not otherwise compensated and all thought and opinions are my own.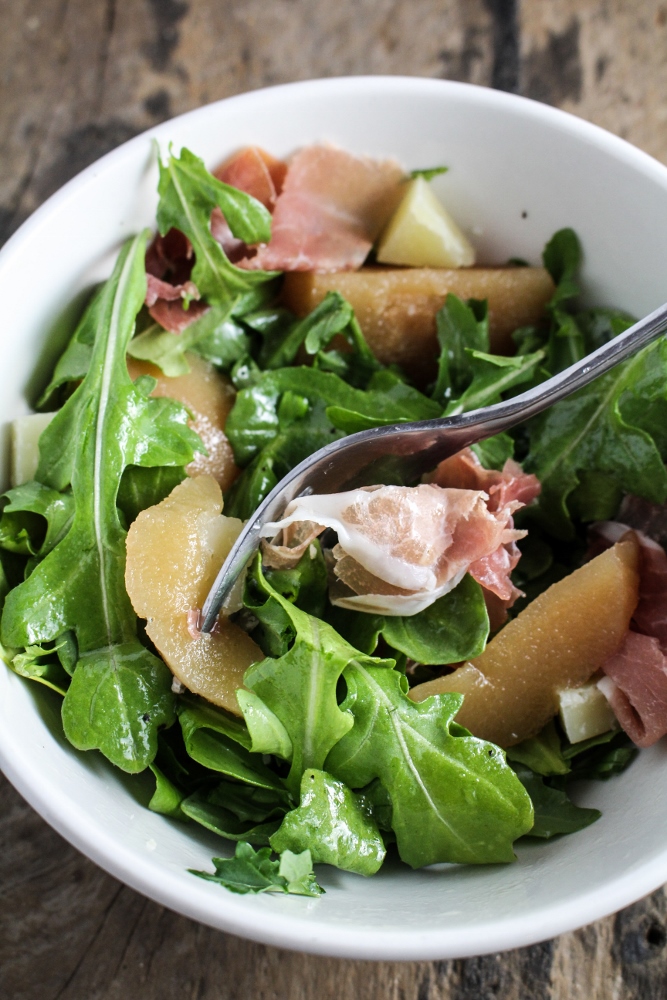 Arugula Salad with Poached Quince, Prosciutto, and Manchego
Adapted from Food52. Serves 4.
3 quince
1/2 c. sugar
4 c. water
1 Meyer lemon
1 TBS maple syrup
1/4 c. olive oil
salt and pepper to taste
5 oz. baby arugula
4 oz. manchego cheese, cut into small cubes
2 oz. prosciutto, sliced into thin strips
At least 3 hours before you'd like to serve the salad, poach the quince. Use a vegetable peeler to peel the quince, then very carefully slice the fruit away from the core and seeds  in wedges – careful, quince can be kind of slippery. Place the sugar and the water in a large pot and bring to a simmer. Place the quince wedges in the simmering syrup, and place a plate over the top of the fruit to keep them submerged. Keep at a gentle simmer until quince have turned rosy and are very tender, about 1 1/2 to 2 hours. Add a little more water if the syrup gets too low. Pour the quince and their syrup into a bowl, cover, and refrigerate until chilled.
 Cut the lemon in half and remove as many seeds as possible. Squeeze the lemon juice into a jar or small bowl. Add the maple syrup, olive oil, and salt and pepper to taste. Cover jar with lid and shake to mix dressing, or whisk vigorously if using a bowl. Set aside.
About 15 minutes before serving, add the arugula to a large salad bowl and gently toss with the dressing. Let sit for a few minutes, then divide dressed greens between four plates. Top each plate with a few slices of quince, cubes of manchego, and strips of prosciutto. Serve immediately.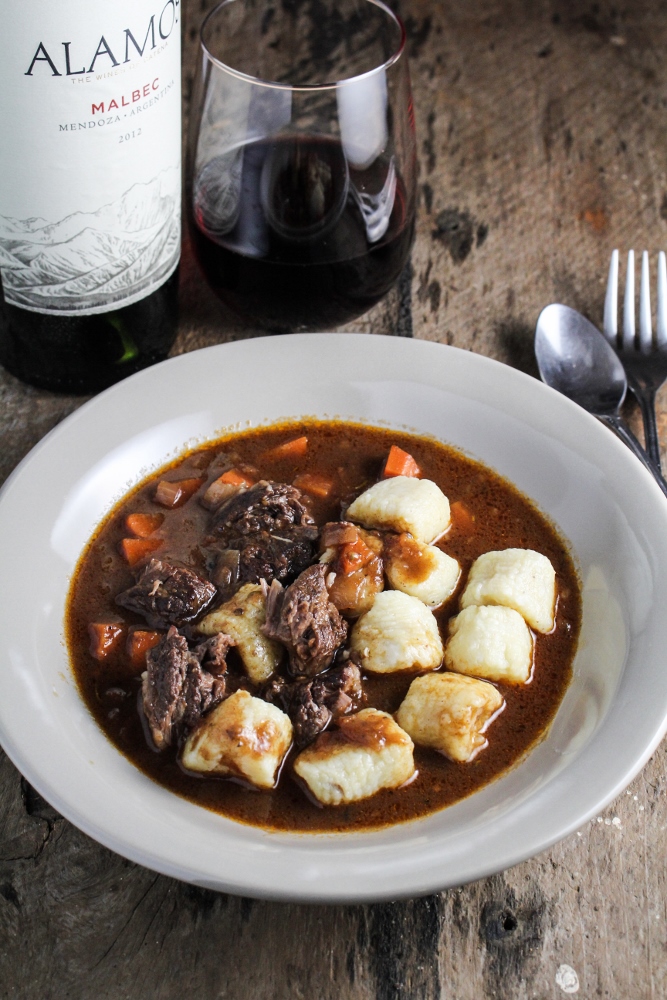 Braised Beef Short Ribs
Inspired by Bon Appetit and Emeril Lagasse. Serves 6-8.
2 TBS paprika
2 TBS sea salt
1 TBS garlic powder
2 tsp black pepper
2 tsp dried oregano
1 1/2 tsp cayenne powder
4 lbs. bone-in beef short ribs
2 TBS vegetable oil
2 medium onions, peeled and diced
2 medium carrots, peeled and diced
3 TBS flour
2 TBS tomato paste
2 c. red wine
8 sprigs thyme
2 c. crushed tomatoes
2 c. beef stock
Potato Gnocchi, to serve (store bought is fine, too)
In a small bowl, stir together the paprika, sea salt, garlic powder, black pepper, oregano, and cayenne until evenly combined. Rub this spice mixture all over the short ribs, covering all sides. Heat the vegetable oil in a large dutch oven over medium heat. Add as many short ribs as will comfortably fit, and brown on all sides, about 8 minutes total per rib. Once browned, transfer the ribs to a plate and set aside. Repeat until all the ribs are browned.
Discard all but 2 TBS of the fat from the pan, and return to the heat. Add the diced onions and carrots and cook for 5-7 minutes, until onions are translucent, stirring frequently. Add the flour and stir to coat the veggies, and allow to cook for 1 minute. Then stir in the tomato paste, and slowly add the red wine, stirring and allowing the mixture to thicken slightly between each addition. Once you've added all the wine to the pot, return the ribs to the pot. Reduce heat to a gentle simmer and let simmer, uncovered, for 25 minutes. Meanwhile, preheat the oven to 350°F.
After the ribs have simmered for 25 minutes, add the tomatoes and beef stock to the pan, stir to combine, and cover with a lid. Place in the oven and cook, turning every hour or so, until ribs are very tender, about 2 1/2 to 3 hours. Remove from oven, and skim as much fat from the surface as possible. If you want a more elegant preparation, remove the ribs, strain the sauce and discard the vegetables – this is optional, and we served this rustic-style. Season sauce to taste with salt and pepper, and serve the ribs and their sauce over freshly cooked potato gnocchi.
2