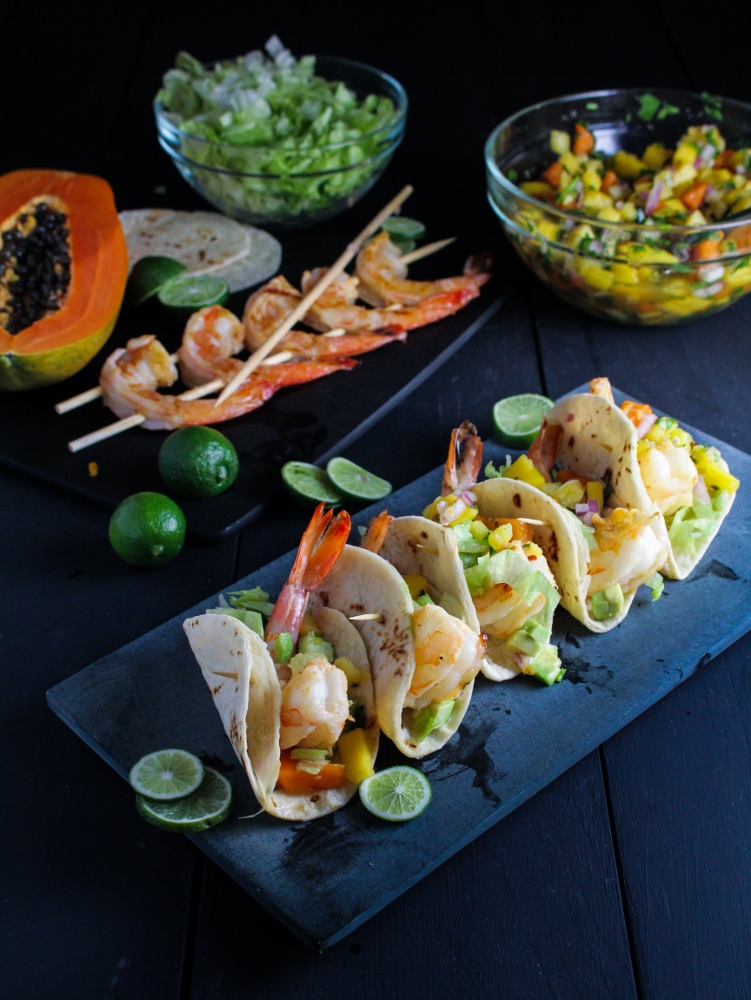 I forgot how soul-sucking winter is. Maybe I purposefully blocked it out. The only mental note I seem to have left for myself from last winter was "plan a warm vacation for February or March, you'll need it." And I did that, we're going to Ecuador in March and I can't wait, but still: soul-sucking. The cold has turned my usually pleasant 15 minute walk to the subway into 15 minutes of breath-stealing torture. The other day my breath was actually freezing on my eyelashes and then melting onto my face every time I blinked. The other Bostonian commuters and I have been reduced to a pair of eyes surrounded by layers of black wool, and that small open part of my cheeks that my scarf doesn't cover are perpetually windburnt. So even though we try our best to stick with root veggies and dried beans and hearty winter greens in January, last weekend the only solution to the cold was to turn to fantasy, and go all out with tropical flavors.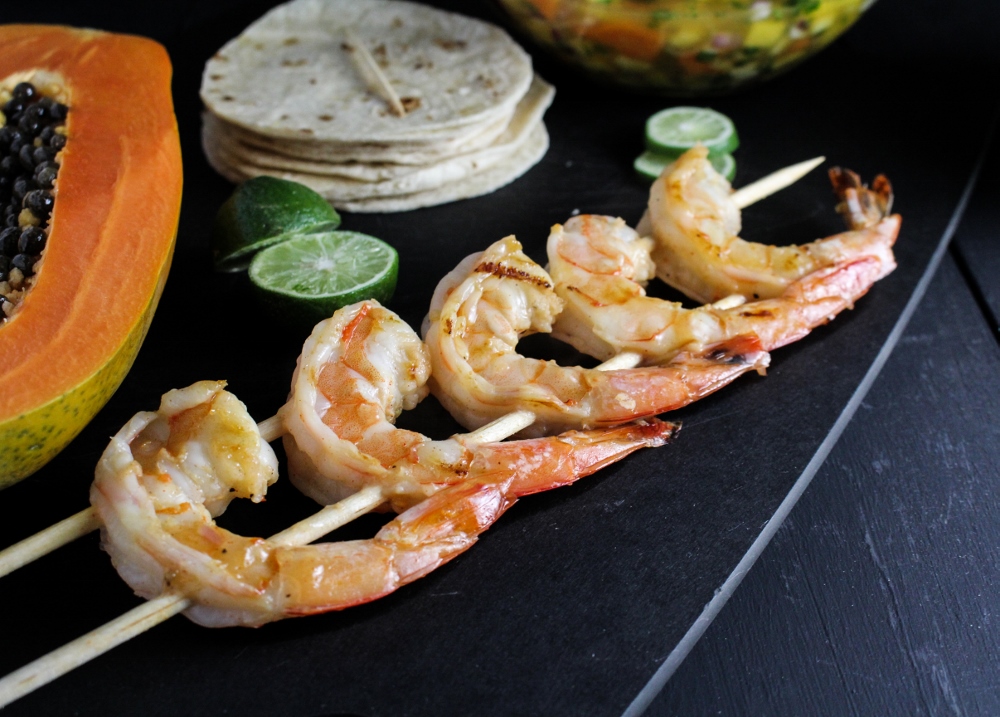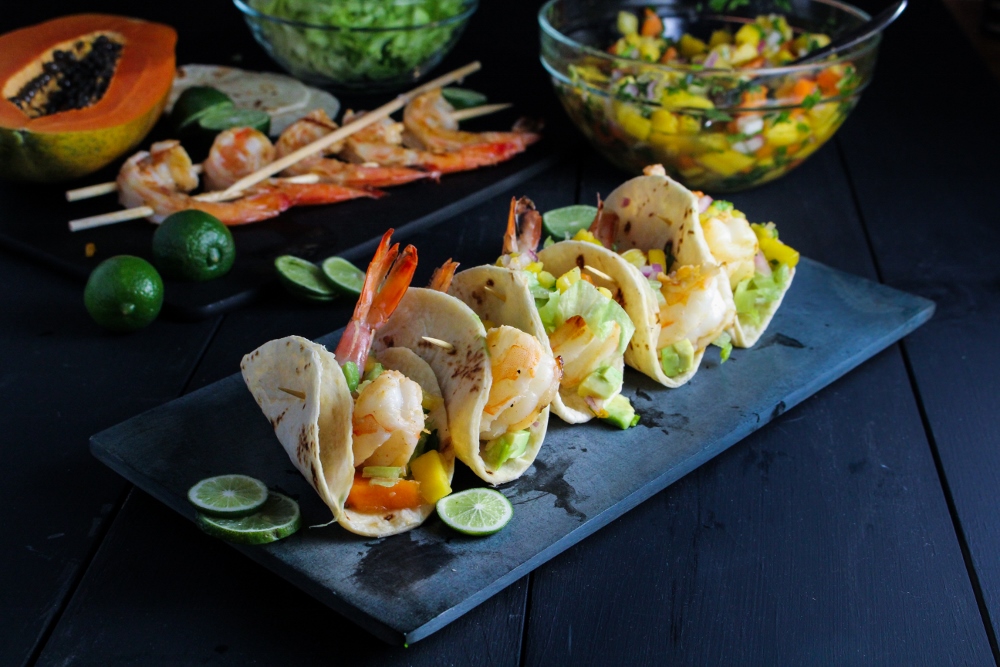 Two mangoes, one papaya, and a whole pineapple later, we were successfully pretending that we live somewhere with greenery, sunshine, and brightly-colored birds. These Mini Shrimp Tacos are our contribution to the Superbowl edition of the Captain's Table Challenge. They're glazed with Captain Morgan's newest product, Captain Morgan White Rum, which is lighter and slightly fruitier than their spiced rums. The glaze also has honey, lime, bell pepper, and smoked paprika, for a pleasant mixture of sweet, tangy, and smoky. Wrapped in mini tortillas and topped with avocado, lettuce, and a bright pineapple-papaya-mango salsa (that also has a bit of rum in it for good measure), they're great football-watching finger food that will also help cure your winter blues.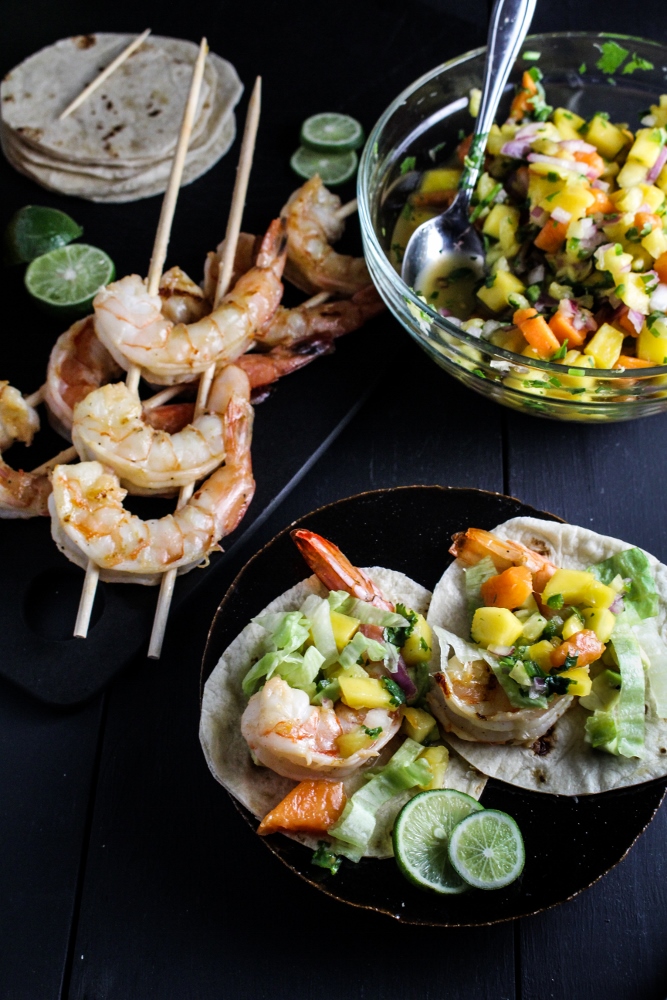 For anyone who's been stopping by here for a while, you might have noticed that these tacos have the honor of being the first seafood recipe I've ever shared on this blog. Yep, the 1st post out of 333. I've never been much of a seafood-eater (in fact, as my parents can attest to, it absolutely disgusted me as a kid), but the past year or so I've been trying to get myself to come around to it. I can honestly say that I like smoked salmon, but shrimp is still a bit of a stretch – I ate one of these and liked it OK, but Trevor did some leftover shredded chicken in the same rum glaze, and that was much more my speed. Still, it's progress! But whether you make these tacos with shrimp or chicken, for a football party or for sitting on your couch at home and watching rom-coms, I promise they'll be a bright spot in your week.
Like what you just read? Subscribe to Katie at the Kitchen Door on Feedly or Bloglovin', or follow along on Facebook, Twitter, Pinterest, and Instagram. Thanks for reading!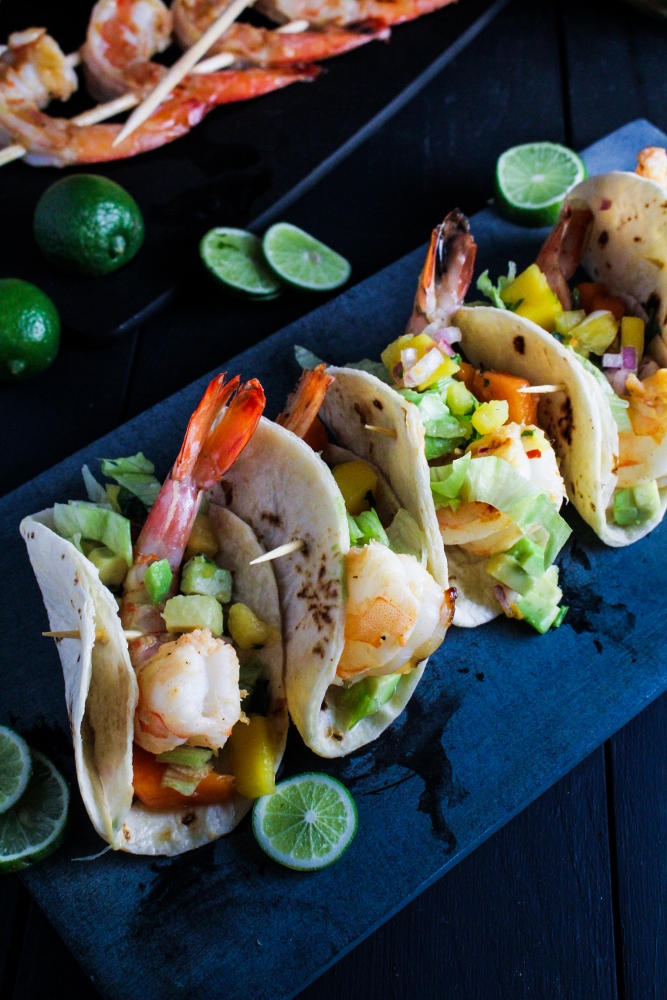 Mini Rum-Glazed Shrimp Tacos with Boozy Tropical Salsa
Makes 10 mini-tacos.
¼ c. red onion
2 T honey
juice of ½ lime
¼ c. orange juice
½ c. Captain Morgan White Rum
¼ c. chopped bell pepper
2 tsp sea salt
¼ tsp smoked paprika
1 tsp red pepper flakes
2 cloves garlic, smashed
ground black pepper to taste
1 ½ tsp cornstarch
10 10-15 ct. shrimp
10 mini-tortillas (we cut circles out of small tortillas)
1 c. shredded romaine lettuce
1 avocado, peeled, seeded, and cut into small cubes
1 c. boozy tropical salsa, recipe below
Finely chop the red onion, and bell pepper (I used orange bell peppers because they're attractive), then combine everything except the cornstarch and shimp in a medium-sized bowl. Whisk together the ingredients, making sure the honey is fully dissolved in the marinade. Taste it before you add the shrimp! Make sure it's delicious.
Devein shrimp and remove shells up the tail. Add the shrimp to the marinade and let them rest for an hour in the refrigerator.
Preheat your grill or pan to medium-high heat. Take the shrimp out of the refrigerator and skewer them (this isn't strictly necessary, but I find their easier to handle this way), reserving about a cup of the marinade.
In a small bowl, add about a tablespoon of the marinade to the cornstarch, whisking briskly until no lumps remain. Brush the shrimp on both sides with the reserved marinade. Grill the shrimp for about a minute on each side, flipping them every 30 seconds and brushing the hot side with the reserved marinade after flipping, until they are bright pink and slightly charred.
Remove the shrimp from the skewers. Place one shrimp on top of each mini-taco, then top with lettuce, avocado, and salsa. Fold them in half and use a toothpick to secure. Serve immediately.
Boozy Tropical Salsa
Makes about 3 cups.
1 c. finely cubed fresh papaya
1 c. finely cubed fresh mango
1 c. finely cubed fresh pineapple
1/2 c. finely diced red onion
1 jalapenos, seeded and finely diced
juice from 4 key limes (about 2-3 TBS)
1 TBS Captain Morgan White Rum
1 TBS orange juice
2 TBS finely minced cilantro
1/2 tsp sea salt
Add all of the ingredients to a large bowl and toss gently to combine. Taste and adjust seasonings (juices, cilantro, salt, jalapeno) as desired. Keeps in the fridge for a few days.
0