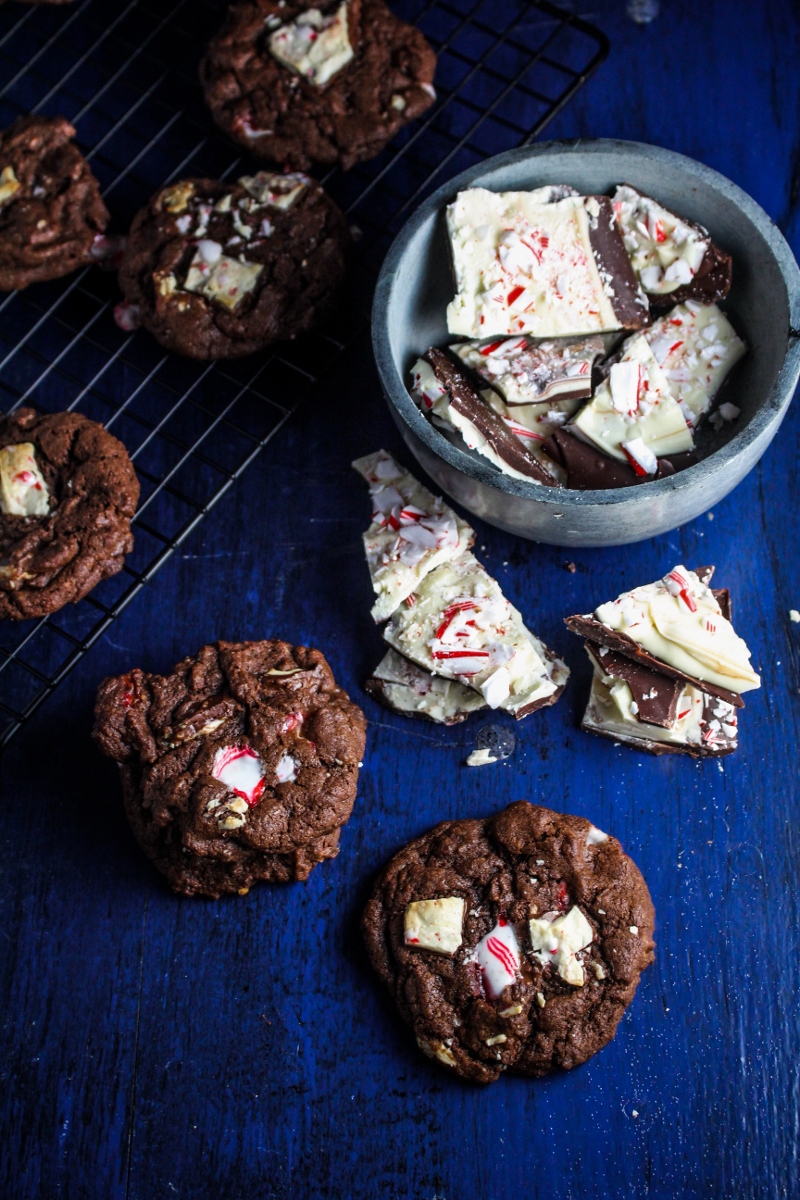 It's that time of year again. Time for decorating and cookie-baking and holiday parties and racking your brains for inspiration for the perfect present. I know some people find gift-giving overly stressful and materialistic, but I actually love trying to find something that will be well loved by the people I love the most, something that will make them smile. So even though everyone and their mother seems to be writing a gift guide (or 6) this week, I'm throwing my picks into the ring, too. All of the items I've included here are related in some way to food, because this is, after all, a food blog. And really, do you know anyone who doesn't like food? I mean, I actually do know a couple of those people, but I certainly don't understand them, so I can't really tell you what they want for Christmas. Also, all my gift suggestions are themed, because I like themes. And organizing things. Anyways, I hope you find some inspiration below, and if not, check out last year's gift guide, or these ones from Ashley, Joanna, and The Every Girl.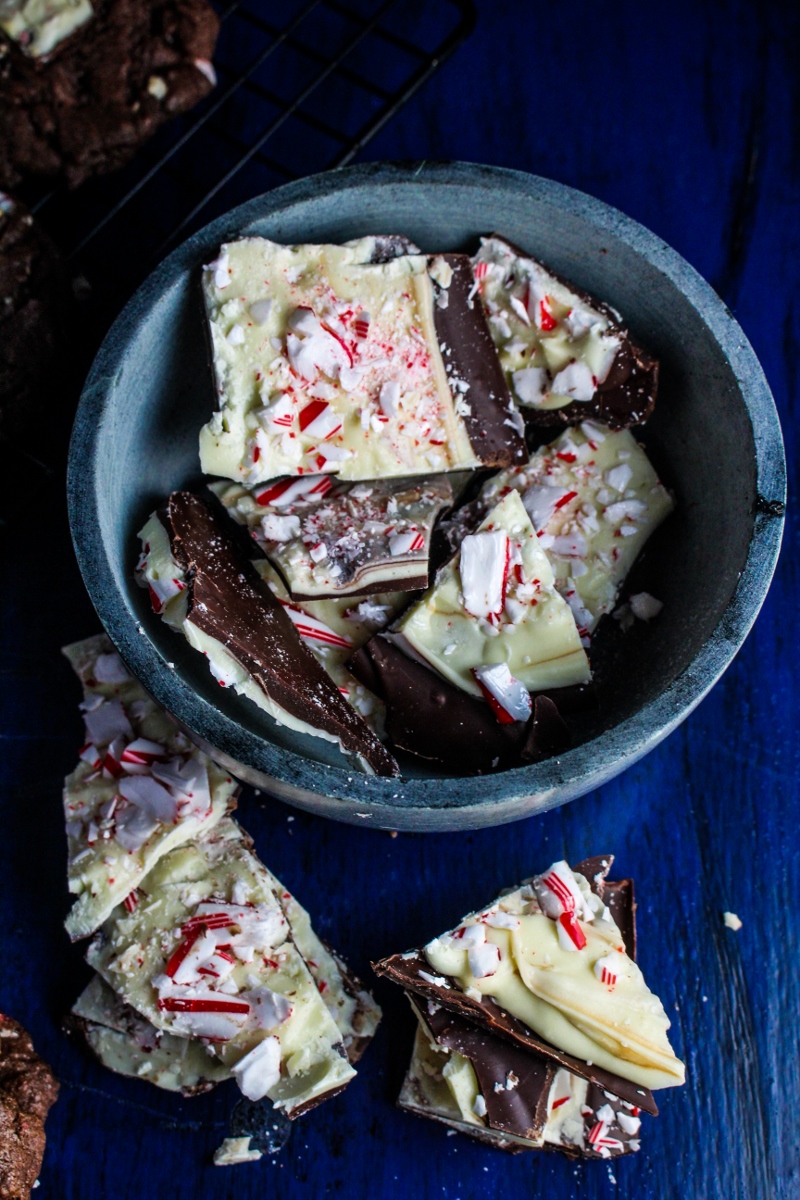 Shopping doesn't get you into the holiday spirit? How about baking? Yeah? OK, good. Because I just made my first batch of Christmas cookies and I think you'll like them. I thought I was being really creative when I thought of chopping up homemade peppermint bark and putting it in cookies, but, as with most recipes, a quick google search revealed that lots of people had this great idea well before me. Heidi made plain and chocolate versions of these way back in 2003, and hers were based on an apparently famous Neiman Marcus recipe. Still, the thought of these was too tempting to ignore, so I forged ahead and made my own version. They're fudgey in the middle and just minty-sweet enough, and if you temper the chocolate correctly while making the peppermint bark, it should taste really smooth even when baked into the cookies. Scroll down for the recipe!
1) For the brewer
This has been a big food DIY experimenting year for us, and for many other food-focused Americans. (I don't really want to self-identify as a hipster, but I'm worried that that's kinda what that last sentence means…). Home-brewing has been our most successful form of experimentation, and our interest was kickstarted by Emma's book, True Brews. Once we realized that home brewing is actually pretty easy and very rewarding, we were on a roll, with watermelon soda, blackberry wine, homemade sake, and cranberry mead all gracing our cabinets. Anyone with a back-to-basics ethos and an abundance of fresh fruit will appreciate being able to turn it all into booze.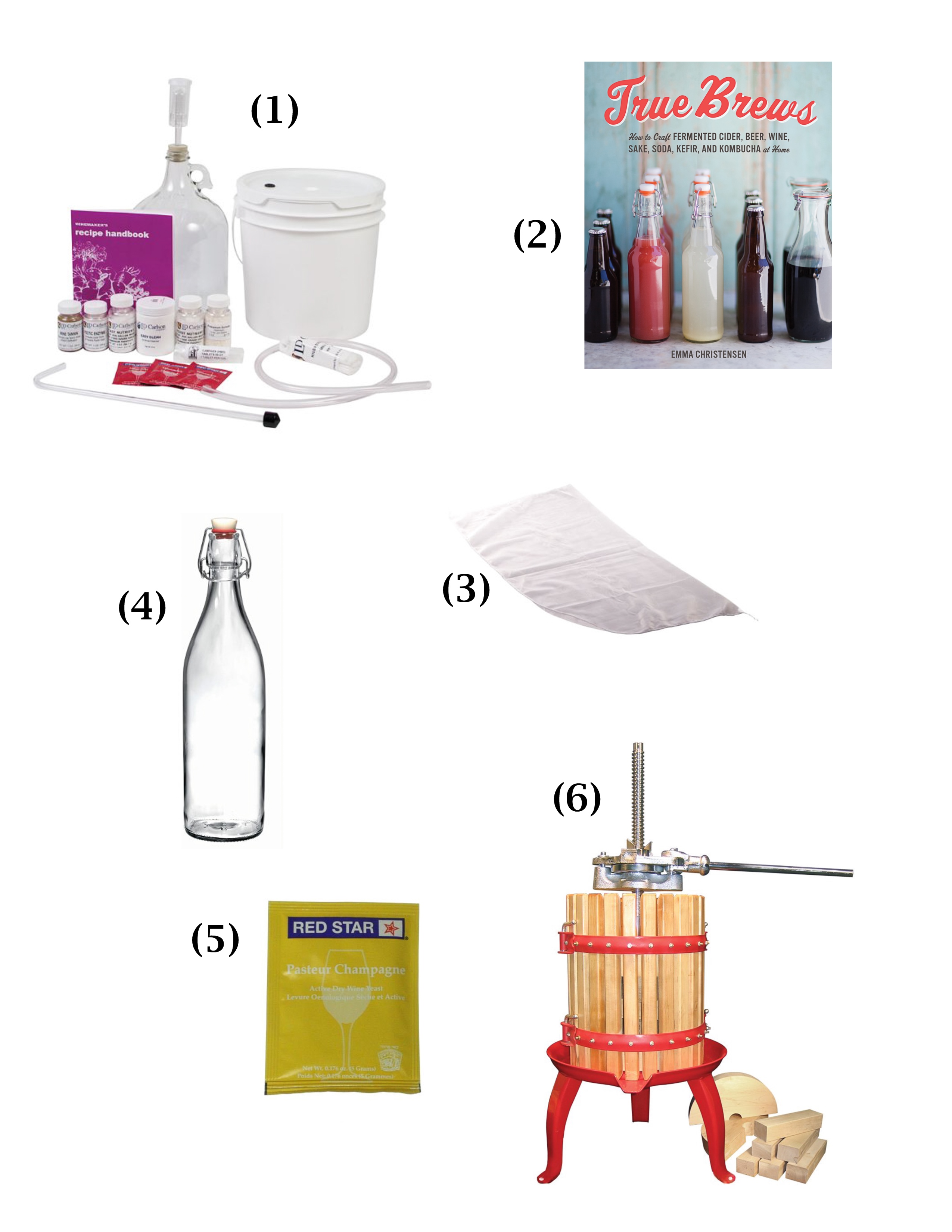 1) Fruit Wine Brewing Kit; 2) Cookbook: True Brews; 3) Fruit Straining Bag; 4) Bottles for Serving; 5) Champagne Yeast (for Sodas, some Ciders, some Meads); 6) Fruit and Wine Press
2) For the grillmaster
Personally, I like the idea of grilling more than I actually like grilling, but maybe all I need are some cool gadgets (like a smoking box!) to motivate me. There were a lot of great grilling cookbooks released this year, and the concept of cooking with live fire seems to be getting more popular in the food world. Bonus: if you get any of the below for someone you see frequently, you might even get treated to some really excellent hickory-smoked burgers.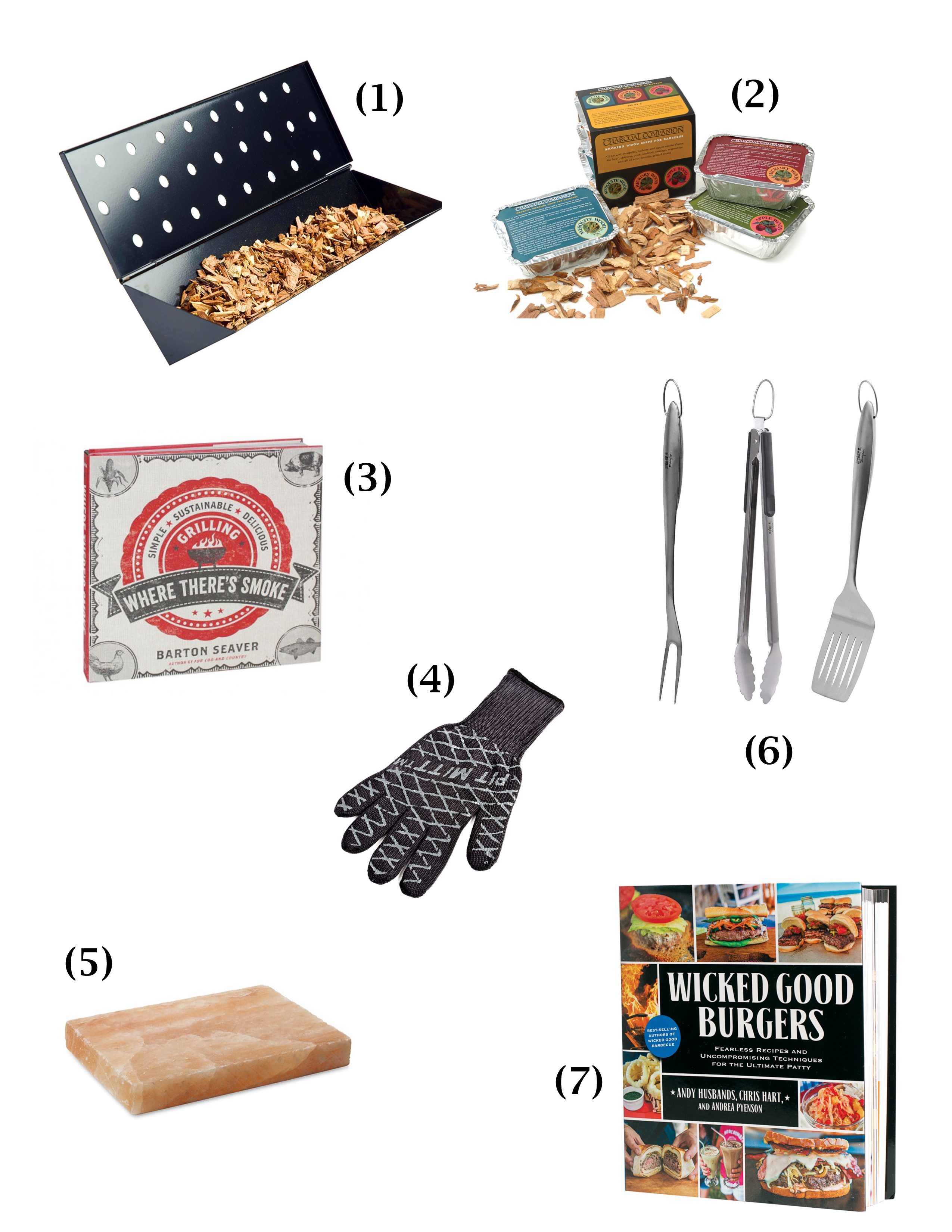 1) Smoker box; 2) Apple, Mesquite, and Hickory Smoking Chips; 3) Cookbook: Where There's Smoke; 4) Barbecue Pit Gloves; 5) Himalayan Salt Block; 6) Grill Tools Set; 7) Cookbook: Wicked Good Burgers
3) For the ice cream fanatic
A few years ago for my birthday, my parents got me a cute red ice cream maker, and I love, love, love being able to make ice cream that's ten times better than store-bought (well, not than Ben & Jerry's, but that would be impossible) whenever I want. I use it all year, for treats like Pumpkin-Maple Ice Cream in the fall, Peppermint Stick in the winter, Strawberry-Sour Cream in the spring, and Cherry-Chocolate in the summer.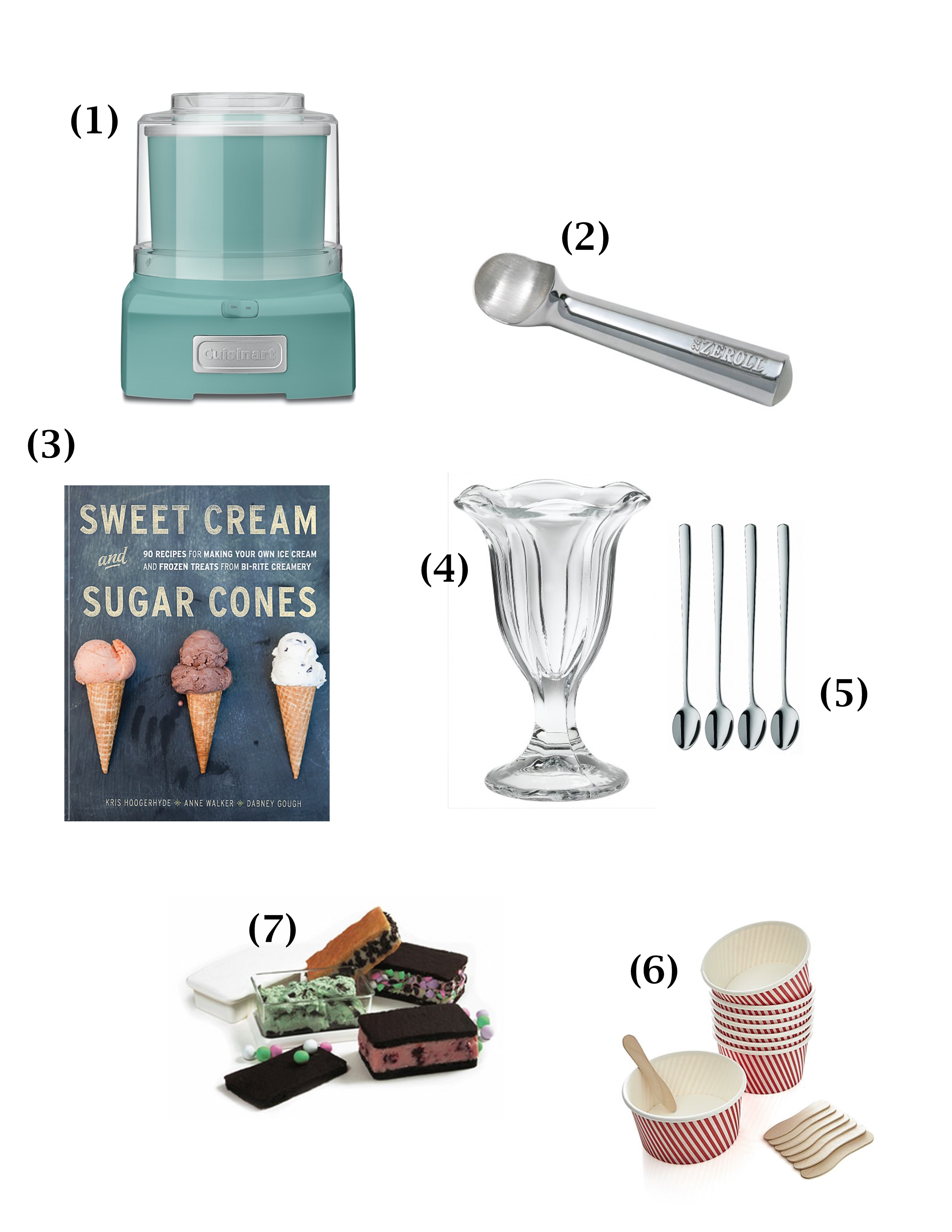 1) Cuisinart Ice Cream Maker; 2) Zeroll Ice Cream Scoop; 3) Cookbook: Sweet Cream and Sugar Cones; 4) Sundae Glasses; 5) Sundae Spoons; 6) Paper Cups; 7) Sandwich Maker
4) For the healthy food lover
To make up for the times when I'm indulging in Creamy Chicken Pot Pie, Braised Lamb Shanks with Blue Cheese Polenta, and other blog treats, I try to stick to the lighter side of the food world when I'm not blogging. Green smoothies are a favorite of mine (and I really love that smoothie water bottle pictured below), and just generally eating more vegetables and farmer's market produce is a huge step in the right direction. Make that easier for someone you love with some healthy cookbooks, a cute market tote, or a CSA subscription!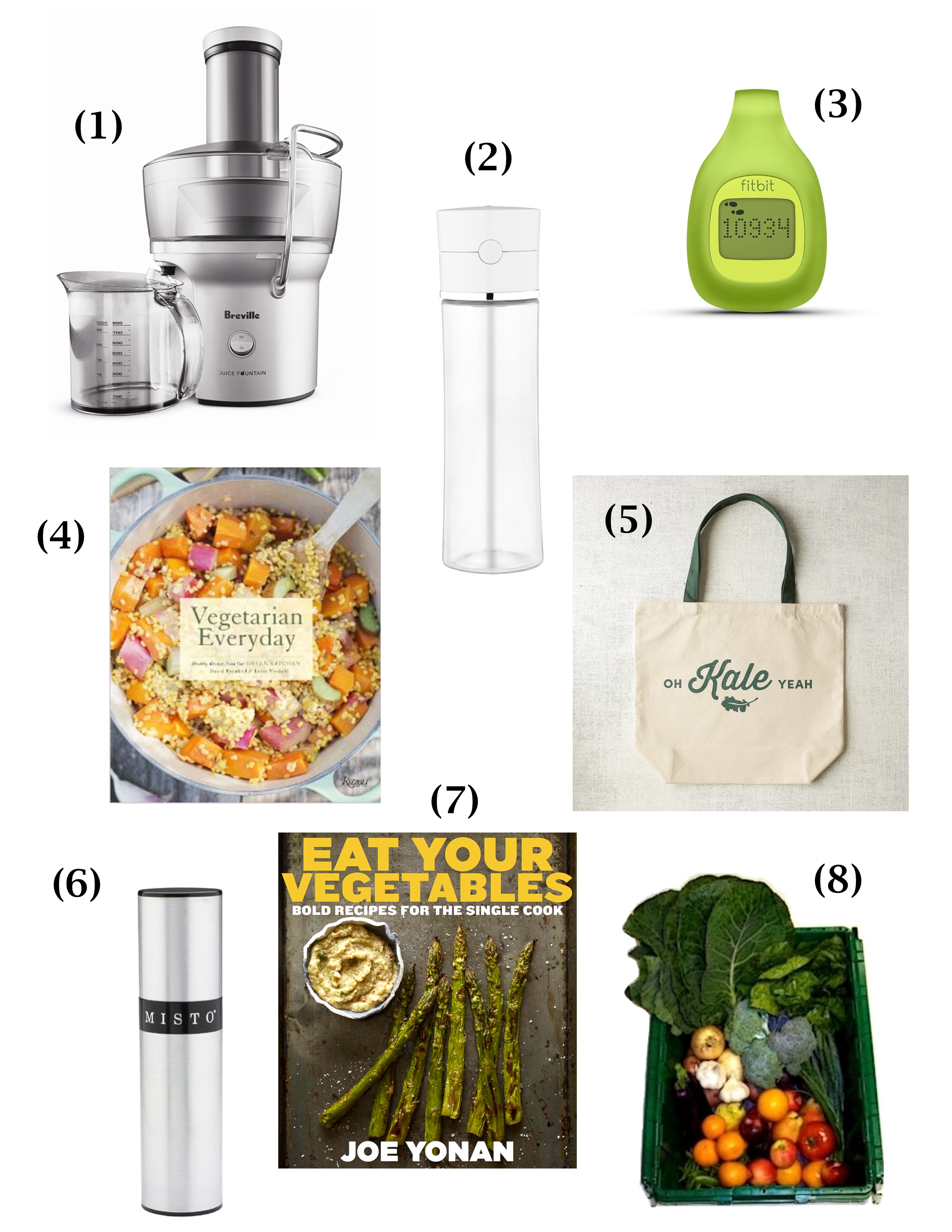 1) Compact Juicer; 2) Great Water/Smoothie Bottle; 3) FitBit; 4) Cookbook: Vegetarian Everyday; 5) "Oh Kale Yeah" Market Tote; 6) Olive Oil Mister; 7) Cookbook: Eat Your Vegetables; 8) Local CSA Subscription
So now that we've promised ourselves we'll be healthy when we're not indulging… let's indulge. Christmas cookies!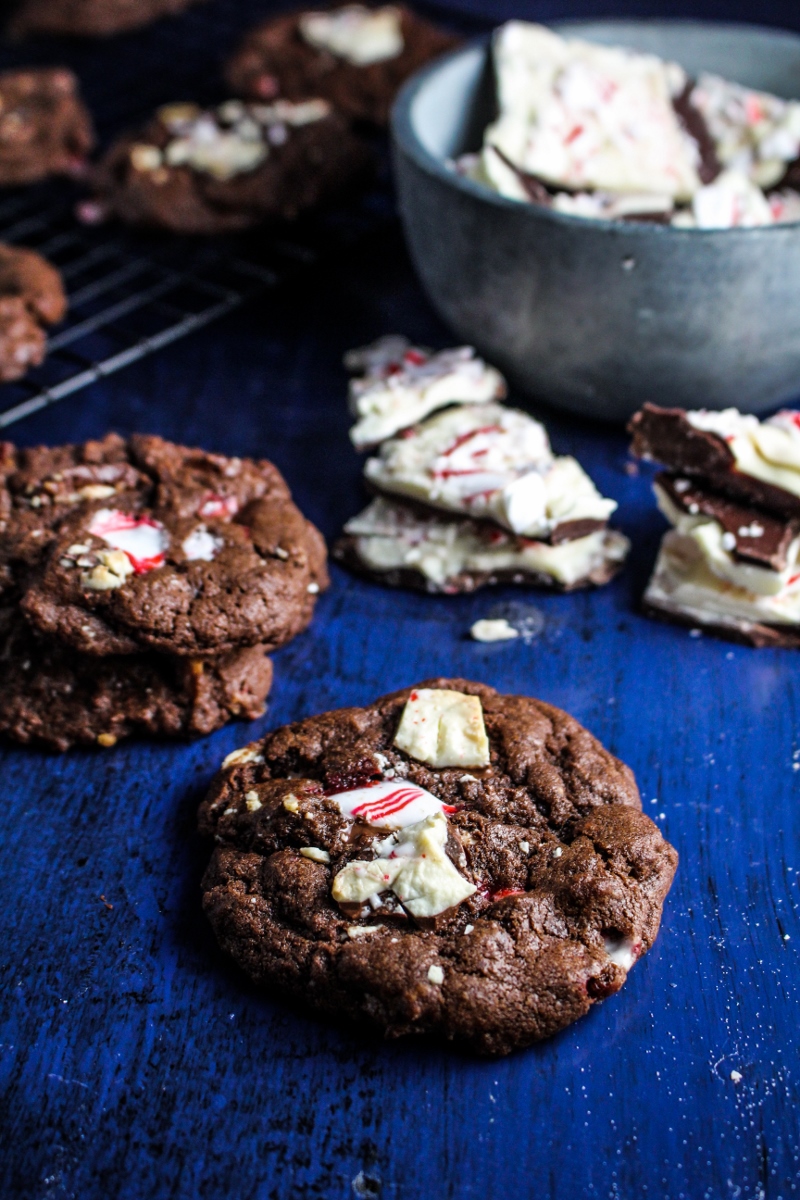 Chocolate Peppermint Bark Chip Cookies
Base recipe adapted from In the Sweet Kitchen. Makes 18 cookies.
1 c. plus 2 TBS AP flour
1/4 c. cocoa powder
1/2 tsp baking soda
1/8 tsp salt
1 stick (1/2 c.) salted butter, at room temperature
1/2 c. packed dark brown sugar
6 TBS sugar
1 large egg
1/2 tsp vanilla extract
1/4 tsp peppermint extract
1 1/4 c. (about 8 oz.) peppermint bark bits, recipe below
Preheat the oven to 350°F. Sift together the flour, cocoa powder, baking soda, and salt in a medium bowl, then whisk together until evenly combined. Set aside.
In a medium bowl, beat the butter with the brown sugar and regular sugar until light and fluffy. Add the egg and beat until thoroughly combined. Beat in the vanilla and peppermint extracts.
Add the flour mixture to the butter mixture in two additions, stirring to fully moisten the flour between additions. Stir batter until fully moistened, but don't overmix. Stir in 1 c. of the peppermint bark bits until evenly combined.
Line a large baking sheet with parchment paper, and place rounded spoonfuls of batter on the cookie sheet placed at least 2 inches apart. Place one or two pieces of the remaining 1/4 c. of peppermint bark bits on top of each cookie. Bake the cookies for 10-12 minutes, until the outside edges have begun to crack slightly and the center is set. Cookies will still be very fudgy in the middle when you take them out of the oven, but will firm up as they cool. Let cool for 3-5 minutes on the cookie sheet before transferring to a cooling rack.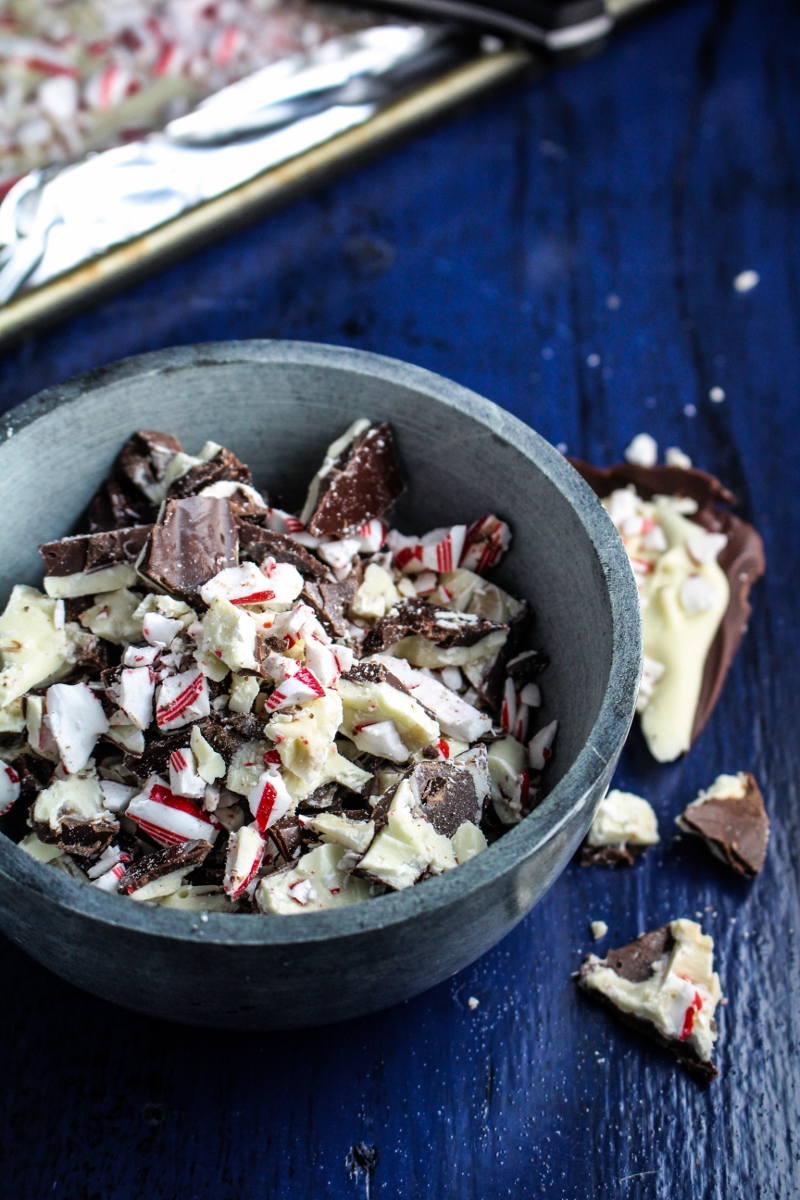 Peppermint Bark
Recipe adapted slightly from Sara Moulton. Makes 2 lbs.
12 oz. semisweet chocolate chips
12 oz. white chocolate chips
1/2 tsp peppermint extract
12 candy canes, crushed (about 1 c. of crushed pieces)
Bring a large pot of water to a simmer. Line a baking sheet with tinfoil, making it as smooth as possible on the bottom. Place the semisweet chocolate chips in a metal bowl, and set the bowl over the simmering water. Stir the chocolate chips until they are all just barely melted and the chocolate is thick and shiny, then use a spatula to scrape onto the lined baking sheet. Use the spatula to smooth the chocolate into an even layer of about 1/4 inch thickness – the chocolate will probably not fill up an entire baking sheet, which is fine. Place the baking sheet in the fridge until the chocolate has just started to set and is no longer shiny, about 10 minutes. You don't want to let the chocolate get too cold, or it will not adhere to the white chocolate. On the other hand, if it's still too warm when you add the white chocolate, you will not get clean layers but the two will marble.
Clean out and dry your metal bowl, then add the white chocolate chips to it. Melt over the double boiler in the same manner as the semisweet chips. Once melted, stir in the peppermint extract. Remove from the heat. If your semisweet chocolate layer is not cool enough yet, alternate keeping the white chocolate over the double boiler and off to the side every 60-90 seconds to keep it about the right temperature. Once the semisweet chocolate is ready, pour the white chocolate on top and smooth out into an even layer. Sprinkle the candy canes on top of the white chocolate, pressing them in lightly with your fingers. Place the baking sheet in the fridge until the chocolate is fully set, at least 30 minutes. Stick a sharp knife into the chocolate in several areas to break up into smaller chunks. If it gets difficult to break up, put it back in the fridge until it becomes brittle again. Store in the fridge.
0