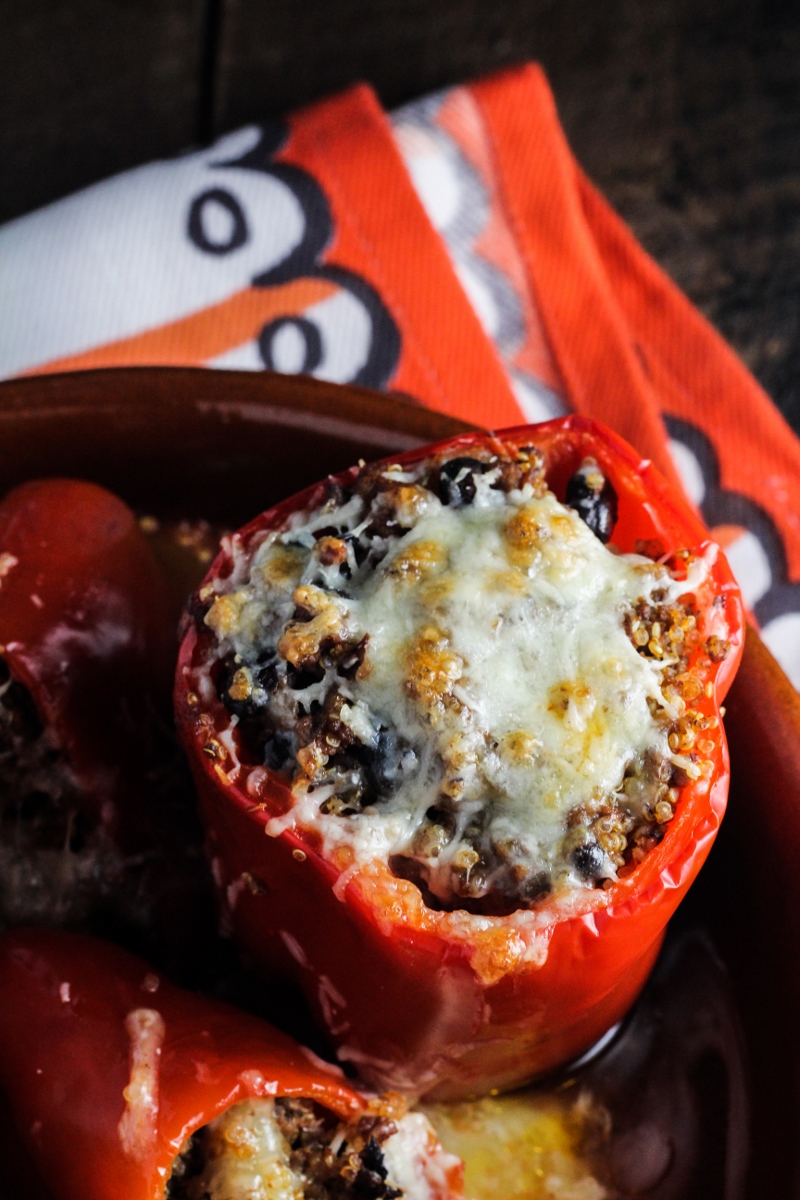 I have two more days in Russia, and although it's been a good trip, I'm looking forward to going home. Mostly because I miss Trevor. I know, I'm a huge sap, but he's the best (he had brownies sent up to my hotel room! From 4,000 miles away!) Also, I kind of miss my parents, freezing rain is not my favorite type of weather, so… yeah, I will be happy when we land in Boston. But I promise to enjoy my last two nights.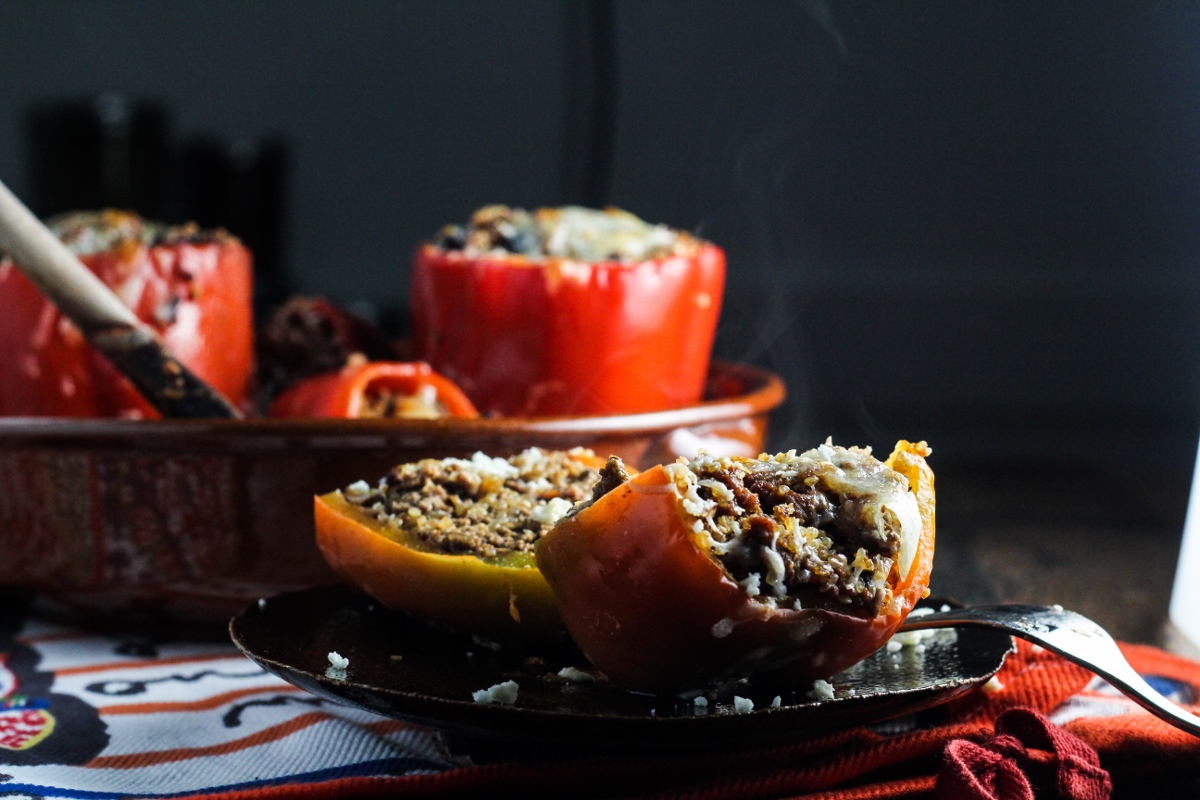 Since we eat out for every meal here, I try to be especially conscious of the choices I'm making at restaurants and of maintaining a healthy lifestyle in general. I have some things working in my favor – a free gym which I can use without leaving the building, about 8-gillion bottles of water dropped off in my room every day, and limited mindless snacking options. But other things, like the propensity to serve sour cream with everything here, and the temptation to order a glass of wine every night, are working against me. Luckily, many traditional Russian dishes are pretty vegetable heavy. At breakfast, I've been having roasted mushrooms and boiled carrots with my eggs every morning, lunch always starts off with a vegetable soup, and there's plenty of vegetable-centric mains to choose from on most menus – like pumpkin ragu, mushroom pie, and stuffed peppers.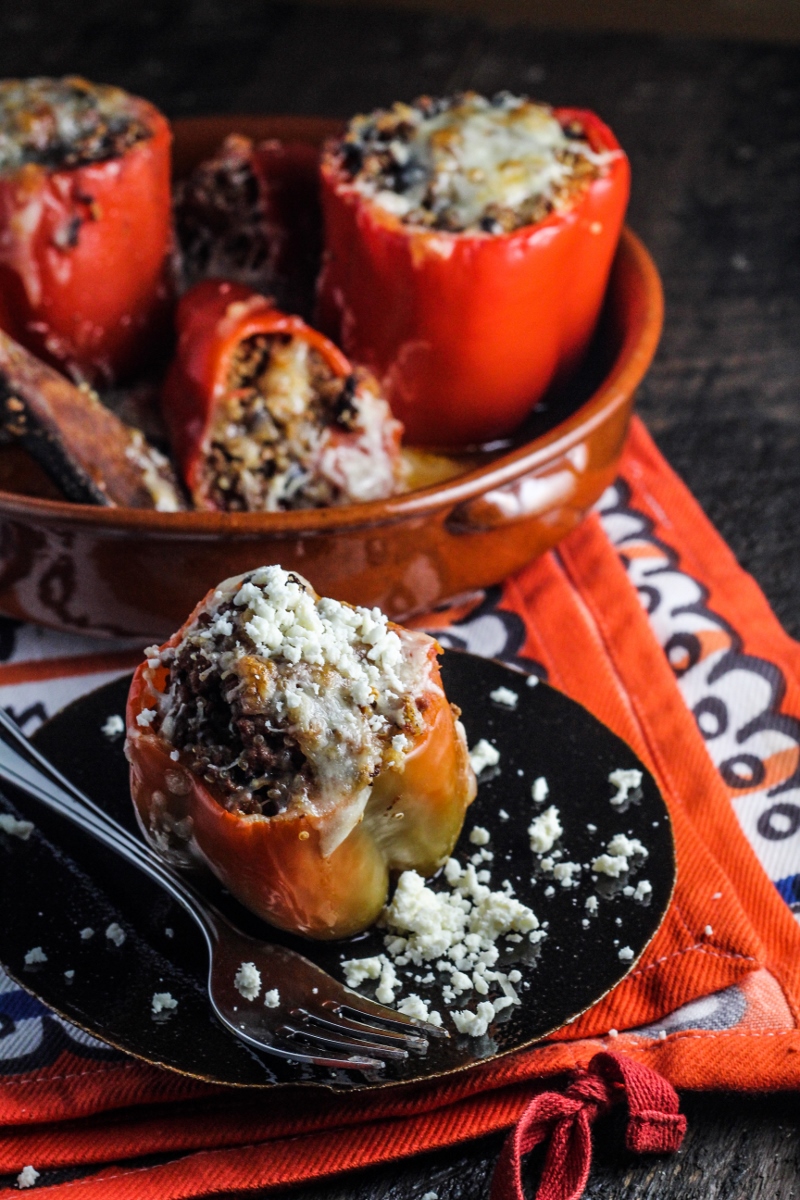 Stuffed peppers, while certainly not unique to Eastern European cuisine, are a particular favorite of mine recently (in fact, I had them for lunch yesterday). This stuffed-pepper phase of mine was kick-started by the Mexican-style peppers that they serve for lunch at Bacco's, which are filled with quinoa and black beans, and topped with cheese and enchilada sauce. Then, after having the meat-and-rice-stuffed version a few times at our cafeteria in Russia, I wanted to make them myself. I combined the two ideas, but kept a Mexican twist in there – the end result was peppers filled with a deliciously savory beef, quinoa, and black bean mix and topped with a smoky-spicy chipotle sauce and plenty of cheese. This is a meal that I feel good about.
Like what you just read? Subscribe to Katie at the Kitchen Door on Feedly or Bloglovin', or follow along on Facebook, Twitter, Pinterest, Instagram, or Google+. Thanks for reading!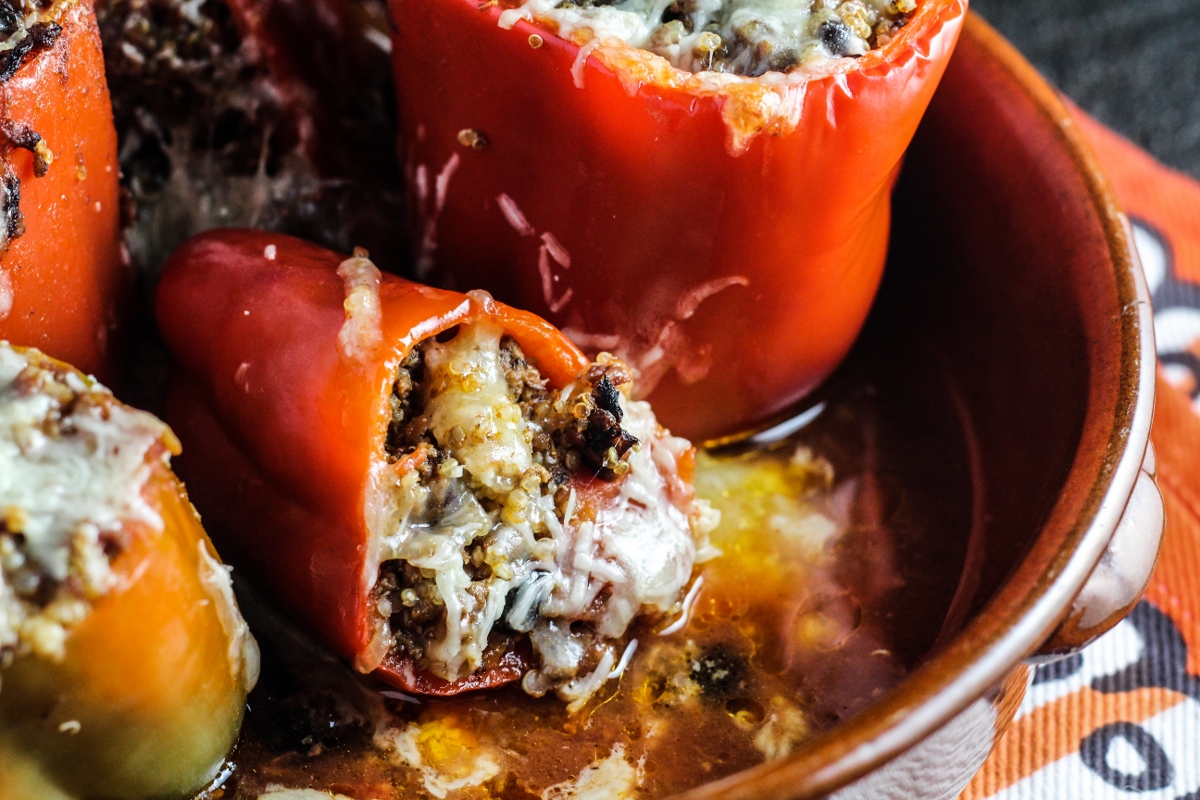 Stuffed Peppers with Black Beans, Quinoa, Beef, and Chipotle Sauce
Serves 4.
4 large bell peppers, tops cut off, seeds and veins removed

1 c. quinoa
2 c. water
2 TBS olive oil
1 large onion, minced
1 lb. ground beef
5 tsp chili powder
2 tsp chipotle liquid (from canned chipotle peppers in adobo sauce)
1 c. cooked black beans
1 TBS tomato paste
1 1/4 c. canned crushed tomatoes, divided
1/2 c. shredded cheddar or monterey jack cheese
1/3 c. crumbled cotija cheese
Preheat oven to 350°F. Bring a large pot of salted water to a boil, and then add the stemmed and seeded peppers. Boil for 3-5 minutes, just to blanch the peppers, then remove with tongs or a slotted spoon and set aside. Once cool, place in a casserole dish.
Rinse the quinoa, drain, then add to a medium pot with the 2 cups of water. Bring to a boil over medium-high heat. Once boiling, lower heat, cover pot, and cook for 15 minutes, or until "tails" of quinoa have unfurled and the quinoa is tender. Fluff up with a fork and set aside.
Heat the olive oil in a large frying pan over medium heat. Add the minced onion and saute until translucent, about 5 minutes. Add the ground beef and break up with the back of a wooden spoon, and brown thoroughly, which will take about 5-8 minutes. Add the chili powder and chipotle liquid to the pan, and stir to evenly mix. Taste for seasoning, adjusting with more chili powder or chipotle if desired. Add the black beans, tomato paste, and 3/4 c. crushed tomatoes. Cook for about 5 minutes, allowing the sauce to thicken, stir in the quinoa, then season to taste with salt and pepper.
Spoon the beef filling into the peppers, filling to the top, and arrange the peppers in the pan. Mix the remaining 1/2 c. of crushed tomatoes with 1/4 c. of water and pour into the bottom of the pan. Sprinkle the peppers with the cheddar or monterey jack cheese, then cover the pan with foil. Bake for 40-50 minutes, then remove the foil, and broil the peppers on high for 5 minutes to brown the cheese. Serve with the crumbled cotija cheese.
5