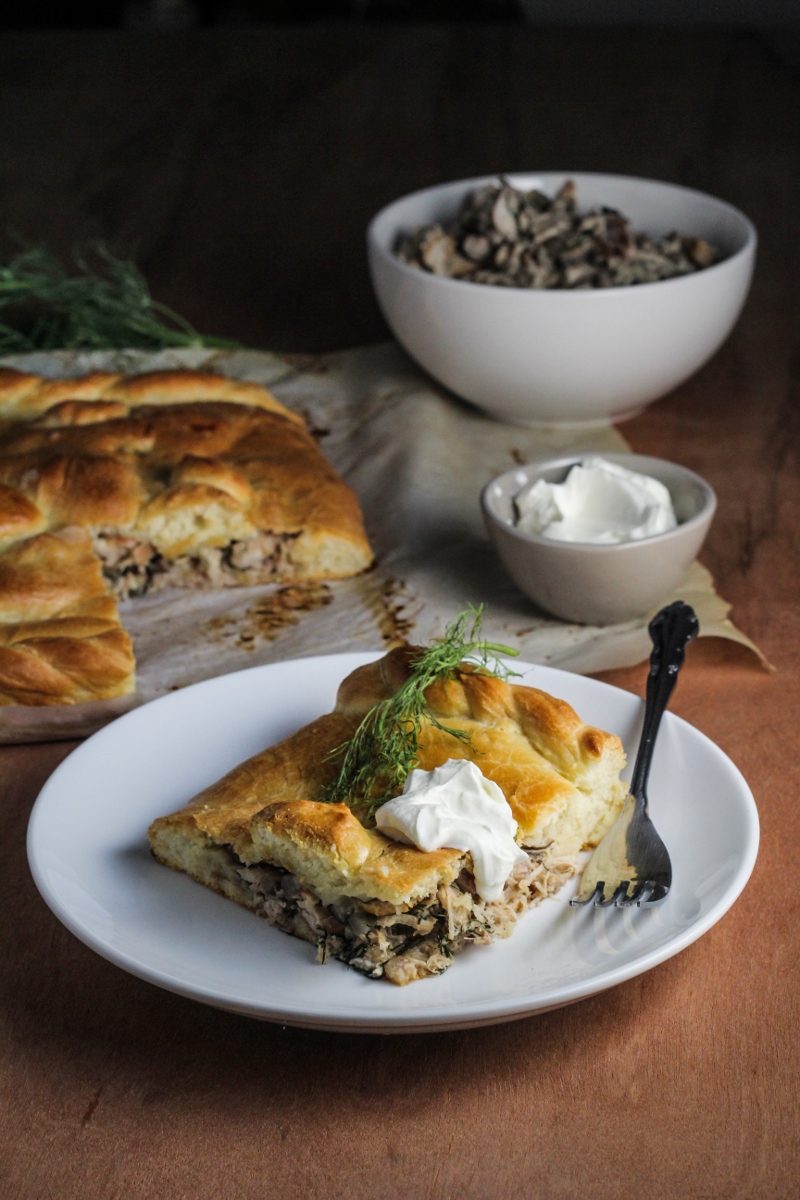 I'm back in Russia for a week and a half, and while this time it will be a little bit darker and a lot colder, I'm still looking forward to exploring St. Petersburg some more, this time with my friend and coworker Veronika. We splurged and bought tickets to see Giselle at the Mariinsky next week, which I'm so excited about, and we'll also have some time this weekend to wander about, visit the Hermitage, and maybe hit up the spa (because that's something you should do when it's 35°F in October).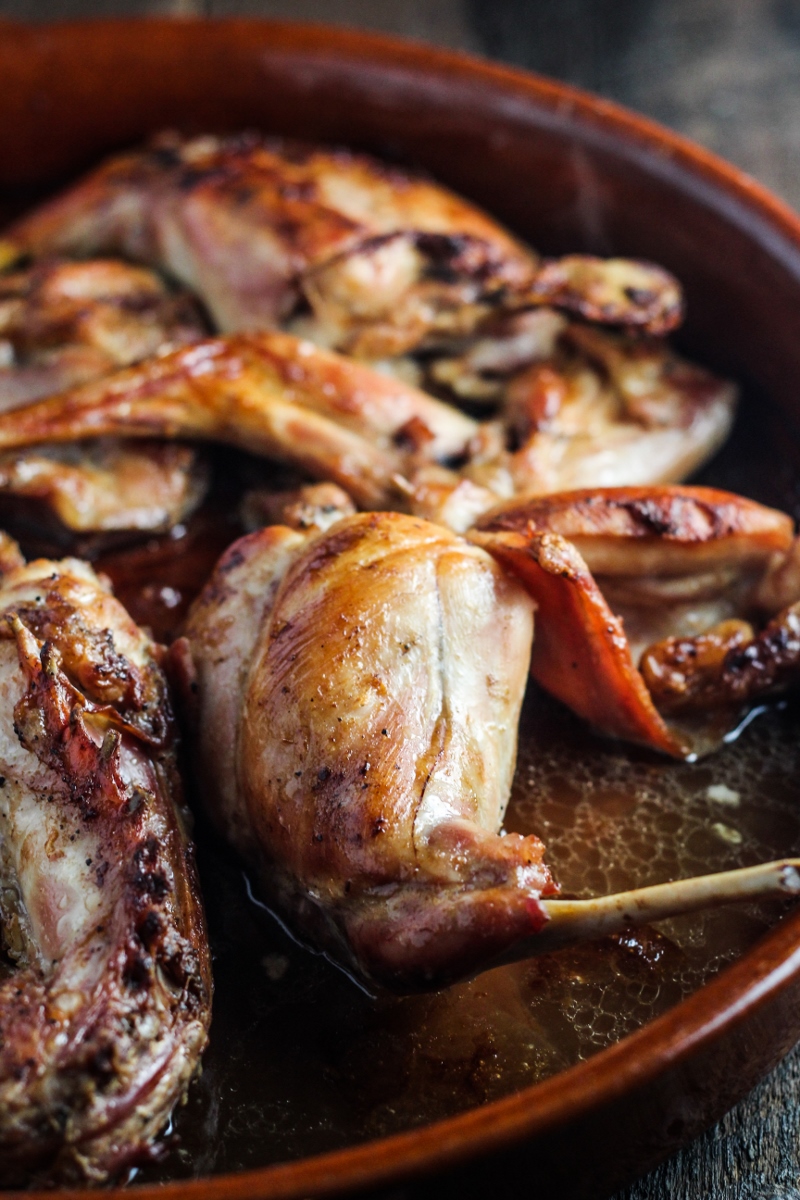 At some point I do plan to share some general travel tips for St. Petersburg – I've eaten at dozens of restaurants, stayed in four hotels, and made it to a good number of the biggest attractions, and I feel like I can't let all that experience go to waste! I still have to get my act together and assemble that info, but I do have a really delicious Russian recipe for you right now. So far, my favorite place to eat in Russia is a popular chain called Shtolle (штолле), that serves sweet and savory pies. Russian pie dough is much more like a dinner roll than an American pie crust – it is a yeasted dough with sour cream and butter worked in, making it rich and airy at the same time. To get the good pies at Shtolle you have to go earlier in the day, as they're often out of the best ones by dinnertime. I've tried the cabbage pie, meat pie, green onion and egg pie, and apricot pie, but my favorite by far is the mushroom and rabbit pie. I talked it up so much to Trevor that I knew we'd have to recreate it – so recreate it we did, and pretty successfully as well.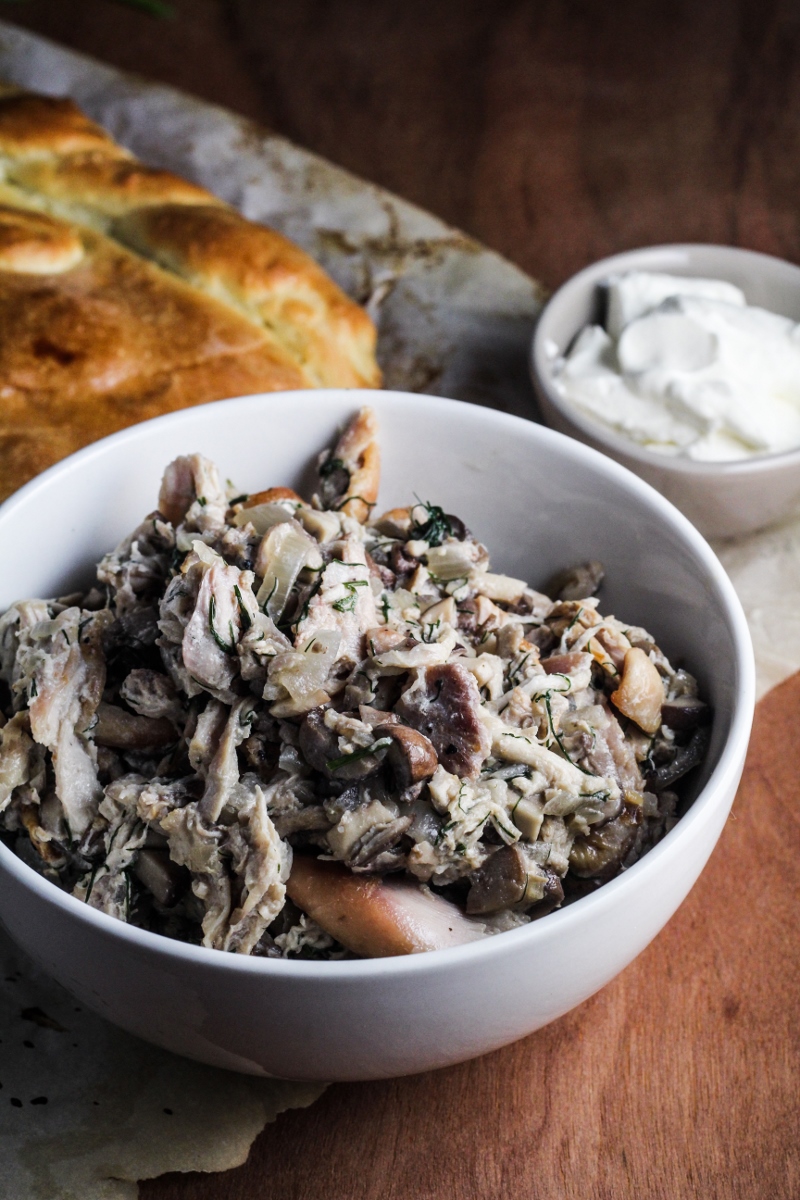 I fully expected to struggle to find a good dough recipe, but I quickly found this recipe and it sounded like just what I was looking for. In fact, the hardest part of this whole process was finding reasonably priced rabbit in Boston. It's around $13 a pound at Savenor's, which feels like a lot, and we found one semi-local farm that sells whole rabbits for $6 a pound, but they weren't going to have any available for the next few weeks. We had almost caved and bought the pricey Savenor's rabbit, when we found it by chance for $7 a pound at Market Basket in Andover. We stocked up of course, so now we have plenty of rabbit for experimentation. As for the rest of the filling, I made it up based on memory – I knew it should have shredded braised rabbit, finely chopped mushrooms and onion, lots of dill, and a mild, light white sauce, which most likely was made from sour cream. Memory served me well, and the pie came out just like I remembered. I'm happy that I was able to leave Trevor a little taste of Russia while I'm away.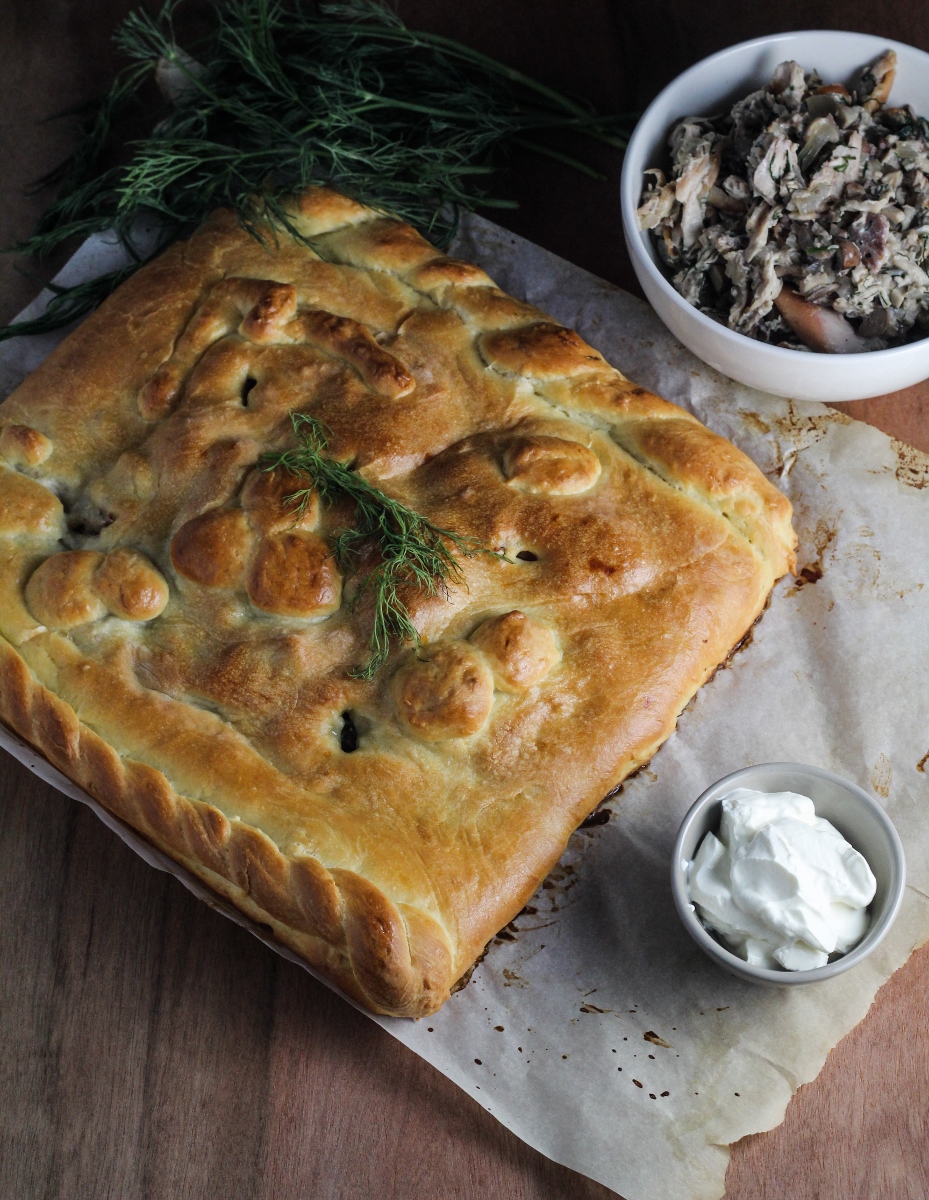 Russian Mushroom and Rabbit Pie
Inspired by Shtolle. Serves 6-8. This recipe makes extra filling, which can be frozen for later use.
One 2.5 pound rabbit, broken into pieces
salt and pepper to taste
2 TBS canola oil
1 1/2 c. chicken stock, divided (1 c. rabbit, 1/2 c. for filling)
2 TBS butter
1 large white onion, finely chopped
12 oz. wild mushrooms, finely chopped
1/2 c. fresh dill fronds, finely chopped
1/2 c. white wine
1/2 c. sour cream
1 recipe kulebyaka dough (below)
1 egg yolk mixed with 2 TBS water
Preheat the oven to 350°F. Break the rabbit down into pieces (see tutorial here), removing the organs (to be discarded or cooked otherwise – we dredged the livers in flour and fried them up and they were surprisingly tasty). Season the rabbit pieces with salt and pepper.
Heat the canola oil in a large frying pan over medium heat. Add the rabbit pieces and brown on all sides. Place the browned rabbit pieces in a 9×13 casserole dish. Add 1 cup of the chicken stock to the bottom of the dish. Bake for 90 minutes, basting with the roasting liquid every 30 minutes.
Remove the rabbit from the oven and let cool until it is comfortable to handle. Shred the rabbit meat into pieces using your fingers or two forks. Set aside in a large bowl.
Melt the butter in a large frying pan over medium heat. Add the chopped onion and saute until soft and translucent, about 5-8 minutes. Add the chopped mushroom and saute until soft, another 5-8 minutes. Add the rabbit pieces and the dill, and cook to warm the rabbit through, about 3 minutes. Add the white wine and let simmer for 5 minutes, until reduced by half. Remove from heat and stir in the sour cream. Season to taste with salt and pepper.
Roll out the kulebyaka dough into two large rectangles, about 8 by 12 inches. Place one rectangle on a parchment-paper lined baking sheet. Pile the rabbit filling into the center of the dough, leaving about one inch of space around all four edges. Pile the filling about 2 inches thick, using about half the rabbit filling – freeze the rest for a later use. Drape the second piece of dough on top of the filling and pinch the edges closed with your fingers. Trim any excess dough with a knife and use to make designs on the top of your pie. Increase the oven temperature to 375°F and let the pie sit at room temperature for 15 minutes. Before putting in the oven, brush the top and sides of the pie with the egg yolk wash and slice a few slits in the top crust to allow steam to vent. Bake the pie for 25 minutes, until dough is golden brown. Let pie cool for 10 minutes before slicing and serving.
Kulebyaka Dough
Recipe from It's Sooo Good. Makes 1 large pie
1 tsp active dry yeast
1 tsp sugar
2 TBS warm water
2 c. AP flour
1/2 tsp salt
3 TBS butter, cut into 1 cm cubes
3/4 c. sour cream
1 whole egg
In a small bowl, stir together the yeast, sugar, and warm water. Let sit for 10 minutes for yeast to proof – it should get frothy on top.
In a large bowl, whisk together the flour and the salt. Add the butter cubes, and use your fingers to crumble them into the flour until there are no large chunks of butter remaining. Stir in the yeast mixture, the sour cream, and the egg until you have an even, soft dough. Form the dough into a disk, wrap in plastic wrap, and refrigerate for at least 2 and up to 12 hours.
Bring the dough out and let come to room temperature. On a floured work surface, knead the dough until it is smooth and elastic, taking care not to add too much additional flour. This may take from 5-20 minutes, depending on your dough. Once the dough is smooth, place in a greased bowl, cover with a clean dishtowel, and let rise in a warm place for 1 1/2 hours, or until doubled in size. At this point, proceed with the recipe above to roll out and fill the dough.
5