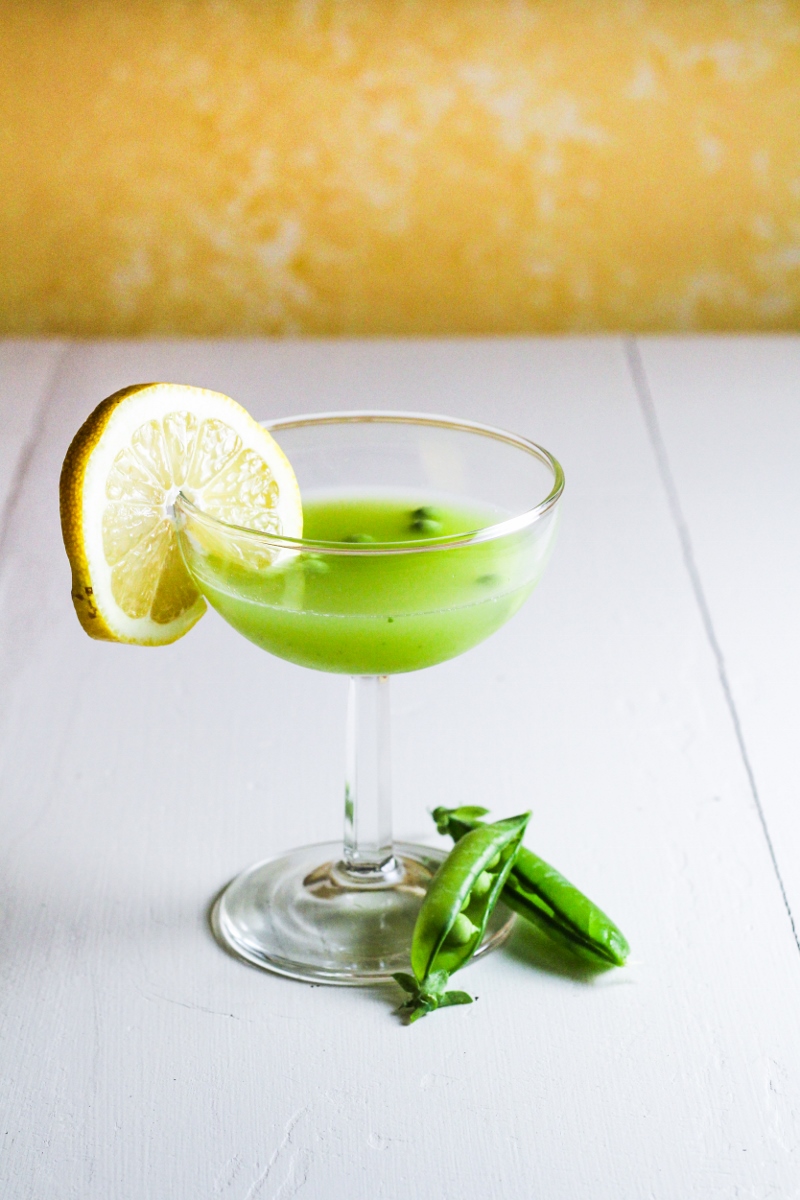 It's finally Friday! Does anyone else need a drink? I needed a drink. It was a long week, guys. Really long. But now it's over – and I'm on vacation! For ten whole days! I'm headed up to Maine with Trevor and my family tomorrow morning, and I'll be relaxing, eating well, and spending time outside, rain or shine (it's looking like rain, unfortunately).
When I saw the recipe for "The Sweet Pea" cocktail in the April issue of Bon Appetit, I got really excited. English peas? In a cocktail? I'm in! Plus that drink is such a gorgeous pale green color I'm not sure how I was supposed to resist riffing on it. I wanted to be a little bit more adventurous with the flavor profile of this drink, and since I've been reading green pea recipes all week, I've got all kinds of ingredients that pair well with peas on my mind. After mulling it over for the past few days, I decided on the following combo: fresh green peas, cucumber, tarragon, lemon, and elderflower rum. And yes, this is what I saved my super-sweet-from-our-garden peas for.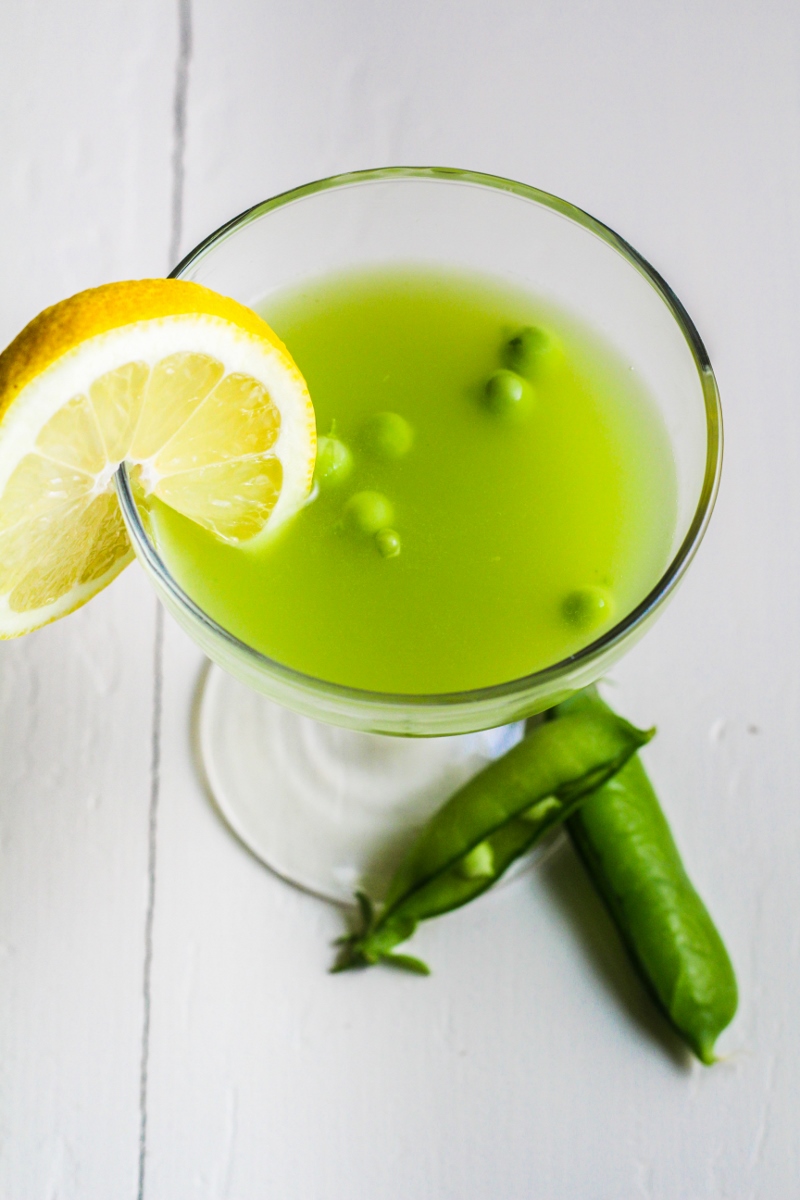 The resulting drink was lovely. It had a wonderful herbalness from the tarragon, natural sweetness from the peas, a refreshing hint of cucumber, and the acidity of the lemon tied the other flavors together – definitely a departure from my usual super-sweet, super-fruity cocktails of choice. The elderflower rum is a little sweet on its own, and is definitely a nice addition, but if you can't find it using regular rum is fine. Personally, I don't like gin, but I imagine that it would work well here if you're a fan of it.
So cheers! Here's to a lovely weekend!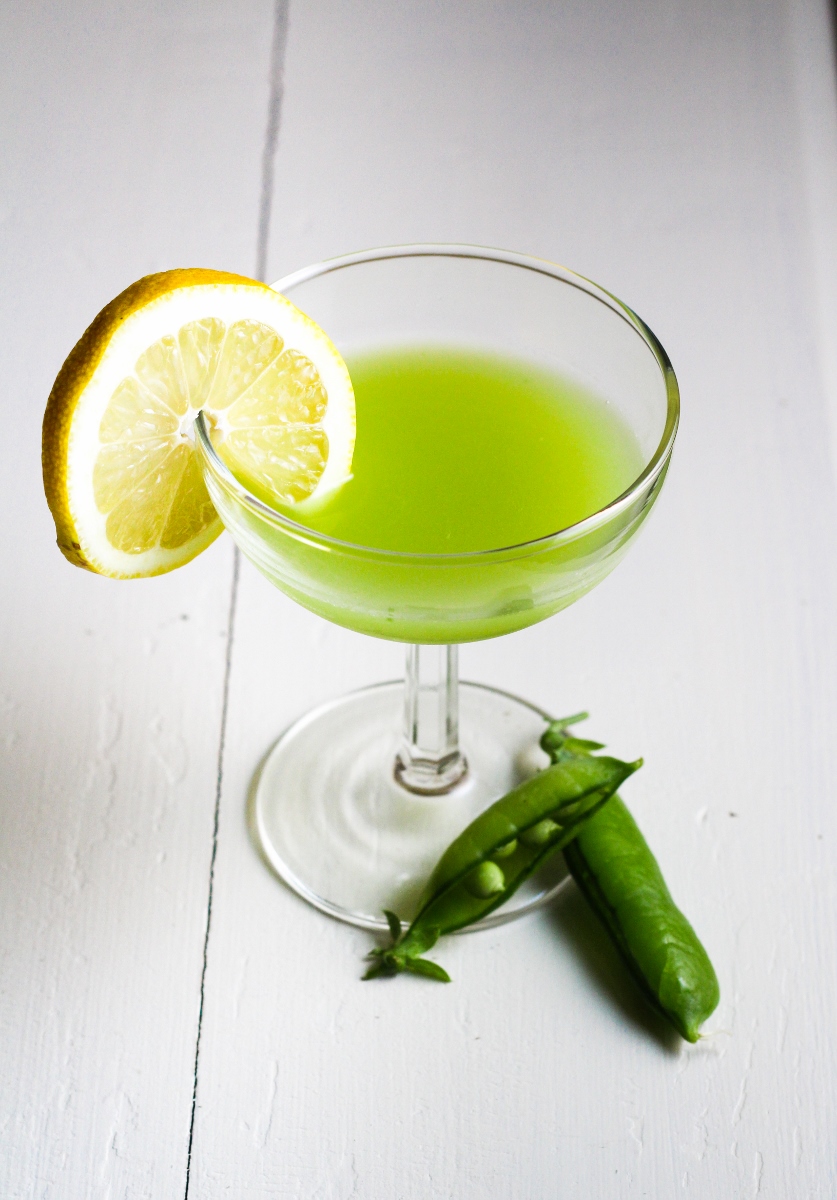 Green Pea Rum Cooler
Inspired by Bon Appetit. Serves 1.
3 TBS fresh green peas, shelled

3 slices of cucumber, about 1/2-inch thick each
1/2 TBS roughly chopped tarragon leaves
1 slice lemon
1 tsp sugar
1-1/2 oz. elderflower rum, or other white rum
ice
Muddle the peas, cucumber, tarragon, lemon, and sugar in a cocktail shaker until peas and cucumber are completely mashed. Add rum and ice to shaker and shake for 30 seconds, then strain into a glass. Serve cold, garnished with additional lemon or cucumber slices and a few whole fresh peas.
0