Once again, I'm tapping into the amazing food blogger talent that abounds on the internet to bring you some really exciting recipes using our ingredient of the week, English peas. I can't do all the cooking myself, you know! Not only are there some really creative, beautifully photographed recipes included here – these four blogs are some of the best of the best. If you're looking for something deliciously inspiring to add to your google reader, or (sad) your feedly, these are a good place to start! (P.S. Most of you already know this, but google reader is going kaput starting July 1st. If you follow me via google, head on over to feedly to do an easy sync up of all your favorite blogs!)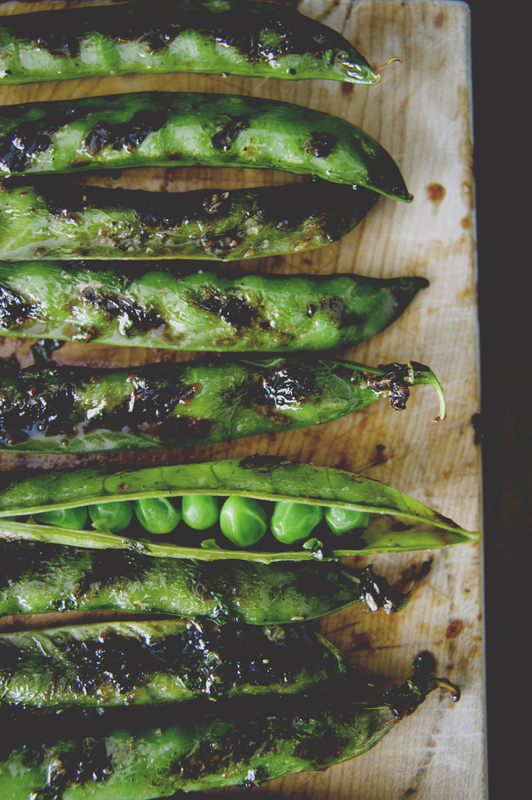 Spicy Grilled Pea Pods with Chili Soy Glaze and Mint from The Kitchy Kitchen
When I first spied a picture of these fabulously blackened grilled pea pods on Pinterest, my mind was a little bit blown. Grilling pea pods whole? Genius! Claire Thomas, author of The Kitchy Kitchen, is the one behind this brilliant idea to treat shelling peas like edamame – cook, season, and then suck the peas out of the pods with gusto, being sure to lick your fingers clean of all the spicy-salty goodness left behind. Also, I'm extra grateful to Claire for helping me prove to Trevor that peas are interesting enough to be the star of a recipe. Head over to Claire's for the recipe, and to find more super-creative ideas (like roasted pineapple butterscotch pudding. Yum.)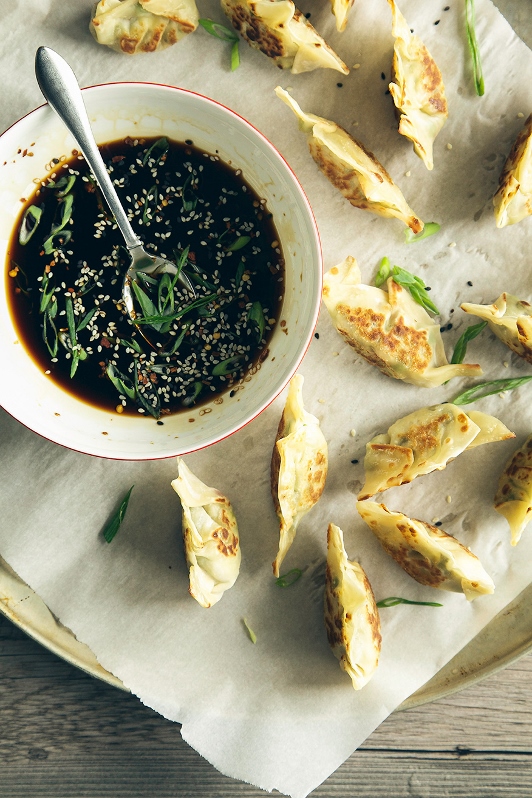 Spring Vegetable Potstickers with Sweet Chili Soy Dip from The First Mess
These aren't really a pea-specific food – they have lots of other veggies in them, like cabbage and asparagus and shallots – but they're so cute and so clever that I just had to share them. When I think potstickers I always think meat, but these veggie ones that Laura made look just as satisfying and tasty as those really-bad-for-you-but-really-addictive pork filled ones.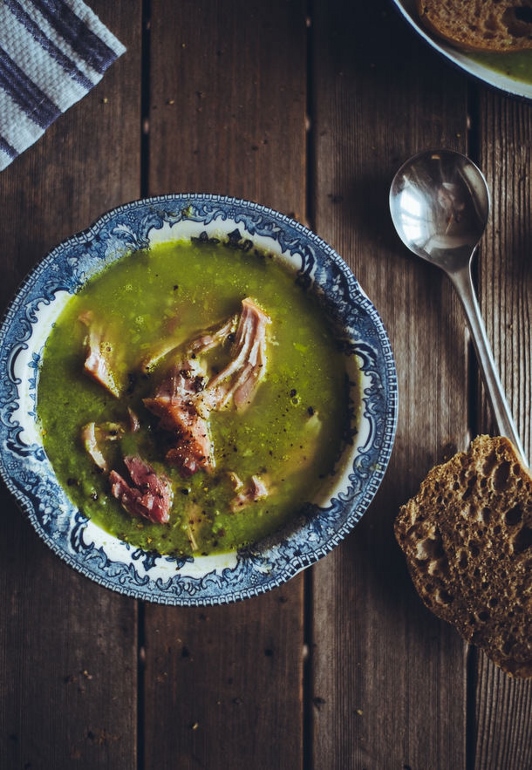 Home Made Pea and Ham Soup from Souvlaki for the Soul
When I think of pea and ham soup, I usually think of a bowl of muddy green, overly salty, overly watery, and generally unappetizing soup reserved for days when there's not much else in the cupboard than dried peas. I never even considered the possibility that it could be classed up with fresh peas and high quality smoked ham until I saw Peter's photograph. What a difference! This soup looks thick and hearty and flavorful, a complete departure from my mental image. I'll for sure be breaking this recipe out on the next chilly day we have.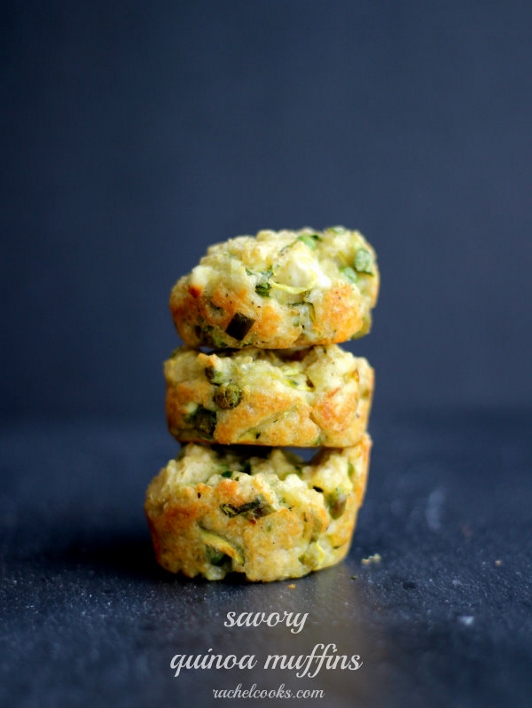 Savory Quinoa Muffins with Peas and Spinach from Rachel Cooks
This is another recipe where you perhaps can't call peas the star – but it's certainly a unique use for them! Other than the occasional grated carrot or zucchini, vegetables don't find their way into my baked goods very often, but I love the idea of having these healthy, veggie-packed muffins around for an easy and filling snack.
And… I'm going to cheat a little bit and include a few of my favorite pea recipes that I've posted here over the past few years as well. They're worth sharing again, I promise.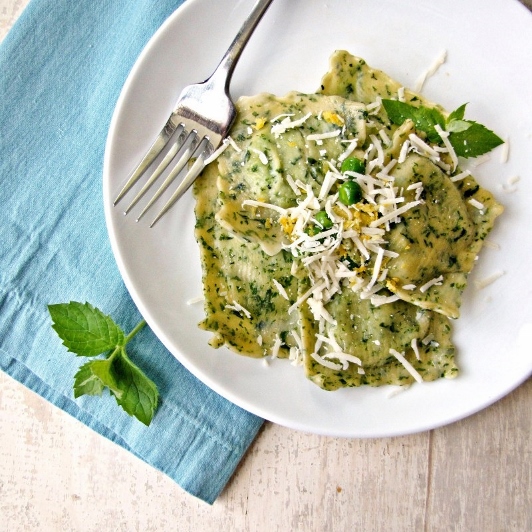 Mint Ravioli with Sweet Pea and Goat Cheese Filling
I remember really loving these. Rolling the chopped mint out into the pasta dough makes for such a pretty green-flecked raviolo, and it's certainly impressive if you want to serve these to friends. And apparently I'll never get tired of pairing sweet fruits and veggies with tangy goat cheese. It just works.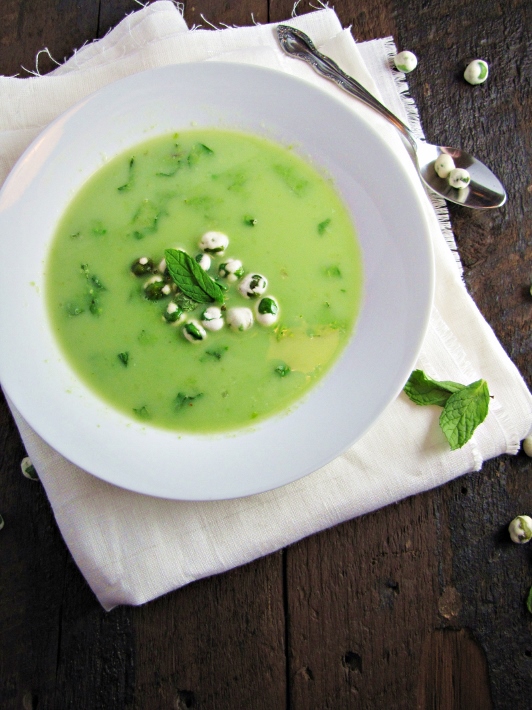 This is a recipe I put together for Greatist last year (adapted from Radically Simple). It has a short ingredient list, but the combination of sweet peas, tangy buttermilk, and head-clearing wasabi is intriguing and unique. And topping the soup with dried wasabi-peas is a fun use of an ingredient typically relegated to the snack bowl.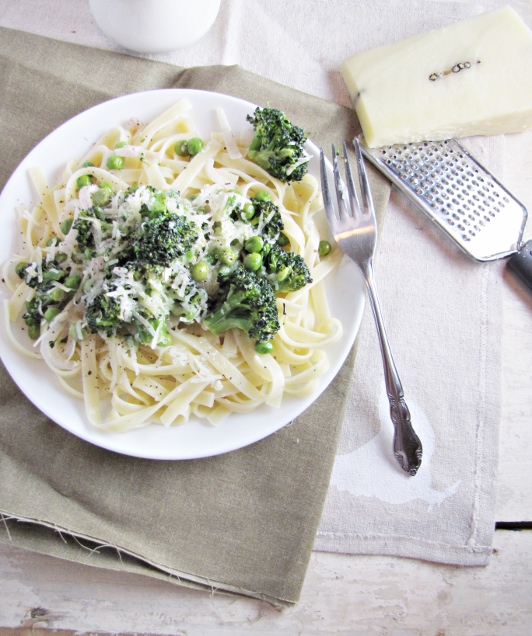 Lemon Broccoli Pasta with Peas
Last but not least – peas and cream and pasta. I know it's overdone, but seriously, it's so good. Quick to make, comforting to eat, and at least there's a little bit of green on your plate. Peas are good for that.
0