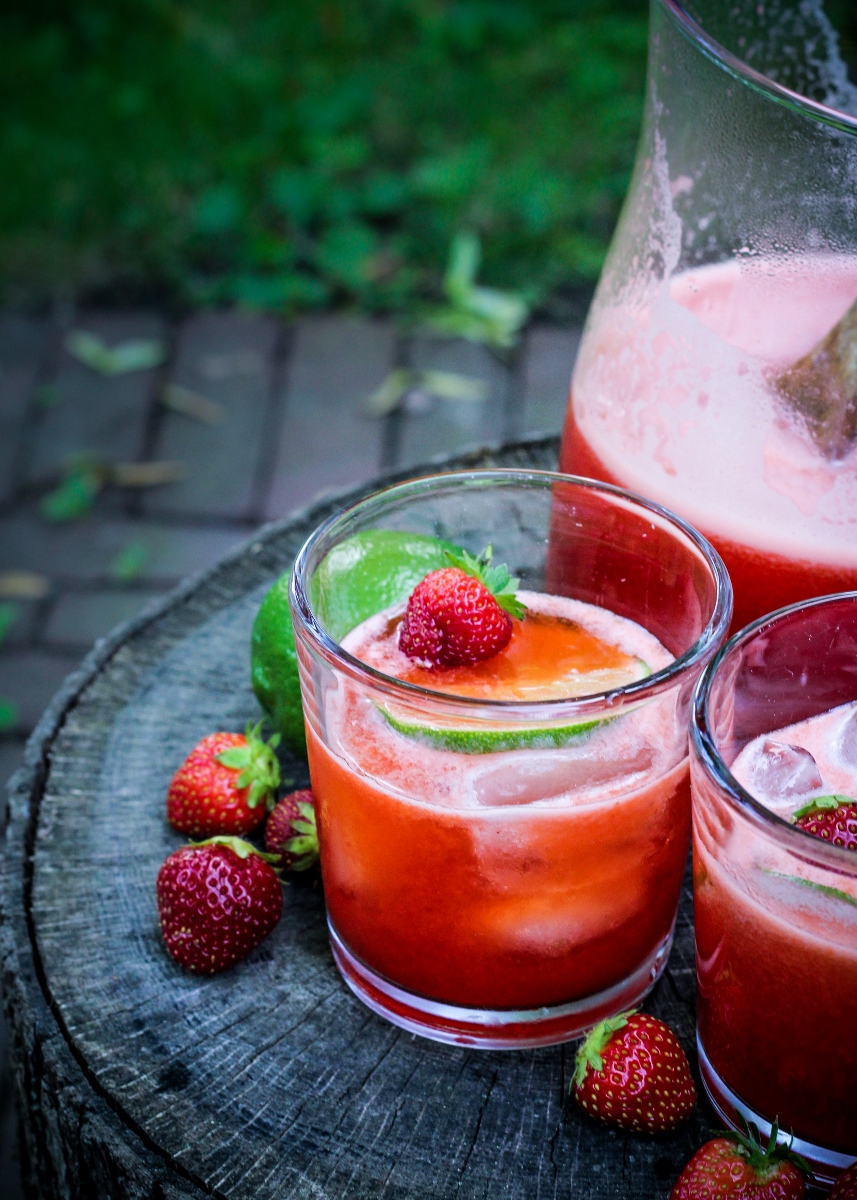 It's official – it's summer. The sun is up early and the promise that a summer morning holds is so tangible in the earliest hours, when the light is golden and filtered through the leaves, the streets are quiet, and the breeze is fresh with overnight dew. Well before the droopy, heat-baked hours of the afternoon, the morning is energizing and opens the world up, and I daydream of late afternoon beach picnics, cool dips in the lake, panoramic mountain-top views, and drippy ice cream cones. Most days, I instead have to go sit in a climate-controlled office all day, and on those days I try to make the most of my early morning runs, park bench lunch breaks, and evening walks home. But on the days when I don't have to don a suit, I want to be outside embracing the season as much as humanly possible. And so, I write this bucket list. I never get to everything, but I like to write it down and do my best.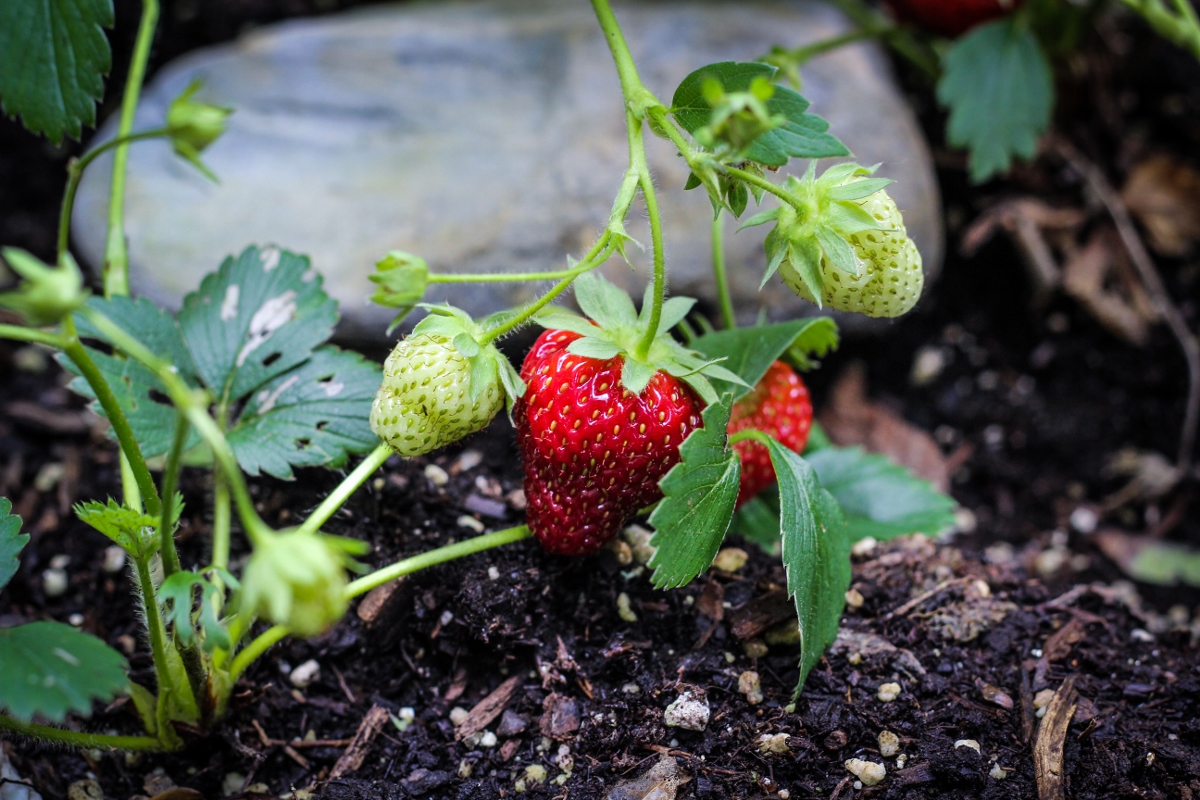 Some of the things on last year's bucket list are making a second appearance this year. Of the five things that were left on my list last year, I have since done two of them – planning a trip (and I'm already working on next year), and just this past week I made it out to the Harbor Islands for a company-sponsored day of service (spending three hours weeding and pruning trees and planting flowers felt more like how I like to spend my free time than service – I'll take it). Grilling is sticking around for this year, and I already have at least one day planned at the Cape… but I'd like it to be more than that if possible. Of course there's also some new things, because goals evolve. And so:
Go camping. I got a tent for Christmas this year, and I want to use it. Rain or shine. I sometimes think of myself as this super-athletic, outdoorsy, idealistic version of myself that I'm really not at all, given that I haven't gone camping in years. But I can change that! I just have to get Trevor on board.
Go to the beach. Summer used to be synonymous with the beach for me. Besides the two weeks we spent on the Cape, we'd also regularly make the journey to Crane's Beach in Ipswich, often in the second half of the day after the morning crowds had dispersed. I love swimming, I love being in the ocean, I love walking on the sand. I had a few hours of beachy happiness in Italy, but I want to make that happen more than once, if possible.
Ballet camp. I'm already signed up for this one, so that's half the battle, but I really want to make sure I go – and make the most of it. The plan is that for two weeks in August I'll be doing four hours a day of dance after work. I'm prepared to be exhausted, but I'm really excited about the opportunity to do something with so much focus. And hopefully get a little svelter in the process.
Spend time with my brother. My little brother just graduated from Cornell, and in August he'll be headed out to Seattle. I'm excited about visiting him there, but before he leaves, I want to make sure we got some quality sibling time while we're both on the same coast. Starting with drinks this Wednesday.
Learn video. Video seems like it may be the way blogging is headed, and it's a little intimidating, I'd like to start learning. My new camera has decent video capabilities, and you have to start somewhere – why not the beginning. Also, my friend Tracy has promised that she's going to make me a YouTube star. So we'll see how she does on that.
Grilling on my own. Grilling. Fire. It's still so scary. I've got to get over this one and do it by myself. So far I managed to kind of light the grill on my own, but then Trevor took over. See these steaks as evidence.
Preserve our harvest. I really, really hope we have enough of a harvest to merit preserving – I would 100% consider our garden a success if it happens. So far, it looks like we'll have plenty of peaches and blackberries (knock on wood), although the stupid deer are starting to go for the peaches. A good reason to eat more venison. If I'm eating homemade blackberry jam next January I will be the happiest.
Practice driving. I used to be a decent driver. You know, not great, but I drove all the time and I was fine on long trips to and from Maine and Vermont and the like. But over the past three or four years, I've almost completely stopped driving, partly because I don't have my own car, partly because Trevor prefers to drive when we go somewhere together, but also partly because I've convinced myself that I can't do it. And I do not want to be some 30-year old woman with a mental block that keeps me from getting in the car, so I have to start reversing that mindset. Now. With practice.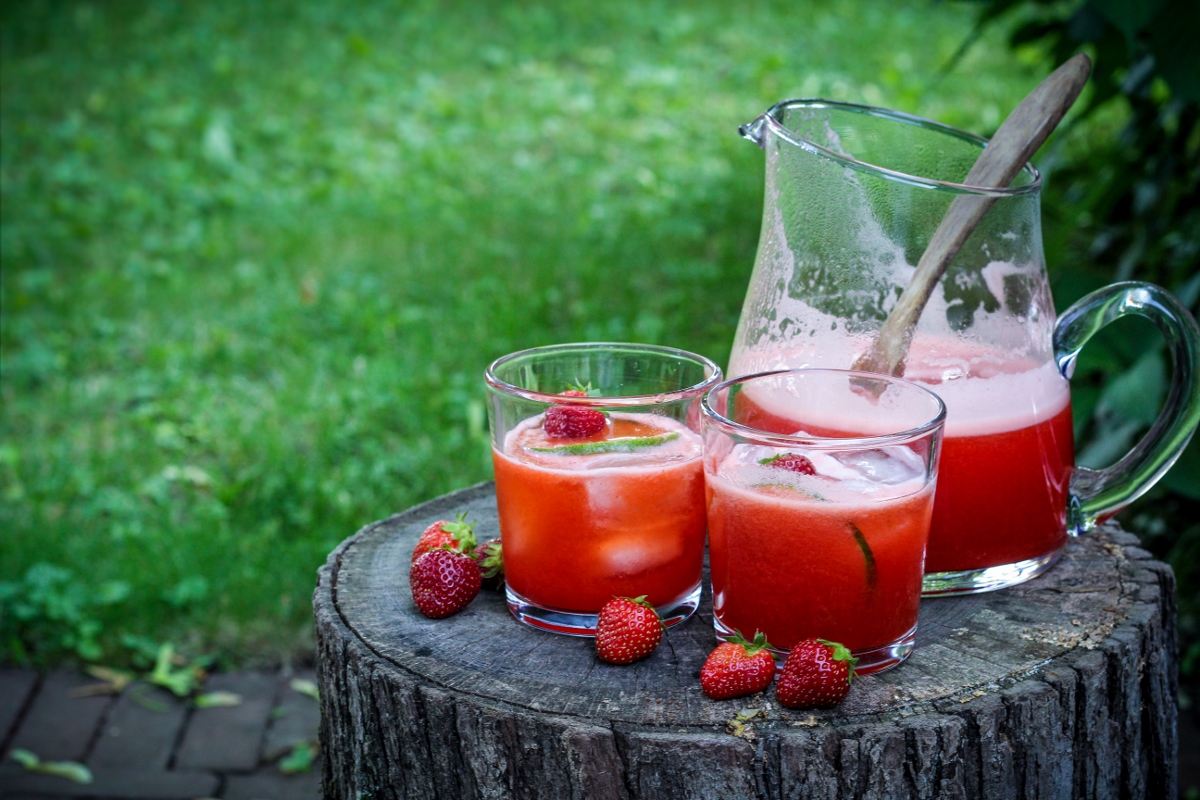 There are a few other big things on the horizon that aren't exactly of the bucket list sort – for example, starting July 1st, I'll be moving to a new apartment to share with Trevor, a big and exciting and kind of scary change for both of us. There is also a possibility that I might be doing some travel for work, but I don't want to jinx it by getting overly excited until it's a sure thing. All told, it's shaping up to be a busy summer, but hopefully in a good way.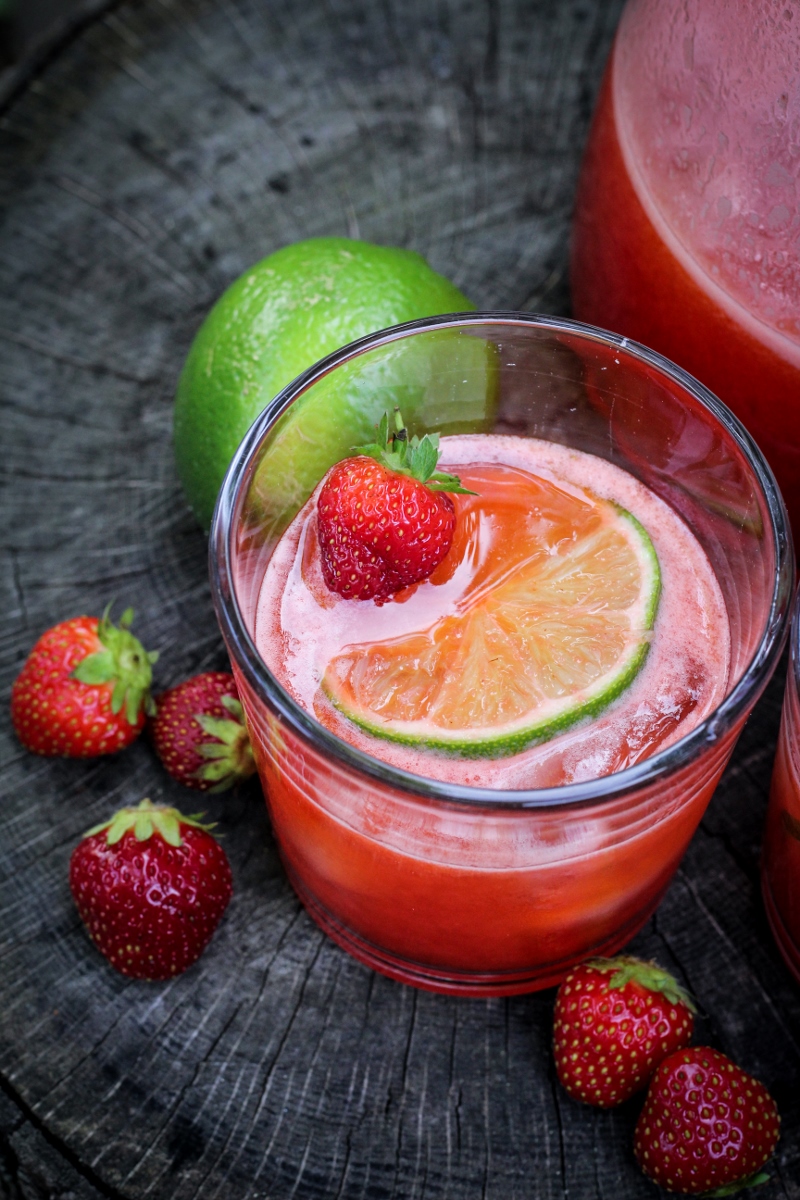 To celebrate this list, I've made Strawberry Lime Agua Frescas, because the fact that the farmer's market is flooded with strawberries this week is a sure sign of summer. Also, it's quite warm in the Northeast, and I don't feel like consuming much of anything that isn't a cold liquid. Three of these strawberries are from my garden, but that's not quite enough to do anything with other than eat in the yard, staining your fingers red, so I picked some others up at the Davis Flea this morning. They're very good, red all the way through and sun-sweet. This agua fresca is not too sweet and extremely refreshing – the perfect thirst quencher. Of course, if you wanted to make it a little bit more adult, I'm sure a shot of tequila wouldn't be bad at all.
Here's to summer!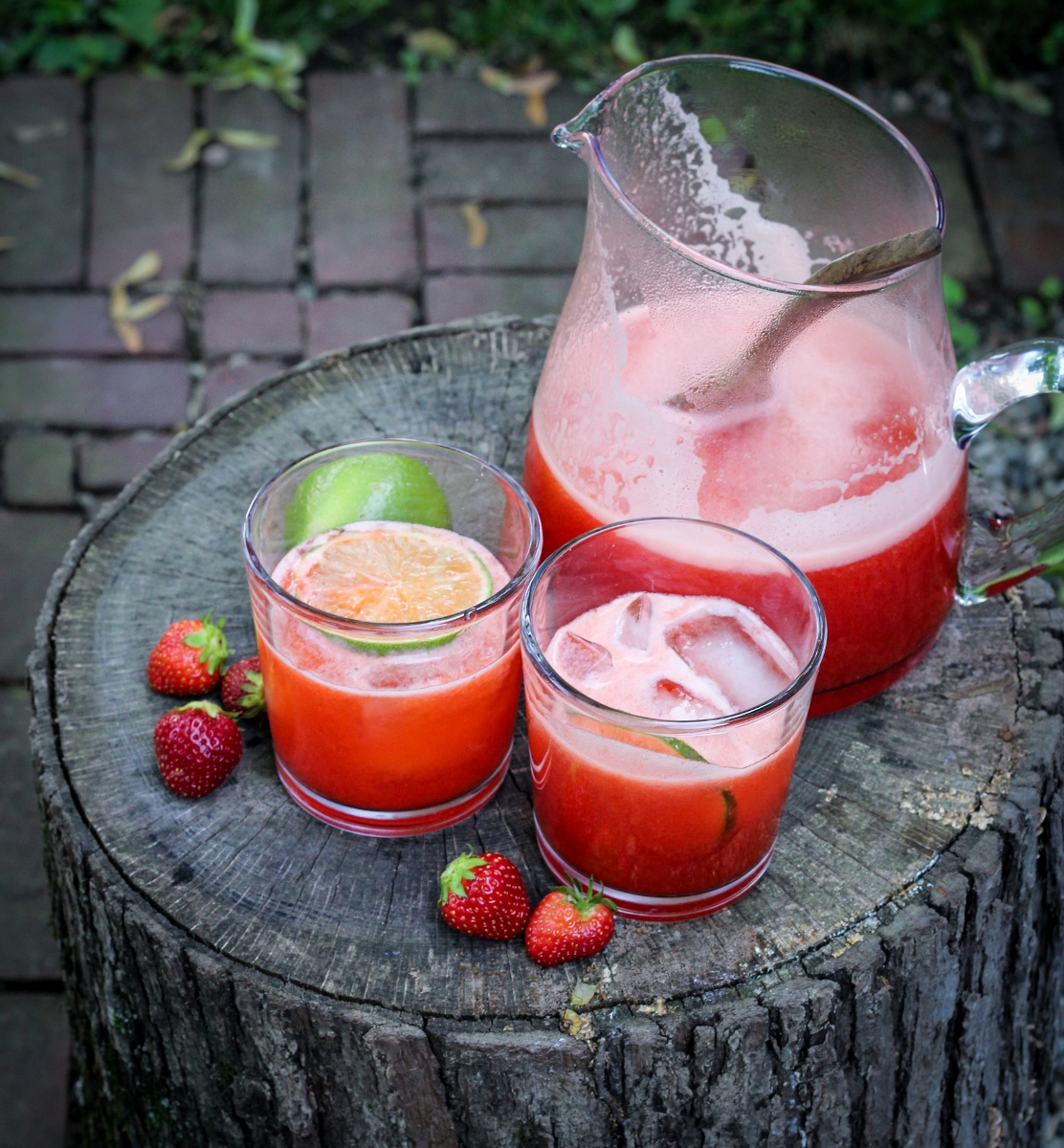 Strawberry Lime Agua Fresca
Recipe from Tacos, Tortas, and Tamales. Makes about 6 cups.
1 lb. fresh strawberries, hulled

juice from 2 limes (about 1/3 cup)
1/3 c. sugar
4 c. water
ice
Add strawberries, lime juice, sugar, and water to a blender and blend until completely pureed and smooth. Pour through a strainer into a large pitcher, pressing the fruit pulp to get as much juice out if it as possible. Skim the foam off the top of the pitcher and discard. Taste the juice and add more lime or sugar to taste if necessary. Cover the pitcher and refrigerate until chilled. Stir before serving, then serve over ice, with a slice of lime and a fresh strawberry for garnish.
1