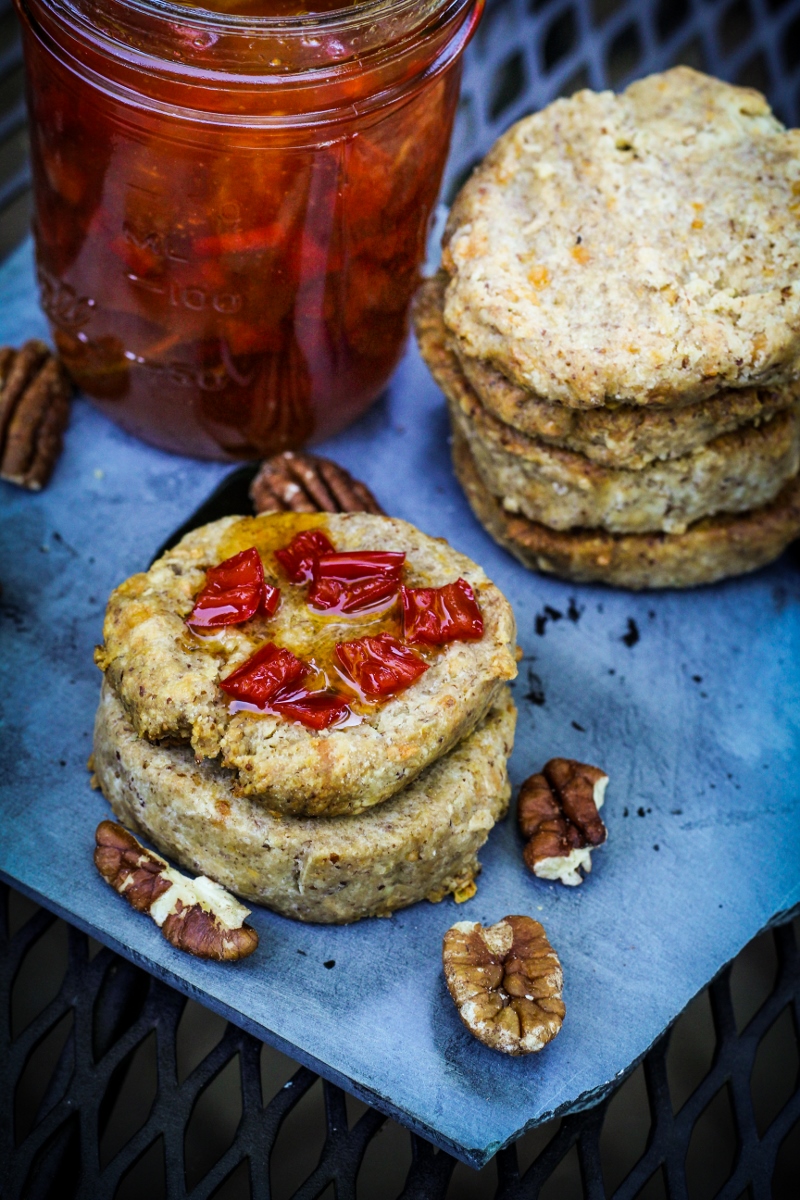 I have one more treat from The Southern Vegetarian that I'd like to share with you – savory cheddar pecan cookies, served with a spicy sriracha pepper jelly. The first time I flipped through the book, these were the thing that most caught my eye. The combination is quite Southern, and also so crave-ably moreish that I couldn't resist making a batch with all the bits and bobs of cheddar that had built up in my fridge. The cookies taste a lot like cheese straws, and they would be the perfect little appetizer for a cocktail party.
If you don't have any cocktail parties on the horizon (aka, you're me), I also happen to think that these are the perfect thing to nibble on with a glass of wine while curled up and watching TV. Which brings me to the reason I'm posting these today: tonight is quite possibly the most important TV event all year, the Game of Thrones finale. Brace yourself for full dorking out: last week's episode was nuts!! I legitimately have been thinking about it all week long (and I know the internet in general has been having a grand old time with it). I'm actually anxious about tonight's episode (although I did get this Game of Thrones themed beer to make me feel better), which makes me feel a bit foolish, but HBO/George R.R. Martin are really killing it. And even worse, after tonight's episode, I have to wait an entire 10 months for the next season. At least this year we'll have three seasons to re-watch instead of just two. And no, I don't read the books: honestly, I'm afraid it would ruin the show for me. Please don't judge me for just writing that.
And since I've already gone down the path of admitting embarrassing facts about myself, you might also find me eating a plate of these during The Bachelorette tomorrow. No shame.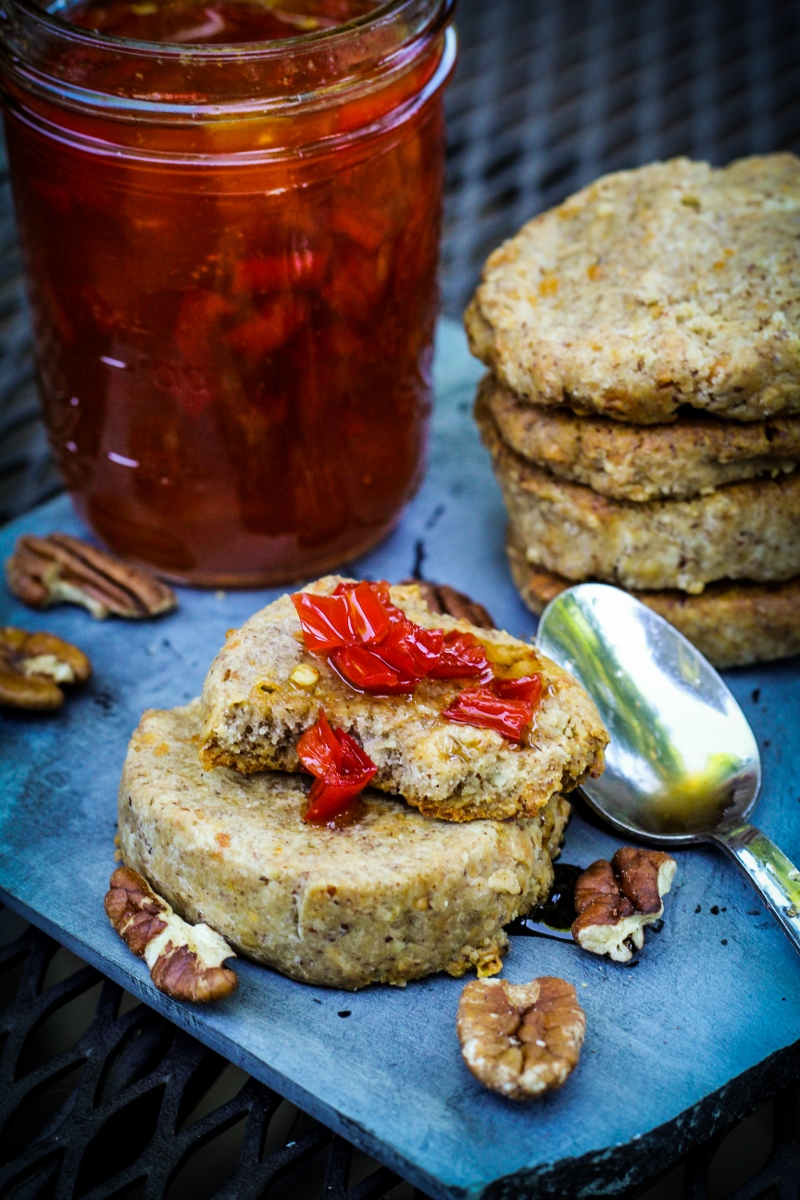 Savory Cheddar-Pecan Cookies
Adapted slightly from The Southern Vegetarian. Makes about 16 cookies.
1 c. whole pecans, toasted

1 c. flour
1/4 tsp black pepper
1/4 tsp salt
1 c. shredded sharp cheddar cheese
2 TBS butter, cut into 4 pieces
6 TBS water, chilled
Place the toasted pecans, flour, salt, and pepper in a food processor and run until finely ground. Empty into a bowl.

Add the cheddar cheese and the butter to the bowl. Use a pastry cutter or a fork to blend the ingredients until the cheese is broken up and the dough is slightly crumbly. Add the cold water 1 TBS at a time, pulling the dough in from the edges with a fork between additions, until the dough just comes together when squeezed.
Gather the dough into a ball and roll into a log about 7 inches long. Wrap in plastic wrap and place in the freezer for 30 minutes (to harden it before slicing). If you're freezing the dough for longer than this, you will need to thaw it slightly before slicing.
Preheat the oven to 350°F. Slice the chilled dough into 1/4 inch slices, placing on a parchment lined baking sheet. Bake for 25 minutes or until lightly browned, then transfer to a rack to cool. Store in an airtight container.
Sriracha Pepper Jelly
Adapted from The Southern Vegetarian. Makes 1/2 pint.
Note: The original recipe says that the natural pectin in the lemon helps the jelly gel without any added pectin, but made this way, my jelly was definitely more of a sauce. If you'd like a thicker jelly, add 2 tsp pectin to the other ingredients before bringing to a boil.
1 c. turbinado sugar
1/4 c. rice vinegar
1 red bell pepper, de-stemmed, seeded, and minced
1 TBS sriracha
peel of 1 lemon (use a vegetable peeler)
2 tsp pectin (optional, see headnote)
In a small saucepan, whisk together sugar, vinegar, red pepper, sriracha, lemon peel, and pectin. Place over low heat. Stir constantly as you gradually increase the heat to bring the mixture to a boil. Once the mixture is boiling, boil for 2 minutes, then remove from heat. Pour the jelly into a clean, pre-warmed half-pint jar. Let cool, stirring occasionally to re-distribute the chopped pepper. Keep refrigerated for up to a month.
0