Last week was a bit of a whirlwind. A stressful whirlwind. Work was busy enough that by the time I got home every night, I wasn't good for much beyond pouring myself a glass of wine and zoning out in front of the TV, so I didn't do a lot of cooking, or, needless to say, blogging. Next week promises to be equally as busy, but for now I'm checking out to enjoy the weekend. And a stressful week, while not conducive to blogging, is certainly ripe for reminiscing about a recent vacation, so I'm here (finally!) with pictures and stories from the second half of our trip to Italy in April. (For the first part, click here.)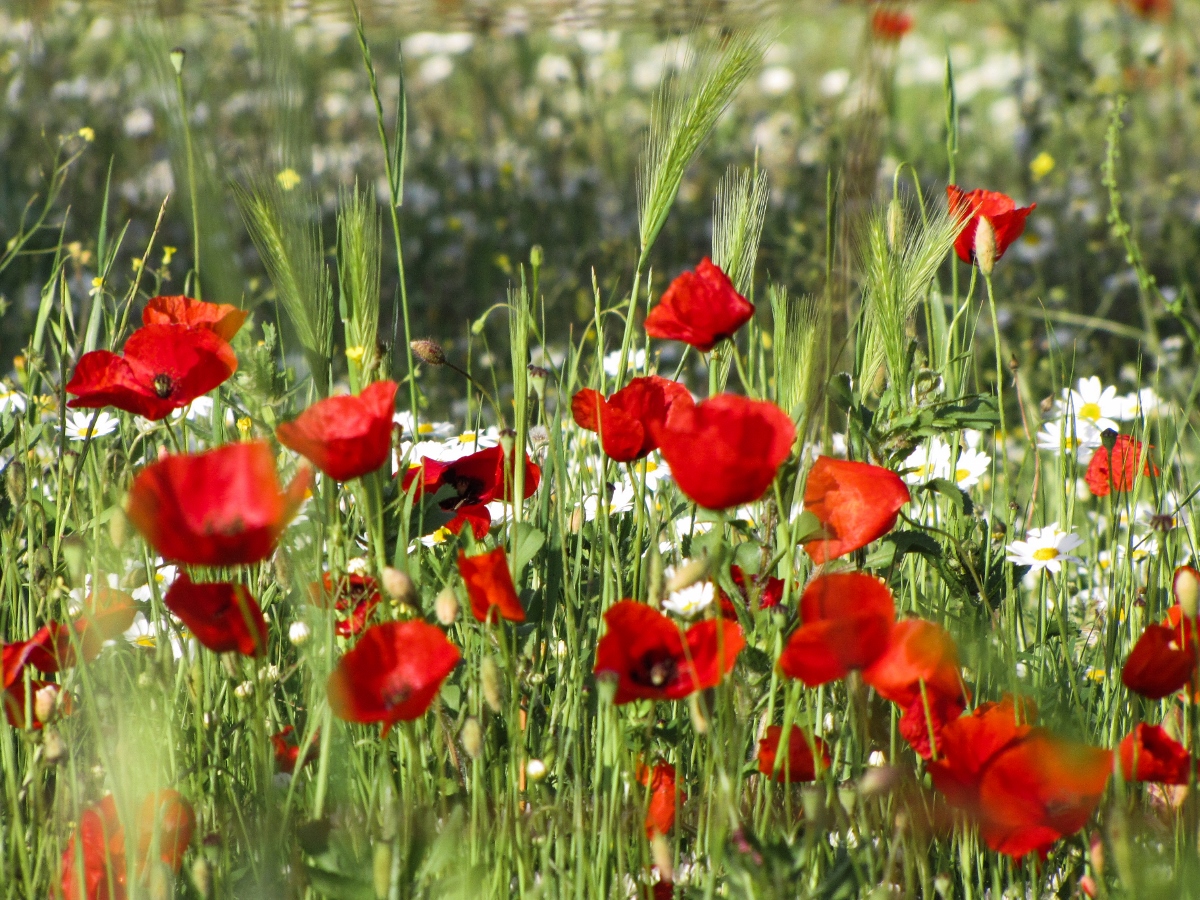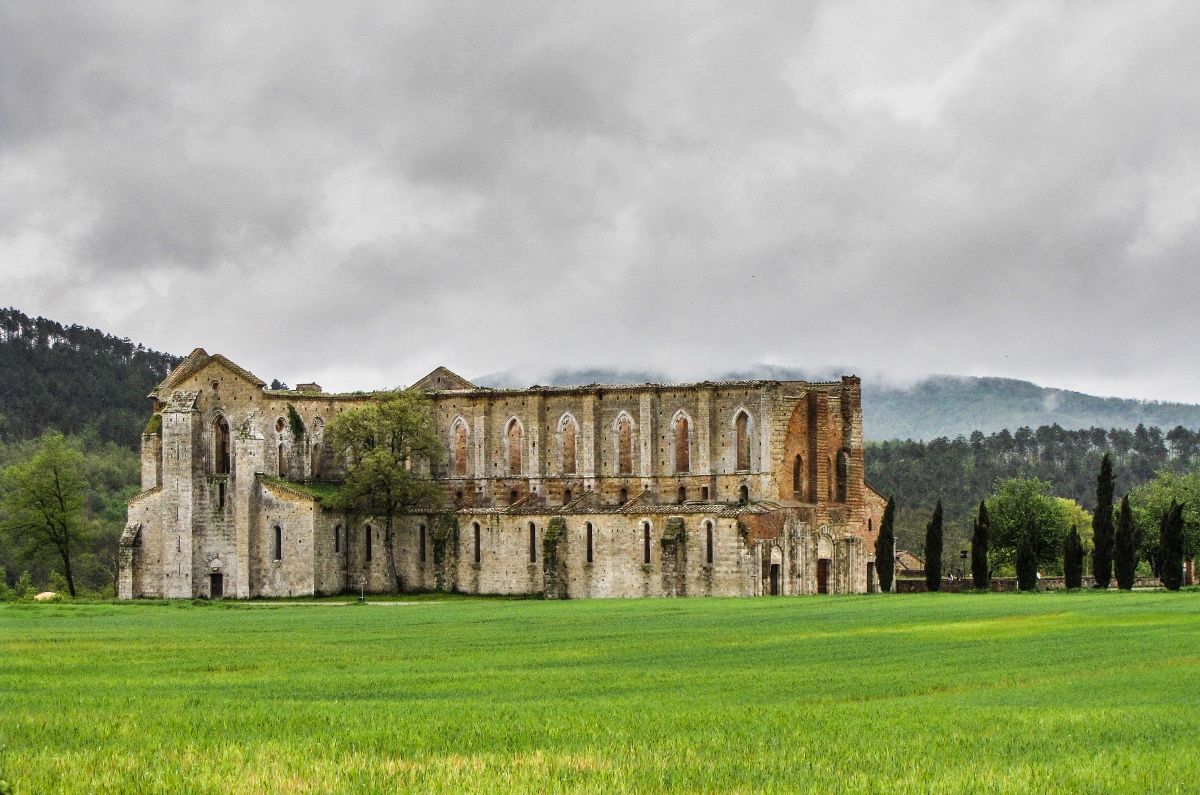 1) Poppies near our B&B; 2) The abandoned abbey at San Galgano
Although I very much enjoyed wandering the streets of Florence and Rome, the part of our trip I was most looking forward to were the four days we had planned in a rural region of Tuscany called the Maremma. In general, I'm more of a wilderness lover than an urbanite, and the same holds true when I'm traveling. What initially attracted me to the Maremma was a big green spot on google maps – the Maremma Regional Park. A little internet digging and I was sold on the lush, green region, located halfway between Rome and Florence, with its promise of beautiful coastline, natural hot springs, agriturismos, wild horses, and plenty of open spaces to explore.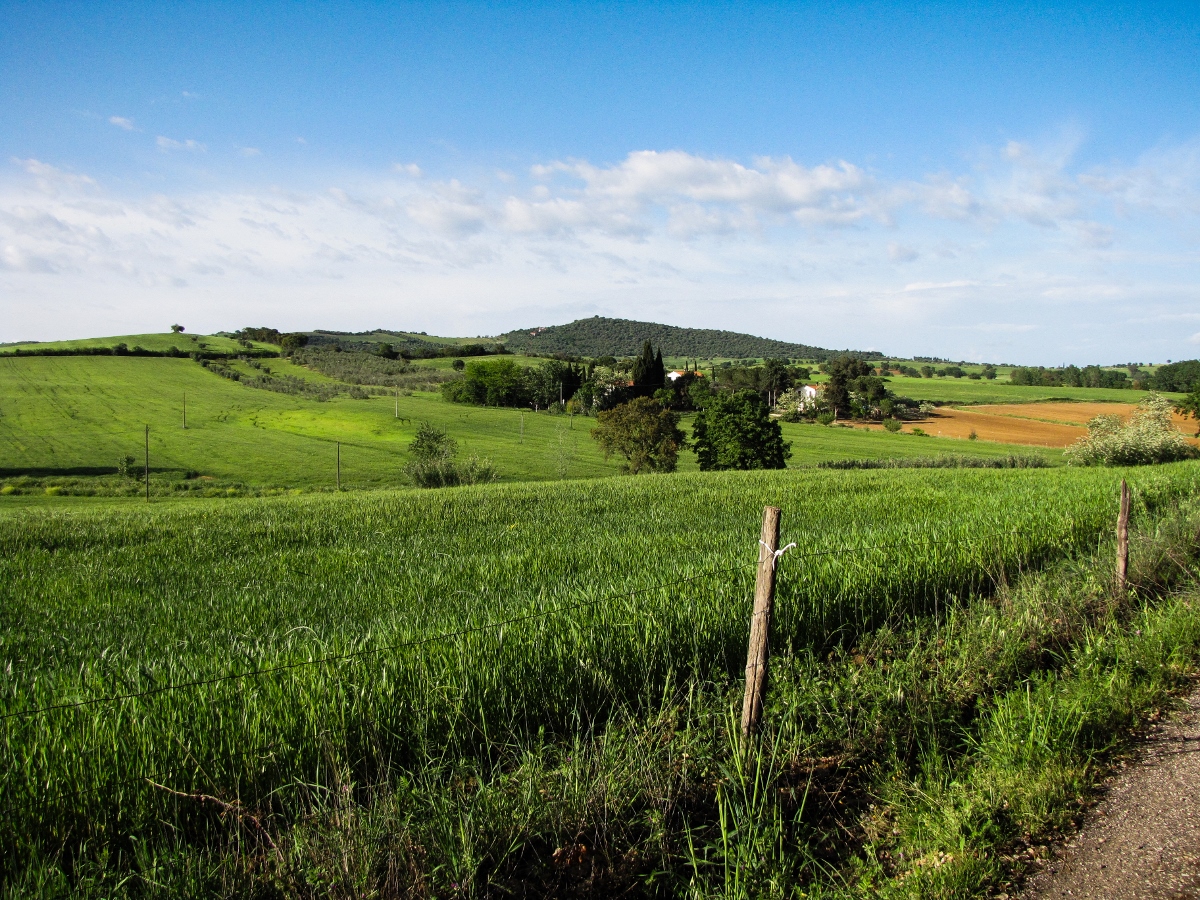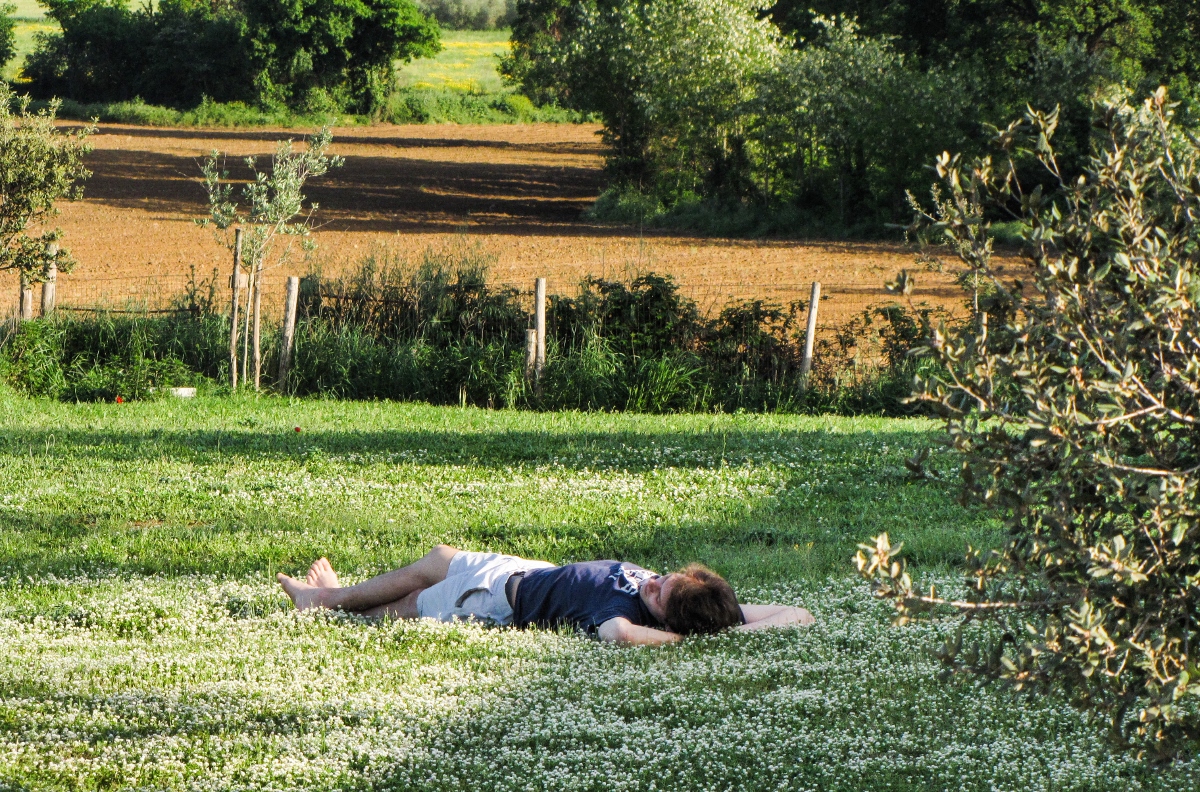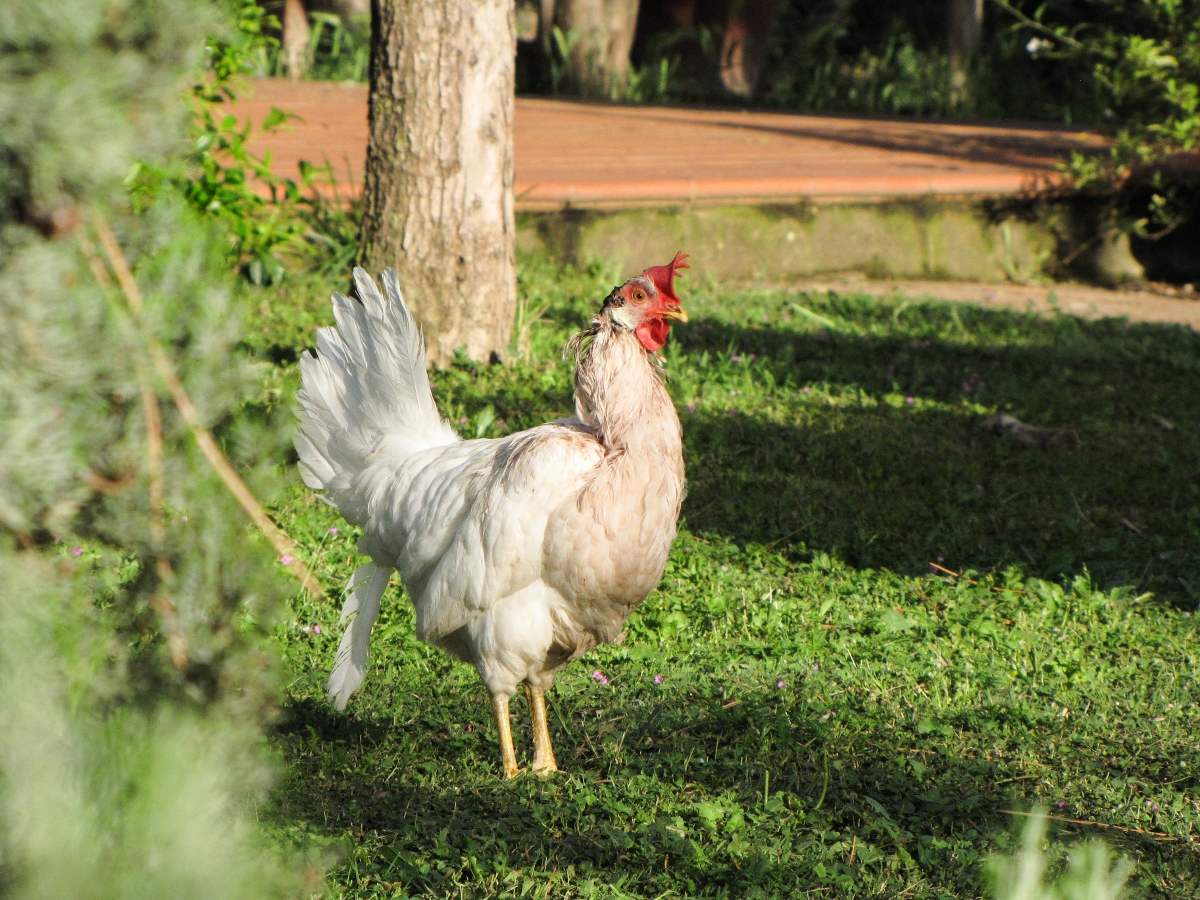 1) A view from the road leading to our B&B; 2) Trevor napping outside our apartment; 3) One of Norbert and Grazia's chickens, whose eggs we enjoyed every morning
There are a lot of small inns, agriturismos, and B&Bs in the region, but I couldn't have been happier with the one we chose – B&B At Home In Maremma, located centrally in the region only a 20 minute drive from the coast. We were the only guests, and our hosts, Norbert and Grazia, were immensely helpful and friendly. As soon as we pulled into the driveway and stepped outside, after 15 glorious minutes driving through rain-drenched fields of poppies and olive groves, they both welcomed us with a cold beer, stories about their time in Grosetto, and suggestions for our stay. We chose to stay in our own stand-alone apartment, with a private patio and it's own fig and olive trees – although we didn't spend much time actually in the apartment, it was a perfect home base. And the breakfasts that Grazia made for us each morning were amazing – on the first night, when she suggested that we might be tired of sweet Italian breakfasts and offered to make us bacon and eggs, we jumped at the chance to eat farm fresh eggs every morning. By the third morning of sunny side-up eggs cooked in a cup of prosciutto, served with fresh juice, rolls, chocolate cake, and espresso, we were pretty much the fattest, happiest little travelers. Although I did need to take a few weeks off prosciutto after this trip.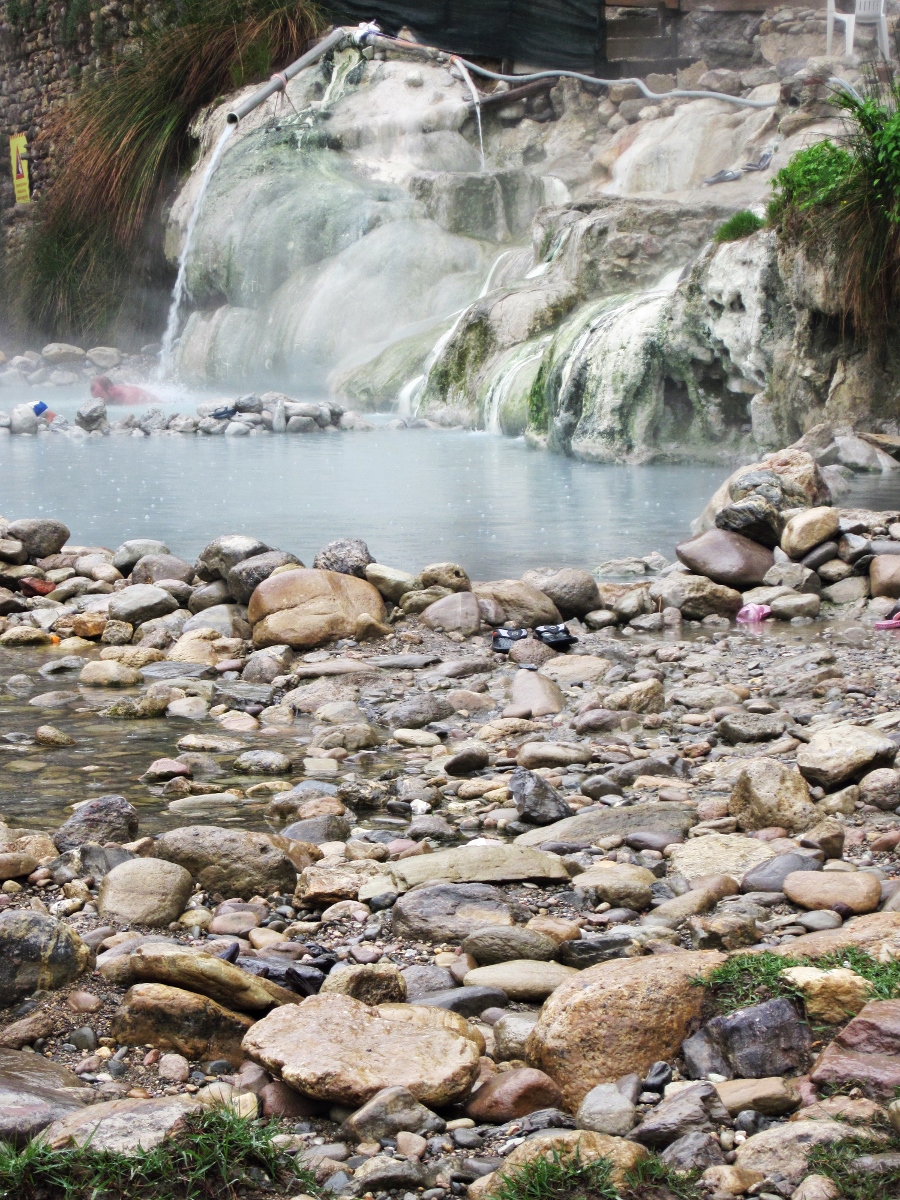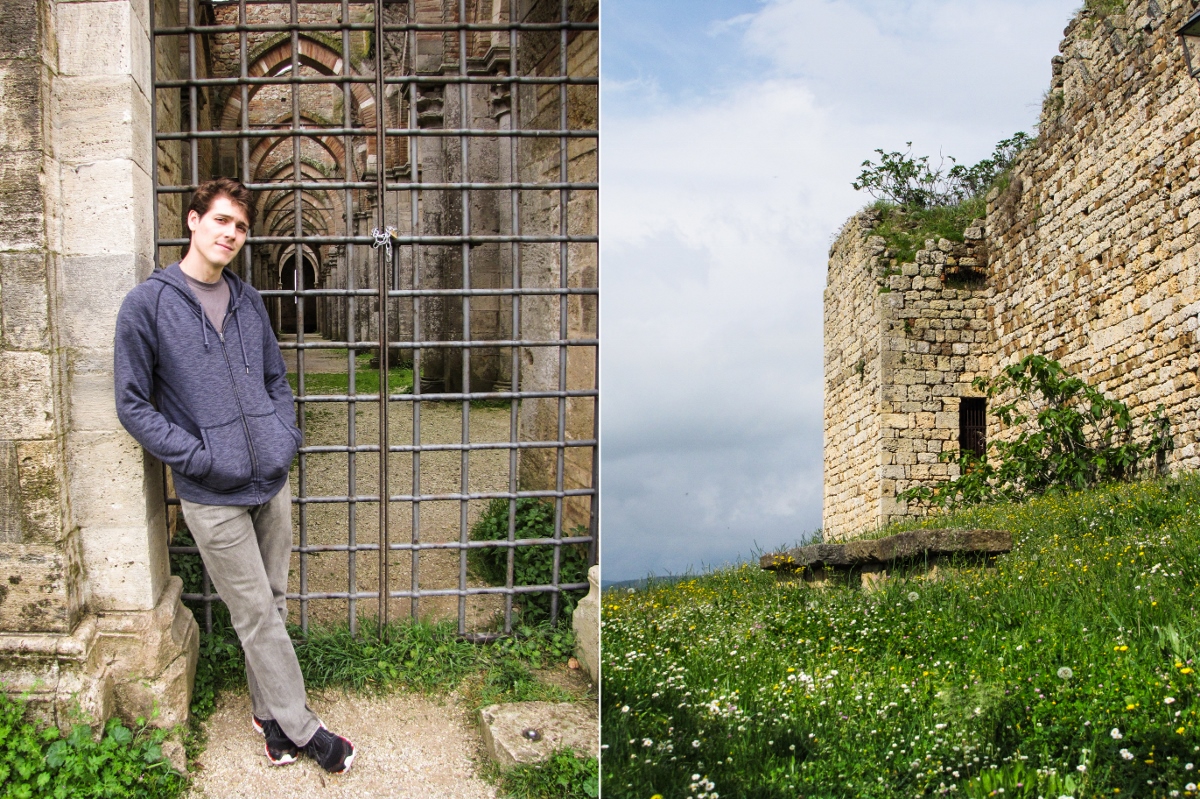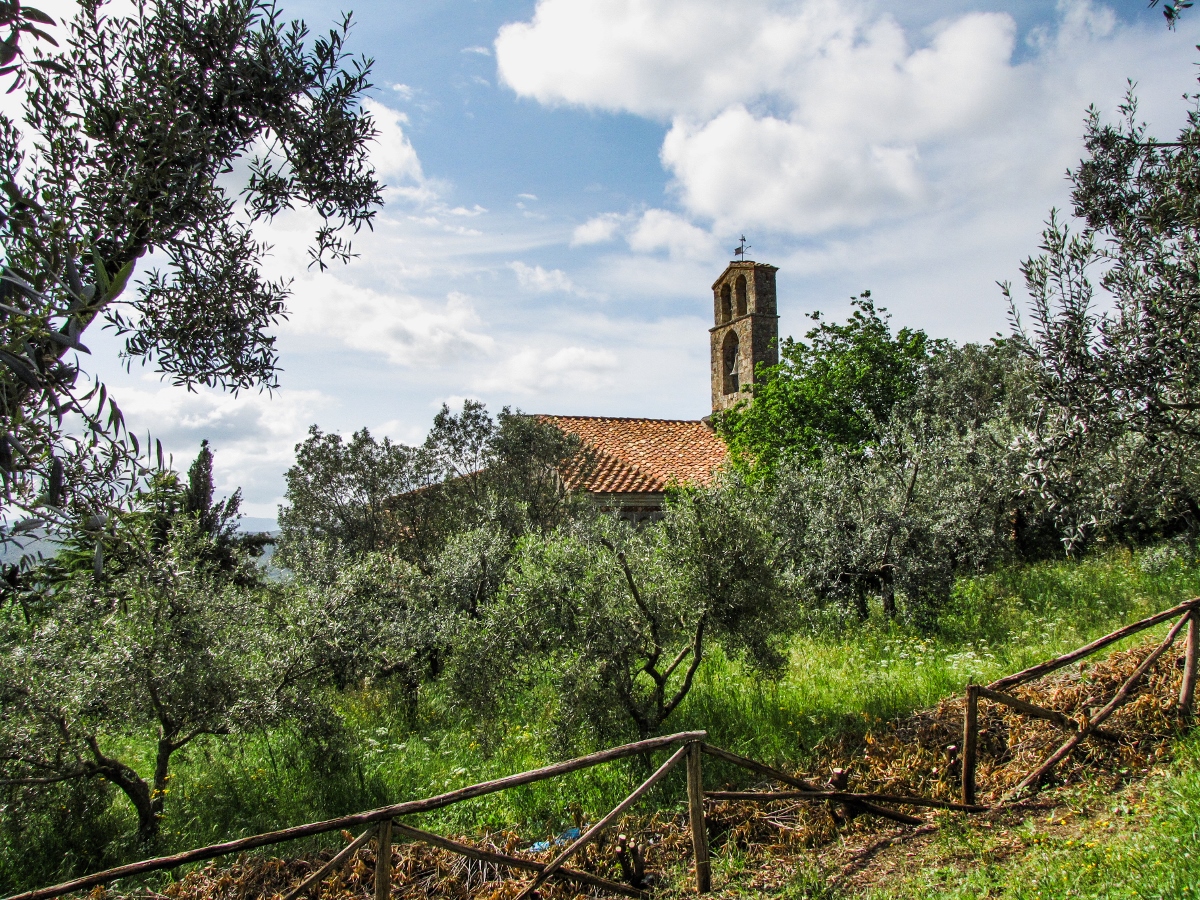 1) The natural hot springs at Petriolo; 2) Trevor standing beside the abandoned abbey of San Galgano; 3) The sun finally comes out while walking the wall at Massa Marittima; 3) An olive grove surrounded church at Massa Marittima
Our first morning we were disappointed to awake to rain, but decided to make the most of the day anyway and marked out a loop on our map. The first stop were the Terme di Petriolo, natural hot spring pools formed beside a river. We spent a relaxing hour lying in the steaming springs, plunging into the icy cold river from time to time, sitting side by side with some Italians who seemed to have nothing better to do on a rainy Thursday. (The Italians made me feel transparently white. Trevor confirmed this to be true). Sitting in the hot water while the cold rain plodded down around us was a wonderful way to spend a rainy morning – and free, too! After we were adequately soaked, we got back in the car and headed to San Galgano, an abandoned abbey, where there was also circular chapel where San Galgano used to live. And get this – there was a real-life sword in the stone there. Very cool. Or "a very mystic place" as Norbert told us. Our last stop of the day was the city of Massa Marittima, where we enjoyed a late lunch with a lot of German tourists, did some souvenir shopping, and walked the path along the city wall just as the sun peeked out from behind the clouds. I love walking along city walls – they're always so beautiful and wild. Dinner that night was at an amazing place called Chicco Magico – and it was the highlight of the entire trip for me – but it's such a good story, I'm saving it for it's own blog post. Just to be a tease.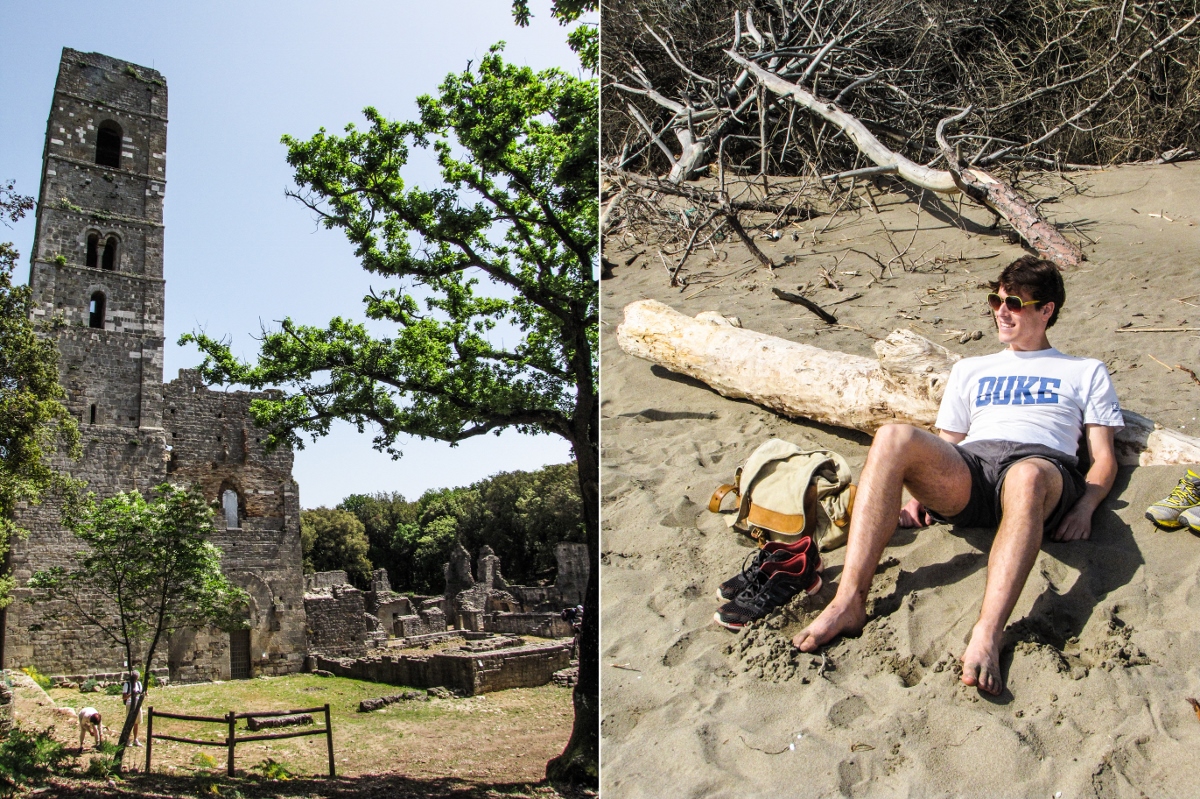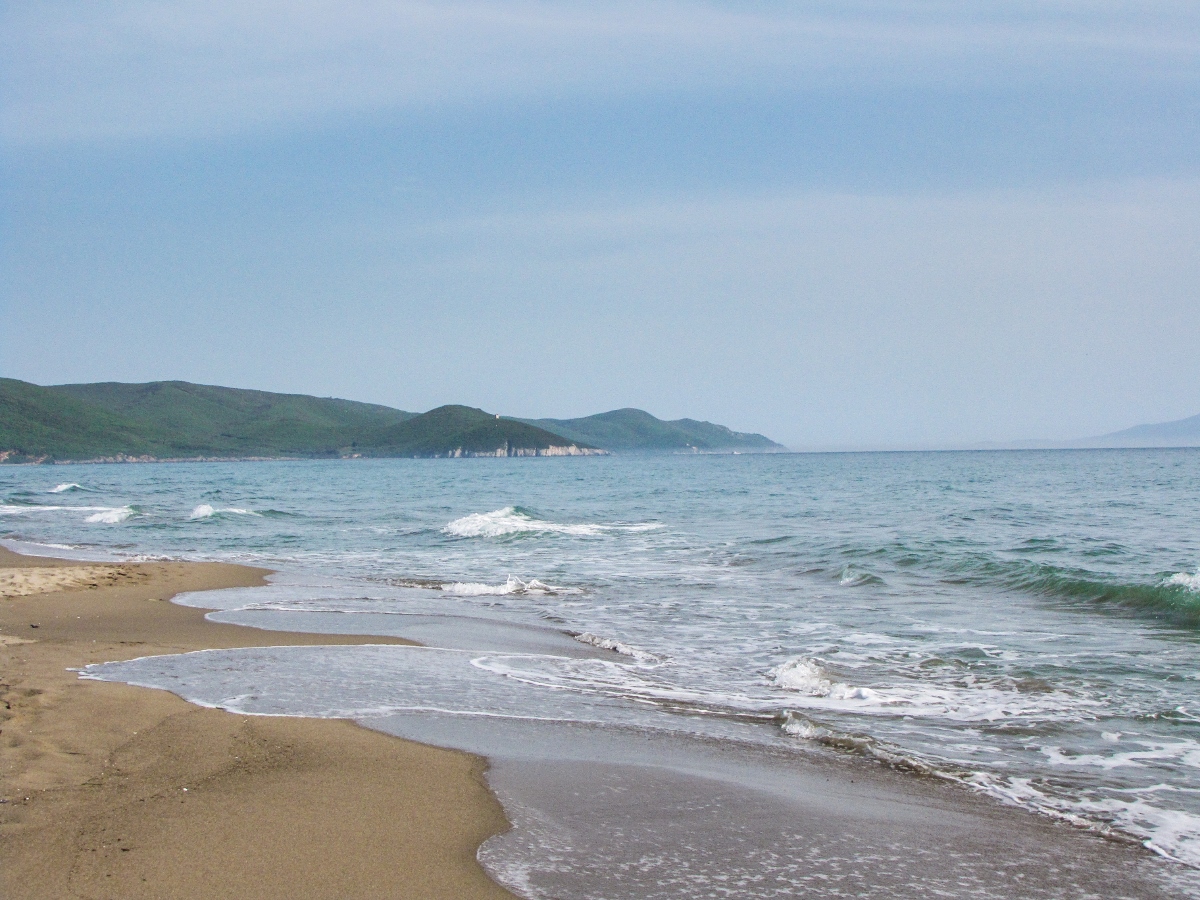 1) The view from our hike; 2) The ruined medieval abbey in the middle of the trail; 3) Trevor enjoying the beach; 4) The Mediterranean sea
 Our second full day we had reserved for a trip to the Maremma Regional Park. It was a bit complicated to get inside, but we eventually made it to the trailhead and started a pretty, but steep hike up the coastal hills. There were only a handful of views, but looking out across the treetops to see ruined towers hovering above the sea was a pretty unique experience. Half way through the hike, we reached a ruined medieval abbey in the middle of the trail, and spent some time poking around that before forging on to the beach. After a crowded bus ride (that also included about 50 German retirees decked out in full mountaineering gear), we made our way a few minutes down the road to the beach that is located within the park. Although there were a few moments of panic as we frantically tried to communicate to the parking guard that we didn't know how to get a parking ticket, we eventually figured it out and found a spot on the sand. Trevor relaxed and I dove into the water. I was probably the only person above the age of 6 who was swimming, but to someone from New England it was so amazingly warm, even in early May. I love the ocean. I could swim and bob and body surf all day, and I'm so glad I got to go in at least once so far this summer! That night we were pretty beat, so we picked up some bread to go with the last of our venison prosciutto and ate on our patio – where we were joined by every cat within a mile, all very keen to get in on the feast.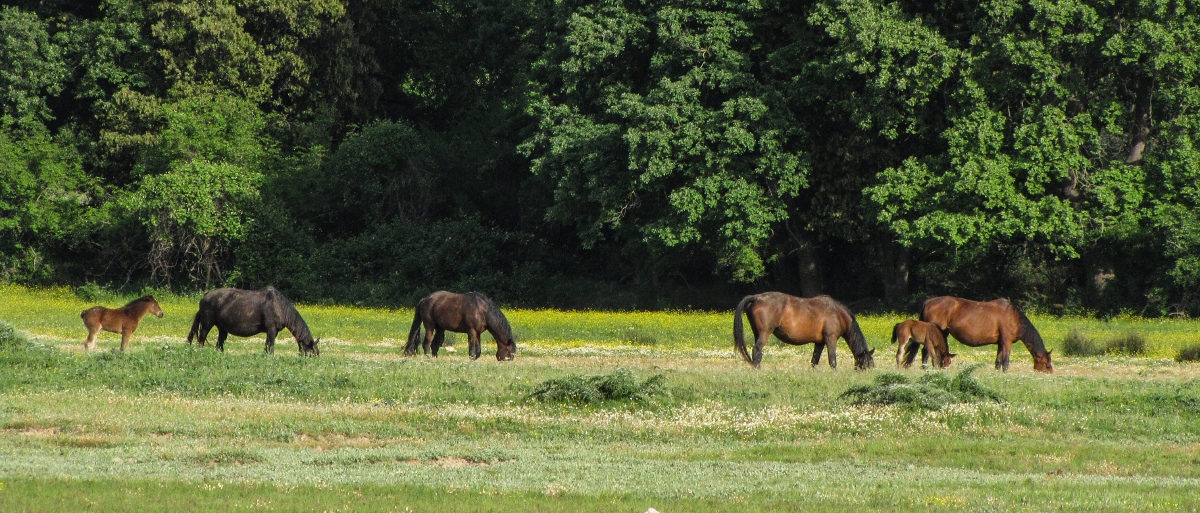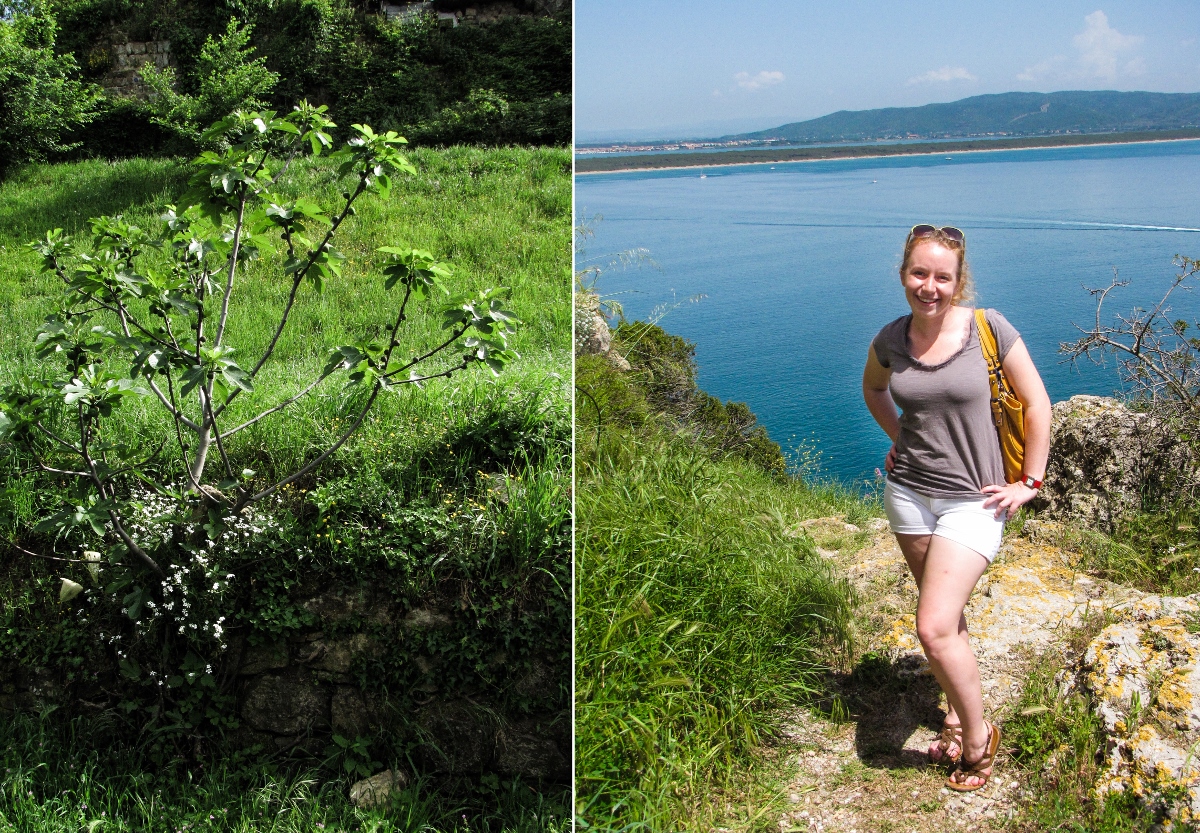 1) Horses on the way out of the regional park; 2) A wild fig growing on the wall at Massa Marittima; 3) Me standing outside the wall of Porto Ercole
On our last day we had to drive back to Rome, but didn't need to return the car until 6pm, so we decided to take it slow and stop in Monte Argentario. I was initially unimpressed with the somewhat touristy town of Porto Ercole, but we followed our instinct and walked up a crumbling staircase to find ourselves hiking on a cliff around the old fort. The views were amazing, and as we continued down, we spotted a few rocky beaches that it looked like we could get access to. And we could. They were very neat – lots of pockmarked igneous boulders to climb on – but neither of us felt like getting salty before our drive back to Rome, so we stayed out of the water. After a quick (overpriced) lunch in a pirate themed restaurant (well, actually, everything in the town seemed to be pirate themed) we hit the road back to Rome.
And that was our trip to Italy! But most of you probably didn't come here to read all about my vacation – you came because you saw a picture of that pizza. Carbonara pizza was the first thing I ate upon arriving in the Maremma, so that's what I've recreated here. As soon as we arrived, Norbert and Grazia made reservations for us at this little pizza place in the tiny town of Istia d'Ombrone for dinner that night. We were both quite tired, but this pizza hit the spot after a day of public transportation, waiting around the rental car lot, and driving in the rain. After dinner we walked around the tiny walled town in the glow of the lamplight, only passing two other people as we walked.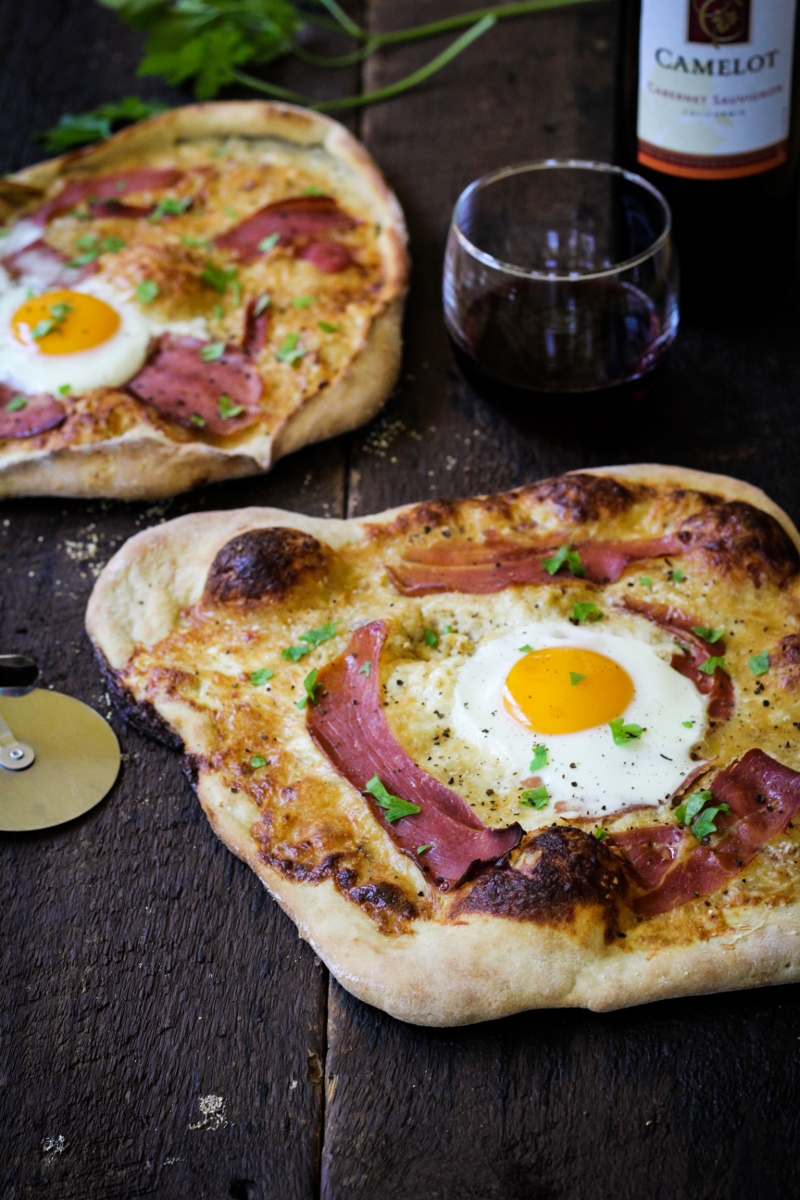 I wasn't sure exactly how to go about making a carbonara pizza, but I knew it had to have prosciutto (rather than bacon or pancetta), since we ate so much of it during our trip, and I knew I wanted the base sauce itself to be as close to a true carbonara sauce as possible. I have to say, I like my version of this pizza even better than the one we had on our trip – the sauce came out perfect, packed with oniony, cheesy, prosciutto-y, garlicky flavor, and with the extra strips of crisped prosciutto and a just-set egg on top of the bubbly, chewy crust, I couldn't stop myself from eating a third slice even after I was full.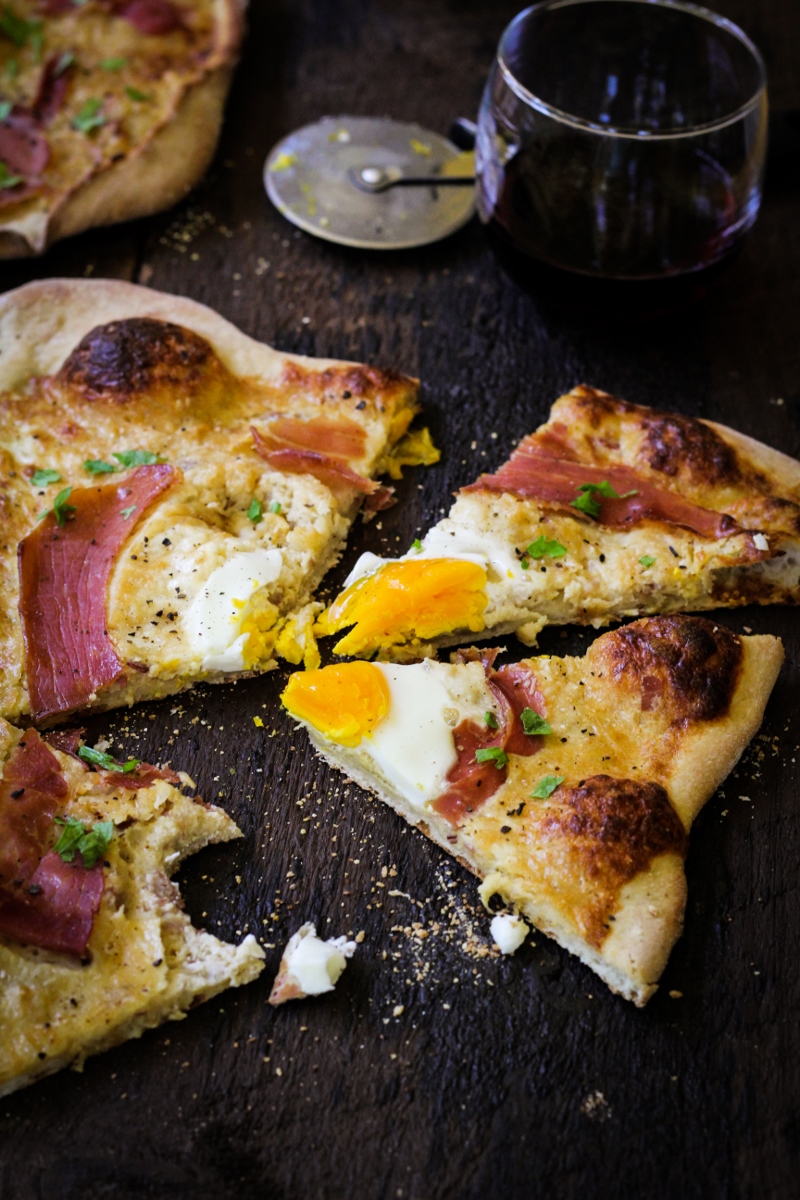 Carbonara Pizza
Serves 4.
1 TBS butter

1/2 c. finely minced onion (about 1/2 medium onion)
1/4 lb. thinly sliced prosciutto, divided (about 8-10 slices total)
4 cloves garlic, peeled and finely minced
1/2 c. heavy cream
4 eggs, divided
1 c. freshly grated parmesan cheese, divided
cornmeal (for dusting pan)
1/2 recipe pizza dough
1/3 c. freshly grated pecorino romano
freshly ground black pepper
2 TBS finely chopped fresh parsley
Preheat the oven to 450°F.
Melt the butter in a frying pan over medium heat. Add diced onion and stir to coat with butter. Finely dice half of the prosciutto (about 4 slices) and add to the pan with the onions and butter. Saute, stirring occasionally, until prosciutto is crisp and onions are golden brown, about 6-8 minutes. Add minced garlic and saute 1 minute longer, then stir in heavy cream. Cook for 1 minute, then remove from heat.
In a medium heatproof bowl, whisk together 2 of the eggs and 1/2 cup of the grated parmesan. Slowly pour the hot cream sauce into the eggs, whisking the eggs vigorously as you do so to prevent scrambling. Once all the cream has been added, whisk the mixture for 30 seconds, then set aside.
Sprinkle a small amount of cornmeal on 2 baking sheets. Flour your work surface and a rolling pin and roll out the pizza dough into two small (or one large) crusts. Place one on each baking sheet. Spread the cream sauce on top of the crusts up to 1/2 an inch from the edge. Don't spread the sauce so thickly that it runs over the edge – you may have a few tablespoons left over.
Mix together the remaining 1/2 c. parmesan cheese and the pecorino cheese. Sprinkle half of the mixture over each crust. Layer a few strips of the remaining prosciutto on top of the cheese. Carefully crack one egg into the center of each pizza. Bake the pizzas for 12-15 minutes, until crust is golden brown and egg is set. Sprinkle the hot pizzas with freshly ground black pepper and the parsley.
4