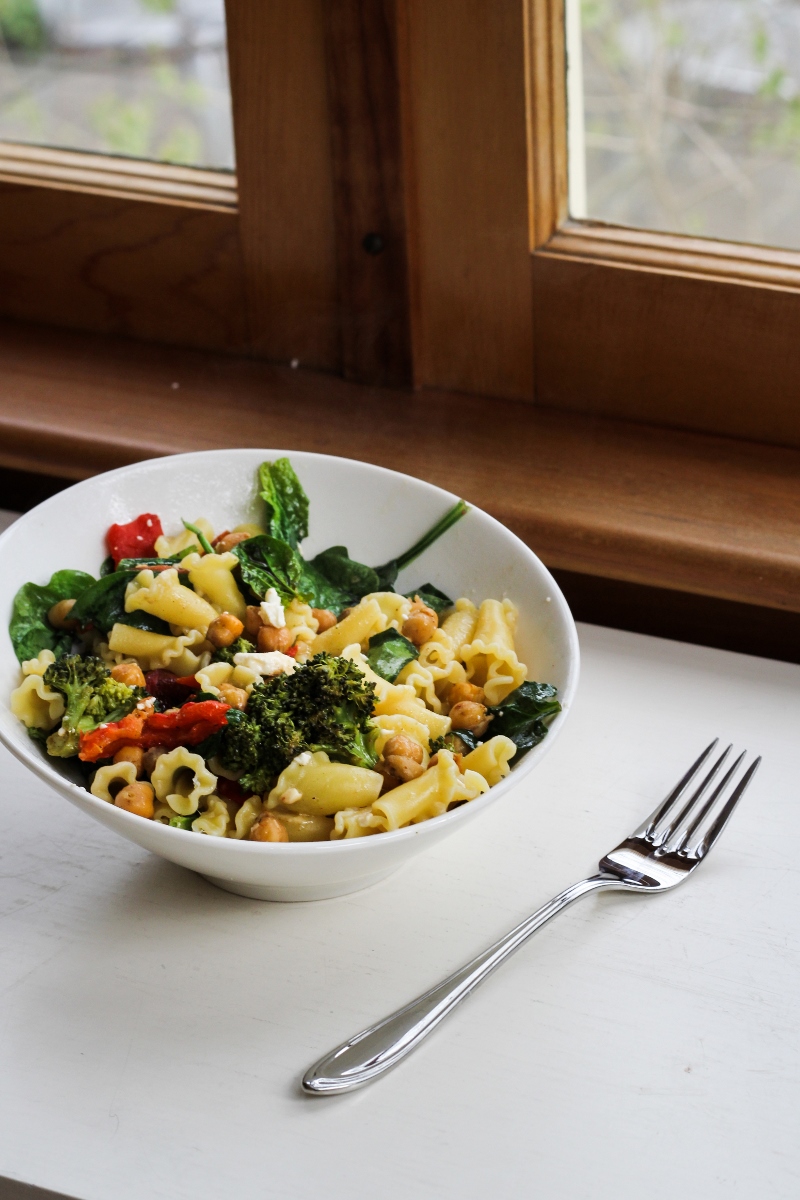 As soon as I publish this post, I will be heading out the door to the airport for a ten day vacation in Italy. A ten day vacation in Italy! I am beyond excited. We'll be in Rome, then Florence, than a beautiful part of the Tuscan countryside called the Maremma. When we booked the tickets in January it felt like the end of April was years away, but now it's here and this month has been such a whirlwind that I've barely had time to daydream. I can't wait to be spending entire days outside, dressed in anything that's not a black suit, eating delicious paninis and pastas and soaking it all in. And when I come back, I'm sure I'll have loads of pictures and stories to share with you.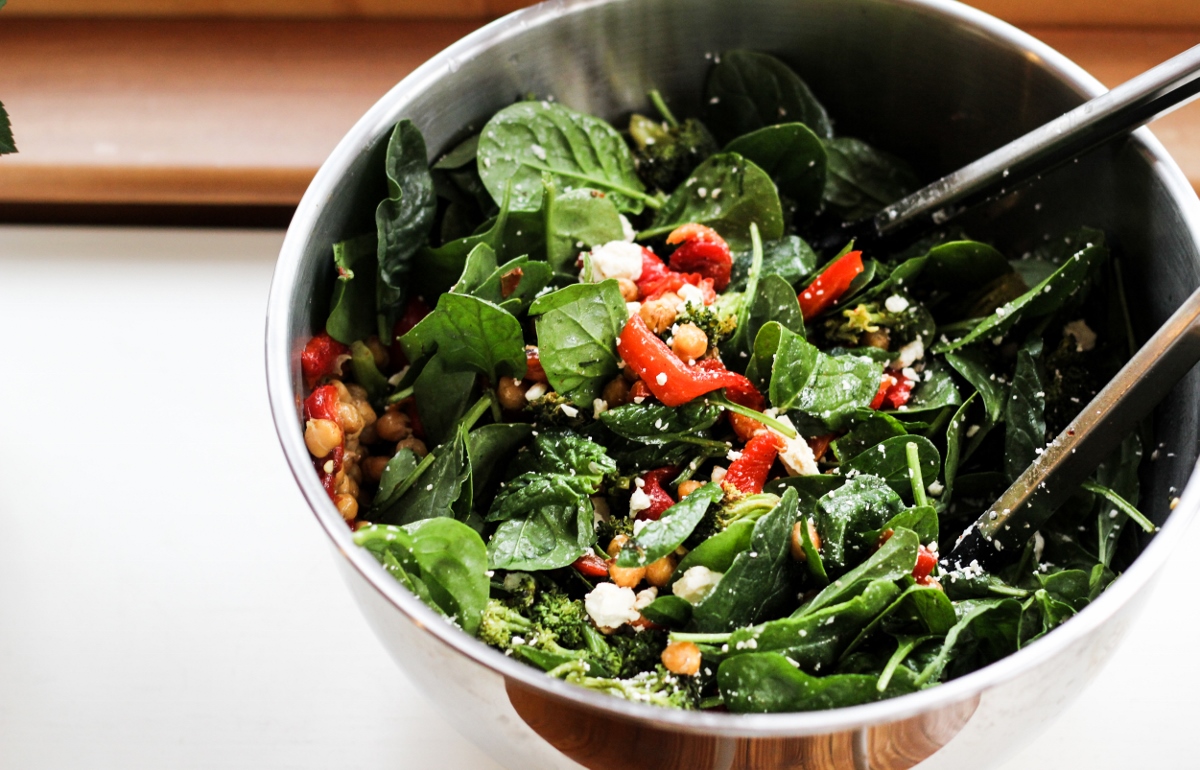 Before I go, I wanted to leave you with the last of the birthday party recipes – this roasted vegetable Mediterranean pasta salad. I made a huge bowl of the salad ingredients – spinach, roasted red peppers, roasted broccoli, roasted spiced chickpeas, and feta cheese – for the night of the party, to offset all the cheesy, boozy, cakey goodness of the rest of the menu. I didn't even get around to eating any that night, but I had mounds of leftovers, so the next day I tossed them with hot pasta and parmesan cheese for a simple and satisfying lunch. It's not an earth-shattering combination, but it was good, easy, packed with veggies, and it seemed like an appropriate Italian-ish send-off reicpe. I'll be taking a break from blogging while I'm gone, but I have a few posts (including two guest posts from my favorite bloggers) already ready to go. I hope you enjoy them!
Ciao!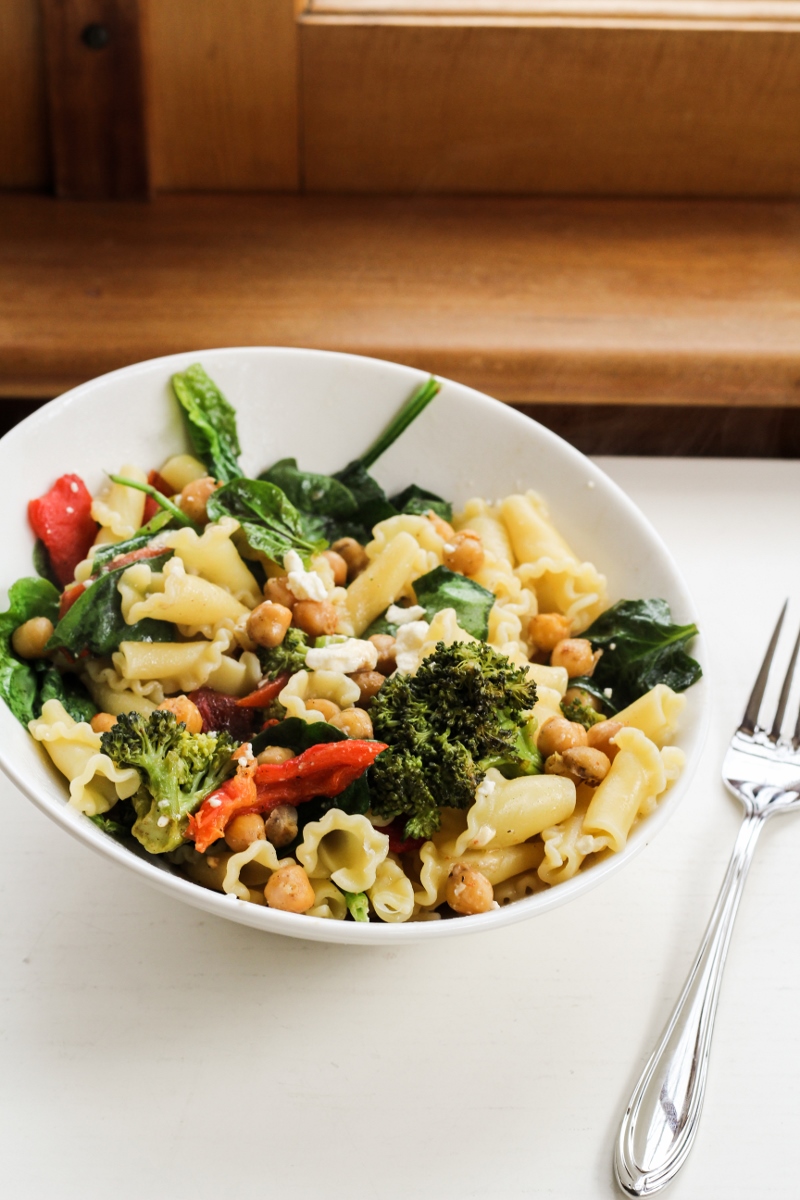 Roasted Vegetable Mediterranean Pasta Salad
Serves 6.
Note: 1) This also works on it's own as a green salad, just omit the pasta and parmesan cheese. 2) Since there's multiple ways to roast red peppers – in the oven, on a grill, under the broiler – I've simply linked to one oven method, but roast them however you normally would. Alternatively, they're equally as tasty bought already roasted and preserved in oil.
4 heads broccoli, washed

4 TBS olive oil, divided
sea salt
2 c. cooked or canned chickpeas
1/2 tsp ground cumin
1/2 tsp ground paprika
2 fresh red peppers, roasted and sliced into strips (or jarred roasted red pepper strips)
5-oz baby spinach (1 standard clamshell package)
6 oz. crumbled feta cheese
1 lb. pasta, prepared according to package directions
parmesan, for serving
Preheat the oven to 400°F. Cut the florets from the broccoli heads and toss with 2 TBS olive oil and a generous sprinkling of sea salt. Place in a single layer on a roasting pan and roast for 20 minutes, or until broccoli is tender and beginning to char. Flip the broccoli once, halfway through cooking. When done, remove to a large bowl.

Toss the cooked chickpeas with the cumin, paprika, salt, and the remaining 2 TBS olive oil. Add to a roasting pan (you can use the same one you used for the broccoli without washing it in between), and roast for 20-25 minutes, until chickpeas are beginning to get crunchy, flipping once halfway through cooking. When done, add to the bowl with the broccoli.
Toss the roasted red pepper strips, spinach, and feta cheese with the broccoli and chickpeas. Taste, and add additional olive oil or salt if necessary. Serve on it's own as a salad, or toss with the hot, prepared pasta and sprinkle generously with parmesan cheese.
2