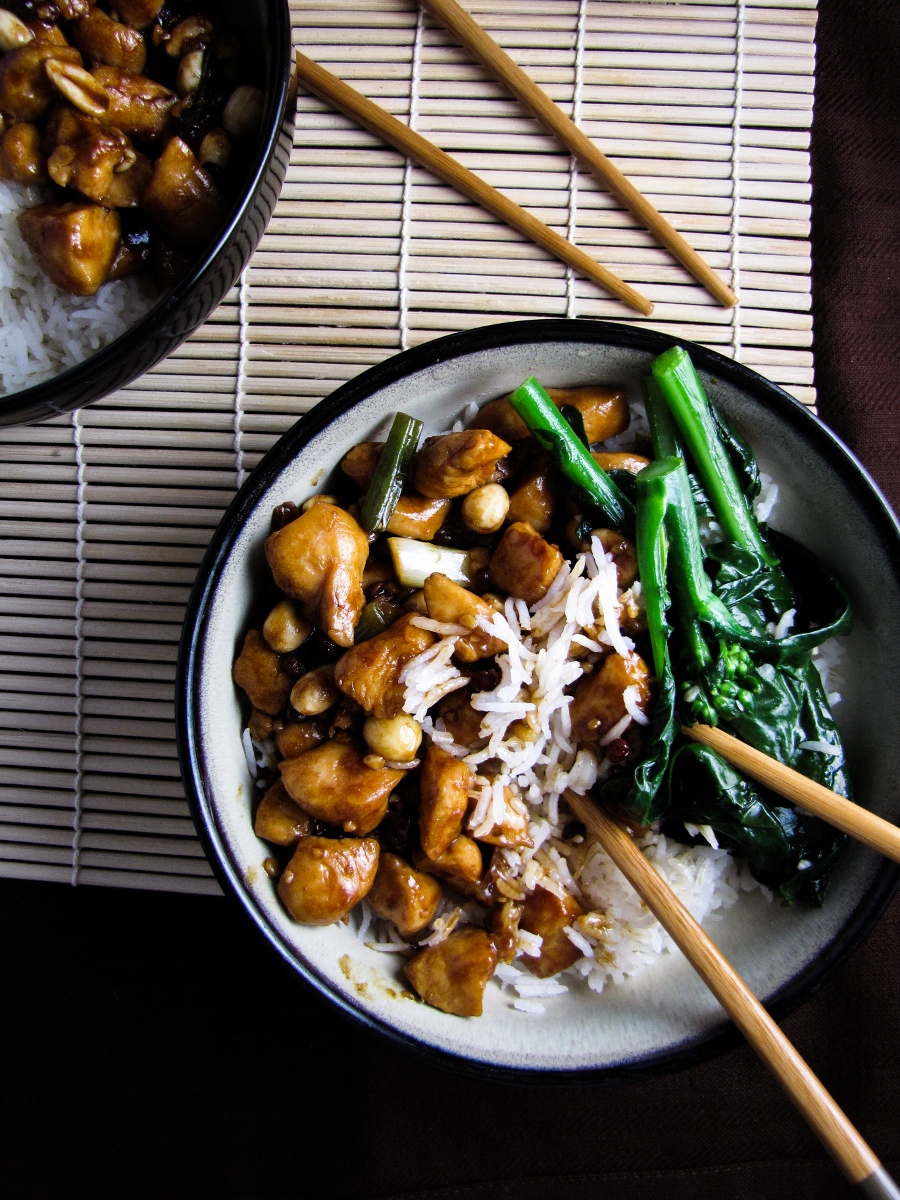 I've always been a bit of a bookworm. When I was at the height of my reading-frenzy, which was probably 4th or 5th grade, I used to keep lists of every book I read during the year, and in the summer, I'd frequently go through multiple books a day. Chapter books, of course. Now, a lot of my book time is spent with cookbooks, although don't be surprised if you find me sitting on the floor in the used paperback section at the bookstore, a stack of 9 books I want to buy at my side. Because I had so much fun writing cookbook reviews this fall, I've decided to make it a more regular feature here. Hopefully, weekly, although I'm not off to a good start, given that I planned to post this on Thursday… I'm blaming blizzard preparations. So I bring you "Book Club," a column that will feature mostly newly released cookbooks, sometimes old cookbooks, and occasionally great fiction or non-fiction I've been reading on the side. I hope you enjoy it!
First up is Every Grain of Rice: Simple Chinese Home Cooking, a book by Fuchsia Dunlop, which was just released on Monday. This is Fuchsia's 3rd cookbook focused on Chinese cuisine – she is also the author of Land of Plenty: A Treasury of Authentic Sichuan Cooking and of Revolutionary Chinese Cooking: Recipes from Hunan Province. In addition, she wrote the memoir Shark's Fin and Sichuan Pepper detailing her food-driven journeys through China. Although not ethnically Chinese, Fuchsia certainly knows the ins and outs of Chinese cooking better than most.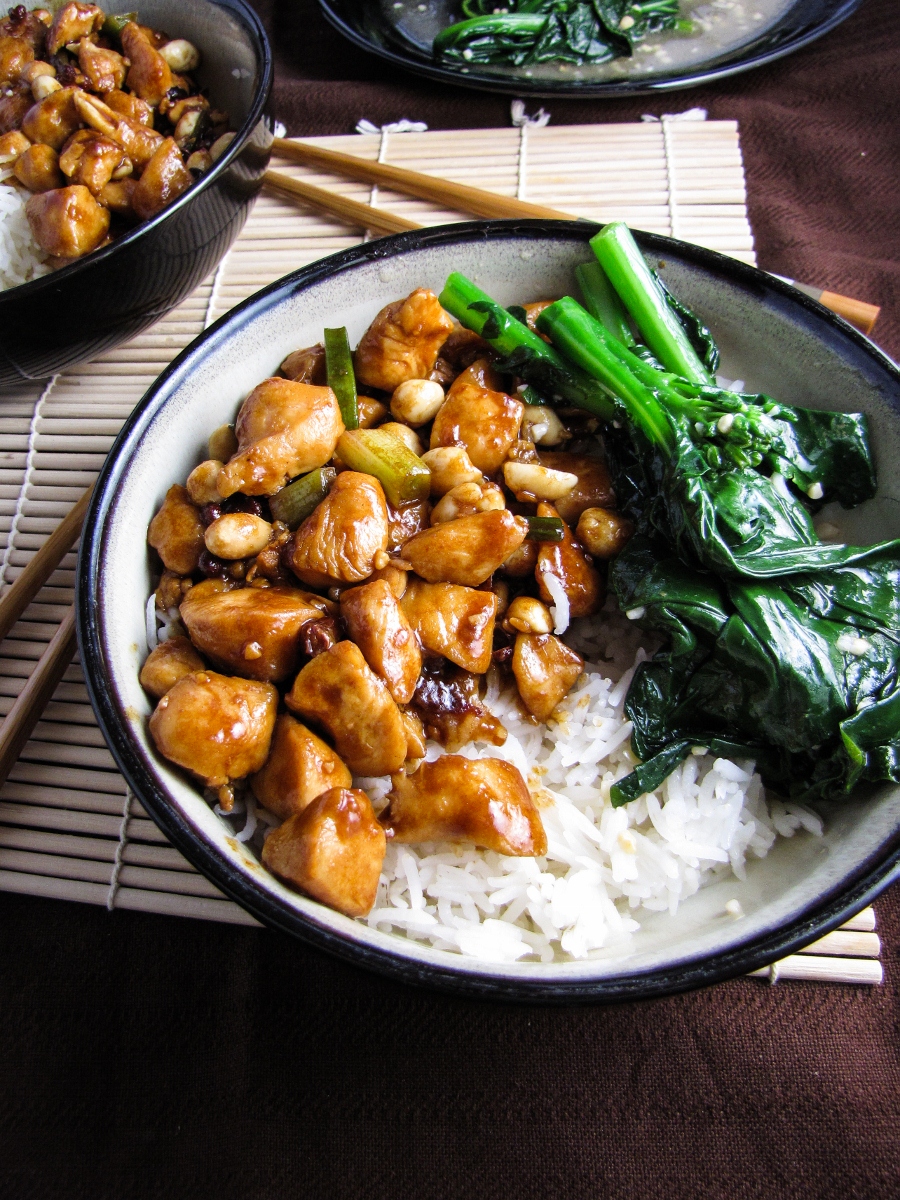 Every Grain of Rice is a solid cookbook. It starts with an introduction to Chinese ingredients, utensils, and techniques, and quickly moves into recipes organized by main ingredient – tofu, leafy greens, chicken & eggs, root vegetables, mushrooms, noodles, dumplings, etc. Every recipe has a lengthy headnote, often describing the history or cultural importance of the dish, as well as the flavor and any adaptations you can make. I'm a big fan of good headnotes – when you're confronted with a book full of a hundred recipes, it makes it so much easier to know what recipe to choose! Almost every recipe also has a beautiful, clean, full-page photograph to go with it. The photographic style is simple and bright, perfectly reflecting the food it depicts.
As I started flipping through the recipes, one of my first thoughts was: "This is how Rongjie eats." Rongjie is my friend/co-worker who sits across from me at work. Both she and her roommate are Chinese, and everyday she brings in a lunch that one of them has made consisting of rice, some sort of dark and saucy meat or tofu dish, and dark leafy greens. It's very different from how I eat, but also very healthy. I decided that for my recipe testing for this book, I would try and emulate this typical Chinese way of eating, by making Gong Bao Chicken, served with Chinese Broccoli in Ginger Sauce and plain rice. And this is where things got interesting.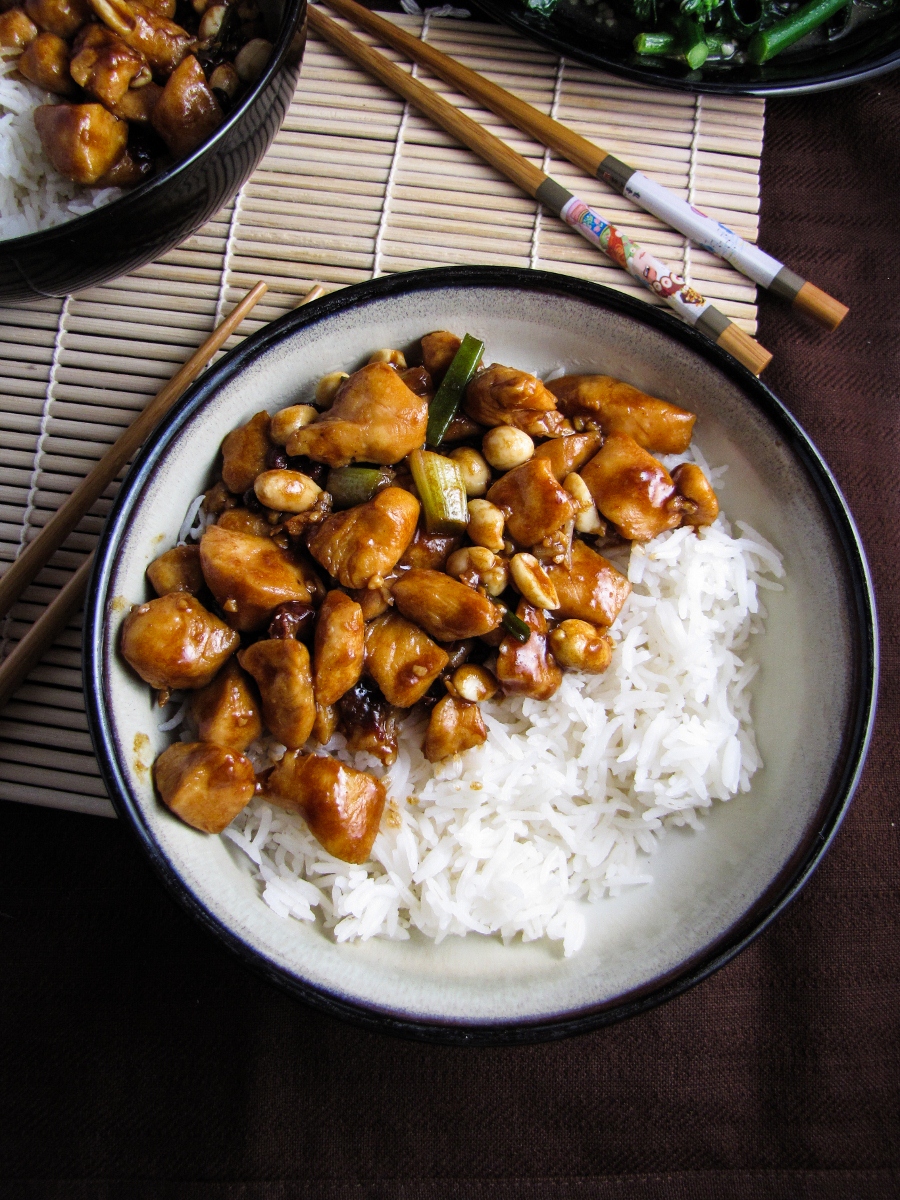 One challenge of Chinese cooking is that you need Chinese ingredients – which can be hard to find, depending on where you live. Since I'm fairly unfamiliar with Chinese cooking, I brought in a list of the ingredients I needed to show Rongjie and to pick her brain on what they were like, and what might be good substitutes if I could't find them. Her suggestion? Just go to Chinatown. But I didn't want to go by myself, so I coerced her into coming with me to show me where to go, which is how both of us ended up in an insanely crowded Chinese grocery store, two hours before the MBTA shut down for the blizzard, and two days before Chinese New Year. INSANE. But really exciting. I was super over-stimulated in there – rows and rows of bright and unfamiliar ingredients, being pushed on all sides by tiny old Chinese ladies, the smell of fish in the air, occasional announcements in Chinese that seemed to cause quite a stir among the other shoppers… it was an experience. But I got what I needed – dark soy sauce, Shaoxing wine, Chinkiang vinegar, potato starch, and Chinese broccoli.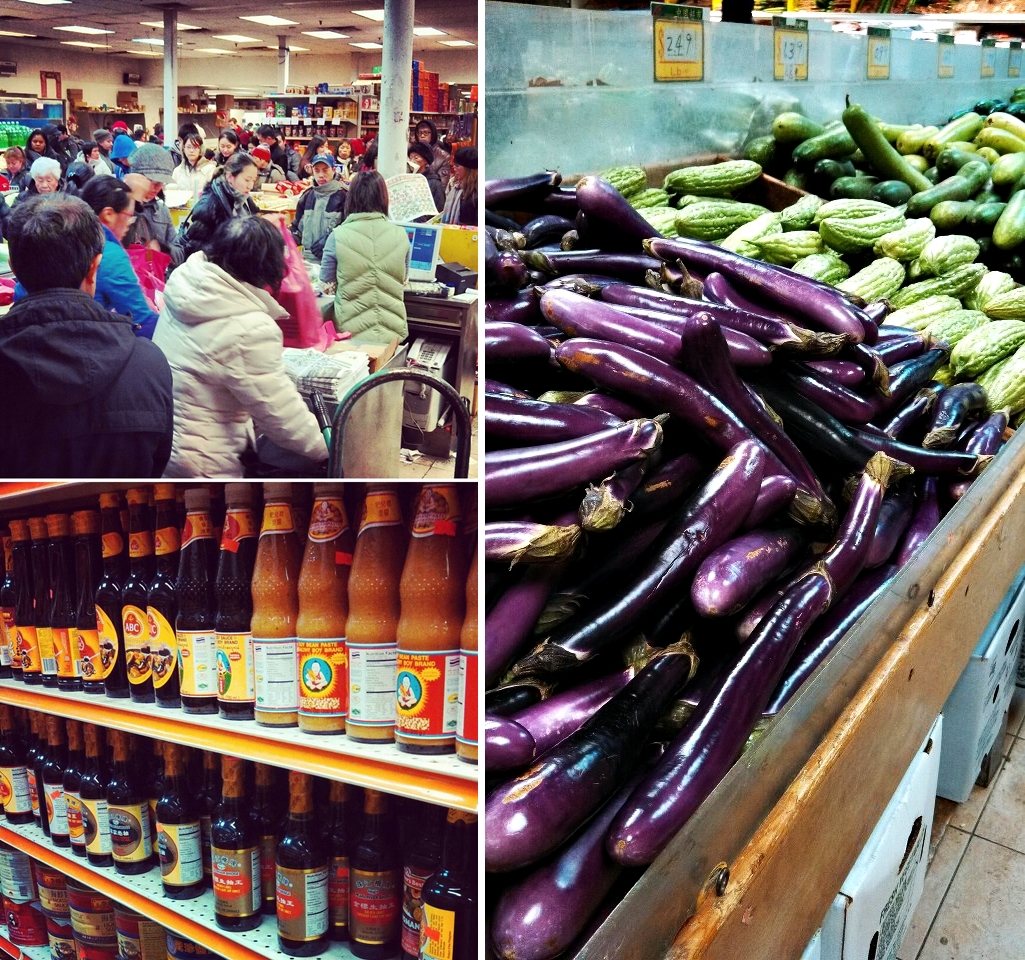 When I got home, snow swirling outside, I was ready to start cooking. But after all that adventuring, I discovered that both my garlic and my ginger had somehow managed to go bad. Sigh. I went forward anyways, borrowing minced garlic and using dried ginger instead. Not as authentic as I wanted, but both dishes still tasted great, so it was all OK. The chicken in particular was delicious – sweet, salty, and spicy, with a thick tangy sauce, it was as good as any Chinese takeout I've had. And since I have massive bottles of soy sauce, wine, and vinegar leftover, I'm excited to start trying some of the other recipes – like Stir-Fried Beef with Black Bean and Chili, General Tso's Chicken, and Buckwheat Noodles with Red-Braised Beef. The real test of any of these dishes, though, will be when I bring the leftovers in for lunch and get Rongjie's expert opinion. If she has any comments, I'll report back.
The bottom line: Every Grain of Rice is a solid cookbook that serves as a great introduction to simple Chinese cooking. Based on my limited knowledge of Chinese cuisine, the recipes seem authentic, and the few that I've tried have been delicious. Cooking from the book will require an investment in a few special ingredients, but once you have the basics, you'll be able to cook most of the recipes in the book. From a design standpoint, Every Grain of Rice is clean and well organized, with plenty of beautiful full-page photographs. I'd recommend this to anyone who likes eating Chinese food, or who is interested in learning a new cuisine.
Disclaimer: I was sent a free review copy of Every Grain of Rice by the publisher, W.W. Norton, but I was not otherwise compensated to write this review and all opinions are my own!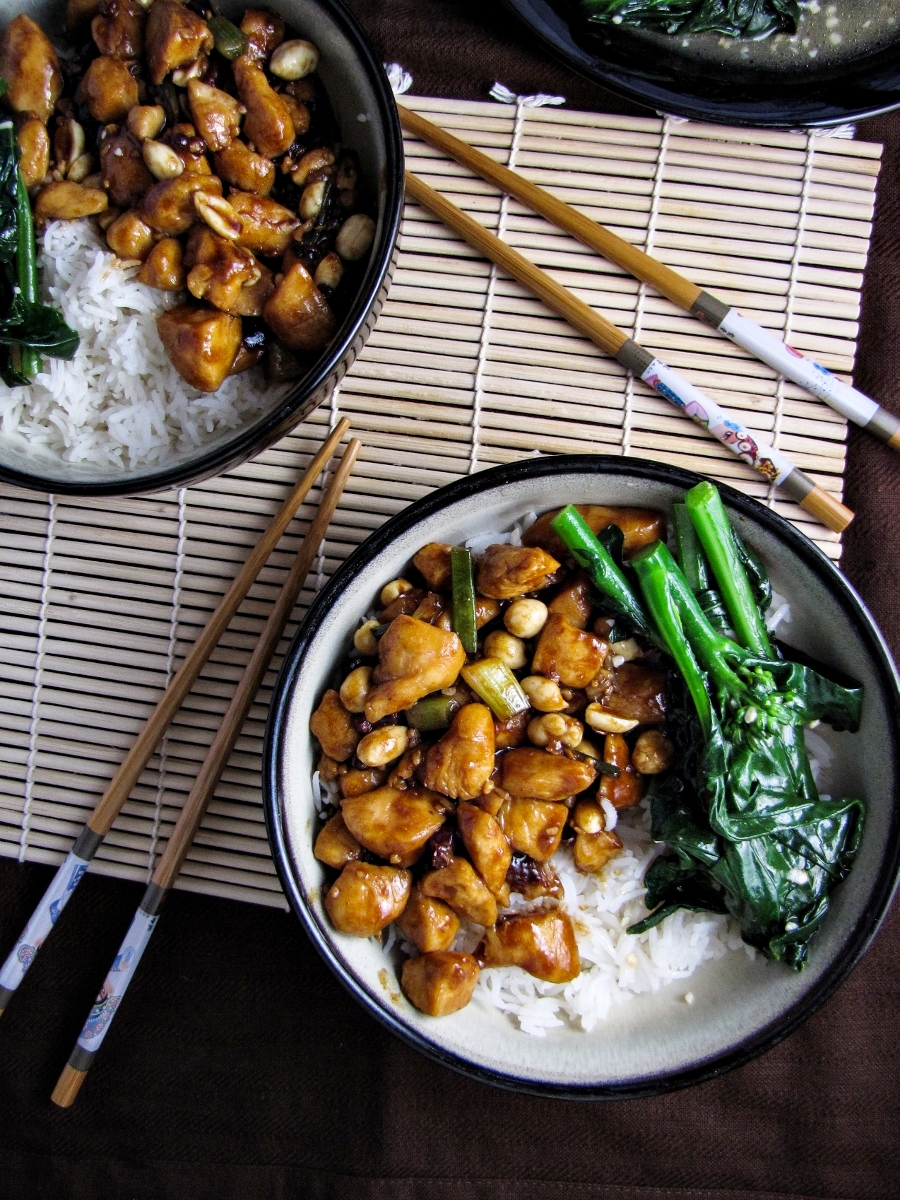 Gong Bao Chicken with Peanuts
Reprinted from Every Grain of Rice: Simple Chinese Home Cooking by Fuchsia Dunlop. Copyright © 2012 by Fuchsia Dunlop. With the permission of the publisher, W.W. Norton & Company.
2 boneless chicken breasts, with or without skin (11–12 oz/300–350g in total)
3 garlic cloves
An equivalent amount of ginger
5 spring onions, white parts only
A handful of mild dried chillies (about 10)
2 tbsp cooking oil
1 tsp whole Sichuan pepper
3 oz (75g) roasted peanuts
For the marinade:
1/2 tsp salt
2 tsp light soy sauce
1 tsp Shaoxing wine
11/2 tsp potato flour
For the sauce:
1 tbsp sugar
3/4 tsp potato flour
1 tsp dark soy sauce
1 tsp light soy sauce
1 tbsp Chinkiang vinegar
1 tsp sesame oil
1 tbsp chicken stock or water
Cut the chicken as evenly as possible into 1/2 in (11/2cm) strips, then cut these into small cubes. Place in a small bowl. Add the marinade ingredients together with 1 tbsp water, mix well and set aside while you prepare the other ingredients.
Peel and thinly slice the garlic and ginger and chop the spring onions into chunks as long as their diameter (to match the chicken cubes). Snip the chillies in half or into sections. Discard their seeds as far as possible. Combine the sauce ingredients in a small bowl.
Heat a seasoned wok [or frying pan] over a high flame. Add the oil with the chillies and Sichuan pepper and stir-fry briefly until the chillies are darkening but not burned (remove the wok from the heat if necessary to prevent overheating). Quickly add the chicken and stir-fry over a high flame, stirring constantly. As soon as the chicken cubes have separated, add the ginger, garlic and spring onions and continue to stir-fry until they are fragrant and the meat just cooked through (test one of the larger pieces to make sure).
Give the sauce a stir and add it to the wok, continuing to stir and toss. As soon as the sauce has become thick and shiny, add the peanuts, stir them in and serve.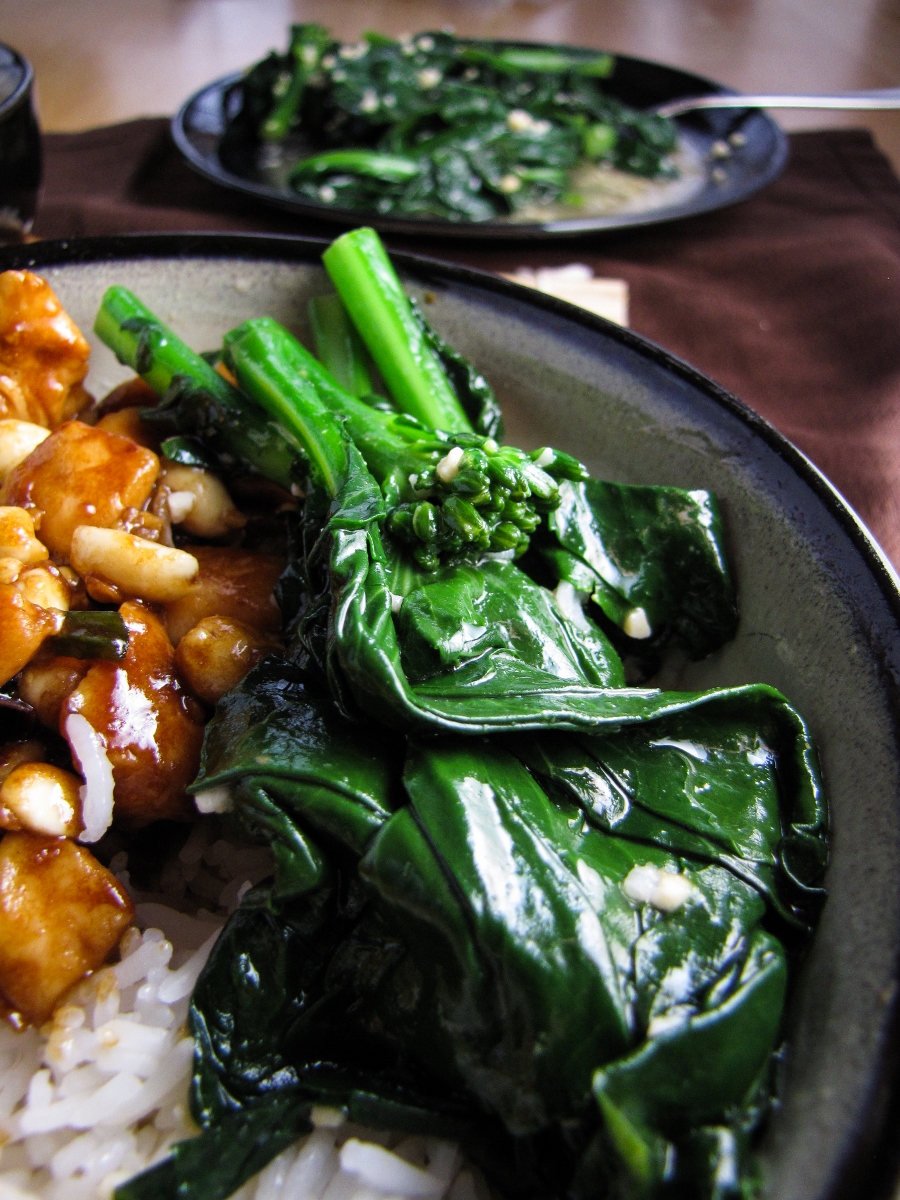 Chinese Broccoli in Ginger Sauce
Reprinted from Every Grain of Rice: Simple Chinese Home Cooking by Fuchsia Dunlop. Copyright © 2012 by Fuchsia Dunlop. With the permission of the publisher, W.W. Norton & Company.
3/4 lb (350g) Chinese broccoli
Salt
4 tbsp cooking oil
2 tbsp finely chopped ginger
1 tbsp Shaoxing wine
1/2 tsp sugar
1 tsp potato flour mixed with 1 tbsp cold water (optional)
Bring a large panful of water to a boil (a generous 21/2 quarts/21/2 liters will do). Wash and trim the Chinese broccoli. If the lower parts of the stems are thick and fibrous, peel away their outer skin with a potato peeler.
When the water is boiling, add 1 tbsp salt and 1 tbsp oil, then the Chinese broccoli. Blanch it for a minute or two to "break its rawness." The stems should be just tender, but still crisp. If you are stir-frying them immediately, simply drain the broccoli stems and shake dry in a colander; if you want to serve them later, refresh the stems under a cold tap to arrest cooking before draining well.
When you wish to serve the broccoli, add the remaining oil to a seasoned wok over a high flame, swirl it around, then add the ginger and sizzle briefly until you can smell its fragrance. Splash in the Shaoxing wine and add the sugar. Add the broccoli and stir-fry, adding salt to taste, until it is piping hot. (If you are using broccoli blanched earlier, then cooled, you will need to pour 2–3 tbsp water or stock into the wok and cover it, so the stems reheat thoroughly.)
Remove the stems from the wok and lay them neatly on a serving dish. If you wish to thicken the juices, give the potato flour mixture a stir and add just enough, in stages, to thicken the sauce to a clingy consistency; then pour the sauce over the broccoli and serve. If you do not wish to thicken the juices, simply pour them and the ginger over the broccoli.
0