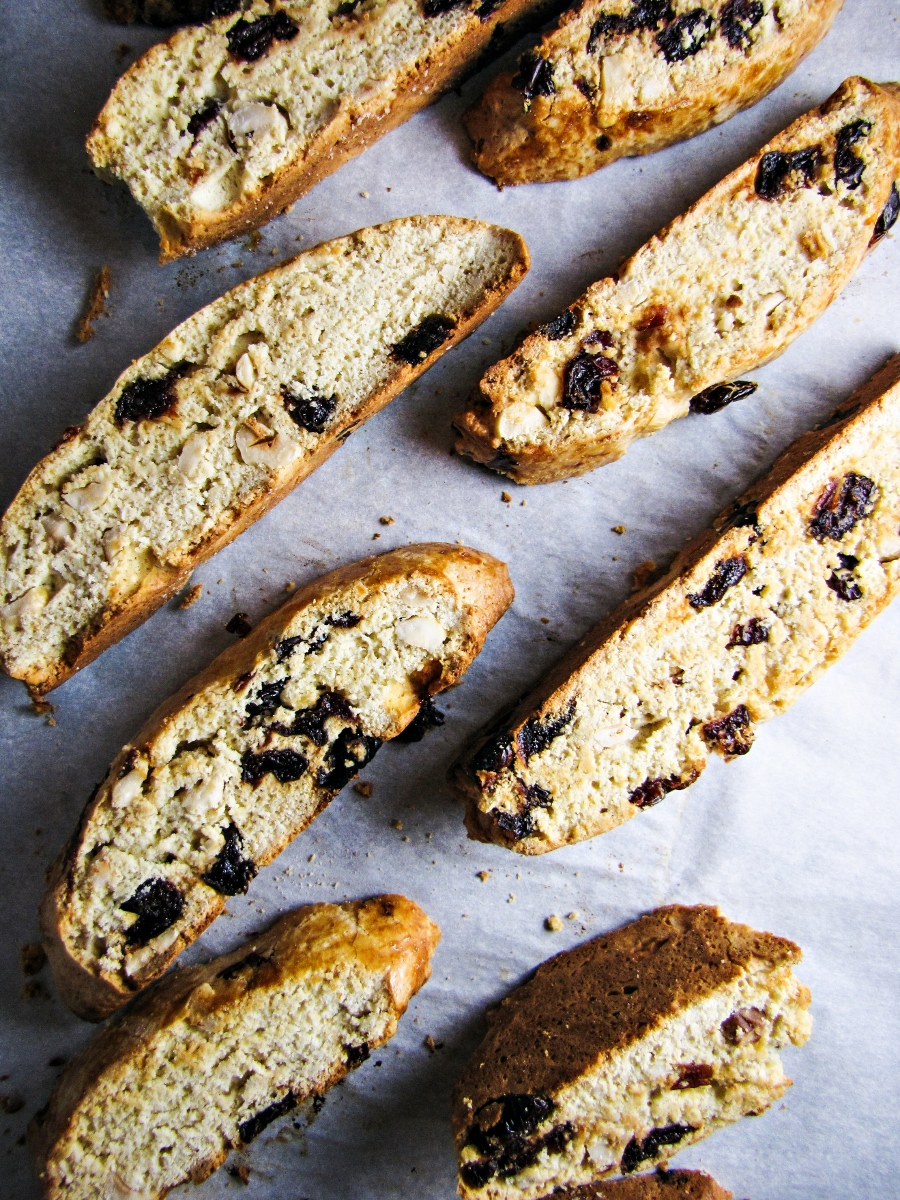 Even though my last post was only five days ago, I somehow feel like I've been avoiding writing here, and I feel guilty. What is that all about anyway, blogger's guilt? It's unwelcome, and I would like it to leave. I tried in earnest to post yesterday – something healthy, since I seem to have been avoiding healthy food posts since finishing the cleanse. I was planning on sharing lamb-and-beet burgers with goat cheese and fried eggs, inspired by Nigel Slater's Tender. But they came out more like lamb-and-beet sloppy joes, probably because I skipped half the steps out of laziness, and I also didn't measure any of the ingredients. My bad.
So I'm reverting to cookies. Biscotti, actually, since somehow they seem to me to be a healthier sort of cookie, something just a little sweet and crunchy to have with your tea and help tide you over until dinner. I seem to need a lot of "tiding over" the past few weeks – winter is starting to drag on, and when the light starts to leave the sky and you can tell just by looking that it's going to be breathtakingly cold as soon as you leave the building, it's a little depressing. So I've been guzzling mug after mug of cinnamon spice tea, and trying my best not to snack mindlessly from the office snack drawer. Tomorrow, though, mindless snacking won't be a problem – I'll bring a few of these little guys, and have them to look forward to all morning. A cup of tea, a small plate of biscotti, and I'll have made it over the hump. And soon, I know the days will get longer and the weather warmer, my seedlings will start to flourish, spring will be back, and maybe I'll no longer need tiding over. It isn't so much longer, you know.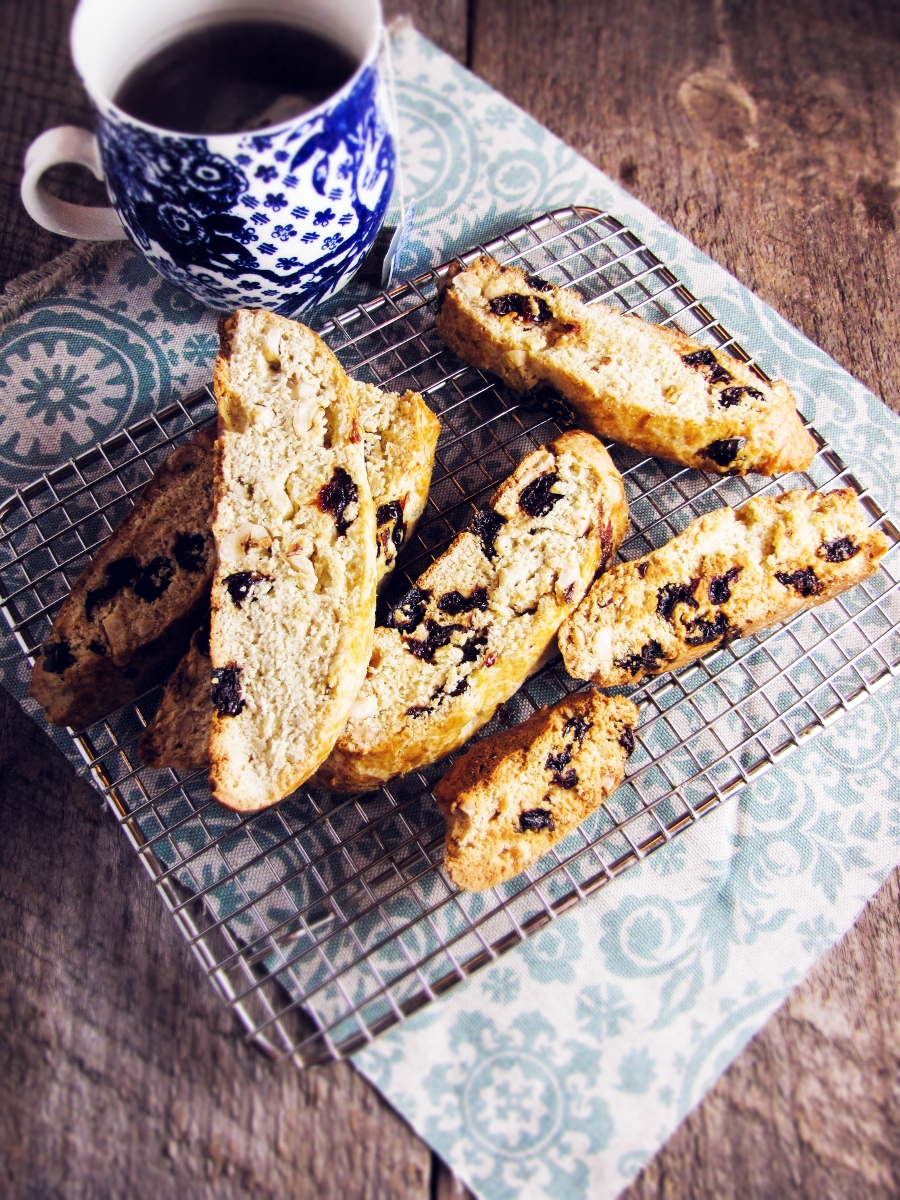 Cherry-Hazelnut Biscotti
Adapted slightly from Martha Stewart. Makes about 3 dozen.
1 3/4 c. dried cherries
1/2 c. frangelico liqueur
3 c. flour
2 tsp baking powder
1/2 tsp coarse salt
4 TBS salted butter, softened slightly
1 c. sugar
4 eggs (3 for dough and one for brushing the cookies)
2 tsp vanilla extract
3/4 c. coarsely chopped hazelnuts
Preheat oven to 325°F. Place dried cherries and frangelico in a small saucepan, and bring to a low simmer over medium-low heat. Cook until cherries have softened, 5-8 minutes, stirring occasionally. Strain the cherries, reserving the cherry-frangelico liquid.
In a medium  bowl, whisk together flour, baking powder, and salt. Set aside. In a separate, larger bowl, beat together softened butter and sugar until pale and creamy. One at a time, beat 3 of the 4 eggs into the batter – it should be pale yellow and fairly runny. Beat in the vanilla, and 2 TBS of the reserved cherry-frangelico liquid. Add the flour to the wet ingredients a cup at a time, stirring between additions, until dough is smooth. Stir in cherries and hazelnuts until evenly incorporated.
Lightly flour a work surface and turn the dough out onto it. Divide the dough in half, and shape into two logs about a foot long each. Flatten the logs to make rectangles that are a half inch thick. Transfer to a baking sheet lined with parchment paper. Beat the remaining egg lightly in a small bowl. Brush the beaten egg on top of the dough. Bake for 35 minutes, then remove from oven and allow to cool for 20 minutes on wire racks.
Reduce the oven temperature to 300°F. Slice each log on the diagonal into cookies about 1/2 inch thick. Lay cookies down on the baking sheet, and bake for 8 minutes. Remove from oven, flip the cookies, and bake for another 8 minutes. Remove and let cool. Store in an airtight container.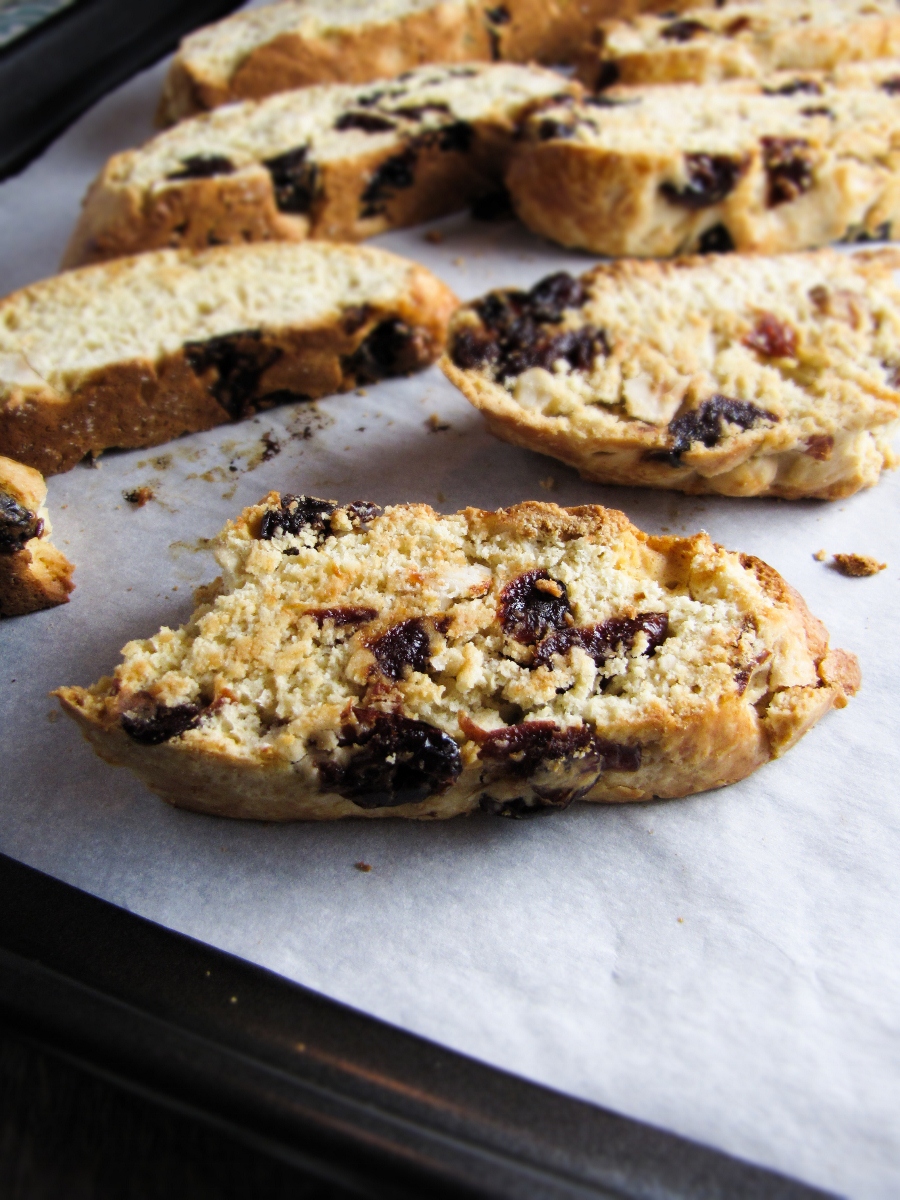 0