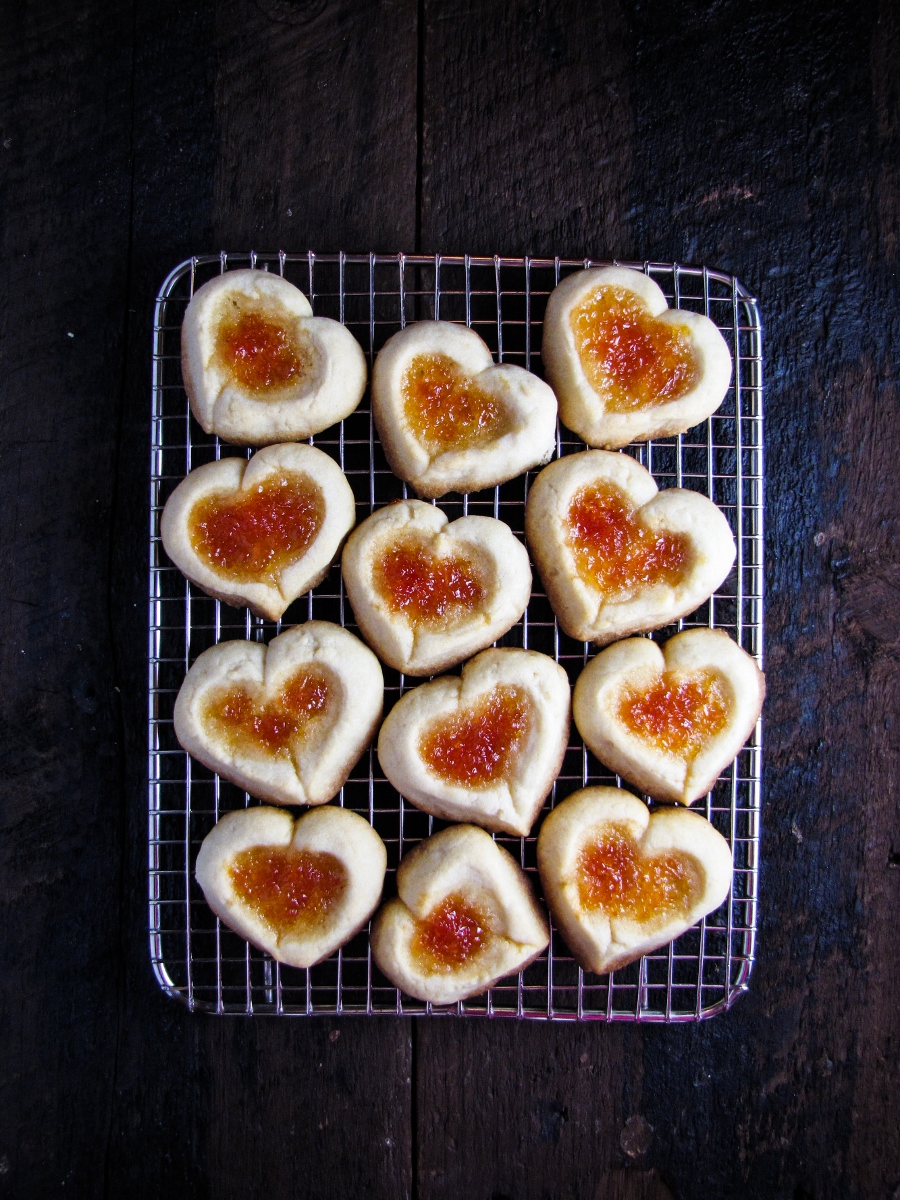 So, fellow New Englanders, how did the blizzard treat you all? I'm refusing to call it Nemo, because I can't imagine sitting on my porch in 50 years and telling my grandchildren  "I remember back when Nemo hit…" Nope. I'm gonna be sitting there grumping about the Blizzard of '13. Because stoicism is a valuable quality in a New Englander.
Anyway, the storm was fairly uneventful for me. I woke up Friday morning with a nasty cold, so leaving work early on Friday and getting to spend most of the weekend sleeping was actually fairly well-timed. I did spend about 3 hours shoveling on Saturday afternoon. It was kind of weird – I don't think I've ever seen more people outside in my neighborhood at one time. People were chatting, playing music, commiserating. Even on Sunday, the streets were filled with people walking around carrying shovels, only a handful of cars crawling by. It felt old-fashioned, somehow. I was a little bit disappointed to find out that city/adult-life blizzards mean mostly shoveling, while country/kid-life blizzards have a lot more playing in the snow and sitting by the fire playing board games. Of course, being sick may have had something to do with that trade-off.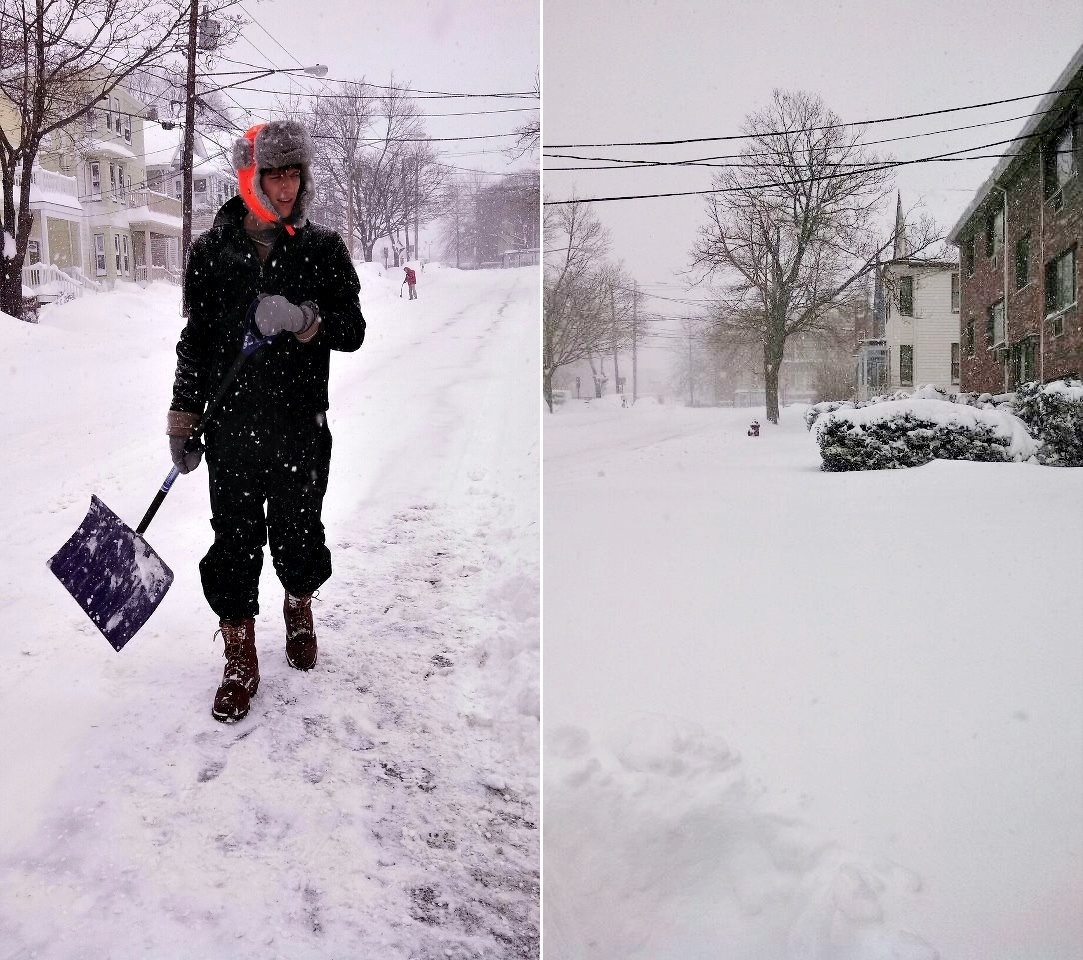 I'm still not feeling stellar, but, thanks to Trevor, I've eaten plenty of the world's best homemade chicken noodle soup to speed me on my way back to health. With that taken care of, I wanted to make something a little sweeter. Specifically, I wanted to find a way to celebrate some of the super juicy grapefruits Trevor picked up for me during his trip to Texas last week. Grapefruit is a hard flavor to capture outside of eating it fresh – so much of what makes it wonderful lives in the refreshing burst of sweet-tart juice that it offers, and it doesn't always translate well to desserts. Of the 6 grapefruit recipes I have bookmarked in my massive online recipe organizer, 5 of them are for frozen desserts, and the 6th is for a cocktail – neither of which I was in the mood for. I've had success in the past with concentrating the juice to be used in a buttercream, but I wasn't feeling like cake, either. I wanted something juicy. So I made grapefruit-ginger bars, hoping for a smooth, tangy, filling that would be bursting with flavor and make me pucker up in delight. But, as you can see, there are no grapefruit-ginger bars pictured here – they just didn't quite come out right. Option number 2? Jam. And cookies.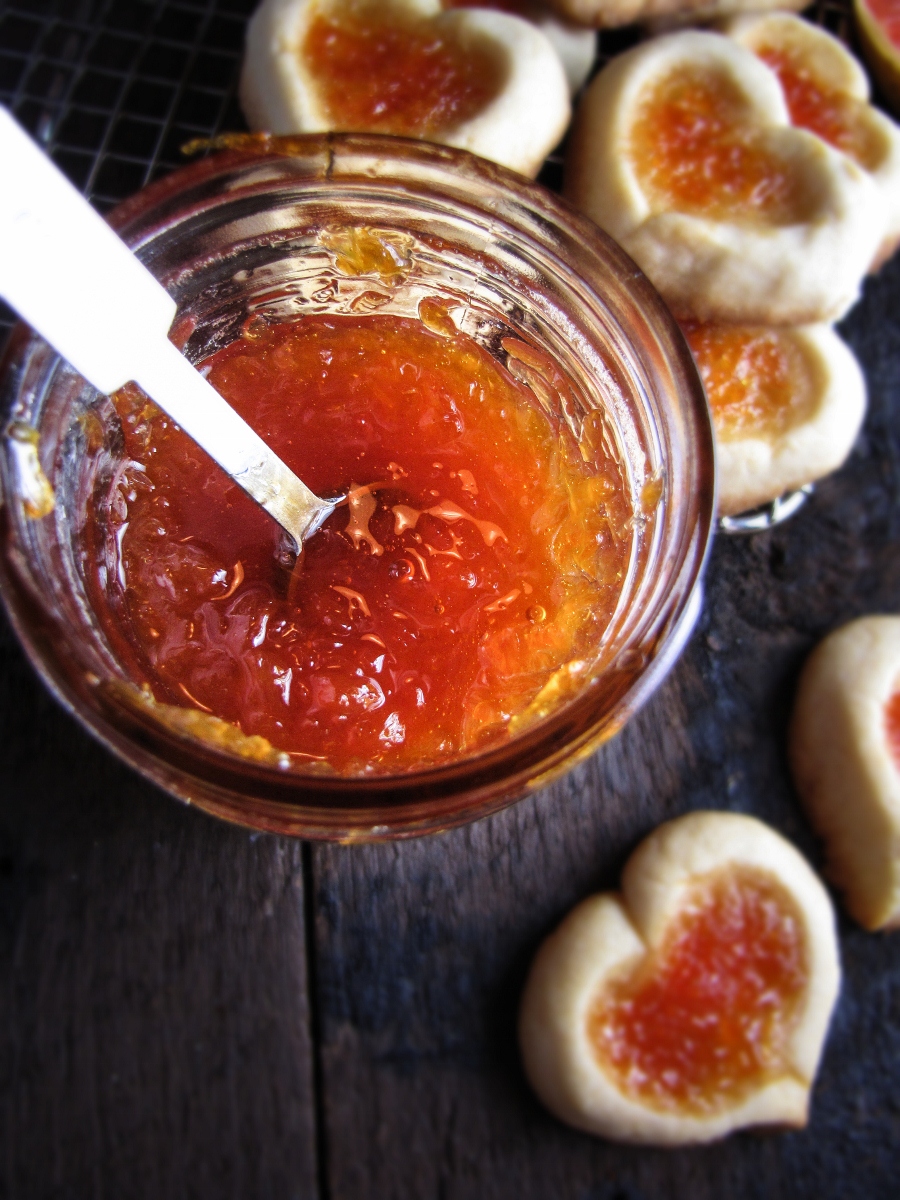 These cute little thumbprint cookies more than made up for the failure of the grapefruit bars. The buttery shortbread crust has just enough ginger to alert you to its presence without overwhelming the flavor, and the grapefruit jam is lip-puckeringly tart, without any trace of bitterness. Since Valentine's Day is only two days away, and grapefruits are conveniently pink already, I made these cookies in a heart shape – check out Once Upon A Cutting Board for pictures that show you how to shape them. If you're pressed for time though, or just don't like schmaltzy heart-shaped things, they'll be just as tasty in the standard circular form. I have plenty of jam leftover, and I'm most excited to try it out on scones. There's just nothing like a scone with tart jam and thick cream. But until I get around to making scones, I'll be trying to restrain myself from eating the rest of these cookies in a sitting. They're really that good.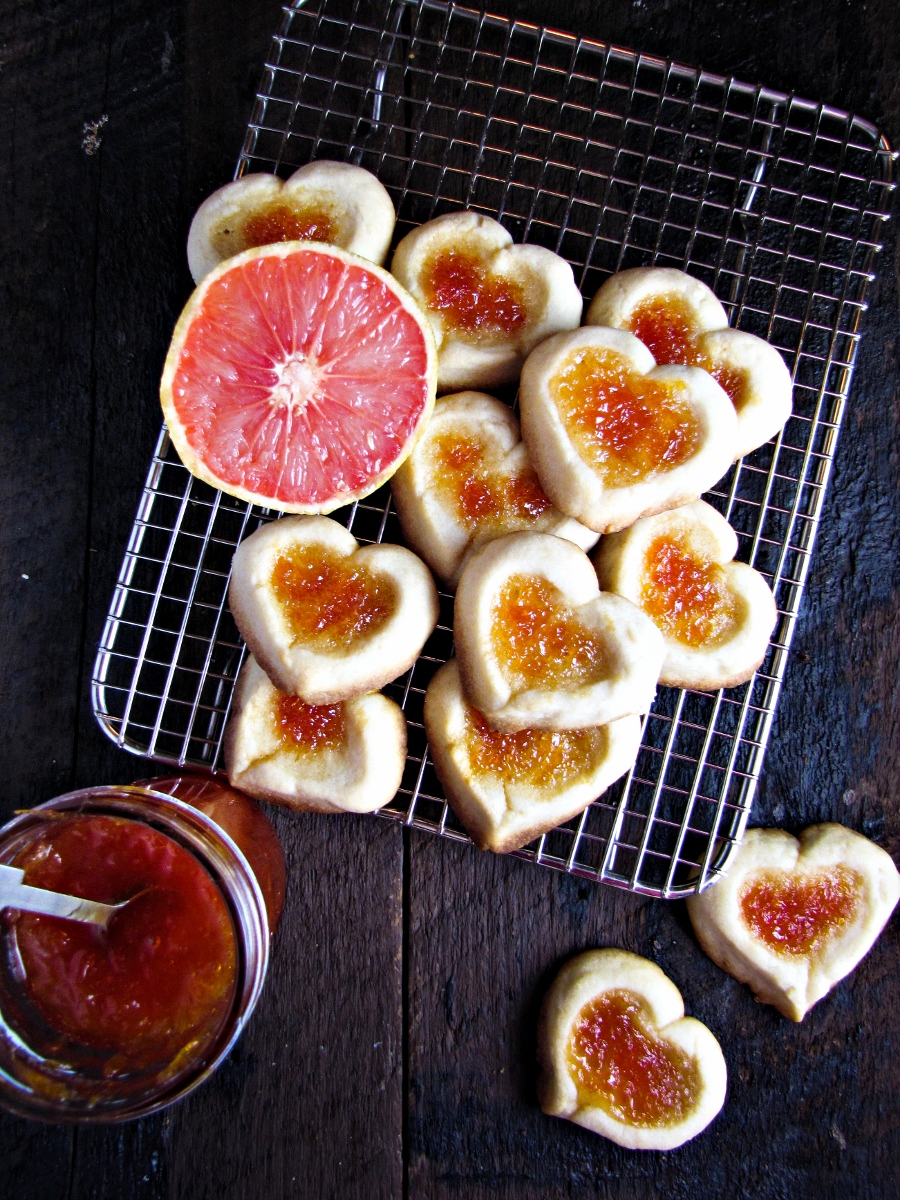 Grapefruit-Ginger Thumbprint Cookies
Recipe adapted from Not Your Momma's Cookie and Once Upon A Cutting Board. Makes 24 cookies.
1 1/2 stick salted butter, well-softened
2/3 c. sugar
1 egg
1 tsp vanilla extract
1 3/4 c. flour
1/2 tsp baking powder
1 tsp ground ginger
1/2 c. grapefruit jam (recipe below)
Preheat the oven to 350°F. In a large bowl, beat together the butter and sugar until light and fluffy, about 3-4 minutes. Beat in the egg and the vanilla extract until fully incorporated.
In a medium bowl, whisk together the flour, baking powder, and ginger until combined. Add to the butter mixture and beat until the dough comes together into a smooth ball.
Pinch off small pieces of the dough and roll into balls about 3/4 inch in diameter – you should get about 48 balls in total. Place the balls together in pairs on a baking sheet so that they're touching (if it helps you envision this, they will look kind of like butt cheeks). Press your thumb into each ball at an angle so that your thumbprints make a rough heart shape. Pinch the bottoms of the two balls together to complete the bottom of the heart, then press the thumbprint a little deeper. The whole process is kind of like making a clay pinch pot. Fill each heart indentation with jam (don't overfill or it may spill out during baking). Stick the baking sheet and cookies in the freezer for 5 minutes, then place directly in the oven and bake for 14-16 minutes, until lightly golden brown around the edges. Remove with a spatula to a cooling rack.
Grapefruit Jam
Recipe adapted slightly from Food in Jars. Makes one 1/2-pint jar.
3 large red grapefruits
3/4 c. sugar
Cut the peel off the grapefruits, completely removing all of the white pith. Squeeze the peels out over a large saucepan to catch the juice. Supreme (remove the segments from the membranes) the peeled grapefruits – my favorite way to do this is simply to peel the fruit away from the membrane using my fingers, but some people prefer to use a knife to cut between sections. Remove all seeds and set aside. Place the grapefruit segments and any juice in the saucepan. Add the sugar and stir to dissolve. Place the reserved seeds in a small cloth bag designed for cooking and tie-off – the seeds will add additional pectin to the jam.
Bring the grapefruit to a boil over medium-high heat. Cook, stirring regularly, until the jam reaches 220°F and  passes the plate test/sheet test. Remove from heat and ladle into your storage container (if plastic, let jam cool slightly first). I didn't can this batch since I was only making one jar, but if making a larger batch follow canning instructions on Food in Jars.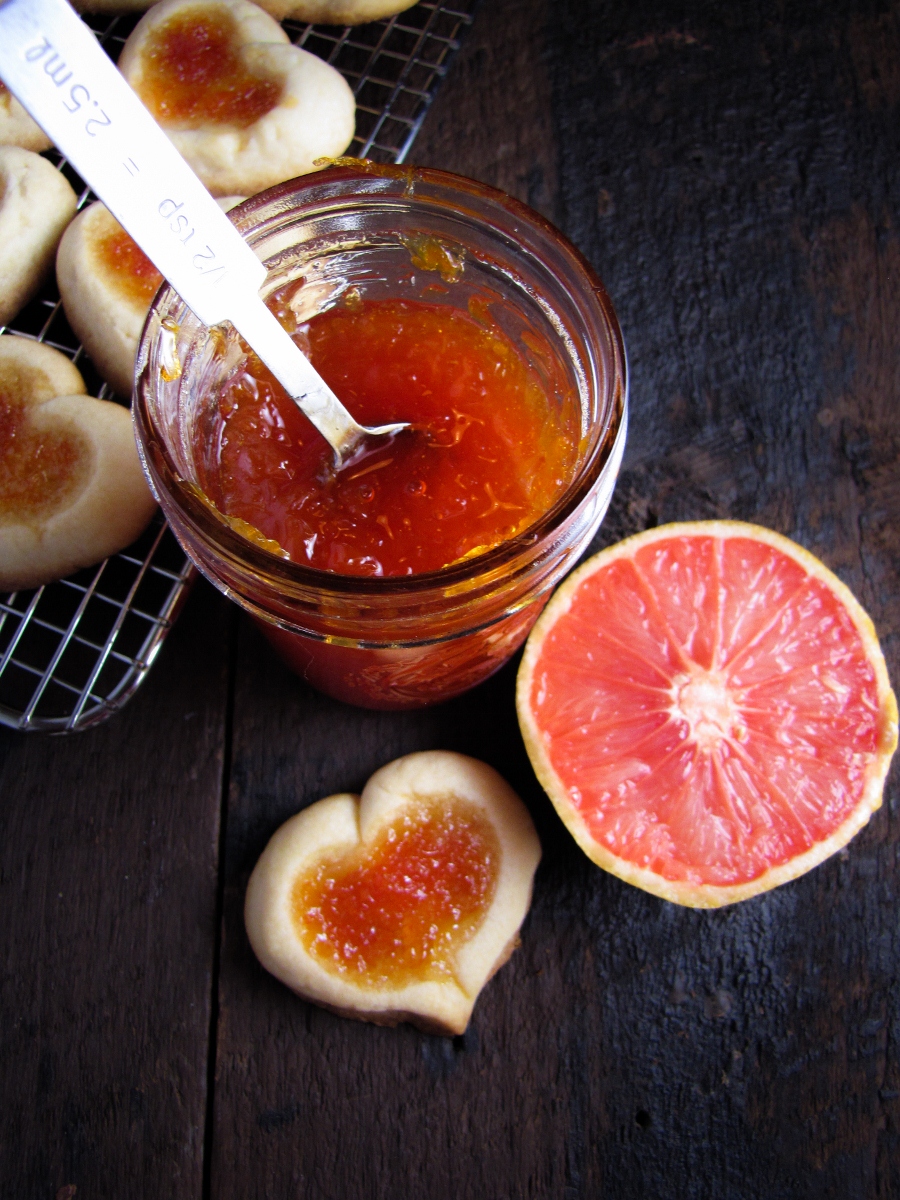 0