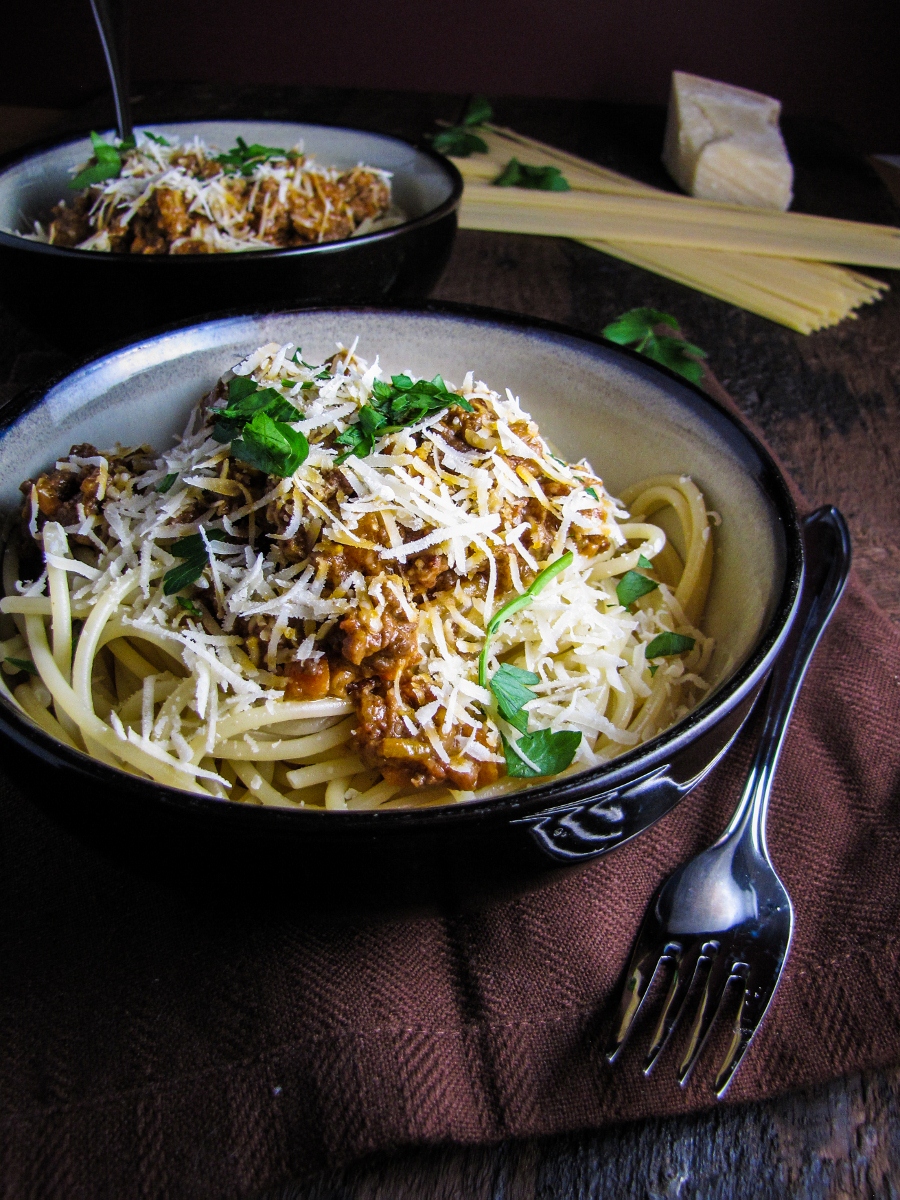 It's funny, before I really cooked much cookbooks were a single category, filed in my brain under "types of books."  Now, when I open a cookbook, I instantly start checking off characteristics: single-subject, informational, restaurant tribute, DIY… the list goes on.  It's kind of like buying a couch.  Before you've ever bought a couch, you think – "couches, they're pretty simple, the only difficult part of this will be having so many to choose from!"  Then you start shopping for couches, and slowly you start checking off things you like and don't like – skirted couches are out, no plushy cushions, definitely not leather.  Before you know it, your couch-shopping-brain is saying "structured couch, must have arms, wooden legs, a blue-gray linen but not too finely woven, curved back, three cushions not two" and your problem has become that you can't find the couch of your dreams.
Anyway, couches are not the point.  The point is, cookbooks are all different.  This one, La Cucina Italiana: The Encyclopedia of Italian Cooking, very much fits its title.  Before anything else, it's instructive. It's not a book that I'd be likely to turn to for spur-of-the-moment inspiration, but it is one that I would reach for when I had a question – how do you make homemade tomato puree?  Why should you purchase bronze-cut spaghetti? What is the classic preparation of Pasta All'amatriciana?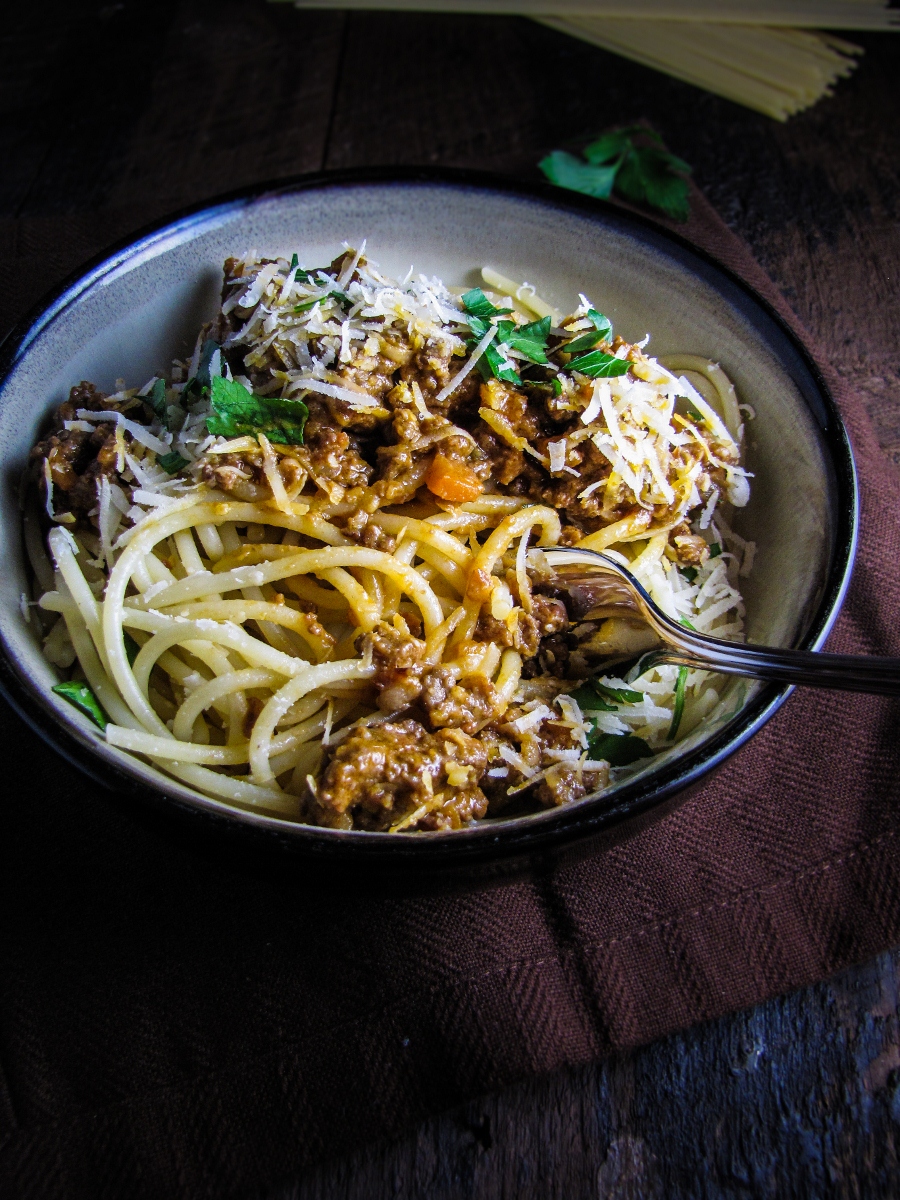 This book was created by the editors of La Cucina Italiana magazine, and covers 21 categories of Italian cuisine in its 450 pages, including fresh pasta, dried pasta, garden vegetables, beef, pork, poultry, lamb, seafood, and desserts. Many of the recipes are photographed step-by-step, making it visually simple to understand the preparations.  Aesthetically, I'm not usually a big fan of this sort of photography, but here it's entirely appropriate, and very useful.  Folding tortellini, making couscous by hand, peeling and coring celeriac – these are things that aren't very intuitive the first time around!
One trade-off for having all of this useful information packed into one book?  You lose the personal voice and story.  Many of my favorite cookbooks are my favorites precisely because I can hear the author's thoughts through their words, because their recipes are accompanied with stories that ignite my imagination. This book is missing that element, but it does make a great reference for preparing the most classic Italian dishes.
I have to mention one thing that really frustrates me about this book – the recipe layout. The introduction explains that there are several types of sections in this book – ingredient guides, which cover basic information about the taste and varieties of various ingredients; feature recipes, which are laid out like a traditional recipe, with an ingredient list and numbered steps; and essential methods, which are basic recipes using the ingredient in question, and are laid out paragraph style. The majority of the recipes in this book come from the "essential methods" sections, and while I understand what they were going for with the layout, I find it somewhat irritating not to have a separate list of ingredients and amounts available when I'm writing a grocery list or planning a menu. It may just be personal taste, but I think it would make using these sections of the book a bit more challenging for beginners.
However, overall this book is a well thought-out, thorough, and useful guide to Italian cooking. Because this book focuses on traditional cuisine, I wanted the first recipe I tried to be a classic, so I went with the most classic one I could find – spaghetti bolognese. The preparation was very simple, and after two long hours of the ragu simmering on the stove and making my whole house smell like the North End, Trevor and I finally dug into huge bowls of spaghetti topped with the tender, flavorful sauce and some good Parmesan. The sauce was spot-on, exactly what you might have in your favorite Italian hole-in-the-wall restaurant when you were craving comfort food. Next time I'm definitely making a double batch to freeze!
The bottom line: La Cucina Italiana: The Encyclopedia of Italian Cooking is a great learning book for both beginning and advanced home cooks. While it's not the most inspiring cookbook I own, its practical information and detailed step-by-step photographs will make it a book that I turn to when I need to know the basics of a classic Italian recipe. The recipes themselves are fairly traditional, and they are well-tested and clearly explained.
Disclaimer: I was sent a free review copy of La Cucina Italiana by the publisher, Rizzoli New York, but I was not otherwise compensated to write this review and all opinions are my own!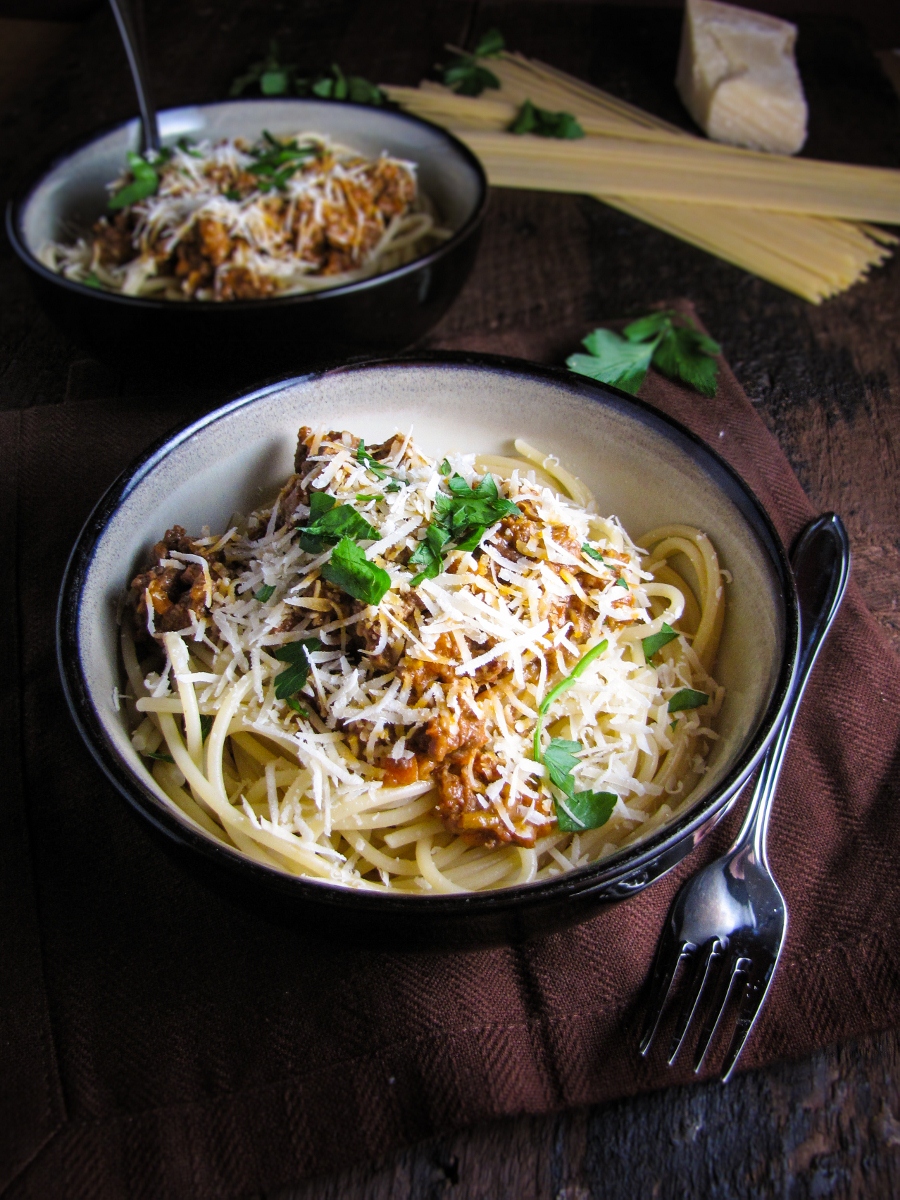 Classic Spaghetti Bolognese
Recipe from La Cucina Italiana: The Encyclopedia of Italian Cooking. Serves 3-4.
2 oz. pancetta, minced
1 carrot, peeled and minced
1 stick celery, minced
1 onion, minced
1 lb ground beef
1/2 c. dry white wine
2 TBS tomato paste
3/4 c. whole milk
salt to taste
3/4 to 1 lb. spaghetti, cooked according to package directions
Add pancetta to a large saucepan and place over medium heat. Cook, stirring occasionally, for 5 minutes, or until pancetta begins to crisp. Add carrot, celery, and onion to pan, and cook, stirring the whole time to prevent burning, for another 8 minutes, or until beginning to soften.
Add ground beef to the pan and brown, chopping up into small bits with a wooden spoon. Cook until mostly browned, about 5 minutes. Add the white wine, stir to incorporate, and raise heat to bring to a boil. Cook until it has almost completely evaporated.
Add the tomato paste to 1 1/2 c. warm water and stir to dissolve. Add this to the pan, and stir to incorporate. Reduce heat to a low simmer. Place the milk in a pourable container. Add a small splash of the milk to the pan and stir to incorporate. Cook the ragu at a low simmer for 1 1/2 to 2 hours, adding a small splash of milk and stirring every 10-15 minutes, until you've used up all the milk. Season with salt to taste (do this at the very end so you don't over-salt it). Serve ragu over spaghetti with a generous grating of parmesan cheese.
6