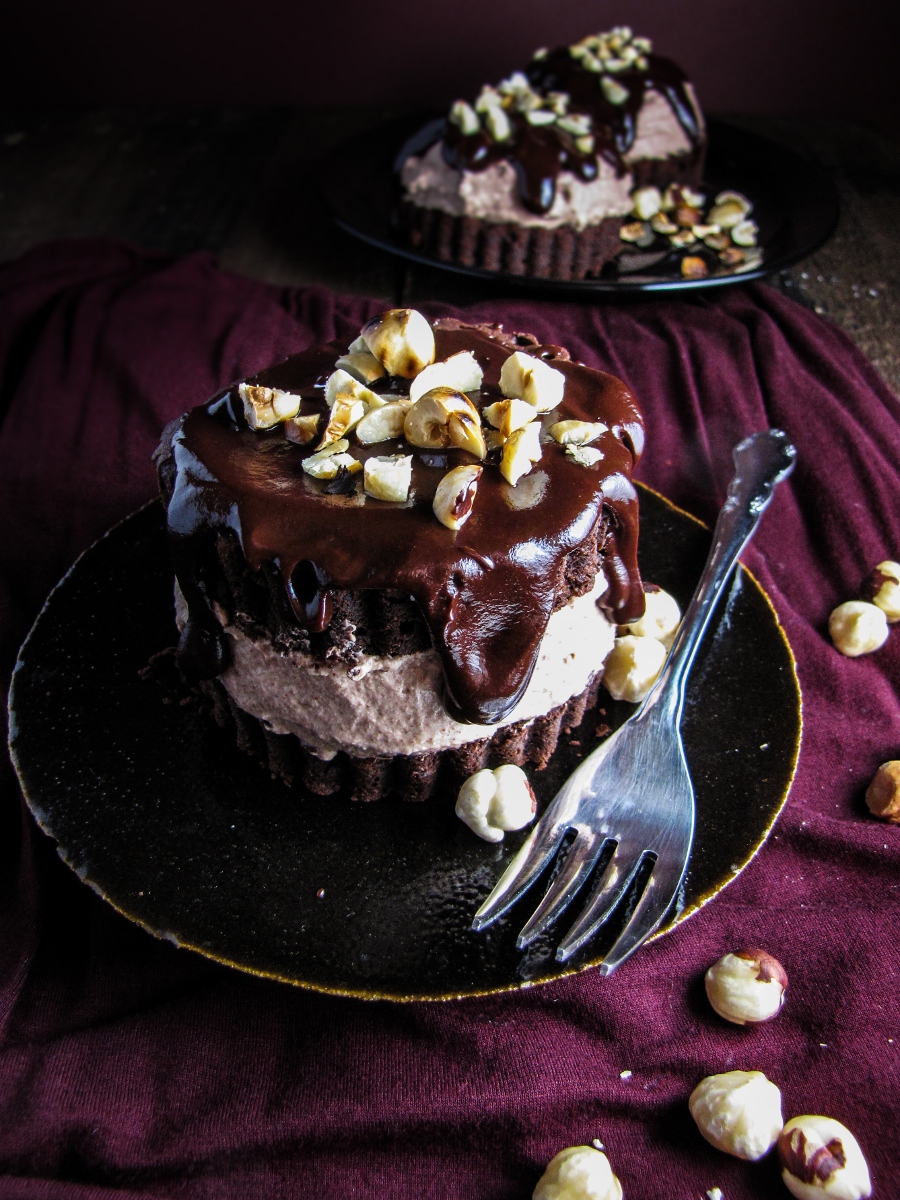 Update: Giveaway is now closed. Congrats to Corinne of Sparecake for winning! I really loved hearing all your stories about Valentine's Day – thanks for sharing! And keep an eye out for another chocolate-y giveaway this week…
Between 6th grade and 9th grade, I spent 3 summers at Brown Ledge sleep-away camp on the beautiful Lake Champlain in Northern Vermont. (Actually, I spent 1 summer at Camp Kiniya, then went to Brown Ledge, but BLC is where my fondest memories are from). While 3 summers doesn't exactly qualify me as a summer camp junkie like some of my friends, I did love those long months, spent swimming in the lake, going on daily 5am horseback rides with the drill team, staying up giggling and swapping stories with my bunkies, singing songs and holding hands in the theater, savoring care packages from my parents and letters (signed "love"!) from my middle-school crush. Sometimes I was homesick, but it was such a positive experience overall – I hope my future kids are able to enjoy it someday.
On drop-off and pick-up days, my parents and I used to spend time in Burlington, getting Ben & Jerry's and doing other things I can't really remember. But I do remember eating Lake Champlain Chocolates, and being excited several years later when I found them in Wholefoods. I've always associated them with those sunny days at camp. So I was thrilled to see that LCC was one of the sponsors for the Blog Better Boston conference I went to at the end of October, and even more excited when, after the conference, I was able to connect with them to arrange a recipe development/giveaway post.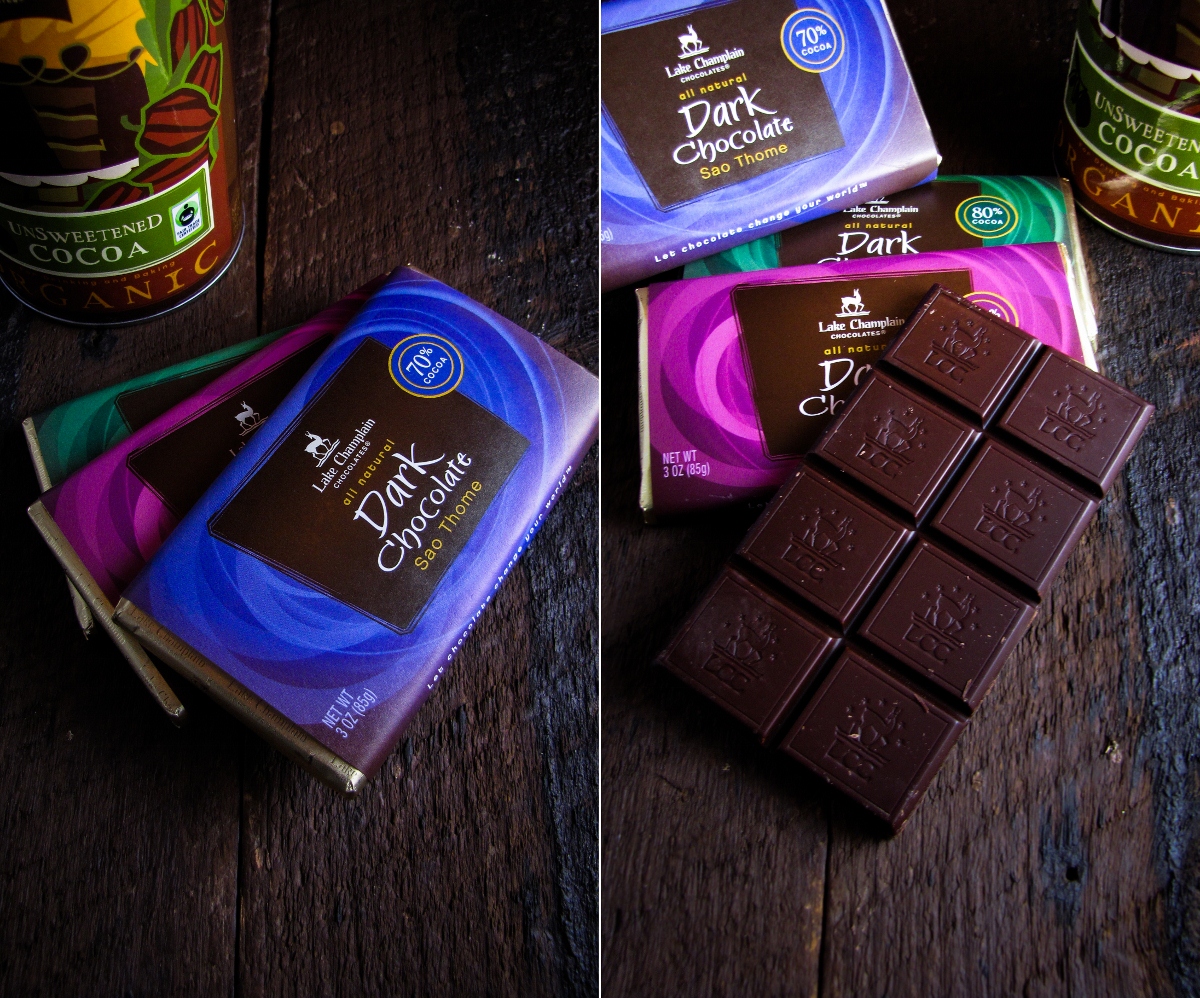 I knew I wanted this recipe to be something special – something decadent and Valentine's Day worthy. I've had the combination of chocolate and hazelnuts floating around in my mind for days (inspired by a truffle I ate recently), so I knew where to start with the flavors. Lake Champlain sent me three of their select origin dark chocolate bars – a single-origin bar from Tanzania, one from Sao Thome, and an African blend. Before I dove into baking, of course, I had to taste all of them – I wasn't too thorough, but they were definitely all different. I liked the bar from Sao Thome the best, as it had a round, fruity flavor. The Tanzania bar was smoother, lighter, and sweeter, even though it had a higher cocoa content. The African blend bar was darker and more bitter with coffee-like-notes. I decided that the Sao Thome (70% cocoa) and African blend (80% cocoa) bars would form the base of a dense, almost-flourless cake. The sweeter Tanzania bar (75% cocoa) would be used two ways – in a mascarpone-frangelico-chocolate mousse, and as a chocolate ganache. I'd make individually sized cakes that would be just the sort of dessert you could share on a romantic, Valentine's Day date.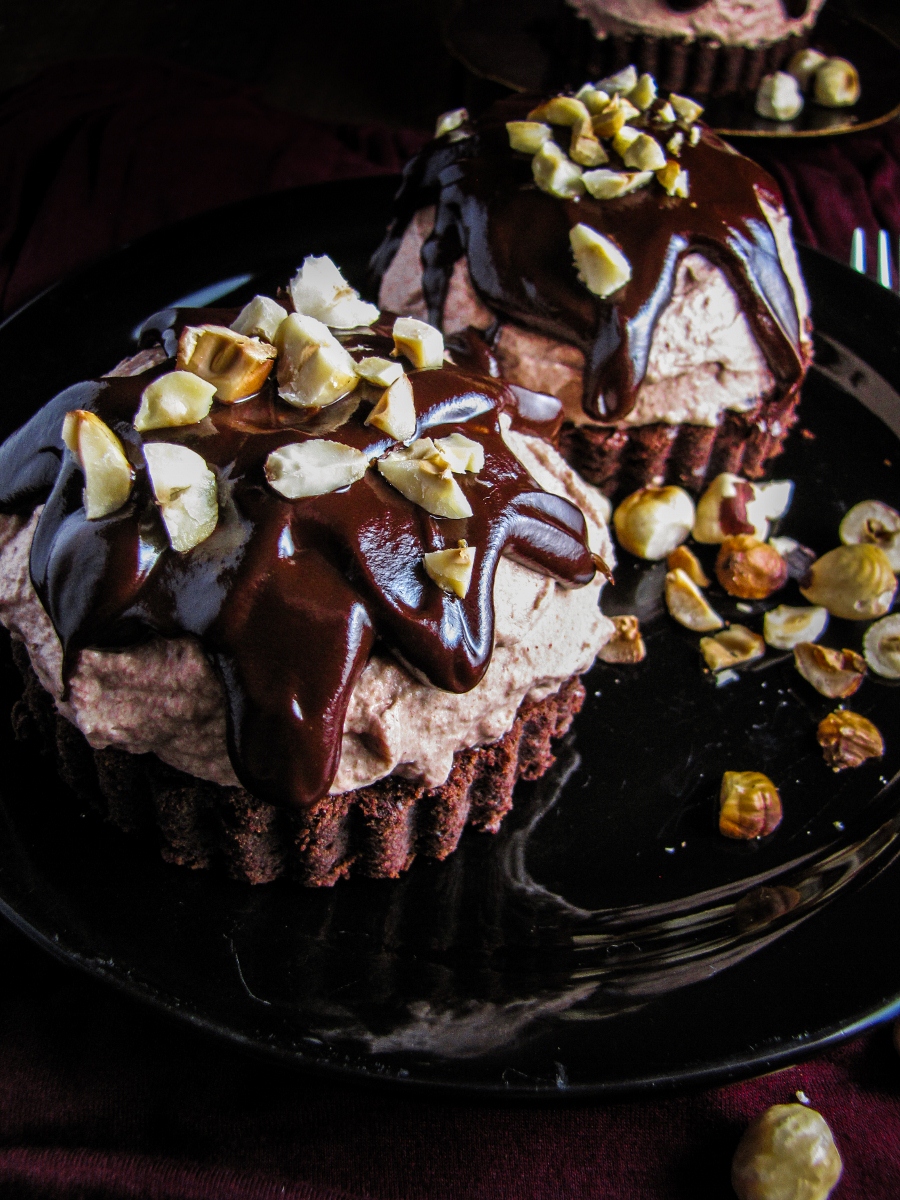 The cake, which was inspired by Pastry Affair's (actually) flourless chocolate rum cake, came out dark, dense, moist, and not too sweet. By itself it's very intense, but topped with the absolutely dreamy, boozy, mascarpone-based chocolate-frangelico mousse (which, if you can't tell, I was SO happy with), and drizzled with a little chocolate ganache it was perfect. Rich, chocolaty, indulgent – just the sort of thing to impress a date… or to eat too much of by yourself when you're feeling needy.
Giveaway Details: Never tried Lake Champlain Chocolate? No worries! Lake Champlain has generously offered to giveaway a giant heart-shaped box full of chocolate truffles to one lucky reader. To enter, leave me a comment below telling me about your most memorable Valentine's Day. For one extra entry, follow me (@Kitchen_Door) and Lake Champlain Chocolates (@LCChocolates) and tweet about the giveaway, then come back here and leave me a second comment letting me know you tweeted! The giveaway will close at midnight on Saturday the 26th, at which point I'll randomly choose a winner. Open to U.S. readers only. If the winner doesn't respond to me within 48 hours of me notifying them they've won, I'll have to pick an alternate winner.
Disclaimer: Lake Champlain Chocolates sent me some sample products free of charge to develop this recipe, and is hosting the giveaway. I received no compensation for writing this post, and was a fan of Lake Champlain Chocolates way before I started blogging!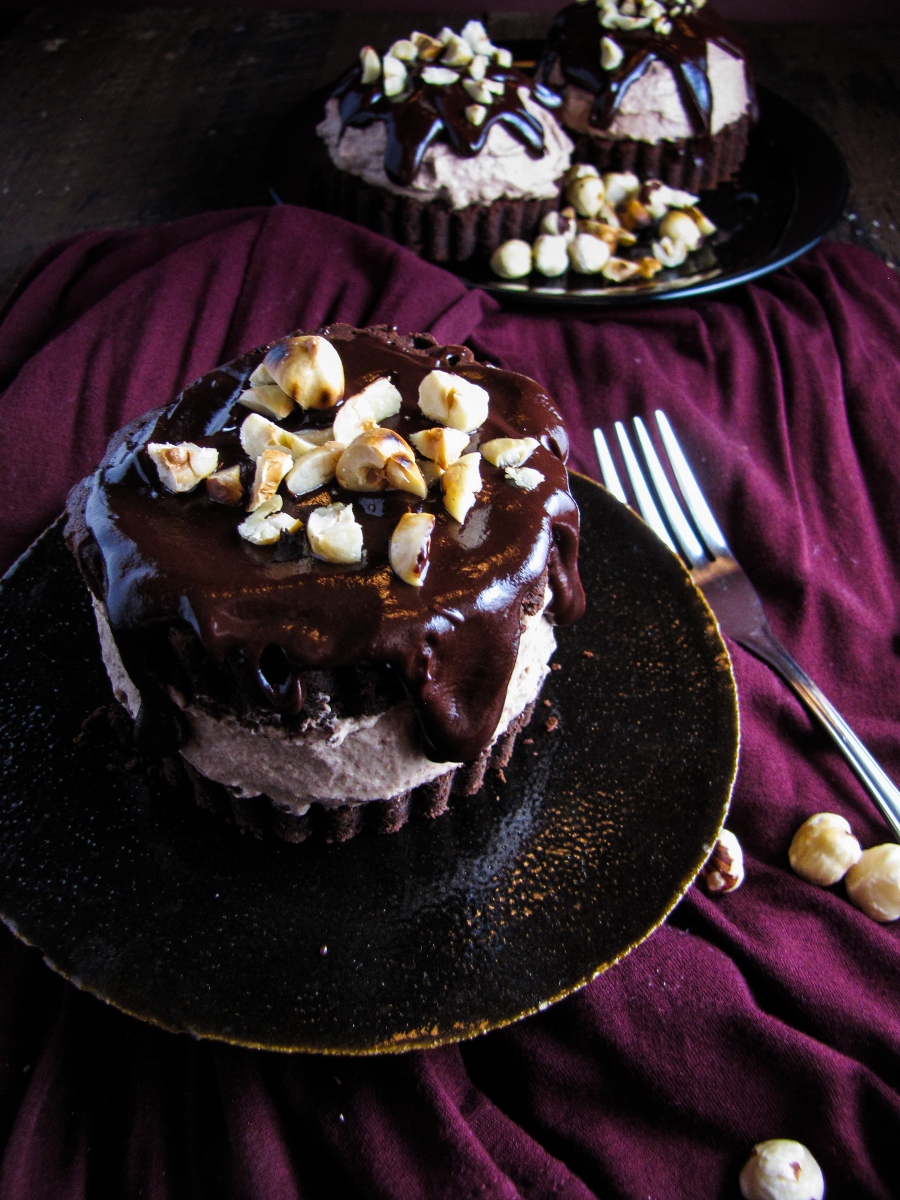 Individual Chocolate-Hazelnut Mousse Cakes
Original recipe overall, but cake recipe was inspired by Pastry Affair. Makes 4 individual cakes; each cake can easily be shared by 2 people.
For the cake:
Preheat the oven to 375°F. Line an 8×8 inch square baking pan with parchment paper. Set prepared pan aside. Add the chocolate and the butter to a small saucepan and heat over very low heat until fully melted, stirring the whole time. Set aside and let cool slightly.

Beat together the eggs and sugar until thick and pale yellow, at least 3-4 minutes. Stir the rum into the chocolate mixture, then slowly fold the chocolate mixture into the egg mixture.
Sift together the flour, cocoa powder, and salt. Fold into the batter. Pour the batter into the prepared pan and smooth the top with a spatula so that the batter rests evenly in the pan (it won't spread much). Bake for 15 minutes, or until a toothpick inserted into the center comes out mostly clean, with only a few moist crumbs attached. Set cake aside.
For the frangelico chocolate mousse:
1/4 c. mascarpone cheese

1/2 c. heavy cream
1/8 tsp cream of tartar
1 TBS sugar
5 TBS frangelico (hazelnut liqueur)
1 1/2 oz. dark chocolate (I used LCC's Tanzania bar (75% cocoa))
1 TBS butter
Whisk together the mascarpone and heavy cream. Sprinkle with the cream of tartar, then beat until cream has stiffened enough to hold soft peaks. Sprinkle with sugar, and whisk in. Beat in the frangelico one TBS at a time.

Over very low heat, melt together the chocolate and the butter in a small saucepan, stirring the whole time. As soon as it is fully melted, remove from heat, and let cool slightly.
Pour warm chocolate over the whipped cream. Whisk in to incorporate. Mousse should be thick and spreadable. Refrigerate until needed.
For the chocolate ganache:
Add the dark chocolate and the heavy cream to a small saucepan and heat over very low heat, stirring until melted. Remove from heat and set aside
To assemble:
1 recipe chocolate-rum cake (above)

1 recipe frangelico-chocolate mousse (above)
1 recipe chocolate ganache (above)
2 TBS chopped, toasted hazelnuts
Use a biscuit cutter to cut four 2-inch rounds out of the cake – save the extra pieces for snacking. Place the four cake rounds on four plates, and divide the mousse amongst the four plates, spreading it evenly on top of the cake. Place cakes in the freezer for 10 minutes to allow mousse to firm up slightly. Remove from freezer, and drizzle with the ganache (rewarmed slightly if necessary). Sprinkle with the toasted hazelnuts, and serve!