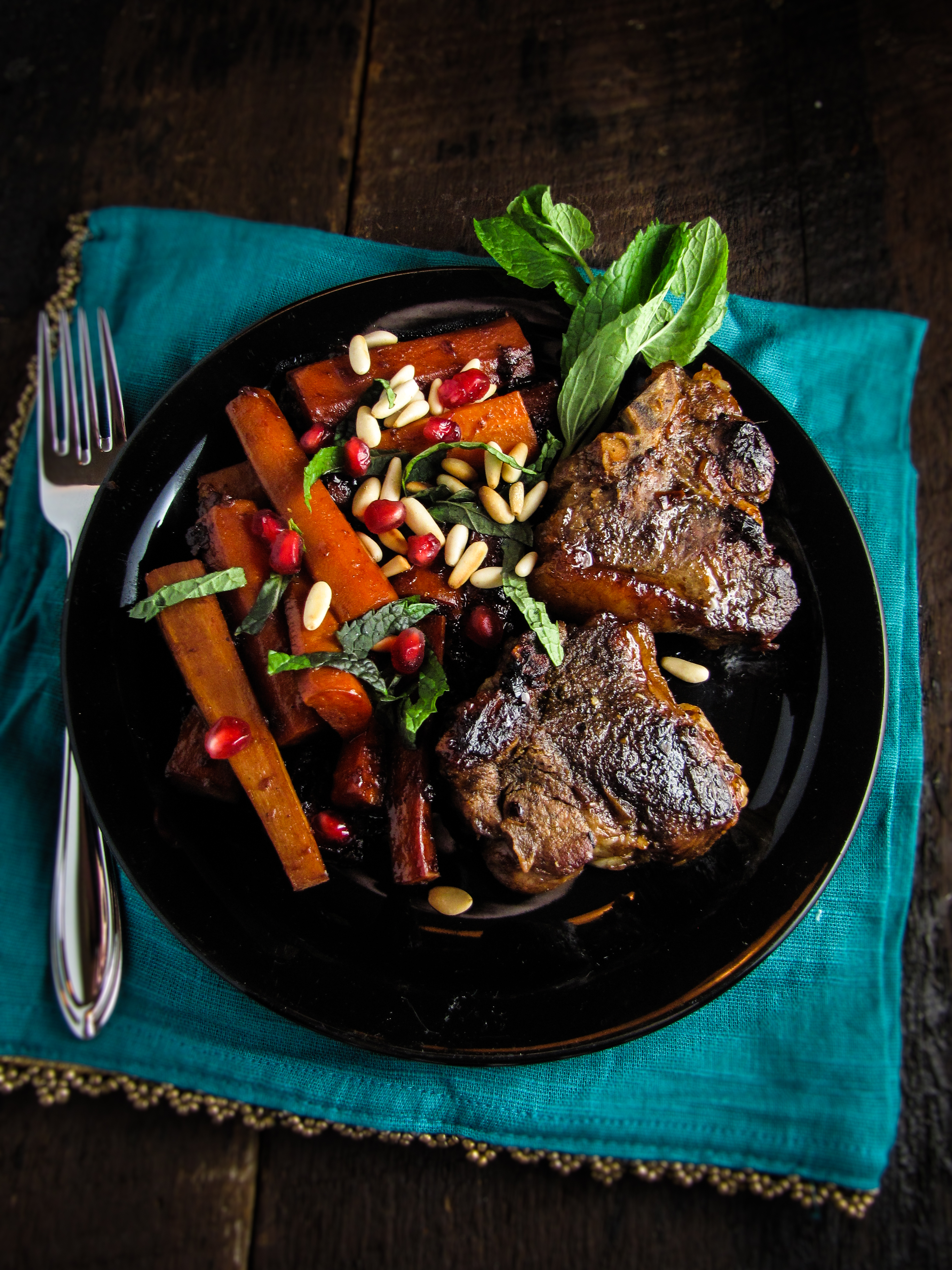 The last time I saw my Grandpa Archie was this summer, at my cousin Danny's wedding. My grandparents (and most of the rest of my family) all live out in Colorado, so I see them infrequently, at best.  Grandpa Archie, who is 100% Onondaga Indian (I know, cool, right?), and not the most verbose man, is hilarious to hang out with, and the wedding was no exception. Being from Colorado, he's also a true meat-lover, and as we were driving from the ceremony to the reception, six of us packed into a five person car in the pouring rain, he turned around and said to me: "So, Katie.  On that blog of yours, you ever cook any meat?"  I tried to explain that I eat a lot of vegetarian food because it's cheaper and I mainly use meat as a flavoring, to which I got the response "Just give it to me straight.  Do you cook meat?"
I had to admit that, no, I don't really cook much meat. And it's not because I don't like it – when I go out to eat, I frequently order lamb and duck and burgers, and when I'm at my parents, one of my favorite meals is grilled steak tips and baked potatoes. But besides a little bit of chorizo or bacon, or the occasional beef stew, meat doesn't typically enter my weekly cooking rotation. The biggest reason for this? I don't really know how to cook meat, and it makes me nervous to think about how badly I might ruin a $20 steak if I tried to cook it at home.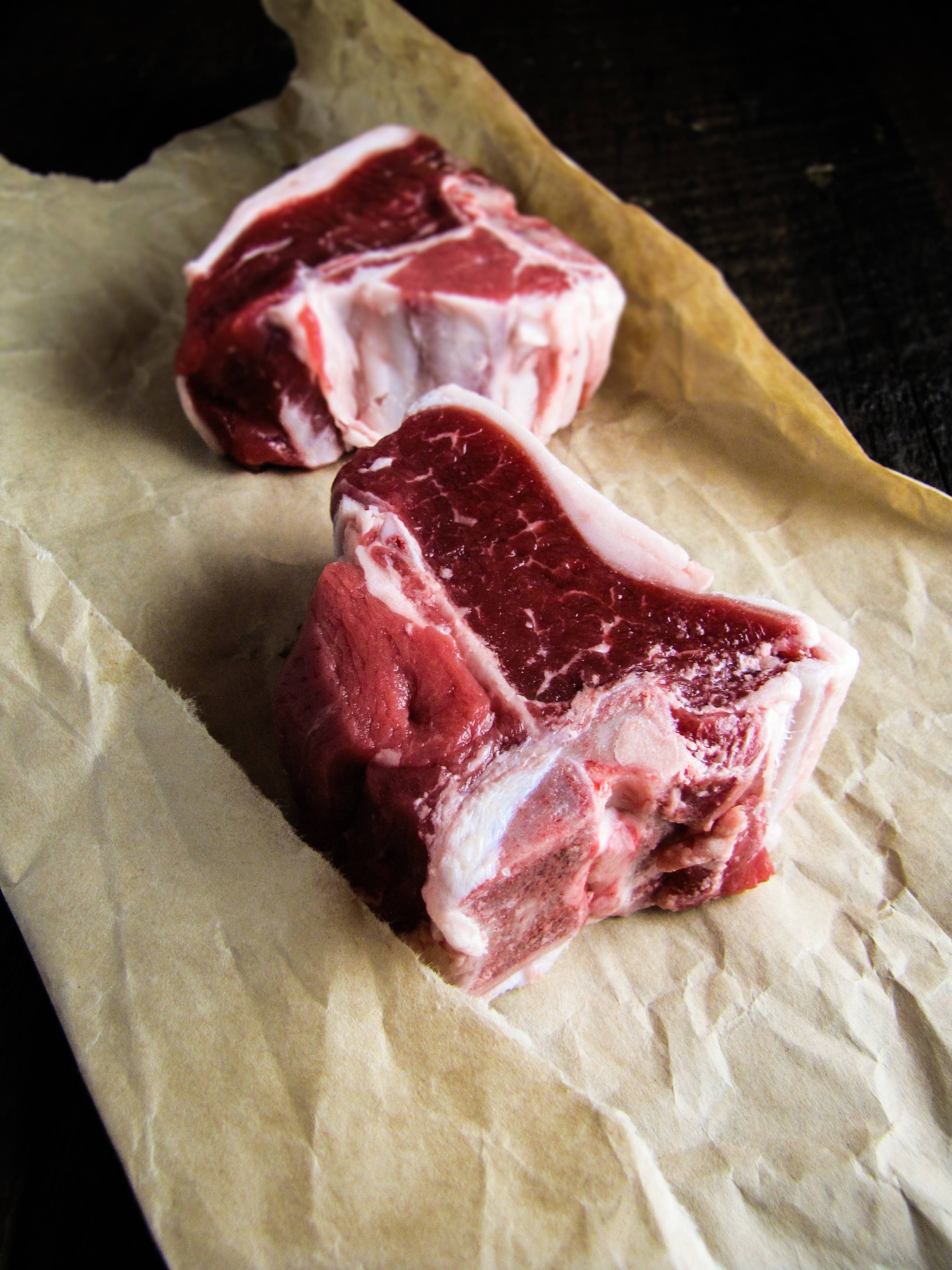 So when I received Bruce Aidell's The Great Meat Cookbook, I flipped through it with a mix of excitement and trepidation. My first instinct was to bookmark recipes I felt comfortable with, which basically fell into two categories – things made with ground beef, and things where you cook a tough cut for 3 hours until it's super tender. But as I did so, I realized that cooking things I already knew how to cook wasn't the point – I wanted to learn how to put an impressive roast on the table! So I began to dig into Bruce's explanations, which are thorough and straightforward. I think this book could teach you most of what you need to know about meat: some of the topics covered include how to judge meat quality while shopping, how to tell when meat is done cooking, the label choices we have today (grass-fed vs. organic vs. natural, etc.), and dozens of cuts and how best to cook each one for each animal covered (beef, bison, pork, lamb, goat, and veal, plus a section on various cured meats). For a meat newbie like myself, there's a lot to absorb.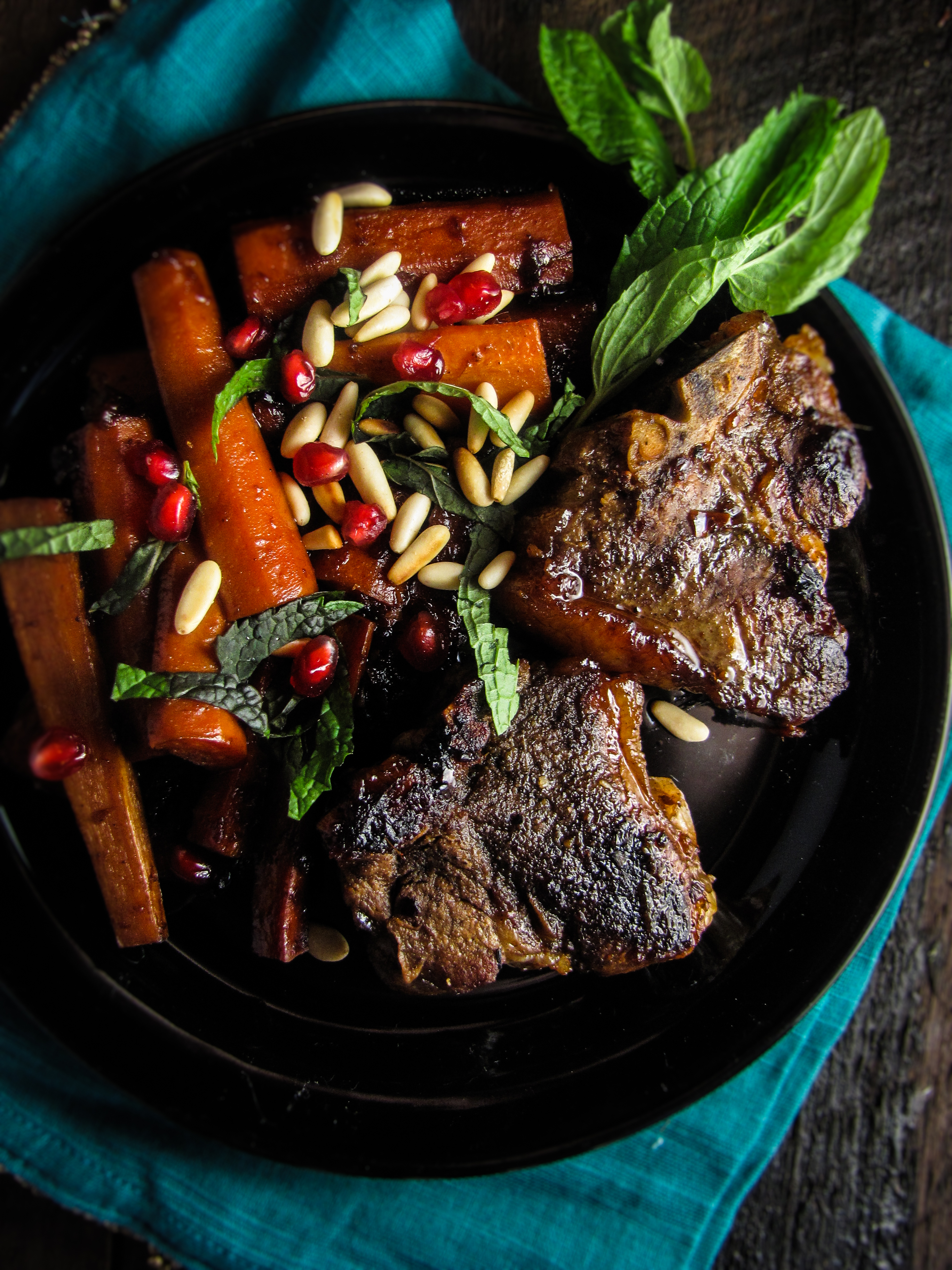 Once I had convinced myself that I needed to try something new, I fell to the task of choosing a recipe to make. Not an easy choice, given all the delicious-sounding contenders! High on my list were Roasted Ginger-Orange-Glazed Prime Rib Bones, Grilled Pork Chops Stuffed with Fontina, Sun-Dried Tomatoes, and Prosciutto, and Butterflied Leg of Lamb with Olive Crust. In the end I chose to make Turkish Pomegranate-Glazed Lamb Shoulder Chops and Carrots. Not quite a show-stopping roast, but a cut and cooking technique that was new to me. Even though I scaled down the recipe quite a bit, and accidentally bought the wrong type of lamb chop (even after all that reading about the cuts), this recipe was really good. Sitting down to a plate of tender lamb with a sweet pomegranate molasses glaze and a pile of carrots and parsnips sprinkled with pomegranate and mint, I felt like I had really accomplished something.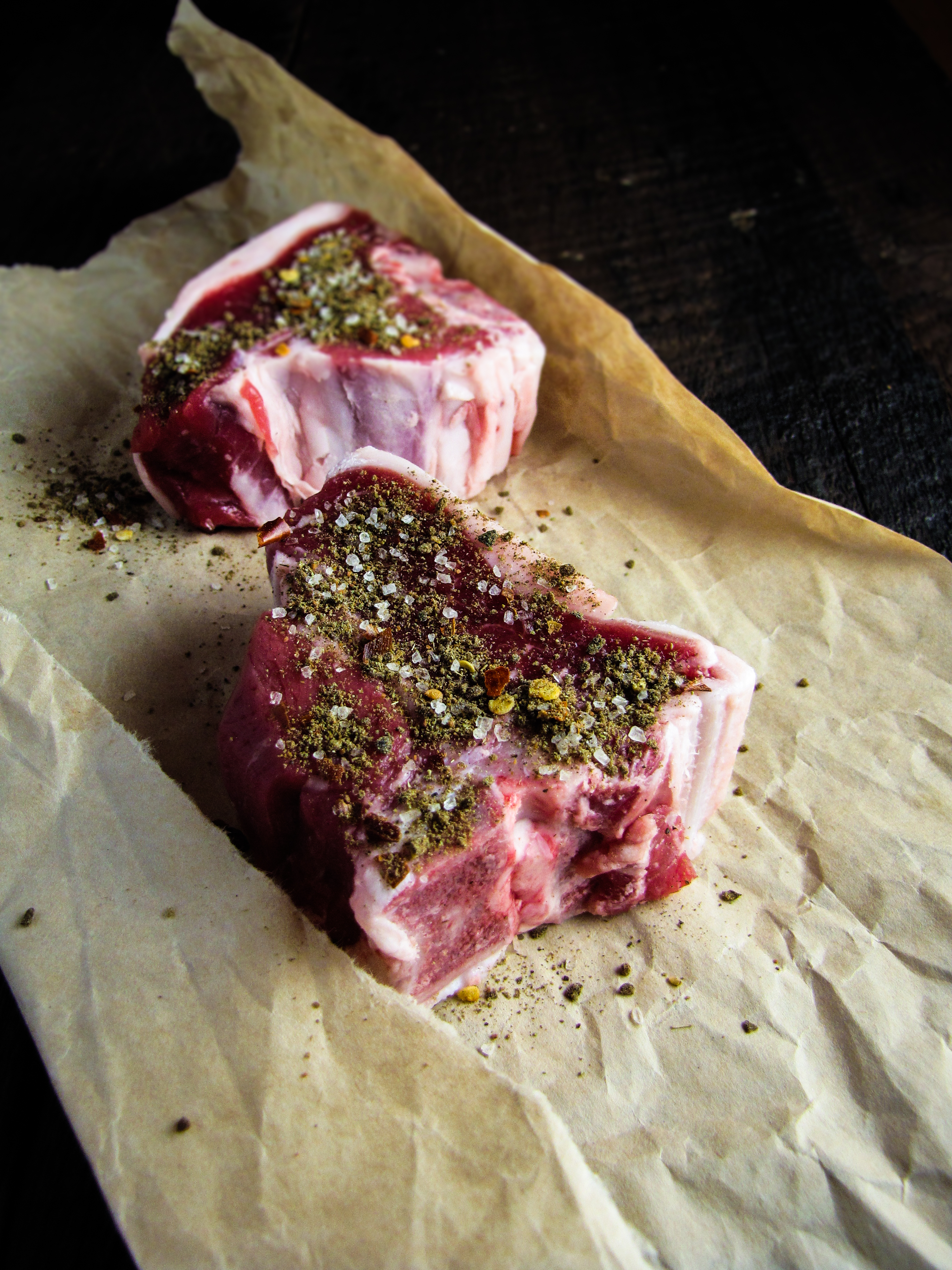 I'm going to keep working with this book, and maybe by next Christmas I'll be able to put the Standing Rib Roast with Bacon and Rosemary Jus and Yorkshire Puddings on the table to oohs and ahs!
The bottom line: The Great Meat Cookbook is a straightforward and complete guide to cooking beef, bison, pork, cured meats, lamb, goat, and veal. It covers the entire process of preparing meat in detail, from choosing a cut and picking out the best pieces in the grocery store, all the way to what to serve with it. The recipes themselves are appealing and clearly explained, with plenty of globally-inspired preparations alongside American classics. For any meat-newbie, this book is a valuable and non-intimidating introduction to preparing dishes that will impress!
Disclaimer: I received a complimentary review copy of The Great Meat Cookbook, but was not otherwise compensated and all opinions are my own.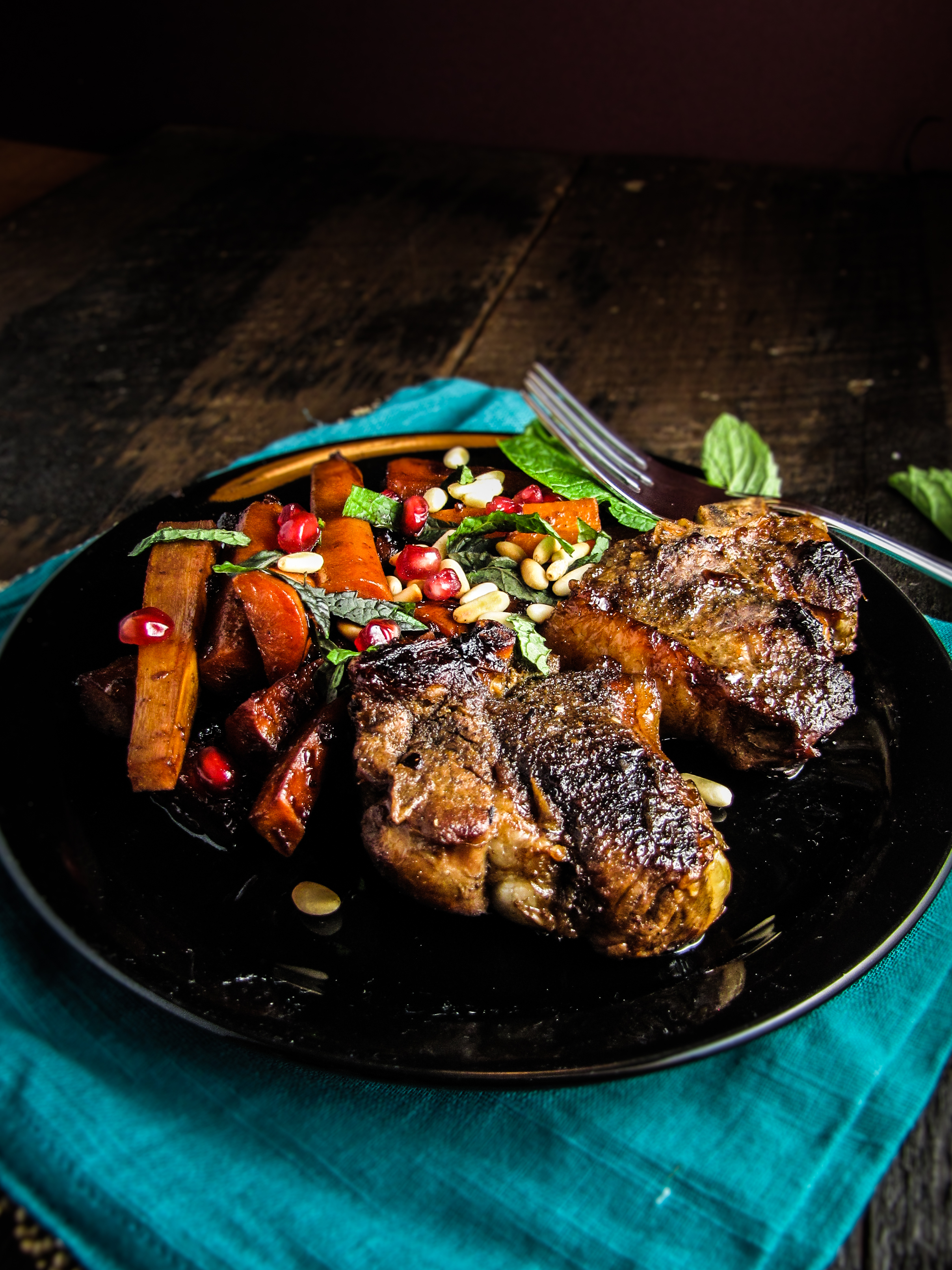 Turkish Pomegranate-Glazed Lamb Chops and Carrots
Recipe from The Great Meat Cookbook. Serves 6.
6 lamb blade shoulder chops (about 3 pounds total)
1 tsp crushed red pepper flakes
1 tsp salt
1 tsp ground cumin
3/4 tsp freshly ground black pepper
1/2 tsp ground cardamom
1/4 tsp ground nutmeg
2 TBS olive oil
1 TBS butter
2 TBS grated or finely chopped fresh ginger
1/2 c. finely chopped shallots
1 c. finely chopped onions
1 c. chicken broth
1 c. pomegranate molasses
2 lbs medium carrots, peeled and cut into 1 inch lengths
1/2 lb parsnips, peeled and cut into 1 inch lengths
1/2 c. fresh pomegranate arils
1/4 c. toasted pine nuts
2 TBS fresh basil chiffonade
2 TBS fresh mint chiffonade
Cut each chop into two pieces by cutting between the flat side of the blade bone and the meat. Combine the red pepper flakes, salt, cumin, pepper, cardamom, and nutmeg in a small bowl, then rub over the chops on both sides. Let sit for 30 minutes at room temperature, or wrap in plastic wrap and refrigerate overnight.
Heat the oil and butter in a large, deep frying pan over medium high-heat. Once completely melted, add the chops and brown for 2-3 minutes per side. You may need to do this in two batches – try not to crowd the chops or they won't brown as nicely. Remove the chops to a plate and set aside.
Add the ginger, shallots, and onions to the pan and saute, stirring occasionally, until soft and golden, about 5 minutes. Add the chicken broth to deglaze the pan, scraping up any browned bits stuck to the bottom of the pan with a wooden spoon. Bring to a boil, then add the pomegranate molasses and reduce to a simmer. Return the chops to the pan, cover, and cook for 40 minutes, or until the chops are tender. Skim any fat floating on the top and discard. Move the chops back to the plate and set aside.
Add the carrots and parsnips to the pan and stir to coat with the braising liquid. Cover the pan and cook until the vegetables are tender, about 20 minutes. Place the cooked vegetables on the plate with the chops, and bring the remaining liquid to a boil. Reduce until it thickens and becomes syrupy, 5-10 minutes. Return the vegetables and the chops to the pan, lower the heat to very low, and cook, turning everything frequently, until the chops and vegetables are reheated and covered with a thin glaze.
Place the vegetables and chops on a platter and sprinkle with the pomegranate seeds, pine nuts, basil and mint. Serve warm with a side of rice or bulghur.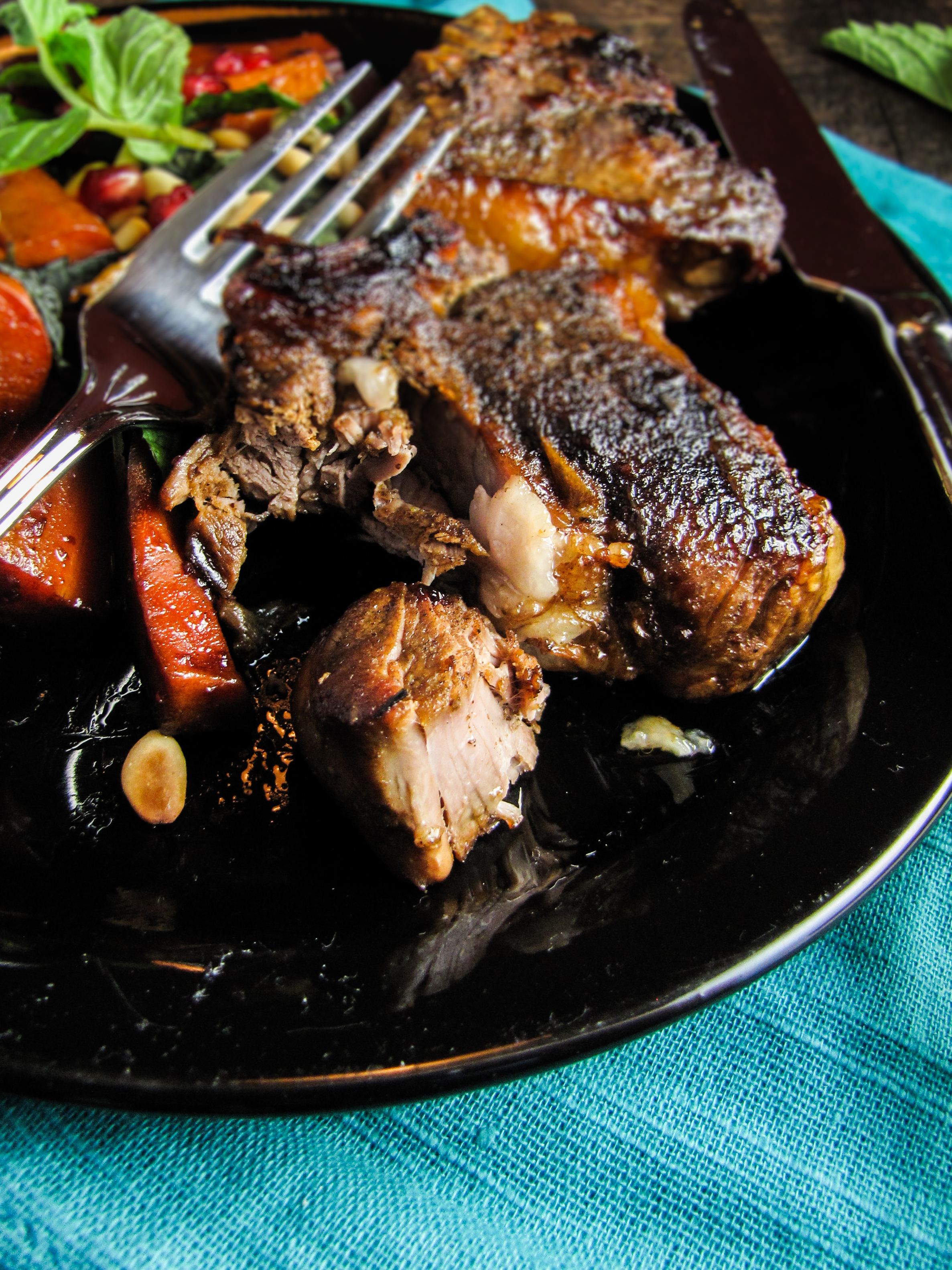 0