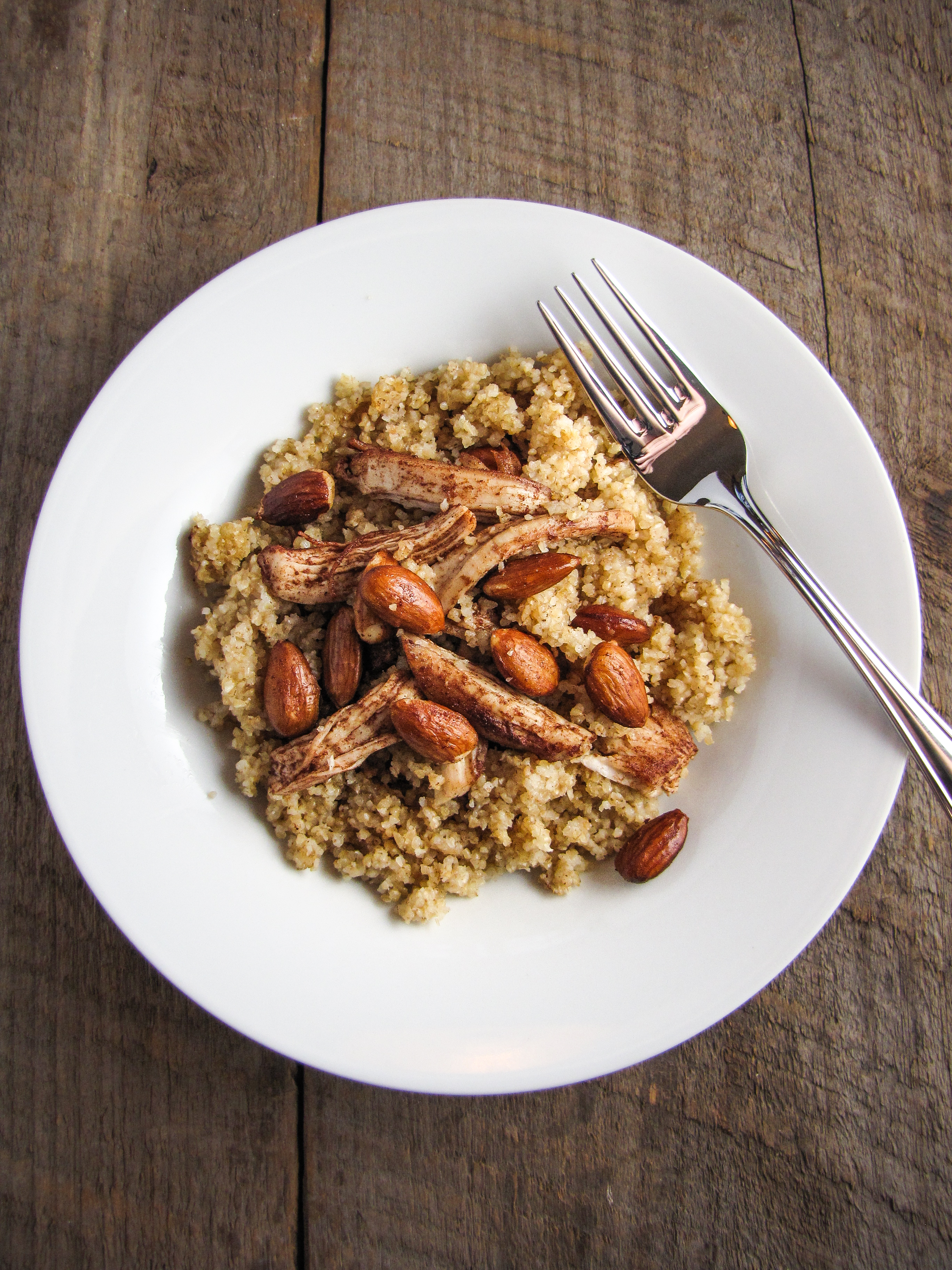 Happy 2013, everyone! I'm back from a lovely, restful long weekend in Maine with my family and Trevor, and am feeling refreshed and ready to start up some new projects. Maine is so beautiful at this time of year – we had 18 inches of snow, and spent many hours trekking about "exploring" like little kids, tracking the deer and snowshoe hares, and reveling in being able to be outside in such a pristine and quiet place. And once the sun went down, we had board games and reading by the fire, and warming meals of lamb curry and seafood lasagna. I was out like a light by 9 every night. Of course, I think I undid some of the restfulness last night… but it was completely worth it. We started off the evening by having tapas and cocktails at Dali with one of my oldest and best friends and her boyfriend, and then met up with some of my favorite people from high school for a relatively mellow but very fun night of board games and beer pong and excessive drinking. It was just right.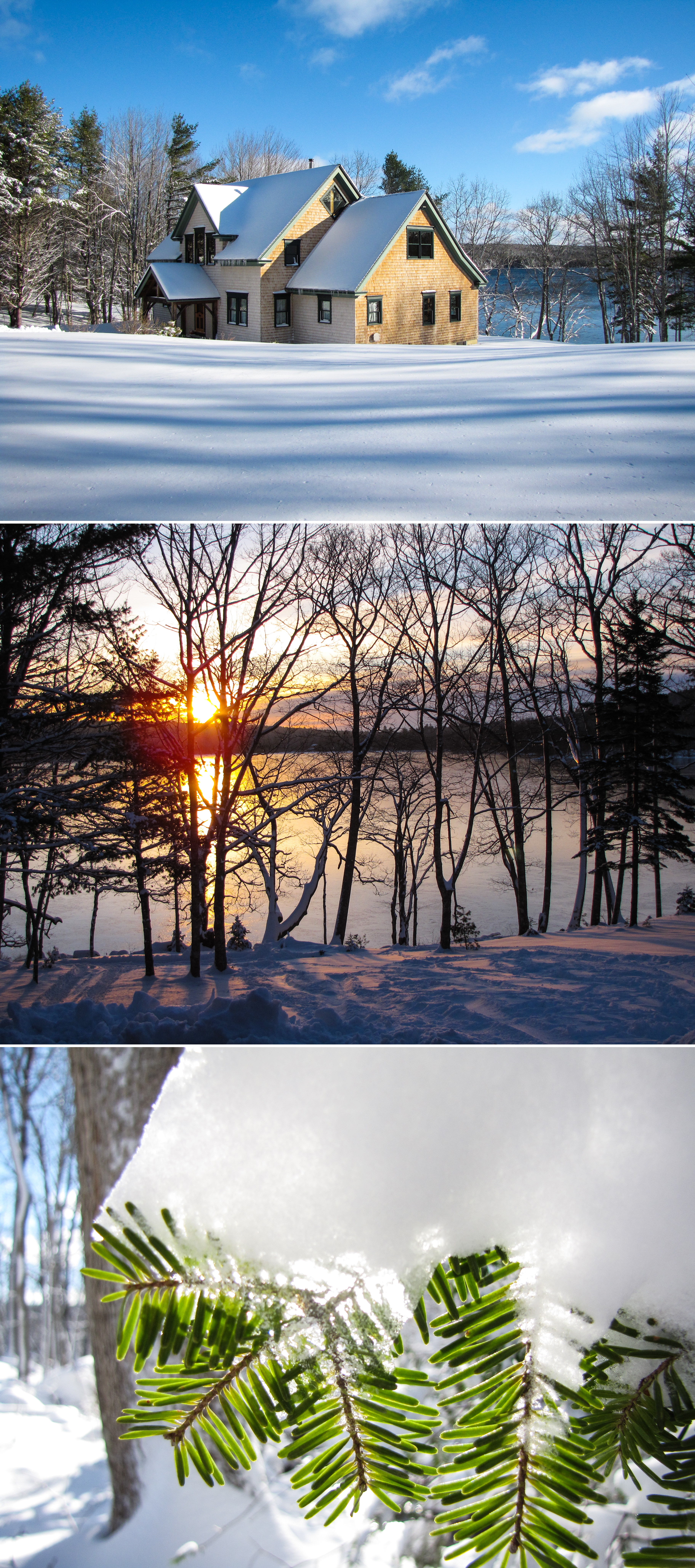 And now it's 2013! By this point, you've probably seen dozens of New Year's posts – round-ups of the best recipes of 2012, recaps of years both good and bad, hopes for the future, lists of resolutions, and rants about the futility of resolutions. It may seem a little silly for there to be so much fuss about reflection on just one day, but the truth is it's nice to have a natural time to take stock of your world, to think back on what you accomplished in the past year, and to set goals for the future.
2012 was a good, stable year: nothing bad happened, and a lot of good things happened. You can't ask for much more than that. At my real job, I worked on a series of interesting projects with interesting people – I traveled to Spain to hob-nob with CEOs, learned a great deal about terrorism risk, and became close friends with several of my co-workers. Then just a few weeks ago, I was promoted – a really positive way to move into 2013! On the blog, things moved much faster than I expected. Last year, I quietly set two goals which I felt were very ambitious – one, to have 500 subscribers, and two, to host a giveaway. I'm so pleased to have exceeded both, with over 1,000 of you out there reading on a regular basis, and two book giveaways this fall (and several more giveaways scheduled for the not too distant future!). So, thank you, everyone, for reading – it means so much to me that you enjoy this space. On a more personal level, the things that define this year for me include completing my first two half-marathons ever, starting adult ballet classes and totally falling in love with them, building a vegetable garden with Trevor, really settling in to life in Boston, and throwing a few really fun parties.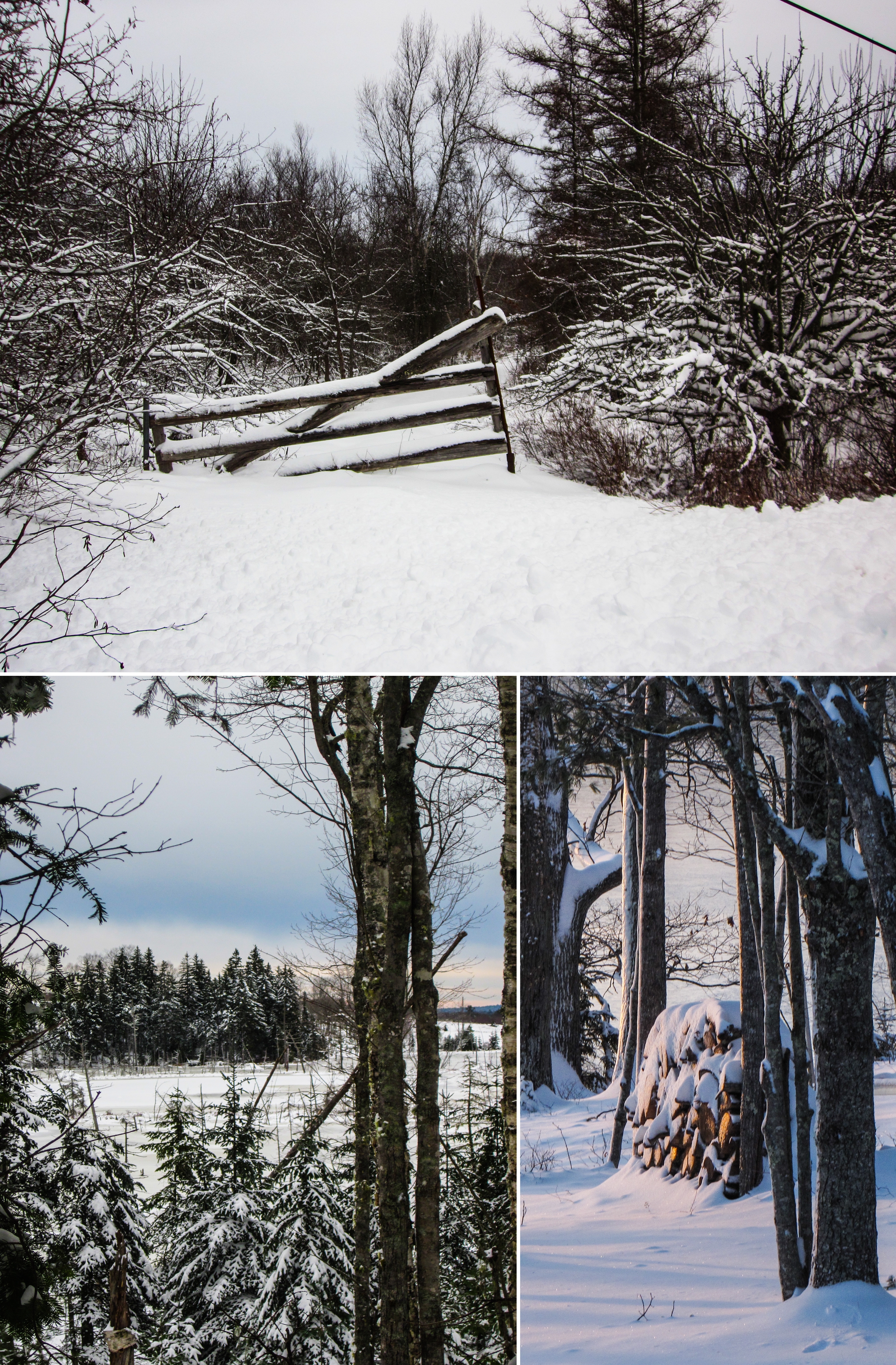 As for 2013, I have a good feeling about this year. I can see the possibility of being in a very different place in 12 months than I am right now, and I'm excited to see what the year brings. I definitely want this year to include more travel, with trips to Montreal and Italy in the works already. I also really feel the need to get serious about having healthier eating habits. Food blogging is a blast, but I indulge far too often. Trevor and I have grand plans for the Andover garden and orchard – I already can't wait to start our seedlings. In general, I just want to do more – go camping, finally break in those ice skates, host more dinner parties, make more of an effort to see friends, etc. Oh, and I'm pretty set on going to adult ballet camp. Which is going to be awesome.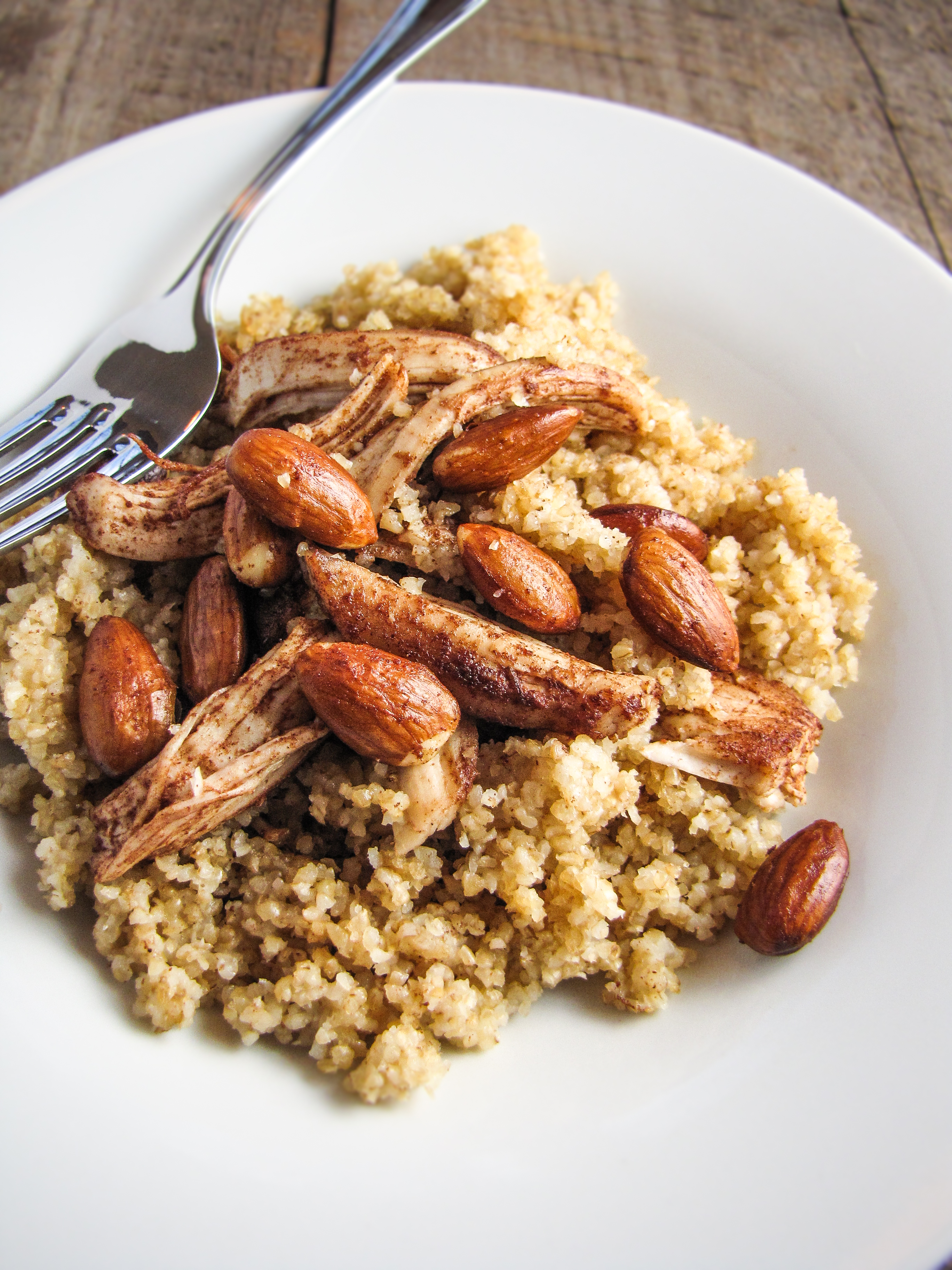 With all that introspection done, let's get back to food. January to me always calls for simple recipes, food that is wholesome and restorative without being fussy. When I saw a recipe in Maria's Ancient Grains for Modern Meals for Bulghur with Butter-Roasted Almonds and Cinnamon, I was immediately brought back to a meal I had on a cold, winter-y day at the Lebanese restaurant in my hometown. It was similar to Maria's recipe, but included shredded chicken, cooked until crispy in cinnamon-butter. I knew it would be the perfect meal for a cold day, so I recreated it, using Maria's recipe as the base, and then threw in some pomegranate seeds at the end for a dash of color and sweetness. It was warm, nutty, buttery, and crunchy – a perfect first meal of 2013!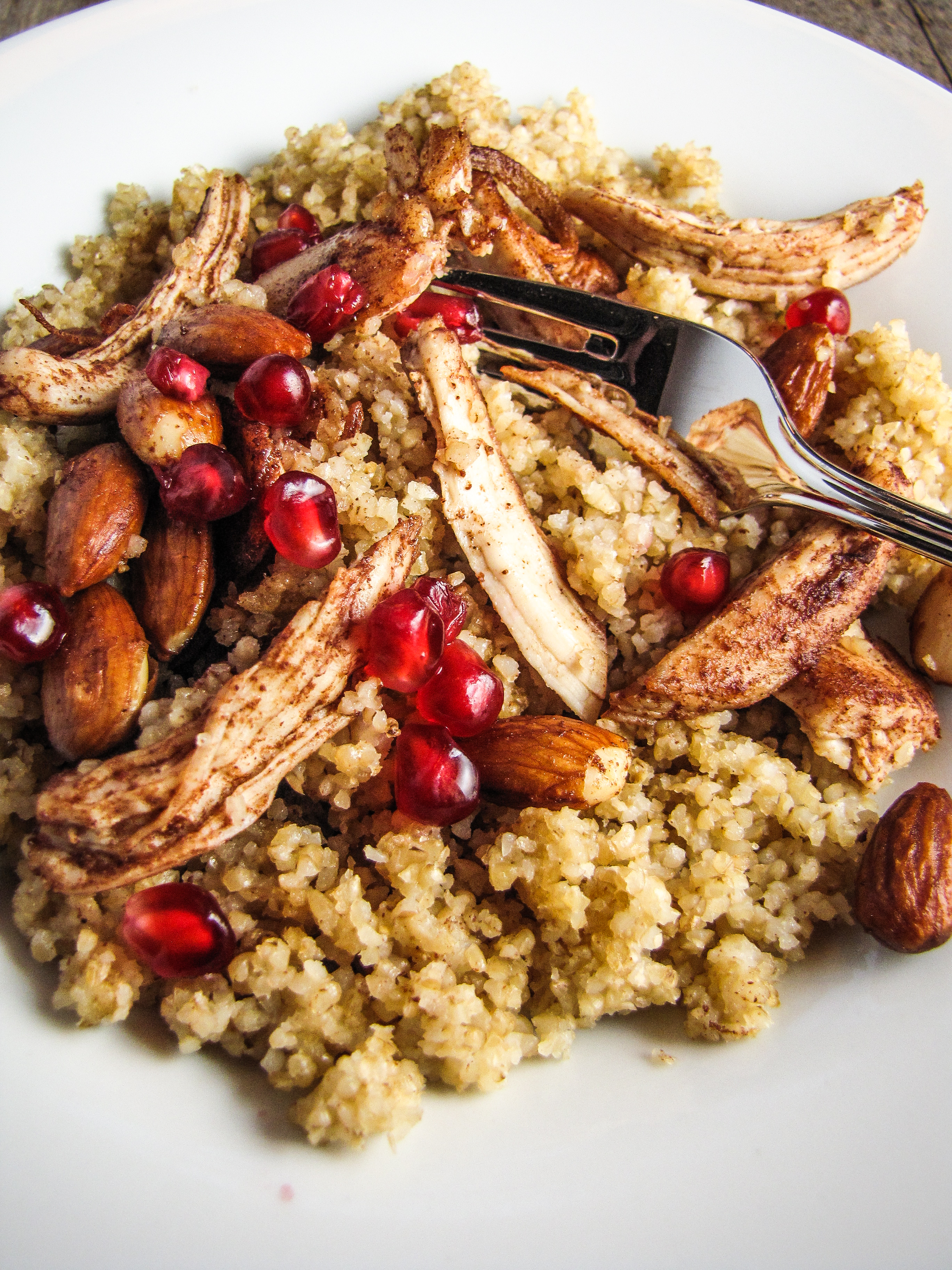 Bulghur with Butter-and-Cinnamon-Roasted Chicken and Almonds
Inspired by Ancient Grains for Modern Meals. Serves 2-3.
1 large boneless skinless chicken breast
1 large shallot, peeled and sliced into quarters
10 whole peppercorns
1 cinnamon stick
3/4 c. bulghur [with 1 1/3 c. water]
1/4 tsp salt
2 TBS salted butter
1/2 tsp cinnamon
pinch cayenne pepper
1/2 c. whole skin-on almonds, toasted lightly
1/4 c. pomegranate arils (optional)
Place the chicken, shallot, peppercorns, and cinnamon stick in a shallow pan, such as a dutch oven, and fill with water to cover the chicken by about 1/2 an inch. Bring to a boil over medium heat, boil 3 minutes, then remove from heat, cover, and let sit for 15 minutes for the chicken to finish cooking. Remove the chicken, check to ensure that it is cooked all the way through, and rinse under water to cool. Tear the chicken into bite-sized pieces and set aside.
Bring 1 1/3 c. water to a boil in a small saucepan. Add bulghur and salt, stir, return to a boil for 1 minute then reduce heat to a simmer. Cover and simmer on low for 15 minutes, until bulghur has absorbed all of the water. Fluff with a fork.
While bulghur is cooking, melt the butter over medium heat in a large frying pan. Once it has melted, cook for 2-3 minutes, until it smells nutty, is foamy on top, and has brown flecks at the bottom. Scrape the brown flecks up from the bottom with a wooden spoon, then add the cinnamon and cayenne powder and stir to combine. Add the shredded chicken and almonds (they will sizzle!) and cook, stirring, for 3-4 minutes, until everything is fully coated in the cinnamon butter and the chicken is beginning to crisp around the edges. Add the bulghur to the pan and stir just to coat. Remove from heat.
Serve warm, garnished with pomegranate arils if desired!
0