I think Peppermint-Stick might be my favorite flavor of ice cream. At least, it's up there with Coffee Heath Bar Crunch and New York Super Fudge Chunk (and all the other Ben & Jerry's flavors…). I think I partly like that it's so girly and pink, and that it tastes like it looks – sort of simple and sweet and refreshing. This is certainly the time of year that peppermint is all the rage, but I love this ice cream regardless of the season – it actually brings up very vivid memories of standing on the lawn at the Bagaduce Lunch, eating a quickly melting waffle cone of the sweet, pink stuff and soaking up the sun. Mmm, ice cream in the summer. So good.
But ice cream in the winter is also good! Since I worked today and I'm working tomorrow, and since resolutions don't need to start for almost another week, I thought I'd make a little treat to reward myself for working during the holidays. And since Starbucks has already proved to us that peppermint, chocolate, and coffee are an excellent combination, I decided to throw a few scoops of this on top of an espresso brownie, and then drizzle it with mocha sauce for good measure. Voila! A Peppermint-Mocha Ice Cream Sundae. Because that's just what we all needed the day after Christmas. (Don't worry, this year's cleanse is coming up soon, and then this blog will be sorely lacking in sugar and heavy cream).
This sundae was pretty perfect, in my book. If you're looking for something to do with extra candy canes and/or you're not ready to give up all the sugary goodness of Christmastime, definitely give it a try!
P.S. It's National Candy Cane Day! How timely!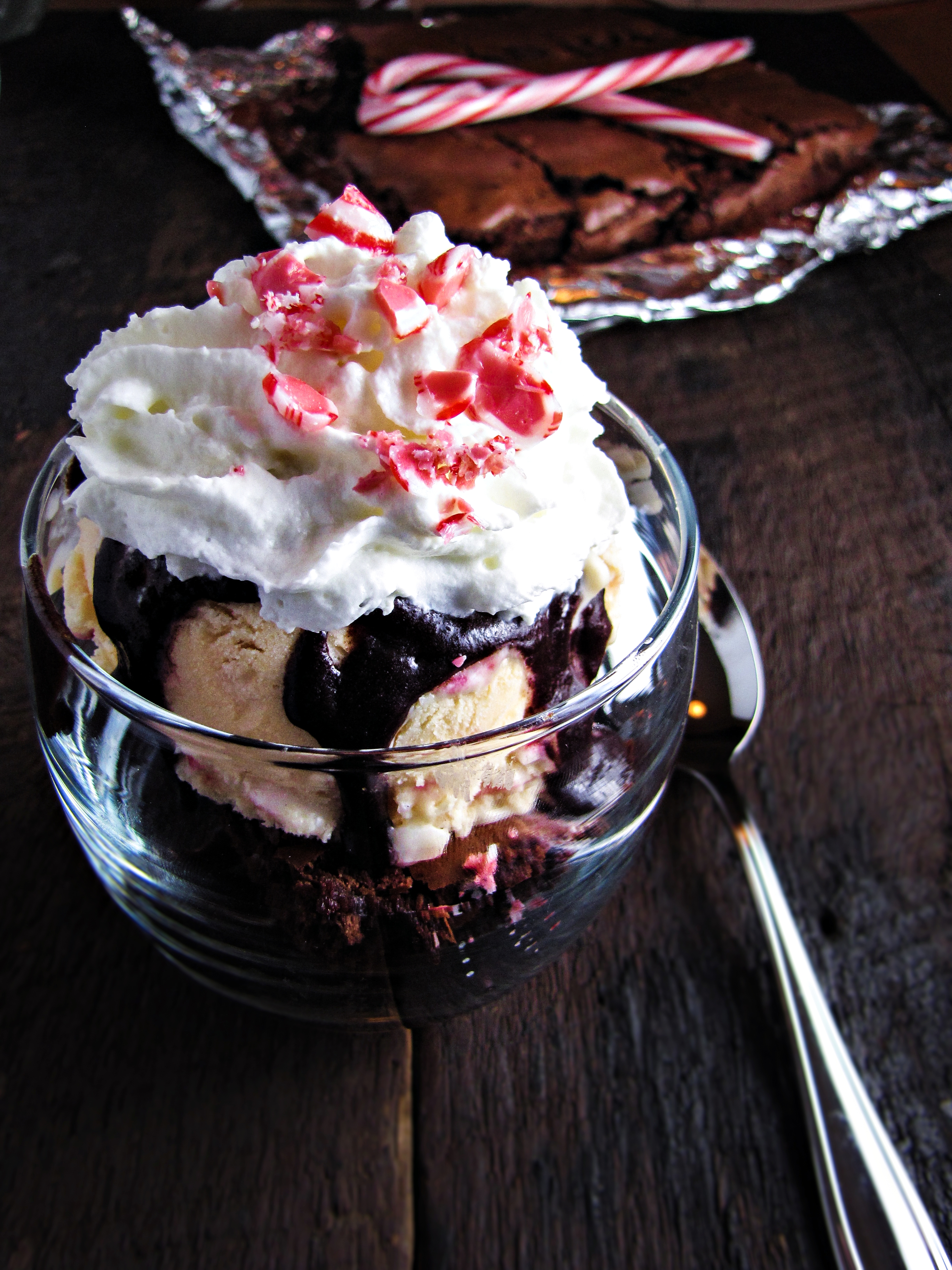 Peppermint-Mocha Ice Cream Sundae
1 large scoop peppermint-stick ice cream (recipe below)
1 espresso brownie (recipe below)
1/4 c. mocha hot fudge sauce (recipe below)
whipped cream
crushed candy canes, for garnish
Assemble all ingredients and dig in!
Peppermint-Stick Ice Cream
Recipe from Dawn's Recipes. Makes 1 quart.
1 c. whole milk
2 c. heavy cream
3/4 c. sugar
1/4 tsp salt
6 large egg yolks
1/2 tsp peppermint extract
3 drops red food coloring (optional)
10 candy canes (about 5 oz.), crushed into small pieces
Whisk together the milk, 1 c. of the heavy cream, the sugar, and salt in a medium saucepan. Place over medium-low heat and heat, whisking occasionally, just until milk begins to simmer.
While milk is heating, prepare three other bowls – in one bowl, whisk together the six egg yolks. In the second bowl, pour the remaining 1 c. of heavy cream, and set a fine mesh strainer over the top. Fill the third (largest) bowl halfway with ice water.
Pour the hot milk slowly over the egg yolks, whisking the egg yolks vigorously as you do so, to temper the eggs. Pour the custard mixture back into the pan and return to the heat, whisking the whole time. Cook over low heat, whisking constantly, just until the custard has thickened enough to coat the back of a spoon. Pour the custard through the strainer into the bowl with the heavy cream, and stir to combine. Add the peppermint extract and food coloring, and place bowl into the ice bath. Stir until the custard has cooled.
Cover the custard and refrigerate for several hours or overnight. Once thoroughly chilled, pour into prepared ice cream maker and process according to directions. Just before the ice cream has finished thickening, pour in the crushed candy canes and let churn for 1 minute more to incorporate. Freeze the ice cream until ready to serve.
Espresso Brownies
Recipe adapted slightly from Crustabakes. Makes 16 small brownies. 
5 oz. semisweet chocolate chips
2 oz. bittersweet chocolate chips
1 stick salted butter, cut into quarters
3 TBS cocoa powder
2 TBS instant espresso powder
3 large eggs
1 1/4 c. sugar
2 tsp vanilla extract
1/4 tsp salt
1 c. flour
Preheat the oven to 350°F. Line an 8×8-in baking pan with tin foil so that the foil hangs over the edges (for easy removal of the brownies).
Heat a large, half-full pot of water to a boil over medium-high heat. Place chocolate and butter in a smaller saucepan and place over the boiling water. Stir until chocolate and butter are melted. Remove from heat and whisk in the cocoa powder and espresso powder. Let cool slightly.
In a large bowl, whisk together eggs, sugar, vanilla, and salt. Pour in the warm chocolate mixture and whisk to combine. Fold in the flour until just incorporated, then pour batter into the prepared pan. Bake for 35-40 minutes, until the top of the brownies are beginning to crack and a toothpick inserted into the center comes out with just a few crumbs attached to it. Allow the brownies to cool in the pan, then lift out using the foil.
Mocha Hot Fudge Sauce
Prepare this recipe, adding 2 TBS of espresso powder when you add the cocoa powder.
0