As promised, I'm back with the amazing cajeta-banana bread pudding recipe from Tacos, Tortas, and Tamales. While the duck tacos we made from the book last weekend were a great treat for a special dinner (duck is expensive!), this bread pudding is the kind of thing I want to make on a weekly basis. I won't, because I value my ability to support my own body weight, but know that I want to. Why? Because caramel, cinnamon, custard, challah bread, and banana, baked up all warm and soft and topped with a scoop of vanilla ice cream and a little extra caramel sauce for good measure is about as close to the perfect comfort dessert as you can get.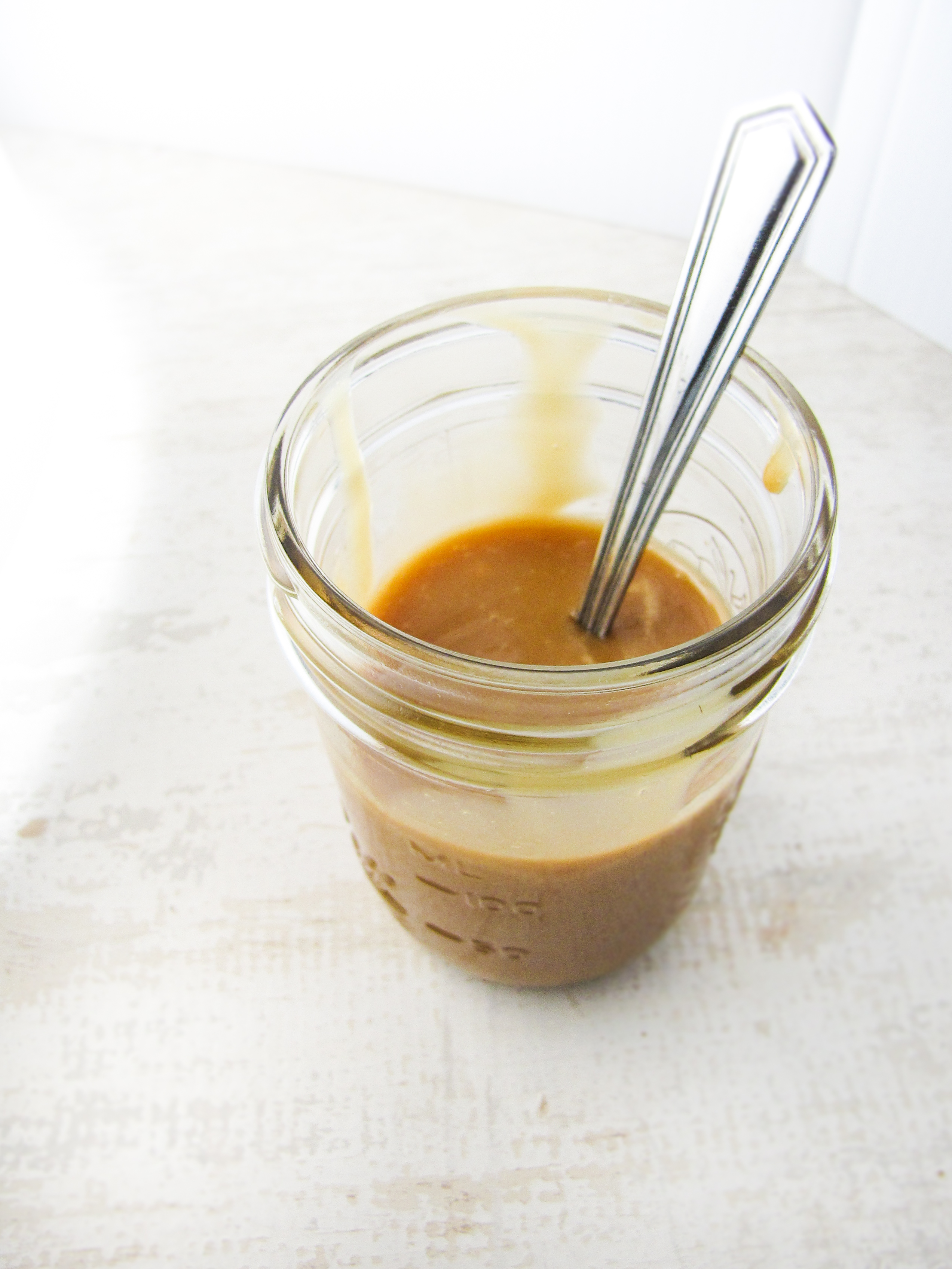 This recipe is also pretty easy for such a crowd-pleaser. If you choose to go the fully homemade route, making the cajeta – Mexican goat's milk caramel – takes a bit of effort, but once you have it on hand, making the rest of this recipe is a breeze. It's also a new and different way to use up overripe bananas. Or challah that's going stale. Or milk that's going to expire. And even if you don't have anything stale or overripe or expiring, it's worth rushing to the store to get all new stuff to make this recipe. I think you probably get the picture, so I'll stop gushing (side-effect of midnight blogging?) and let you get cooking!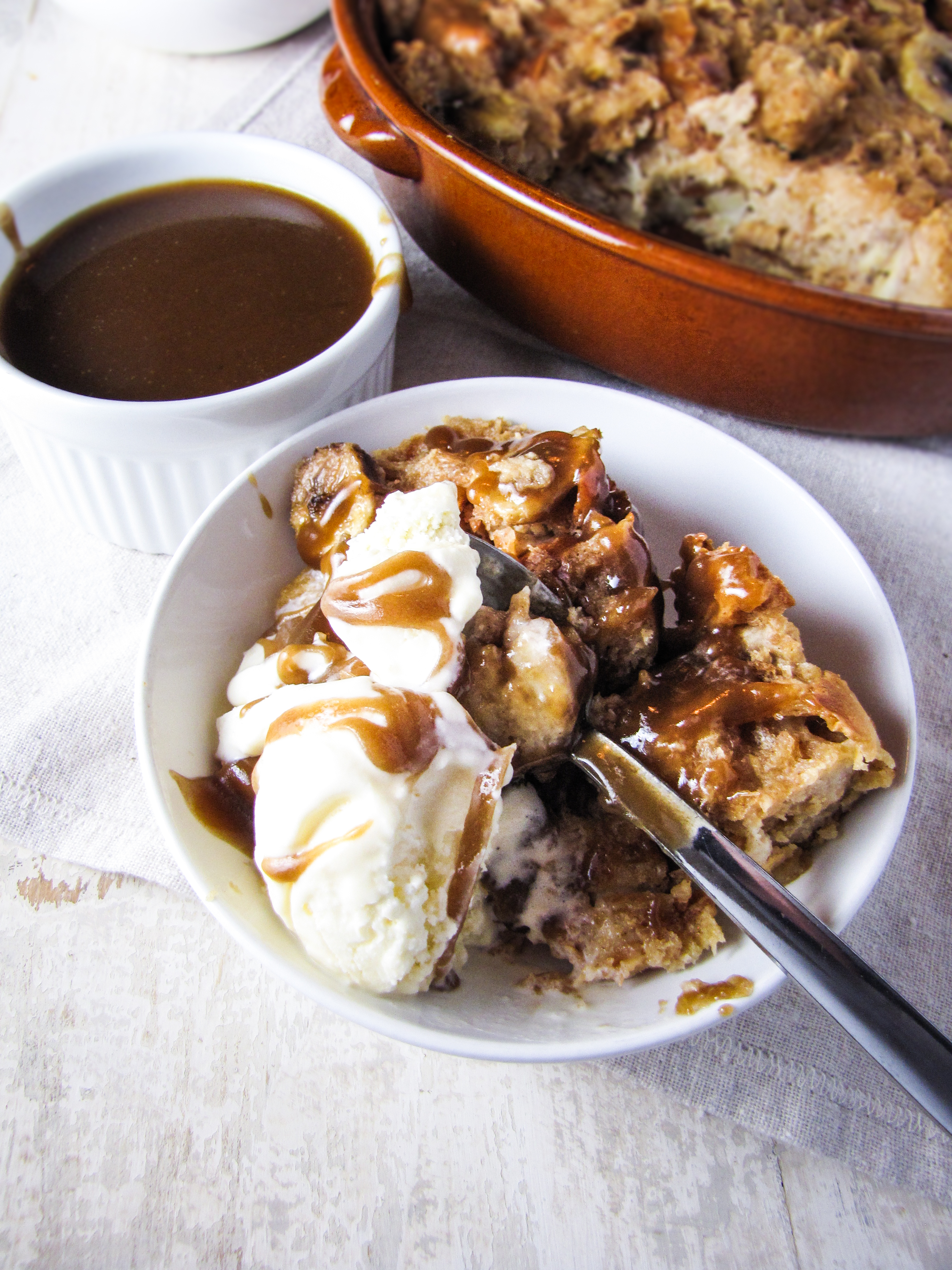 Cajeta-Banana Bread Pudding
Recipe from Tacos, Tortas, and Tamales. Serves 8-10.
Note: I only made 1/4 batch of the cajeta recipe, which yielded 1 c., but immediately wished I had made a full batch so I had some leftovers. Making the cajeta from scratch takes 45 minutes to an hour.
1 lb. brioche or challah, torn into 1/2-inch chunks
1 c. whole milk
1 c. cajeta (homemade is best)
1 tsp ground cinnamon
1 tsp vanilla extract
pinch of salt
1 c. heavy cream
3 large eggs
3 ripe bananas, peeled and thinly sliced
Preheat the oven to 350°F. Butter a shallow baking dish (a 9 inch pie pan would work well) and set aside.
Place the torn bread pieces in a single layer on a large baking sheet. Toast in the oven for 10-15 minutes, until dry on the outside but not colored. Let them cool.
In a small saucepan, combine the milk, cajeta, cinnamon, vanilla, and salt. Bring to a gentle simmer, whisking, until cajeta is completely melted, then remove from heat. In a medium bowl, whisk together eggs and heavy cream until smooth. Slowly drizzle in the hot milk mixture, whisking the eggs the whole time to keep from scrambling.
Toss the bread and the banana slices together in a large bowl. Add half of the custard to the bowl, stir to coat the bread, and let sit for 15 minutes to absorb the liquid. Add the remaining half of the custard and let sit for another 15 minutes. Pour the bread pudding into the buttered baking dish and bake for 30-35 minutes – the top should be browned slightly and a knife inserted into the center should come out clean. Serve hot with vanilla ice cream and leftover cajeta or butterscotch sauce (see recipe below).
Butterscotch Sauce
Recipe from the Food Network. Makes about 1 1/2 cups.
1/2 c. salted butter
1/2 c. heavy cream
1 c. light brown sugar
Combine all ingredients in a medium saucepan or saute pan. Bring to a boil over medium heat, stirring constantly. Boil gently until mixture has thickened, about 8 minutes. Remove from heat and serve over bread pudding – refrigerate leftovers.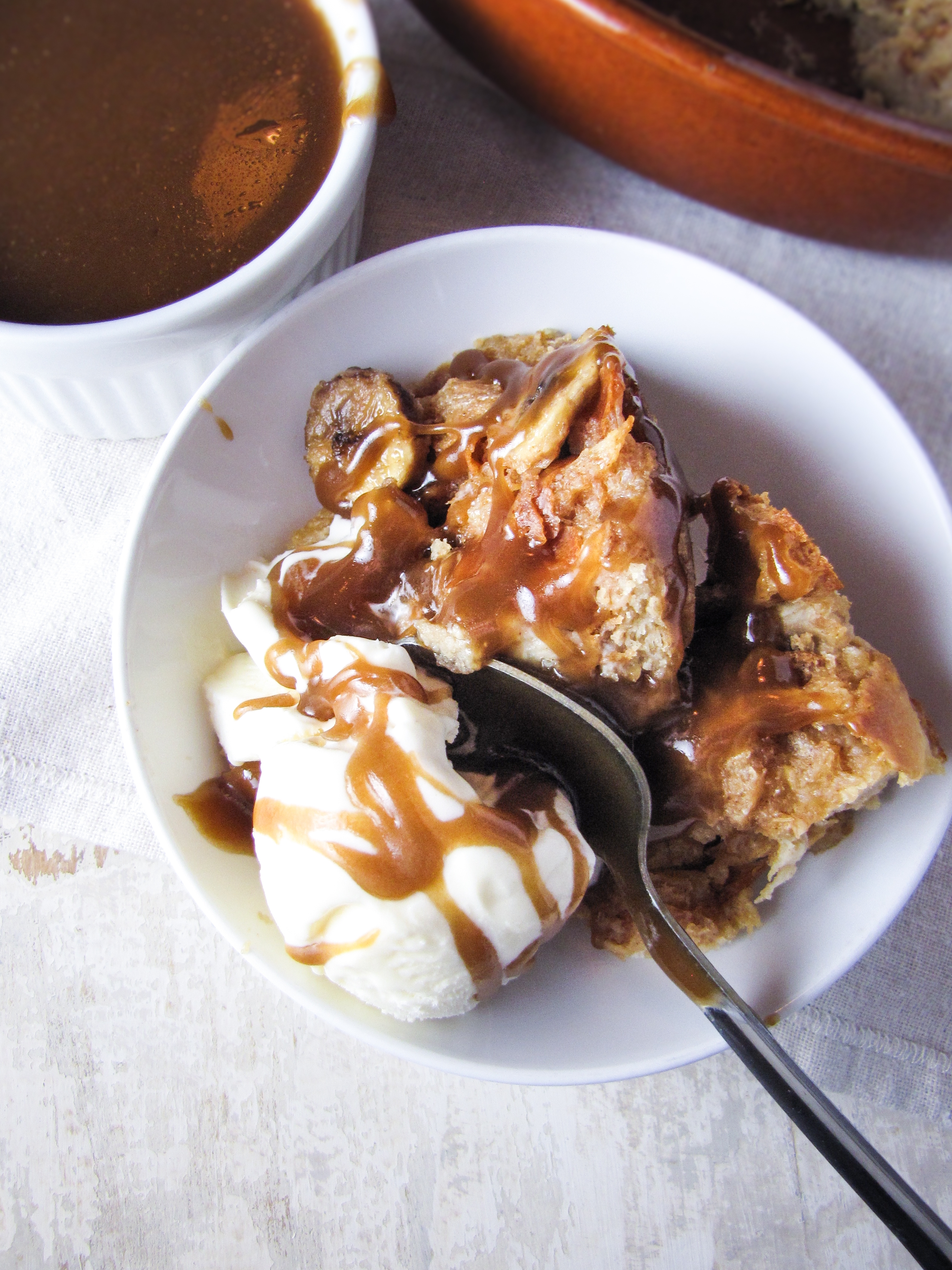 0