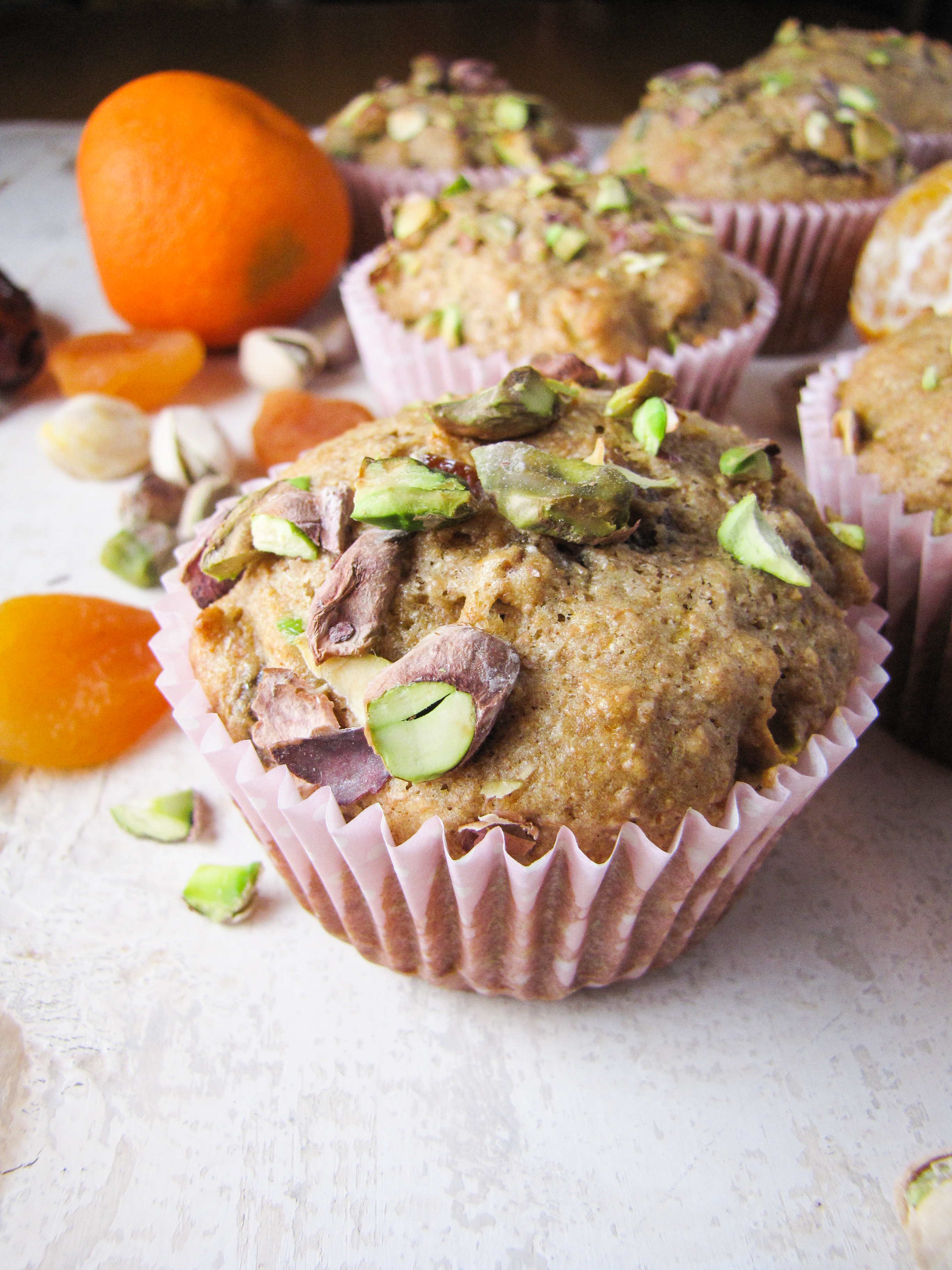 I'm pretty pleased with how these Monday morning resolutions are going. What I started on kind of a whim I've actually been able to stick with!  I haven't eaten a single piece of chocolate from the chocolate box at work for 5 weeks now (huge accomplishment), and I haven't skipped a day of walking the extra 15 minutes to my office in at least one direction, rain or shine. I've been slightly less consistent with some of the eating stuff – getting four green salads in per week has been surprisingly difficult. But what I think I'm proudest of is the strength training. Although I got off to a rough start during Thanksgiving week, over the past two weeks I've actually started to look forward to my daily 10 minutes of strength and stretching, and some nights, I've even managed to do 20 minutes. While I haven't lost any weight in pounds, I definitely feel stronger and more flexible – last night I did 25 push-ups in a row (probably an all-time high for me), and I've been holding my balances much longer in ballet. It's really encouraging.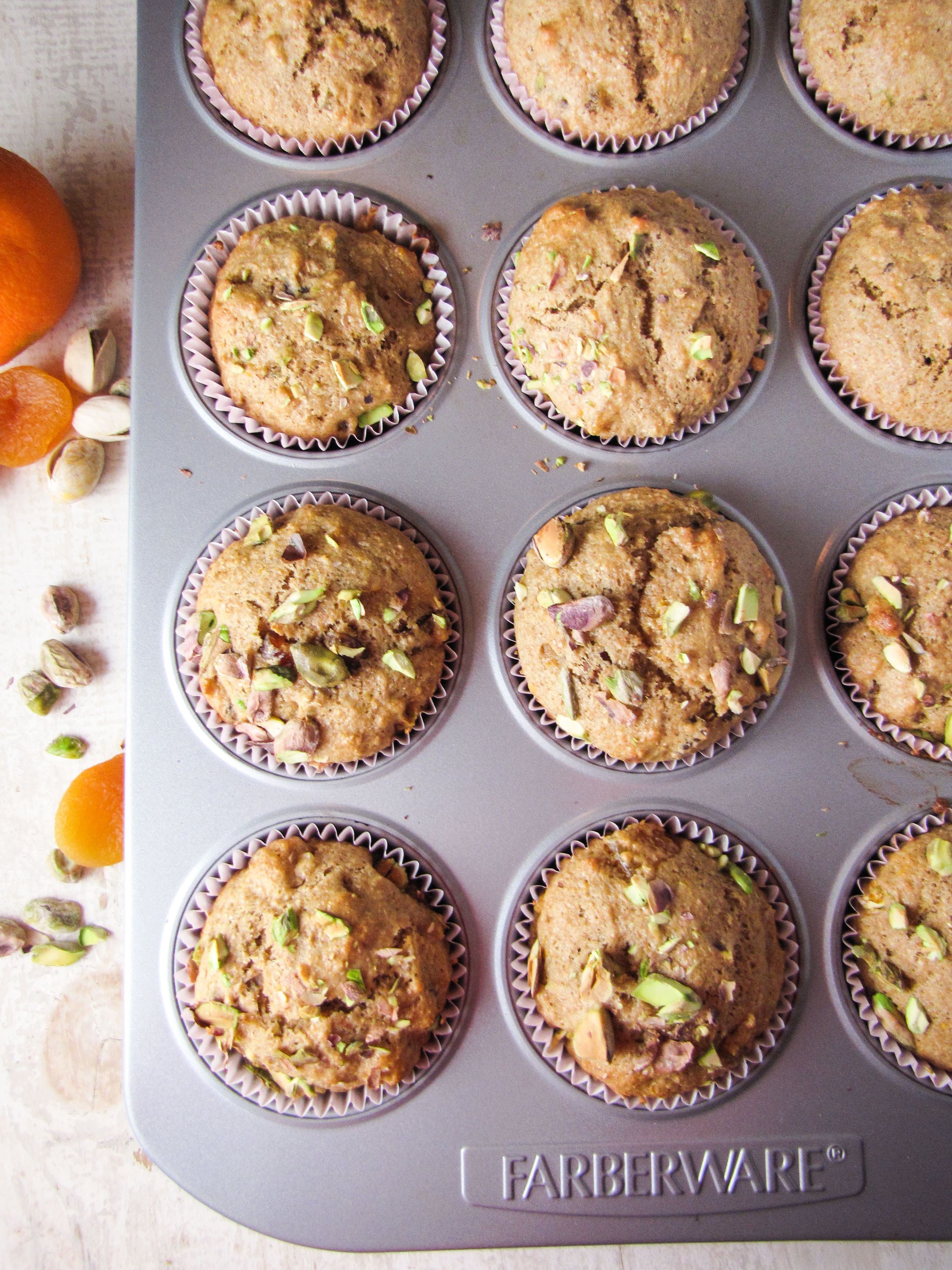 So, as promised, I'm sticking with it. This week's new resolution is inspired by Hannah of All Things Lovely's comment last week: to have a hearty, healthy breakfast at home each day. To kick things off, I made a batch of healthy whole wheat muffins from Maria Speck's Ancient Grains for Modern Meals. With dates, apricots, orange, and pistachios, they remind me very much of Christmas sugarplums (which I need to make a batch of soon…).  They're packed with good stuff, and have plenty of natural sweetness and flavor, but I did find them a little dry. I'm going to tinker around a bit with adding buttermilk or Greek yogurt to see if that moistens them a bit – until then, I'm leaving you with the original recipe. Let me know if you try it out! And as usual, please share your resolutions in the comments if you want to play along.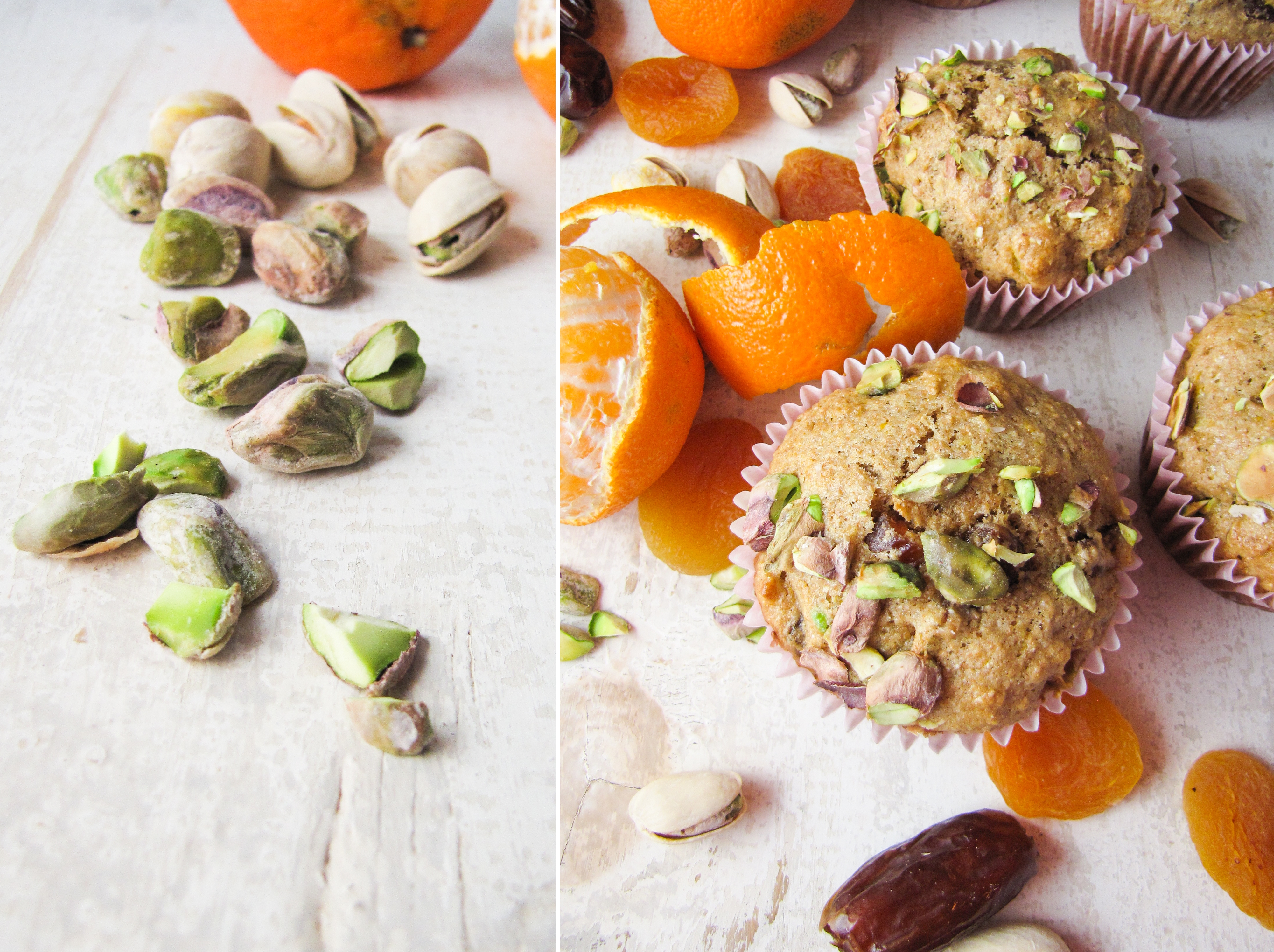 That's all for now. I've got a bunch more Christmasy recipes to share with you over the next few weeks, so stay tuned! Also, Trevor and I are halfway through this year's gingerbread house (see last year's model of the Zakim bridge, and 2010's gingerbread treehouse to get a taste of what your'e in for). I'll hopefully be back with pictures of the finished product by the end of the week!
P.S. Other healthy breakfast recipes from Katie at the Kitchen Door: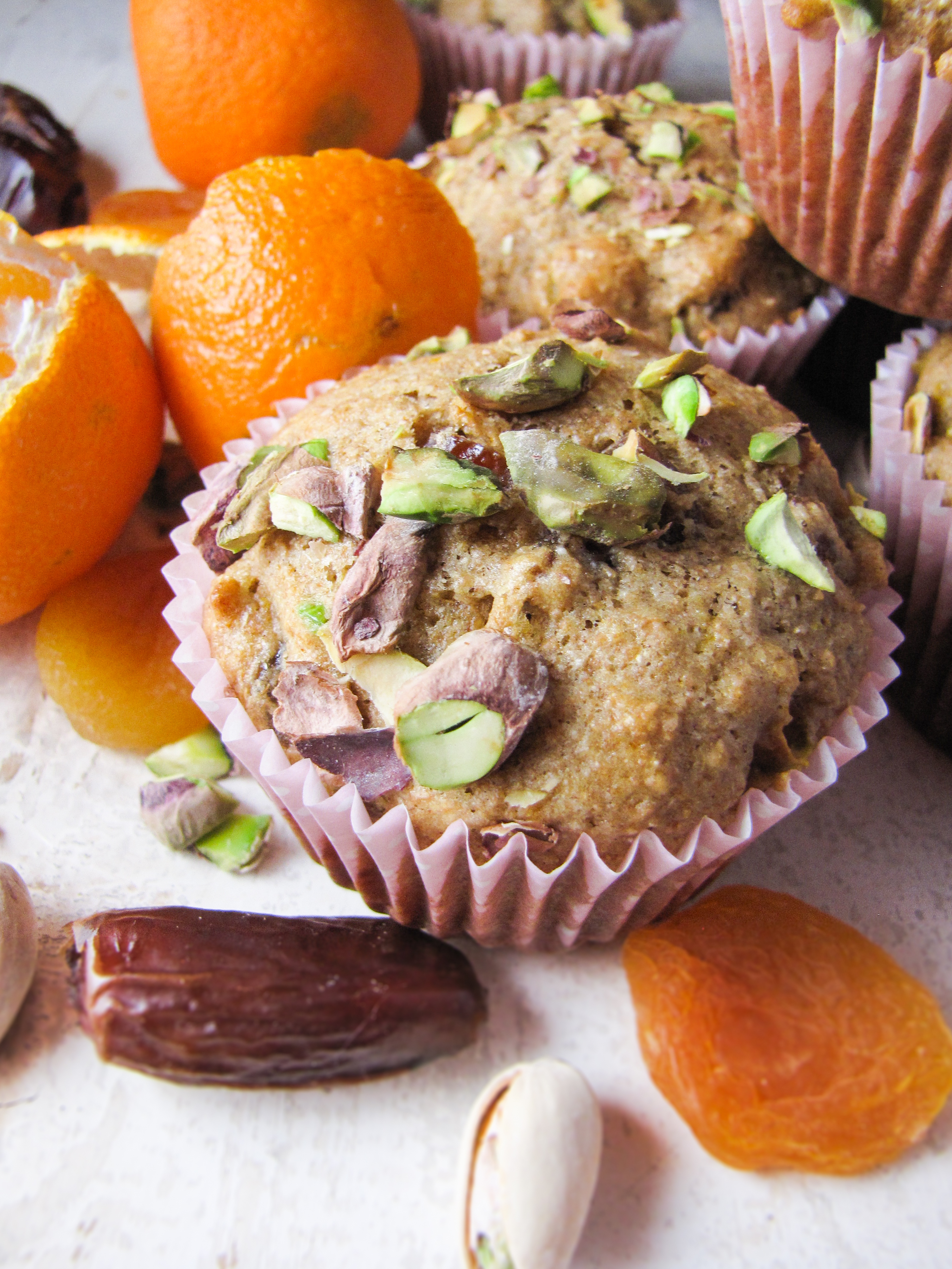 Healthy Orange-Date-Apricot Muffins with Anise
Adapted slightly from Ancient Grains for Modern Meals by Maria Speck. Makes 12 regular muffins.
Note: As mentioned above, I found these muffins a little bit dry as written. I'm still tinkering with the recipe, but the original (below) still makes a very healthy muffin with great flavor and natural sweetness. I'll update the recipe below if I find a way to make them less dry. Also, Maria calls for a topping made of 2 TBS sugar, 1/2 tsp ground anise, and 3 TBS chopped pistachios – I opted to top these with pistachios only.
2 c. white whole wheat flour
1/4 c. sugar
1 1/2 tsp baking powder
1/2 tsp baking soda
1/2 tsp ground cinnamon
1/2 tsp ground anise seeds
1/2 tsp salt
1/2 c. chopped dried dates
1/4 c. chopped dried apricots
3 large eggs, at room temperature
1/2 c. honey
1/3 c. olive oil
2 tsp freshly grated orange zest
3/4 c. freshly squeezed orange juice (from ~2 medium navel oranges)
1/2 c. + 3 TBS chopped roasted pistachios
Preheat the oven to 375°F. Line a standard-sized muffin tin with muffin cups or grease the pan itself.
Whisk together the flour, sugar, baking powder, baking soda, cinnamon, anise, and salt. Add the chopped dates and chopped apricots and stir briefly to coat the fruit with flour.
In a medium bowl, whisk together the eggs. Add the honey, olive oil, orange zest, and orange juice, and whisk until smooth. Make a well in the center of the dry ingredients and pour in the wet ingredients. Use a spatula to fold the two together until just combined – do not overmix. Stir in the 1/2 c. chopped pistachios, and add a heaping 1/4 c. of batter to each muffin cup. Sprinkle the tops of the muffins with the remaining 3 TBS chopped pistachios. Bake for 15-17 minutes, until domed and golden brown. Let cool on a wire rack.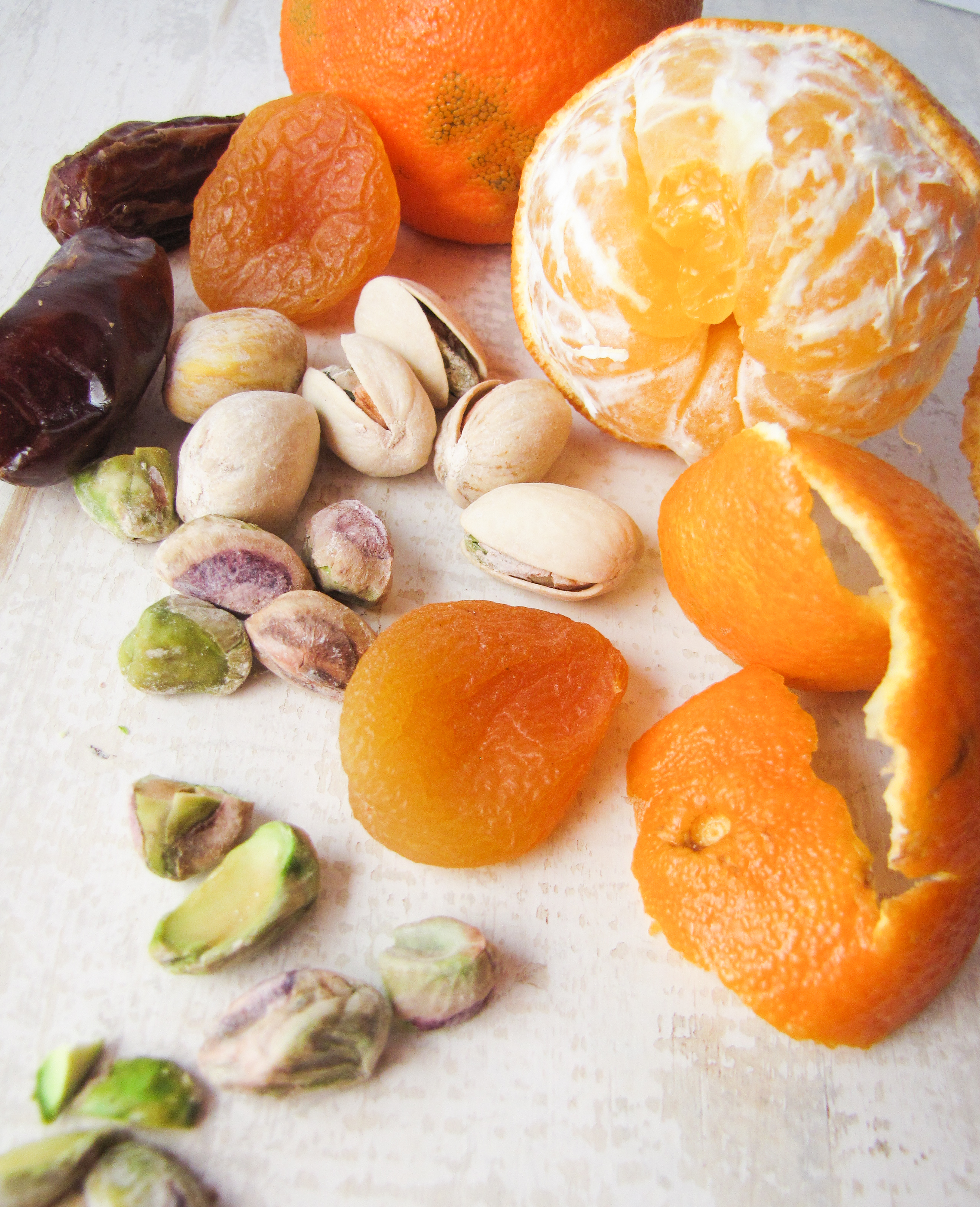 0