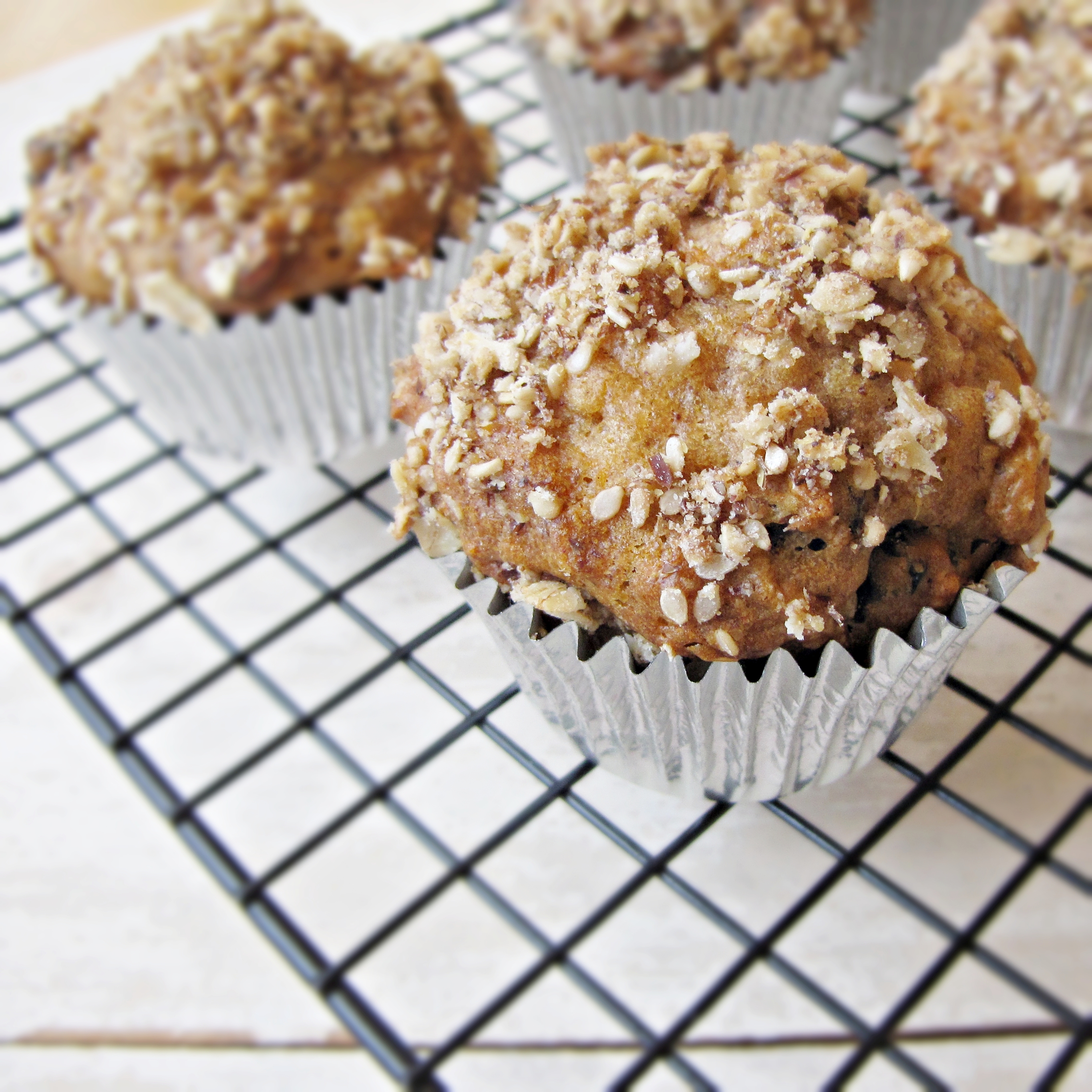 I haven't shared a ton of baking recipes recently.  Not much since Christmas anyway.  I think the last two baked goods I wrote about here were these plum squares and these cinnamon pumpkin rolls (way back in the beginning of December!).  This is partly because I haven't been baking a ton (much to my coworkers' chagrin), and partly because I've been trying to focus on healthy recipes of the sort you might be inspired to whip up for dinner on a weeknight.  Come to think of it, I was also out of town for 11 days in February, including most of the weekend days, which certainly cut into time I might otherwise have spent enabling my cookie habit.  But I truly love to bake – particularly on a sunny weekend morning like this past Sunday – and so I am here with these healthy carrot and apple muffins from Anja's Food 4 Thought.
If you're into healthy but interesting food and you haven't checked out Anja's blog, I highly recommend it.  Whenever I visit, I find myself bookmarking another handful of recipes to try – like broccoli, almond and tahini salad, quinoa-granola bars, or  zucchini-chickpea-feta fritters.  Maybe we just like the same foods, but I think almost everything she posts sounds totally delicious and intriguing – and there are a lot of foods out there that don't hold a ton of appeal for me.  Anyway, check it out.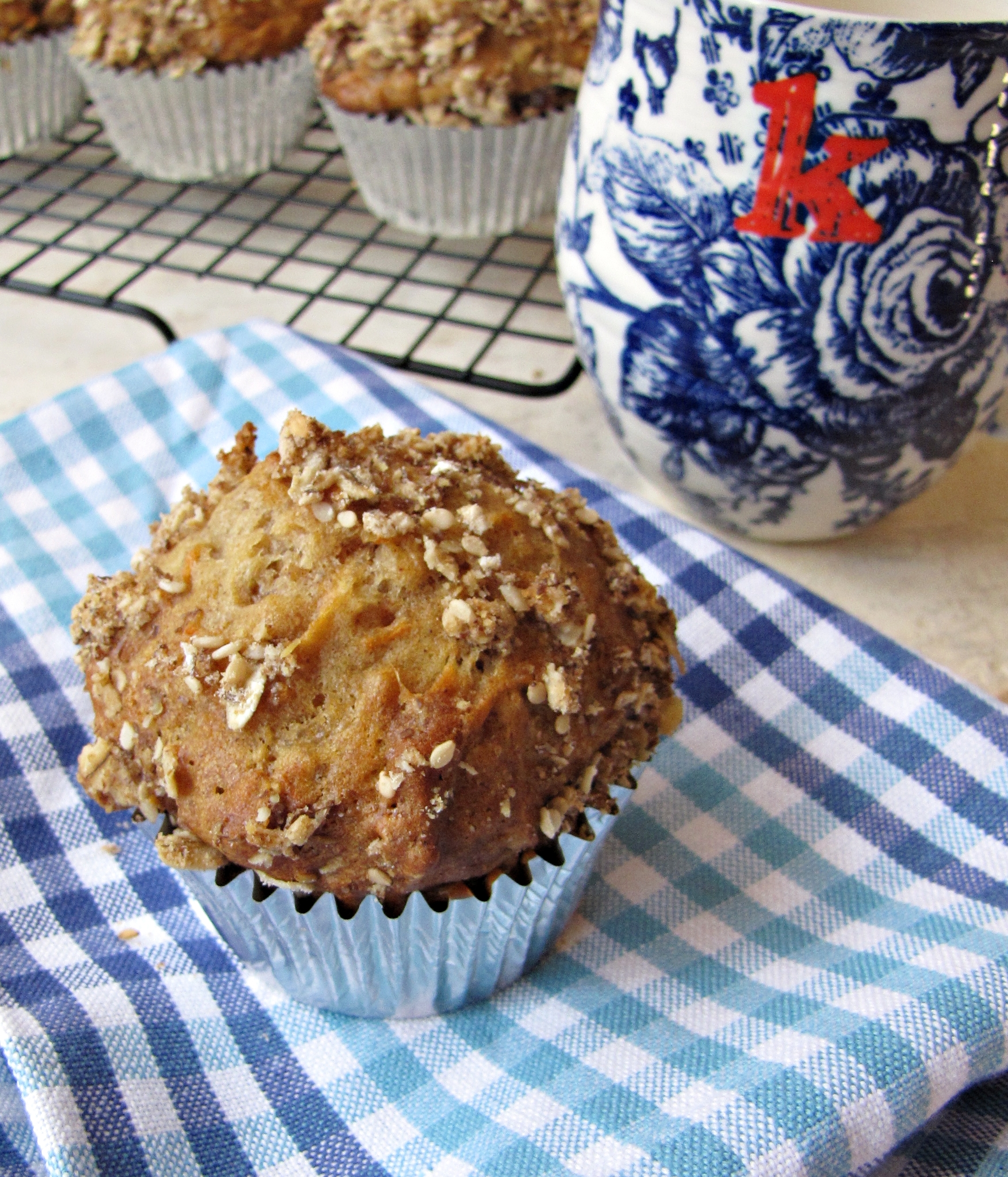 These muffins, which have only 230 calories per pop with a good amount of vitamins (and decent protein and fiber), surprised me with their moist, light, sweet flavor.  I mean, I've never made healthy muffins that really tasted good before.  Like, think the opposite of bran muffins.  (Not a big fan of bran).  These are full of good-for-you ingredients, like apples, carrots, dried fruit, greek yogurt, sesame seeds, and oats, and use olive oil and maple syrup to replace the more typical butter and sugar.   It's a little bit time consuming to prepare all the parts, but I think they would just be good without the nutty-crumble topping, if you're feeling lazy.  One of these muffins and a cafe au lait was an excellent, and almost guilt-free start to my week.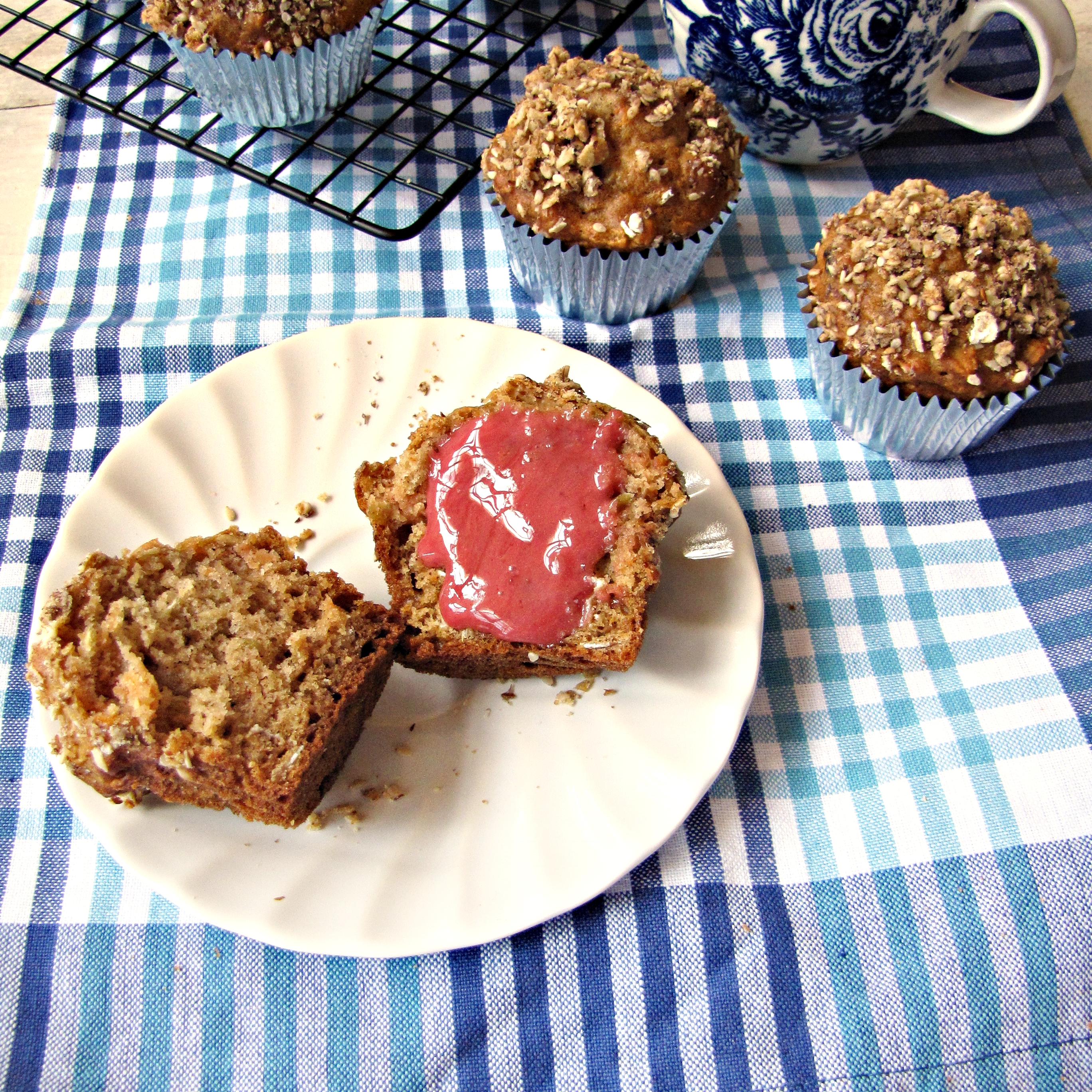 Carrot and Apple Muffins
Makes 15 standard muffins.  Adapted from Anja's Food 4 Thought.
For the muffins:
2 eggs

1/2 c. maple syrup

1/2 c. olive oil

6 oz. greek yogurt

2 tsp vanilla

3 medium carrots, peeled and grated

2 medium apples, peeled and grated

1/2 c. dried fruit (raisins, cranberries, cherries)

1/2 c. quick cooking oats

2 c. whole wheat flour (I subbed AP with fine results)

2 tsp baking soda

1/4 tsp ground nutmeg

1/2 tsp ground cinnamon

1 tsp ground ginger

1/2 tsp salt
For the topping (I adjusted to use what I had in the cupboard):
1 TBS cold butter

1 TBS brown sugar

1 TBS flour

2 TBS oats

2 TBS sesame seeds

1 TBS ground flaxseed
Preheat oven to 375°F, and line standard-sized muffin pan with muffin cups.  In a medium bowl, whisk together eggs, maple syrup, olive oil, yogurt, and vanilla.  Set aside.  In a large bowl, stir together all dry ingredients (oats through salt) until thoroughly mixed.  Pour wet ingredients into dry and mix until all ingredients are evenly moistened.  Stir in grated carrots, grated apples, and dried fruit.




In a small bowl, use a pastry cutter or fork to press together butter, sugar, and flour until crumbly.  Add oats, sesame seeds, and flaxseed, and press together until they form a uniform crumbly mixture.

Fill each muffin cup almost to the top with batter.  Sprinkle a spoonful of the topping over each muffin.  Bake for 20-22 minutes, until domed and golden, and a toothpick inserted into the center of a muffin comes out clean.