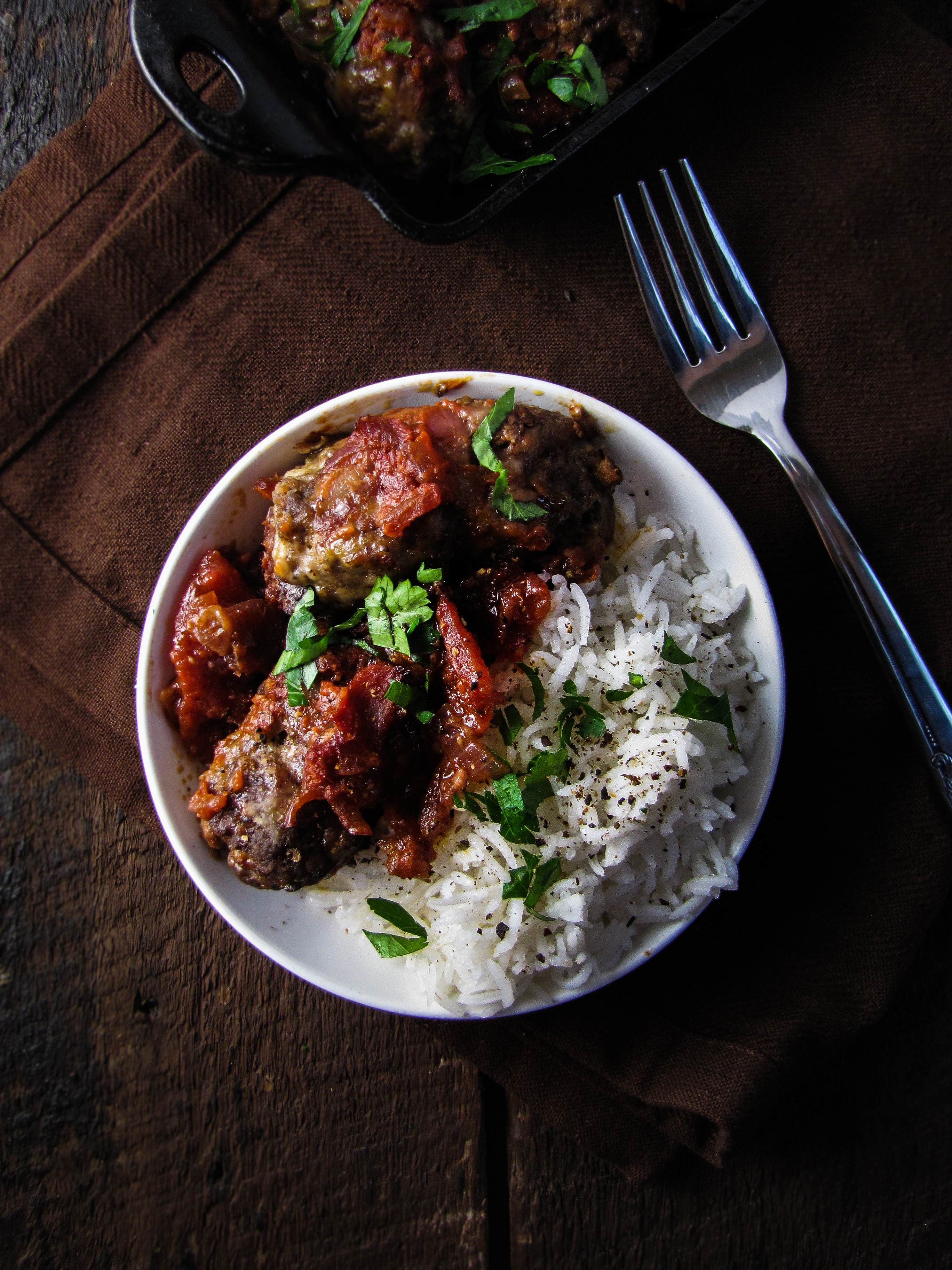 I have a good friend at work who is Bulgarian, and who argues staunchly that every food attributed to Greece is actually Bulgarian in origin. This moussaka I brought in last week? Bulgarian. Those yummy little Greek cookies? Bulgarian.  Greek yogurt is her biggest pet peeve, and my coworkers and I kinda enjoy getting her riled up about it (although I will say, her argument that the back of Greek yogurt lists "Bulgarsko culture" as an ingredient is pretty convincing). I had a lot of fun running some of the potential recipes for this post by her and listening to her stories of how her mother makes the best version of each of the dishes I mentioned.
Whatever the true origin, Greek food is delicious, so I was excited to snag a review copy of The Country Cooking of Greece. If you're an avid cookbook collector/nerd, you may remember that The Country Cooking of Ireland won the James Beard cookbook of the year award in 2010. I didn't know it until recently, but there are two other books in this "series" – The Country Cooking of Italy and The Country Cooking of France. Such a fun collection! Here's hoping they do somewhere dear to my heart, like the Czech Republic (or Russia!) next. But back to Greece.
This book is a beautiful compendium of traditional Greek recipes.  Although a Greek grandmother will probably always be your best bet for learning the secrets of Greek cuisine, this book – with 200 recipes, full-page photographs for the majority of the recipes, and dozens of sidebars on Greek ingredients, traditions, and cooking techniques – makes a suitable substitute.  I actually learned quite a bit from the sidebars, like that ouzo may be distilled from grain, grapes, potatoes, or a combination, or that there are 3 techniques for making avgolemono but the ratio is always the same – 2 eggs, 1 lemon, 1 quart of hot liquid.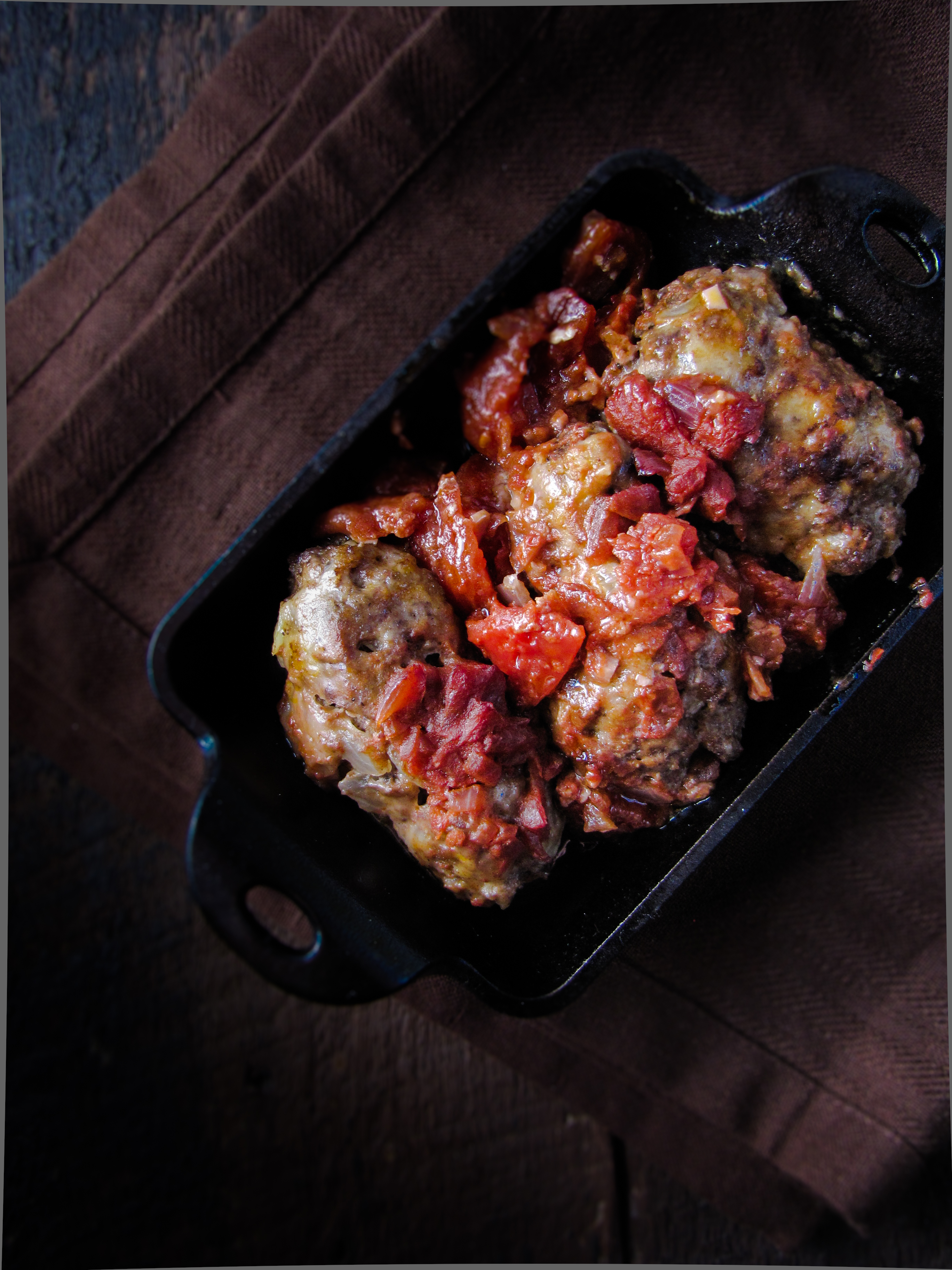 The recipes in this book are a cut above the dishes you'll find at your favorite Greek diner.  Classic pastitsio gets updated to include a citrus and fennel scented shrimp sauce, moussaka goes vegetarian and is made with artichokes and caramelized onions, and saganaki gets rolled in pistachios before being fried.  However, while I'm excited to have added a whole slew of totally new recipes to my to-try list, I'm a little disappointed that this book doesn't have definitive recipes for some of my favorite Greek-American staples, like souvlaki, falafel, and baklava – I'll have to keep looking for those.
Like other rustic agricultural cuisines, vegetables get plenty of attention from traditional Greek recipes. In fact, I was just reading an article about the incredible longevity of Greeks on the island of Ikaria, due in part to their vegetable and olive-oil heavy diets.  Intrigued?  There are recipes for Ikarian Zucchini, Chard, and Herb Pie, Ikarian Zucchini Fritters with Fresh Oregano and Mint, and Smothered Summer Vegetables from Ikaria included in this book – you, too, can live forever.  Much like Japanese Farm Food, gardeners and CSA-members will find plenty of new ways to use up their eggplant, zucchini, tomatoes, and greens.
So far, I've tried two recipes from this book – the Pupmkin and Sweet Potato Moussaka I made last weekend (which I admit to adapting significantly) and these Smyrna-Style Baked Sausages.  (I seem to be choosing recipes without the signature Greek food health benefits, huh?)  Both recipes were scrumptious – flavorful, interesting, and comforting.  These sausages reminded me of the gently-spiced sausages my mom makes on Christmas morning.  Together with the tangy tomato sauce, I tried them both on plain rice and whole wheat pasta with parmesan cheese – the pasta won hands down and was the most satisfying thing I've eaten all week.  I will say that both the recipes I tried took a bit of time – they weren't complex, but both required making and then combining multiple components, which resulted in great flavor… but lots of dishes.  Other recipes on my shortlist that you may see around here in the future include Braised Lamb with Chickpeas and Tomato Sauce, Santorini Tomato Fritters, and Pan-Fried Semolina Cake.
The bottom line: The Country Cooking of Greece is a well-researched and beautiful book that will take you beyond the popular Greek-American classics to the food that's been cooked in home kitchens for centuries.  Although recipes for some well-known classics are missing, the range and variety of recipes that are included more than makes up for it.  You're sure to find at least one or two completely new ideas, and if you're looking to recreate the meal you had in that tiny village restaurant in Greece… this might just be the place to start looking.
Disclaimer: Chronicle Books provided me with a review copy of this book free of charge, but as usual, all opinions are my own!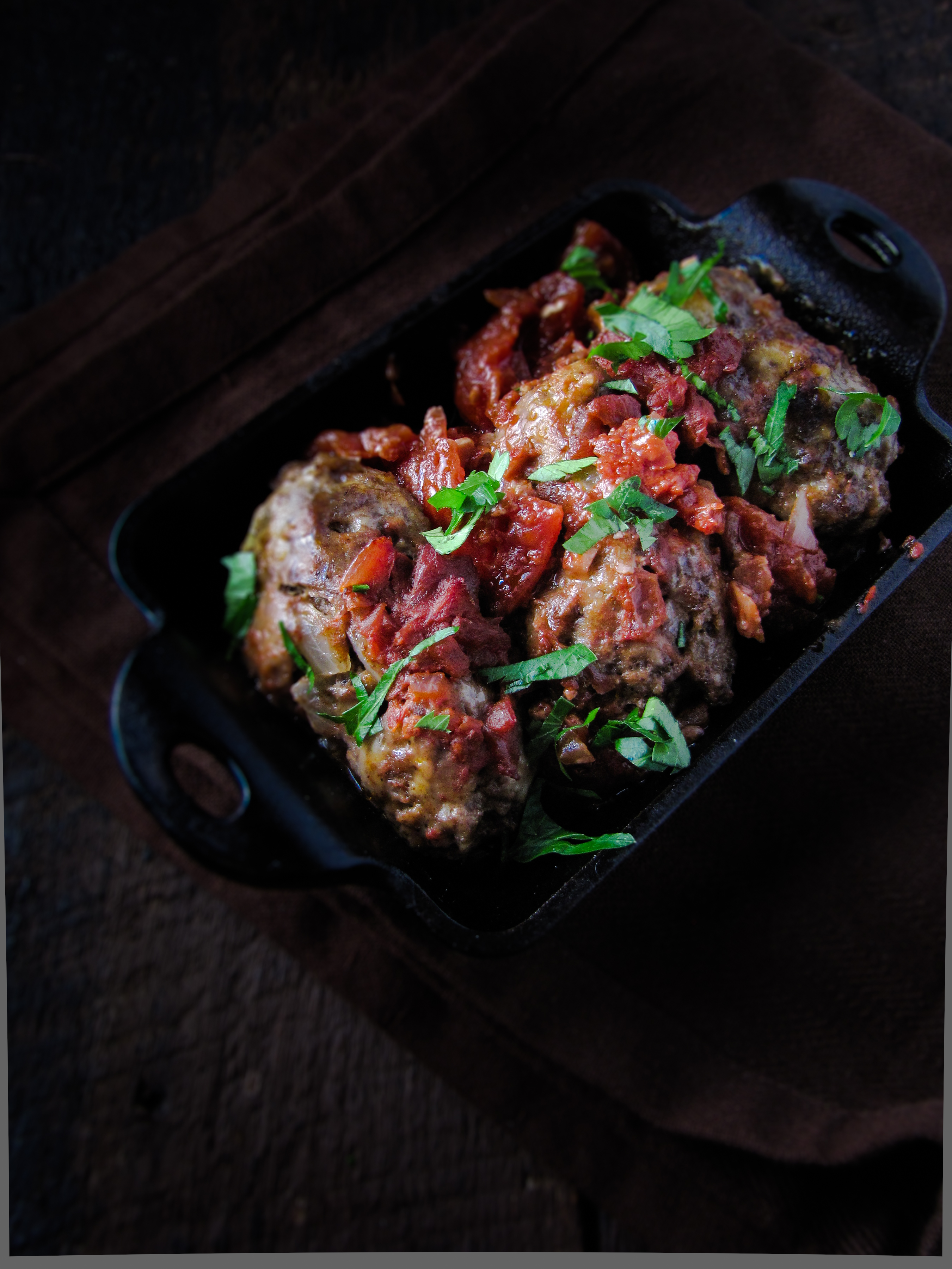 Smyrna-Style Baked Sausages
Recipe from The Country Cooking of Greece by Diane Kochilas. Makes 10 small sausages.
Note: Diane suggests serving this over rice or bulghur, but I liked it best over whole wheat spaghetti with a little bit of parmesan. If you plan to use it as a pasta sauce rather than a side dish, you should double the sauce quantities that are written below.
For the sausages:
1 1/2 lb ground beef
1/3 c. coarsely chopped white onion
1 garlic clove, minced
1/4 tsp ground allspice
1/4 tsp ground nutmeg
1 1/2 tsp paprkia
1/2 tsp cinnamon
2 1/2 tsp cumin
salt and pepper to taste
1 egg
2 TBS dry white wine
1/4 to 1/2 c. dry bread crumbs (making your own is best!)
2 TBS olive oil + some for frying
flour for dredging
For the sauce:
2 TBS olive oil
1/2 small red onion, finely chopped
1 garlic clove, minced
1/4 c. dry red wine
1 28 oz. can whole plum tomatoes, roughly chopped and their juice
1 tsp sugar
1/2 tsp red pepper flakes
1 tsp butter
salt and pepper to taste
Make the sausages: In a large mixing bowl, stir together the onions, garlic, and spices. Add the ground beef and use your hands to mix together. Add the egg and wine and knead well to combine. Add just enough of the bread crumbs so that if you form a ball with your hands it stays together. Mix in the olive oil, then cover and refrigerate for 30 minutes.
While the sausages are chilling, make the sauce. Heat the olive oil in a large saucepan over medium heat. Add the onion and cook until soft, about 3-4 minutes. Add the garlic and cook for 1 minute longer. Add the wine, chopped tomatoes, sugar, and red pepper flakes, and stir. Bring to a boil, then reduce heat and simmer, uncovered, until slightly thickened, about 10-15 minutes. Remove from heat and stir in butter, then season to taste with salt and pepper. Set aside.
Preheat the oven to 350°F. Heat a thin layer of olive oil in a large saucepan over medium-low heat. Form the chilled sausage mixture into small sausages about 3 inches long and 1 inch thick. Place some flour on a plate and roll the sausages in the flour, then fry the sausages in batches, turning over gently part way through cooking to brown on all sides. Once cooked, place the sausages in a single layer in a baking pan, then cover with the tomato sauce. Cover tightly with foil and bake for 40 minutes. Serve hot, with starch of your choice.
2