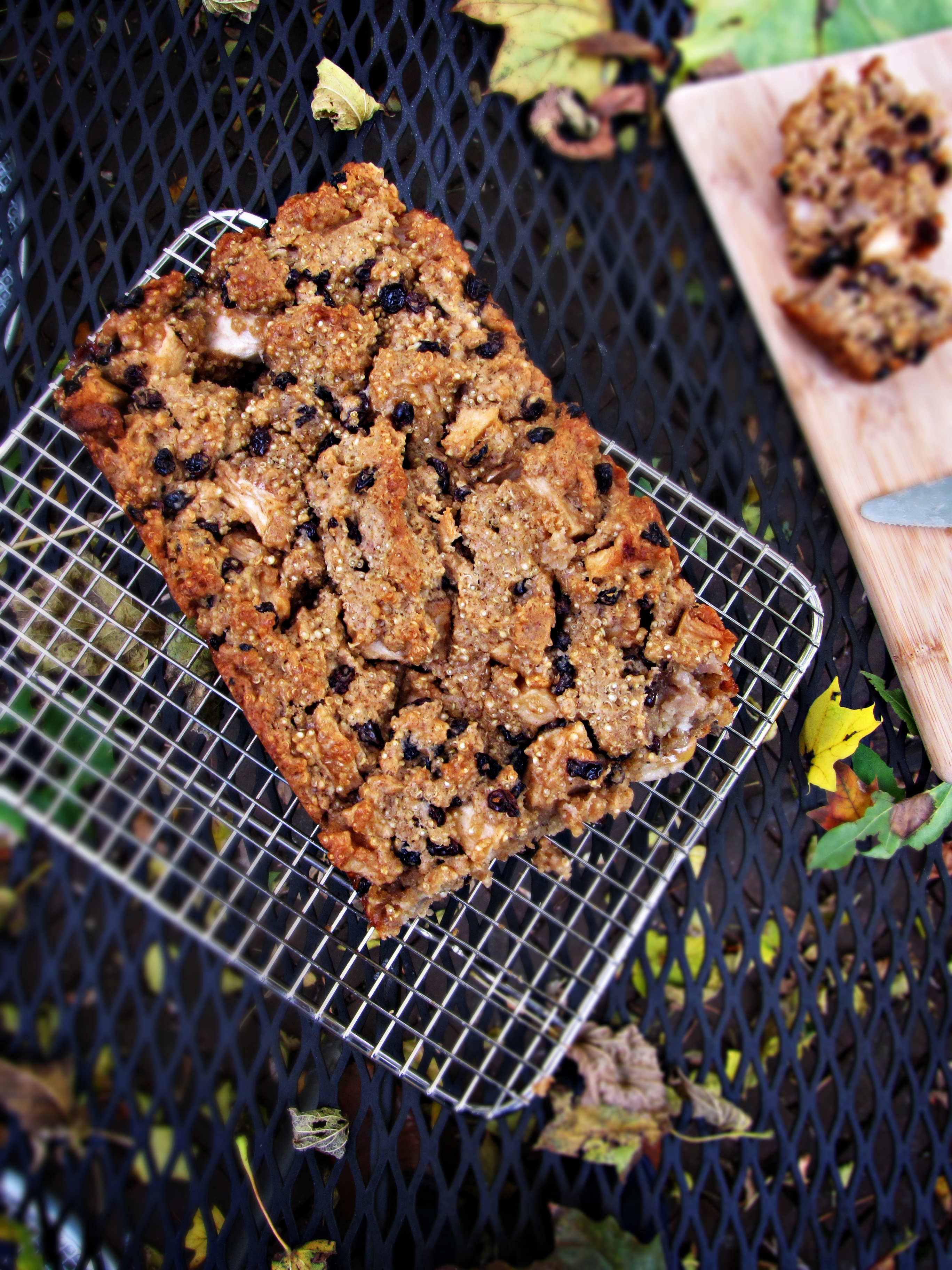 Just a quick hello to share this cake that I made for Greatist with you.  When I saw this cake in Home Made Winter (p.s., you still have until midnight tonight to win a copy!), I was immediately intrigued.  Cooked whole quinoa to replace some of the flour?  Sounded like a good idea for a nutritious cake, and I didn't need any fancy flours to make it.  Add to this the fact that I had a bunch of apples leftover from apple-picking slowly softening on the counter, and that it was full of fall spices, and I was sold on trying it.
Still, I'm always a little bit skeptical of "healthy" cakes, and this one was no exception.  Granted, it's not über-healthy – it still has butter and sugar in it – but it's no chocolate-peanut butter health monster.  So I was pleasantly surprised by how much I genuinely liked the flavor of this cake – enough to immediately crave (but resist!) another slice.  It's very moist, very apple-y, and just cinnamon/ginger/nutmeg-y enough.  It's a little bit loose in its texture and so falls apart pretty easily, but I think this could be combatted by adding an egg.  I'm planning on making this cake again next week to have as a snack before my half-marathon, so I'll try the egg thing then and report back!  Speaking of half-marathons… I'm so tired of training for them.  But I did my last long run on Saturday, and I'm almost ready to taper.  Then I'm taking two weeks off – and I can't wait!  I take my hat off to those of you who run them regularly, and those of you who go for twice (or three, or four times!) as long.  Training for these two halfs this fall has made me realize that I will never be running a full marathon, but I will make this cake for everyone I know who does.  The rest of you lazy-like-me people should make it for yourselves – head on over to Greatist for the recipe!
Also, I have to give a shout out to my little brother, who turns 22 today!  Happy Birthday, Rynie, I love you :-).  Last year I made him these Dark and Stormy Brownies, and they quickly became my most popular post of all time by a long shot (like, 6 times more popular than the 2nd most popular post on this site).  So Ryan, maybe you're my lucky charm!  Have a great day, bro.
0