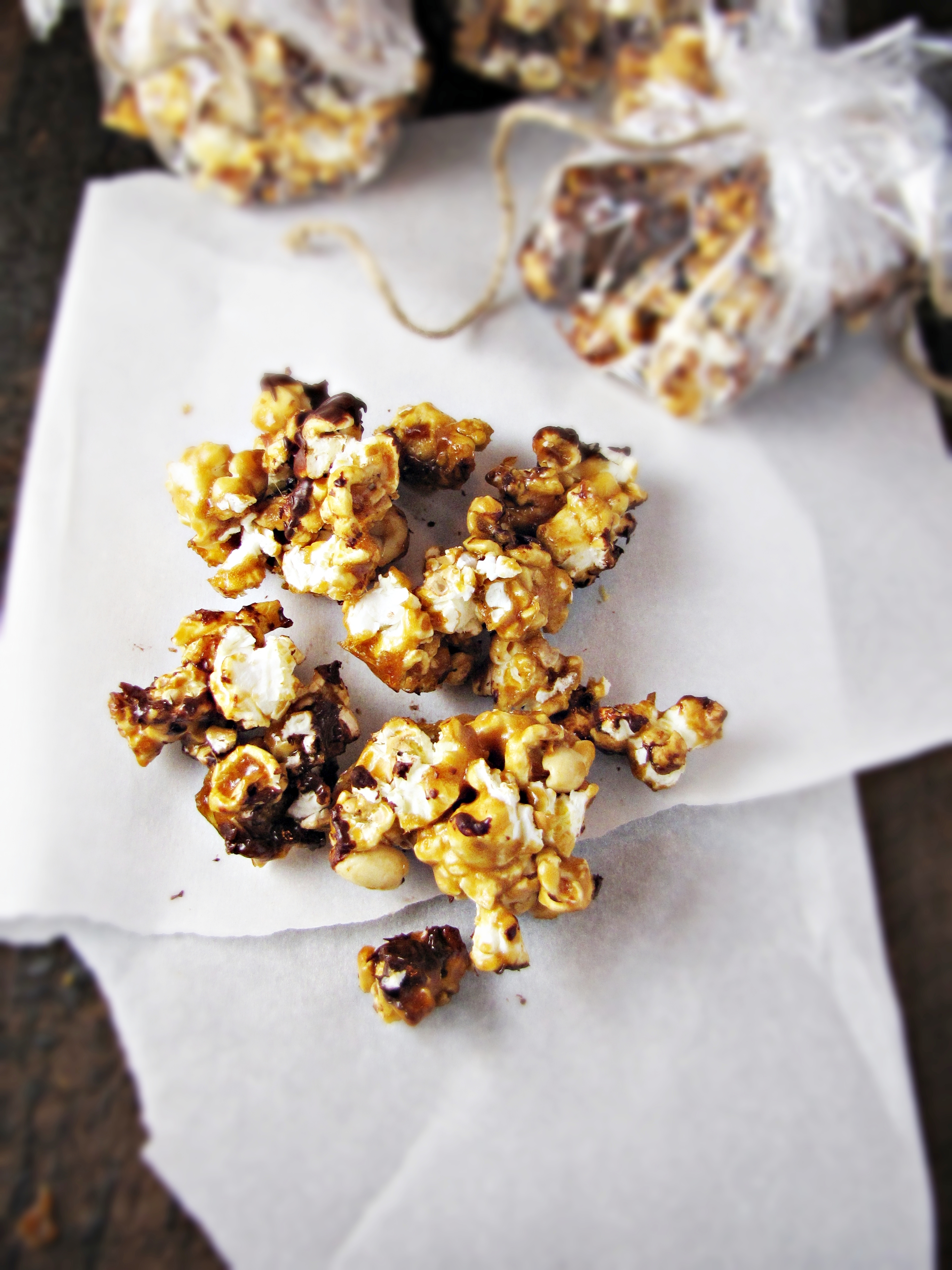 This post is a result of the confluence of several forces.  Number one, Baked Explorations was going to be September's cookbook of the month, until it was this weekend and I realized that I was going to be spending all my time taking my mom to tea at the Taj/ buying most of the stock at the Ann Taylor outlet/ eating homemade duck confit/ snuggled up in bed… not having a baking extravaganza like I had planned.  I'm not complaining, though, it was a great weekend.  Number two, as every food blogger and their mother has mentioned several times since the first chilly day in September, it's fall, and fall makes us all want to eat lots of apples and stews and pumpkin-flavored things and caramel.  Number three, Trevor and I have gone to the movies every Friday for the past 3 weeks, and each time I got popcorn for dinner.  So it's been on my mind.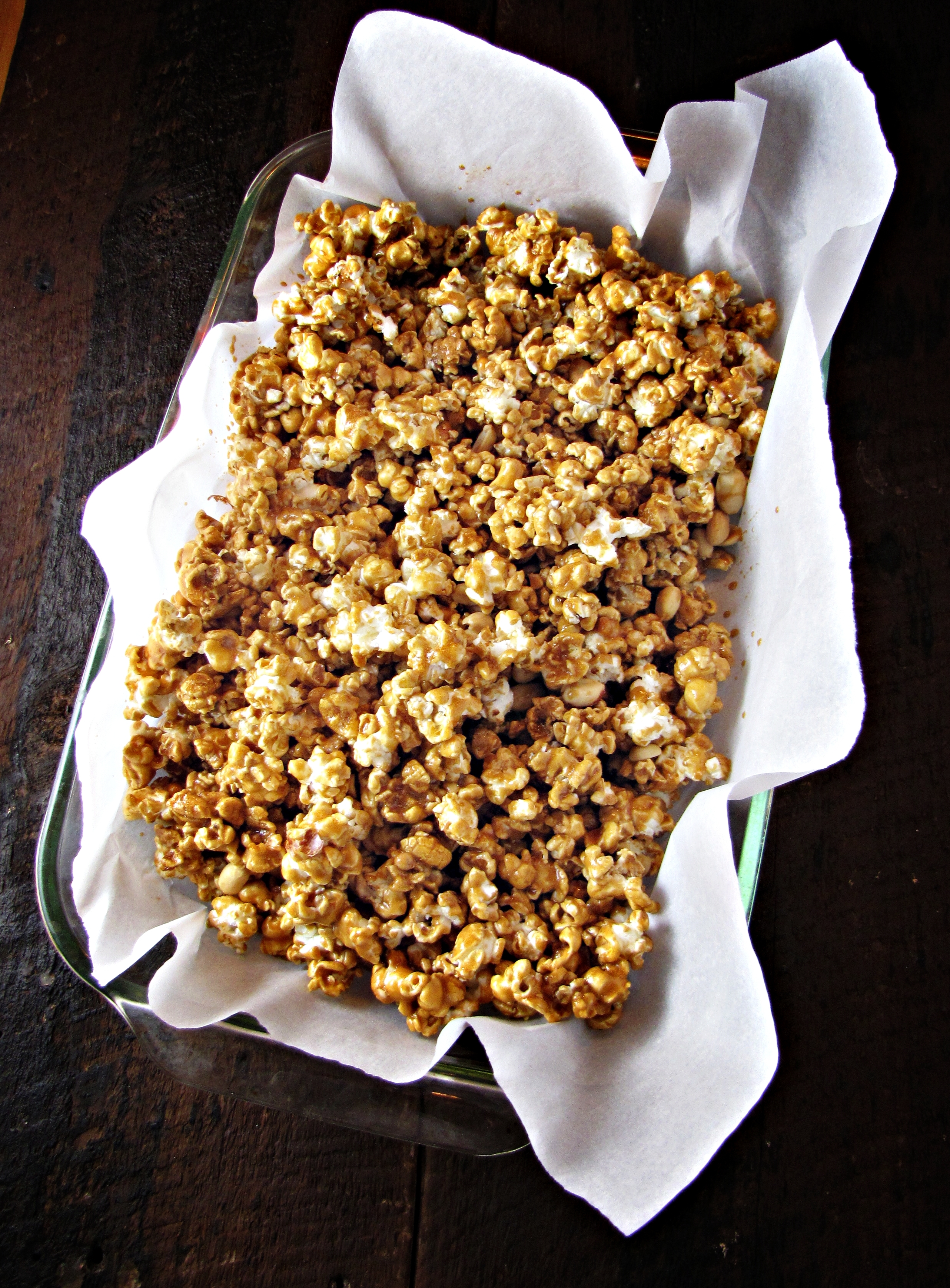 The summer movie season was kind of disappointing.  I mean, Avengers was awesome, and OK, so was Prometheus, but other than that?  Not much doing.  The fall movie season though is looking pretty exciting.  The Hobbit on December 14th.  Les Mis (with Hugh Jackman!) on Christmas Day.  Cloud Atlas on October 26th.  Anna Karenina on November 16th.  Life of Pi on November 23rd. I could go on, but suffice it to say, I might be eating a lot more popcorn before Christmas.  And this particular popcorn – mixed with homemade caramel sauce, salty peanuts, and a drizzle of melted chocolate – will definitely be sneaking into the theater in my purse more than once.  The guys at Baked have gotten it right again with this recipe.  Maybe it's hard to go wrong with caramel and chocolate and popcorn, but this recipe is addictive, and also super easy to make.  It's a great addition to any baker's repertoire!
I have to tell you two more things about this popcorn.  One, it would make a great holiday gift as part of a food package, especially tied up in cute little plastic bags.  I haven't found a single reliable source for food safety information on caramel corn, but internet consensus says homemade caramel corn should last about two weeks in an airtight container.  If it's in your house, I promise you it won't last that long before you devour it, but I think you could get away with making it a few days before giving/serving it (and hiding it from your sight!).  If in doubt, wrap it up and freeze it until you're ready to give it away.  Two, while straight-up air-popped popcorn is a great healthy snack, this recipe is a fat/sugar/calorie bomb.  Be careful with it.  Treat each cup of popcorn like you would a chocolate chip cookie – they have basically the same ingredients.  Now with that warning – go try it!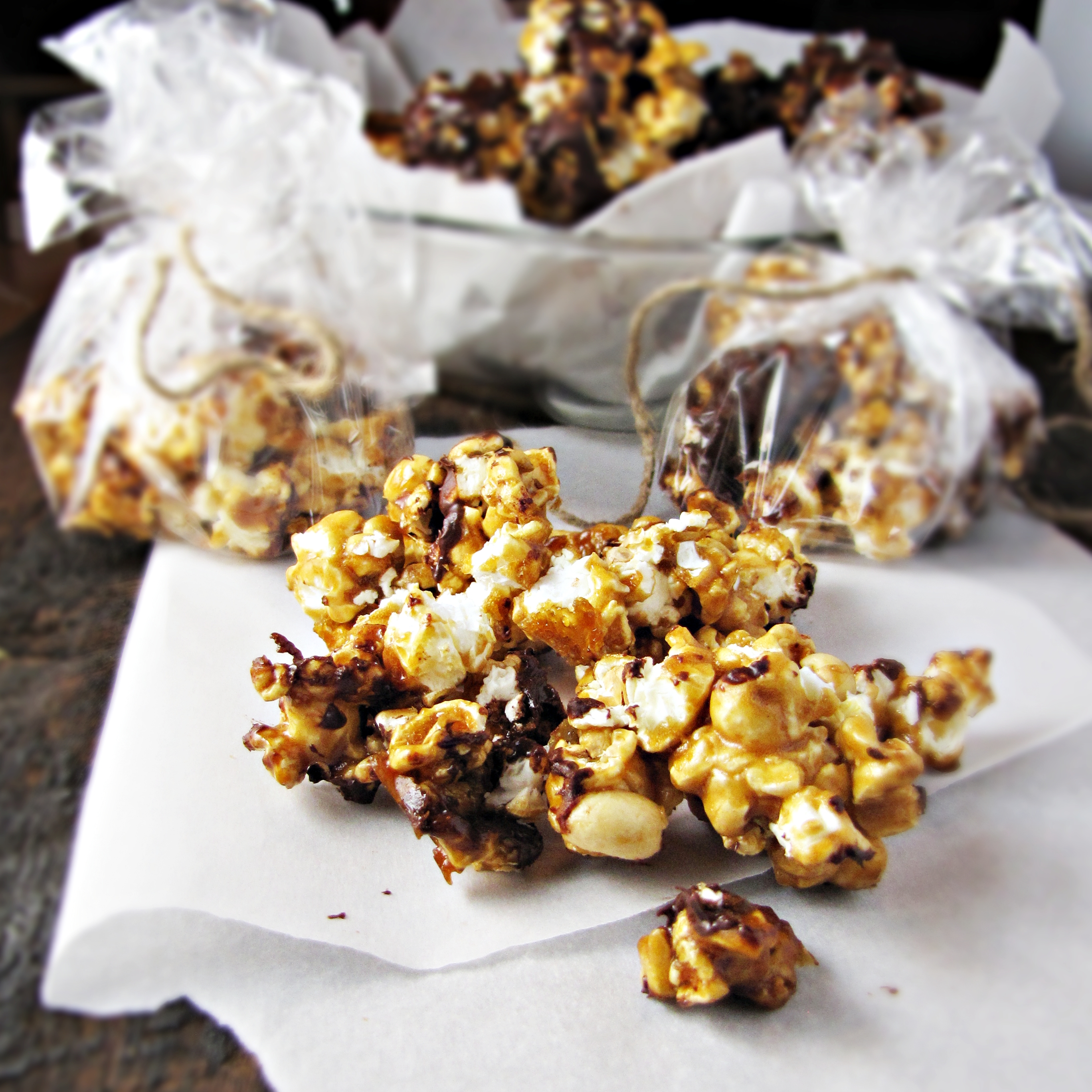 Caramel Corn with Peanuts and Chocolate
Adapted slightly from Baked Explorations.  Makes 10 cups.
10 cups popped popcorn (about 1 regular sized bag)
1 stick butter
1 c. brown sugar
1/4 c. light corn syrup
1 TBS molasses
1/4 tsp salt
1/2 tsp baking soda
3/4 tsp vanilla
1 c. roasted, salted peanuts
6 oz. dark chocolate, melted (1/2 regular sized bag)
Preheat oven to 250°F.  Line a large roasting pan with parchment paper, and set aside.  Place popped popcorn in a large bowl.
In a medium saucepan over low heat, melt butter.  Once melted, stir in brown sugar, corn syrup, and molasses.  Cook, stirring occasionally, until it begins to bubble.  Then, stir constantly until it reaches 240°F, also known as "soft-ball stage."  To see how to test for this stage without a thermometer, see this article (basically, when a drop of syrup on a cold plate or in cold water forms a sticky "soft" ball – not immediately hard and not still fluid.)  Immediately remove from heat, and stir in salt, baking soda, and vanilla.  Careful – the baking soda will make it foam up slightly, so keep stirring and don't let it spill over the edges.
Pour caramel over popcorn and stir to coat evenly.  Sprinkle with peanuts, then spread in lined baking sheet.  Bake for 15 minutes, remove and stir, then bake for another 20 minutes.  Remove from oven and let cool for 10 minutes.
Drizzle cooled caramel corn with melted chocolate.  Once the chocolate has hardened, break the caramel corn up into pieces and enjoy!