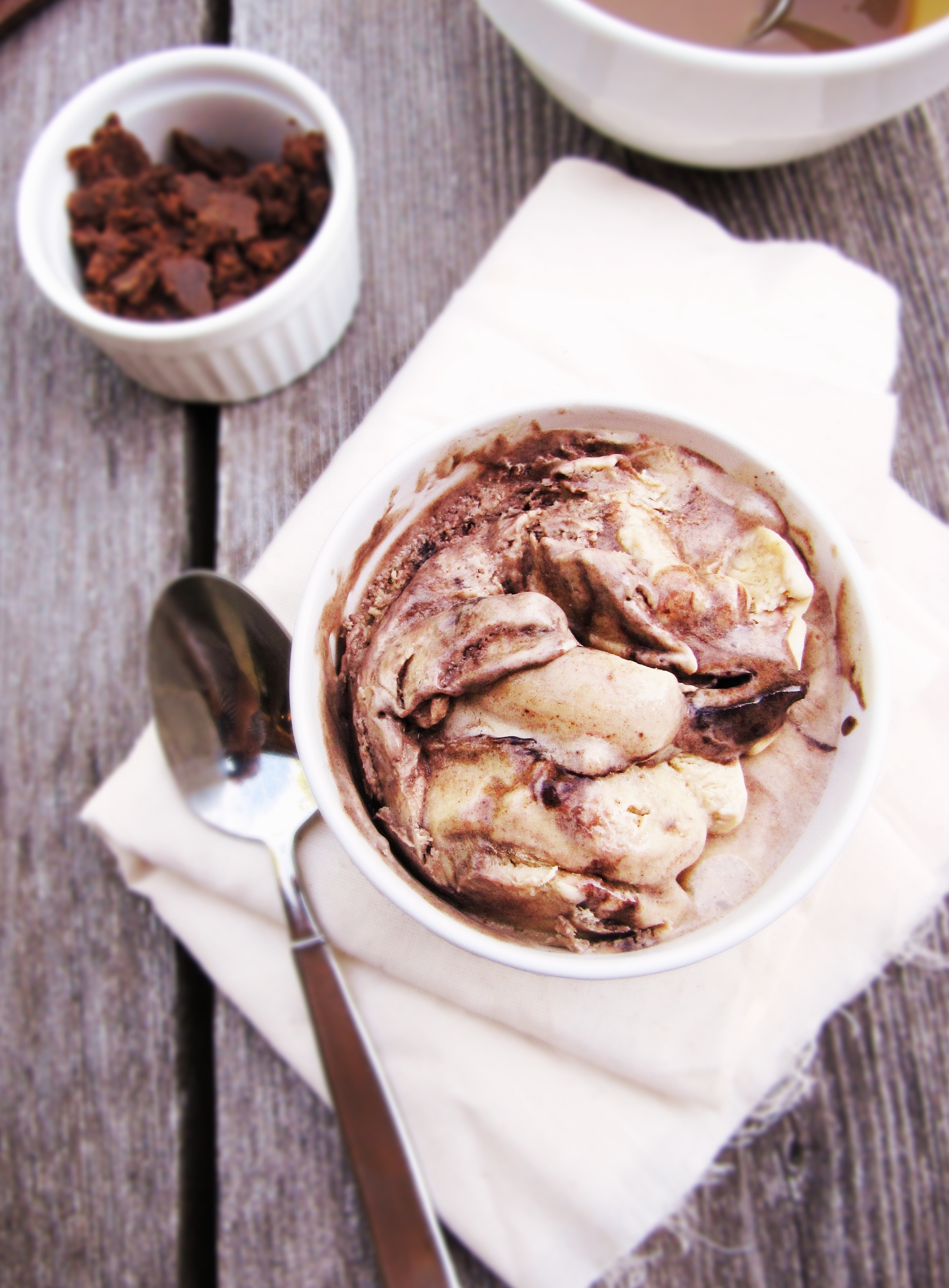 Well, after 12 days of sunbathing, swimming, running, cooking, drinking, and catching up with family and friends, vacation is officially over.  This morning, at the very gray hour of 4:30am, we climbed into the car and made the long drive back to the hot and humid city.  I even had to go to work this afternoon.  Sigh.  But vacation ending isn't all bad: I missed Trevor a teeny-tiny bit plus it's good to be back in the garden – while I was gone the watermelon plant grew at least 3 feet, set out its blossoms, and is now covered in tiny watermelons.  The cherry tomatoes started ripening, there's two baby figs on the tree, and we harvested our first summer squash this afternoon.  And it's really nice to no longer be the whitest person in my office.  The bright side.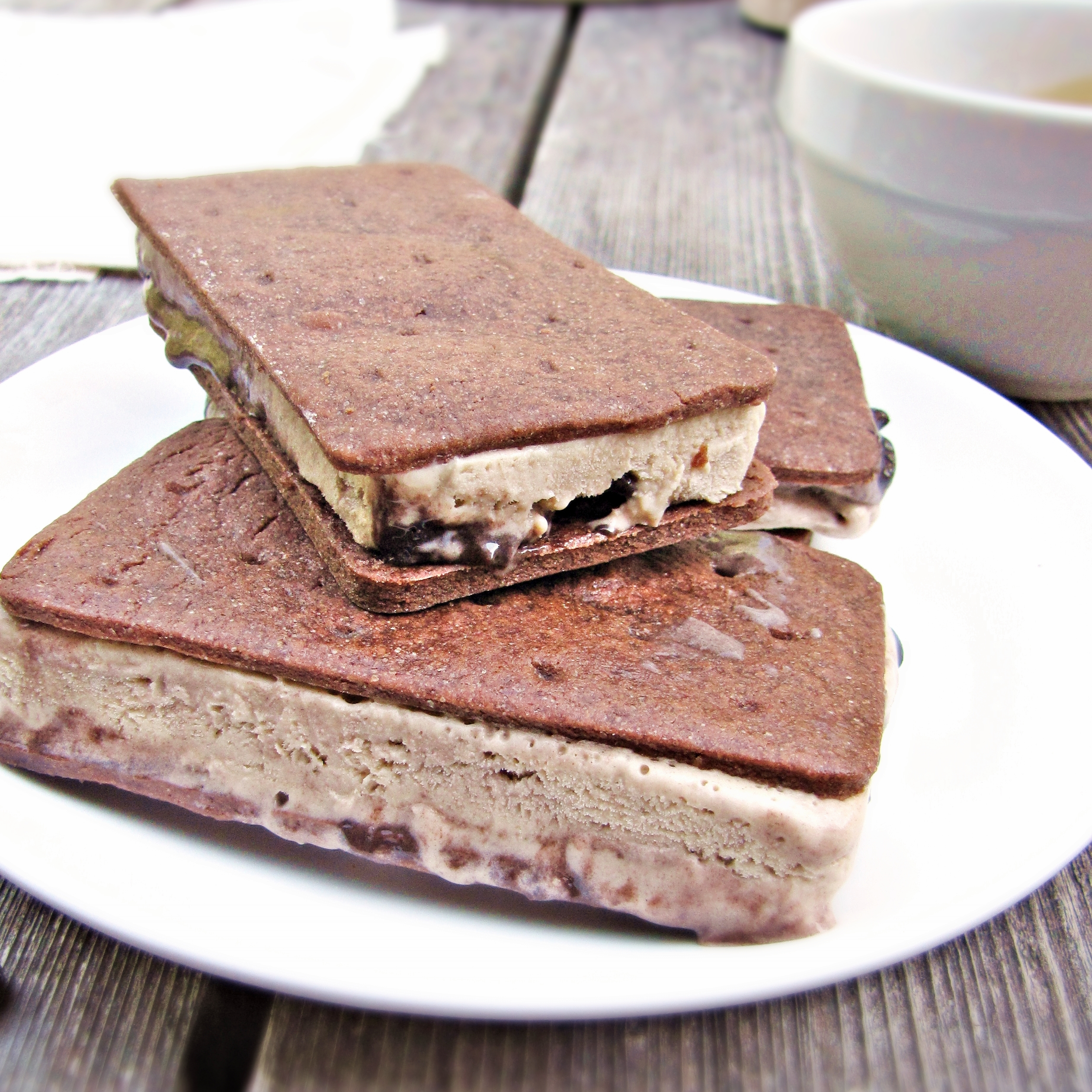 I'm not going to lie, I'm starting to nod off as I type (getting up that early is not really my jam), but I wanted to wrap up a wonderful vacation with a super summery treat – homemade ice cream sandwiches filled with Bailey's Fudge Ripple ice cream.  Some ice cream recipes – like this one – are super simple, stir it together and throw it in the freezer types… this recipe does not fall into that category.  Making the ice cream itself is a bit time consuming, and when you throw in making the cookies and assembling the sandwiches it's definitely only the sort of thing you'd do on vacation, or when you really felt like tackling a kitchen project.  However, the rich, slightly boozy, intensely coffee-flavored ice cream with a dense oreo ripple sandwiched between two soft chocolate cookies that is the result?  Worth the effort.  Even if that effort includes scraping off and reassembling your perfectly shaped ice cream sandwiches after not quite closing the freezer door overnight, not that I'm speaking from experience or anything…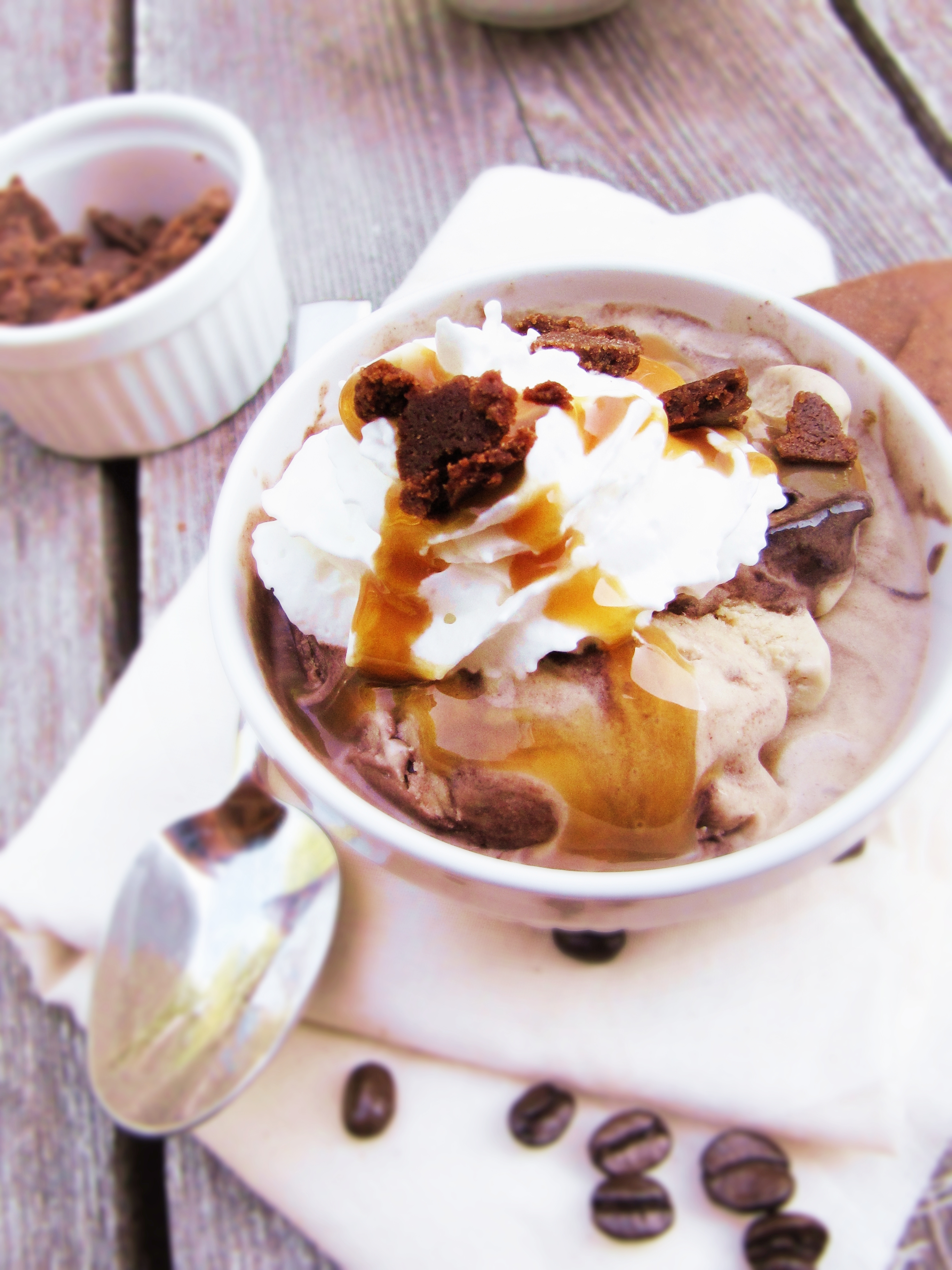 Anyways, if you're also getting back from a blissful vacation, I'd recommend looking at these and then buying a pint of Ben & Jerry's to fill the void.  If you're lucky enough to still be on your blissful vacation, enjoy every second of it, and take the time to make yourself a little treat.
P.S. 100% disclosure?  I think I enjoy the classic $1.00 ice cream sandwich a tiny bit more than these (although maybe I'm just a purist).  But the ice cream recipe itself is totally worth making – serve it over  a brownie with a little bit of boiled down Bailey's syrup for a real treat.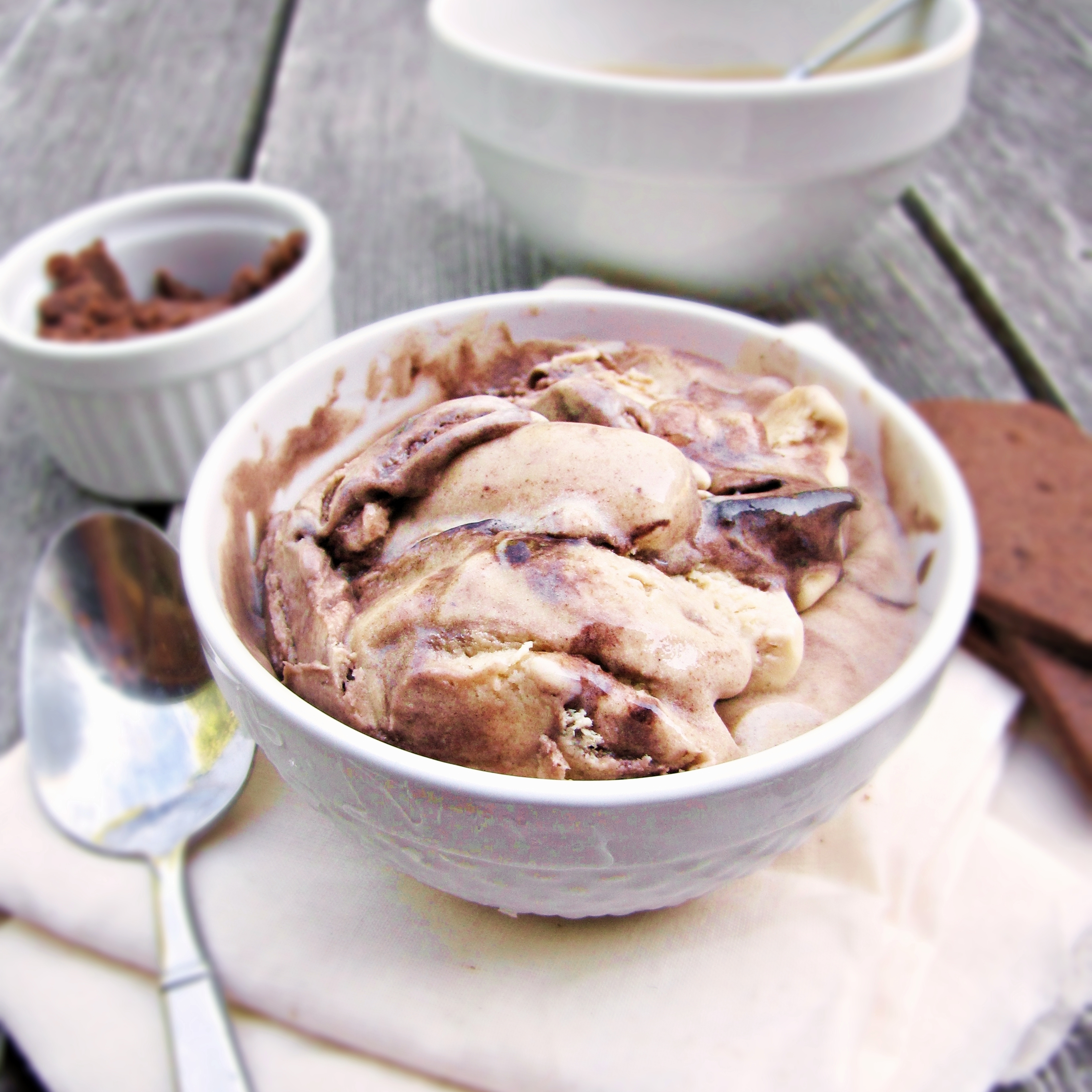 Bailey's Fudge Ripple Ice Cream
Adapted from The Red Spoon, with a little inspiration from Tasty Kitchen.  Makes about 1 quart, or enough for 6-8 ice cream sandwiches.
1 1/4 c. Irish cream liquer, such as Bailey's, divided
1 1/2 c. whole milk
3/4 c. sugar
1 c. whole coffee beans
1 tsp instant espresso
1/8 tsp salt
1 1/2 c. heavy cream
5 egg yolks
2 c. oreos or other chocolate cookie
 Pour 1/2 c. of the Bailey's into a medium, heavy bottomed saucepan.  Heat over medium heat until simmering gently.  Simmer for 10 minutes, stirring occasionally, until the Bailey's is reduced by half.  Pour into a bowl and set aside.
In a food processor, pulse the oreos until they are fine crumbs.  Add 1/2 c. of the Bailey's and pulse until a thick paste is formed.  Scrape into a bowl and set aside.
Add whole milk, sugar, coffee beans, instant espresso, salt, and 1/2 c. of heavy cream to the medium saucepan (no need to wash in between uses, just scrape that yummy Bailey's syrup into the milk mixture).  Stir briefly to combine ingredients.  Heat over medium-low heat, stirring occasionally, just until the milk begins to simmer.  Remove from heat, cover, and set aside for 1 hour, to allow the coffee beans to steep.
After the hour has passed, gently rewarm coffee-milk until hot to the touch, but not simmering.  In a medium bowl, thoroughly whisk together the egg yolks.  In a large bowl, pour remaining 1 c. of cream, set a large mesh sieve on top, and set aside.  Carefully pour the hot coffee-milk mixture over the eggs, whisking vigorously as you do so, to temper the eggs.  Still whisking, pour the egg and milk mixture back into the saucepan and cook for 5-10 minutes until the mixture has thickened enough to coat the back of a spoon, stirring constantly (a wooden spoon works better than a whisk here) to keep the eggs from scrambling and frequently scraping the bottom.
When the custard has thickened, pour through the mesh sieve into the remaining cream, to strain out the coffee beans and any cooked egg bits.  Discard beans.  Stir the cream and coffee custard together, then add the remaining 1/4 c. of Bailey's, as well as the 1/4 c. of reduced Bailey's syrup, and stir to incorporate.  Cover the bowl with plastic wrap, and refrigerate until thoroughly chilled, at least 4 hours or overnight.
Process the chilled custard according to ice cream maker instructions.  As the mixture churns, line a 9×13 glass pan with tinfoil.  Microwave the chocolate fudge ripple (Bailey's and oreo mixture) for 30 seconds and stir, just to make it spreadable (don't let it get too hot!)  When the ice cream is finished churning, spread it into the glass pan.  Dot the top with the fudge ripple mixture, then use a spatula to quickly but gently fold it in to the ice cream.  Cover with plastic wrap and freeze until firm, at least 1 hour.
Ice Cream Sandwich Cookies
Adapted from The Cookie Dough Lover's Cookbook via Brown Eyed Baker.  Makes 24 cookies (12 sandwiches).  Note: although I pretty much always make baked goods by hand (I don't own a stand mixer), this is one recipe where I'd recommend using a mixer if you have one – the dough is very stiff and hard to work with, and I ended up kneading it by hand to get the best results.
1 stick (1/2 c.) salted butter, softened
1 1/4 c. light brown sugar
1/2 tsp baking powder
1/2 tsp salt
1/2 c. cocoa powder, sifted
1/2 tsp instant espresso powder
1/2 tsp vanilla extract
2 c. flour
4 TBS room temperature water
Preheat oven to 350°F.
In a large bowl, cream together softened butter and brown sugar until fluffy.  Add vanilla and stir in.  In a separate bowl, sift together cocoa powder, salt, baking powder, and instant espresso.  Add dry ingredients to wet ingredients and stir until fully incorporated.
Add 1 c. of flour to the dough and mix until incorporated.  Add 2 TBS of water and stir until dough is even in color and moisture.  Repeat with the remaining 1 c. of flour and 2 TBS of water.  If necessary, knead by hand until dough is smooth and workable.
Lightly flour a work surface and rolling pin.  Roll half of the dough out into a rectangle 1/8 to 1/4 inch thick, and use cookie cutter to cut out rectangles.  Transfer to a baking sheet and freeze for 10 minutes.  Repeat with remaining dough.  Bake cookies for 7 minutes until just done.  Don't overbake!  Let cool for 3 minutes on pan, then transfer to a cooling rack and cool completely.  Freeze cookies for at least 1 hour before assembling.
Ice Cream Sandwich Assembly
Remove the cookies from the freezer.  Tear out 6 medium-sized rectangles of plastic wrap, and lay two cookies side by side on each square.

Working as quickly as possible, remove ice cream from freezer and use rectangular cookie cutter to cut through ice cream.   Slide a large spatula under ice cream rectangle, holding cookie cutter in place as you work, and transfer the ice cream to one of the cookies.  Immediately sandwich the cookie, pressing down gently, wrap in plastic wrap, and put in freezer.  Repeat with remaining cookies and ice cream.
0