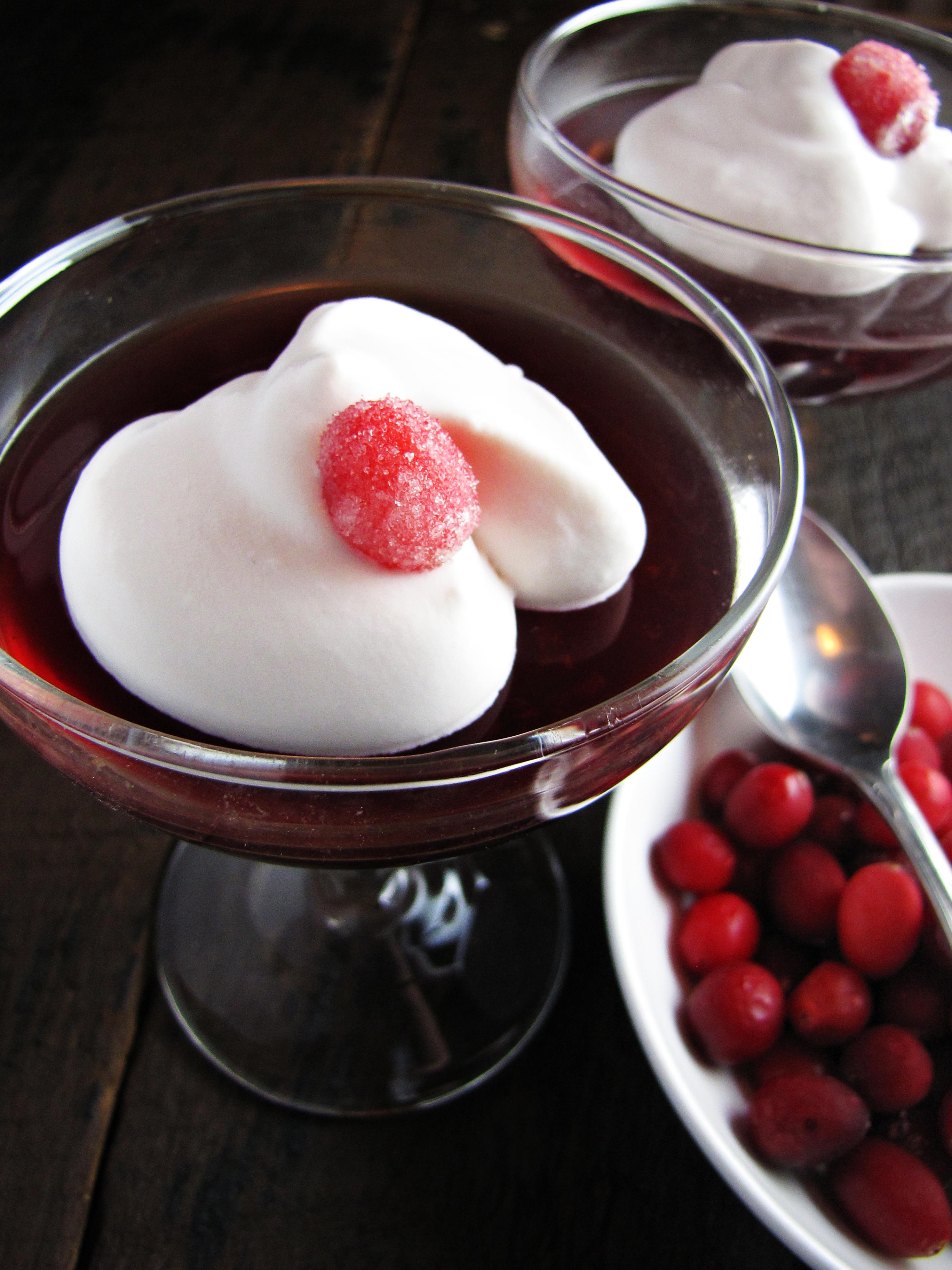 February's cookbook of the month is Roast Figs Sugar Snow,
a book that focuses mainly on the foods that those of us in Northern climes crave during the winter months.  While we haven't exactly had a fierce winter this year, I wanted to review this book before another year went by – I don't find myself wanting to roast a pheasant or gorge on cheesy pumpkin tarts in the middle of summer.  The collection of recipes in this book is one of the most intriguing I've found, bringing me back to the book again and again – there's Russian cheese pancakes, French pumpkin matefaims, Northern Italian farro and smoked duck salad, Austrian plum squares, and Scandinavian cookies.  Most countries that experience a true winter are represented in the book, and it makes for a great cross-section of flavors and cultural influences.  The downside of a cookbook focusing on winter foods?  Most of the recipes are extremely rich – there's a lot of butter, cream, and cheese going on in this book.  Now, this isn't a bad thing in and of itself, because, really, who doesn't love butter, cream, and cheese?  But, say you wanted to plan a winter-themed menu from this book – perhaps Onion and Cider Soup with Melting Camembert, followed by Poulet Suissesse, with a plate of Plum Squares to finish it off – you're guests might be leaving less-than-well.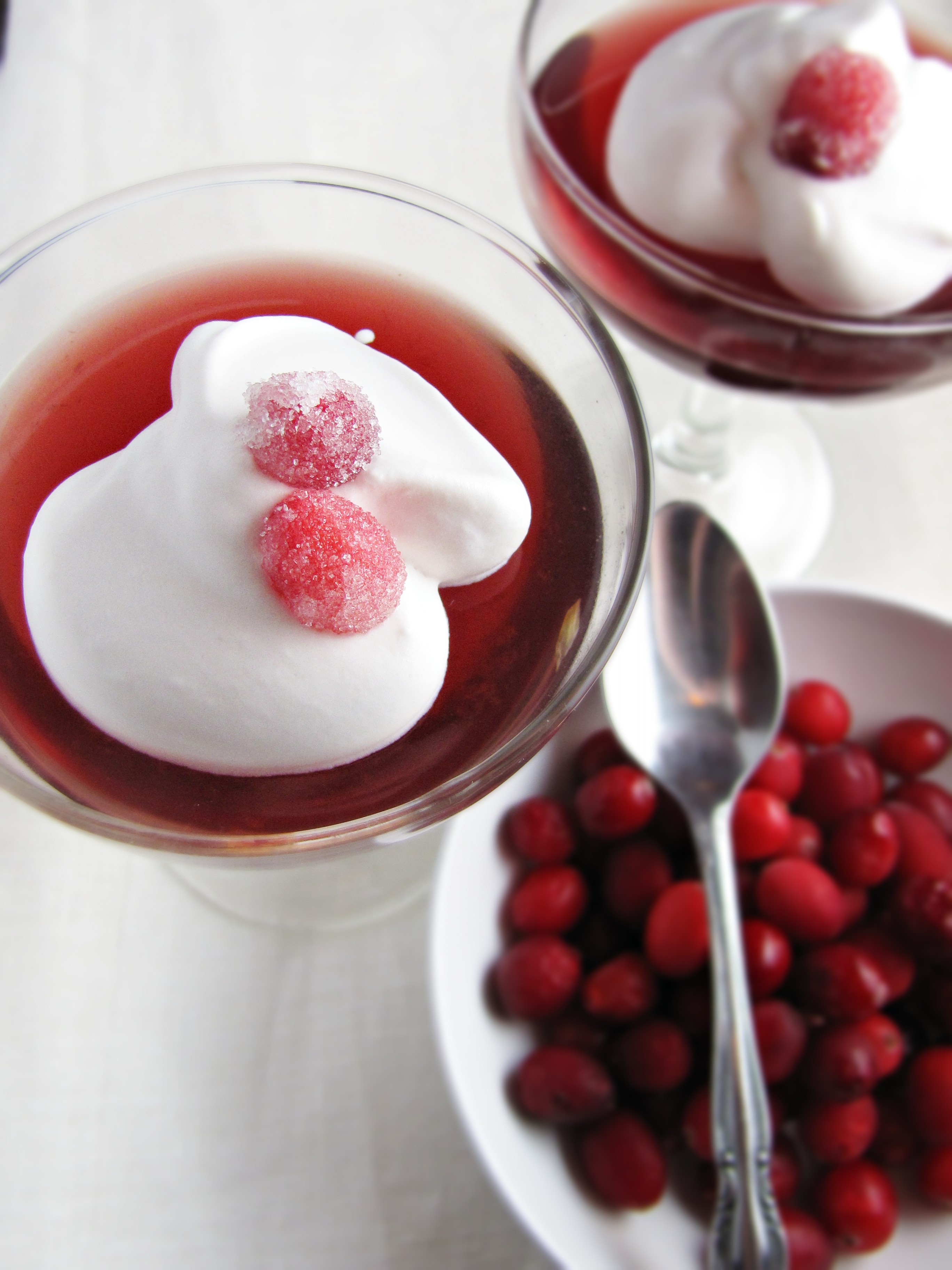 I've only tried a handful of recipes from this book – I think 5 in total – but the ones I have tried have varied a bit in quality.  Nothing has been bad, but only 2 of the recipes have been truly special, and both of them happen to be desserts.  The Cafe Sperl Plum Squares I made last week were the perfect balance of sweet and tangy, and the recipe pictured here – Port and Cranberry Jellies with Port Syllabub and Frosted Cranberries – was exquisite.  However, the Poulet Suissesse – a chicken dish cooked in a rich sauce of creme fraiche, parmesan and gruyere – was too rich without the flavor payoff I was looking for, and both the Red Cabbage with Cranberries and the Roast Squash and Lentil Salad with Goat Cheese were about what I was expecting – good, but nothing particularly new or interesting.  This is not a book I'm going to give up on though – most of the recipes are too alluring.  High on my list are the Melting Leg of Lamb with Juniper Berries, the Toasted Ginger Cake with Wine-Poached Cranberries, and the Roast Pheasant with Quince, Blackberries, and Honey.  That is, if I ever find pheasant or quince anywhere near me.
A bit more on the Cranberry-Port Jellies featured here: think of these as the most elegant, grown-up, and subtle jello shots you'll ever eat.  Or, if you're not a jello shot person (how could you not be a jello shot person?!), think of them as your favorite sore-throat treat but boozy and sophisticated.  Both the jellies and the syllabub – basically a loose whipped cream – contain port, giving the whole dessert a heady, musky, flavor, which contrasts perfectly with the fresh bursts of the sweet-sour frosted cranberries (use way more than pictured here, they really bring the dish together).  This dish takes planning ahead – 6 hours for the jellies to set, 1-2 hours for the cranberries to dry – but it's well worth it.  The actual work that goes into making and assembling these is minimal.  And with only 1/2 c. of sugar added to the jellies, they're a relatively light dessert, especially for this  book.  Worth trying.  And, overall, the book is worth checking out, especially if you're in a cozy-cooking sort of mood.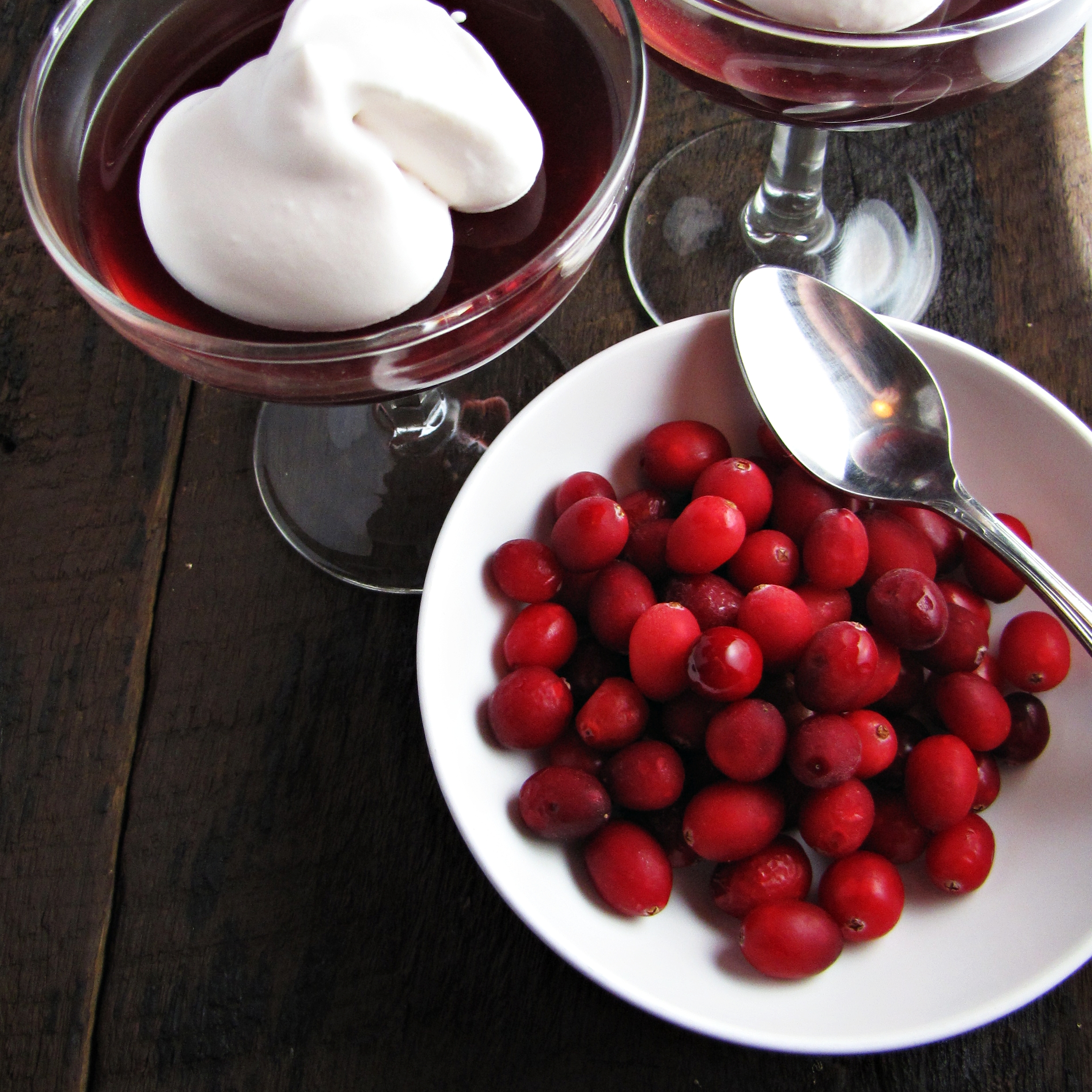 Port and Cranberry Jellies with Frosted Cranberries
Recipe from Roast Figs Sugar Snow, by Diana Henry.  Serves 8
For the jellies:
2 c. cranberry juice
1 3/4 c. ruby port
peel of 1 orange (white pith removed to the best of your ability)
juice of 1 orange
1 stick cinnamon
1/2 c. sugar
2 TBS powdered gelatin (about 2 of the packets they sell in most US grocery stores)
For the berries:
2 c. fresh cranberries
1 egg white
1-2 c. sugar (you won't use it all but need volume for process to work)
For the syllabub:
2/3 c. heavy whipping cream
pinch cream of tartar
1 TBS confectioner's sugar
2 TBS ruby port
Make the jellies: combine the cranberry juice, port, orange peel, orange juice, cinnamon, and sugar in a saucepan and heat over medium heat until it comes to a boil, stirring to dissolve the sugar.  Reduce heat to low, and simmer for 5-10 minutes to infuse flavors.  While juice is simmering, sprinkle gelatin over 1/4 c. cold water in a small bowl, and leave for a minute to firm up.  Add 1/2 c. of warm (not too hot! let it cool for a minute out of the pot before adding) juice mixture to the gelatin, and stir to dissolve, then pour whole mixture back into pot and stir well.  Remove from heat, and pour into 8 glasses.  Cover and refrigerate for 6 hours, or until firm.
1-2 hours before serving, briefly whisk the egg white in a medium bowl, until slightly frothy.  Add the cranberries and stir gently to coat with egg white.  Let cranberries drip over bowl for a minute, then transfer in batches to a plate with the sugar.  If the cranberries are too wet when moved or there is not enough sugar on the plate, the sugar will simply dissolve.  Roll the cranberries in the sugar until well coated, then set aside on a plate or tray to dry for 1 to 2 hours.
Just before serving, whip heavy cream until beginning to grow in volume, then sprinkle with cream of tartar and sugar, and whip until it is thick and very slightly holds it's shape.  It should not be too stiff, but should fall in folds when poured from spoon.  Gently whisk in port.  Spoon syllabub over jellies, then sprinkle with frosted cranberries.  Leftovers will keep refrigerated for a few days, although syllabub will lose some of it's structure.
0