I've been wanting to visit Vermont for a long time, but I tend to be the kind of person who procrastinates planning something because I want it to be perfect.  I want to pick the perfect date, when the weather will be just right, and I have the perfect trip itinerary planned.  This sometimes results in spectacular trips on a very tight budget – like the time I spent an entire semester planning a two week trip to France and it ended up being exactly what I wanted as well as totally manageable on a college budget.  More frequently, however, it ends up with me not actually taking the trip at all.  Every once in a while, however, I'll get so frustrated with my own planning dependency that it will inspire a burst of spontaneity, like last week, when I saw, purchased, and booked a groupon trip to Stowe, VT in the span of an hour on Thursday afternoon, and we were in the car on the way a week later.  I'm a little bit proud of myself.  Another side-benefit of spontaneous travel – I have much lower expectations for how things will go when I have only a vague plan, and therefore tend to relax and enjoy myself a little bit more than when I'm stressed about fitting everything in.  And just relaxing is exactly what I did this weekend.  It was great.
I'll have a full trip recap for you next week, as Trevor and I found a lot of great places, many of them food related, but I'm headed to Miami for work early tomorrow morning, and I'm not sure I'll have time to gather my thoughts and go through my photos until I get back next weekend.  In the meantime, I have a few treats that I brought to Vermont with us, to help cut down on our food expenses – a quinoa and brussel sprout dish that I'll post later this week, and these roasted apple, honey, and vanilla madeleines.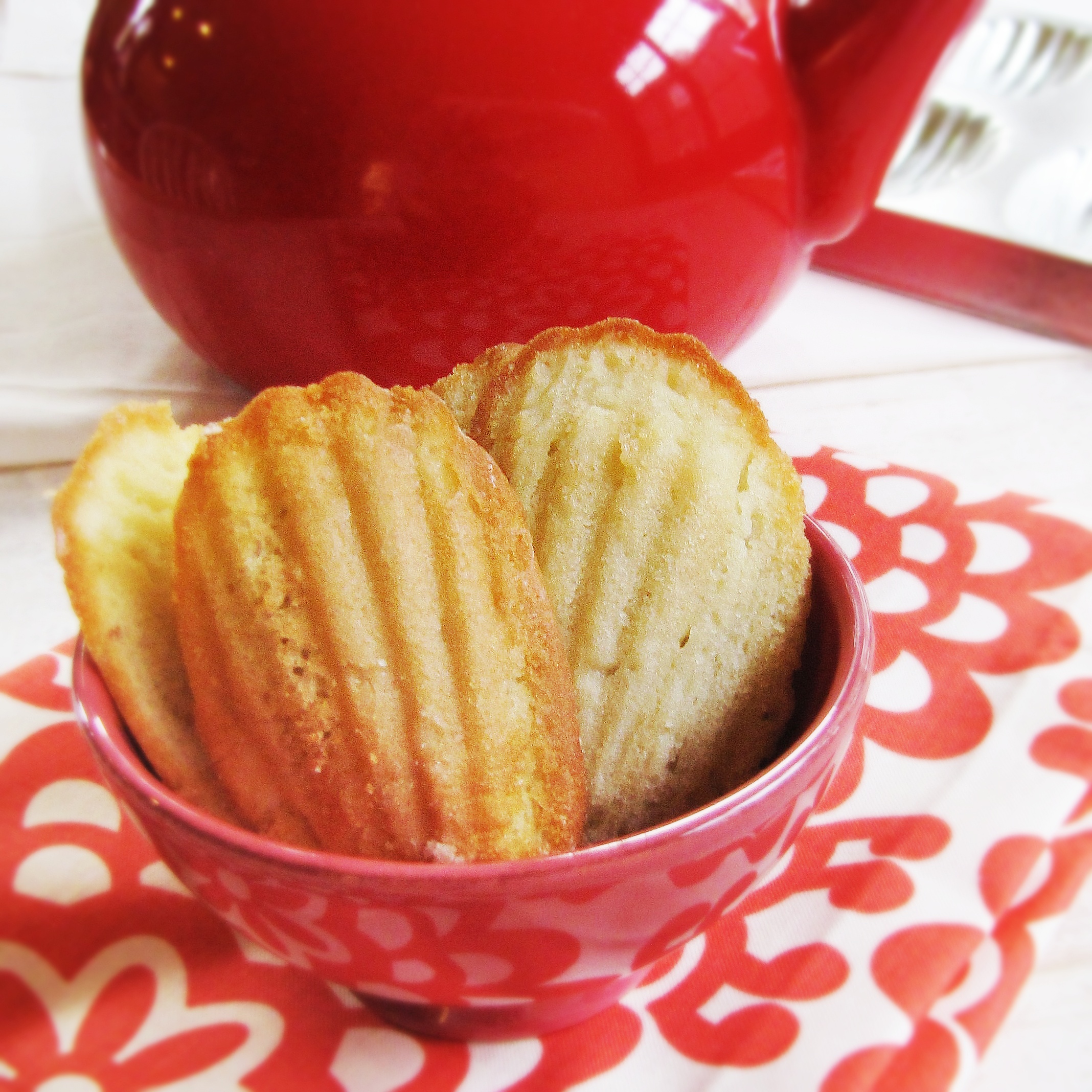 Trevor was the one to introduce me to madeleines a few years ago.  They're one of his favorite treats, but I've been slow to agree.  I've made a few batches, but never really saw the appeal – not that I disliked them, I just didn't love them.  This batch was different.  Maybe my tastes have changed, or I've become a better baker, but I think the most likely reason is that this is just a great recipe.  The flavor of these is complex, with the vanilla, honey, and apple flavors all shining through independently, but what's really great about these is the perfect texture.  They're moist and spongey, with just the right amount of give when you bite into them.  My only complaint about these is that they were quite sticky on the outside – every time I picked one up, I would end up with a large number of madeleine crumbs on my hands.  This seemed to be remedied by a day in the fridge – the interior was still moist and great, but the outside dried out a little bit and made them less sticky.  All in all, they were a great snack for after lunch, after dinner… and even Sunday morning breakfast in bed. :-)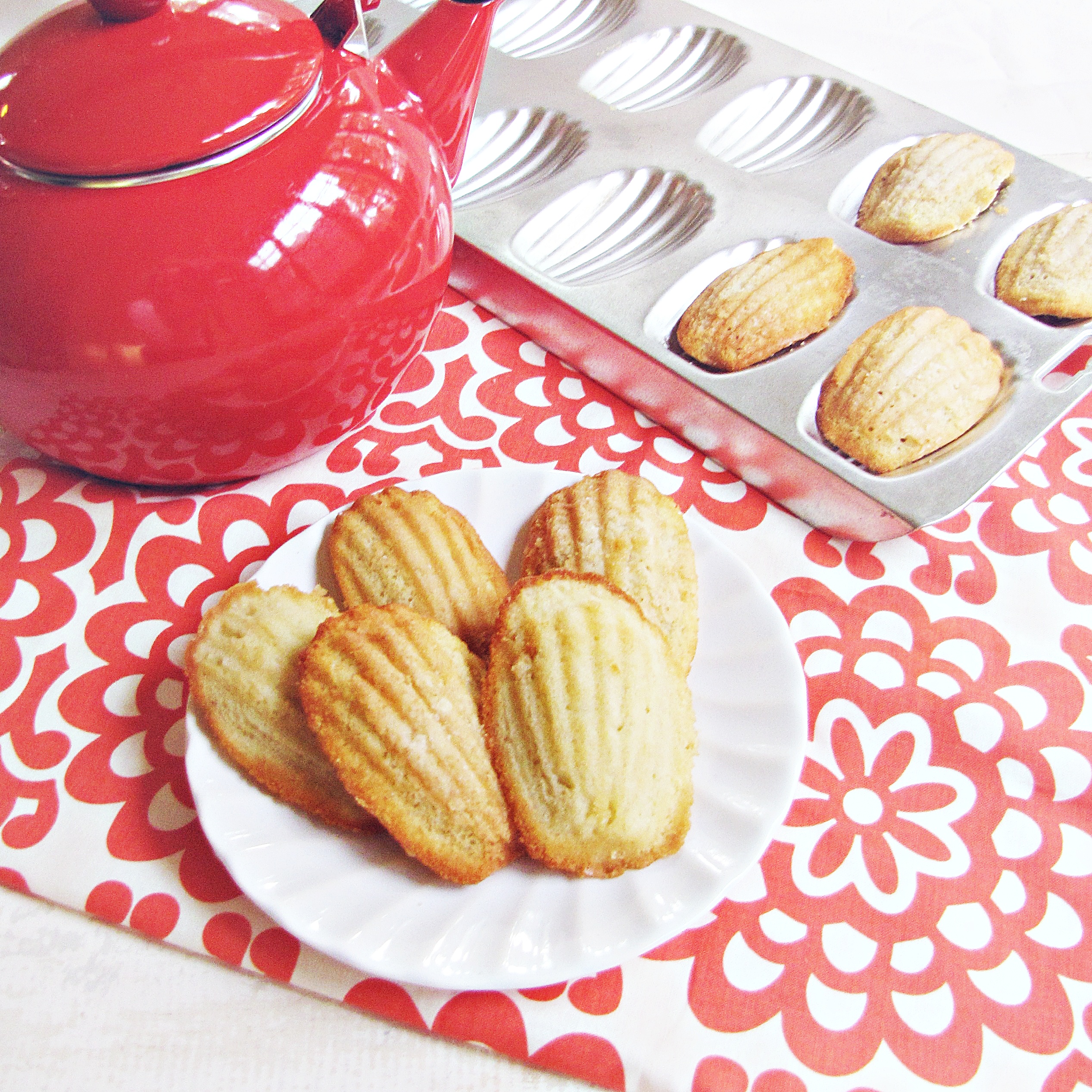 Apple and Honey Madeleines
Recipe adapted from Cooking Melangery and Cannelle et Vanille.  Makes 24 madeleines.
2 small apples
1/2 tsp vanilla extract
2 tsp turbinado/cane sugar
8 TBS butter, divided
3/4 c. flour
1 tsp baking powder
3 eggs
1/2 c. sugar
2 TBS honey
Preheat oven to 400°F.  Peel, core, and dice apples, and place apple chunks in a baking dish with vanilla, cane sugar, and 1 TBS butter.  Roast in preheated oven for 20 minutes, until completely tender.  Puree in food processor.  Set aside 1/2 cup of puree for madeleines – remaining apple puree can be saved for another use.  Turn off oven.
In a small saucepan, melt remaining 7 TBS of butter over low heat, then cook until it begins to brown and give off a nutty aroma.  Pour through fine-meshed sieve into small heatproof bowl and let cool slightly, discarding milk solids in the sieve.
Sift together flour and baking powder in a small bowl.  In a separate, larger bowl, beat eggs vigorously until pale yellow and thick.  Add the sugar and honey and continue to beat vigorously until thick, for about 2-3 minutes.  Add the flour to the egg mixture and gently stir together.  Stir in 1/2 cup of roasted apple puree and 6 TBS of the melted butter.  Use the remaining 1 TBS of melted butter to grease the madeleine pans (set aside any extra for the next batch), being sure to brush butter in all the ridges.  Flour the madeleine pans and tap out any excess.  Set prepared pans aside, and refrigerate madeleine batter for half an hour.
Preheat the oven to 375°F.  Spoon the chilled madeleine batter into the molds, filling almost to the top, then transfer to the oven and bake for 11-12 minutes.  Remove the madeleines from the oven, and let cool 1 minute, then remove from pans and set on cooling rack.  Rinse cooled madeleine pans, then re-butter and re-flour before adding more batter.  Continue until all madeleines are baked.
4