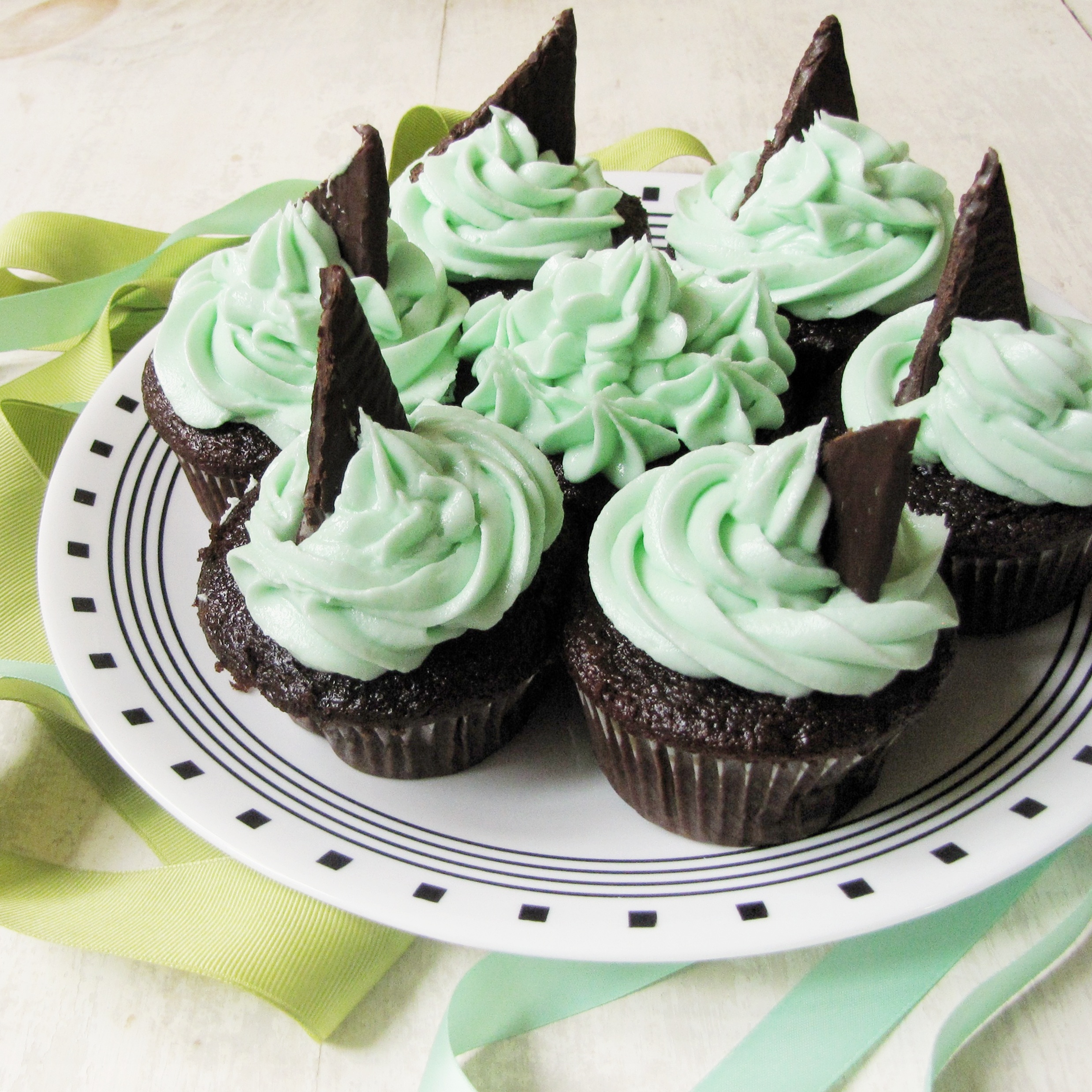 Have you seen this video?  I'm obsessed with it.  This girl has got it figured out.  Dinner time?  How about cupcakes!  Breakfast?  I know, cupcakes!  Every time she says it she is clearly thinking very hard about what the correct thing to eat is.  And every time she comes to the same conclusion: cupcakes.  Duh, mom.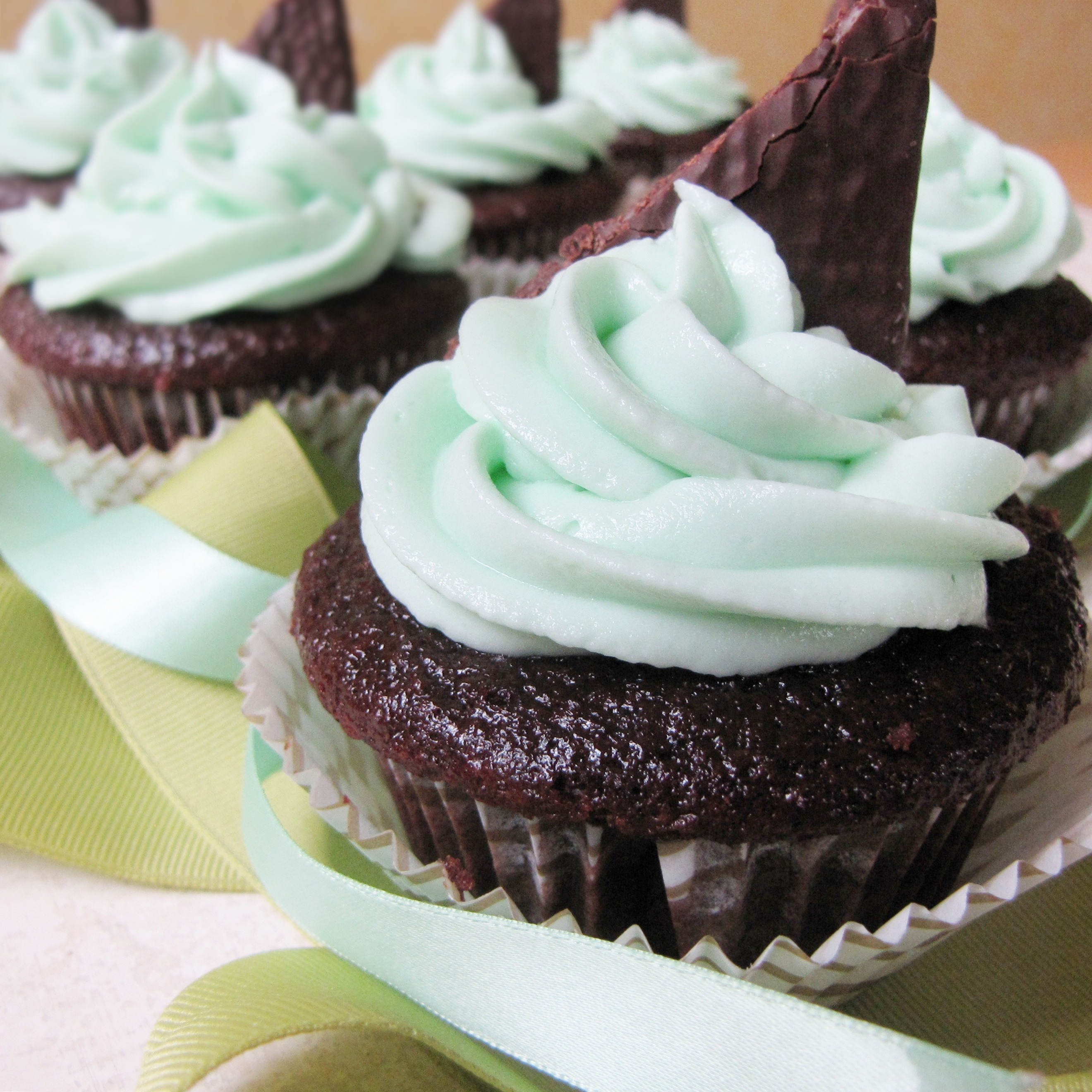 I took a page from Julia's book and made cupcakes for no reason other than that I felt like it.  And a little bit because I got a new frosting tip and wanted to see if it magically transformed my creations into something beautiful.  Which in my opinion it totally did.  Turns out they were good enough to be made again 3 days later and entered into my company's charity bake-off where they won $100, but that's another story.  This chocolate cake recipe is one that seems to be pretty prevalent around the internet, so I decided to give it a try, although I'm unsure of its original origin.  It's definitely delicious – super moist and chocolatey, and it leaves you with slightly sticky, cakey fingers after each bite – but I think I would only use it for certain recipes.  It reminds me a lot of chocolate cakes from childhood birthday parties because of it's simple flavor and almost gooey (but in a good, cakey way) texture, so it's perfect with tiny, simply frosted cupcakes, but I wouldn't use it for a more elegant recipe.  With the mint frosting these were almost refreshing in their mintiness, and, especially in their mini form, the perfect minty-chocolate bite of dessert.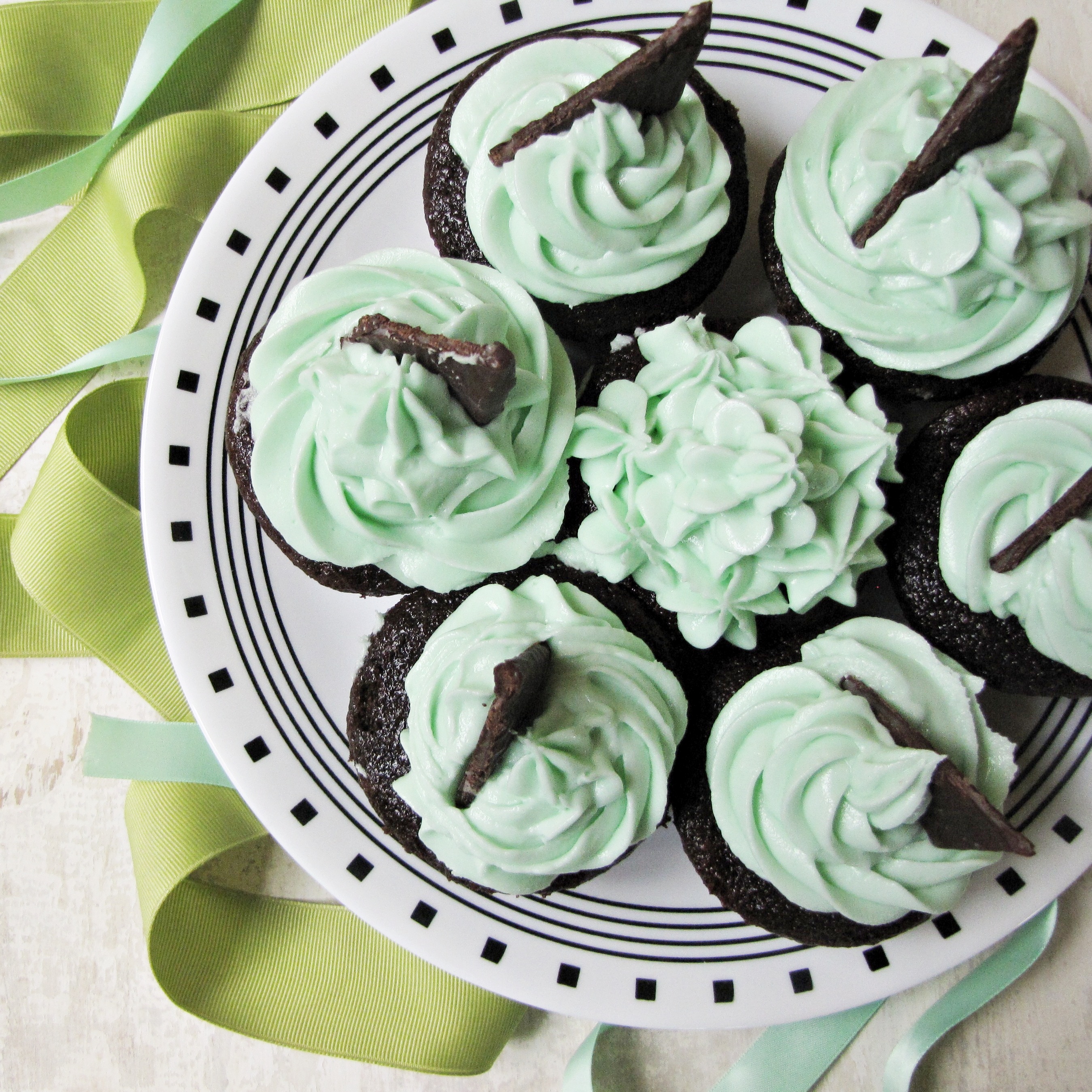 Chocolate-Mint Cupcakes
Makes 12 regular cupcakes; 48 mini cupcakes.
For cupcakes:
1 c. sugar
7/8 c. flour (7/8 c. = 3/4 c. + 2 TBS)
3/8 c. cocoa (3/8 c. = 6 TBS)
3/4 tsp baking powder
3/4 tsp baking soda
1/2 tsp salt
1 egg
1/2 c. milk
1/4 c. vegetable oil
1/2 tsp vanilla extract
1/2 tsp peppermint extract
1/2 c. boiling water
For frosting
1 1/2 sticks softened, salted butter
3 c. powdered sugar
1-2 TBS heavy cream
1/2 tsp peppermint extract
1 drop green food coloring
Preheat oven to 350°F and line muffin tin with muffin liners.  In a large bowl, whisk together sugar, flour, cocoa, baking powder, baking soda, and salt, until well combined.  Add egg, milk, vegetable oil, and extracts, and whisk for about 2 minutes, until batter has no lumps.  Add 1/2 c. boiling water and incorporate.  Spoon batter into prepared muffin tin – 1 full TBS of batter each for mini cupckaes, 1/2 c. batter for regular cupcakes (which should be about 3/4 full).  Bake until a toothpick inserted in the center of a cupcake comes out clean – 18-20 minutes for regular cupcakes, and 10-12 minutes for mini cupcakes.  Allow to cool completely before frosting.
In a medium bowl, beat the softened butter until smooth and creamy.  Add the powdered sugar a half cup at a time, beating to creamy stage between each addition.  If the buttercream gets too stiff to beat, add a splash of heavy cream and incorporate.  Once all the powdered sugar is added and the buttercream holds stiff peaks, add the peppermint extract and food coloring, and beat until fully combined.  Adjust for flavor and consistency – add more powdered sugar for a stiffer, sweeter frosting, and a splash of heavy cream for a thinner, richer frosting.  Store frosting and frosted cupcakes in fridge in airtight container.