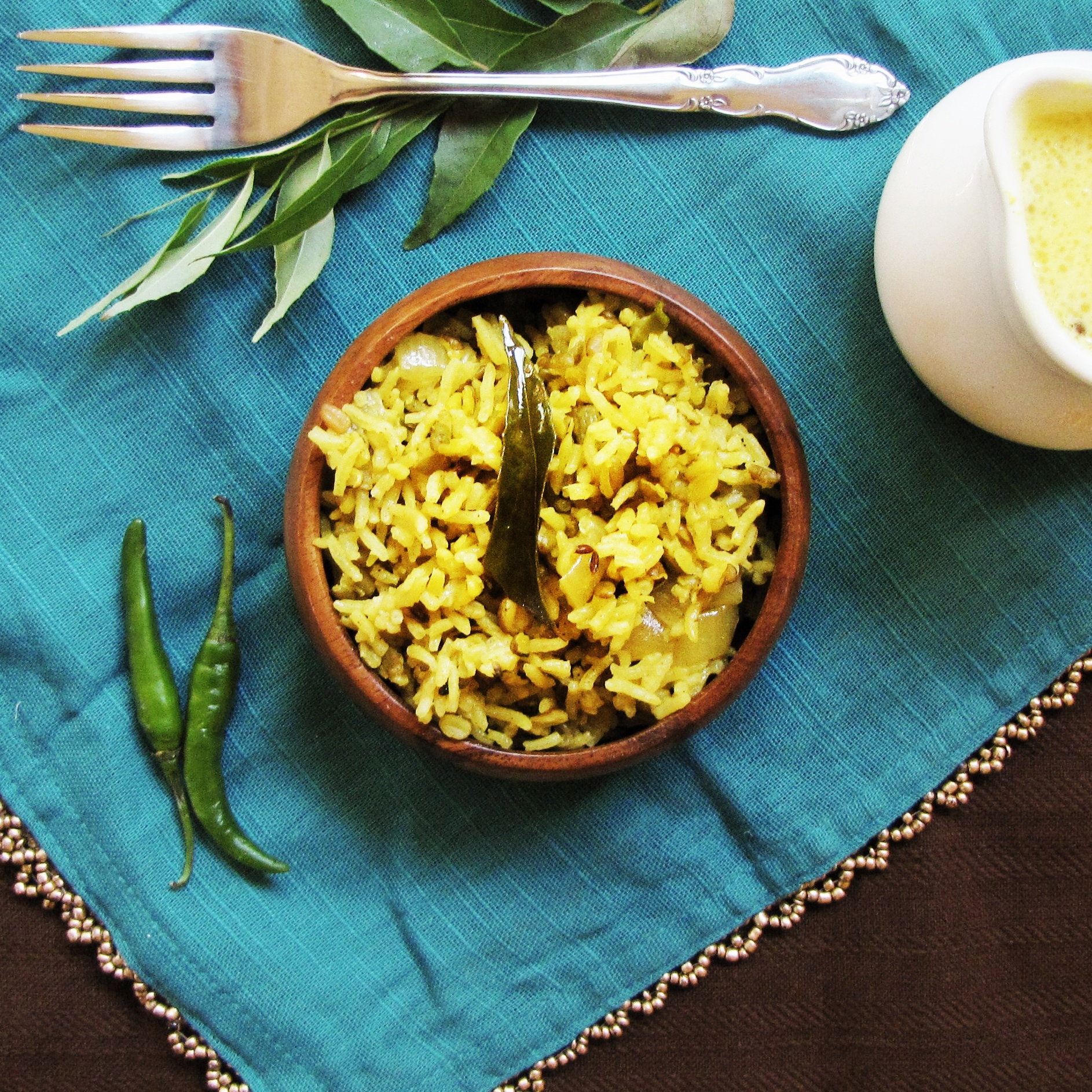 I knew it was dangerous for me to name a post Cookbook of the Month, implying that I really, truly would be able to review at least 1 cookbook every single month.  It didn't seem that hard – what's one post a month? – but I guess I should have considered my initial hesitation more thoroughly before going ahead and making false implied promises.  In July there was a glorious debut, and then in August, even though I had a book planned and the post written, I left you hanging.  So sorry!  At least I've only missed 1 month so far!  (I'm feeling glass is half full tonight, so please, be kind, and don't point out that missing 1 month is also missing 50% of what was planned).  And I'm here now!  With this delicious, delicious, completely different from anything else I've had before dish from September's cookbook, "Cooking with My Indian Mother-in-Law
," by Simon Daley.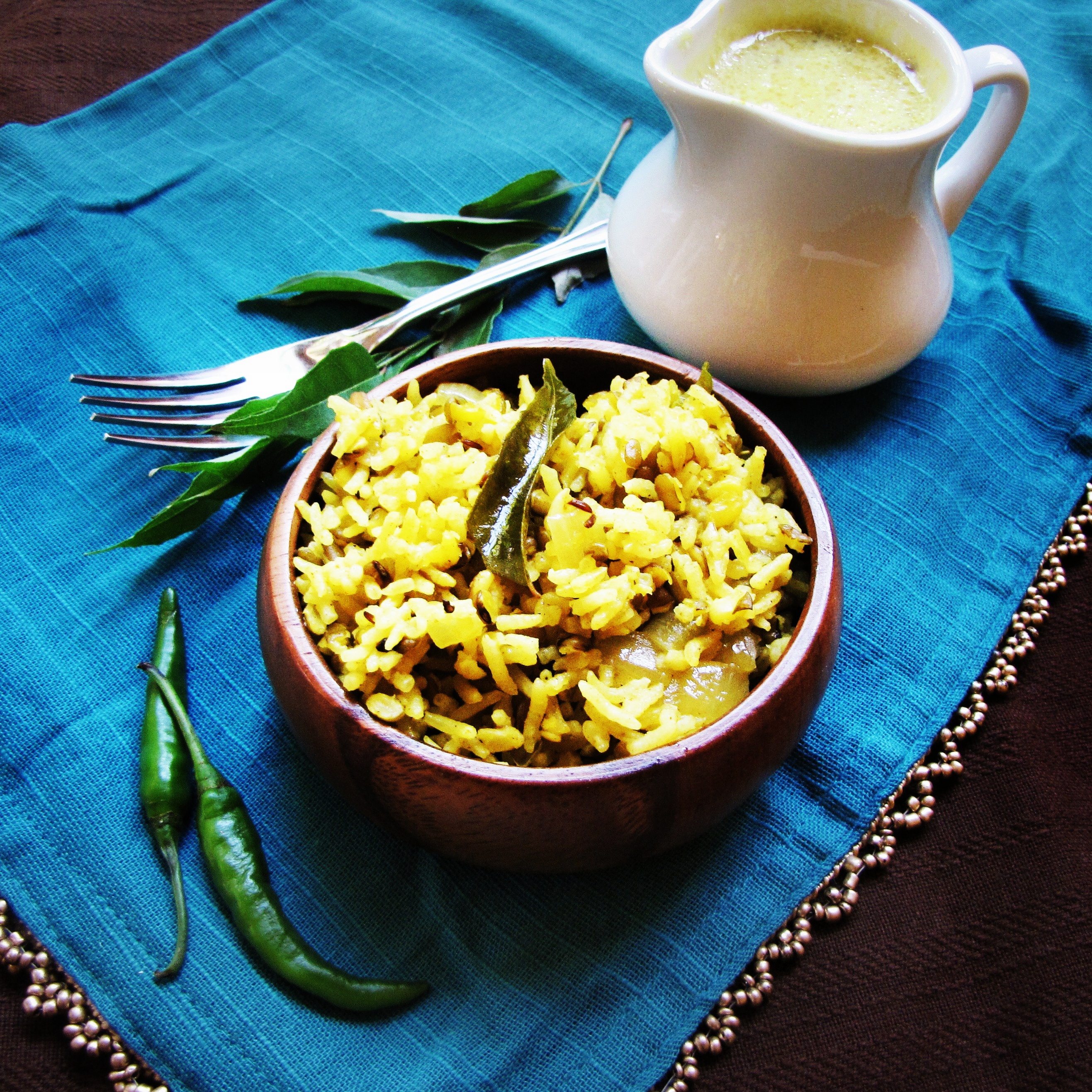 This book was one of the ones that caught my eye early in my cookbook-devouring days.  Actually, I think it was the first or second cookbook that I picked up in the library and literally read like a novel.  After seeing that the opening pages contain tricks to the fundamentals of Indian cooking – such as how to mix fresh spice blends, quick fry onions, and tell when a masala is ready by watching the oil – I was hooked.  Then, as I flipped through the recipes and saw that they included spices I'd never heard of before, like asafoetida and curry leaves, I was even more intrigued.  I love Indian food and I like to try and make it at home, but I'm usually disappointed by the lack of complexity in my dishes – I want that restaurant quality layer of flavor.  My theory being that perhaps there's only so much you can expect from using just curry powder and turmeric, I went ahead and picked up the mysterious spices from Wholefoods and began trying the recipes out.  The first one I tried, chickpea flour dumplings with yogurt, is still one of my favorite recipes, especially when I want to impress friends at the last minute, as it's quick to throw together and I almost always have the ingredients on hand.  I also tried a meatball curry which wasn't as impressive in its originality (at least, its originality to me!) and flavor, but was still satisfying.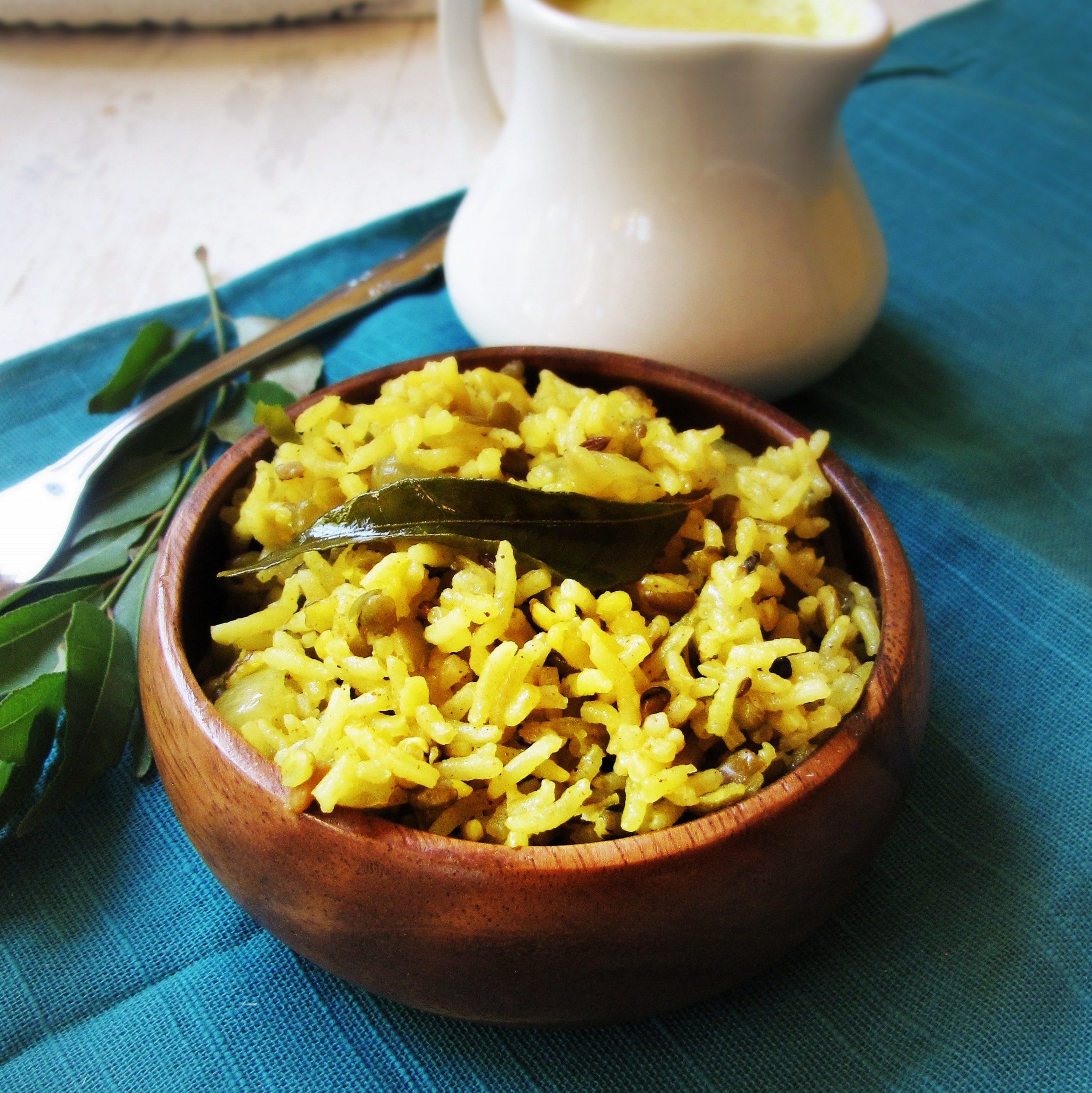 The recipe featured here, for rice with moong dal and spiced buttermilk, beats both the curry and the chickpea dumplings in terms of flavor, although it takes a little bit more time and effort to prepare.  The flavor of this is so unique and wonderful – its warm, savory, comforting, just a little spicy, and satisfying on every level.  Making the spiced buttermilk was like an experiment in chemistry, as you start with just yogurt, water, a minimal amount of spices, and some curry leaves, and you end with a spicy, yellow, thickened milk that you could use in a number of ways.  Paired with the complex yet gently spiced rice and lentils, its a completely satisfying eating experience, at least in my book.  I encourage you to check this book out, especially if you're looking for recipes that will give your attempts at this complex cuisine that extra punch of authenticity.  Need further convincing?  Just give this rice a try, and then make your decision.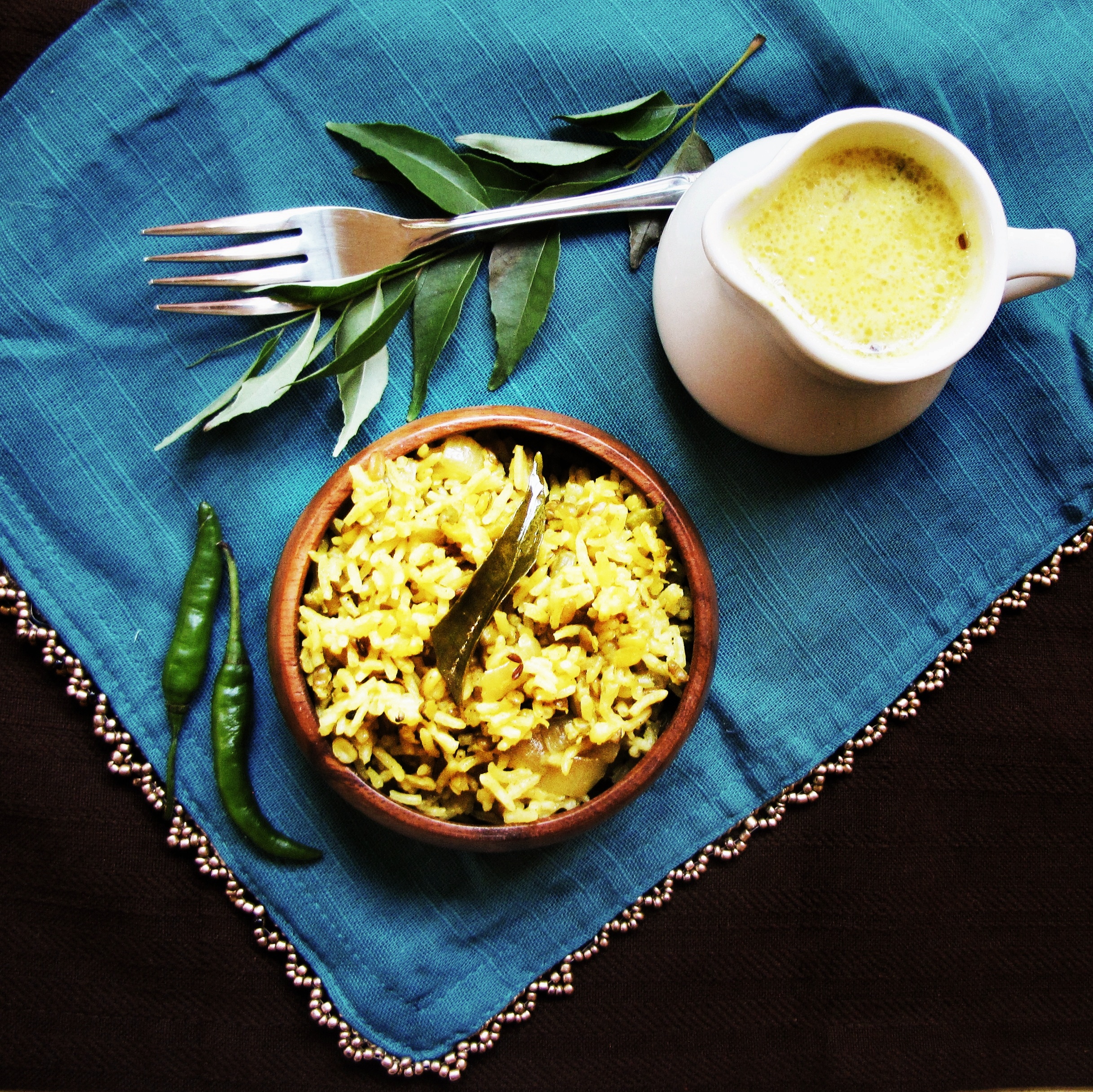 Rice with Moong Dal and Spiced Buttermilk
Adapted slightly from Cooking with My Indian Mother-in-Law
by Simon Daley.  Serves 4 as a side.

For the rice:
1 c. basmati rice
1/2 c. moong dal (tiny green pulses, split)
2 1/2 c. hot water
1/2 stick butter
3 in. cinnamon stick
seeds from 3 cardamom pods
3 cloves
12 black peppercorns
1/2 tsp. cumin seeds
1 small onion, diced
1 clove garlic, minced
2 small green chiles (Indian), sliced
10 curry leaves
1/2 tsp. turmeric
1 tsp salt
Rinse rice and dal, then soak in warm water for 20 minutes.  Melt butter over low heat.  When it foams, add all whole spices and cook for 1-2 mintues, stirring, until spices are fragrant, but not beginning to burn.  Add the onion, garlic, chiles, and curry leaves, and cook until onion has softened.  Add turmeric, cook for 30 seconds, then add 2 1/2 c. hot water, salt, rice, and dal.  Increase heat to bring to a boil, then reduce heat and simmer, covered, for 25 minutes, until rice has absorbed all water.  Set aside, removing any whole cloves you can see .
For the spiced buttermilk:
1 clove garlic, peeled
1/2 inch ginger, peeled and cut into chunks
1 green chili, roughly chopped
1/2 tsp salt
1/2 tsp cumin seeds, divided
6 oz. plain yogurt
1 tsp chickpea flour
1/4 tsp turmeric
1/2 tsp brown sugar
1 branch curry leaves (about 15-20 leaves)
1 TBS canola or peanut oil
1/4 tsp mustard seeds
pinch fenugreek
2 cloves
1/4 tsp asafoetida
cilantro (optional)
Crush garlic, ginger, chiles, 1/4 tsp cumin seeds, and salt into a paste using a mortar and pestle.  Blend yogurt with 1 1/2 c. water on high speed.  Pour off 1/2 of the yogurt mixture, and add the chickpea flour to the remaining yogurt.  Blend, then add the reserved yogurt back in, along with the turmeric, brown sugar, and chili-garlic paste.  Blend until smooth.
In a large saucepan, heat oil over low heat.  Add mustard seeds, 1/4 tsp cumin seeds, fenugreek, and cloves, and cook for 1 minutes.  Add asafoetida and cook for 30 seconds more.  Add yogurt mixture, cilantro and curry leaf branch, then cook, stirring frequently, for about 10 minutes.  Serve in a pitcher to be poured over rice and moong dal.
6