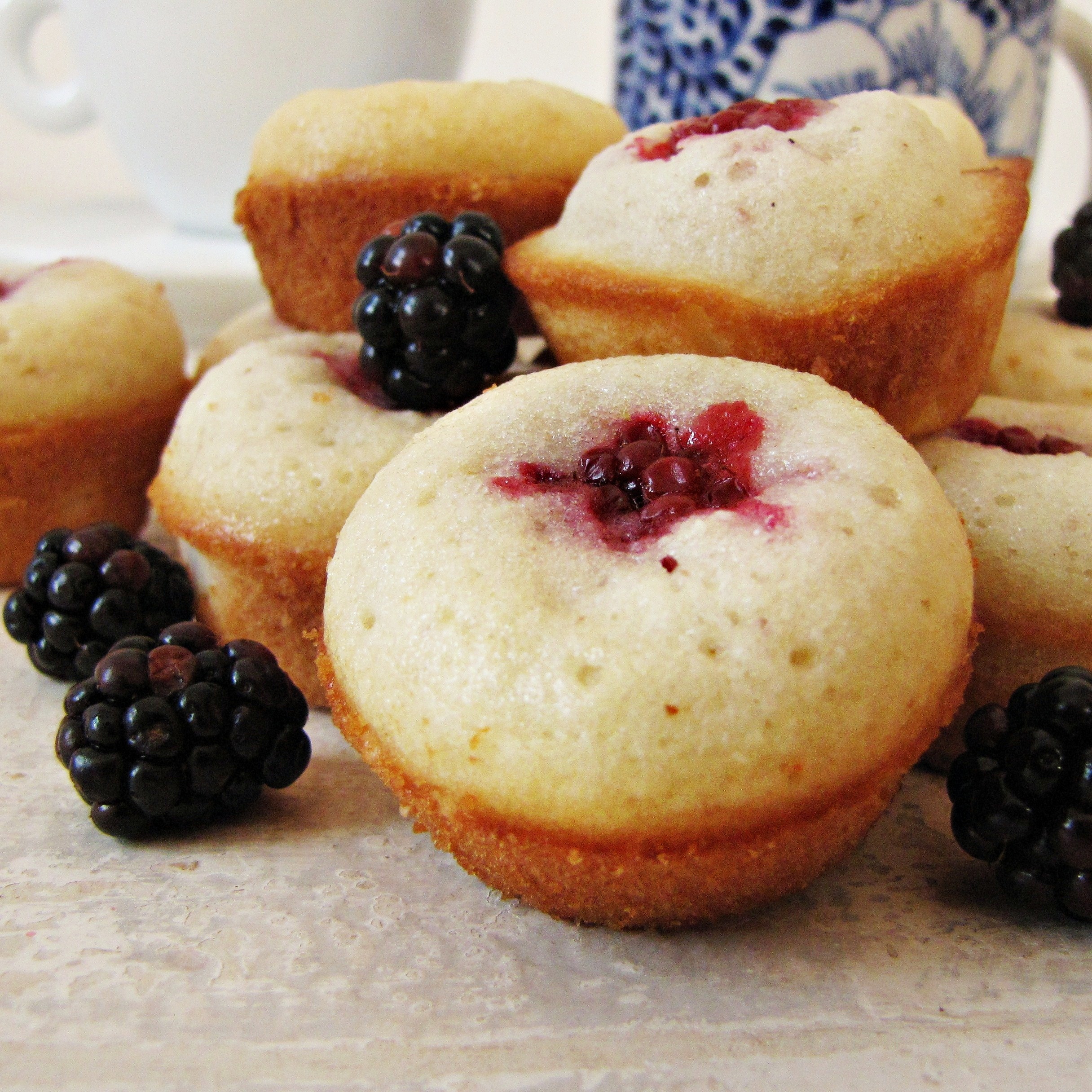 I mean, I have a post called strawberries and one called raspberries… I need to complete the trend, don't I?  Next berry season I'll have to get more creative with my post titling abilities – strawberries #2! – but until then, we're golden.
I think the thing I like best about blackberries may be that they grow in the backyard and I can walk up the hill with my little berry basket swinging and pluck the beautiful little berries from the far-too-thorny bushes and feel all earthy and wholesome.  As well as like I'm cheating the grocery store out of all that money they charge for fresh berries.  But then, a basket full of berries picked and washed and set aside, I'm not sure what I want to do with them.  Mostly, I feel like they should be photographed, because they're gorgeous, and nature created them, and they were free, and I felt picturesque when I picked them.  Partly, I just want to eat them, because it's easy and summery, but I'm not sure that posting a recipe that goes "Pick blackberries.  Wash blackberries.  Eat blackberries." would be all that pertinent on a food blog.  So I feel like I have to make something with them.  And lately, I've been having this problem where the first thing I want to do with fruit is boil it with a bunch of sugar and then mash it up.  I've been doing it with rhubarb.  I just did it with plums.  I'm considering doing it with wild Maine blueberries.  It's a useful thing, because then you can just drizzle your sugary-fruity syrup-butter on ice cream, or yogurt, or pancakes, or mix it with tequila and call it a day.  It concentrates the flavors and colors of these fruits, lasts a long time in the fridge, and takes up less space.  But making so much fruit syrup is starting to make me feel boring.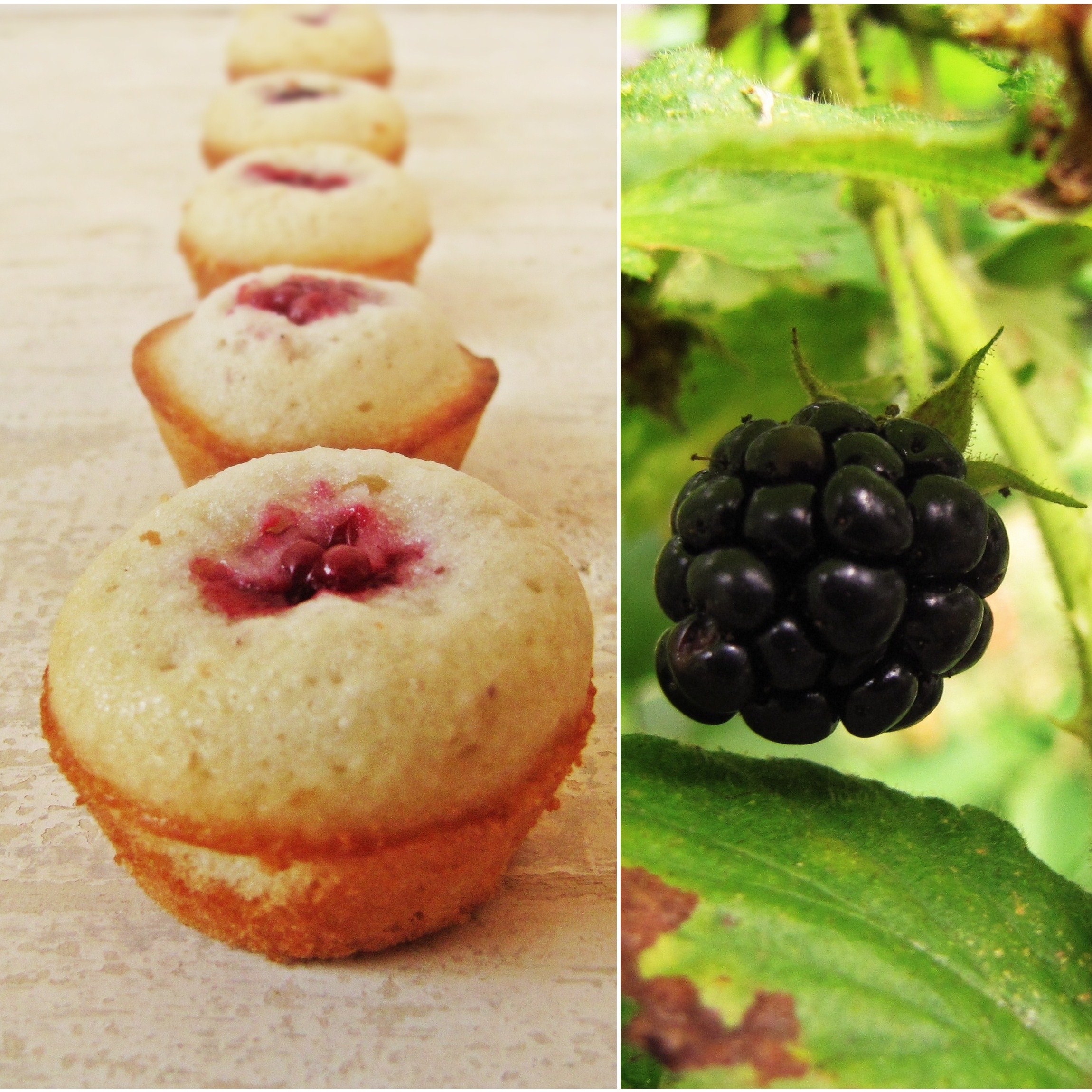 Which is why you are not looking at pictures of blackberry syrup.  Nor are you looking at pictures of blackberry pie, or blackberry muffins, because, while perfectly delicious and viable options for fresh summer fruit, I JUST WANT TO BE ORIGINAL.  Therefore, you are looking at pictures of Blackberry Brown-Butter Financiers.  Sounds good, right?  Trendy, even?  Well they were pretty good.  I only use the modifier "pretty" because I've never had a financier before, so I'm not sure how these compare to other financiers, but I liked them – they were moist but eggy, nutty smelling, not too sweet, and the blackberry in the middle gave them a sweet juicy bite that was just right.  They're so cute and easy to pop into your mouth that they disappeared within 12 hours of coming into existence.  I would definitely categorize them as more of a tea-cake or snack then a dessert, and I think that the perfect place for them would be on a tray of other bite-sized goodies at an afternoon party.  But if you don't feel like throwing a tea party, you could probably just eat them for breakfast.  I did.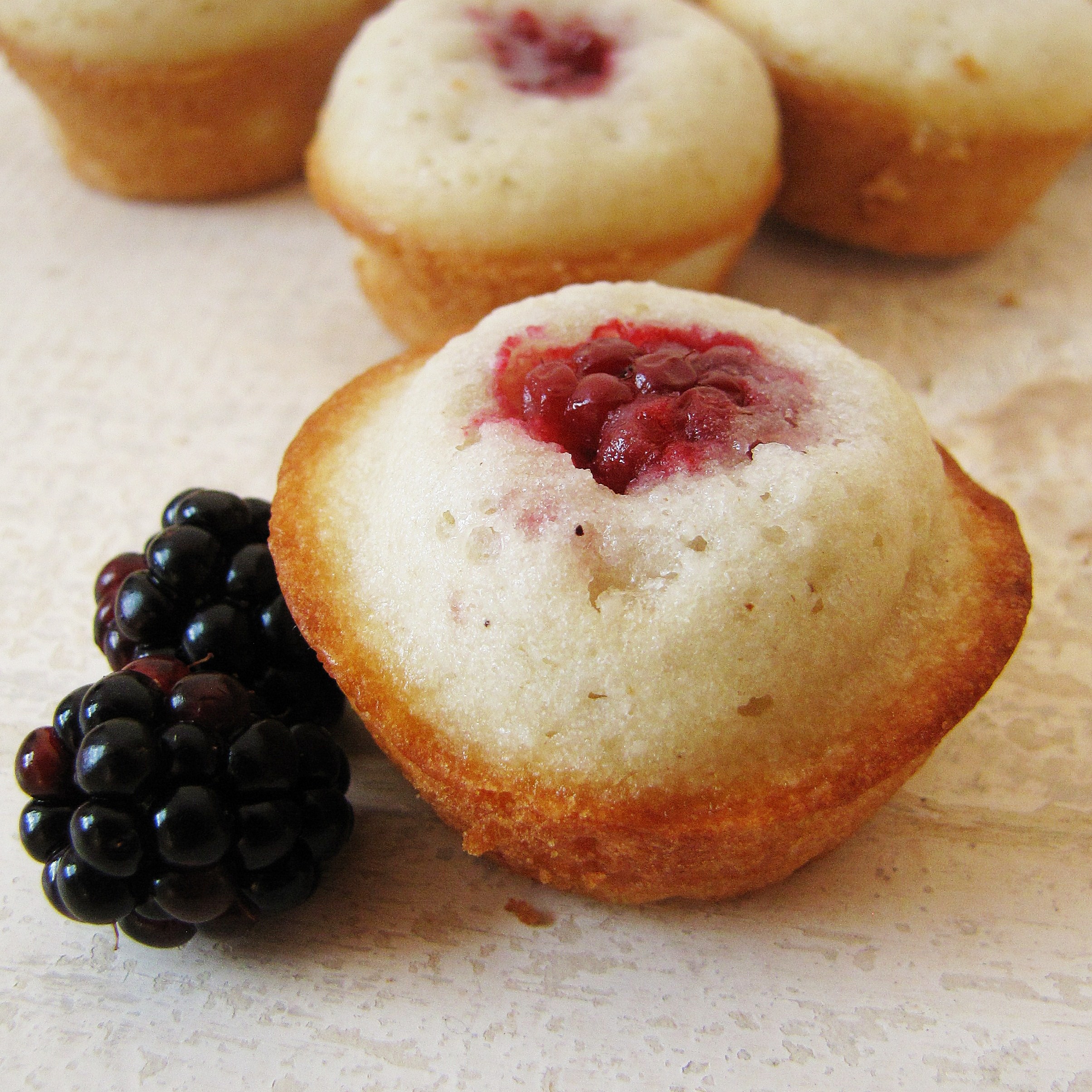 Blackberry Brown-Butter Financiers
From Gale Gand's Just a Bite
.  Makes 24.
9 TBS salted butter
1/2 c. almond flour or finely ground almonds
1 c. confectioner's sugar
6 TBS flour
4 egg whites
1 tsp applesauce
24 small blackberries, or 12 large blackberries
Preheat oven to 375°F.  Brown the butter – heat butter in a saucepan over medium heat until fully melted.  As milk solids start to separate from the butter, use a wooden spoon to scrape them from the bottom and prevent them from burning.  Continue to cook, stirring occasionally, until butter is golden brown and has a nutty aroma.  Remove from heat and pour through a metal strainer.  Discard solids and reserve the clarified butter.
Sift together the almond flour, confectioner's sugar, flour, and sugar.  Whisk to combine.  Add the egg whites, applesauce, and butter, and mix to combine.  Batter will be thin and pourable.  Pour or spoon into non-stick mini-muffin tins, or buttered financier molds.  Fill only about halfway – financiers will rise quite a bit.  Place a blackberry (or half a blackberry, depending on berry size, but in my opinion the more berry the better) into the center of each tin.  Bake for 10-12 minutes, until the edges are golden brown.  The cakes should spring back gently when pushed, and a toothpick inserted into the center will come out clean.  Remove from molds and dust with powdered sugar to serve.
0