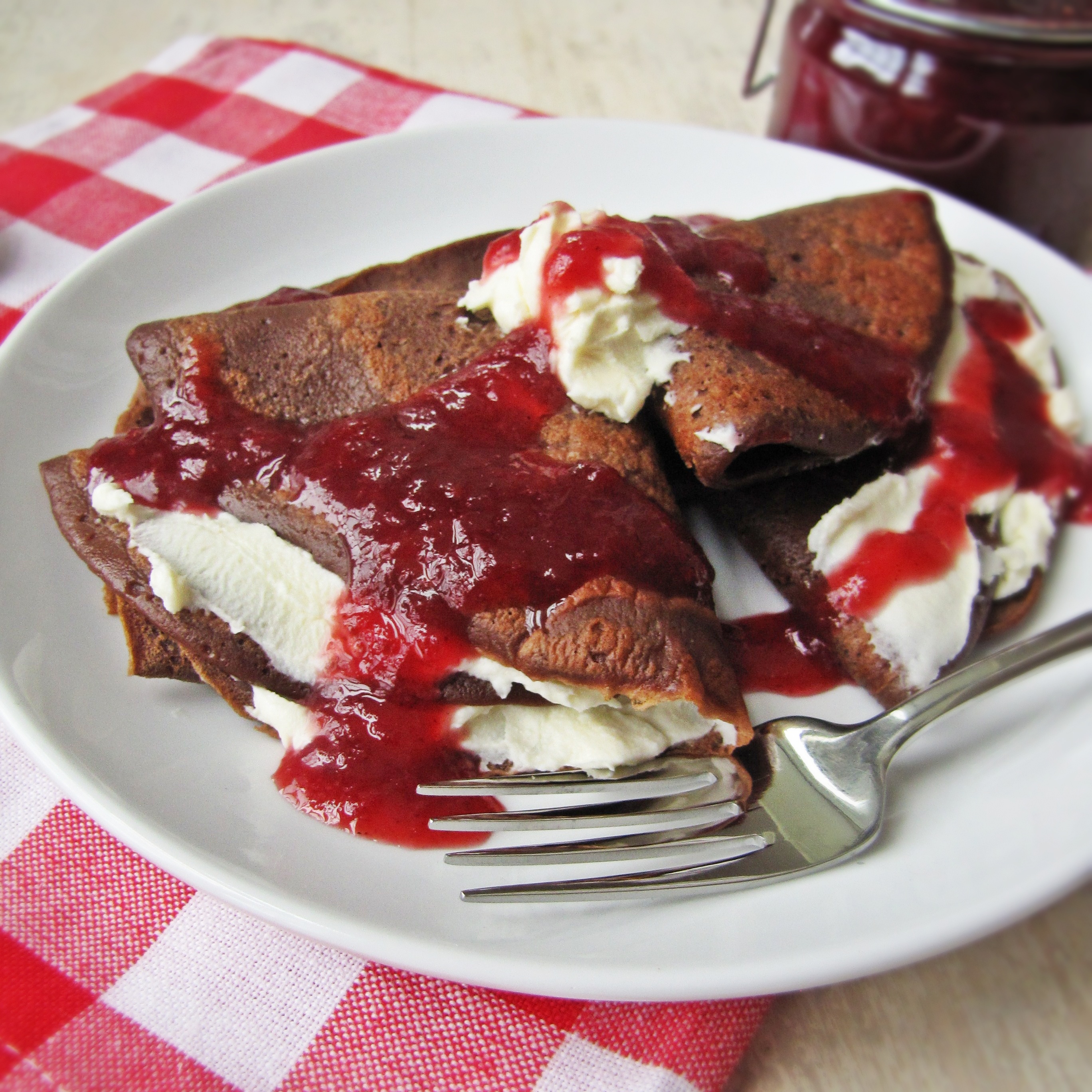 When I saw plums for $1 a pound last week, I immediately grabbed a bunch with this recipe for plum-apple butter in mind.  I made this on a whim last fall, and it was one of the most memorable recipes of the year.  With the warm, wintery spices – nutmeg, cloves, and cinnamon – it's definitely a summer-into-fall type of recipe, but I'm enjoying it even though it's the height of summer here.  Served cold on pretty much anything, from muffins to a spoon, or warm over vanilla ice cream, it's incredible.  But my favorite way to eat it?  On a stack of chocolate pancakes, topped with fresh whipped cream.  Funny thing is, when I woke up this morning, I just couldn't bring myself to make pancakes.  I didn't want them.  It was weird, but something about them seemed … too much.  Too filling.  I knew I wanted something chocolatey, and preferably breakfast friendly, to go with the plum butter, but I couldn't decide.  Chocolate muffins?  Chocolate cake with a plum filling?  Plum buttercream for chocolate cupcakes?  It all seemed delicious, but not quite right, when it hit me – why not pancakes' skinny cousin, the crepe?  Perfect.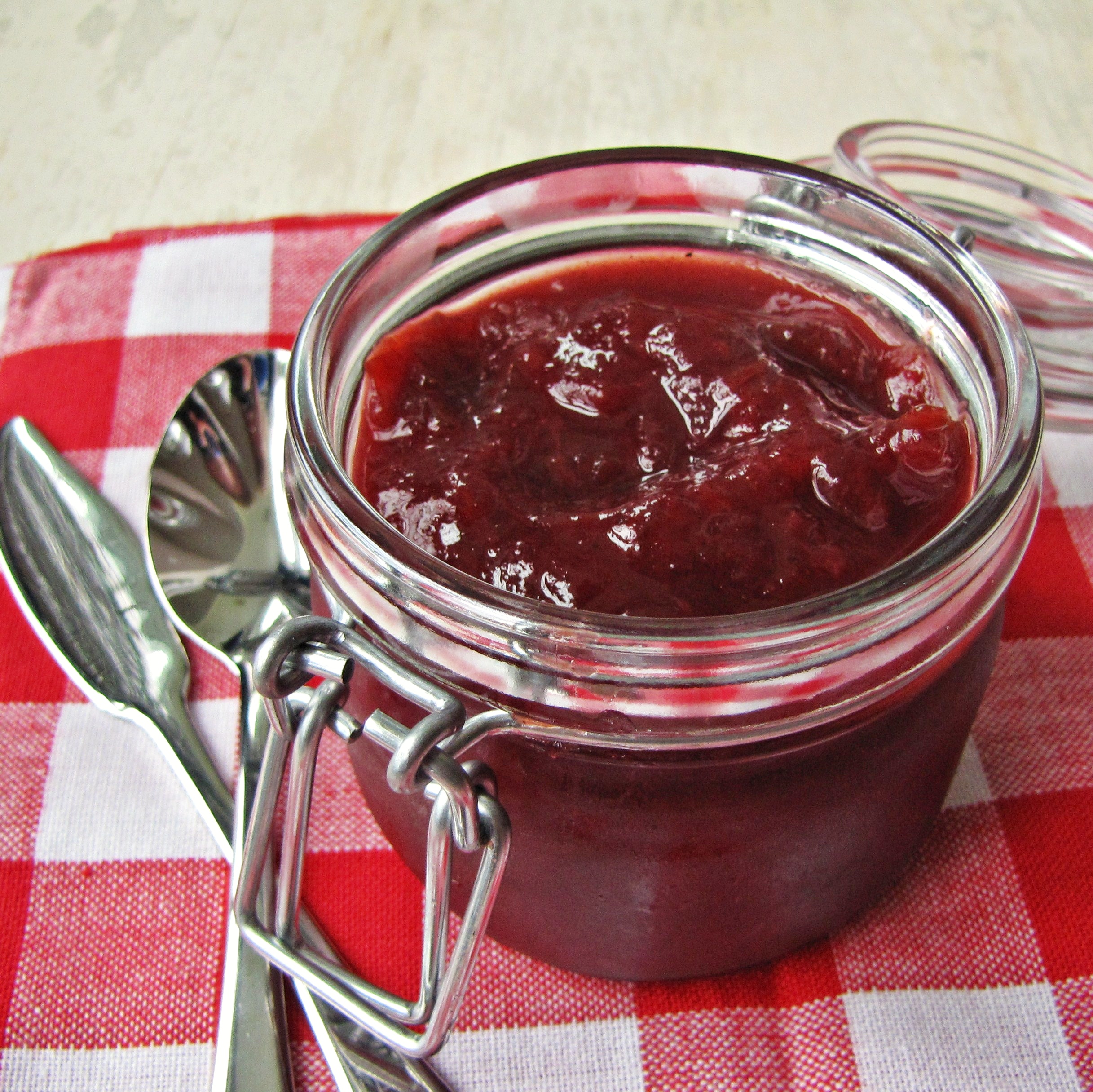 In theory, crepes are one of the simplest things you can make.  The classic recipe, as taught to me be my high school French teacher, calls for only three ingredients, combined in a simple ratio – 2 parts milk, 2 parts egg, and 1 part flour.  But then you start adding things like butter, sugar, oil, flavoring agents, liquers, and cocoa powder, and experimenting with pan temperature and refrigeration time, and the simplicity quickly gets lost.  I've tried lots of recipes in the past few years, never finding the perfect one, and never able to find an explanation for why one recipe might work better than another.  I was happy, then, to stumble across this explanation about crepe texture and flavor, complete with 8 different recipes categorized by egg content and fat content.  Enlightening.  I decided to go for the medium egg, medium butter formula, because the middle seemed like a good place to start.  The verdict?  The texture was perfect – tender, but not so delicate that they fell apart.  The flavor was good, but a bit milder than I'd hoped – I wanted them to be both more chocolatey and sweeter.  The addition of some espresso powder, to bring out the chocolate flavor, or the replacement of a few tablespoons of water with a chocolate liquer would probably fix that.  But when filled with the tart, aromatic, oh-so-delicious plum butter and mascarpone cheese?  Pretty good as they were.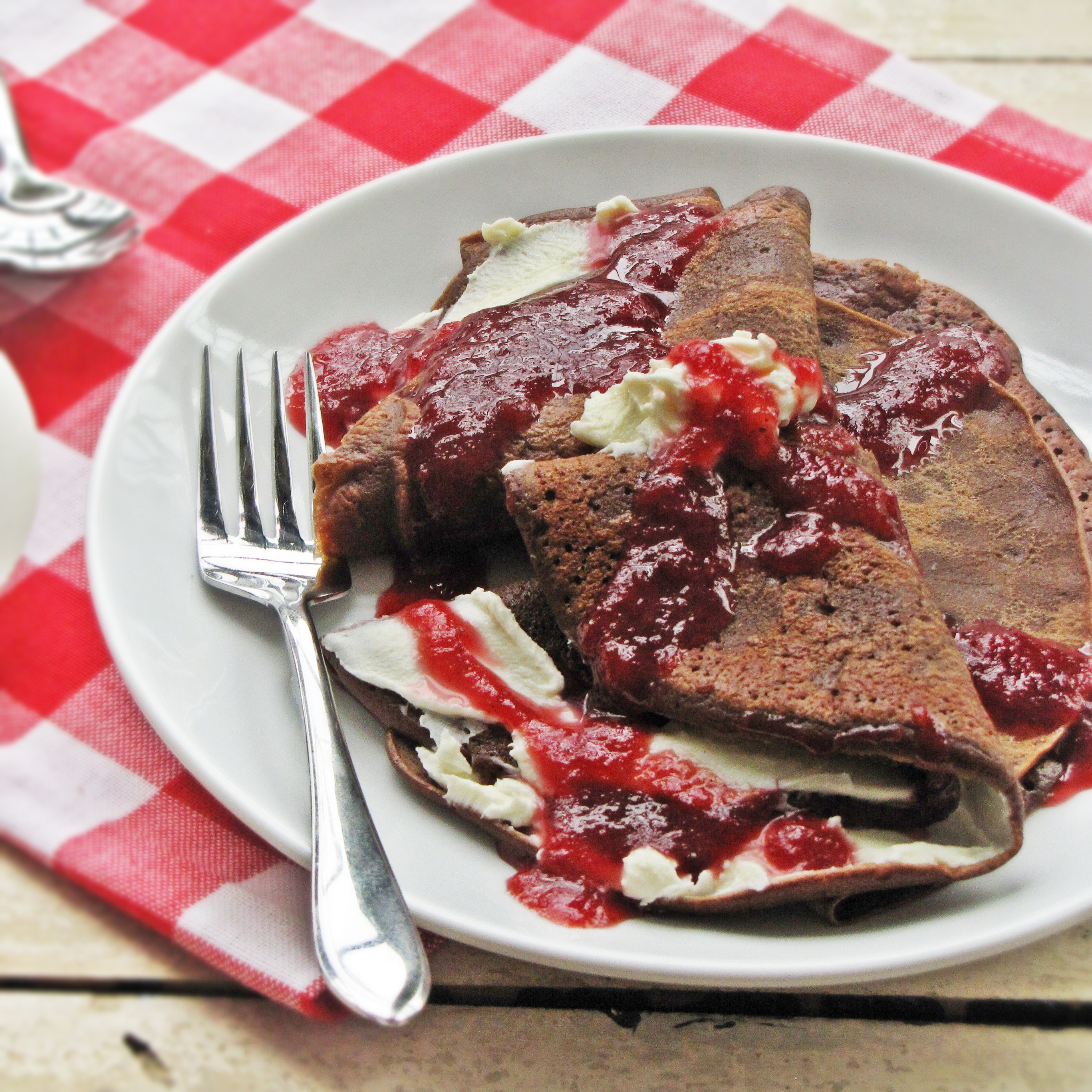 Now that I've satisfied my plum and chocolate craving, other plum recipes keep popping out at me.  Plum and red wine sorbet.  Baked plums with blueberries and mascarpone.  Plum tarte tatin.  In fact, I'm feeling kind of pressured to keep up with all the summer fruits that are at their peak right now.  The fact that there's only a month or two when currants, blackberries, raspberries, watermelon, blueberries, peaches, nectarines, cherries, and plums are in their prime is both glorious and daunting.  All those recipes bookmarked in the dead of winter when nothing sounded as appealing as a juicy plum on a hot day are begging to be made, shared, photographed.  Currently, I have plenty of time – I could bake and cook all day, every day for the next three weeks and not have anyone say a thing about it.  The problem is, I don't have the eating power necessary to consume all of the food I want to make.  Alas.  I will just have to pace myself, round up some hungry friends, and learn to freeze summer fruits.  Either way, expect at least a few more glorious, fruity, summery recipes from me before I'm claimed by Corporate America in three weeks time.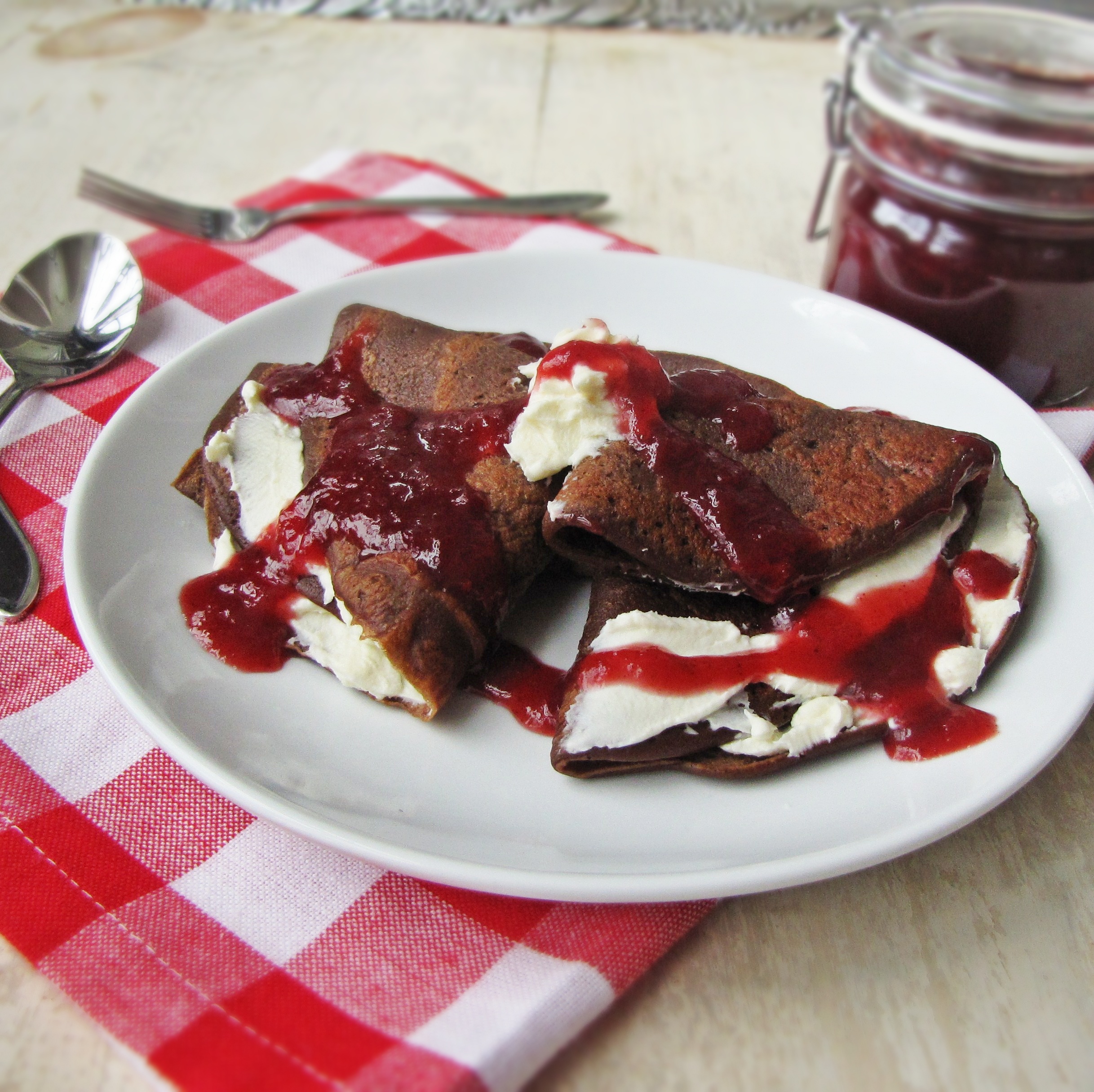 Plum Butter
Adapted from Kitchen Simplicity. Makes about 1 1/2 cups.
4 medium, ripe plums
1 tart apple
1/3 c. water
3/4 c. sugar
3/4 tsp cinnamon
scant 1/4 tsp nutmeg
scant 1/8 tsp cloves
Pit and quarter the plums.  Core and dice the apple into 1 inch chunks.  Place fruit in a medium saucepan with water and bring to a boil.  Reduce heat, and simmer fruit, covered, for about 15 minutes, until apple is tender.  Puree completely in a blender or food processor.  Return fruit puree to pan, add sugar and spices, and simmer, stirring occasionally, for 30 minutes to an hour, until the butter is the desired consistency.  A thick, spreadable consistency may take some time.
Chocolate Crepes
Adapted from Luna Cafe. Makes 10, 6-inch crepes.
1 c. milk
3/4 c. water
2 eggs
3 TBS butter, melted
1 c. flour
1/4 c. cocoa powder
1/4 c. sugar
1/4 tsp salt
In a medium bowl, sift together flour, cocoa, sugar, and salt.  Whisk to combine.  In a large bowl, beat milk, water, eggs, and melted butter until fully incorporated.  Add dry ingredients to wet and stir to combine.  Batter should have consistency of heavy cream.  Refrigerate for at least 1 hour.
Heat a large frying pan over medium-high heat.  Add a pat of butter – you only need to add butter for the first crepe.  When butter is fully melted, spoon or ladle about 1/4 c. batter into pan, and quickly swirl pan or smooth batter gently with ladle to create a circle.  (Think the motion that crepe makers on the street do to quickly pull batter out into a circle.)  Cook for 20 seconds, until color begins to change on exposed side, then flip, and cook for another 20 seconds.  Remove to a plate (or serve!), then repeat with remaining batter.  Stuff crepes with plum butter and mascarpone cheese or whipped cream.  Extra crepes may be stored flat, wrapped on a plate or in a plastic bag, in the fridge.