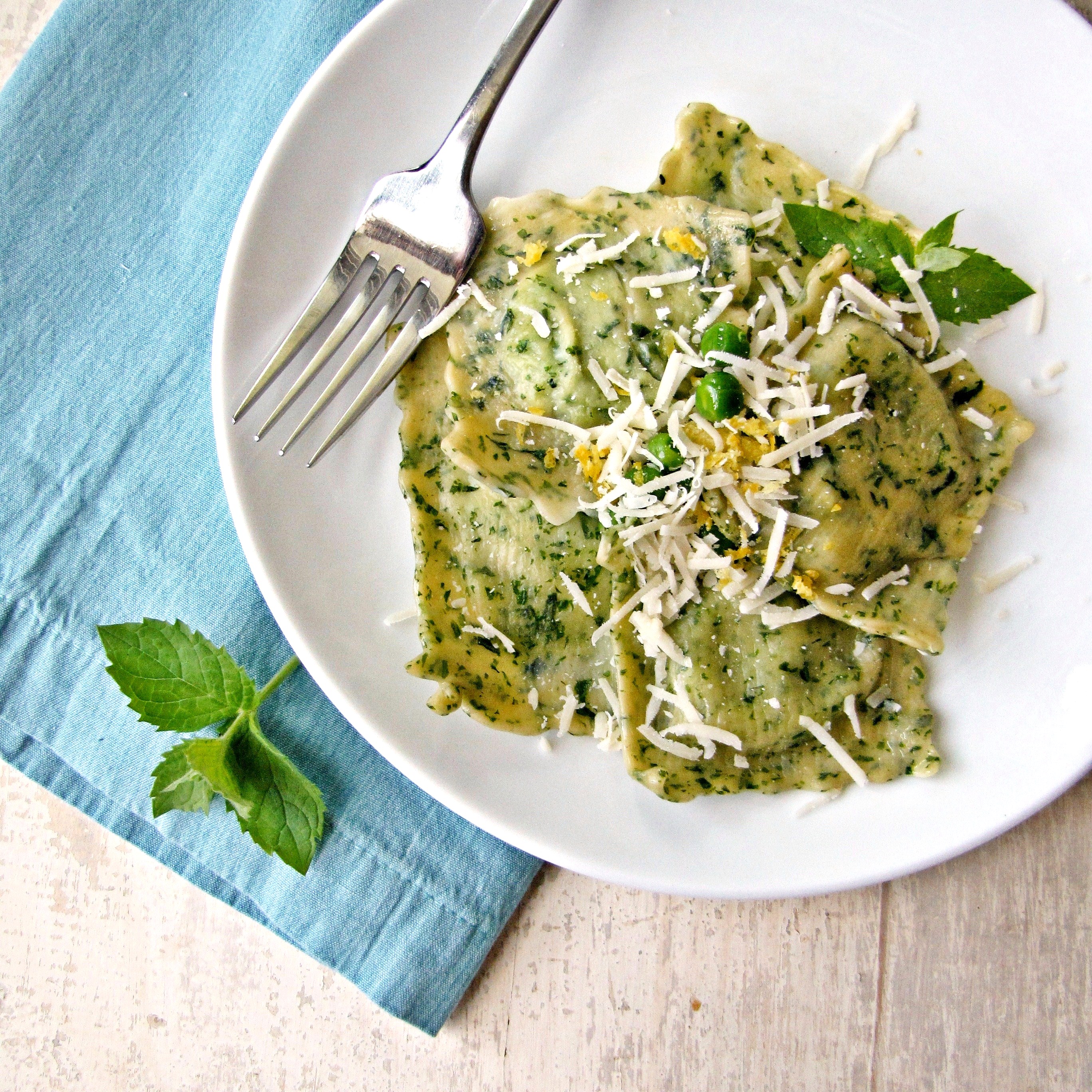 Thyme, small and delicate.  Mint, robust and refreshing.  Sage, soft and lingering.  Rosemary, lavender, parsley, cilantro, basil – summer is a time of herbal abundance.  One of summer's tiny joys is being able to step out into the garden and snip off a sprig of thyme here, a handful of basil there.  For one, it certainly beats paying $2 per ridiculously tiny package at the store.  More importantly, it allows for constant inspiration in the kitchen, as the summer herbs lend freshness and subtle aroma to everything from salad to bread to cocktails.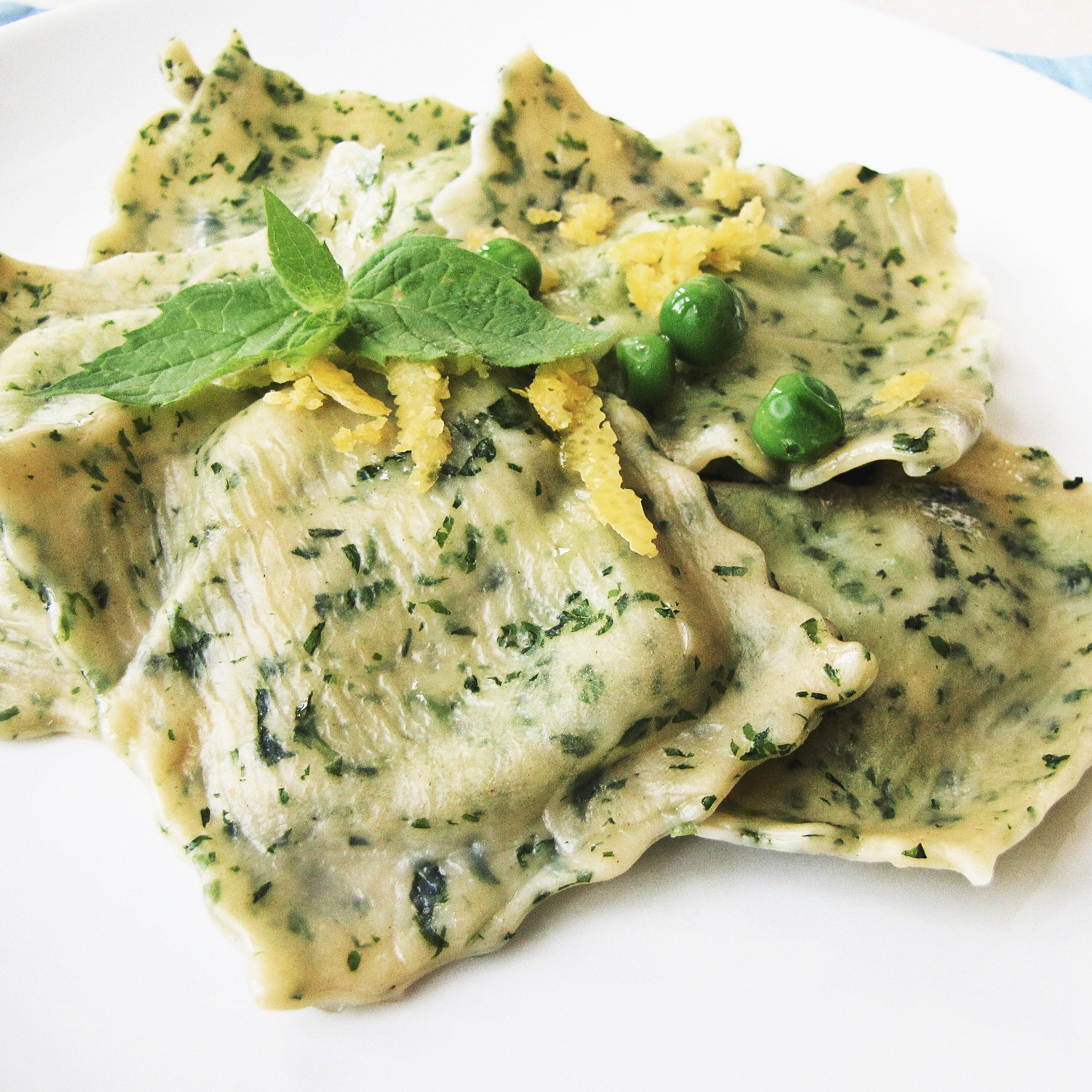 Recently, I've been trying to incorporate more fresh herbs in my cooking, both to ensure that our herb garden doesn't go to waste, and to push the boundaries of simple recipes.  Basil in lemon sorbet added a subtle undertone of elegance.  Sage provided a lovely counterpoint to strawberries in these muffins.  And now, fresh pasta gets a delicate makeover with tiny flecks of mint worked in.  Thinking of one of my favorite treats in Prague, sweet pea and mint soup, and a delicious sweet pea and goat cheese ravioli I made with Trevor a few years ago, I combined the two.  And voila, these lovely, subtle, sweet ravioli.  The filling is really delicious – petite peas, cream, mascarpone, goat cheese, and garlic for a hint of bite – and the mint gently enhances the flavors.  Personally, I love making fresh pasta – I find kneading therapeutic and it's so rewarding when you pull a long, impossibly thin sheet of pasta from the roller.  However, if you're in a hurry or not feeling up to the homemade pasta thing, these are still worth making with frozen pasta sheets or wonton wrappers – just add a bit of fresh chopped mint to the filling.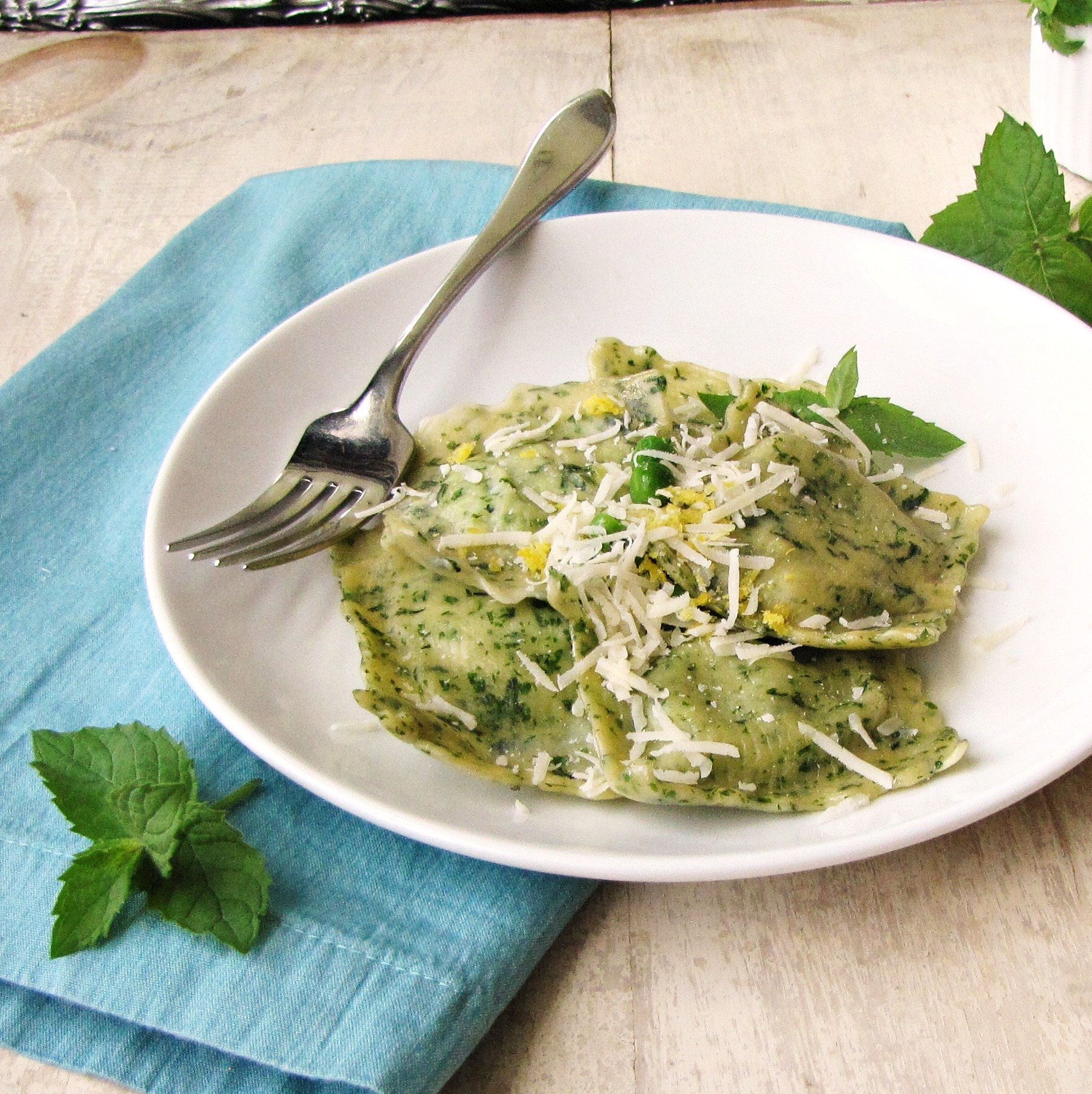 Mint Ravioli with Sweet Pea and Goat Cheese Filling
Adapted from here and here.  Makes about 20 ravioli – serves 2 or 3.

1 1/4 c. frozen petite pois (baby peas)
1/4 c. heavy cream
1 tsp sugar
1 garlic clove, smashed
3 oz. fresh goat cheese
2 TBS mascarpone
salt and pepper to taste
1 c. fresh mint leaves
2/3 c. flour
pinch salt
1 egg
2 tsp. olive oil
Prepare the filling:  In a medium saucepan, combine the peas, cream, sugar, and garlic.  Bring to a gentle boil, and cook, stirring constantly, for 3 minutes, until peas are tender and warm.  Remove from heat, and process or blend to desired consistency – it's OK to have large pea pieces if you don't want your filling smooth, but make sure you fully blend the garlic.  Mix with the mascarpone and goat cheese, and season with salt and pepper.  Cover and refrigerate for at least an hour.
Prepare the pasta dough: Bring a small pot of water to a boil.  Blanch the mint leaves – drop in boiling water for 30-60 seconds, and remove with a slotted spoon, transferring directly to a bowl of cold or ice water.  Squeeze water from leaves, and finely chop.  In a small bowl, beat the egg with a pinch of salt and the chopped mint leaves.  Mound the flour on your work surface, making a deep well in the center.  Pour the egg mixture and olive oil into the well.  Working from the outside in, pull the flour into the center with your hands, trying to keep the well from breaking as long as possible.  Then, knead the dough with your hands until it comes together.  Once it comes together, knead for 10 minutes.  It should be beginning to develop elasticity, smooth, and not sticky.  Lightly oil a piece of plastic wrap and wrap the dough in it.  Allow to rest for 45 minutes to an hour.
Fill the ravioli: Work the pasta dough into thin, square pieces.  Run through a pasta machine, starting on the largest setting and moving down.  (My pasta machine goes from 7 to 1, with seven being the largest, and I found that the thickness of this dough was best at level 4.)  Place a teaspoon of the filling half an inch from the end of the pasta sheet, and cut the sheet about 2 inches from the end.  Fold the dough over and crimp the edges with your fingers to seal the filling.  This dough was wet enough that I did not need water to seal the edges, but if you are having a tough time crimping, run a wet finger along the edge of the dough before attempting to seal.  Continue until all filling and dough has been used.  If cooking immediately, bring a large pot of salted water to a gentle boil, and gently lower the ravioli in batches into the water.  Cook for two minutes, and remove with a slotted spoon.  If freezing, lightly dust the ravioli with cornstarch and place flat in a freezer bag.  Press air out of bag, seal, and freeze on a level surface.  Boil straight from freezing.  Serve with melted butter, mint sprigs, lemon zest, and fresh parm.
0