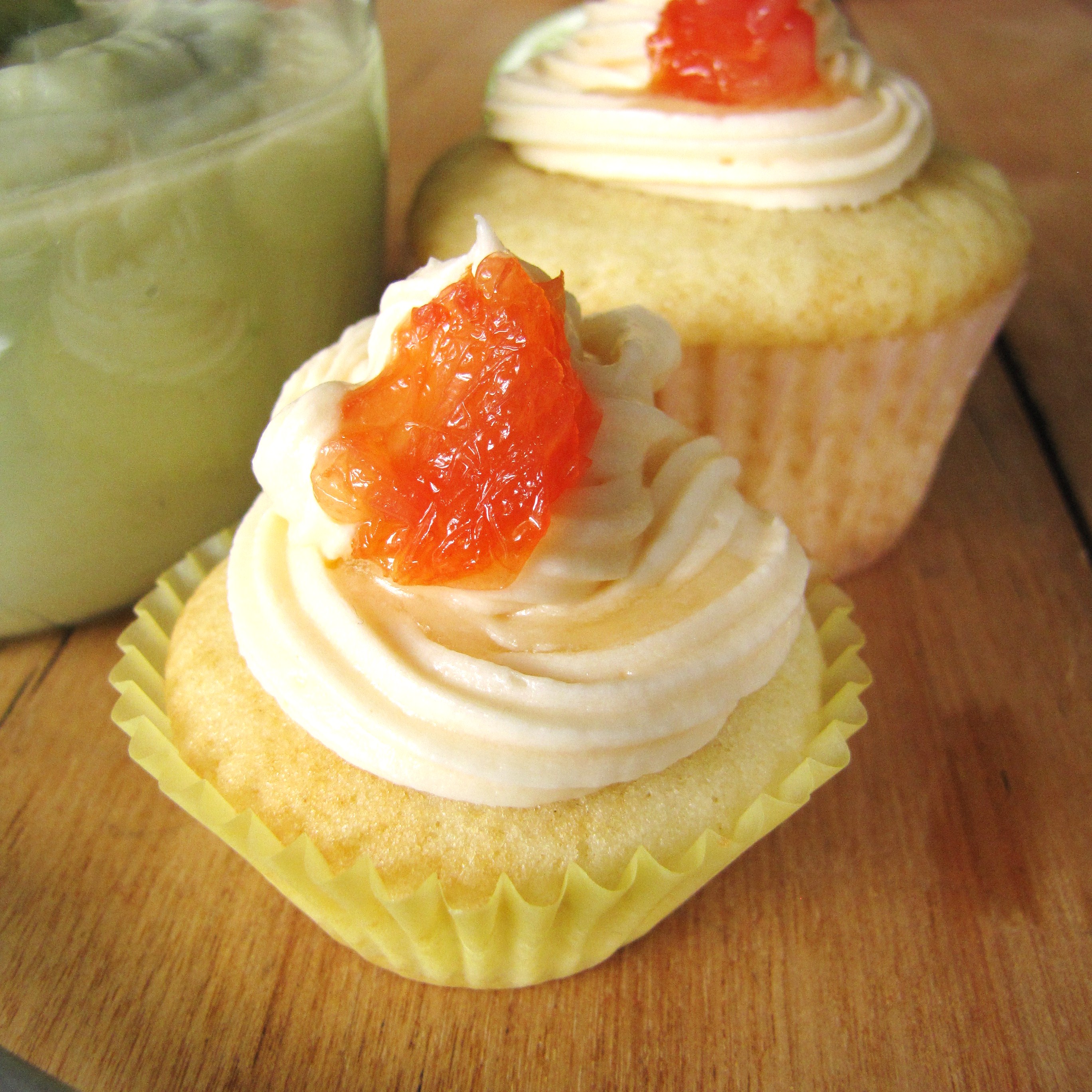 Over the weekend, I developed three wasabi-centric recipes for the last round of the Marx Food contest that I've been participating in for the past 7 weeks.  I only submitted one of my three recipe so the contest, but I still enjoyed the other two.  One of the rejected recipes was for wasabi cupcakes with grapefruit buttercream and caramelized grapefruit.  While the wasabi cupcake wasn't my favorite, the grapefruit buttercream was incredible and I'm pretty proud of myself for developing the recipe.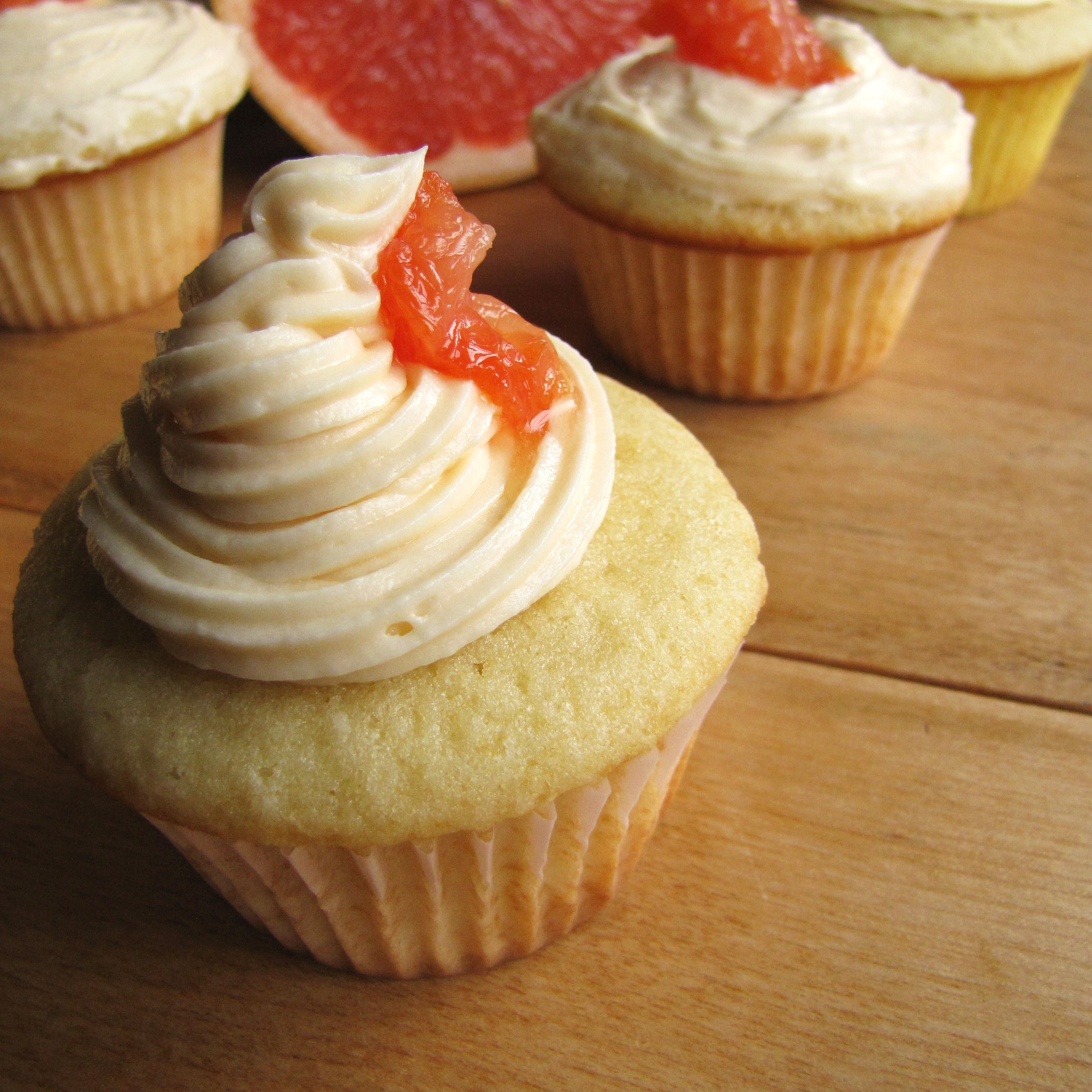 My problem with most grapefruit flavored baked goods is that they don't taste at all of grapefruit – it's a hard flavor to instill because grapefruit juice is fairly dilute, so it's hard to maintain its bright, juicy flavor while also keeping a reasonable wet-dry ratio in your recipe.  I've tried grapefruit curd that only tasted slightly citrusy, grapefruit frosting that was far too runny to use, and grapefruit cake with a cup of grapefruit juice but no flavor to it at all.  This time, I wanted to really get that grapefruit flavor, so I decided to create my own grapefruit concentrate and use that as my flavoring.  I boiled a cup and a half of ruby red grapefruit juice for about 40 minutes, reducing it to about 1/4 cup of viscous liquid.  This grapefruit reduction was so tart, while retaining its juicy flavor, that I had high hopes for it.  I mixed a basic buttercream up, omitting half the liquid ingredients (cream and vanilla) and added 3 TBS of the grapefruit concentrate to it.  Voila!  The frosting was firm, pipable, a lovely pink-orange color, and actually tasted like grapefruit.  Great success.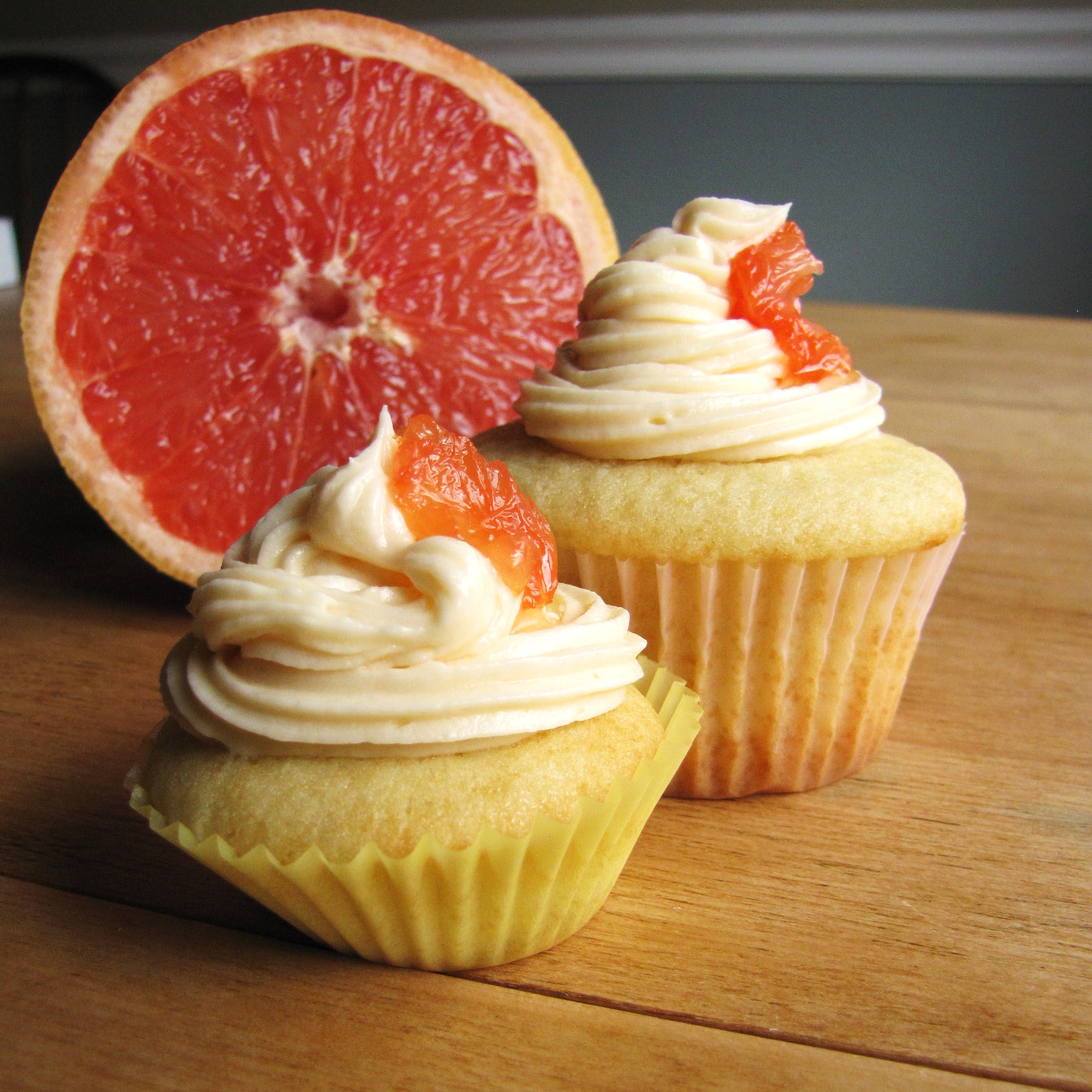 Grapefruit Buttercream
Makes about 1 1/2 cups, or enough for 12-14 cupcakes
1 1/2 c. grapefruit juice
1 stick salted butter, room temperature
2 c. confectioner's sugar
1 TBS heavy cream
Cook the grapefruit juice over medium-high heat in a small saucepan, stirring occasionally, for about 30-40 minutes, or until the juice has reduced to about 1/4 c. and is beginning to act syrupy.  Skim any foam off the top and discard.  Allow to cool completely before using in the frosting, or store in the fridge until ready to use.
In a large bowl, beat the stick of butter with a wooden spoon until it is smooth.  Add 1/2 c. of the confectioner's sugar and stir in until all of the sugar is incorporated.  Then beat vigorously for a minute or so.  Add the remaining confectioner's sugar, scraping any excess down the sides.  Incorporate, and then beat vigorously for 3 minutes, until fluffy and smooth.  Add the 1 TBS of heavy cream and beat in.  Add 2-3 TBS of the grapefruit reduction and incorporate thoroughly.  Taste.  If it needs more flavor, add the remaining grapefruit reduction as well as an extra 1/2 c. of confectione'rs sugar in order maintain the consistency.
2