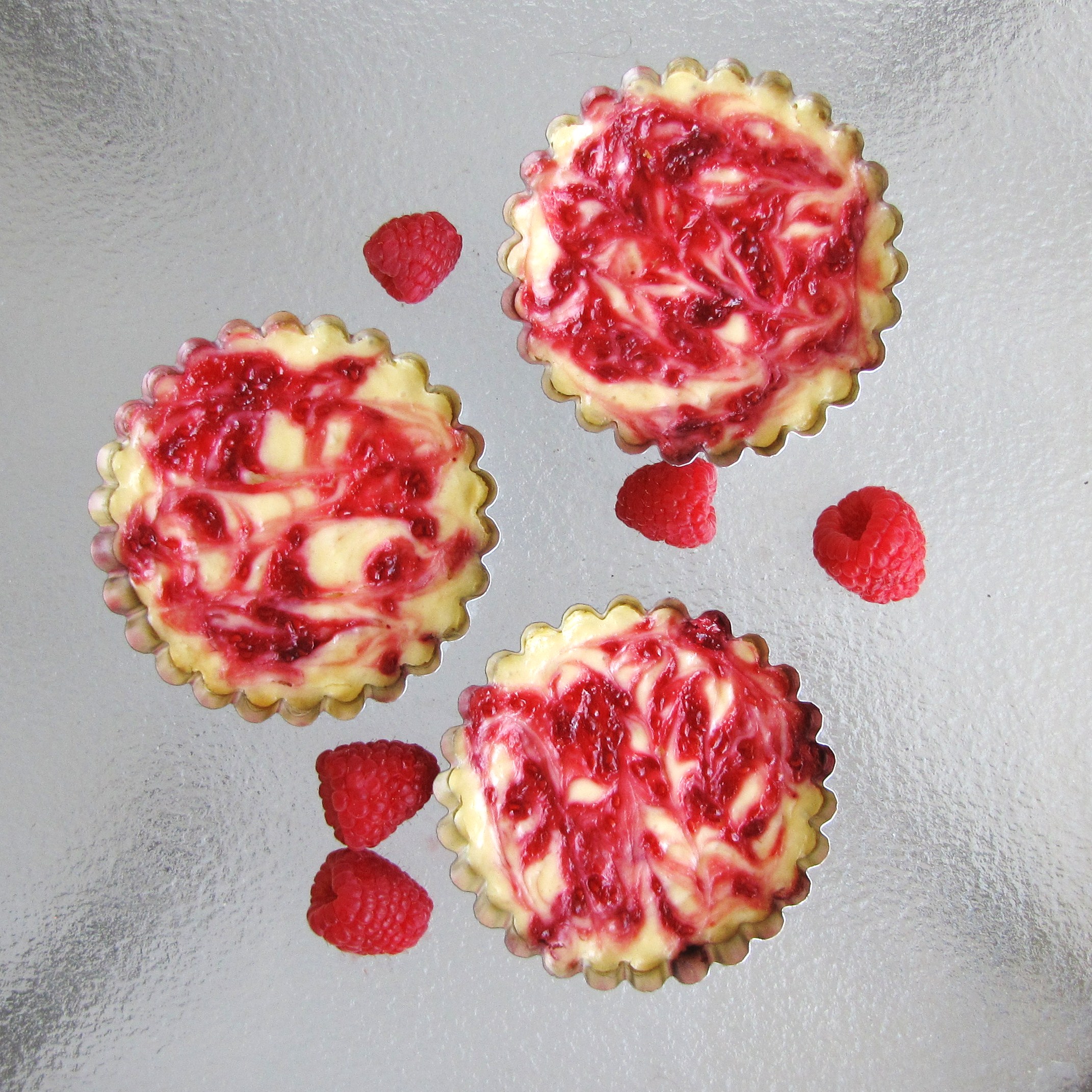 Margie – [Pronounced Marrrr-ghee]  A hilarious species native to Israel.  I mean, New York.  Known to carry a large camera, abbreviate most words in the English and Hebrew languages, and ask for crowns relentlessly.  Often seen practicing Judaism and stealing bagels at the Freeman center.  Adapts easily to some external habitats, but will stagnate in others, most notably the park in Budapest and dirty hostels in Cesky Krumlov.  Is much better than Helen Wang at carrying large bags of groceries.  Enjoys Taylor Swift, Mika, Steph Wells, Miley Cyrus, and no other musicians.  Highly lovable.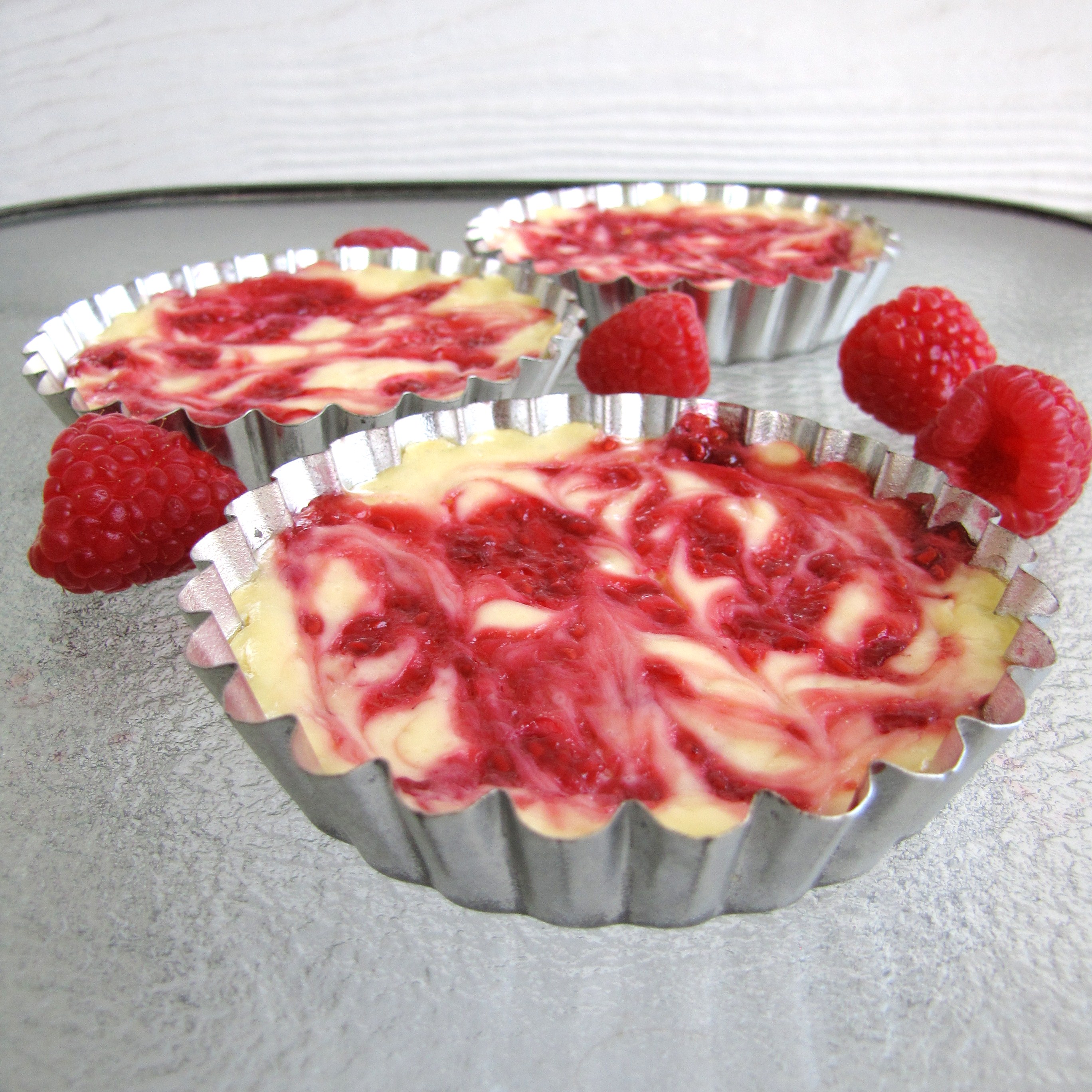 Seriously, Margie and I are Praha besties.  Sophomore year we actually lived on the same hall as each other and didn't speak for the entire year, except for one time – a time which I remember vividly and she remembers not at all. I cut my hand on the espresso machine at the coffeehouse during a late shift, and when I got back to the Crave Megan was already sleeping and I couldn't find my bandaids without the light.  Bleeding, exhausted, I was standing in the bathroom at 3 in the morning, when Margie pads in in bright red feetie pajamas, looks at my hand, and runs back to her room to get a bandaid.  I thanked her, she went on her apparently exceedingly merry way, and we never spoke again.  That is until I showed up in Prague and saw her name on my apartment door.  Awkward.  Good thing she rules, and we quickly bonded over the fact that we're both kind of cheap and occasionally grouchy and bigoted.  Especially when it comes to Asian roommates.  Kidding!  We love you Helen, even though you can't cook rice and store food in the dishwasher instead of dishes.
Anyway, being together in Prague was a blast, and now I have an incredible friend at Duke too.  Honestly, that was not at all something I was expecting when I escaped to Prague via NYU, but it definitely worked out in my favor.  And Margie's too, because I rule.  Now, on to the birthday part.  I'm really glad Margie's finally 21 … I think I may actually have been looking forward to her birthday more than she has.  People like my parents and Steph and Trevor keep asking me how I'm doing, and I'm like "great, Margie's birthday is in 15 days!"  And they sort of pause awkwardly and decide to just move on.  What can I say?  I really like Margie and I really like birthdays.  And I really like making cupcakes, and this time around, I went with mini key-lime and raspberry cheesecakes.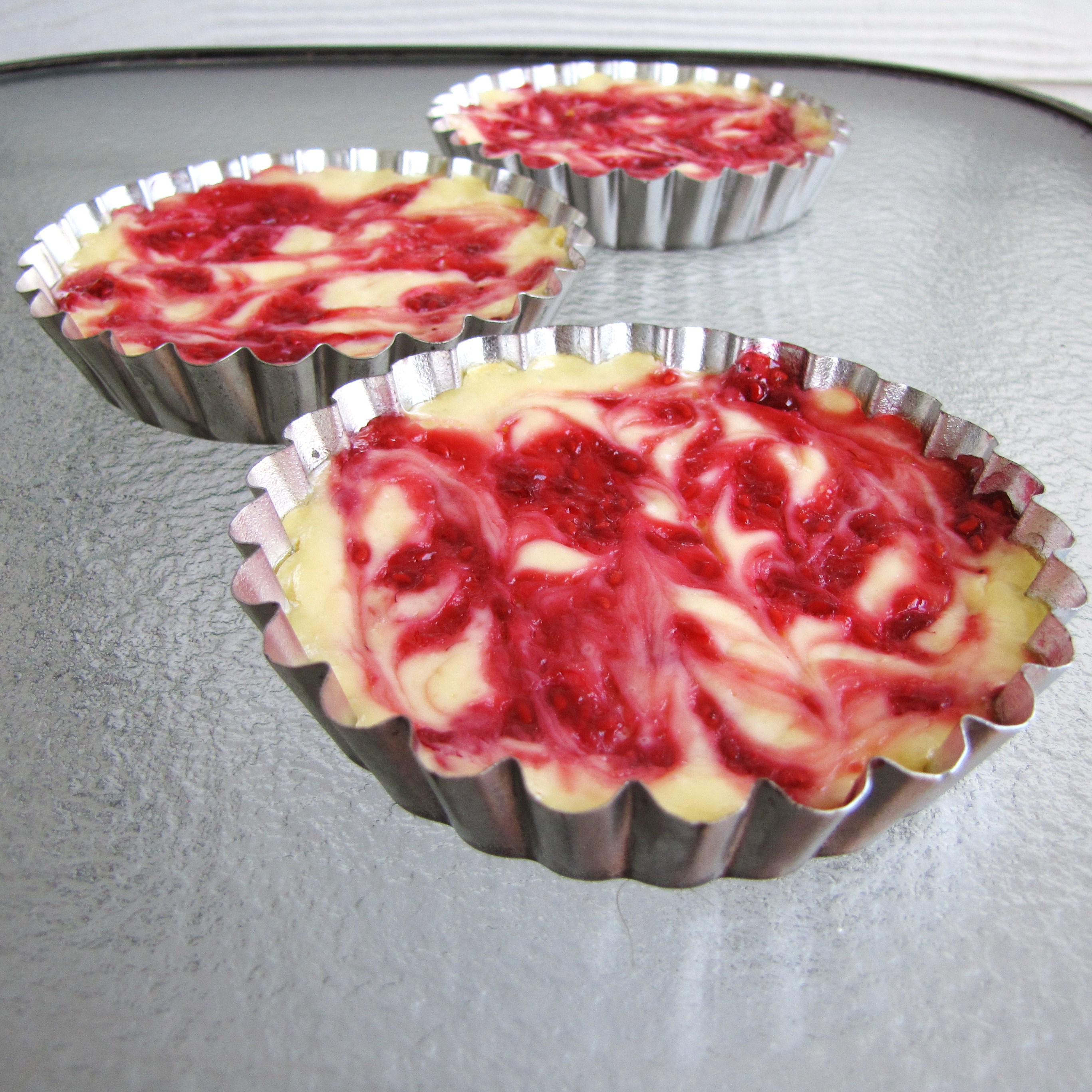 All the components of these cupcakes have a reason behind them – the key lime is because she ate all of my break-up key lime pie out of the freezer, the cheesecake is to pay homage to the one I made her in Prague a year ago (it was a serious feat considering they don't have cream cheese in the potraviny), and the raspberry swirl/white chocolate layer/almond crust is for keeping it classy, like her.  D'aw.  These were delish – they taste kind of just like you would expect them to taste, given the description.  You can taste all the components, and they go well together.  And that, my friends, is the end of the cupcake extravaganza.  I'm going to go have a salad.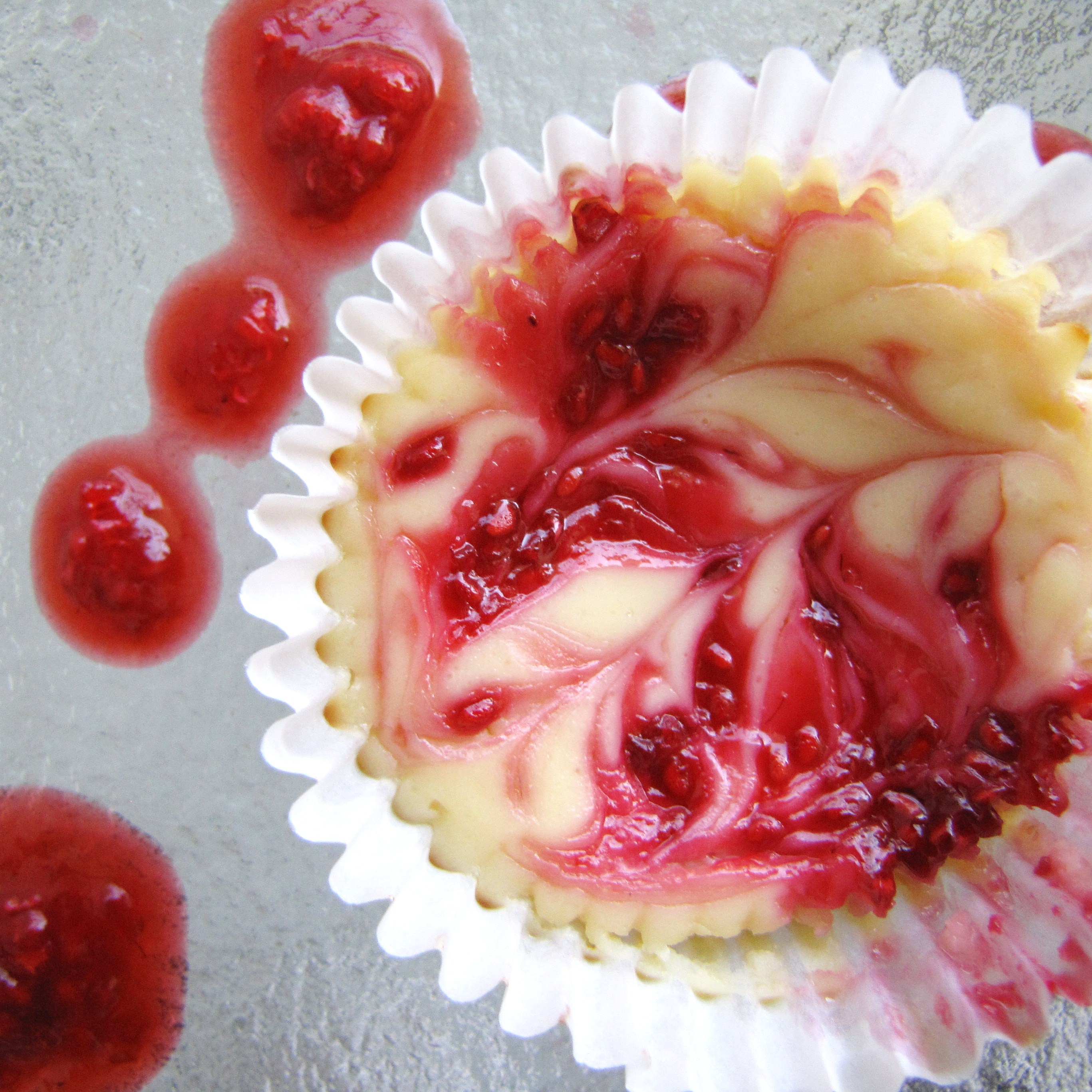 Mini Key-Lime Cheesecakes
Makes 18.  Recipe adapted from Modern Comfort Food.
1 c. graham cracker crumbs
1/2 c. sliced almonds
4 TBS butter, melted
1/3 c. sugar
3/4 c. white chocolate chips
8 oz neufchatel cheese, room temperature
14 oz sweetened condensed milk
2 egg yolks
4 oz (1/2 c.) key lime juice
1/2 c. frozen raspberries
2 TBS sugar
Preheat the oven to 350°F.  Line muffin tins with cupcake liners.  In a food processor, pulse graham crackers, almonds, and sugar, until fine.  Mix in melted butter and stir or pulse until all crumbs are moistened.  Press a tablespoon of crust mixture into the bottom of each cup.  Top with a few white chocolate chips.  Bake for 3-5 minutes, and remove from oven.  Immediately spread white chocolate chips into a layer over the graham cracker.  Pop into the freezer while you prepare the other components.*
In a large bowl, beat neufchatel (cream cheese), sweetened condensed milk, lime juice, and egg yolks, until combined.  Set aside.
In a small saucepan over medium heat, warm raspberries and sugar, stirring constantly.  Break up the raspberries with the back of your spoon.  Cook until all of the raspberries have broken down and have formed a slightly thickened sauce.  Remove from heat and set aside.
Remove muffin tin from freezer.  Place 3 tablespoons of cheesecake batter in each cup.  Using a 1/4 tsp measuring spoon, spoon 3-4 tiny dots on top of each cheesecake cup.  Take a toothpick and gently swirl the raspberry into the cheesecake batter, forming a marble pattern.
Bake the cheesecakes for 20 minutes, until set.  Refrigerate for 2-4 hours.  Serve cold.
* If anyone can think of a better way to do the white chocolate layer, let me know.  I tried heating the chips with a small amount of cream to form a makeshift ganache, but it soaked into the graham cracker layer.  Ideally, I'd like a crisp layer of white chocolate over the graham cracker firmly separating the crust from the cheesecake.
Want some more?
0