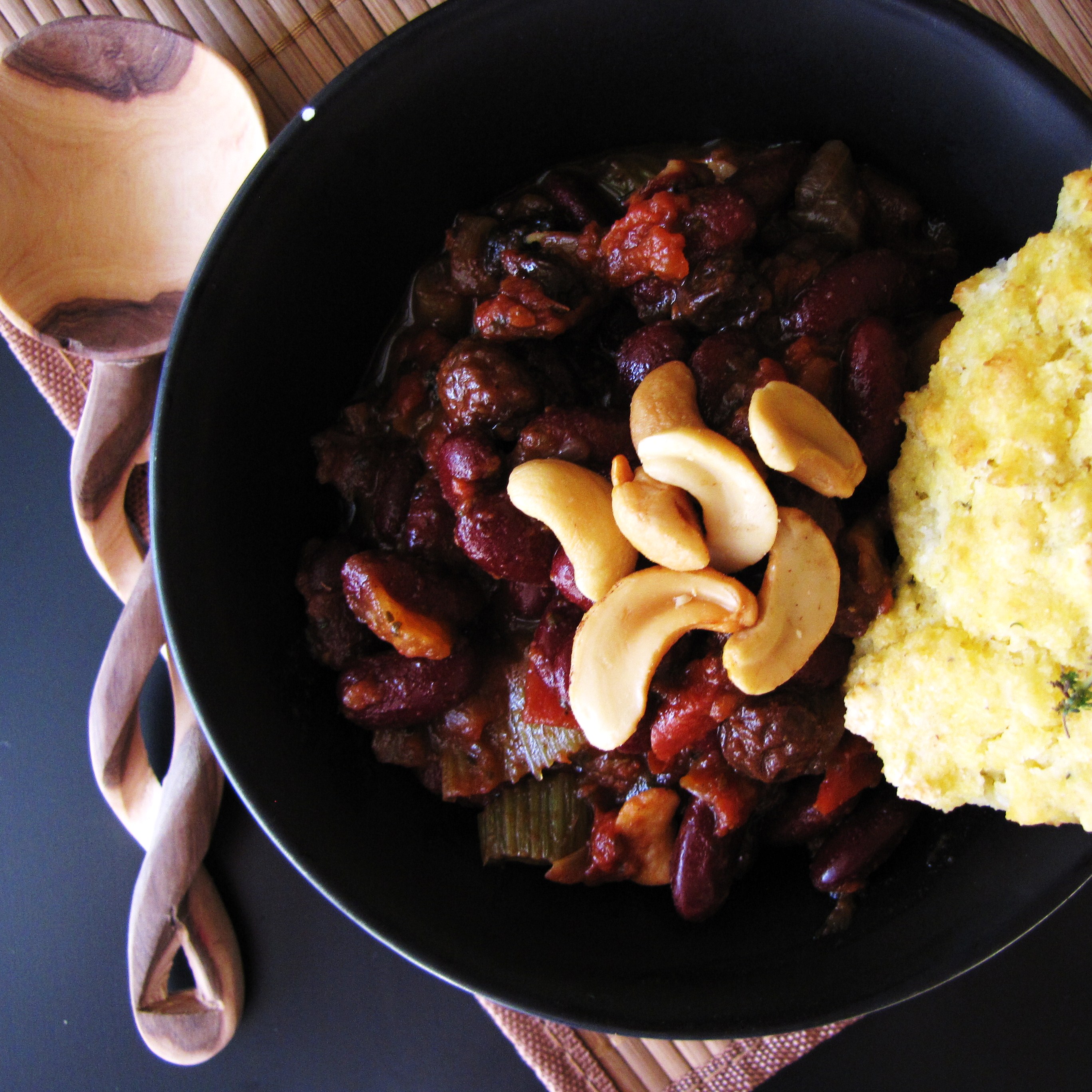 We've reached that point in the semester that's like the Wednesday of a busy week – fall break already seems like it happened months ago, Thanksgiving is about 30 midterms away, the excitement of being back at school has worn off, and we're tired.  We need to be re-focused.  We need a detox – a mental, physical, and emotional detox.
My physical rejuvenation is getting a kick-start with my mom's vegetarian chili.  It's one of my favorite recipes of all time; long before I was doing my own cooking, or actively consuming vegetables, I frequently requested this for dinner.  It's really, really good.  Like, it's so good that I had some for breakfast this morning.  Vegetables?  For breakfast?  Katie?  Yeah, now you know it's delicious.
I've been wanting to share this recipe pretty much since I started this blog, but I've been waiting for the right time, and now is definitely the right time.  It's just starting to get chilly and crisp outside, it's getting dark earlier, and a bowl of hot, nutritious chili is about as appealing as it gets.  This particular recipe is full of vegetables, beans, and nuts, so it's super flavorful, energizing, and full of nutrients.  So that after you eat it you can continue your physical detox by ellipticalling infinity miles at the Belmont gym while watching Forgetting Sarah Marshall on TV.  Man I love those new ellipticals.  But seriously, I really can't describe it adequately – you have to try it.  Served over rice or fresh cornbread and sprinkled with shredded cheddar, it's perfection.
And you know what?  Making this chili and some corn-thyme biscuits was kind of an emotional detox too.  There's something very therapeutic about being tired but calm and making something wholesome that takes time and patience.  And I also have this weird thing for cutting butter.  Literally, one of my favorite food memories is of sitting at our kitchen table in Prague, cutting sticks and sticks of frozen butter into little pieces for our Thanksgiving pies.  Maybe that's beside the point.  The point being, make this chili.
Mom's Vegetarian Chili
Serves 6
1 T olive oil
3/4 c. chopped celery
3/4 c. chopped onion
3 cloves garlic, minced
1 28 oz. can diced tomatoes
2 cans kidney beans, drained and rinsed
1/2 c. raisins
1 T red wine vinegar
2 tsp chili powder
1 tsp dried parsley
1 tsp salt
1 tsp dried basil
1 tsp ground cumin
1 tsp dried oregano
1/2 tsp allspice
1/4 tsp pepper
1 bay leaf
6 oz. beer
1/2 c. cashews
cheddar cheese
Heat oil over medium heat in a large pot.  Add celery, onion, and garlic, and saute until softened.
Add tomatoes, beans, raisins, vinegar, bay leaf, and spices.  Stir to mix, bring to a boil, reduce heat and simmer, covered, for 1 1/2 hours.
Slowly stir in beer (it will bubble) and cashews.  Return to a boil, then reduce heat and simmer, uncovered for 30 minutes.
To serve, remove bay leaf, and spoon over rice or cornbread.  Top with shredded cheddar cheese.
1